Disclaimer: This story contains details of miscarriage which may be triggering to some. 
"Eight years ago during the week leading up to Mother's Day, there were three reasons I wanted to hide away from the world.
Three reasons I didn't want to walk into a store with rows of Mother's Day cards.
Three reasons I couldn't bring myself to see pictures of mothers with their children on Facebook.
Three reasons – three positive pregnancy tests, three horrible conversations with my doctor, three babies I would never meet.
It felt hard to breathe that week because breathing reminded me of the breaths my babies never took. It reminded me that while I was a mother in my heart, if a stranger wished me a Happy Mother's Day out on the street, I might just stop breathing.
But as I scoured the internet trying to understand the reasons why my body was so unsuccessful at supporting another life, I came across a quote I now understand fundamentally changed me.
'You may encounter many defeats, but you must not be defeated. In fact, it may be necessary to encounter the defeats, so you can know who you are, what you can rise from, how you can still come out of it.' – Maya Angelou
Miscarriage has taken many parts of me. Part of my youth, part of my innocence, part of my heart that won't grow back.
But those three babies? They have given me everything.
An understanding of my own resilience, the ability to be there for others who need to know they aren't alone, the reassurance my marriage can get through the darkest of days, and eventually, when the time was right – my family. That's all because of those three angels.
They are my saddest, sweetest gift.
Life is very different now, eight years removed from that week.
As I type this, two small, beautiful children sleep peacefully upstairs without memories of loss or heartbreak. I hope to keep it that way for a while.
But one day they might want to start families of their own. One day they might need to know miscarriage doesn't mean you did anything wrong, and it doesn't mean you're broken, and it certainly doesn't mean a short life will soon be forgotten.
So we've made the conscious decision not to keep the three who came before them a secret.
There are three silver doves on our Christmas tree each year.
They go up on the tree first and come down last. They are positioned in the front of the tree, near the middle, and always together. One dove for each baby we lost. One dove for each baby not sitting under the tree each Christmas. They will always be there with us so we can celebrate as a family.
There are three trees in our back yard lining the fence. One tree for each baby we lost. One tree for each child who won't play in that yard. They will always be there watching out for Jack and Norah. And watching out for me and Glen.
There are three miscarriages on my medical chart. There are three sweet souls whose feet never touched the ground but who have touched many lives. There are three reasons I'll keep sharing this story.
There are three."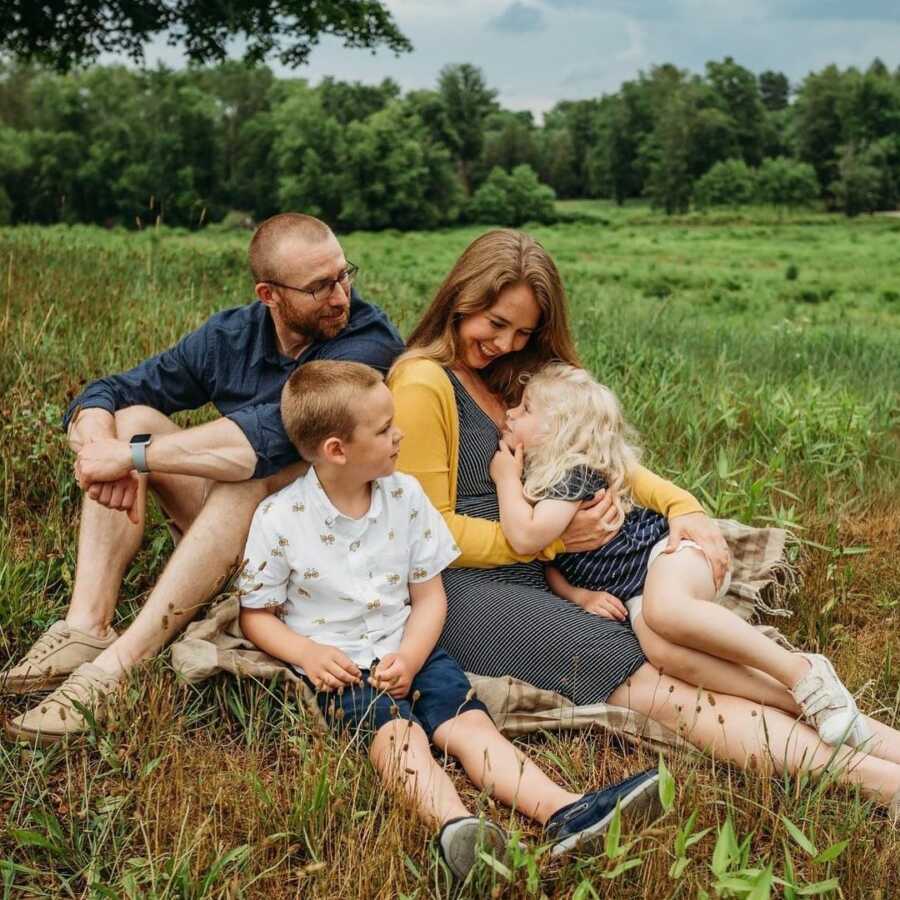 This story was submitted to Love What Matters by Becca Carnahan. You can follow her journey on  Instagram and her website. Submit your own story here and be sure to subscribe to our free email newsletter for our best stories, and YouTube for our best videos.
Read more from Becca here:
'Why do I include 'mom' in my professional bios? Because these two are with me every step I take.': Mom shares how her children are an integral part of her professional identity
'I was home alternating rapidly between 'totally chill, this is great' and 'tell me again why school buses don't have seatbelts?!': Mom shares learning to balance parenting anxiety
'It's confusing, this motherhood business. But it's beautiful.': Woman shares changes, new 'states of being' after becoming a mother
'Dear Moms, I have a secret for you. You can be BOTH.': Mom shares beauty of balancing multiple roles, embracing multidimensional personality
To The New Mom, Staring At Another Positive Pregnancy Test
Do you know someone who could benefit from this story? SHARE  this story on Facebook to let others know a community of support is available.