A young family visiting the Franklin Park Zoo in Boston had a 'once in a lifetime' encounter with one of the gorillas housed there.
Michael and Emmelina Austin were visiting with their 1-month-old baby boy, Canyon. Upon approaching the gorilla enclosure, the Austin's noticed another new baby, a little gorilla named Pablo. The couple had no idea Kiki, one of the females, had also recently given birth. But Emmelina had an idea for how the new mother must have felt.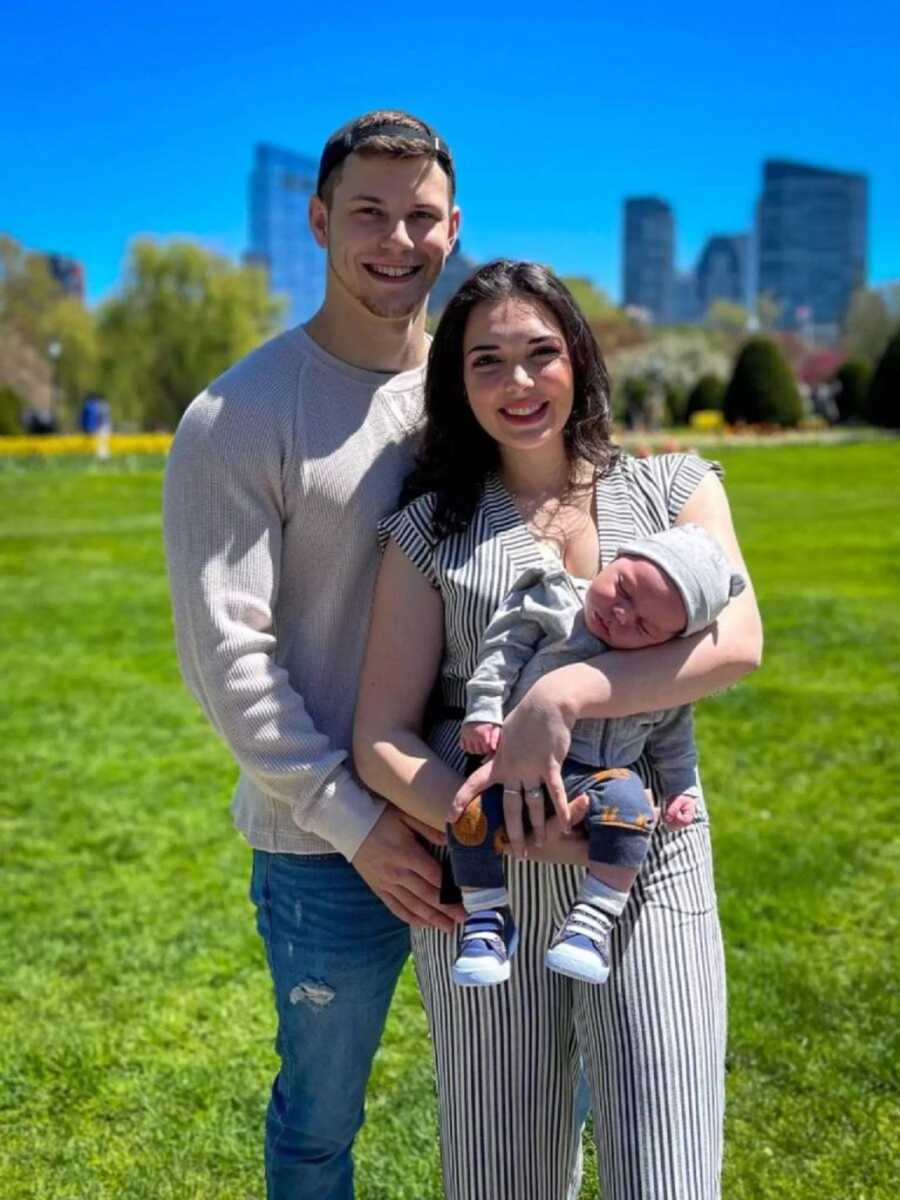 "As soon as I saw her, I could feel the maternal bond she had with her son," Emmelina tells Love What Matters. "I understood it because I felt it with my newborn as well."
"Such a massive, powerful animal and she had such a gentleness to her, a tenderness in her touch, and a very visible need to make sure her baby wasn't hurt while her older children rough housed around the enclosure." The mothers locked eyes, and Emmelina waved Kiki over, inviting her to meet her son.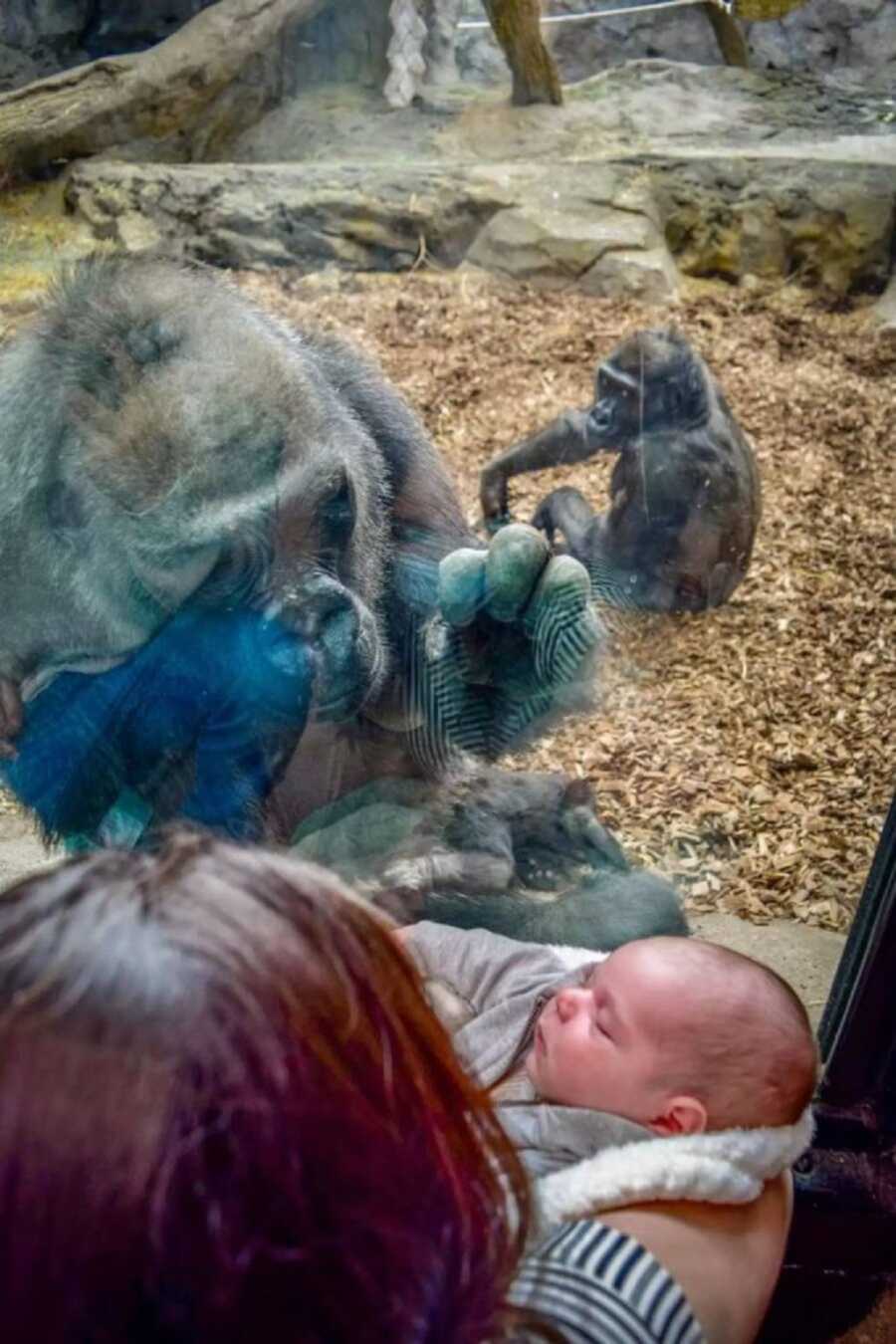 The gentle giant grabbed her own baby and carried him over on her knee. The mothers then interacted through the glass for several minutes, pressing their hands and faces to the glass and motioning at each other's babies.
"I put my son's hand up against the glass and she put her finger to it, seeing how tiny his little fingers were," Emmelina shares. "She tilted her head back and forth and used her hands to talk to me. We shared so many emotions through the glass."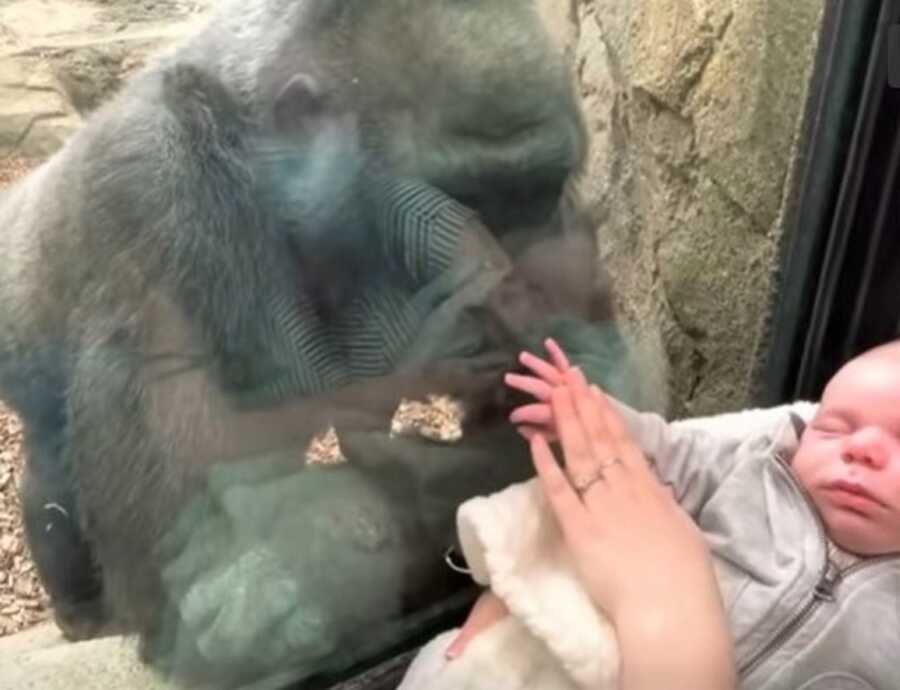 Kiki folded her arms and rested them on the ledge at the bottom of the glass, lovingly gazing upon Canyon. "She looked at him like most people look at newborns. Such love and adoration for him," recalls Emmelina.
But the gorilla mama wasn't only interested in the Austin's little bundle of joy. She also seemed to be able to relate to and appreciate the young mom. "She looked at me as his mother with admiration and respect," says Emmelina. "There was no doubt in my mind she new the love I had for him as a mother herself, and what I had gone through to bring him into this world. Her eyes told me she was proud of me."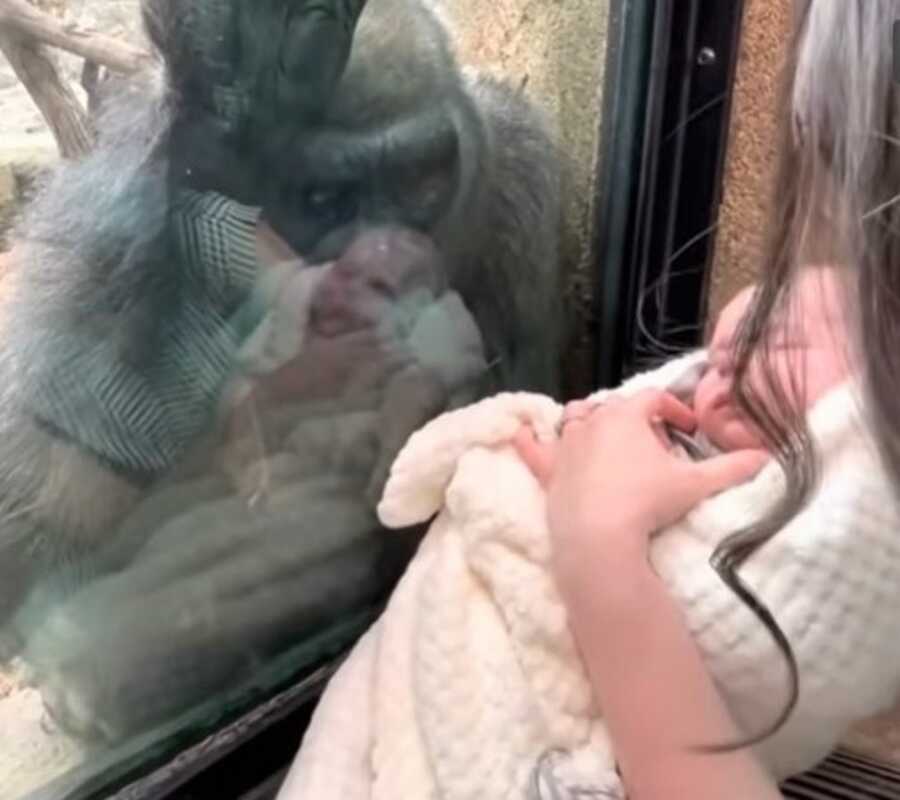 "It was very obvious she wanted to hold him," Emmelina tells Love What Matters. If not for the glass barrier, the couple probably would have let her. "I never once thought she was dangerous or would hurt him. She very much knew what a delicate, precious life I was holding in my arms."
Unsurprisingly, the new parents' lives have been 'a little wild' and they have yet to make another trip to visit Kiki, though the Austin's say they've talked about going at least once a week since.
Until Canyon can see Kiki again, he has his very own stuffed gorilla to enjoy, sent courtesy of the Franklin Park Zoo. "Canyon loves it and cuddles it all the time," shares his mom. "We show him the video, and although he's still not old enough to know it's him in the video, he watches it and seems to enjoy it like we do. It will be a lifelong memory for sure. There will be no forgetting that day!"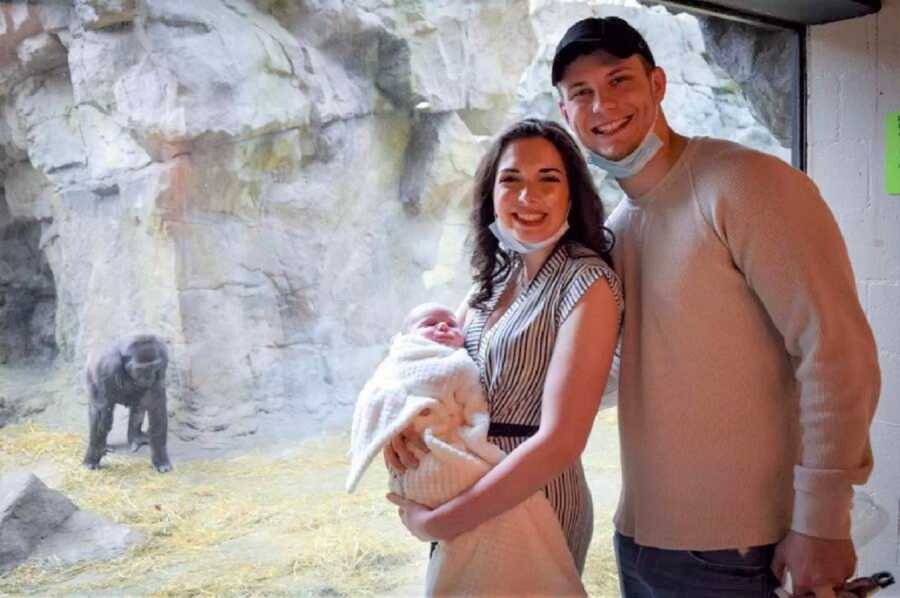 Do you have a similar story? We'd like to hear your important journey. Submit your own story here and be sure to subscribe to our free email newsletter for our best stories.
Read more incredible animal stories like this:
Albino Elephant Calf Caught In Trap Steals Hearts With Inspiring Recovery
'We got photobombed by this beautiful, gentle giant GIRAFFE during the wedding. He just walked up to us and was so inquisitive.'
'One day he sat me down and said, 'Stop bullsh-tting. Start your OWN non-profit.' It was the little push I needed.': Young woman opens non-profit animal rescue
'We have a kitten with no eyes.' He looked like a mini Frankenstein monster. Instantly, we became advocates.': Couple shares animal rescue missions, 'I never planned to own my own personal zoo'
Firefighters Go Above And Beyond To Rescue Deaf Dog Trapped In Storm Drain
Spread beauty and strength for others. SHARE this story on Facebook with family and friends.