"My husband and I always dreamed of having a baby. We got pregnant quickly and had a perfect pregnancy. As the due date approached, we were so excited. The nursery was finished and all we needed was our perfect baby. This was the first baby on either side of the family so she was already spoiled.
Sadie Rae Haywood arrived two weeks early on March 8, 2016 and the delivery went smoothly. The medical team took her away to do what we thought was routine testing. However, it took the doctors and nurses quite a while to come back. When they finally did come back, they told us she was having issues breathing and would immediately need to be airlifted to Levine Children's Hospital in Charlotte. Our dream quickly turned into a nightmare. We didn't even have a chance to hold or bond with our baby yet. We were terrified that we might not ever get that chance.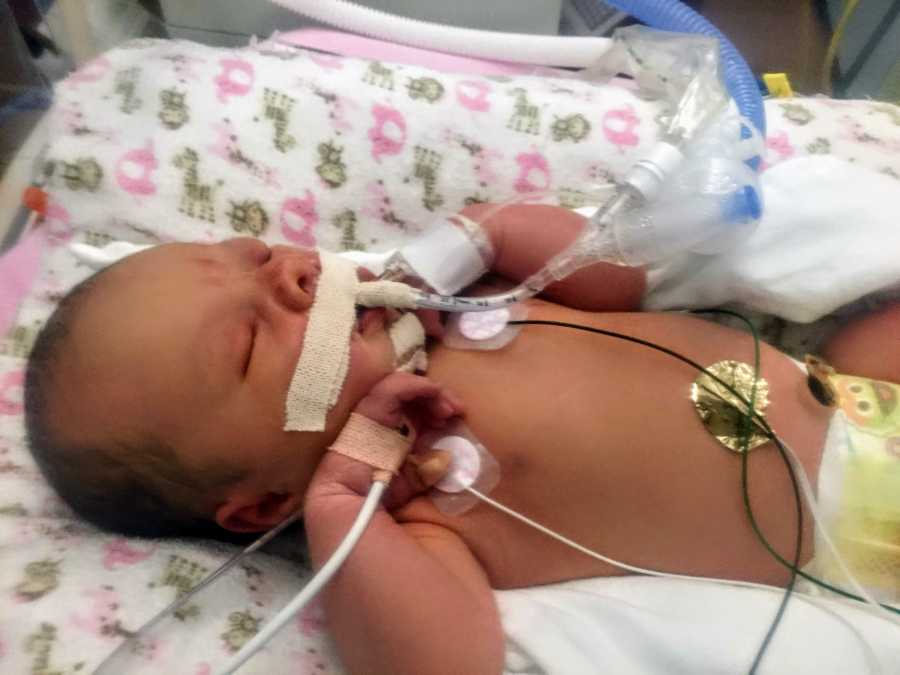 We initially thought Sadie's lungs were not fully developed but things weren't that simple. It took a week for us to be able to hold our baby for the first time. To not be able to hold and comfort your sick and crying baby is heartbreaking. A few weeks later, the doctors discovered that Sadie had an intraventricular hemorrhage, which is bleeding and swelling of the ventricles in the brain.
On March 31st, Sadie, who was less than a month old, underwent brain surgery for the first time to correct this. We thought this would be the end of our troubles. However, the doctors would fix one issue then only to find another. Sadie wasn't eating well and her heart rate was also concerning. I spent my first Mother's Day in the hospital and I had never been more proud. Our two-month-old baby girl was so brave and strong.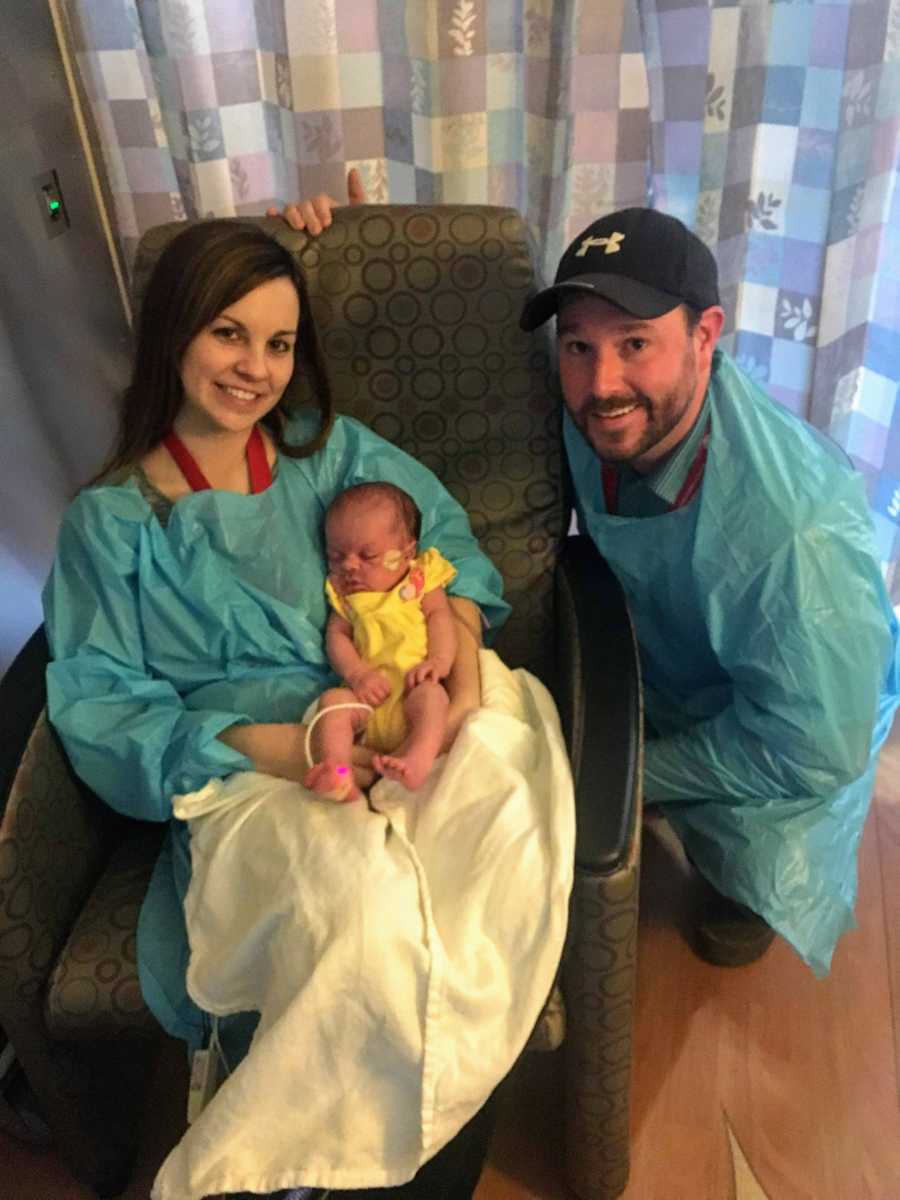 Sadie progressed well for the next month. In preparation for her release from the hospital, she had a feeding tube surgically implanted on May 11th to ensure she would get adequate nutrition at home. However, right before we were supposed to go home, Sadie had an MRI that showed her brain ventricles had increased again. On Friday, May 13th, Sadie had another brain surgery to get a shunt implanted. She had three surgeries in less than three months of her being alive. To say we were distraught is an understatement.
Finally, on May 20th, at 10 weeks old, Sadie was released from the hospital. We can't explain how overjoyed we were to take our baby girl home for the first time. Even at Sadie's young age, we knew she was happy too because she couldn't stop smiling and cooing. All she'd known before this was being poked and prodded at the hospital and we could tell how content she was at home just by looking at her big blue eyes.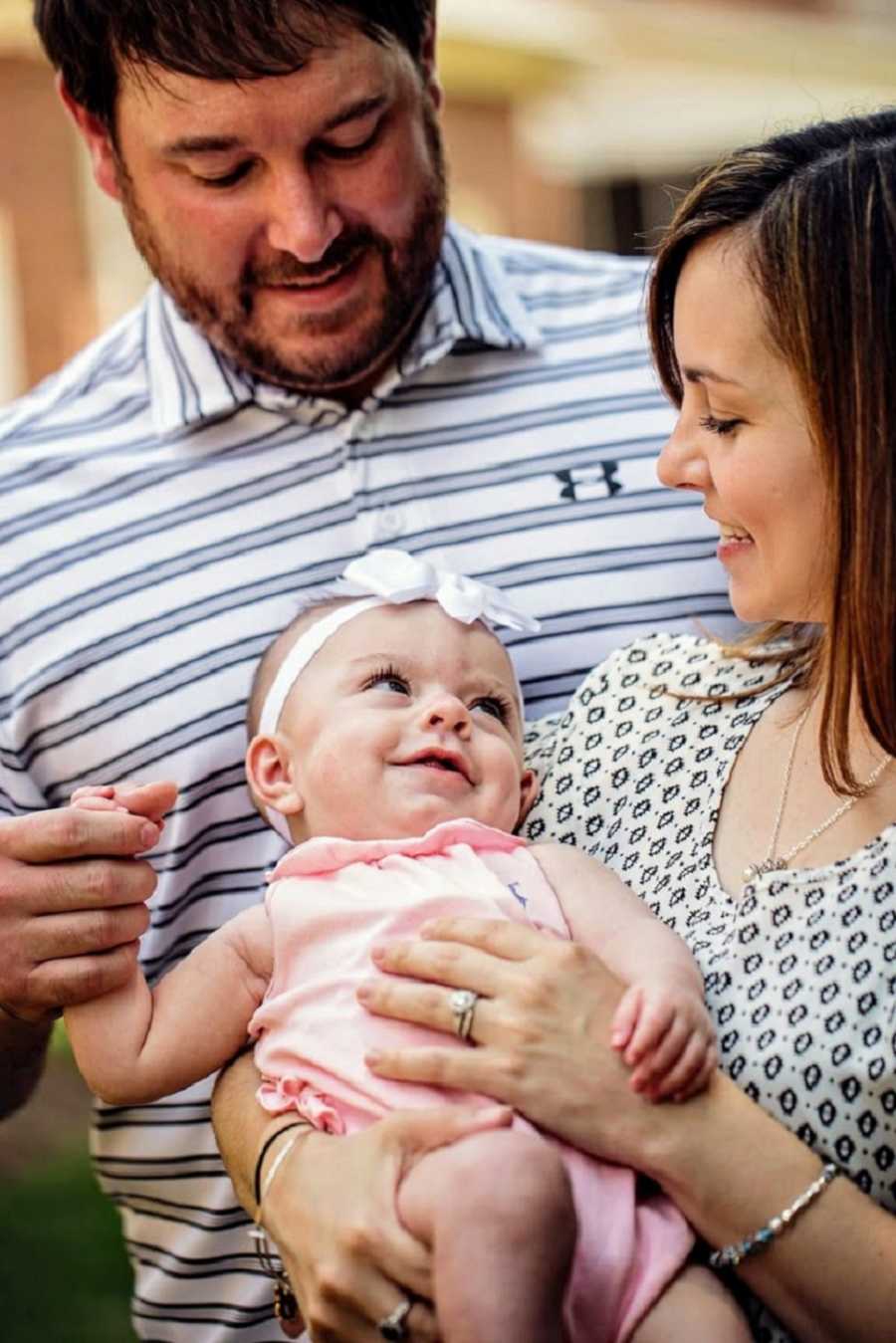 The first few weeks at home with Sadie were wonderful. Having a new baby at home is always an adjustment but we loved every minute. This was all we'd ever wanted. Lingering in the back of our minds though was the thought that maybe something more was going on with Sadie. Why was our baby so sick after a healthy pregnancy?
My husband had a distant cousin with a rare genetic disease but we never gave it much thought because only 1 in 80,000 people have the disease. After some research, we found out that babies with this disease often had respiratory issues at birth. To ease our minds, we decided to have Sadie tested for the disease. After an excruciatingly long wait, we got the worst news imaginable on June 27th.
Sadie had Sanfilippo Syndrome, a devastating fatal disease with no cure. Our sweet girl would suffer for years before ultimately dying in her mid-teens. The following weeks were the darkest of our lives. We questioned why God would allow an innocent baby to suffer so much. It was the worst feeling in the world to be told you child is dying and there is nothing you can do but slowly watch it happen. We saw all our hopes and dreams for our little girl vanish.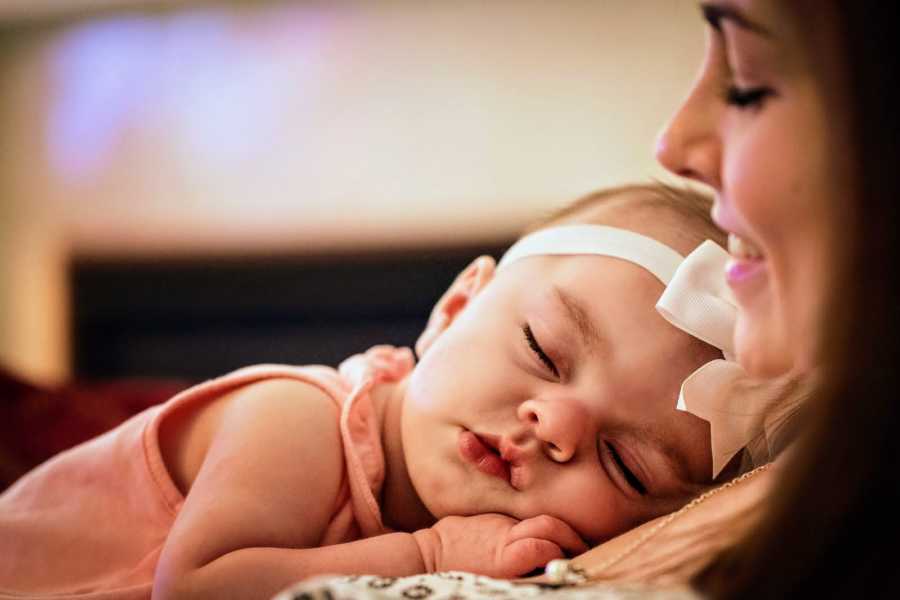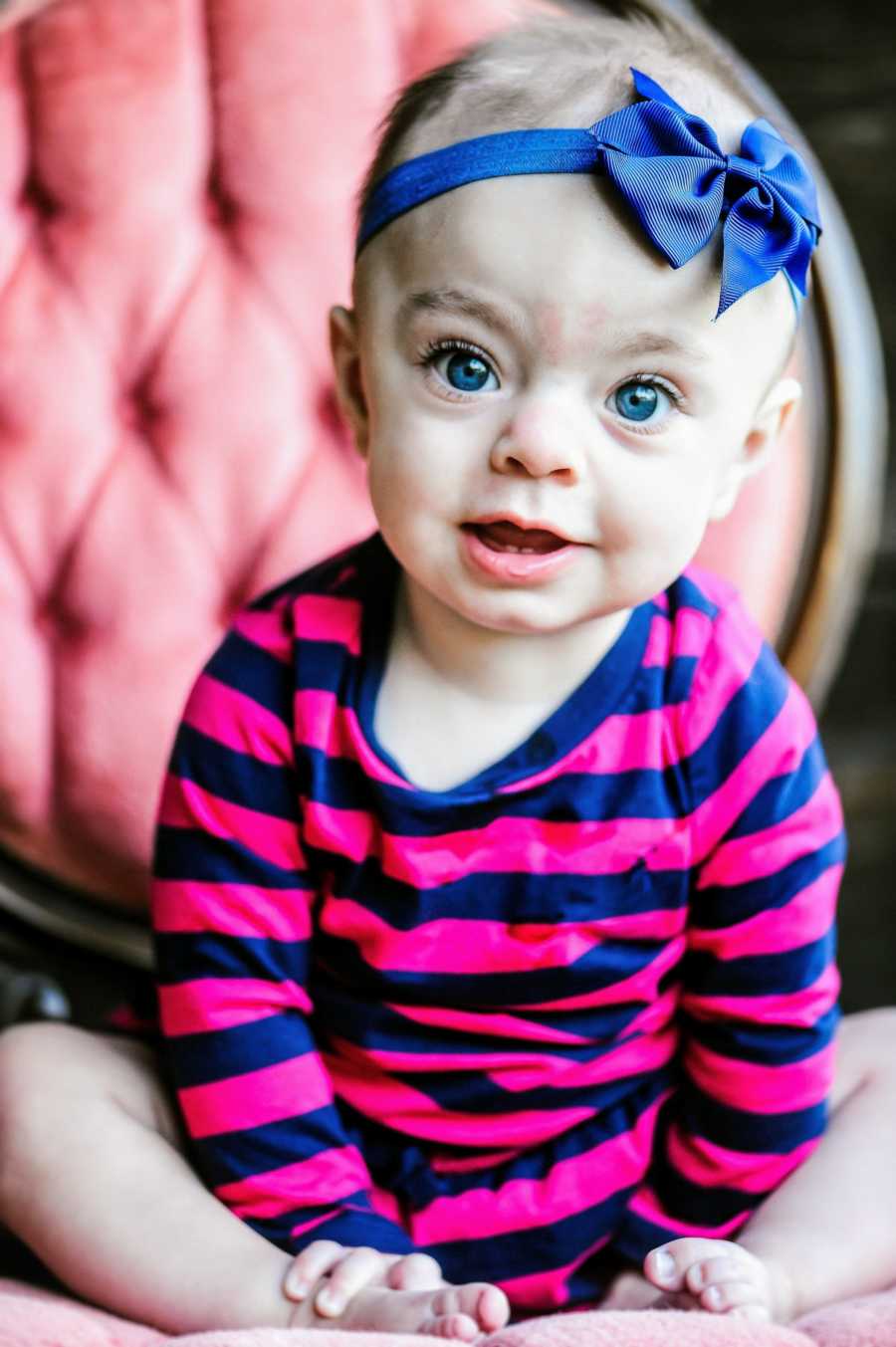 Many equate this disease to a Childhood Alzheimer's because kids progress normally for a few years but then gradually lose the ability to walk, talk, and feed themselves. This disease is particularly cruel because you get to see your kid progress normally for a few years. You get to learn their personality and get to know them and build a bond and relationship and then they start to lose all of it. How could we, as parents, just sit by and watch Sadie die? We could not and would not. We knew we had to fight for Sadie's life.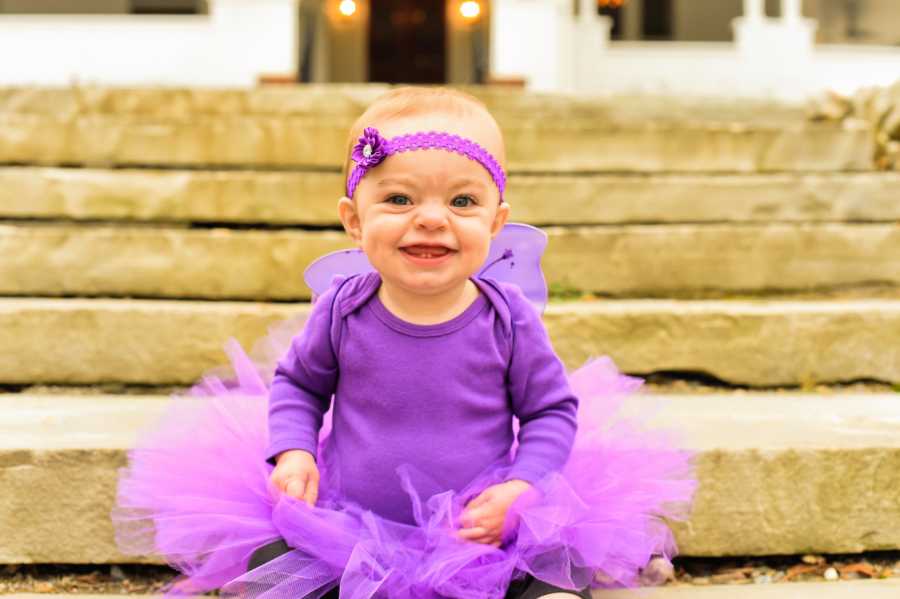 Luckily, around the same time, a little girl named Eliza O'Neill had just become the first child to be treated in a revolutionary new gene therapy trial. We also found out about a few other clinical trials starting in the near future. Unfortunately, as is common in all clinical trials, there are limited spots in the trial. We knew we had to get to work to allow more children into trials and fund other promising treatment options. A month after Sadie's diagnosis, we were invited to South Carolina to meet other Sanfilippo families and be included in a video to help raise awareness and funding for this rare disease. We are so blessed to have been welcomed into the Cure Sanfilippo Foundation family, a group of parents that work tirelessly to raise funding for a cure.
We were told  we were lucky Sadie was diagnosed at such a young age because her likelihood of getting into a trial was higher than older kids. Also, if she got treated early enough, maybe she'd be able to avoid most damage caused by the disease. We were full of hope because we had options. We quickly made trips to see all of the doctors running clinical trials. We met with the bone marrow transplant team at Duke University Hospital in Durham, a clinical trial team at Boston Children's Hospital, and the gene therapy trial team at Nationwide Children's Hospital in Ohio. We also had conversations with doctors doing trials outside the United States. What we discovered, though, was that Sadie's brain hemorrhage at birth would prevent her from getting into any of the existing trials. This was absolutely crushing but it just drove us to work even harder to raise funding for more inclusive clinical trials.
Our community has rallied around Sadie and helped a lot with our mission. So many people have held or contributed to fundraisers and we feel so blessed. Almost every time we're running errands, we see someone with a Saving Sadie Rae bracelet or shirt. To know we're not alone in this is such an amazing feeling. We've had a lot of support from people we've never even met around the world through the Saving Sadie Rae social media accounts. This journey has shown us how good people truly are.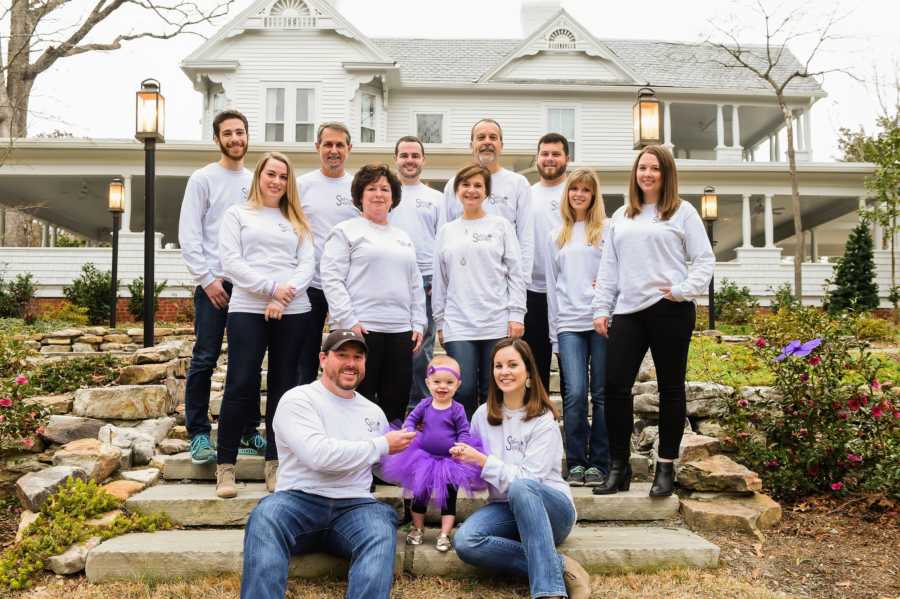 While we were focused on raising funding to get more clinical trials started, we were also focused on getting Sadie up-to-speed. Being in the hospital for the first 73 days of her life as well as all her complications and surgeries made it hard to catch up and be on the same level as other kids her age. But she has been a fighter from day 1 and managed to catch up. She has weekly home visits with an occupational therapist, physical therapist, and speech therapist. All the doctors, insurances, and fundraising make our lives a whirlwind but it is so worth it. Each milestone that Sadie has reached has been a very big high for us. We didn't think she would ever walk; she was over 2 years old when she took her first solo steps.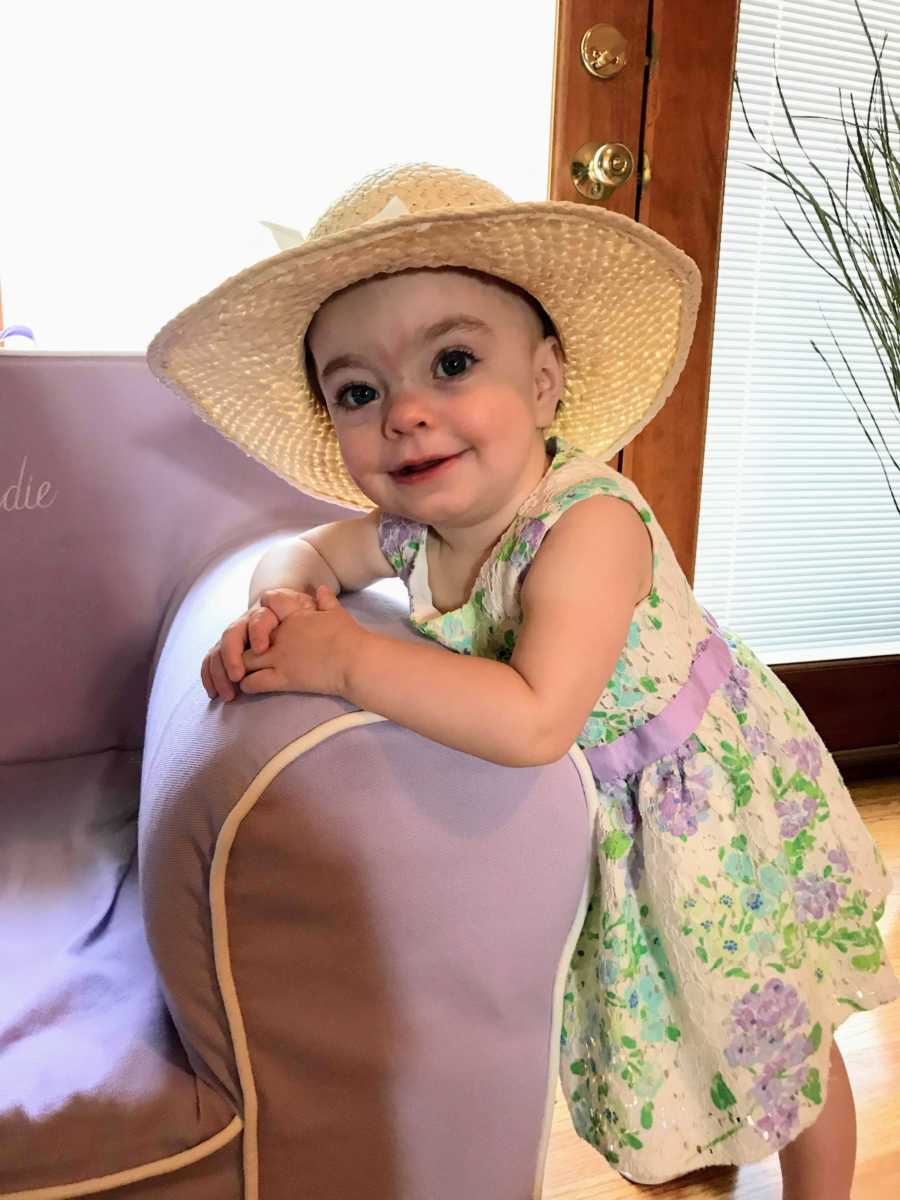 Our parents say we weren't as smart when we were Sadie's age. Before she was 2, she already knew all her ABCs and could count to 10. Today, she knows so many words that we lost count. She constantly amazes us. She loves talking to Amazon's Alexa and asking it to play Baby Shark incessantly. She is such a happy girl that loves to sing and dance. It's impossible to be around her and not feel an infectious joy. Hearing Sadie sing must be what it's like to hear angels sing. We can't imagine not hearing her voice again.
As time has gone on, we've gotten more and more anxious to get Sadie into a trial. Children with Sanfilippo typically start regressing around age 3. We are racing a clock and with each passing minute we are closer to that dreaded day when we Sadie stops progressing and begins regressing. The day the clock turns back. Sadie turned 3 this past March and it was such a bittersweet day because she is so smart but we knew that would all change soon. We're always reminded that although she is reaching these milestones today, in a couple years, she will regress and lose these abilities.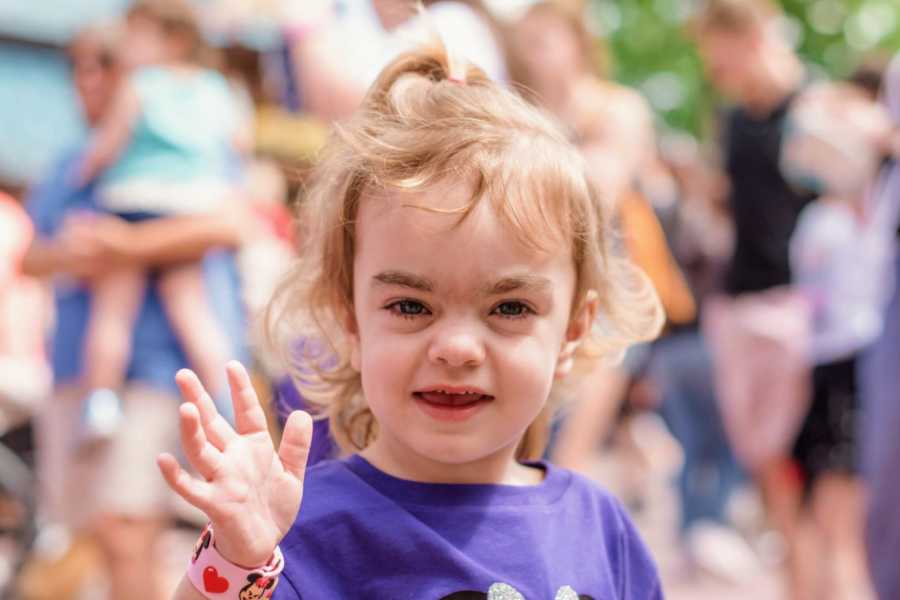 In April of this year, we learned that Sadie had finally been accepted into a new clinical trial and we have never cried so many happy tears! The trial requires that Sadie receive weekly enzyme replacement therapy infusions at UNC Children's Hospital. We hope this treatment will stop the build up of heparan sulfate in Sadie's body and delay regression. While we don't know the outcome of the trial, we know the outcome if we do nothing is regression and death in her teens.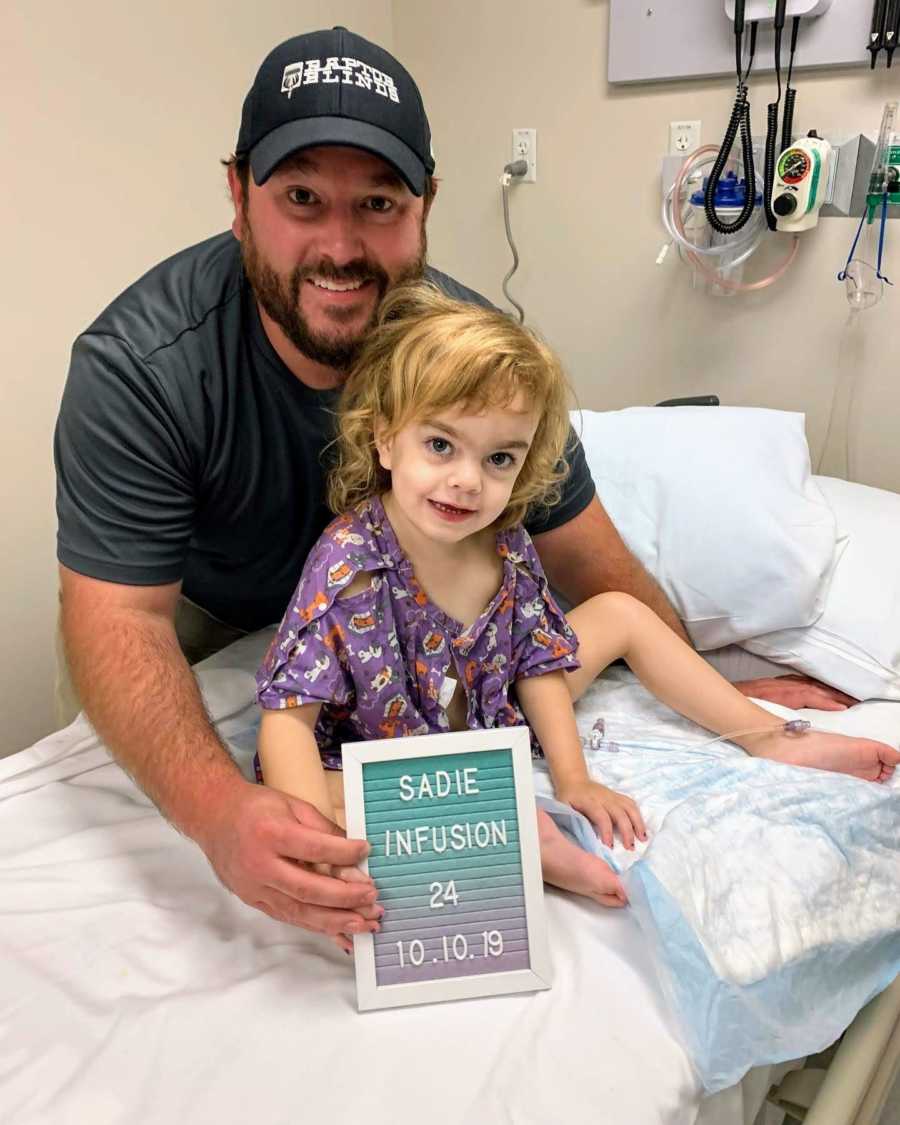 We are incredibly grateful for this opportunity for Sadie and pray that it will be effective in slowing the progression of this disease. The doctors and nurses go above and beyond to make sure she's happy and having fun while confined to a hospital bed. Recently, they setup trick-or-treating just for her because she was stuck in the hospital on Halloween! The clinical trial she is in requires weekly infusions through her port.  She is always very still and cooperative when the nurses access her port, and it is not a small needle. While we don't know the results of the trial, Sadie is responding well and we haven't seen any regression yet. We hope this means the drug is working.
The roller coaster that is Sanfilippo Syndrome never stops. In June, we learned that the company creating the drug Sadie is getting is divesting the trial. Sadie is guaranteed the treatment for two years but unless another drug company buys it, the trial will be canceled. For enzyme replacement therapy to be effective, Sadie has to continue getting the treatment each week. Our only hope is that the trial will show positive results and another company purchases this drug and continues to move the treatment forward. Sadie deserves a chance at life.
We feel very helpless at times and don't understand why this is happening to our sweet Sadie or any other child. All we can do is have faith and continue to raise awareness and funding for a cure.
Our dreams have changed. Before Sadie was born, we dreamed of her playing sports, helping her getting ready for prom, going to college, and her dad walking her down the aisle. Today, we dream she lives past the age of 14. That she learns to ride a bike and that she doesn't suffer too much. We try to make Sadie's life as normal as possible and get in as many experiences as we can while she's still healthy. She recently started preschool and absolutely loves it! We never talk about Sanfilippo Syndrome in front of her because we don't want her to think she is different than other children. Sadie's future terrifies us – especially not knowing how long she will be with us. We try really hard not to focus on the future and live in the now but it's hard.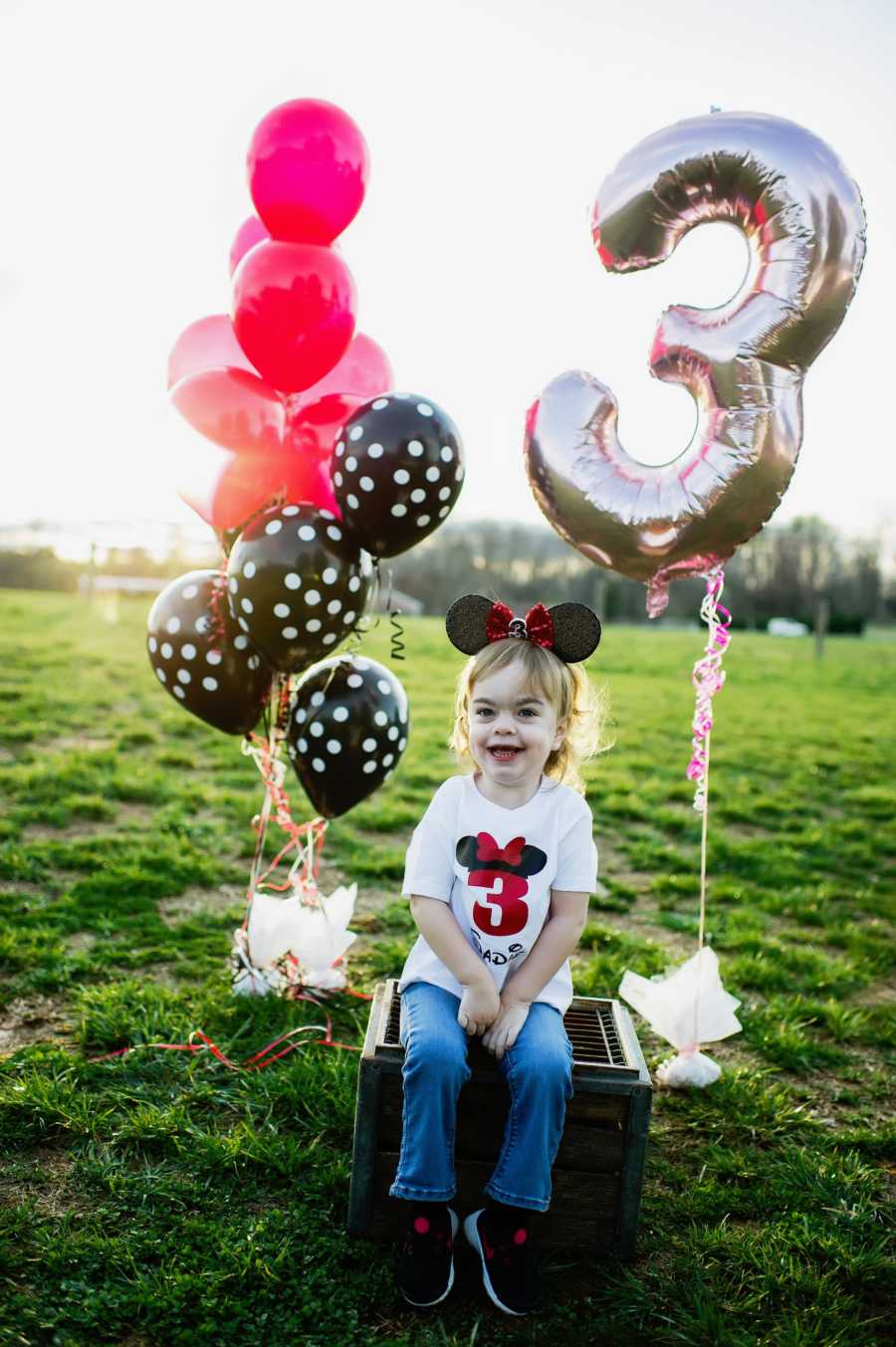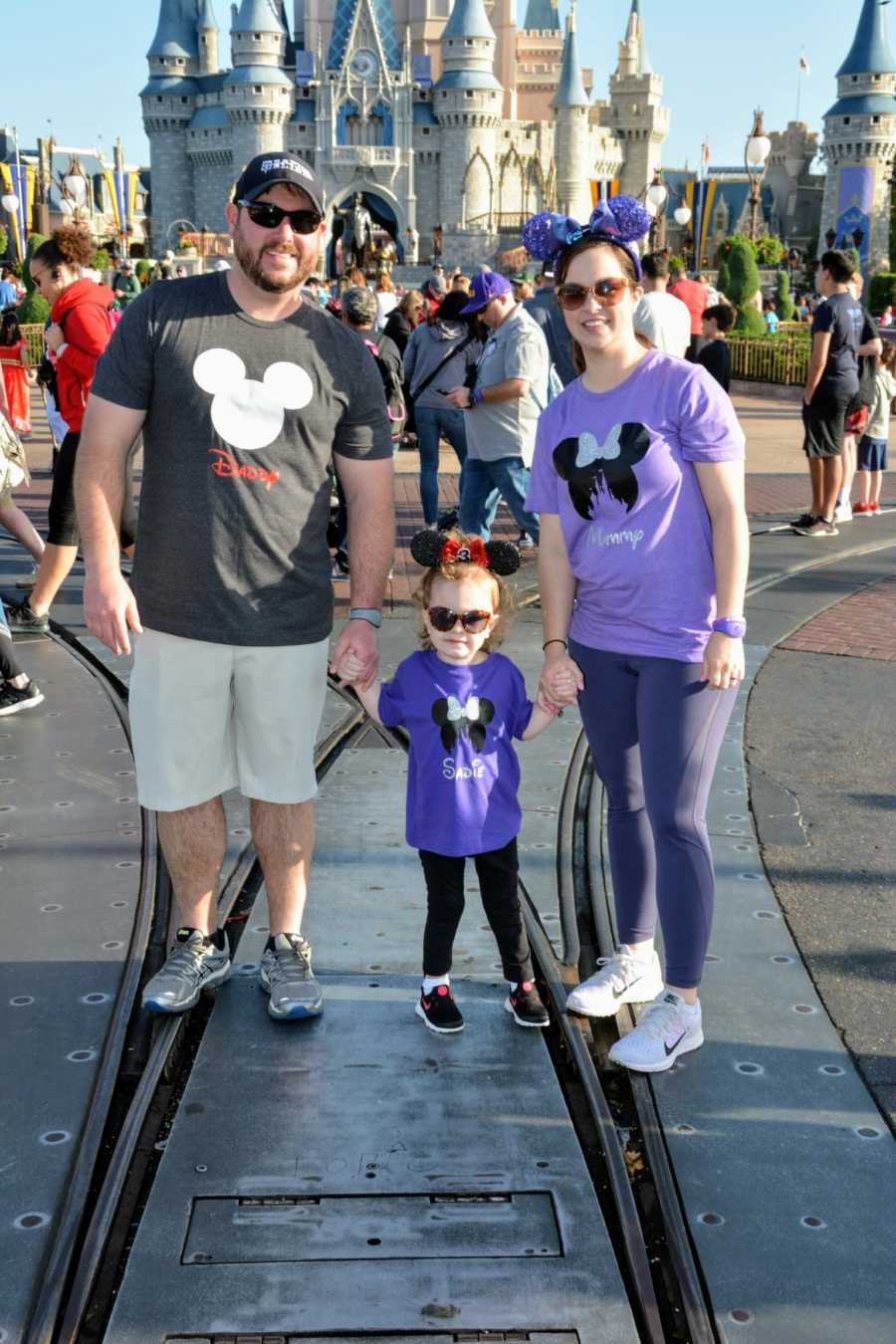 Our doctors have told us that we're getting closer to a cure but it's still a long way off. The truth is, we don't know if any of these trials will work long-term. It's still too early to know.
Whatever happens, we take comfort in knowing that Sadie will make a difference. She already has. Even if the cure doesn't happen for her, it will for others because of the action she has inspired in all of us. It's crazy that our greatest tragedy is also our greatest blessing. Sadie has already taught us so much about life, love, and acceptance. She's taught us to enjoy each moment because we don't know what the future will hold. We feel so lucky to be her parents."
From podcasts to video shows, parenting resources to happy tears – join the Love What Matters community and subscribe on YouTube.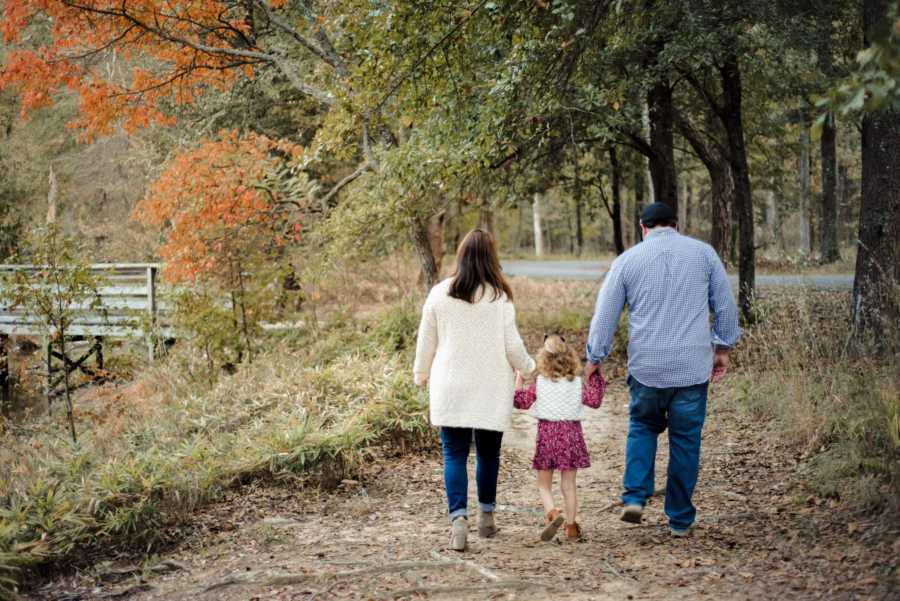 This story was submitted to Love What Matters by Ashley Haywood, blogger at Saving Sadie Rae, of Albemarle, North Carolina. You can follow her journey on Facebook and Instagram. Submit your own story here and be sure to subscribe to our free email newsletter for our best stories.
Read more stories like this:
'Your baby is breathing 100 times per minute and still not getting oxygen.' I felt so angry. I wanted answers.': Mom 'crushed' by Childhood Alzheimer's diagnosis, 'we spoil her every day'
'I'm waiting for my daughter to die. Every day I wake up, she might not.': Mom gives birth to 'rainbow baby' with 'rare, terminal' Sanfilippo syndrome, makes 'each day count'
Spread beauty and strength for others. SHARE this story on Facebook with family and friends.