"It was a special day out Christmas shopping with my stepson, Cavan, that became even so much more.
We had been shopping for a few hours searching for gifts for his Dad and other family members. Cavan then wanted to check out a store near Santa's workshop, so I decided to sit and wait with the shopping bags on a bench nearby. Not long after I sat down, I noticed Santa coming my way. The Christmas fanatic that I am, I knew I just had to take a picture, I mean… it's Santa!
Just as I was ready to take the picture, Santa steps away from his chair…he walks over to a veteran sitting on the wall. As Santa approaches, the veteran stands and Santa takes a knee. I hear Santa telling the gentleman, in a soft voice, of others he knew who served. He shakes his hand with genuine gratefulness, thanking him for his service and returns to the children.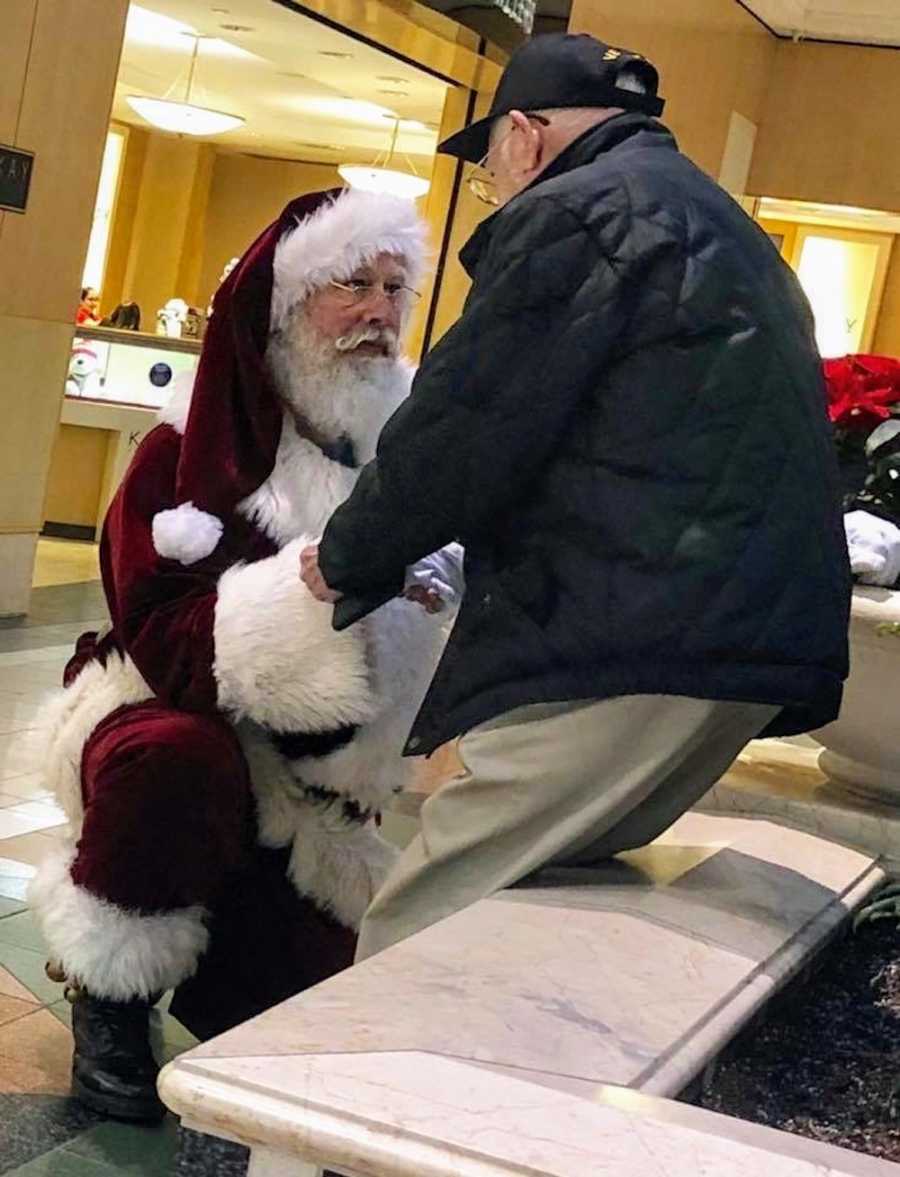 Later that day, I posted the picture on my Facebook wall as well as in my local North Wilmington Facebook Mom's group. My thoughts were that someone would recognize the veteran and perhaps they would also find sentiment with the photo. Little did I know what would occur.
Someone did, in fact, recognize the WWII veteran. Shortly after I posted, I received a message saying, 'That's my Dad!' from his daughter, Amy Platt. Not only that, but others were commenting of heartwarming stories about Santa and how he impacted them; always greeting and respecting veterans, signing to deaf children and holding the sleeping babies (acting like he was asleep himself). I even received a Facebook message from Mrs. Claus boasting about her kind, endearing husband we all call Santa. If you are looking for the real Santa, I know him!
I watched as the picture went viral and then a local Fox news reporter reached out to me to do a Live segment later that week, where I then met Santa and Mr. Smiley in person. I also met several of his family members, including Amy. I learned more of Mr. Smiley's service to our country and how he and his wife were married 66 years before she passed three years ago.
His love and adoration for her was still quite evident. He said all 10 of his children are well educated, with master's degrees and one with a PhD. Also mentioning that he has 26 grandchildren and several great grandchildren. He was bursting with pride for his family.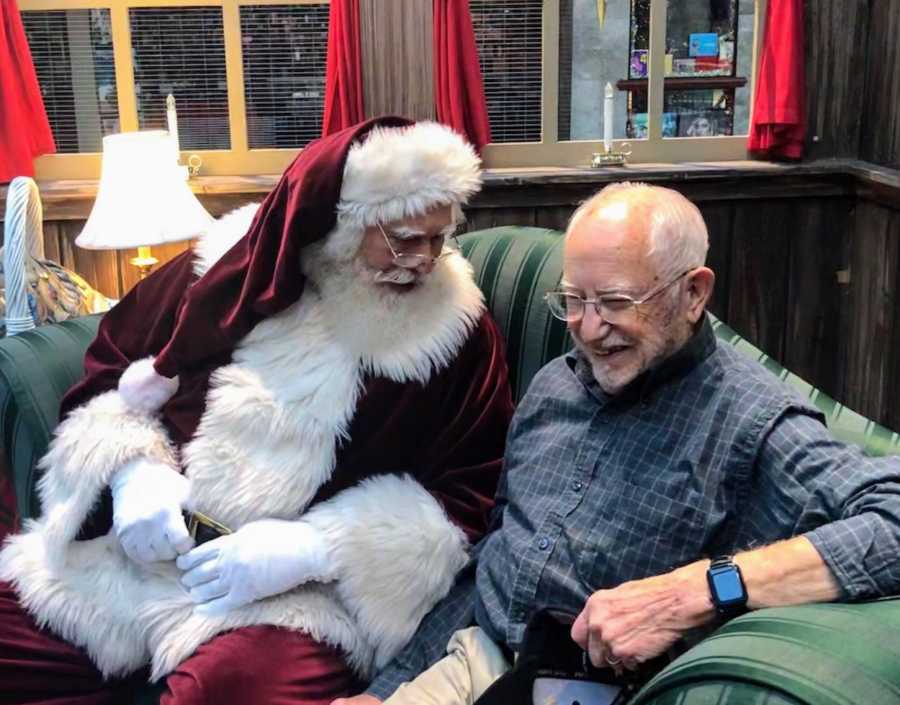 This picture is no longer just an image. It's a photo that came to life. It goes so much deeper because of those two men. They have led lives that will leave legacies and we are all getting a glimpse of it now. In a world full of so much negativity, I truly think we have to seek the positive. There are genuinely good people all around us, doing great things. It's all about perspective. We just need to choose to see it and share it."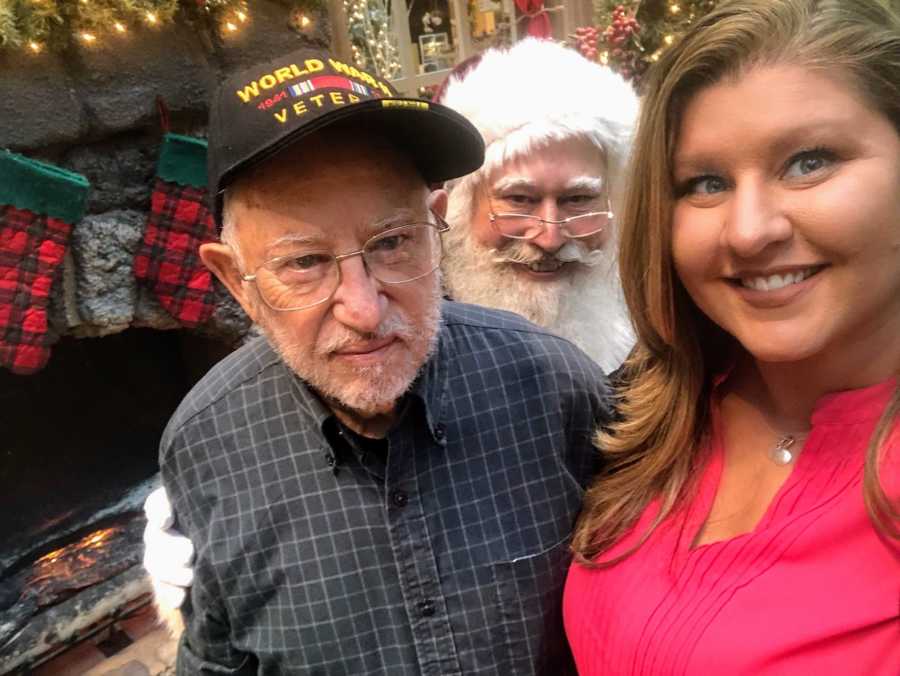 This story was submitted to Love What Matters by Gina Stecher Wilbur, 44, of North Wilmington, Delaware. Submit your story here, and be sure to subscribe to our best love stories here.
Read more Christmas Magic here:
'I whispered to Santa, 'He is blind and autistic and is very interested in Santa.' He said, 'Say no more,' and immediately got down on the floor to greet my little man.'
Help us show compassion is contagious this holiday season. SHARE this beautiful story on Facebook with your friends and family.