"10 years ago, my husband changed his mind about marriage after almost 15 years of marriage, 5 moves, me supporting his Air Force career, 3 babies, me being a stay-at-home mom, and 3 dogs, he changed his mind. Just like that.
I change my mind about what I might make for dinner or what color I might paint my walls, but never would have changed my mind about marriage or the commitment that comes with it. But people do; my husband did.
It's now the anniversary of me knowing I was going to be a single mama. I was in no way prepared at all, or so I thought.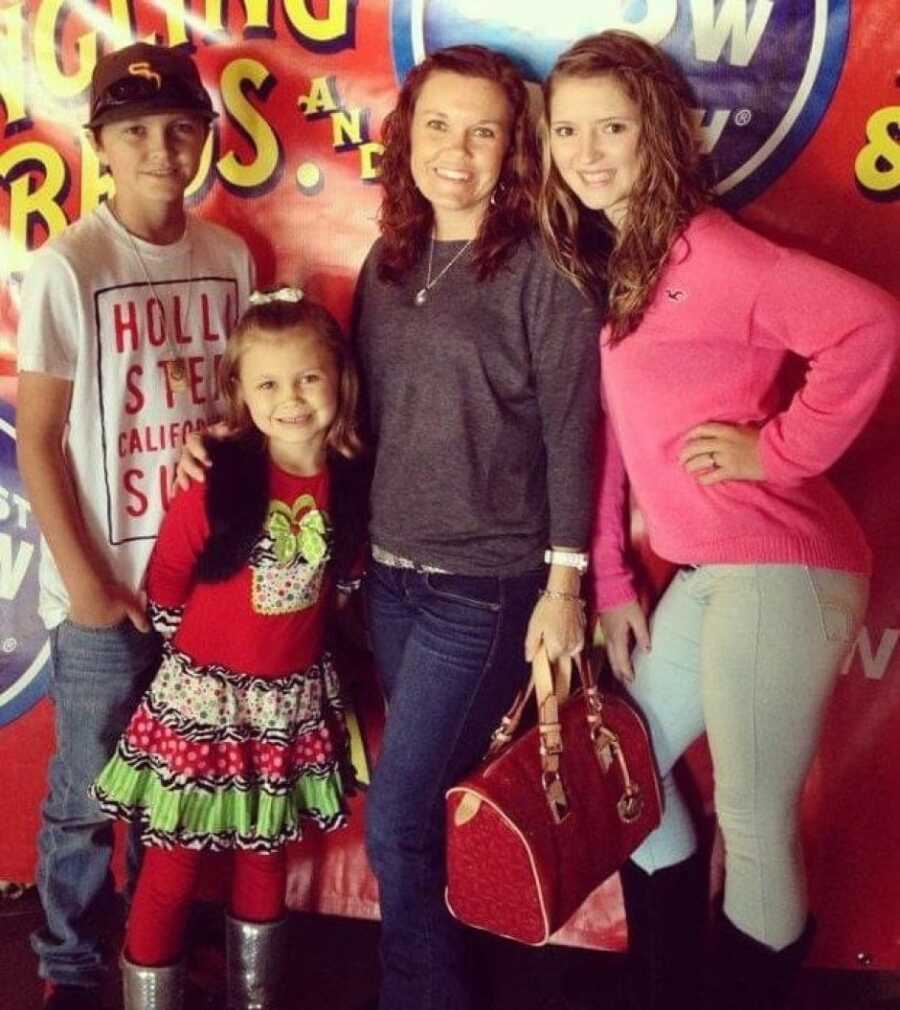 We were living in Florida where I had no family, and he had his family. That alone brought me to my knees. Pain like no other. It's also the anniversary of me finding out what I'm truly made of, though: love, grace, determination, and grit. An anniversary I'm so proud to celebrate each year. Madeline was 13, Mason was 10 and Mia was 5, I was 38, and we took it one day at a time, figured it out little by little. Together.
We celebrated together, all the big and small wins, all the hard days, and all the good days. And there was a lot of both. I'd love to share some important truths I've learned along the way, through these savage but incredibly rewarding years. Some truths that have saved me, us really. Some truths that may help others.
I never knew how strong I was until I had to forgive someone for my own well-being. Forgiveness is imperative to healing. It's imperative for healthy parenting too. As hard as it is, it's key for moving forward. I remember the first time my ex-husband brought his girlfriend to the ballfield to watch our son play baseball. I remember the feeling I had inside of me, it didn't feel like forgiveness. I remember thinking, maybe I haven't forgiven him (or her), but there she sat trying to watch baseball in Florida, with no sunglasses.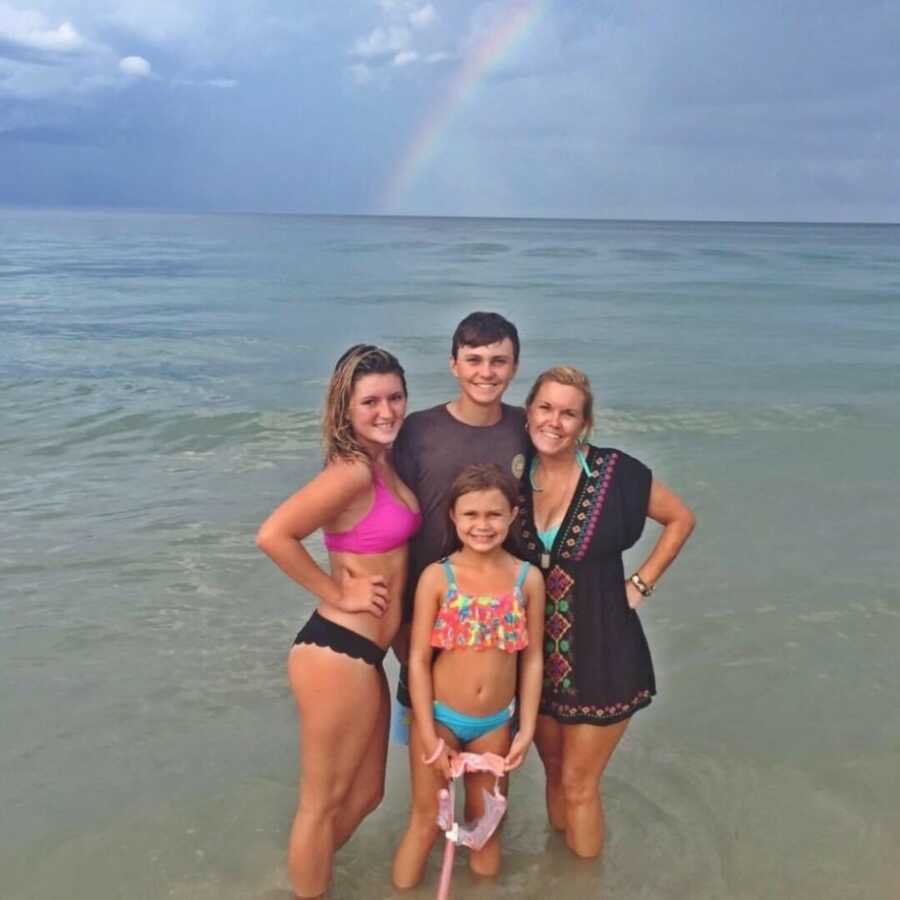 Impossible really. She had forgotten hers. Without thinking, I offered her an extra pair I had, and she accepted. She watched the game comfortably then, cheering for Mason, and I knew, at that moment, I had forgiven. I also knew it might not always feel that way, and it's absolutely okay if you have to forgive often and on repeat.
I have forgiven so much in the past ten years and to be honest, I'm sure others have had to forgive me. So do it, forgive. Forgive often if you need to.
Adjusting was hard. It was really hard. It is still hard. But hard can be rewarding. My children were no longer in a home with two parents, they had one who was expected to meet their needs daily. Those needs are great at 13, 10, and 5. Those needs can still feel great at 23, 20, and 15. I remember so clearly getting a text early one morning from my 10-year-old son, it was a picture of his little sister who he had gotten dressed and ready for school, she was 5 and in kindergarten.
He asked for my approval on her outfit. At that moment, I was overcome with emotion. I was so proud of him. She had bows in her hair and everything, but I was also sad, sad I had to ask him to have adult responsibilities as a child. Sad I had to work early and couldn't be there to do it all. I struggled a bit with feeling like I had to ask my older children to help more than I should, but I will share this, they do it, they learn, they grow together. We grew together. Our faith became more important than ever.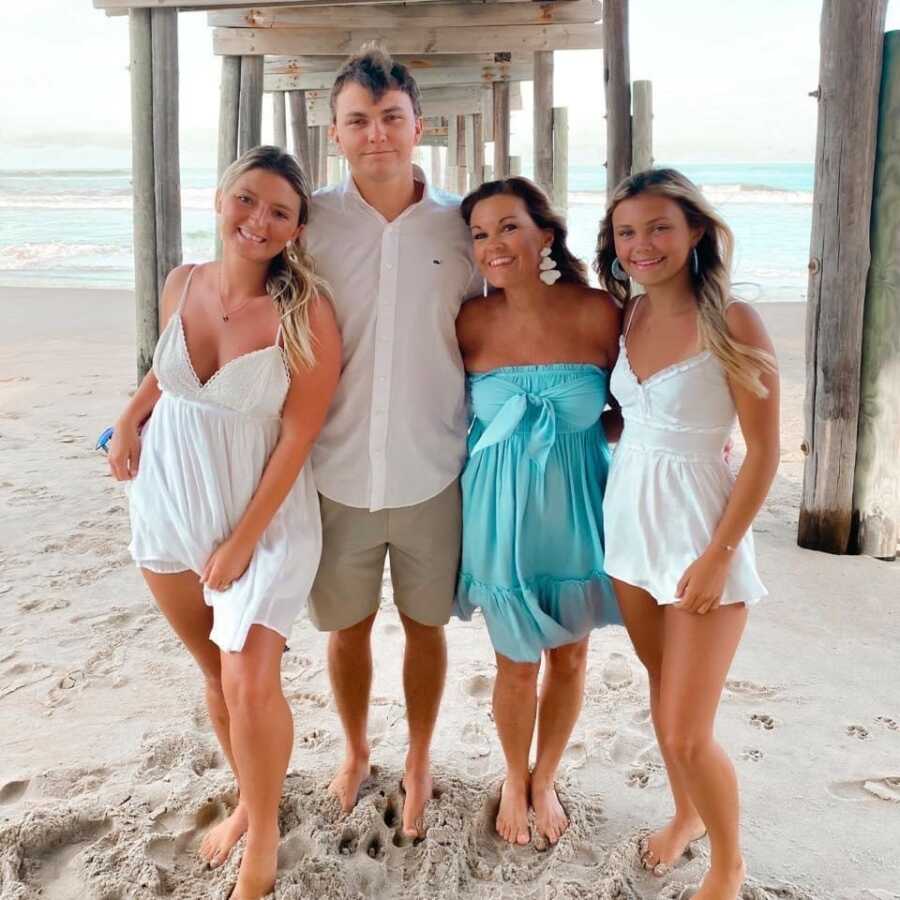 And me learning to love myself again was essential to 'us' being okay, and I knew it. We learned how 'hard' could be rewarding for us all. It truly depends on how you look at your 'hard.' My children are truly best friends because of 'hard,' and I know without any doubt that they are going to be exceptional parents because they've helped parents. Even now, 10 years later. The same brother that got his little sister dressed for kindergarten makes sure his now 15-year-old sister is dressing appropriately. So just know as we adjust, we grow.
I also know there are things in life that are so hard to reconcile, divorce being one of them. Really hard. Sometimes, it's hard to even make sense of how divorce happens, especially after so many good years together. Laying blame is easy, but another truth I've found, which I realized early on, is that I didn't have time for hate or negativity in my life. Blame gets you nowhere. There is truly no room for it. There has never been room in my life for blame. Not blaming has taught my children a plethora of good things too; they take responsibility for their actions, and for that, I'm proud.
I'll never forget the first (and only) time Madeline left her entire bag of dance costumes at home for competition weekend two hours away. About 15 minutes from the venue, she asked me to pull over so she could look for something. She popped the trunk, and I saw the tears in her eyes. She had left the entire bag (all 9 costumes) at home. But she immediately took ownership, said she knew she should have grabbed them and been more responsible.
At that moment, I was so proud, and we figured it out. When you are a single mama, you are often creative in parenting and making things happen. But we don't blame in my house.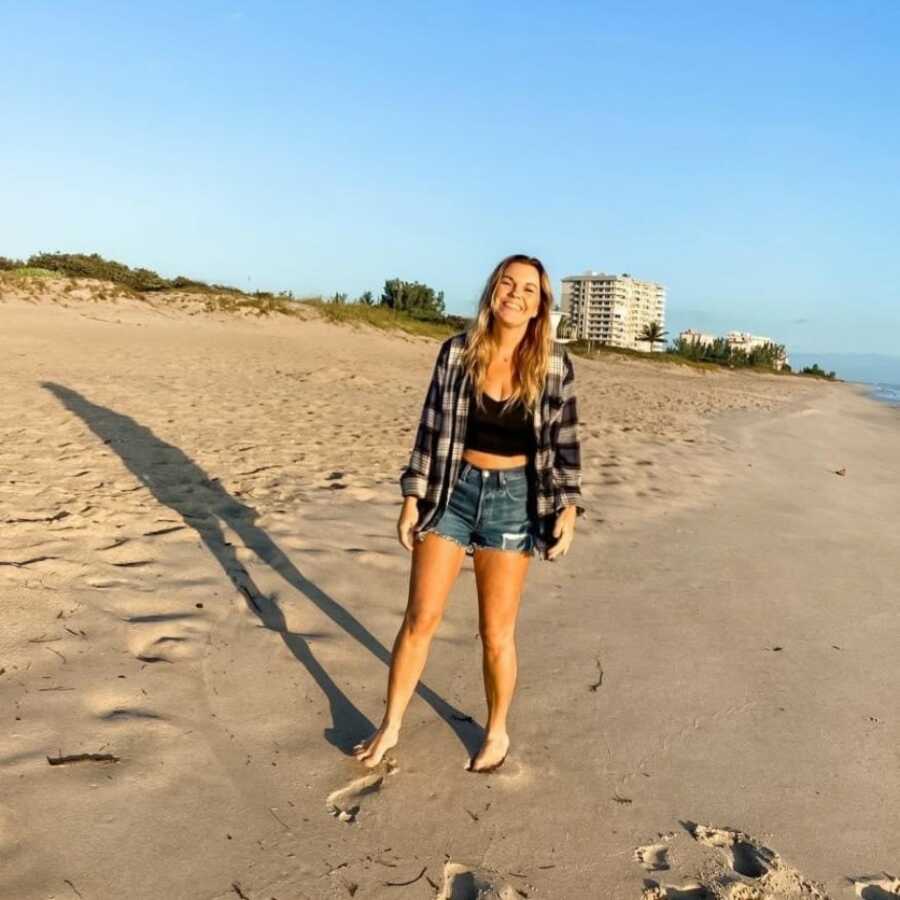 Blaming gets you nowhere. We love, we learn, we grow. You better believe it's easier to blame, but there's that 'hard' word again. We chose hard. I wanted to blame my divorce on my husband, I wanted to blame him that I was raising my family solo away from my family, I wanted to blame him for so much. But instead, I took and still take ownership of my part of what caused the divorce. We made Florida home, and it's been the best place to raise my children. Living near the ocean brings great contentment and joy for us all.
Ultimately, we have to decide for ourselves what constitutes 'failure', and the world is really eager to give you a set of criteria if you let it. Don't let them! We fail together, we succeed together but we decide what our failures are. I mean, being raised Baptist, getting married, and having that marriage fail is surely a failure to many, but it wasn't to me. It was my chance to succeed. To succeed at being a single mama. And I did. Believe you can too. Anyone who goes through divorce goes through significant pain, but you do come out of it. You do! In failures come successes. But you define what those will be. No one else.
Raising my babies solo has been the single, greatest gift of my life. My greatest success. Ten years ago, I was scared. I was broken. I was hurt. Time heals. Watching them now, moving through life, making their own decisions, showing up for themselves, and forgiving others, was worth every bit of realizing some hard truths. I'm a proud single mom and wouldn't trade the last 10 years for anything in the world.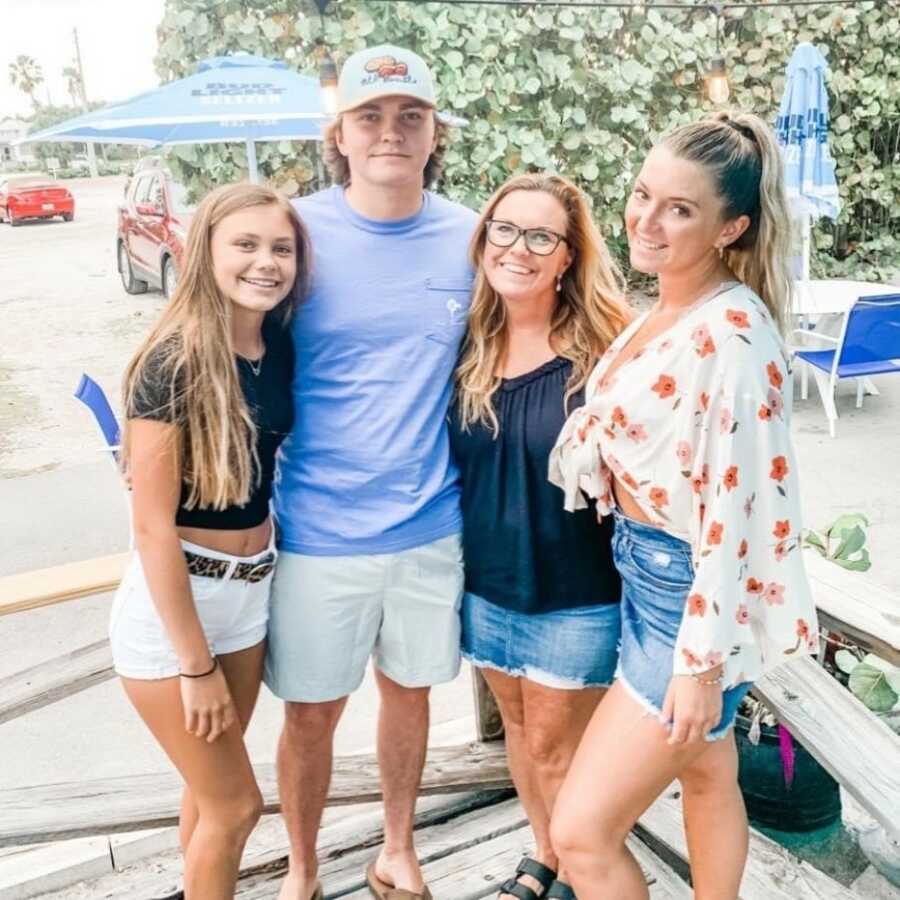 The four of us, now 23, 20, 15, and 48 are happy and find joy every day. We chase our dreams, we live loud. If you are facing divorce, you're going to be okay, you will be better than okay. Keep going. You know that light they talk about at the end of the tunnel, there really is one. We are proof. Keep going. And celebrate those anniversaries, whatever those mean to you. We are celebrating 10 years of growth, together.
A proud single mama."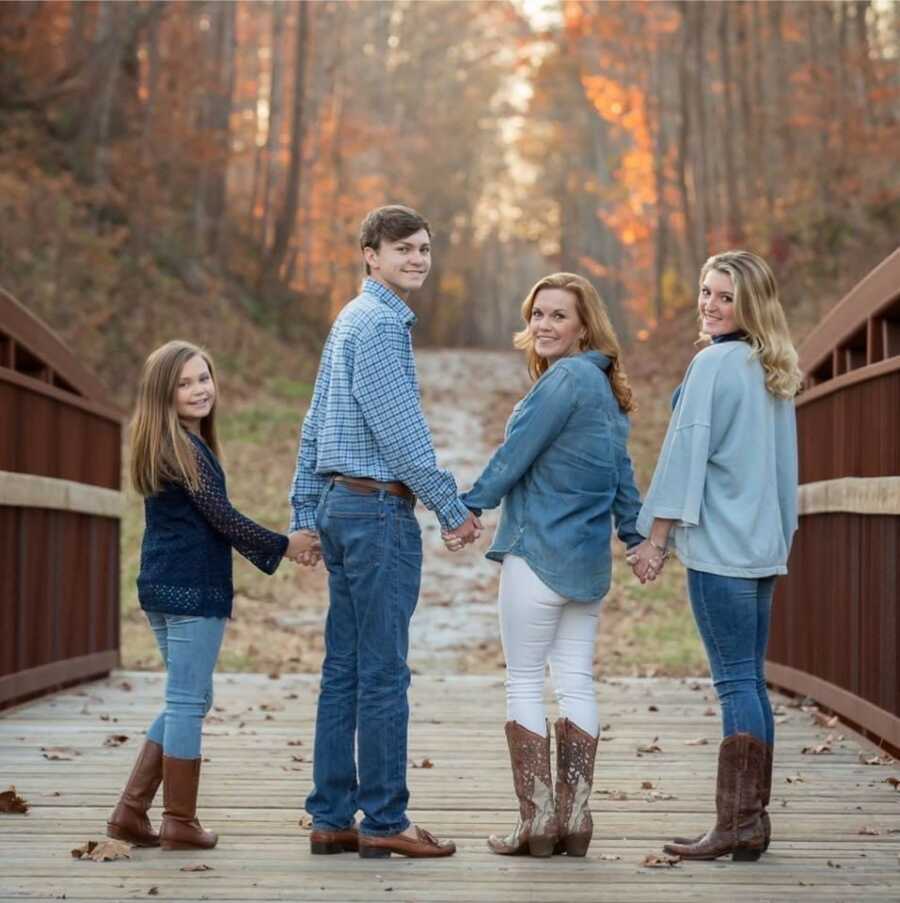 This story was submitted to Love What Matters by Tara McIntosh. Be sure to subscribe to our free email newsletter for our best stories.
Read more stories like this here:
'Why did you keep having kids if you weren't happy?' I was the 'bad guy' for breaking up my family.': Single mom of 4 navigates life after divorce, 'Happiness comes first'
'My husband divorced me after my baby was born. At 28, I had to move back in with my parents as a single, special needs mom.': Mom to daughter with Cerebral Palsy finds new perspective on 'true happiness'
'Umm, I'm 32, DIVORCED WITH TWO KIDS.' He said, 'Yeah, we need your consent.' 'Yes, I CONSENT!': Divorced single mom adopted at 32, 'I wonder if they're tired of me. I felt like it was too good to be true'
Provide hope for someone struggling. SHARE this story on Facebook to let them know a community of support is available.