Disclaimer: This story contains details of a shooting that may be triggering to some.
"Defined by bravery, strength, intuition, voice—not divorce.
As I often remind my clients: your journey in love may have more than one ending and multiple beginnings—and that's okay! Hi, my name is Meghan Kelly, and my love life is by no means textbook. It doesn't follow the 'typical' fairytale blueprint, but it's special and it's mine and I wouldn't have it any other way. From the deep, dark, scary moments to the peaks of joy and celebration, my journey has taught me incredible lessons and has shaped the partner, mother, daughter, friend, and entrepreneur I am today. I've been married twice, divorced once, I've given birth to three remarkable children and life is good…no, no, no it's GREAT! Finally! Thank you for taking time from your day to read my story. I am honored.
I met my ex-husband at the beginning of my sophomore year of college in 2002. I was 19, and he was 21. We dated for a year, broke up for a year, and by January of 2006, we had both graduated and moved down to my native city of Los Angeles. Three years later, he proposed, and in 2010 we had a beautiful wedding surrounded by family and friends. Immediately after, we ventured off on a gorgeous tour of Greece for our honeymoon, and a year and a half later we learned we were pregnant with our daughter Leah. In 2014, I saw those two blue lines again, and in April 2015, I gave birth to our second daughter, Liv. If this segment was on motherhood and growing multiple hearts, I could go on and on; but this is about my love journey, so I won't belabor the topic too much…just a little.
Liv and Leah were my life. I said goodbye to my career in the field of nutrition to stay home full-time with my girls, and while raising two under the age of three had its challenging moments, they were my greatest joy, and I felt so blessed to share in every major milestone with them. Things were seemingly wonderful. But as we've all heard before, don't judge a book by its cover.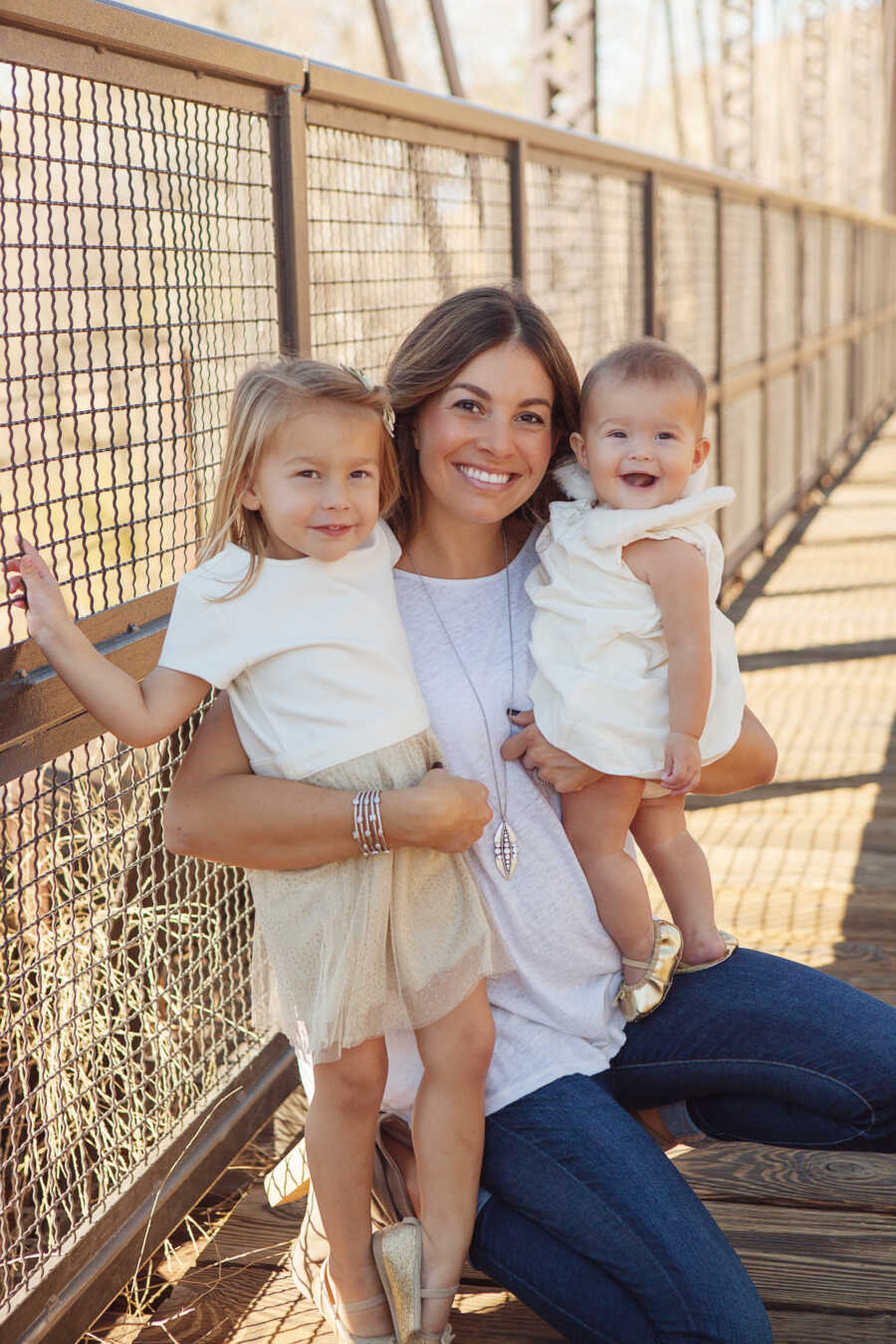 And just like that, things shifted. The storm settled in. The façade fell down. In October 2017, I suffered an extremely traumatic event that changed my life. In January 2018, I filed for legal separation. In April 2018, I modified the petition for divorce and became a single mom. Today, I am remarried to the love of my life, Spencer, and during March of 2021 in the midst of Covid, we gave birth to our son, River. Leah and Liv adore their brother, and the smiles he shines towards them are enough to melt even the most frigid of hearts. Spencer and I share a true friendship at the foundation of our marriage and celebrate this life together with love, compassion, excitement, adventure, honesty, and gratitude.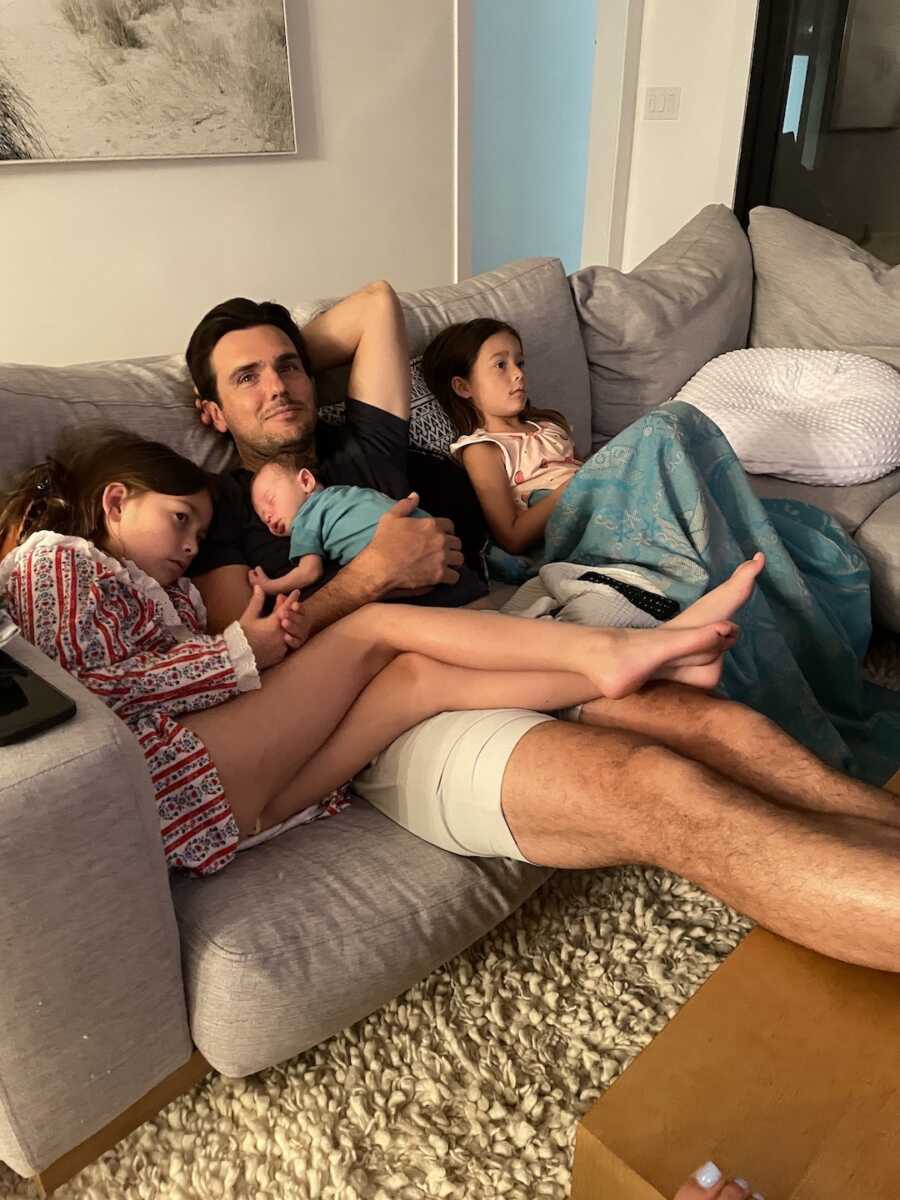 So how did this all happen? Well, one thing's for sure, hindsight is always 20-20. The woman I was at 19 when I met my first husband evolved into a different woman with different values once I matured and crossed the thresholds of my first home, my career, and motherhood. And yes, there were many red flags in my first relationship that I ignored. I saw them. I was concerned about them, and I'd vocalize it; but I felt dismissed and ignored, and I certainly wasn't confident nor strong enough to do what I needed to do. So I tolerated, I hoped for change, and I remained ignorant.
My ex-husband is the father of my girls, so I will reserve this story for my feelings, fears, and emotions in response to our relationship rather than focusing on my issues with him. Here we go.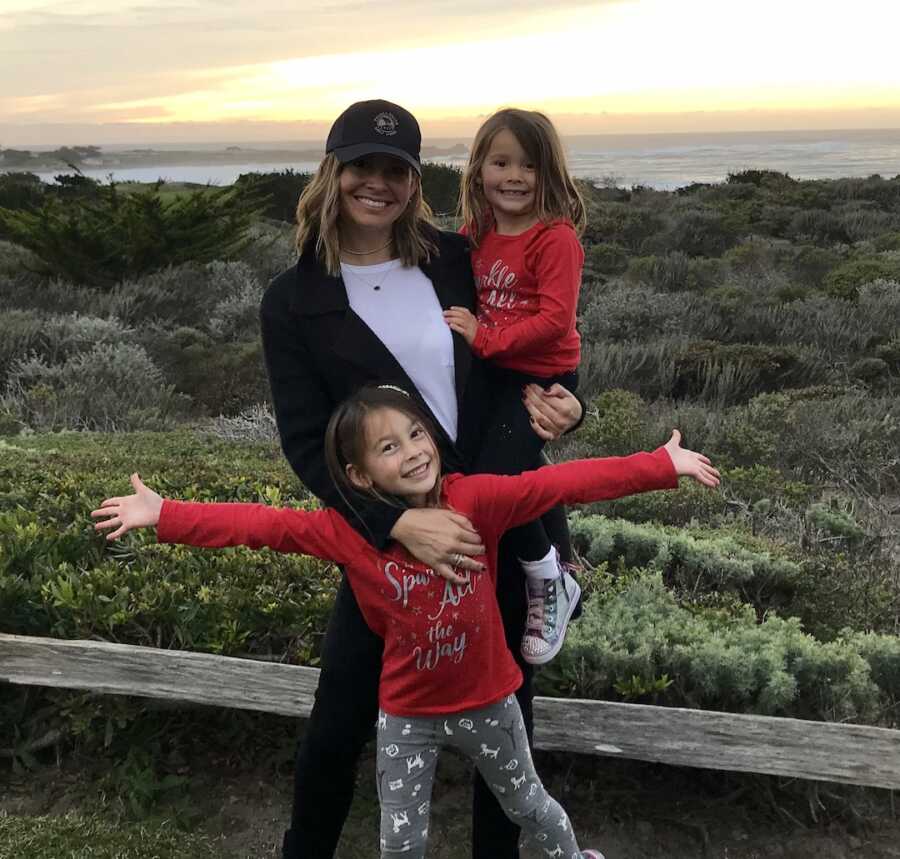 Things really took a turn in 2017, specifically the night of October 1st, which changed my life forever. To go back to that night is consistently disarming for many reasons, and while it was horrifying, I am able to speak about it today knowing that the realization I had—that the 'ah-ha' moment that transpired—shares a very important message.
It was my dear girlfriend's bachelorette weekend. She had found the love of her life in a longtime high-school friend, and her nearest and dearest all circled around her for a country music festival in Las Vegas. By night three, our group of nine thinned to five and we took off for the final performances at the fairgrounds. Things began with a festive energy, but then everything shifted. Twisted. Transformed into what resembled a horror scene out of a major motion picture. At first, I thought someone was setting off Mexican jumping beans or a small set of fireworks, but within moments the throngs of people surrounding us were thundering to the ground, screaming in disbelief and covering their heads in panic. The music stopped. The celebration was over. Those were gunshots.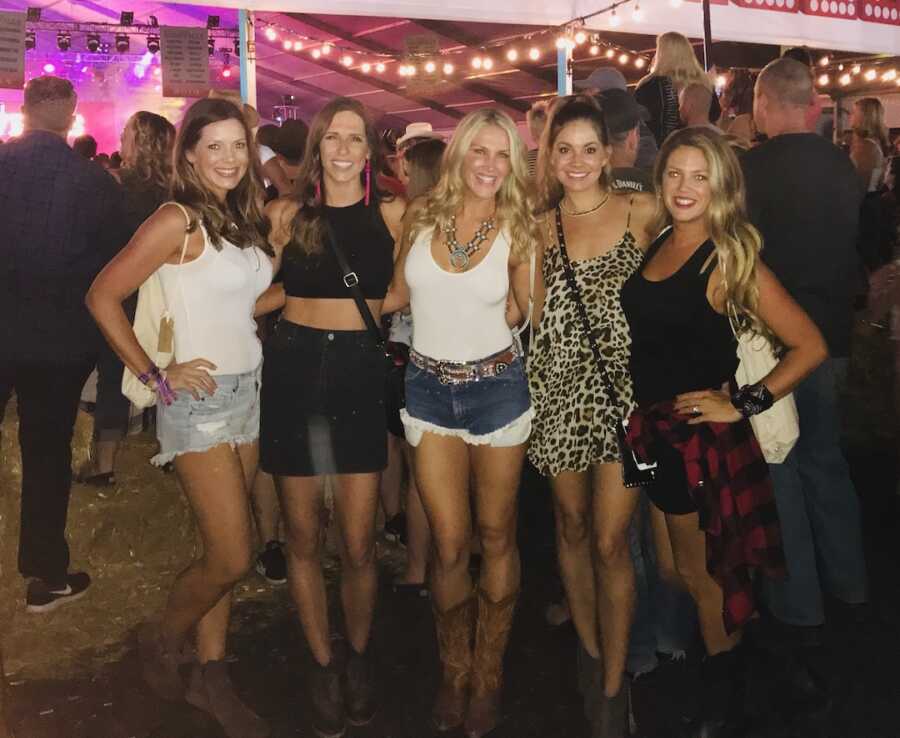 Today, that night is known as our nation's largest mass shooting. A tragedy beyond belief. As I ran for my life that night, I spoke the chilling words to my then-husband to kiss the girls for me as I feared never making it out alive. But I did, and with that unnerving memory forever in my mind and amidst the incredible sadness and loss, I have gained the most solid appreciation for life.
Through intensive EMDR therapy, a form of psychotherapy for treating trauma and PTSD, I gradually learned to admit (without shame or guilt) how that day saved me. My therapist informed me at the onset of our first EMDR session that other traumas could emerge, and to be prepared. Over time, the traumas within my marriage bubbled to the surface and unlocked the pain and sadness that I had experienced for years. I learned I had been sustaining repeated traumas in what was a very toxic relationship, and while I healed from the wounds of the Route 91 shooting, I began to unlock and release the toxins of my marriage. My sense of fear and lack of emotional safety. My strong self-doubt. My lack of confidence. My shame.
Now at this point in time, I had been in therapy for years to address the concerns I had about my marriage; but to be honest, I wasn't entirely transparent with that therapist nor myself. There had been countless incidents that struck me as wrong, as unhealthy, as toxic; but I found every excuse in the book to shove them deeper and deeper. Nothing propelled me into the necessary reflection of my inner suffering like my run-in with death.
After the shooting, I felt incredibly alone in my marriage. It felt as though my trauma wasn't significant enough for him to show up for me, and while my family and friends flooded my home with copious amounts of food, care for my kids, emotional support, flower bouquets, and lots of love, I felt drenched in sadness about my relationship. It seemed as though it was effortless for my incredible parents, siblings, and community to wrap their arms around me in support; and yet I felt abandoned and neglected by my husband—the man who was supposed to be my number one partner. I remember feeling guilty that I asked him to call me during the day to check in on me. I can recall thinking that something was wrong with me since he seemingly didn't feel compelled to be by my side. I came home with my left leg completely bandaged from ankle to hip after sustaining terrible wounds from escaping over a barbed-wire fence, and yet my girlfriend was the one who expressed concern and rushed me to the doctor, not him. I'll never forget crying on the phone with one of his family members less than two weeks after the shooting hearing the following at the other end of the line: 'He really struggles with empathy.'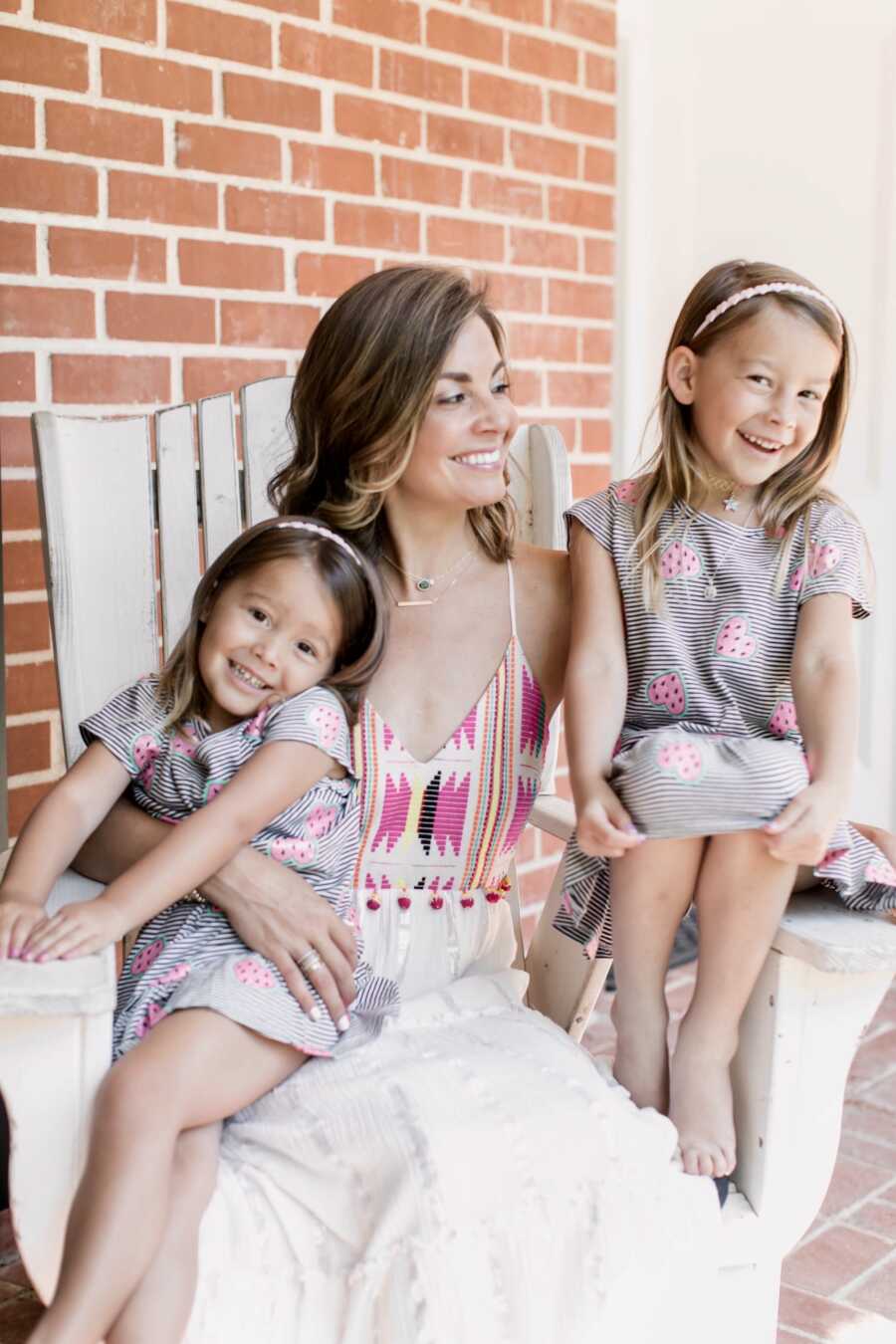 It was at this point that I began the process of transforming, strengthening, and loving myself. I leaned into my gut and changed the way I perceived myself, the way I listened to my inner voice, and the way I demonstrated self-respect. As someone much wiser than me said, 'I was no longer willing to light myself on fire in order to keep him warm.'
In less than four months, I had done enough work to heal and find the right amount of courage to separate from my ex-husband, and just a few months after we separated, I filed to dissolve the marriage. Not one moment of the process was easy. I struggled through the stages of grief and worked to make amends with myself along the way. A part of me crumbled each time we exchanged the girls, with their tearful faces pressed against the glass begging me not to leave. Those first holidays away from them were torture. Navigating the divorce and all its many intricacies was both stressful and sad. But as one could expect, there were many upsides to the struggle. For one, I found my voice. I learned how to set boundaries. I stood by said boundaries, and slowly but surely, I began to recognize myself again. I was smiling. I was sleeping. I was wanting to live my life authentically. I healthfully detached from the shame, and I confidently honored my truth. I felt free.
And so began my new chapter. I had a blank canvas to create for myself with the girls, and boy did we make a masterpiece. We moved out of our big family home and into a much smaller townhome. We created new traditions, took trips we'll never forget, sang, danced, and made magical memories.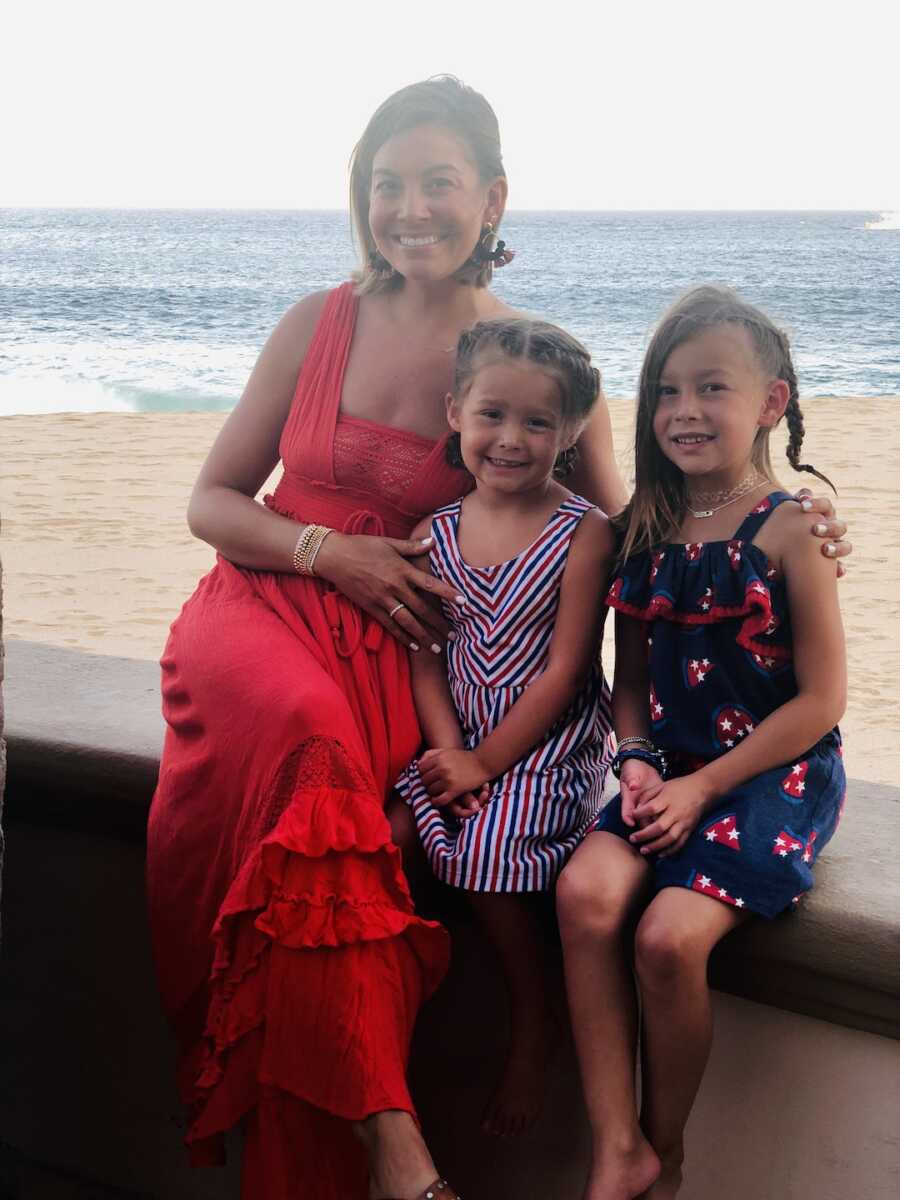 In August 2019, I met Spencer Kelly for the first time at a friend's birthday party. We were essentially set up by mutual friends, and I was strongly encouraged to give him a chance. We went on our first date and although he seemed a bit nervous and asked the bold (yet respectable) question of whether I wanted more kids, I understood immediately that he was kind, compassionate, smart, inquisitive, and a world-traveler. Plus, he had good taste in music and was easy on the eyes.
Things moved relatively quickly, but then again when you know you know. We were both in the right place individually to open our hearts to one another and a healthy relationship, and while we both had to accept that it would be a little complicated since we lived an hour apart in traffic and that I had two kids, we were willing to try and make it work.
My girls absolutely adore Spencer and regard him as a very important man in their lives. The 'I love you's came his way quite fast and naturally from Leah and her huge, generous heart, while Liv's need for him to earn her love had her studying Spence for a bit longer…bless her! Today, they leap into his arms, snuggle him on the couch during movies, beg for him to rub their backs before bed, and chase him around the house playing monster. And while yes, he plays a very active role in the girls' lives attending sporting events, school plays and teacher conferences, he has remained committed to supporting their relationship with their dad with grace and dignity, even when things haven't been easy.
Covid was a monumental blessing for our relationship. We spent loads of quality time together with the girls during lockdown and mastered a number of TikTok dances, cooking recipes, board games, card games, and YouTube coloring lessons. Spence spent a ton of time working with Leah to improve her reading skills and taught Liv how to ride a bike. In June 2020, we bought a home together. In July, we found out we were pregnant. A few weeks later we became engaged, and in December, during the height of the pandemic, we exchanged vows under the rain and before our immediate families. My dad married us, his mom shared with us her beautiful heartfelt thoughts, my mom walked me down the aisle, Leah sang us an original song, and Liv sparked the laughter. Both girls wrote Spencer vows and had us all in tears.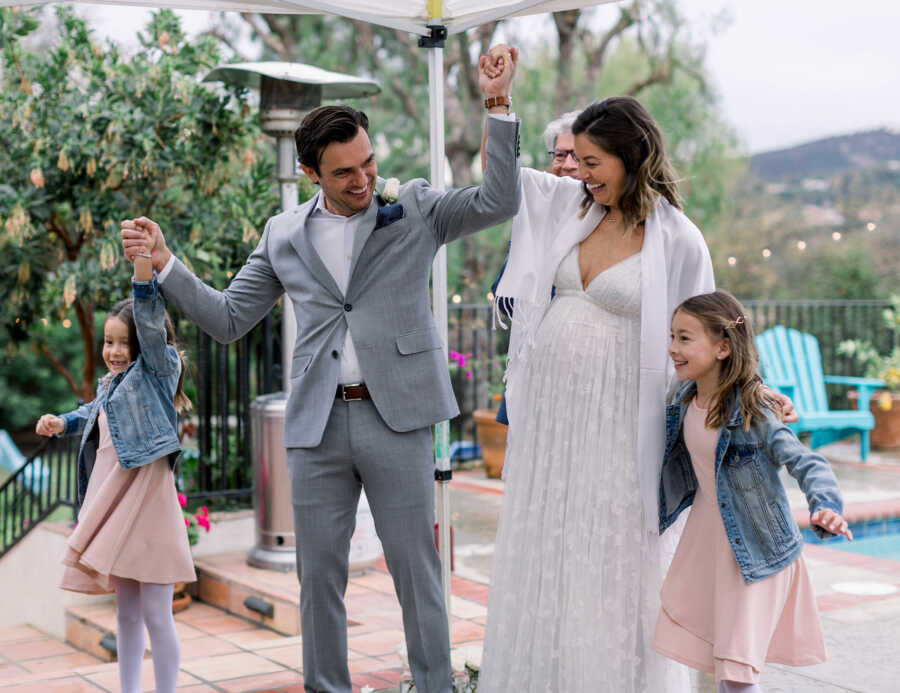 In March, we welcomed our son River, who has a knack for smiling and making each day better than the last. He is Spencer's first child and my first boy! Our family celebrates the blessings of love, hope, resilience, open communication, vulnerability, adventure, spontaneity, and coziness each and every day. There is no doubt my heart couldn't feel more full if it tried.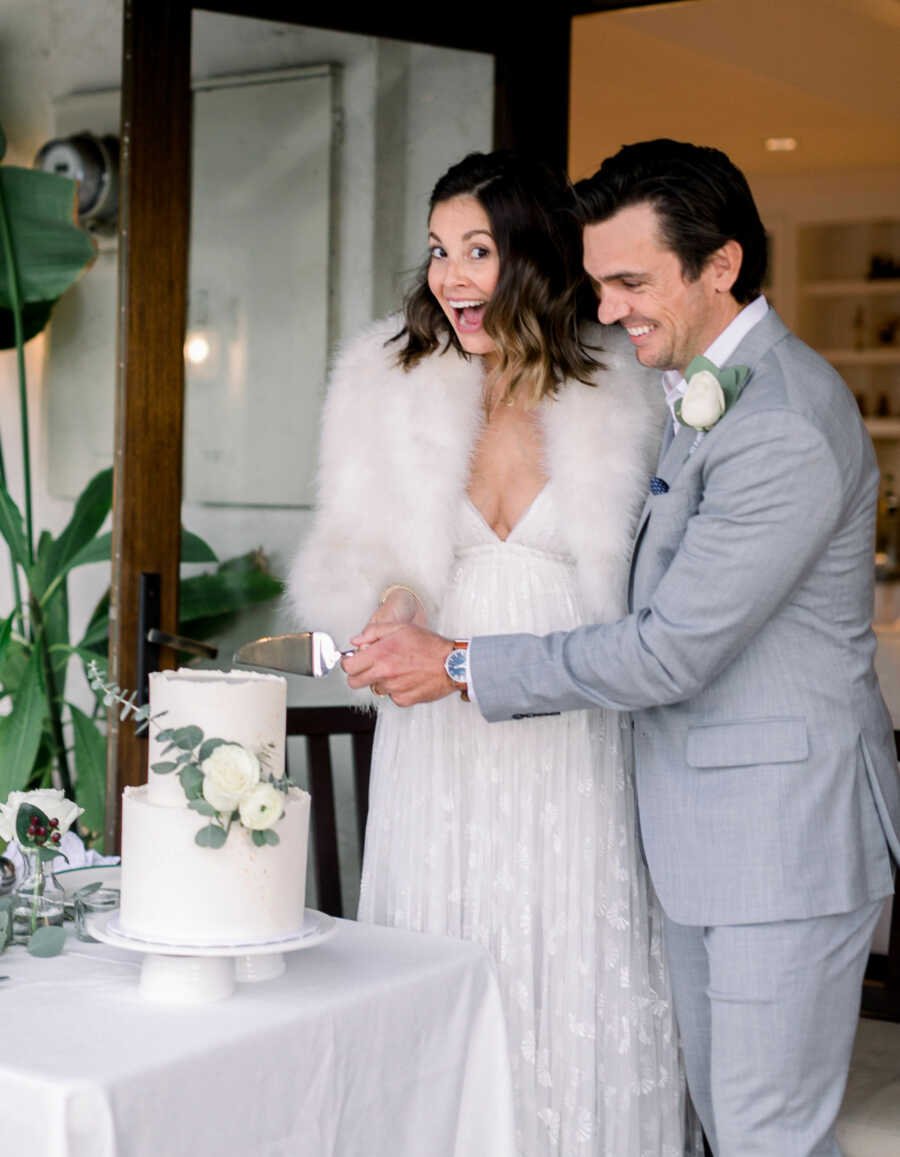 Today, I feel like I am living the life of my dreams and working my life's purpose. I am blessed to have my own business as a Certified High Conflict Divorce Coach at Now Free & Found, where I help my clients dissect and digest their relationships and strategize for their next steps—whether that is working to save the marriage or dissolve it. I believe that it's truly my life's mission to take the learnings of my journey to help others pivot towards a future worth celebrating.
Thank you for this opportunity to open my heart to you."