"This is my beautiful daughter Molly. You may just see a cute picture with a funny sign (Zergas plays for the NHL's Anaheim Ducks), but I see so much more.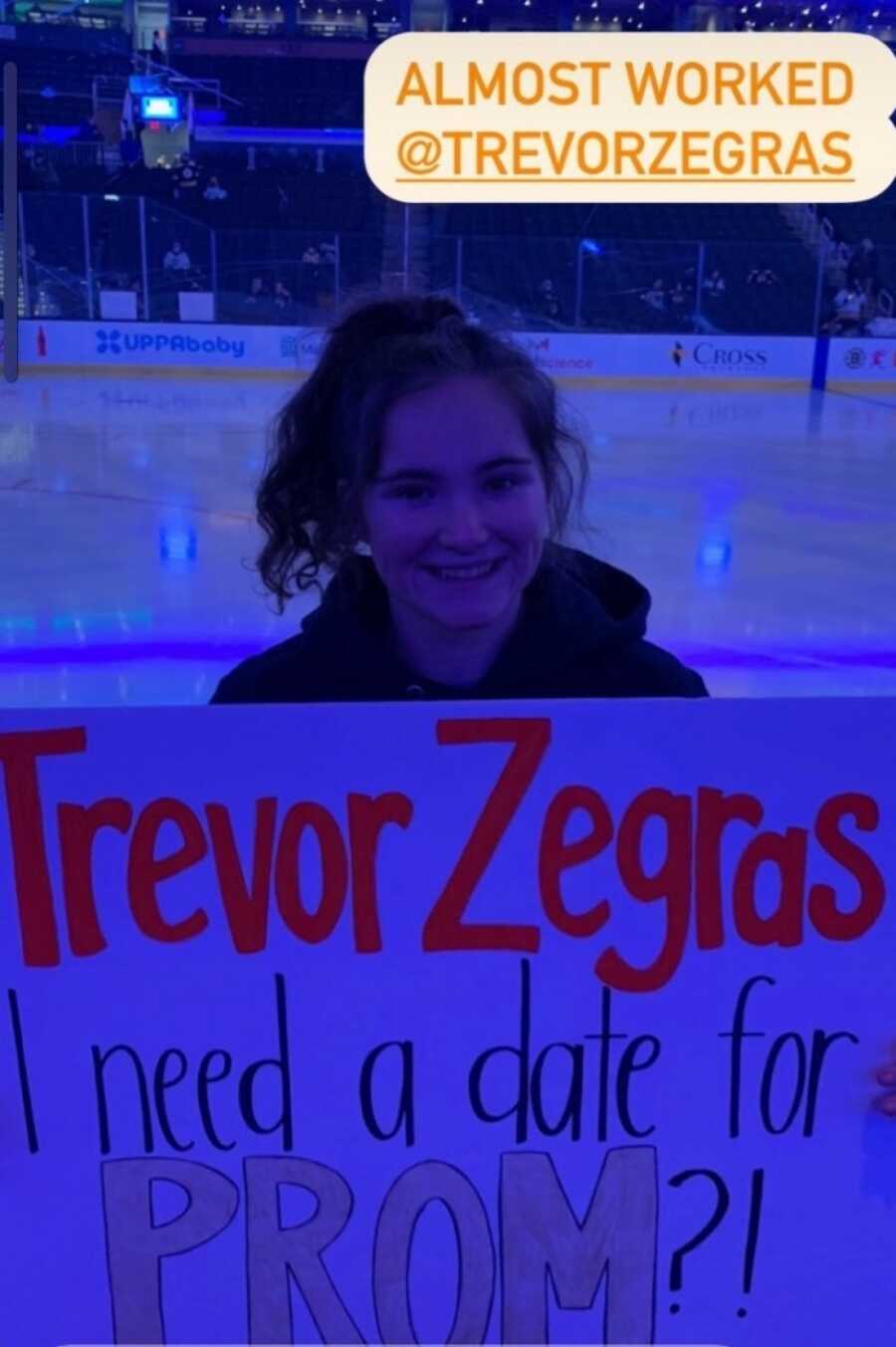 Molly turned 18 on September 22, 2021, but she became an adult on September 10th, when in the last minutes of the first soccer game of her senior year of high school she tore her ACL. She screamed in pain as she fell to the ground. The scream itself told me everything I needed to know, but it wasn't soccer I was thinking about. It was hockey.
Hockey has always been Molly's one and only true love. She has always been at home on the ice. It has been her safe place from the time she was just 4 years old, living a life of chaos at home because I, her mother, was an active alcoholic, sneaking drinks of vodka anywhere, any time, any way I could. Come to think of it, she first became an adult back then because her home life required it. She took care of her siblings. She took care of her mom.
Hockey. Everything about it kept Molly grounded. Something about the fact that it was hers and all hers allowed her to be a kid, not the oldest, not the responsible one, and not the one who takes care of everything and everyone and makes it all better all the time. On the ice, she wasn't the child of the alcoholic or the sister of Nora and Emmet. She was Molly, the hockey player. The ice. Lacing up her skates. The physicality of the game. The permission to be a kid. She fell in love with the sport.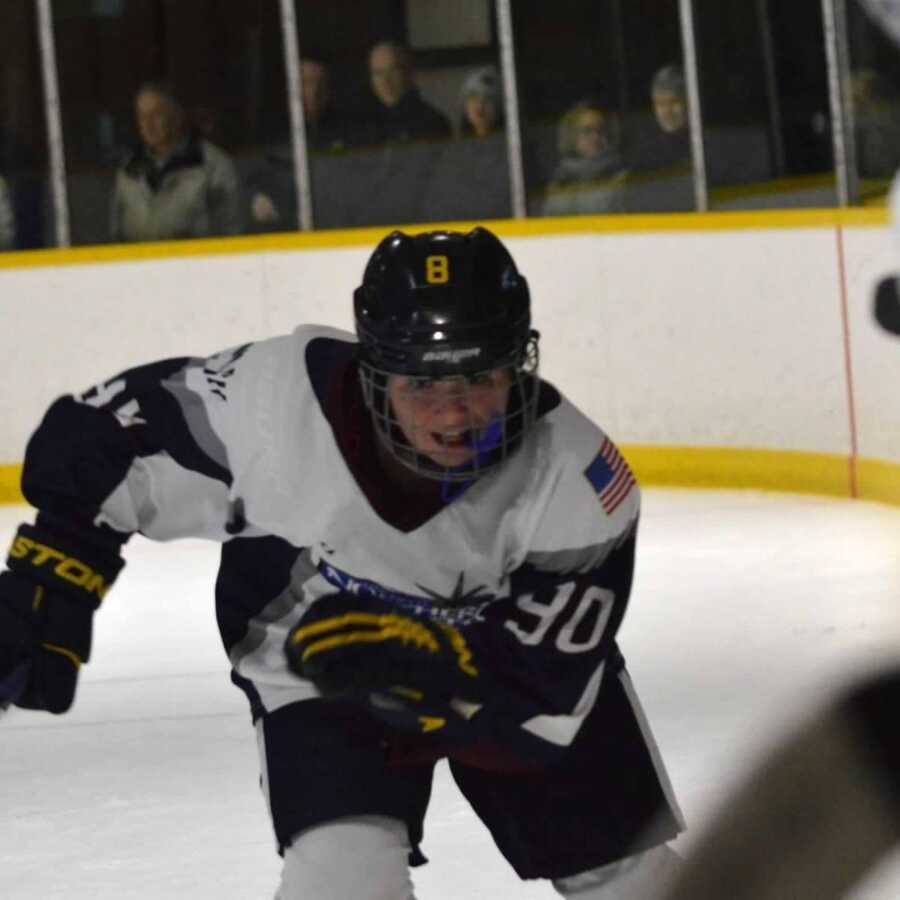 Molly had been dreaming of her senior hockey season (and the state tournament they were going to win) since 7th grade. She had lost both a season and a State Tournament Title to COVID last year already and was not going to lose either again. She had big plans for this year, and she was in talks with many college coaches about playing for them the following school year.
And then, BAM. With one unfortunate soccer play, her life changed dramatically and instantly. An ACL tear for an athlete is a complete and utter tragedy. When Molly was first injured, I didn't know what she was in for. Molly didn't either. Her coach? He knew…all too well because he has seen it many times. When Molly got injured, I noticed him wiping tears from his eyes as he hugged her. He knew the physical and mental anguish that was to come.
I wish I could find the words to express just how challenging this has been for her. I am not sure they exist. She spent 2 months unable to walk. She sits on the bench for every game. Most trips to the hockey rink end in tears. I know she wants to be playing more than anything. I know that every single time she puts on that helmet to sit on the bench for a game, it is as if she is getting injured all over and she has to face the sad truth that she can't play.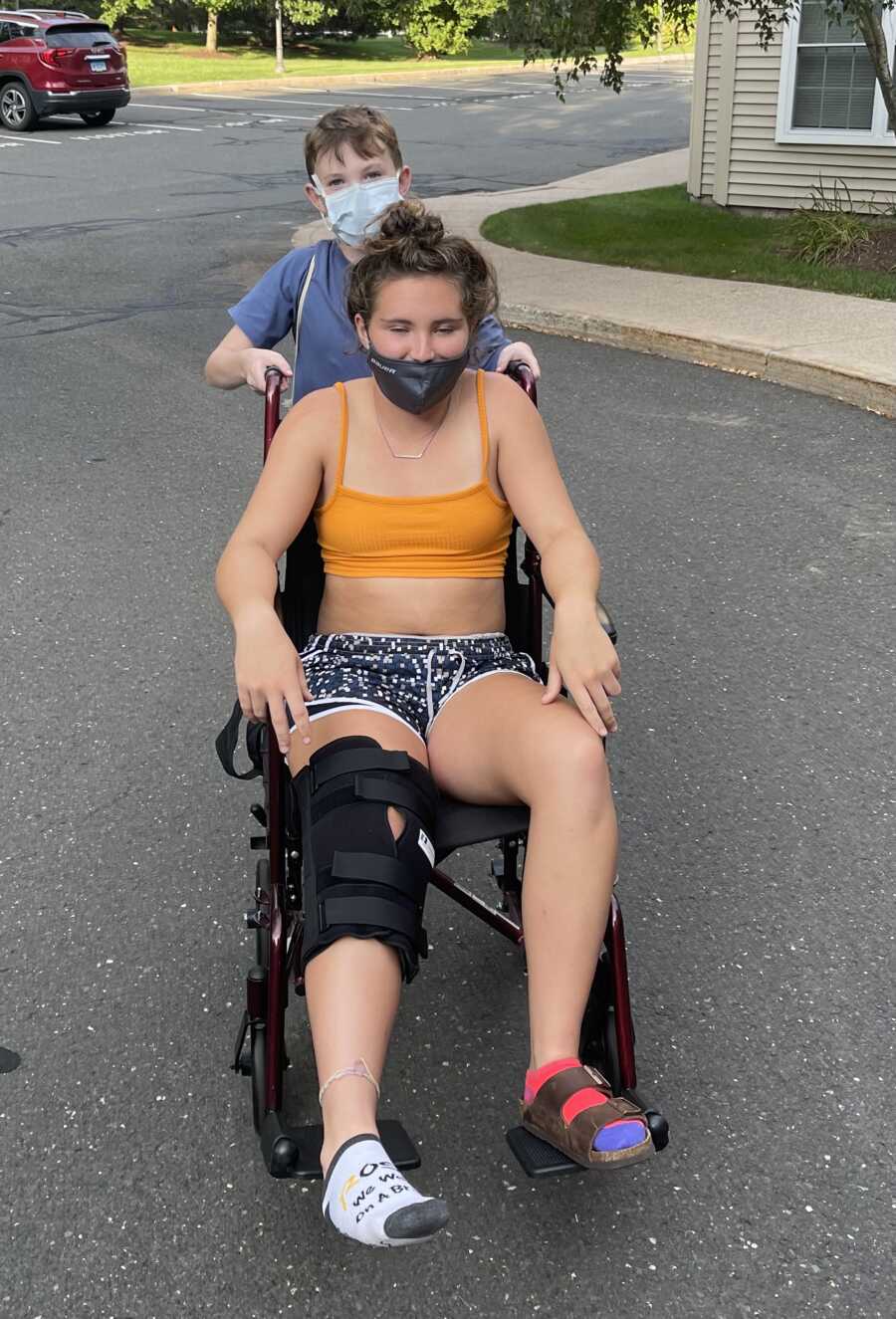 For four months I have watched my daughter handle disappointment after disappointment with grace, faith, strength, and optimism. I have watched her learn and accept life's hardest lessons, such as, 'Bad things happen to good people.' I have watched her grow from the girl who questioned 'why me' to the girl who now says, 'Why not me? I can handle this.' She has changed her life plan from playing college hockey to (hopefully) doing a PG year at a private school, and she has embraced it with zero doubts.
I guess all kids have that moment or that experience. The one that turns them into an adult. That teaches them that life isn't fair, that ice cream and a hug from mom can't change the world. Some learn harder lessons than my daughter. They hear a devastating cancer diagnosis or they lose a loved one. Some lessons may seem much smaller but feel just as devastating because pain is not comparable and it really can't and shouldn't be measured.
But Molly is an amazing kid. I gave her wings and she is flapping those motherf*****s proudly. The pain has made her stronger, closer to God in her personal journey and so much more beautiful of a person. It has taught her that it's okay (necessary even) to be vulnerable, that even the most detailed to-do list and well-outlined plan are not guaranteed, that sometimes we need to change the course of our sails, and that it is all okay. And above all else, it has offered her the gift of appreciation. I see it in her every day, the appreciation. She now knows that life can change unexpectedly at a moment's notice. She says I love you more, she kind of doesn't sweat the small stuff as much, and she lives life to its fullest. And when she gets back on that ice for her first game post-injury, she is going to cherish every freaking moment.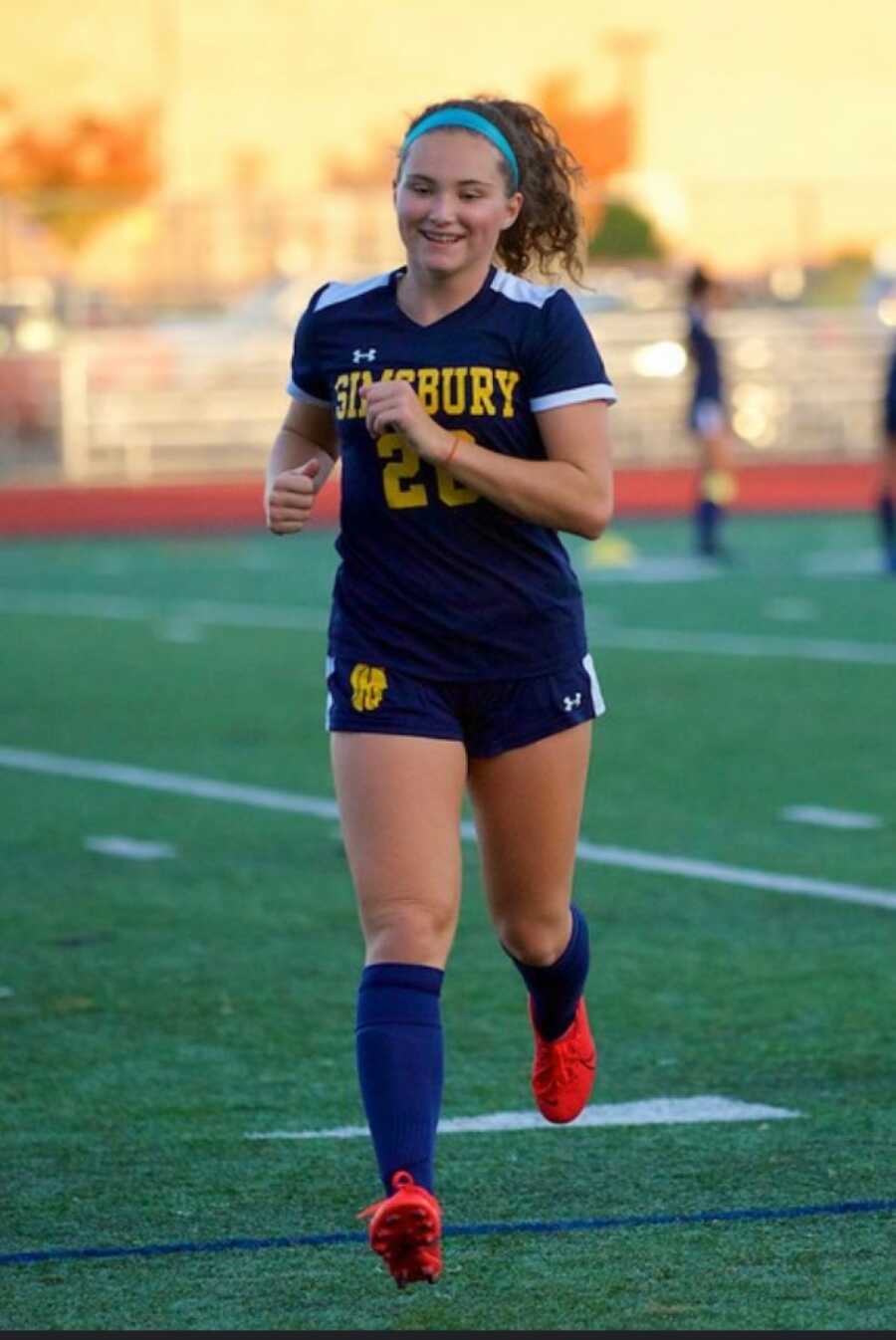 When I look at this picture of Molly smiling and I remember that fateful day when my daughter had to become an adult for the second time, I see both a playful child and an inspiring adult. Molly has shown me firsthand that beauty, strength, and faith are born from adversity. And her grace, maturity, and optimism remind me that she (and I and my other kids) can handle anything that life throws at us.
And just in case you're wondering… she still needs a prom date."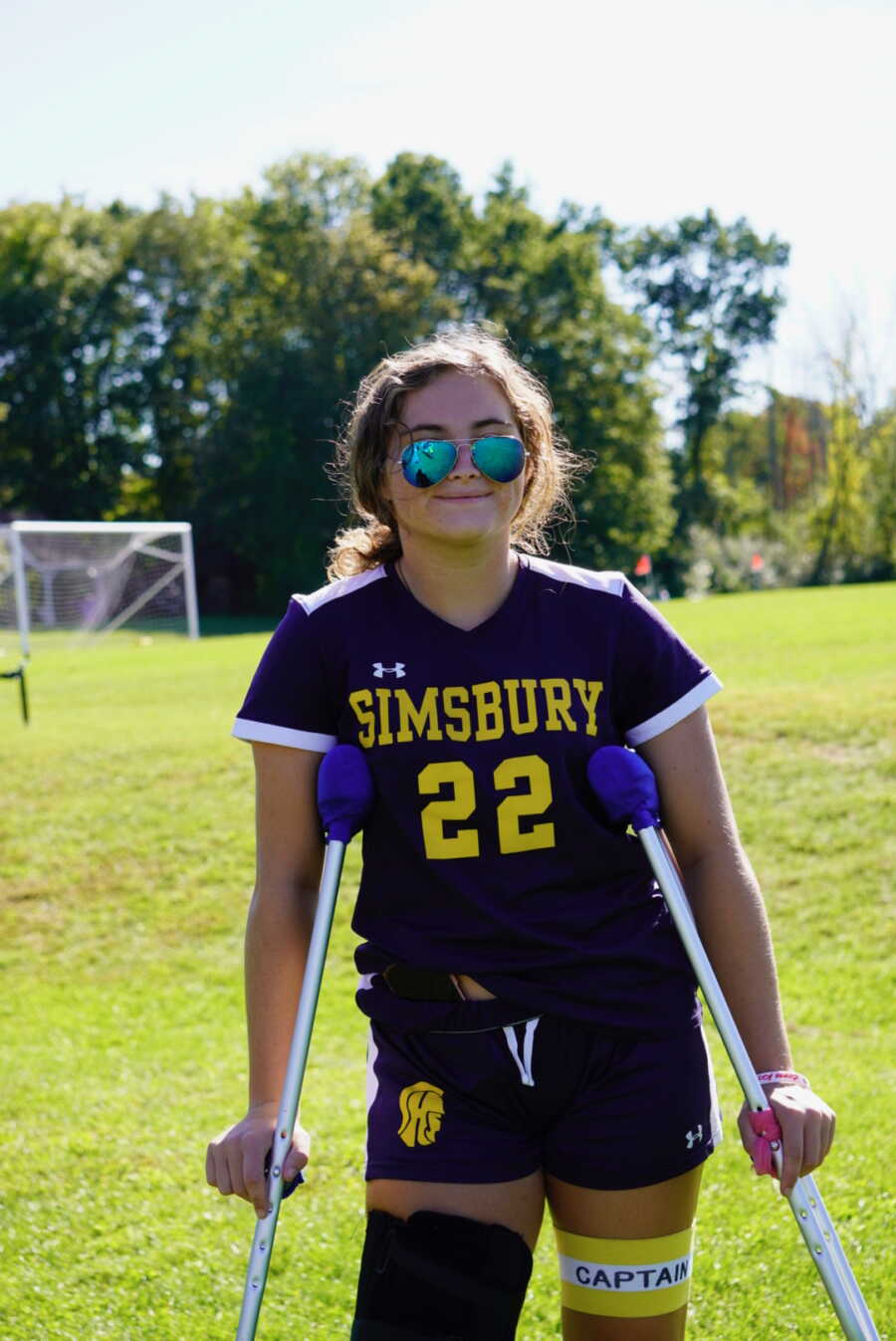 This story was submitted to Love What Matters by Suzanne Hayes of Simsbury, Connecticut. You can follow her journey on Facebook. Submit your own story here, and be sure to subscribe to our free email newsletter for our best stories, and YouTube for our best videos.
Read more from Suzanne:
'Molly, I am sick again. I promise I'm going to get better this time.' I hang up, but she is all I can think about. How can I love her so much, and be such a constant source of disappointment?'
'I heard my name. 'Are you Suzanne?' A woman approached me. I was confused, even scared I had done something wrong. 'Yes?,' I said nervously.'
'I took a self-care getaway without my kids. For the first time in 10 years, I had nothing to do. I anticipated a flood of guilt. It never came.': Mom stresses self-care, 'We are all one step away from crumbling'
'I walked right into CVS with my mouth completely uncovered. I forgot to pull the cotton over my nose!': Woman urges 'be gentle, there is no right or wrong response' during pandemic
Please SHARE this story on Facebook to encourage others to live life to the fullest.