"In December of 2019, I asked all my non-nursing, non-medical friends, and the public in general a question. In doing so, I was beginning to witness and understand that there is a gross misunderstanding about who nurses are and what nurses do. The question read, 'What is the purpose of nursing?' The responses ranged from insulting 'nurses only put bed pans under patients and take orders from doctors' to respectful 'nurses provide comfort, quality care, and are someone to confide in and trust.'
While nurses do (proudly) put bedpans under patients and do follow physician orders, we are highly educated, intelligent, and competent within our respective scope of practice. Our career cannot be reduced to a simple list of limited activities because the duties go from the bedside to Capitol Hill.
This year, 2020, nurses were voted the most ethical and the most honest profession for the 18th year in a row, by the public, documented via the Gallup Poll. 2020 has also been designated 'The Year of The Nurse' by the World Health Organization (WHO) in honor of the 200th birth anniversary of Florence Nightingale. Just as The Year of The Nurse was headed in to Spring, the COVID-19 virus hit.
As COVID-19 has ripped through the United States, it has not only exposed the weaknesses of the US health system, but it has highlighted the extreme abuse nurses have been taking, and fighting for years. From federal, to state, to individual employers, the guidelines for nurses to protect themselves while taking care of COVID-19 patients has ranged from questionable to downright sacrificial.
Nurses have been appealing to hospital administrators and the government for enough personal protective equipment (PPE) like masks, gloves, and gowns to protect ourselves and the public from further spread of the virus. We have also taken to social media to appeal to the public for more PPE in what may turn out to be the early stages of this pandemic. We know if we get sick, everyone gets sick. This is not simply a nursing issue, this is a world health issue, and while many comments have leaned positively in support (and the public on social media is largely understanding of nurses needing more PPE), there have also been a surprising number of insulting remarks. In particular, I keep hearing, 'Stop complaining, this is what you signed up for.'
Telling a nurse who is showing up for work every day, and asking them to bravely walk into a COVID-19 rule out room, without the proper PPE, is the equivalent of telling a police officer s/he signed up to be an officer without a bullet proof vest and a gun, a firefighter that s/he signed up to combat fire without turnouts and water, or that a solider signed up to go to war without armor and weapons.
Nurses did not sign up to care for others without being properly protected themselves, and to say so is naïve, disrespectful, and extends the abuse nurses have been facing for centuries. How remarkable that, as we celebrate 200 years of nursing, we continue to struggle with those who lack the ability to understand the risks taken by those working in force against illness."
What cruel mistakes are sometimes made by benevolent men and women in matters of business about which they know nothing and think they know a great deal. – Florence Nightingale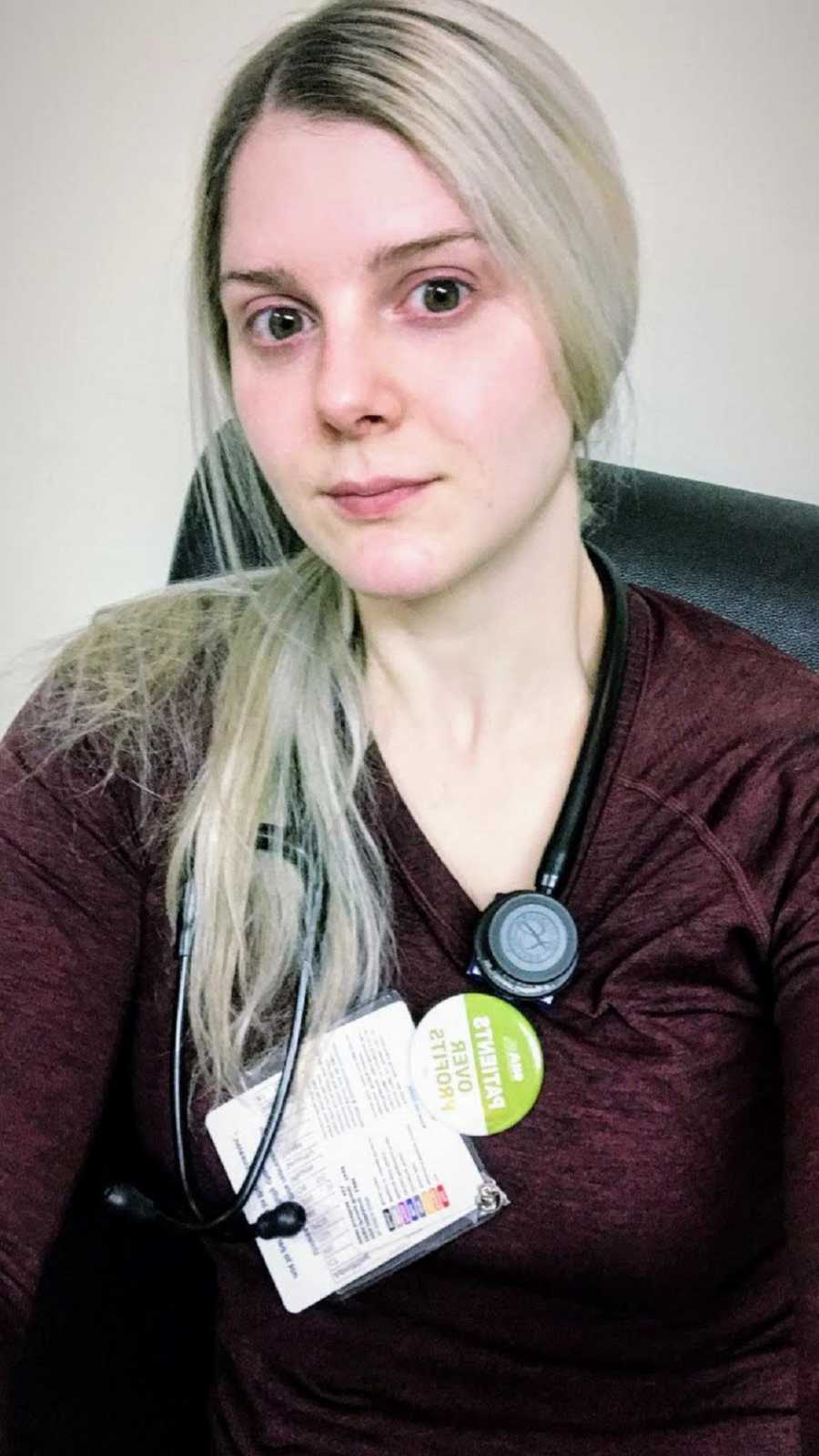 This story was submitted to Love What Matters by Susann Rice. You can follow her journey on Instagram. Submit your own story here, and be sure to subscribe to our free email newsletter for our best stories.
Read more stories like this:
'Today my husband had to sit in the hallway, and listen through speaker phone, to hear our baby go to heaven with their sister.': Mom grieves loss of baby alone, urges 'please, just stay home'
'This may come as a surprise…but we aren't on a routine. My house is not a school. My children do work when they feel like it.': Mom gives herself 'grace' during quarantine, 'I don't feel bad about it'
Do you know someone who could benefit from reading this? SHARE this story on Facebook with family and friends.