"Heal. Healing. Healed.
I've been thinking about this word and all of its variations a lot lately. It's one of the most popular terms said to grievers from the moment our grief journey begins. Not just by well-wishers, but by professionals, too.
In my opinion, it's also the most insulting. We aren't recovering from a fall. We aren't tending a wound that will go away over time.
We are not walking around with bandages and physical bruises that fade and eventually disappear. Our grief will not become a memory.
Grow. Growing. Grown.
From the moment I learned of the boys' deaths, I have grown. I haven't always wanted to; mostly begged from the depths of my darkest parts to sit still as the world spun around me or even shrink backward in time as if that were a possible thing.
I willed it to be so. Instead, every day I feel a shift into something a little bit different. A larger capacity to fill myself up with morsels of beauty and spoonful of emptiness.
But, still, I grew.
I grew around my always existing, never fading grief. I grew in my person and my beliefs, in my hard-won love, and in my ever-present pain.
I grew in my understanding of what was and in my disbelief of what will never be. I grew with each silent tear, shaky step, and rocky climb.
Growth is a constant in grief. Contrary to popular belief, the opposite of healing happens. As we grow, our grief grows with us. Don't belittle us with something as effortless as, 'Time will heal and so will you.'
I am not healed. I will never 'heal.' I will show my shattered, still-beating heart to the world, and with absolute-and-forever honor, I will grow.
Wholeheartedly ensuring that while I evolve in this never-ending journey, so will my boys.
So, heal? No, thank you.
Grow? Absofreakinglutely."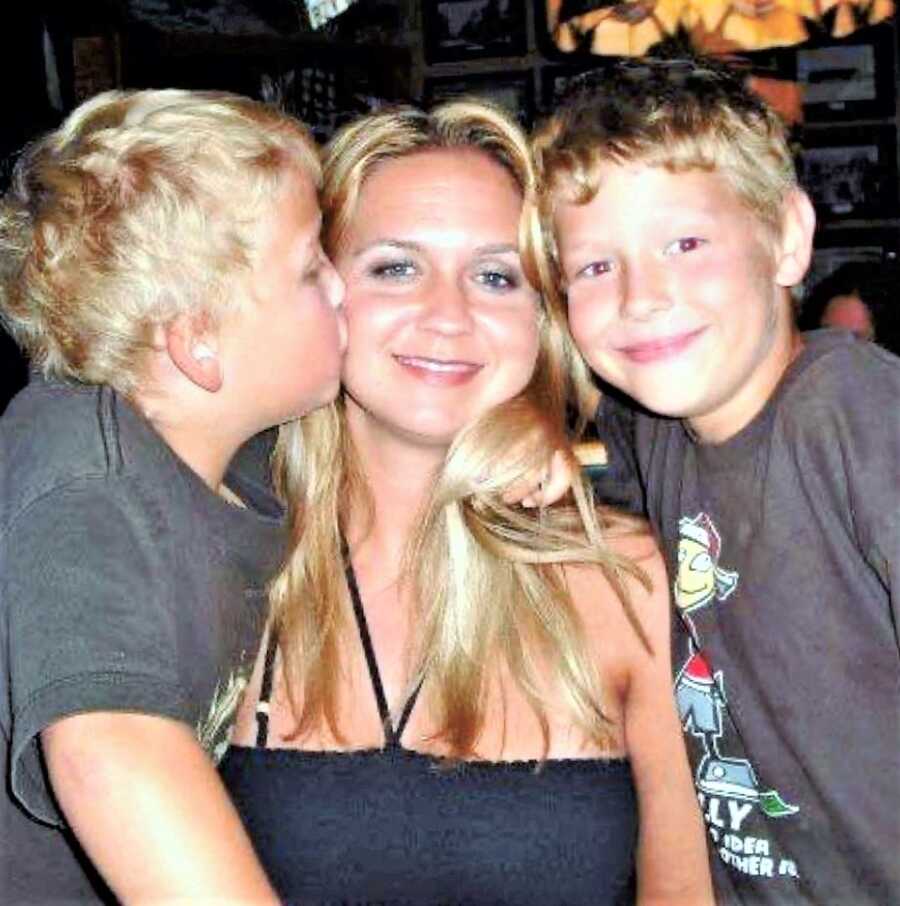 This story was submitted to Love What Matters  by Crystal Johnson of Atlanta, GA. You can follow her journey on Instagram and Facebook. Be sure to  subscribe to our free email newsletter for our best stories.
Read more stories like this:
'Love cannot be measured in weeks': Mother who lost baby opens up about the comparison of pregnancy loss
'A woman stole my picture and used it on Facebook, saying it was her own son who died. This sweet child who passed in my arms, was stolen.': Grieving woman victim to social media theft urges 'child loss is real'
'I'm sorry, she is non-viable.' Daddy held her so very close, tears in his eyes. He knew it was time. She gave us 60 minutes in pure heaven.': Mom loses newborn to Bilateral MCDK, 'She taught us nothing but pure love'
'I NEEDED this for my grieving process. It was the most incredible thing I've ever witnessed.': Grieving mom uses saline bath to capture beautiful pictures of miscarried baby
Have you experienced the loss of a child? Please SHARE on Facebook and Instagram to make others aware there is a community of support available.