"During my mom's ten-year battle with Alzheimer's, I put my life on hold in so many ways that I basically stopped living it altogether.
I did the absolute bare minimum that I needed to do to get by.
I didn't have the energy to do anything more than that.
At the time, it was what was required of me to survive.
And I did—survive.
After my mom died, I continued on in survival mode for quite some time.
It wasn't even a conscious decision for me.
It was just what I was used to.
At some point, I realized that it was no longer enough to just survive.
I realized that the absence of pain and hardship was not the equivalent to happiness.
I realized that just getting by was no way to live my one and only life.
I didn't want to just get by in my life—I wanted to be an active participant in it.
I didn't want to just be alive—I wanted to feel alive.
I didn't want to just survive—I wanted to thrive.
I wanted more.
But there was a part of me that felt guilty for wanting more.
After all the pain and suffering my mom endured over those ten long years, how could I just pick up and move on with my life like none of it ever happened?
After all that I had lost, how could I ever pretend to be whole?
I felt like moving on meant leaving her behind.
It meant separating myself from her and our experience.
It meant that I was over my loss.
I eventually learned that I had it all wrong.
I would be moving on with her, with my experience, and with my loss because all of that is now a part of me.
It has all brought me to this moment, this breath, this woman I am today.
So this is me, moving on.
No leaving.
No denying.
No pretending.
Just accepting—what was, what is, and what will be.
Am I thriving?
Maybe not quite, but stay tuned.
Because if I've learned anything from what I've been through, it's that life is meant for living."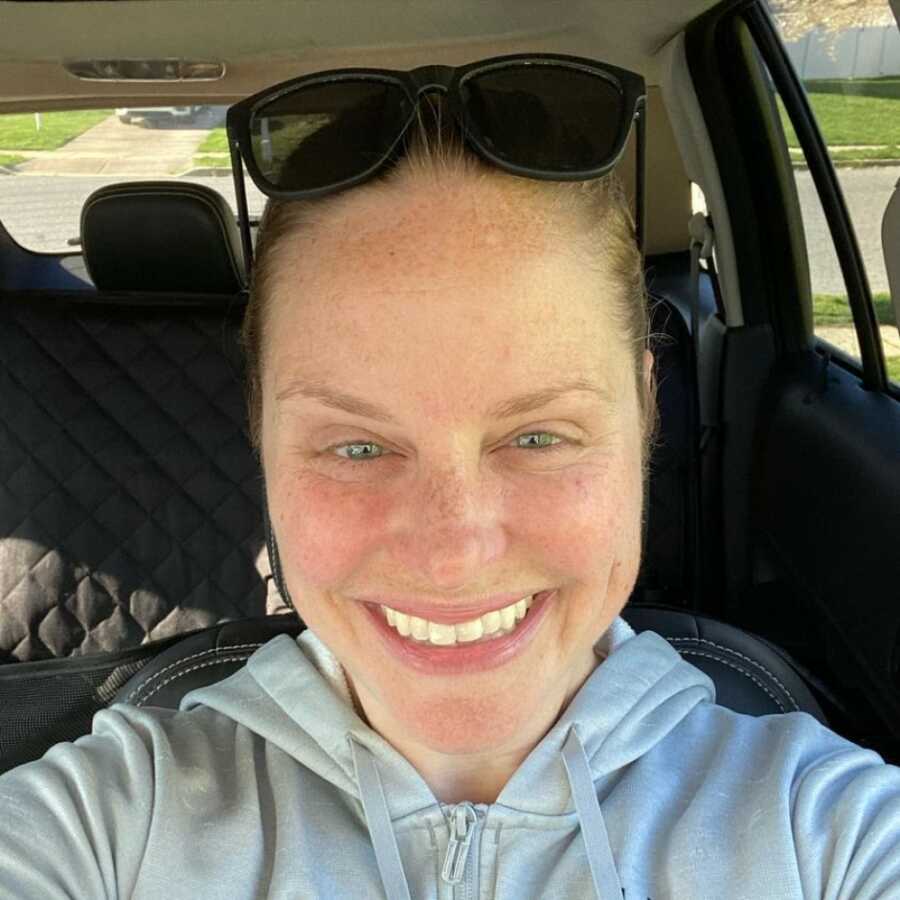 This story was submitted to Love What Matters by Lauren Dykovitz of New Jersey. You can follow her journey on Instagram, Facebook, and her blog. Submit your own story here, and be sure to subscribe to our free email newsletter for our best stories, and YouTube for our best videos.
Read more from Lauren here:
'I noticed my mom staring at this young couple. They looked uncomfortable. 'Can I help you with something?' My face was hot and embarrassed.': Woman learns life lesson from mom with Alzheimer's
'My mom doesn't know who I am anymore, but she knows me in a way no one else does. I am her safe space.': Daughter to mom with Alzheimer's says 'our bond is unbreakable'
'Someone's sitting here.' I froze. 'Mom, it's ME. Lauren.' Her cheeks became red with embarrassment.': Young woman's emotional journey with mom's Alzheimer's, 'It's like mourning someone who is still alive'
My Mom May Have Forgotten My Name, But She Will Always Know My Soul
Do you have a loved one with Alzheimer's or dementia? Please SHARE on Facebook and Instagram to make them aware there is a community of support available.