Alzheimer's Journey
"The first time that I heard about Alzheimer's and it resonated with me was back in 2010. I worked for a Community Action Agency in their senior department. I remember reading through a client chart and I thought to myself, 'I pray this never happens to my parents.' Fast forward to 2020, my worst nightmare came true. My dad was officially diagnosed with Alzheimer's. Even before the diagnosis came as a family, I think we all knew but didn't want to accept it. There is something about actually hearing those words that you know will change your life forever. My dad was there in the appointment and heard the doctor, but he doesn't realize he has Alzheimer's.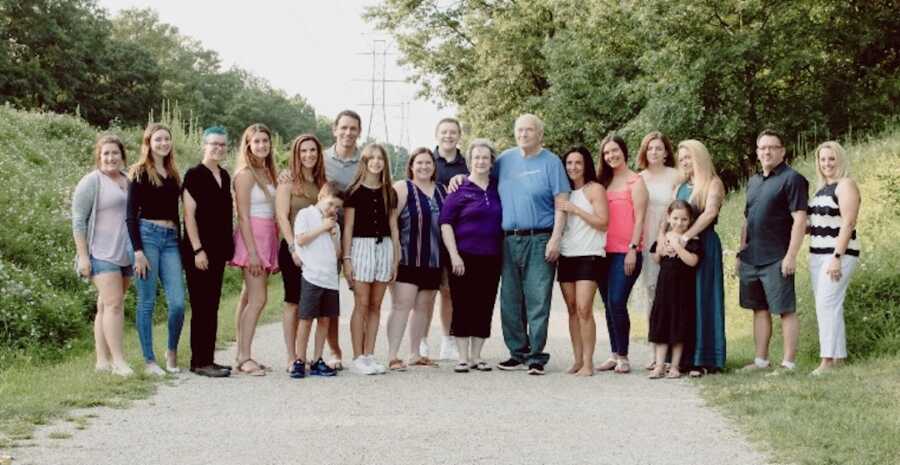 It was back about five years ago when my dad first started showing signs. He almost passed out at a grocery store due to his electrolytes being off and being dehydrated. He went by ambulance to the hospital. The nurse there was the first to make comments to us that something wasn't right. He couldn't answer questions he should have been able to. After that stay was when we involved a neurologist. He told us there was cognitive decline, but we kept seeing him once a year. Each year, his memory would decline more. Little things, but he would ask the same questions over and over again. 2020 was when he had the biggest decline.
Before COVID hit, my dad still went to the gym twice a day on his own. He was also still driving. We were starting to get nervous about the driving, but he was still able to. That March when the whole world pretty much shut down, that's when my dad started to. He would go for some walks outside, but losing that social ability in the gym was very rough. Three months later, in June, was when we got the official diagnosis and he could no longer drive. You hear stories about how people react. We were pretty blessed. It wasn't a fight, and he didn't try to steal his keys. He kept forgetting why he couldn't drive, and we would have to explain that the doctor didn't want him to. I remember how heartbreaking that was for me. I felt like I kept breaking his heart over and over again. I was later told instances like that are much harder on me than him as he would forget but I would remember.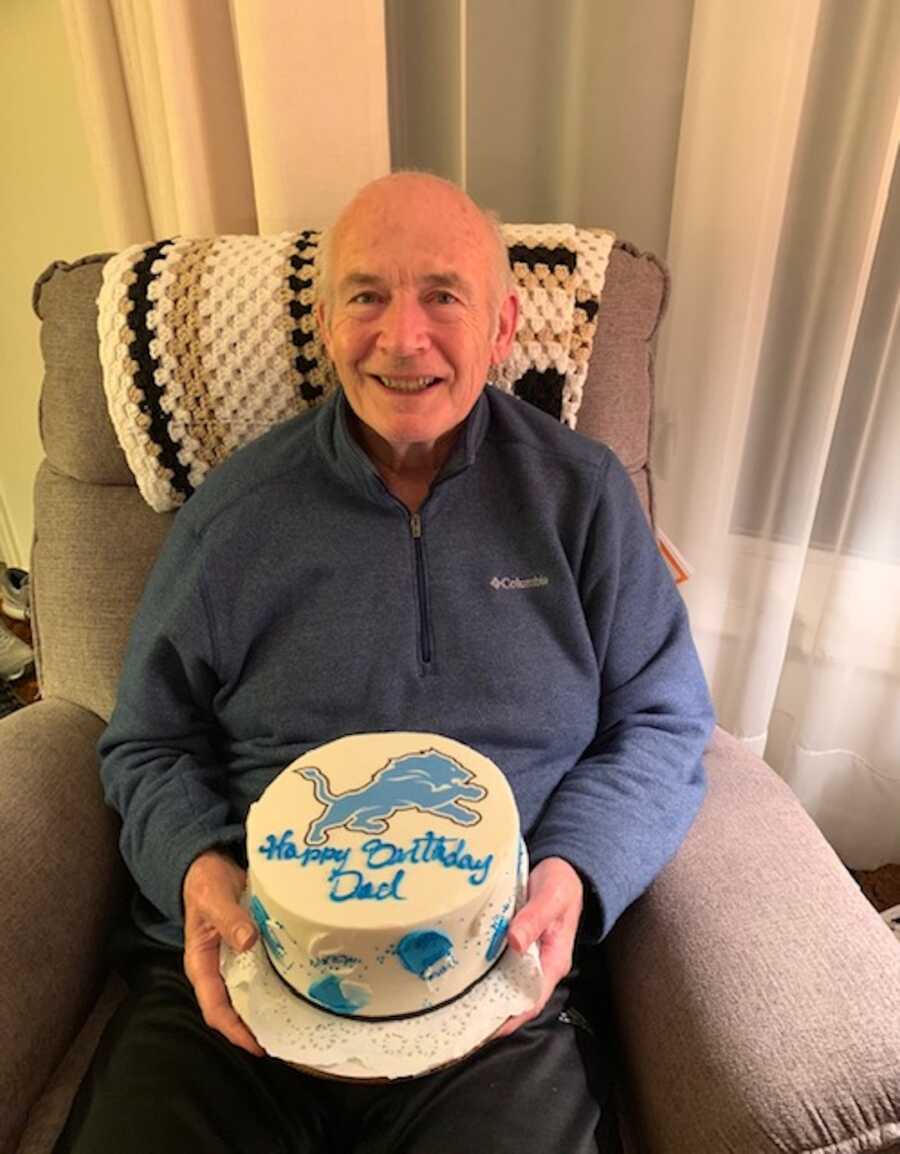 In September, I took him back to the gym. I had to help him pick out which clothes he should wear. When we got to the gym, I had to re-teach him how to use the machines he was used to using. In six months, my dad went from working out twice a day to not being able to figure out how to use the elliptical machine he so enjoyed. That day was hard. There are many hard days when you're a caregiver for someone who has Alzheimer's, but that day stuck out. I remember bringing him home, and when I got back to my apartment, I felt like I had been hit with a bag of bricks. I was sad, angry, and felt very defeated. Shortly after that, I read something that said when you care for someone with Alzheimer's, it's a constant grieving process. You grieve at the diagnosis, you grieve at every 'milestone.' I related to it because that was the second time in three months I was dealing with grief even though my dad is still alive.
This year I did the Alzheimer's walk in Detroit. I'm someone who wants to find a solution to be able to fix things and with Alzheimer's, I can't. I worked with two local gyms, and we set up some fundraiser workouts. There were many local businesses and artists that donated items that we could raffle off. To me, it felt like I was able to do something even if I wasn't able to directly fix what is going on with my dad. Our team was able to raise $2,000. The walk was busier than I thought it would be. It was very bittersweet. On one hand, it was great to see so many people there and participating. On the other hand, it was heartbreaking because I knew so many people were there for the same reason I was. We are part of a club we don't want to be in. We are either taking care of, have taken care of, or supporting those who take care of a loved one with this horrific disease.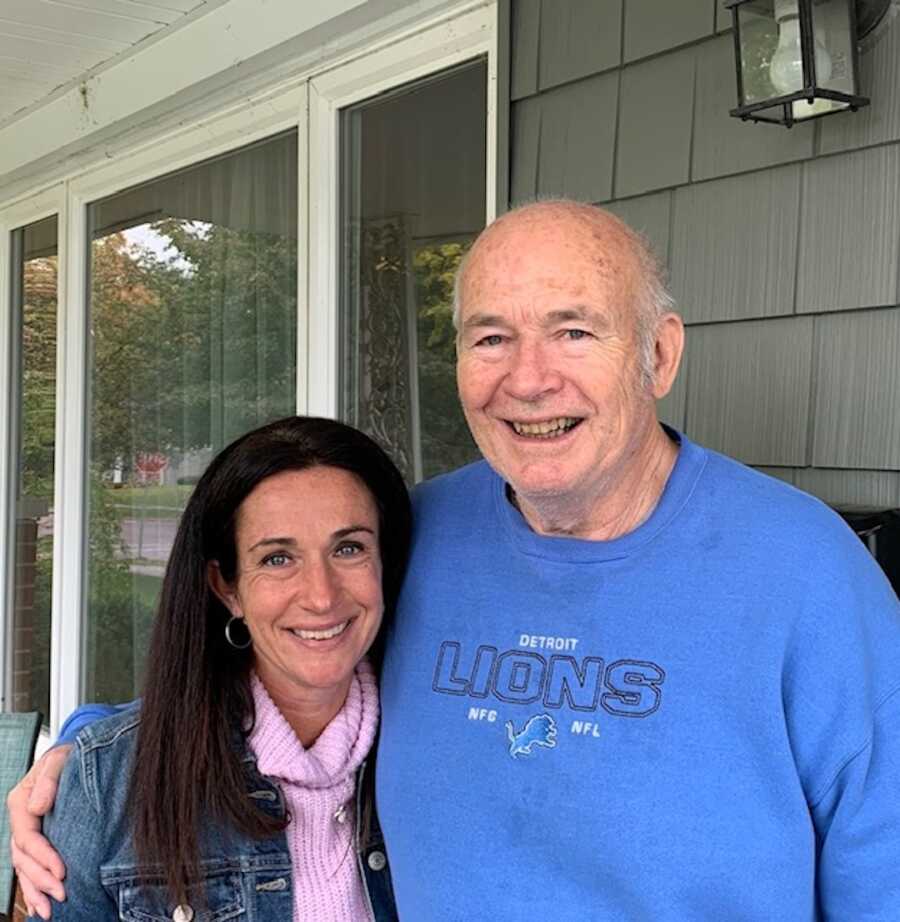 When I first started fundraising for the walk, I put my story out there for all to read. I had never publicly spoken about my dad having Alzheimer's. I had told a couple of friends, and with each one, it felt like a huge weight had been lifted off my shoulders. It wasn't a secret that he was losing his memory, but it felt wrong to talk about it. If I could go back and do anything different, it would be to talk about it sooner. When I told my story, I had other people reach out to me and share their stories with me. It's amazing the comfort you can find when talking to others who are or have gone through what you are going through. It doesn't fix what is going on, but you don't feel so alone.
This summer was my parents' 50th wedding anniversary. We had a family party for them. As we crept up to the date, we would all talk to him about the party. We let him know he would be married for 50 years on his anniversary. His response was usually a similar one. He would say, '50 years, that's a long time.' Or he would answer, '50 years, God has been good.' I know for myself the party we threw was more to get our family together one last time before things declined more for him. My dad has always been so in love with my mom, always very concerned about her. Even as he loses his memory. We must have triggered something in his memory when talking about their anniversary. We were at their house one day and he was having a good day. That night he and my mom were talking and he told her, 'We should be married.' She explained to him that they had been married for 50 years. His response was literally, 'Phew!' He had gotten himself so nervous!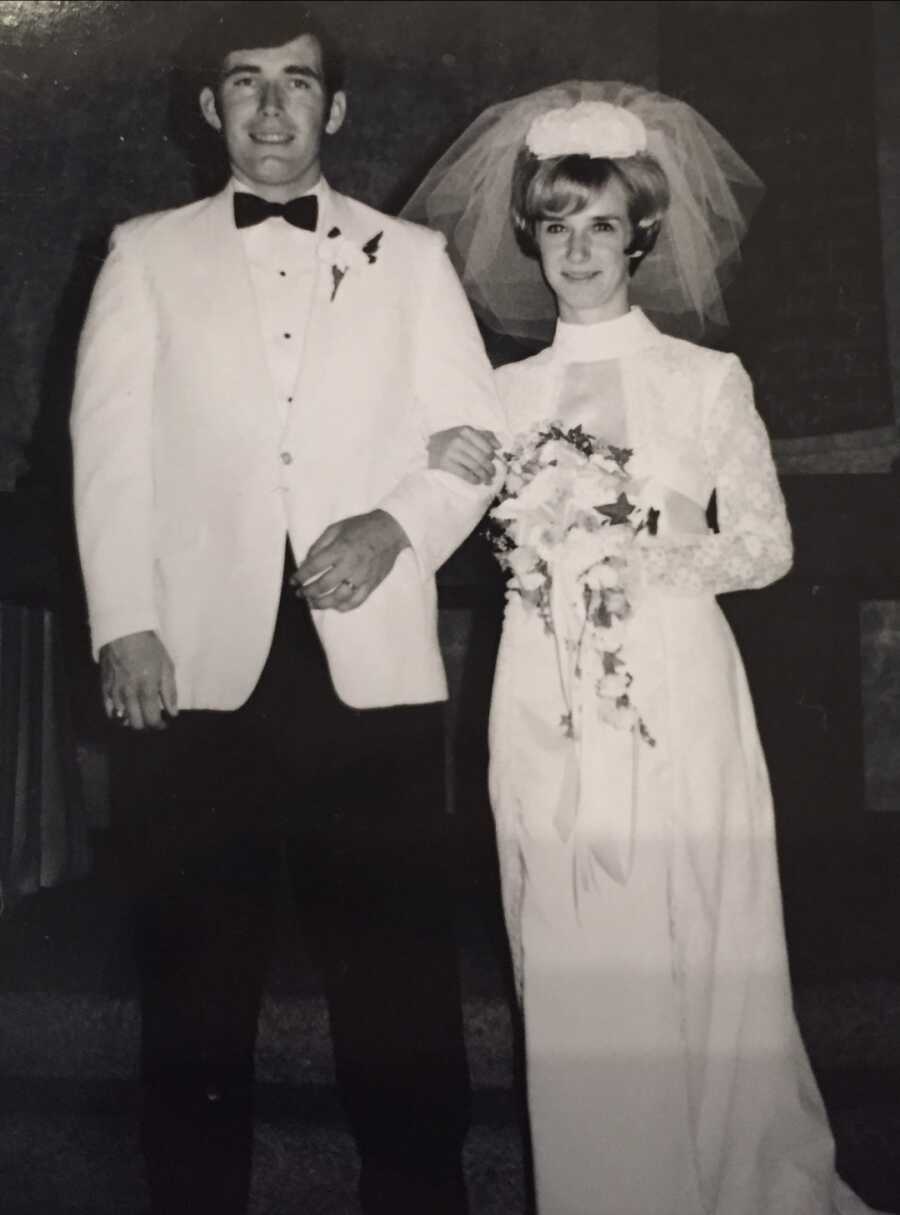 Alzheimer's Caregiver
Milestones would be a good way to describe being a caregiver. Both you and your loved one will have many milestones together. Explaining why he can't drive was a milestone. Teaching him how to work out again was a milestone. Then there are the really crappy ones. I have five siblings in my family and my dad constantly needs to be reminded he has six kids and which order they are in. This year, it was the milestone of him forgetting who we are. My brother lives with him, and my mom and helps take care of him. My dad would, at times, refer to him as the boy who lives with them. My oldest sister came home this summer from being out of the country, and he couldn't piece it together that she was his oldest daughter. There were times I knew he didn't know who I was because he would refer to my mom by her first name instead of calling her 'Mom.' The first time he forgot who I was and it was very evident was extremely hard. I was having surgery that day and was waiting for my sister to pick me up. This was the conversation I had with my dad:
Dad: 'What's your name?'
Me: 'Tracy.'
Dad: 'Oh, we have a Tracy.'
Me: 'I know, I'm your Tracy.'
Dad: 'So I'm your dad.'
Me: 'Yes, you are.'
Dad: 'Does Mom know you're our Tracy?'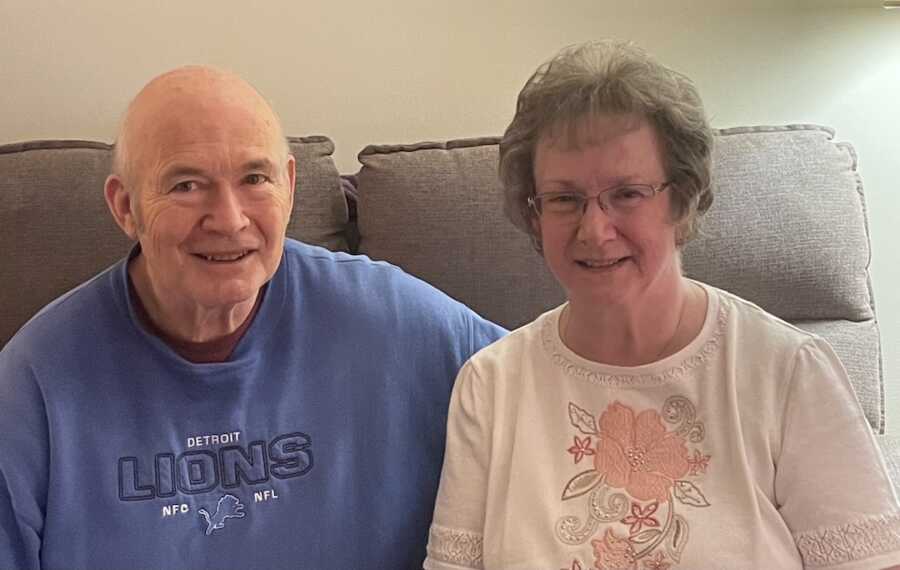 I had never had surgery before, I was doing okay until I had that conversation with my dad. I kept having to go out of the room so that I wouldn't break down in front of him. The one thing I was grateful for is that he wasn't upset when he realized he was my dad. He was more astounded and went back to eating breakfast. It would have made it a lot harder if he was sad. A couple of weeks before that, he had a fall in the shower. I remember telling my oldest sister, and she told me my mom had let her know but that she was helping my younger niece with work and she didn't want her to see her get upset. My first thought was, 'It must be nice to have the luxury to be able to be upset.' I was extremely upset when my dad forgot who I was, but he didn't see that. I was extremely upset when I had to keep explaining why he couldn't drive, again he didn't see that. I know as caregivers we are allowed to be upset, but I feel like we keep those emotions hidden because it would make it harder for my dad to see me upset and not understand why.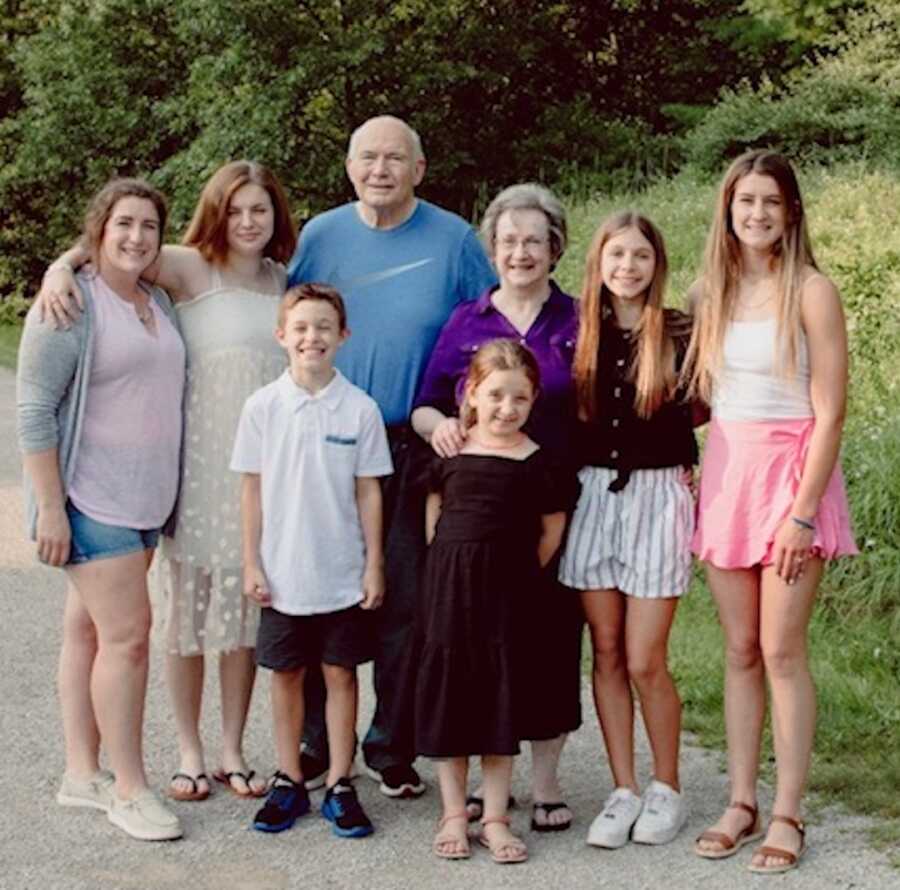 Many people who hear of someone that has Alzheimer's don't truly understand the depth of it. I myself didn't until my dad was diagnosed. You imagine how sad it is that someone is forgetting things. That same week I had surgery, my parents stayed with me. They were getting new floors. I knew things had gotten harder, but I didn't realize how bad until they were with me 24/7. My parents staying with me for a short period of time was enough to rock my dad's world. He needed help getting dressed, when he went to the bathroom, he needed directions on what to do. You don't fully understand the toll it takes on the caregivers. I was ready for bed every night at 7 p.m. When you have friends or family who may think you are being distant or canceling plans, it's things like this you are dealing with. You want to be a friend, but there are times it's hard. Being a caregiver means missing out on important events because my dad is having a bad day. My mom isn't able to go to my niece's wedding, it will be too hard for my dad. Thanksgiving we got together with family, but it was hard on my dad, so for Christmas, we stayed at their house and kept it very small.  If there is one thing I could share, it's to check on your friends that are caregivers. They aren't okay. Whether it be to let them vent without judgment, to provide a meal or money for a meal, or to give a gift card for Depends (those get pricey). Those simple things really do mean a lot. Also, don't minimize what the caregiver is going through, you have no idea. Christmas will be a get-together with less family.
Emotional Toll
If someone asked me to share the emotions I feel with this journey, it would be anger and devastation. I'm mad my dad is going through this. I'm devastated I have to watch him slowly decline each day. He was an engineering professor for over 40 years. He worked out constantly. For the most part, he ate pretty well too. I see the articles on things you can do to help prevent symptoms, and my dad did all of those things. I'm angry my dad worked so hard his whole life, and instead of he and my mom enjoying their retirement, my mom is taking care of my dad. I'm not mad at my dad, I'm mad that this is happening to him, and I can't do anything to prevent it. I remember watching a show, and in it, the main character got married. I got angry and sad that if I ever get married my dad won't be able to walk me down the aisle. He won't be able to give me away. If I have children someday, he won't remember them. They won't get to experience him as a grandpa in the same way my other nieces and nephews have. Those realizations hit me hard. These are experiences that have been taken away from me, so yes, anger is the main emotion I feel.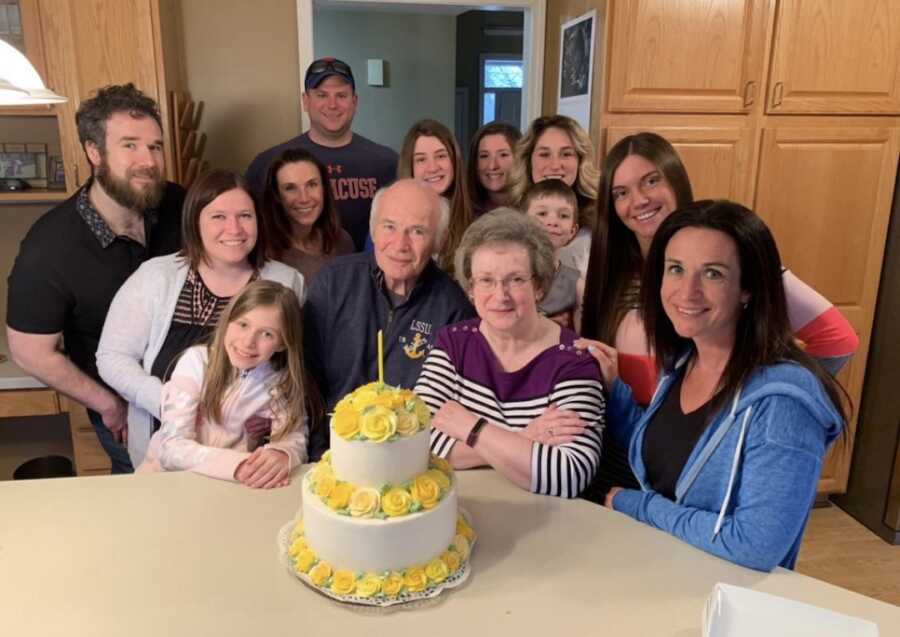 Now, don't get me wrong, even though I am angry about this situation, my dad does not see me angry. As a caregiver, I'm allowed to be mad, but it's also my job to find a way to deal with that anger. There are good moments too, not every moment is a bad moment during this devastating disease. I've gotten to see a side of my dad I never have before. He has started cracking jokes, speaking up more (He was always a quiet man, having five daughters didn't help). He has also found a new appreciation for food and not just ice cream! I know I won't regret the time I spend with my dad. With Alzheimer's, when that diagnosis comes, I think people find their own ways to deal with it.
I am a firm believer that God has a plan for all of us, we just have to trust his timing. He moves on his time, not ours. I think back to relationships that didn't work out, and I know now why they didn't. If they had I wouldn't be in the position I am in or even physical location to be able to help with my dad. My mom, brother, and I are the main caregivers for my dad. No, it's not a life I would've chosen, but I couldn't imagine myself not being here and caring for my dad. I work full-time and my 16-year-old niece is currently living with me, but being a caregiver for my dad is my hardest yet most rewarding job that I have."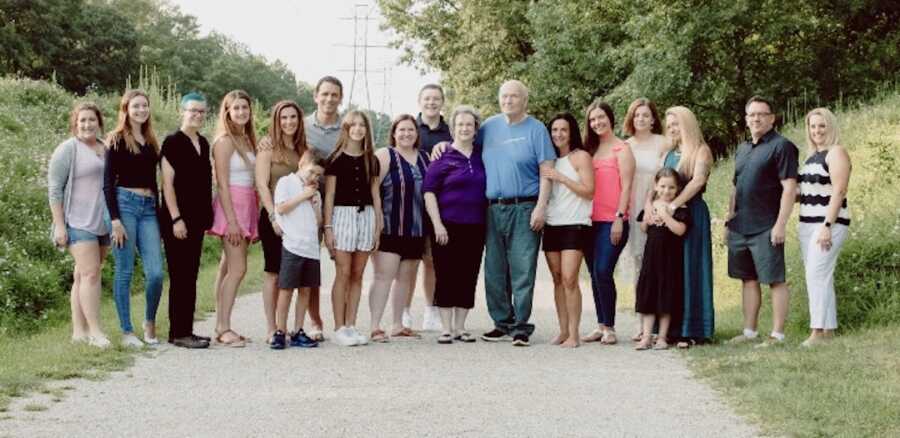 This story was submitted to Love What Matters by Tracy McDonald from Rochester, Michigan. You can follow their journey on Facebook and Instagram. Submit your own story here and be sure to subscribe to our free email newsletter for our best stories, and YouTube for our best videos.
Read more touching stories like this:
'Well, dishwashing it is!': After separated 114 days, wife becomes employee at husband's Alzheimer's facility so he doesn't forget her
'As my daughter was giggling, bursting with love in the next room, I was learning she wouldn't be growing up at all.' Mom's 18-month-old daughter diagnosed with 'Childhood Alzheimer's'
My Mom May Have Forgotten My Name, But She Will Always Know My Soul
'I noticed my mom staring at this young couple. They looked uncomfortable. 'Can I help you with something?' My face was hot and embarrassed.': Woman learns life lesson from mom with Alzheimer's
Do you know someone with Alzheimer's or dementia? Please SHARE on Facebook and Instagram to help their loved ones know there is a community of support available.