"I was sitting at my desk; it was May 2013 and I got a call from Steve. As a traveling salesman, he always called me when he was on the road to check-in and update me on his trip. But this call was different. I could hear it in his voice, he was scared. He was in Myrtle Beach, SC for a conference, had gone to check-in at the hotel, and realized he was in the wrong city. The conference wasn't in Myrtle Beach, it was in Charleston. In 30 years of traveling, he made a mistake he'd never made before – and it scared him. And it scared me too.
I had noticed him being confused a couple of times and had even asked him about it, 'Are you confused? You seem confused?' and he responded both times, 'Yes, I'm confused.'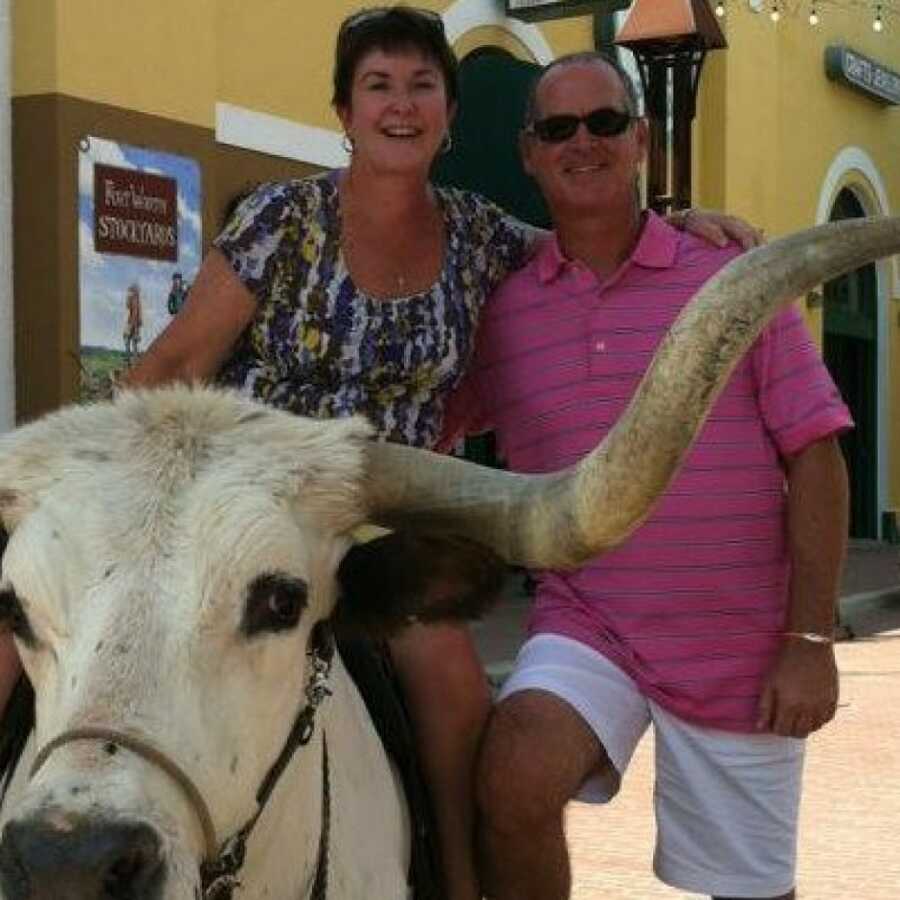 We worked together to get him to the right place, to get him reservations at the right hotel so he could do the work he went to do – but that day changed everything. Although we didn't know it at the time, our world was about to change.
We made an appointment at the Mayo Clinic, and at the age of 59, Steve was diagnosed with Mild Cognitive Impairment, as most people are, and he began taking Aricept in the hope it might buy us some time. We began participating in a clinical trial for an experimental drug in 2016 and made monthly visits to Mayo for the drug infusion.
About a year later, I mentioned to Steve's doctor in passing that he had been placed on 90-day probation and was upset about that happening for the first time in his over 30-year career.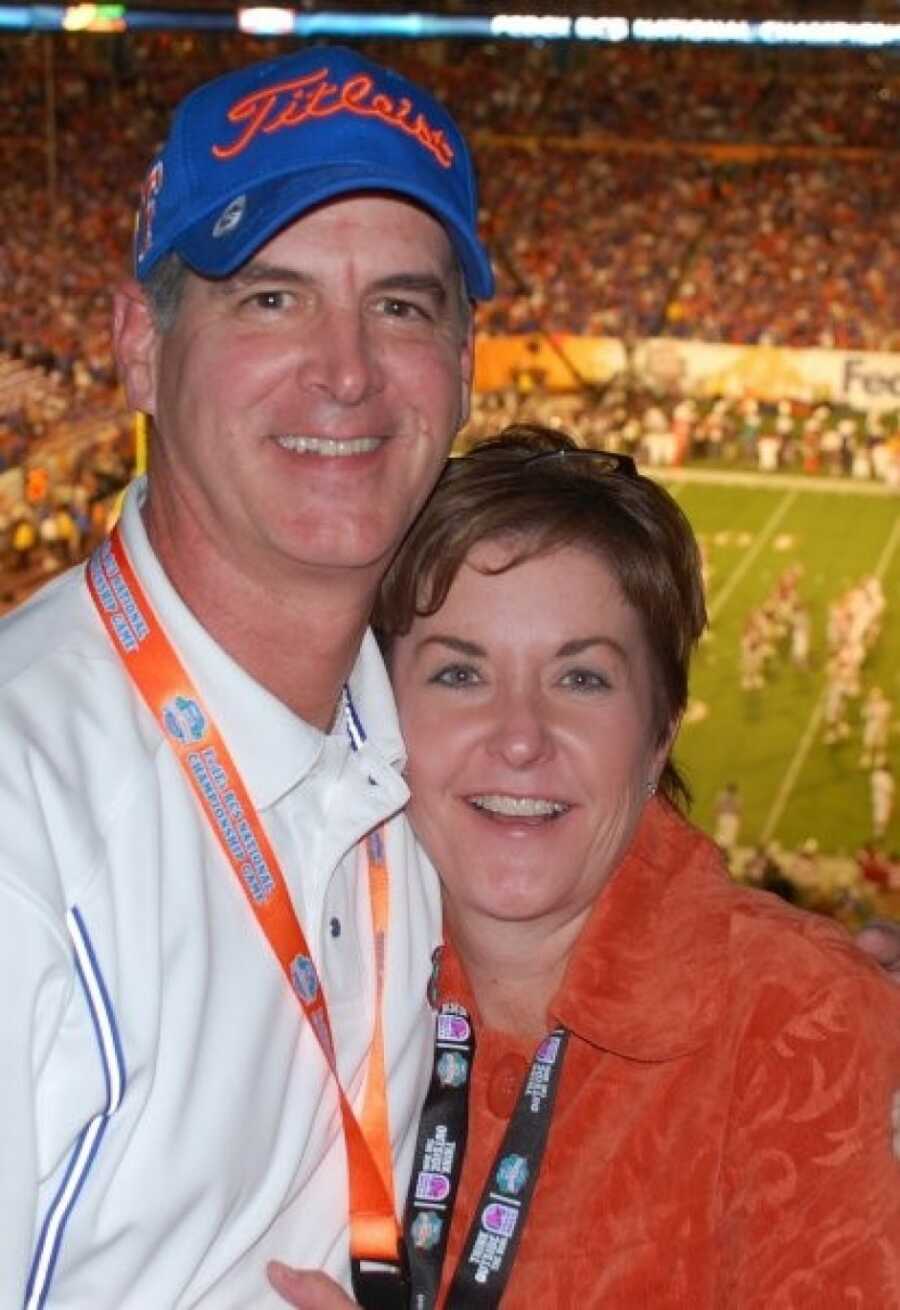 Without a second's hesitation, his doctor told us it was time for Steve to retire and go on disability. And that was the day he first used the 'A' word. He told us Steve had Alzheimer's. He had never said that word before and it hit hard. That day was our lowest, certainly Steve's lowest. We both cried; we went to my sister and her husband's house and they cried with us. That was the day it really hit home – my husband had Alzheimer's disease and could no longer work.
He was fine for a while, was enjoying the retired life, playing golf, relaxing after a long career on the road. He was fine to be on his own but as time went by, I could see a slow and steady decline.
I began working out of the house in 2016 to be home with Steve. In 2018, I could no longer leave him alone, and in 2019, I hired full-time help and moved my office out of the house because I couldn't work and take care of him too. That plan didn't work for long. When I'd get home, he was furious. He'd been literally locked in the house all day, and was doing what they call 'exit seeking,' so we had to put deadbolts on the door. He was spending the entire day just sitting and watching television with the aide we hired, and it was driving him crazy.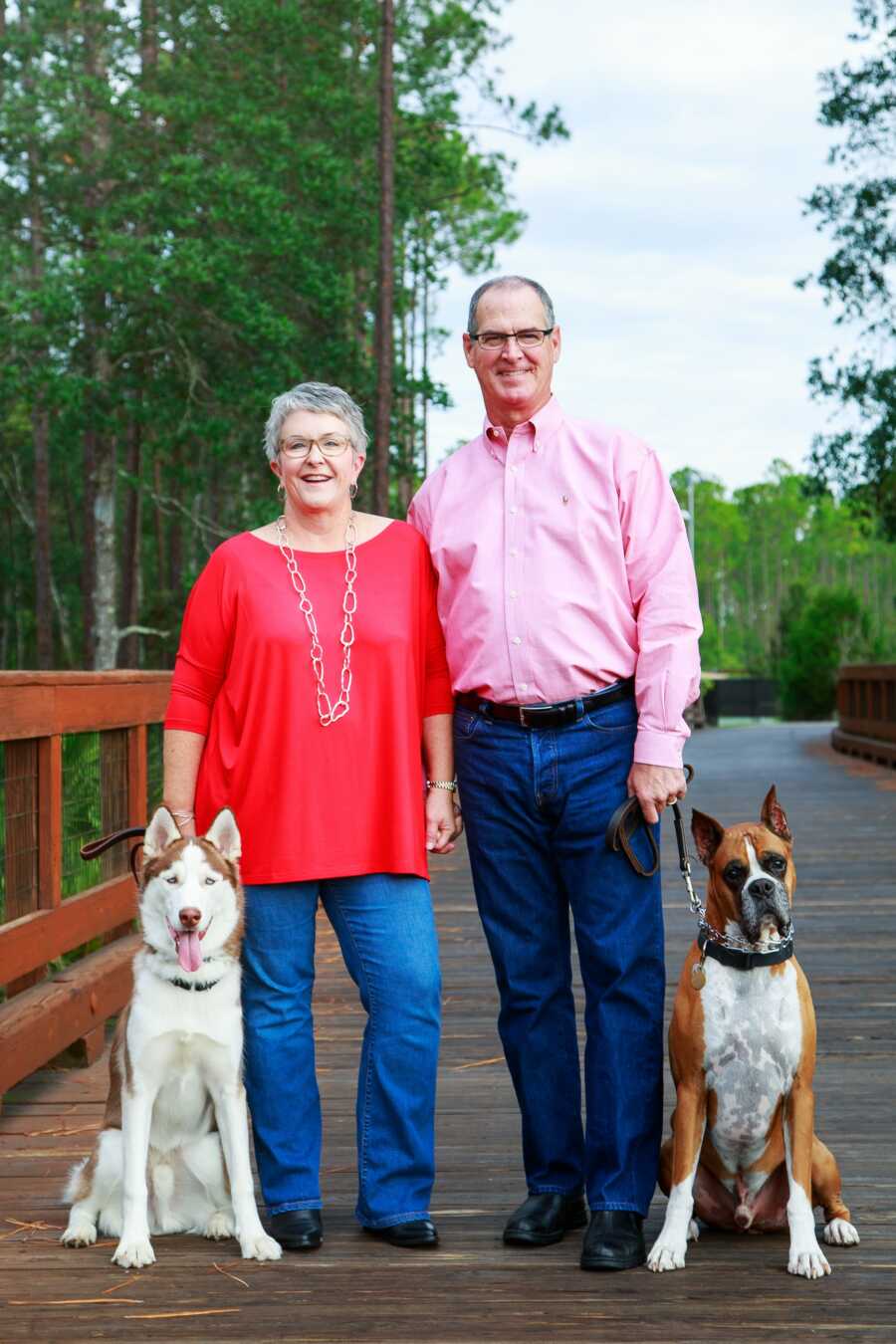 After three months, I made the hardest decision I've ever had to make. I decided to place him in a memory care center. It was so difficult because you're just not sure… Is it too soon? Maybe I should try harder at home? What if he hates it and hates me for putting him there? All questions that kept me up at night. What's the right thing to do?
Steve has always been incredibly social. He was a successful salesman because he knew how to make friends and build relationships. He truly never met a stranger. Because he was so social, he thrived at the memory care center because he was with other people, especially the staff and other visitors at the facility. He had a seat at the front desk and greeted everyone that entered. He was surrounded by loving people and plenty of room to roam. I visited him every evening and got him ready for bed, and we ended each day lying in bed watching TV, enjoying being together.
And then COVID hit. I went to see him as usual on March 10th, and on March 11th they called and told me I couldn't come back. I immediately called the director to let her know that wasn't going to work for me; I needed to get in to see him. There had to be something I could do – could I volunteer, get a job, anything. She said, 'Let's see what happens, this is all new.' We were right at the beginning of 15 days to stop the spread, so we were all hopeful this would end soon.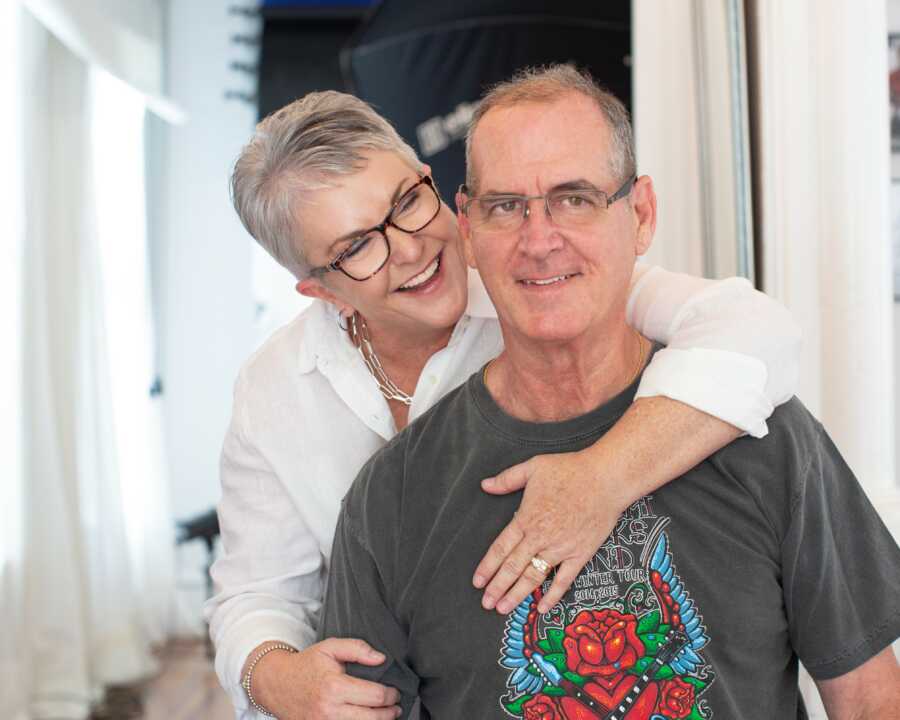 But as the days turned into weeks and the weeks turned into months, I became more and more vocal, emailing the governor and my local politicians, tagging them on social media, reaching out to friends who may know him or someone in his office. I wanted to talk to the governor to tell him this was not a good plan, that there had to be a better way. And that became my mantra – there has to be a better way! We isolated these people to save them but the isolation was killing them!
Courtesy of Mary, I got the attention of a local news station and they began airing stories about the isolation in mid-June. Completely out of the blue, I got a phone call from the corporate office of Steve's facility a couple of weeks later. They wanted to know if I still wanted a job; they had a part-time job available if I wanted it. I was surprised at first, but I immediately said yes. And then I asked, 'What job is it?' 'It's a dishwasher,' they said. 'Well, dishwashing it is!'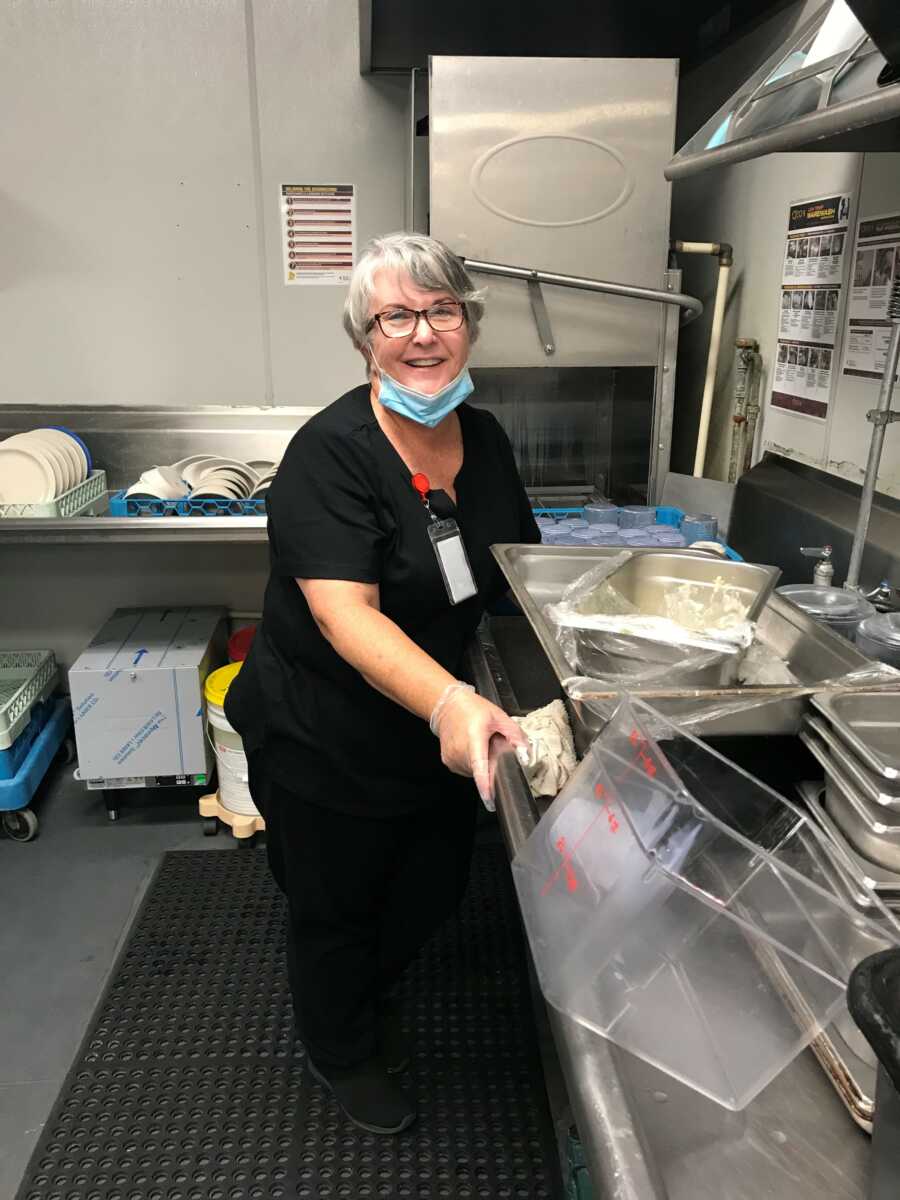 So, on July 3rd, after a drug test, fingerprinting, a covid test, and 20 hours of video training, I worked my first shift as a dishwasher. After it was over, I was able to walk into Steve's room – after 114 days.
My biggest fear was that he wouldn't remember me, that I had lost what little time we had left of him knowing me and knowing my love. When I walked through the door, his back was to me. When he turned around, the first thing he said was 'Mary.'
He still remembered me. I wasn't too late.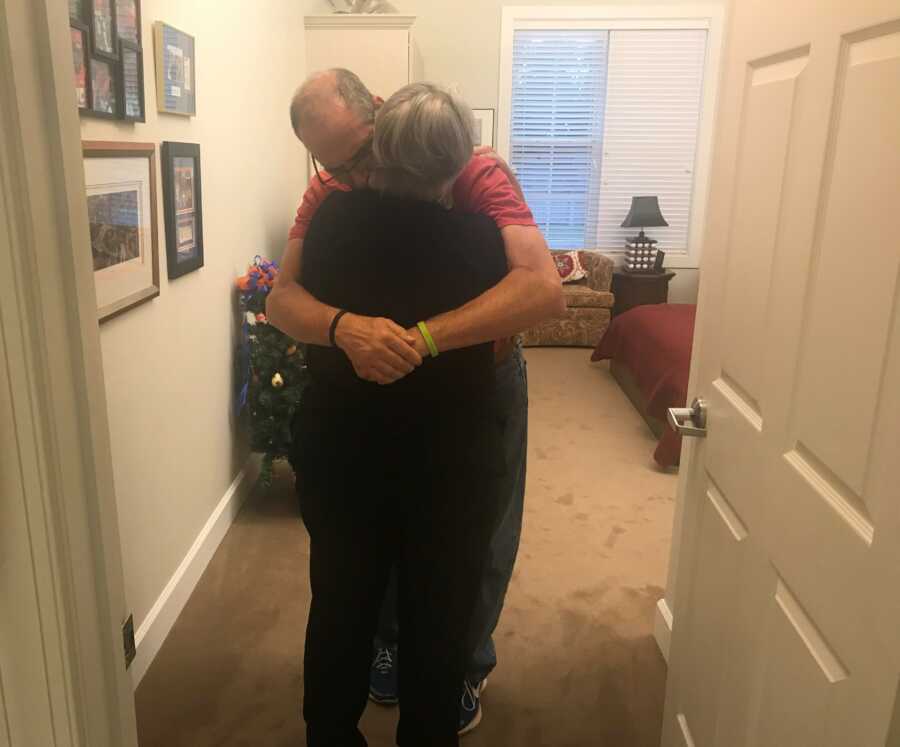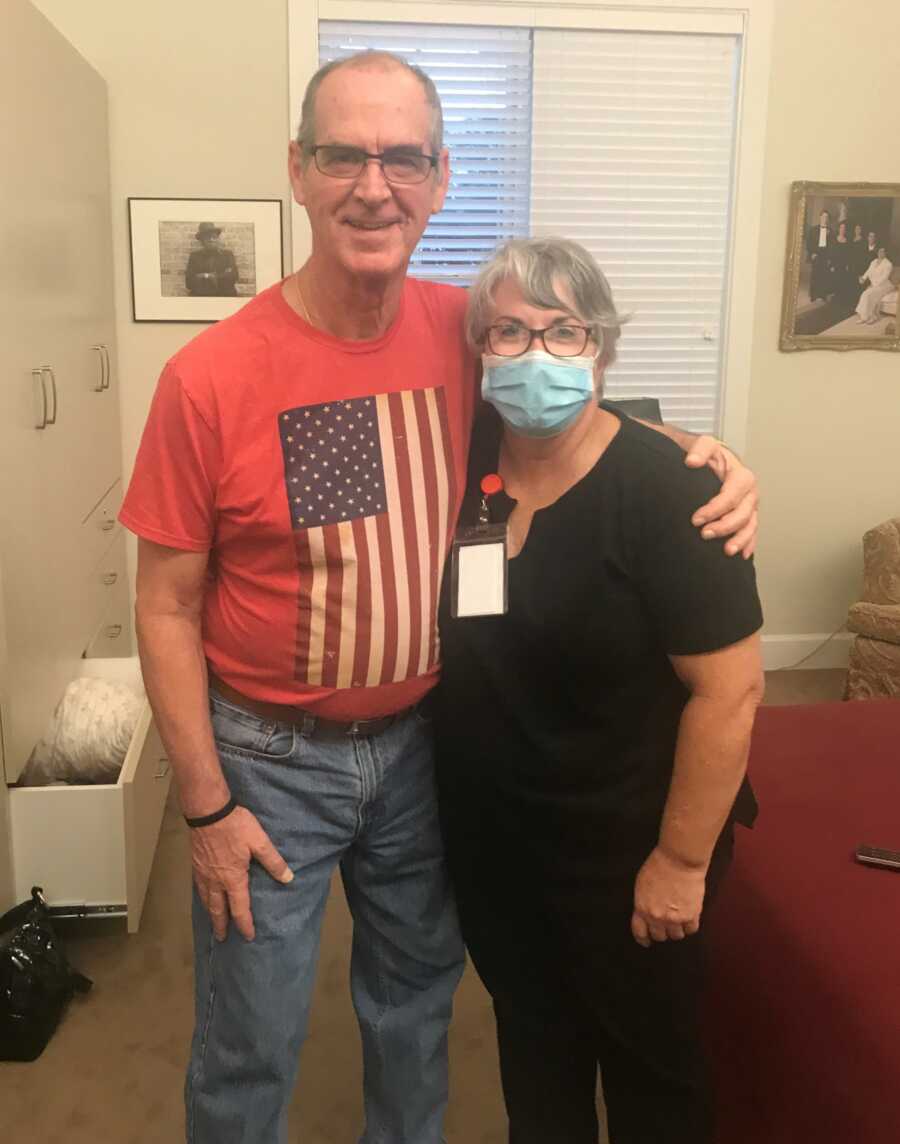 The local news ran the story of our reunion and the rest is history. It went viral, like literally viral. We were on EVERY network's nightly news and morning shows – NPR, 1.4 million views on TikTok, Inside Edition, Extra, an interview with Steve Harvey, even a two-page article in People Magazine.
So, I washed dishes two days a week after I finished my day job, and I got to be with Steve when I was finished. We fell right back into our old routine. I got him ready for bed and we watched TV until he got sleepy. Just as before, it was a great way to end the day – together.
As the story went viral, I realized there were hundreds of thousands of caregivers across the country that were trying to get to their loved ones but were helpless and hopeless, just like me. So, I founded the Facebook group, Caregivers for Compromise, because isolation kills too! Today, with over 14,000 members and a group page for every state, it serves as a place for us to join together to share our stories and to advocate as one voice for change.
And as our movement grew, Governor DeSantis started to notice. He appointed me to the Florida Task Force on the Safe and Limited Re-opening of Long-Term Care Facilities, and I was able to voice the concerns of literally tens of thousands of caregivers who desperately needed to hug their loved ones.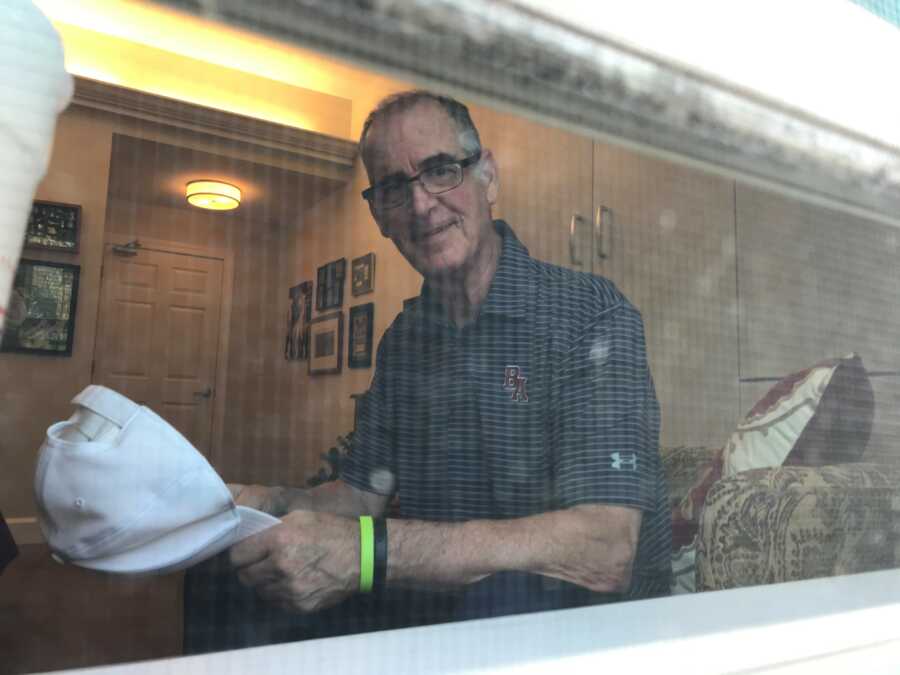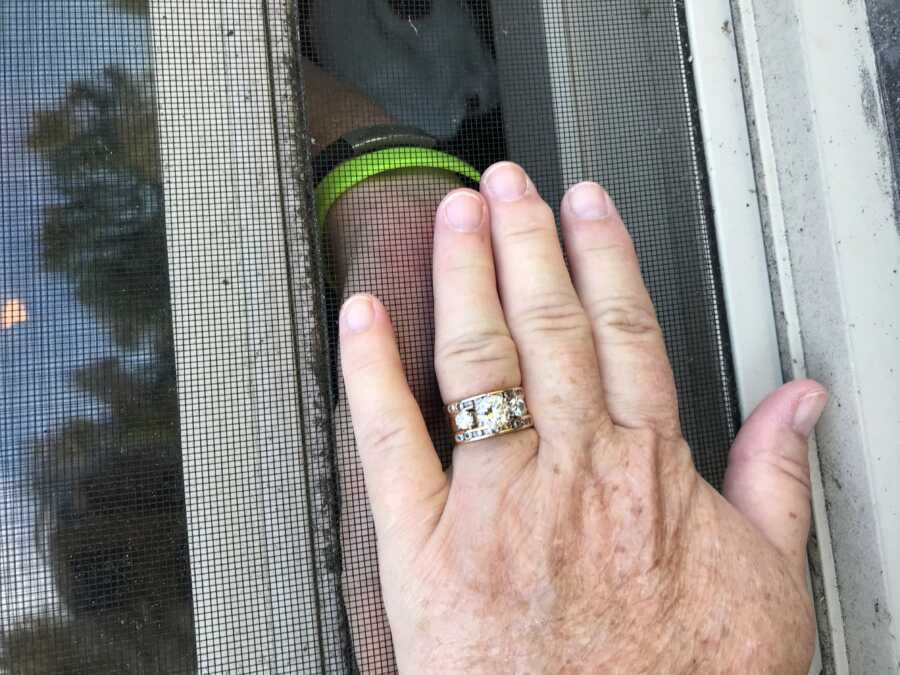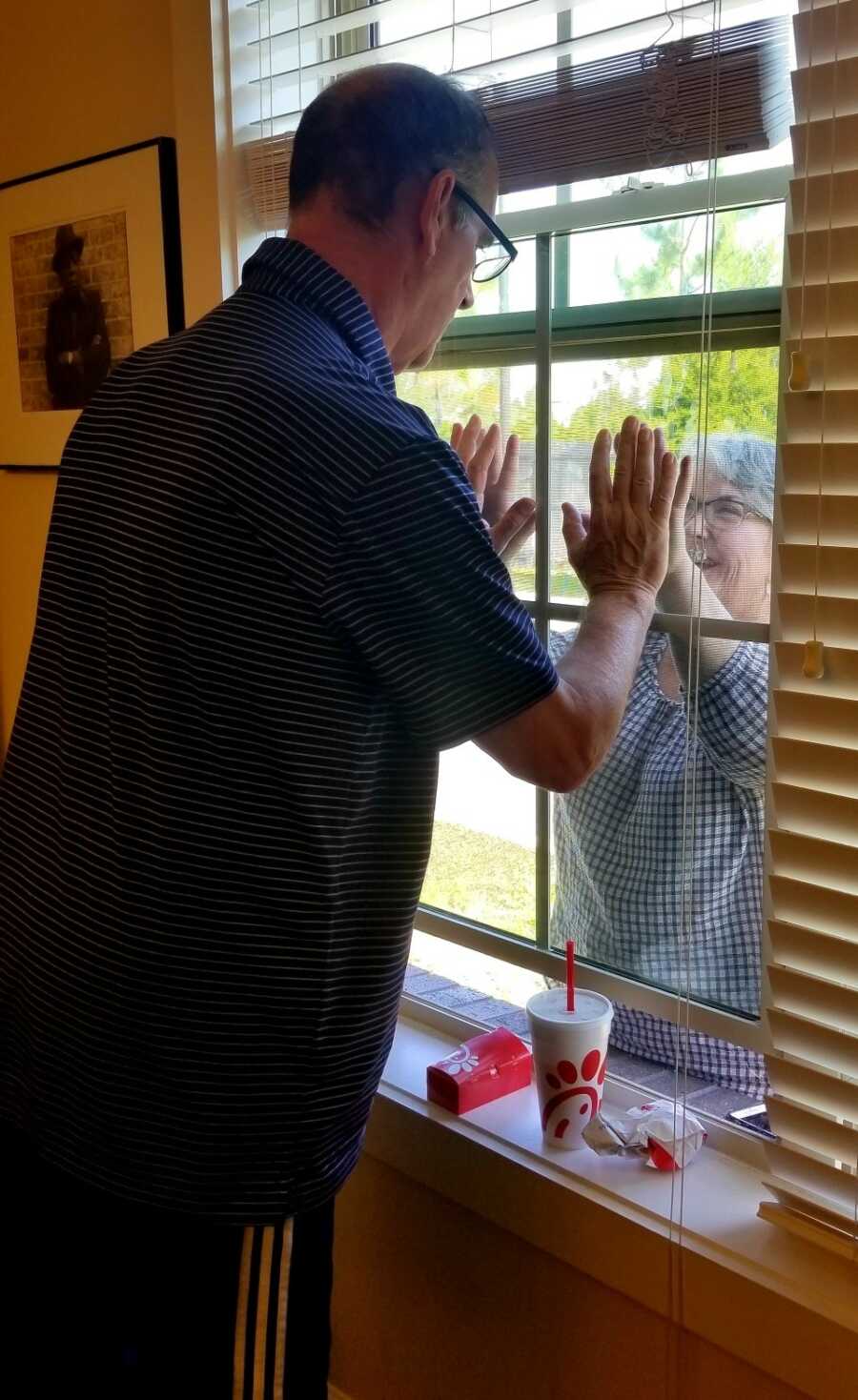 The Task Force recommended, and the Governor approved, an essential caregiver designation that allowed touching with specific guidelines like PPE, and on September 1st, a new order was issued allowing us back in. So, after six long months, families across Florida could hug their loved ones again.
Our national and state groups have led to real change in many states and we are leading the way in our fight for a federal Essential Caregivers Act (HR 3733) that has been introduced in the House of Representatives.
On the day Steve was diagnosed with Alzheimer's, I promised him I would be with him every single day, that I would hold his hand every step of the way. For 114 days I was not able to do that. During that time, I was worried I was losing precious time with him while he knew me, when he knew our love, which is why I felt such a huge urgency to get to him. Thankfully, I was able to get to him while he still recognized me, but so many others lost precious time they will never get back.
I was able to advocate, as my husband's caregiver, for change – not just for him, but for thousands of others – and my fight will continue until we pass the federal and state Essential Caregiver bills, so we are certain the isolation that harmed so many never happens again!"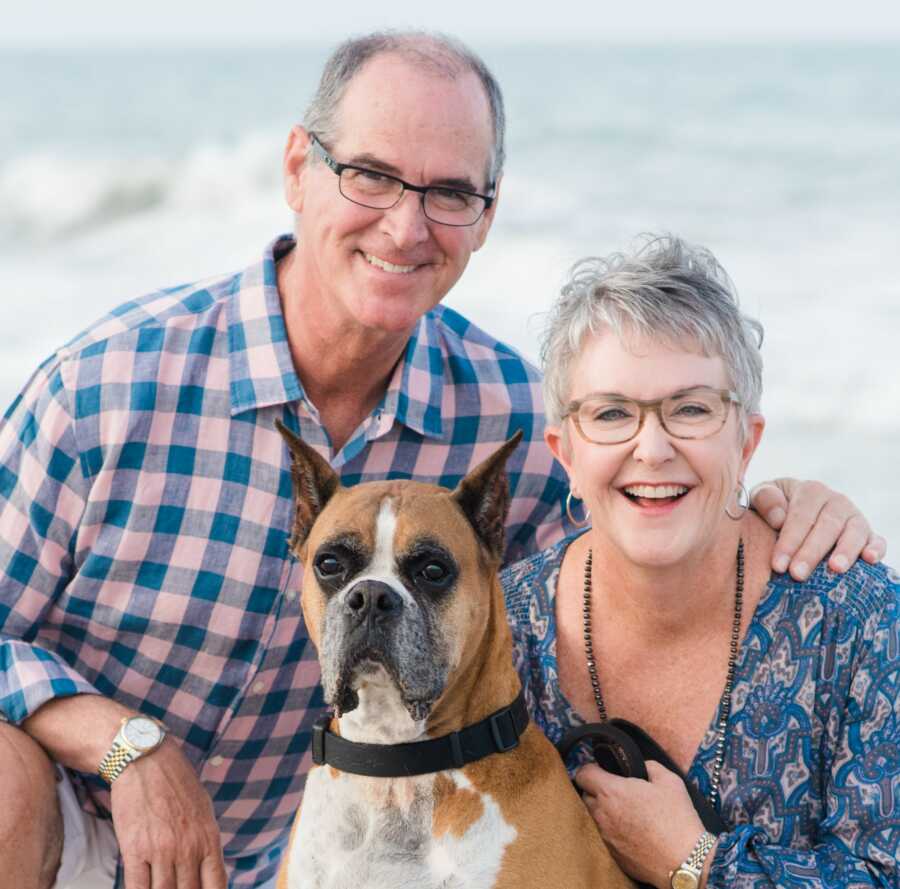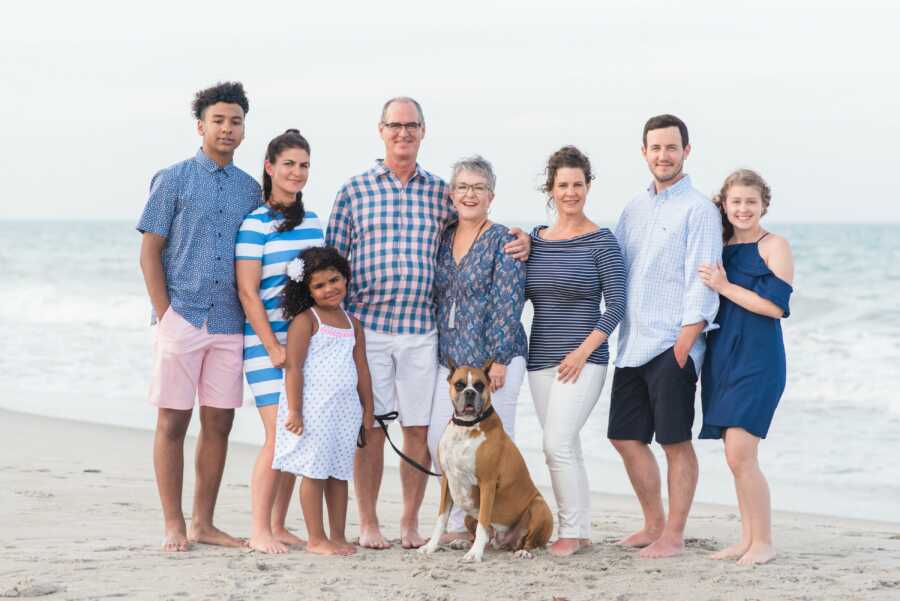 This story was submitted to Love What Matters by Steve and Mary Daniel from Jacksonville, Florida. You can follow their journey on Facebook, Instagram, and their website. Submit your own story here and be sure to subscribe to our free email newsletter for our best stories, and YouTube for our best videos.
Read more touching stories like this:
'Is this a nightmare?' We said goodbye, not knowing if she'd recognize us again. Our sweet, perfect girl was dying.': Mom 'crushed' by Childhood Alzheimer's diagnosis, 'We spoil her every day'
'As my daughter was giggling, bursting with love in the next room, I was learning she wouldn't be growing up at all.' Mom's 18-month-old daughter diagnosed with 'Childhood Alzheimer's'
My Mom May Have Forgotten My Name, But She Will Always Know My Soul
'I noticed my mom staring at this young couple. They looked uncomfortable. 'Can I help you with something?' My face was hot and embarrassed.': Woman learns life lesson from mom with Alzheimer's
Do you know someone with Alzheimer's or dementia? Please SHARE on Facebook and Instagram to help their loved ones know there is a community of support available.