"Back when I was a caregiver for my mom, one of our favorite things to do was get our hair done and have lunch at Saladworks. 
We did this every couple of months, and as time went on, it got harder and harder to do. 
Due to Alzheimer's, she began having difficulty getting in and out of my car. She began having difficulty getting in and out of the salon chair. I began having difficulty getting her through the line at Saladworks. 
One day, I had a brilliant idea. I thought rather than having her follow me through the line at Saladworks, I would pick a table and have her sit there while I got our food and drinks. It would be much easier to order and pay for the food without my mom hovering around me, asking questions. So, I picked a table and told her to wait there for me to come back. 
Of course, the line was long that day, but I could see my mom and even almost touch her from where I was standing. As I waited, I noticed my mom staring at this young couple sitting two tables over from her. 
They looked uncomfortable and the boy asked my mom if he could help her with something. My mom said, 'Oh, you just remind me of my cousin, Finkie. You look just like him.' 
The girl laughed nervously, and the boy replied with a bit of an attitude, 'Well, is that a good thing?' 
My mom smiled sweetly and said it was. The young couple began laughing and I lost it. 
I put back the two bottles of Diet Coke I had picked out, hurried out of line over to my mom, and told her we had to go. As I rushed my mom out of the restaurant, I mouthed, 'I'm sorry,' to the young girl. 
My face was hot, and I was so embarrassed. I couldn't believe my mom was staring at and talking to strangers like that! I felt so stupid! I couldn't get out of there fast enough. 
I managed to get my mom out to my car and safely buckled inside. I made an excuse about leaving and said we would stop somewhere else to get lunch to take home with us. 
I pulled into the parking lot of a convenience store, all set to run in and grab some sandwiches, when my mom looked at me innocently and said, 'I don't understand why we had to leave. This whole thing is just ridiculous.' 
She looked hurt and confused. 
It was like a knife in my heart. 
She was right. 
It was ridiculous. 
I was being ridiculous. 
I felt stupid and embarrassed. I made my mom leave our favorite lunch spot because I was worried about what some teenage kids thought about us. 
I instantly regretted my decision and did my best to play it off to my mom, not wanting her to understand why I really made her leave. Right then and there, I vowed to myself I would never do that to her again. 
The only thing worse than feeling stupid and embarrassed was making my mom feel stupid and embarrassed. 
Friends, who cares what other people think about our loved ones?! 
Seriously, who cares?! 
Sure, you might feel stupid and embarrassed, but it's not worth making your loved one feel stupid and embarrassed. It is not worth the look on their face when they tell you they don't understand. 
Trust me. I feel bad about it to this day. 
But as bad as I felt, I'm thankful it happened because I learned a valuable lesson that day; one I am hopefully passing on to some of you now. 
Don't be so concerned with what others think about your loved one. Be concerned with what your loved one thinks about you. 
P.S. I don't think I ever saw that hurt, confused look on my mom's face ever again."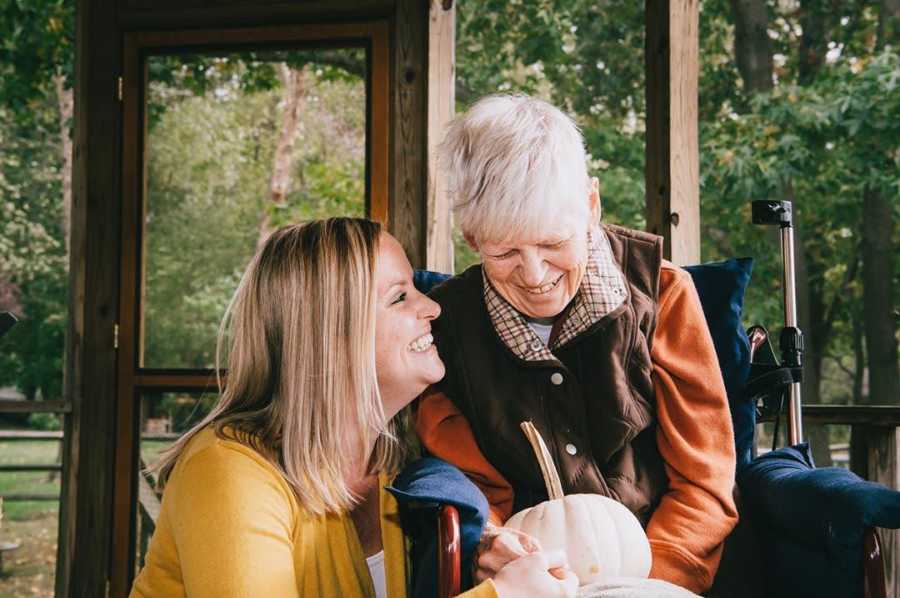 This story was submitted to Love What Matters by Lauren Dykovitz of Florida. You can follow their journey on Instagram, Facebook, and her website. Submit your own story here. Be sure to subscribe to our free email newsletter for our best stories, and YouTube for our best videos.
Read more stories by Lauren Dykovitz here:
'My dad had an appointment with a funeral home director. It feels like a betrayal.': Dad goes funeral home shopping for wife dying of Alzheimer's, daughter feels guilty, 'It feels like I've given up on her'
'I was scared of losing my mom. I was 12. I didn't want anyone to think I was trying to get attention.': Daughter suffers in silence after mom's cancer, Alzheimer's diagnoses, says 'your struggle doesn't make you weak'
'My mom went all out. I remember thinking how random it seemed. She tried so hard, wanting to make this nice dinner for us. We made fun of her for it.'
Do you have a loved one with Alzheimer's or dementia? Please SHARE on Facebook and Instagram to make them aware there is a community of support available.