While the Rockvale Reapers may have lost the baseball tournament game, playing another team from Middle Tennessee for the championship, both teams left feeling like winners after a heartwarming display of kindness and inclusion.
Tanner Grimes, an 11-year-old Reapers team member, has a younger brother, 6-year-old Carson, with a spontaneous rare genetic mutation called GRIN1. While unable to physically participate in the sport, Carson was made to feel like the game's MVP, and has always been treated as an integral part of the Reapers team.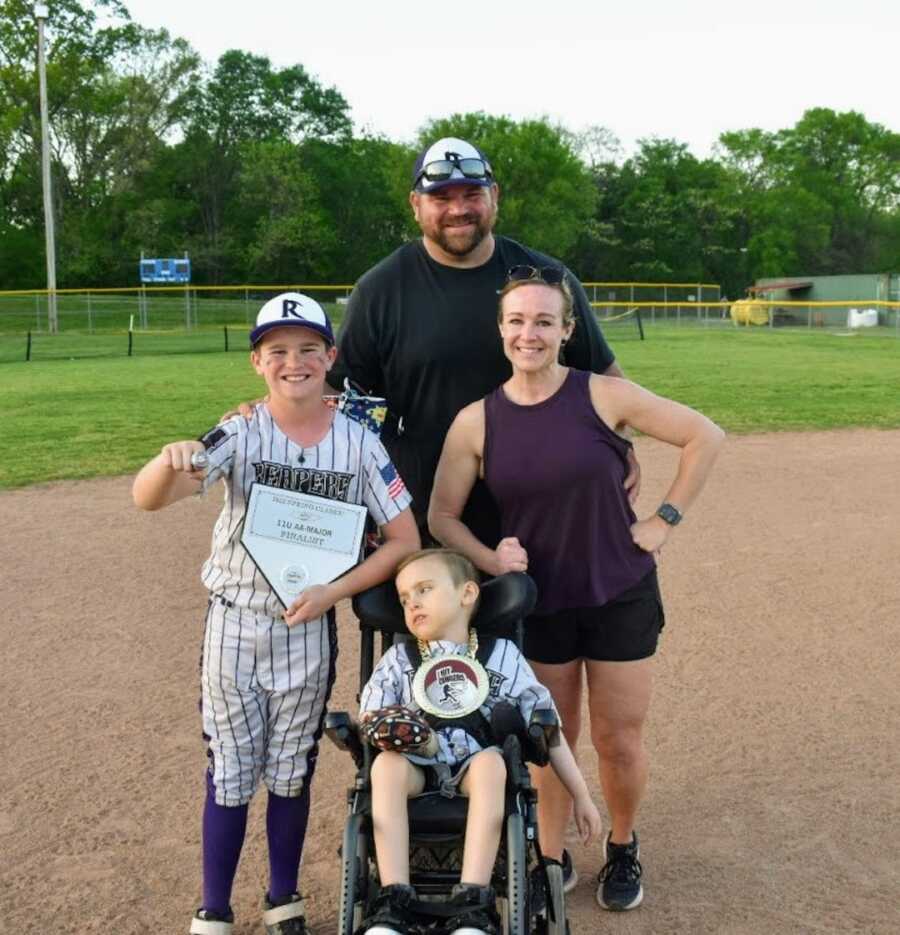 Shannon Grimes, the boys' mother, says the coaches deserve so much recognition. Without the family knowing, they made matching jerseys for Carson, and even appointed him as their team captain. During the trophy and ring presentation following the game, Tanner gave his ring to his little brother, not knowing the coaches had also already requested an extra ring for their special team member.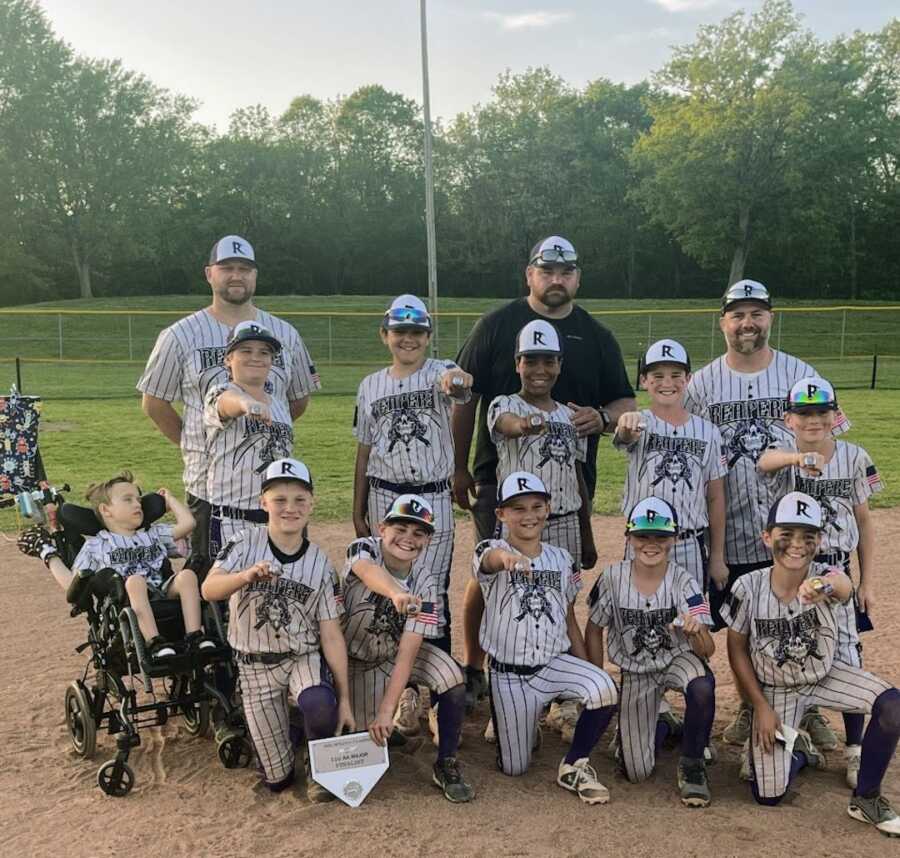 At the conclusion of the ceremony, the Reapers helped take Carson around the bases, something the boy's mother said makes her day every time, and is now becoming a team tradition. "I'm going to need to get Carson some 'baseball field only' wheels!" she laughed.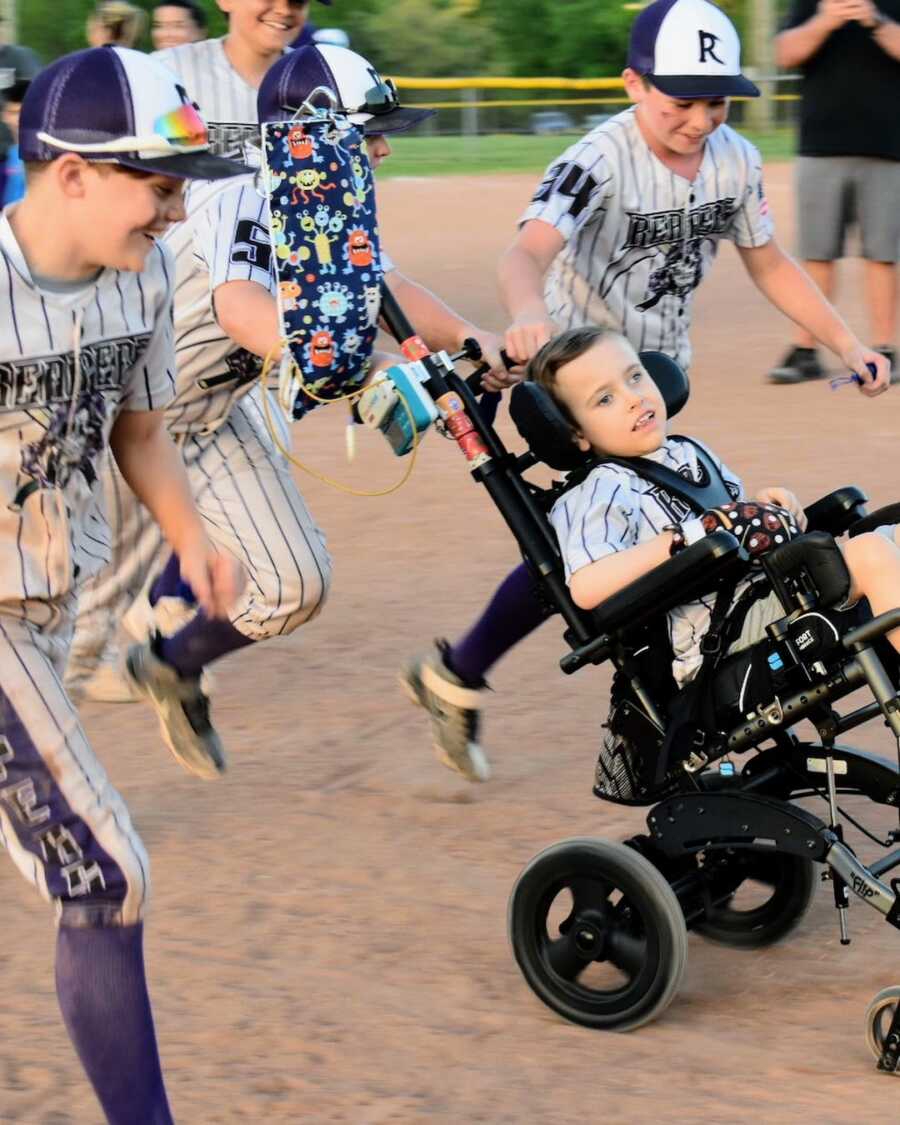 As the boys completed their Reaper ritual, the coach of the opposing Hendersonville team took notice and met the kids on the field. Being a distance away, Shannon was unsure what was taking place. "I could see him having a full blown conversation with a kid that wasn't going to say anything back," she tells Love What Matters.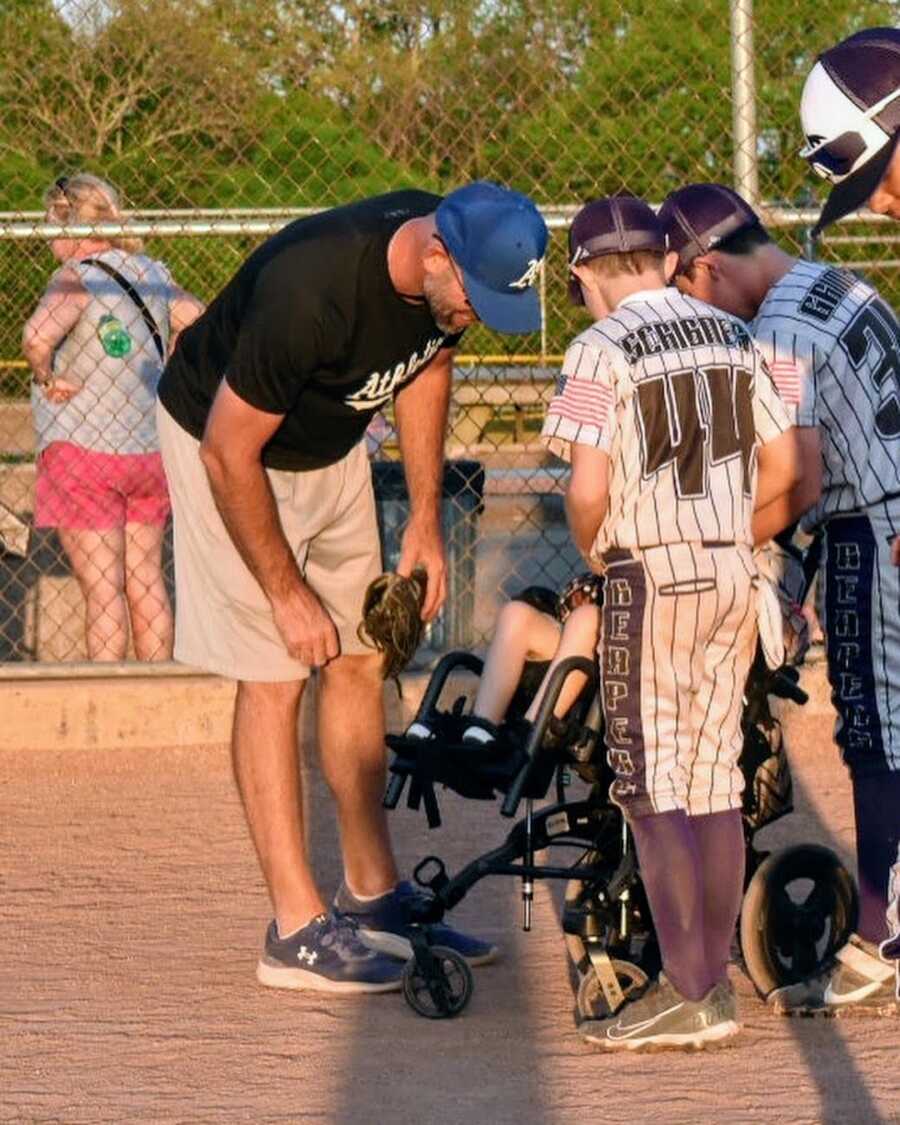 Carson's condition affects him neurologically, disrupting the communication between his brain and his muscles. As a result, the 6-year-old is non-verbal, unable to independently hold his head up or sit up on his own, and is fed through a g-tube. His mom says he suffers from movement disorders and seizures, which cause him a lot of pain. Carson also has upper respiratory issues that lead to frequent hospitalizations when he catches colds.
Despite having a list of some 20+ diagnoses, Shannon says, "Carson is generally the happiest kid out there!" And though his disabilities prevented him from verbally responding to the conversation, the giant grin on his face as the coach chatted with him said everything they needed to know.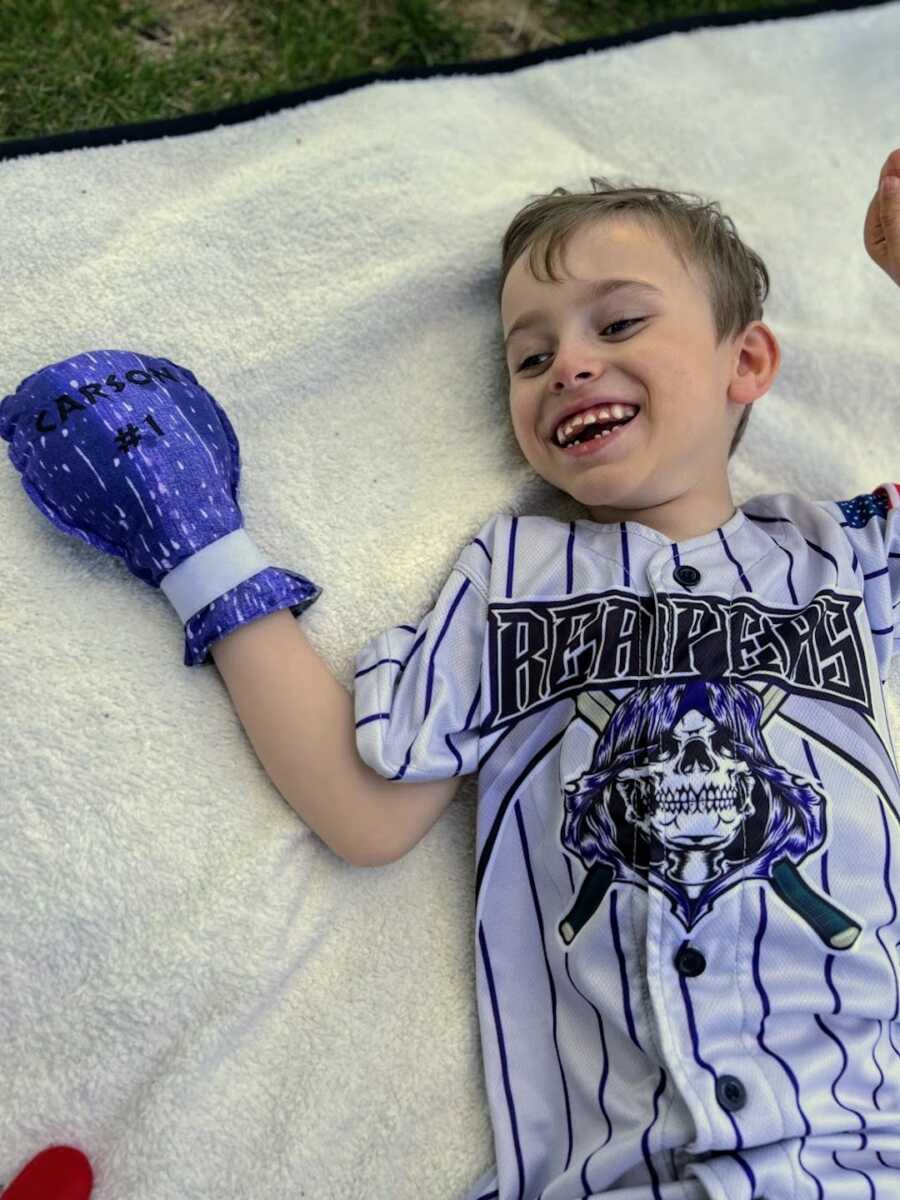 The boys excitedly returned to their mother to tell her the coach had given Carson the game-winning ball. This brought the grateful mother to tears, again — not only was she grateful for the kind gesture, but her sunglasses to hide the freely-flowing tears.
"Carson is changing this world for the better," Shannon shares. "They see a kid who is in complete care and in a wheelchair, but still always smiling. He teaches people that no matter how bad things might get, you can always smile."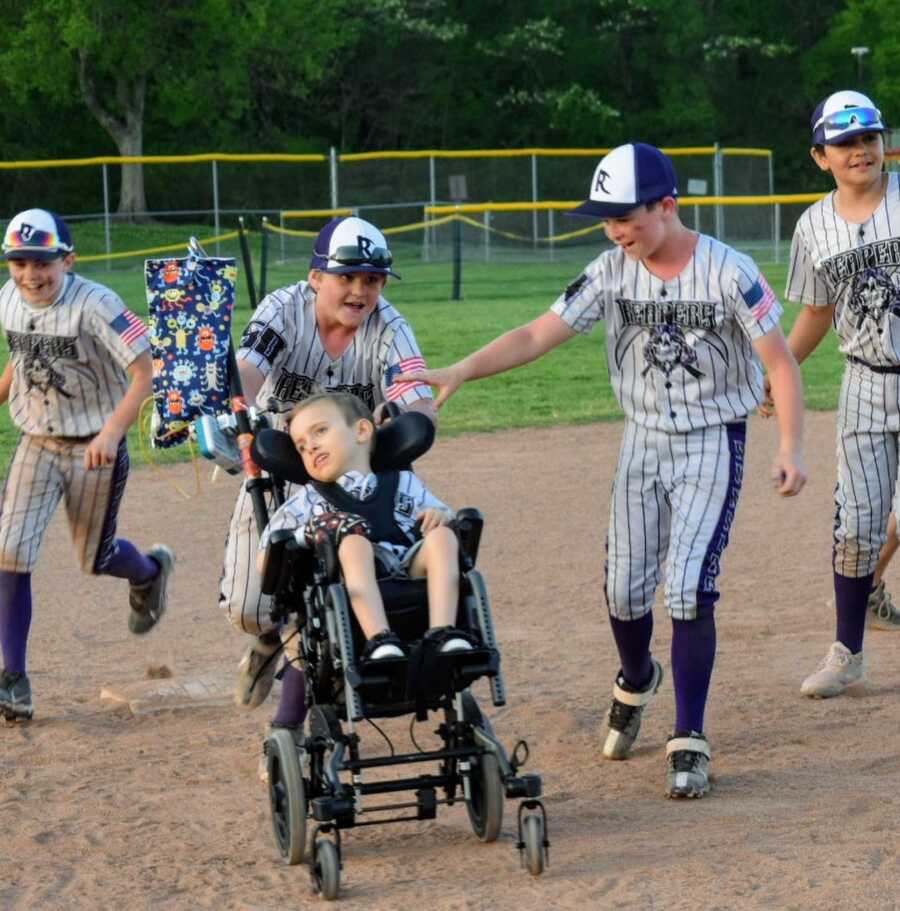 Hendersonville's Coach Jackson later told Fox 17, "I saw three or four of them running him around the bases and it was like nothing else mattered. He had a big smile on his face and I wanted to give him the team ball. It was just special to watch… it puts things into perspective."
"When we got off the field, I noticed almost every single mom had bloodshot eyes from crying at that very special moment," Shannon tells Love What Matters. "Having the other team recognize and praise how our boys interact and include Carson means we are all doing something right."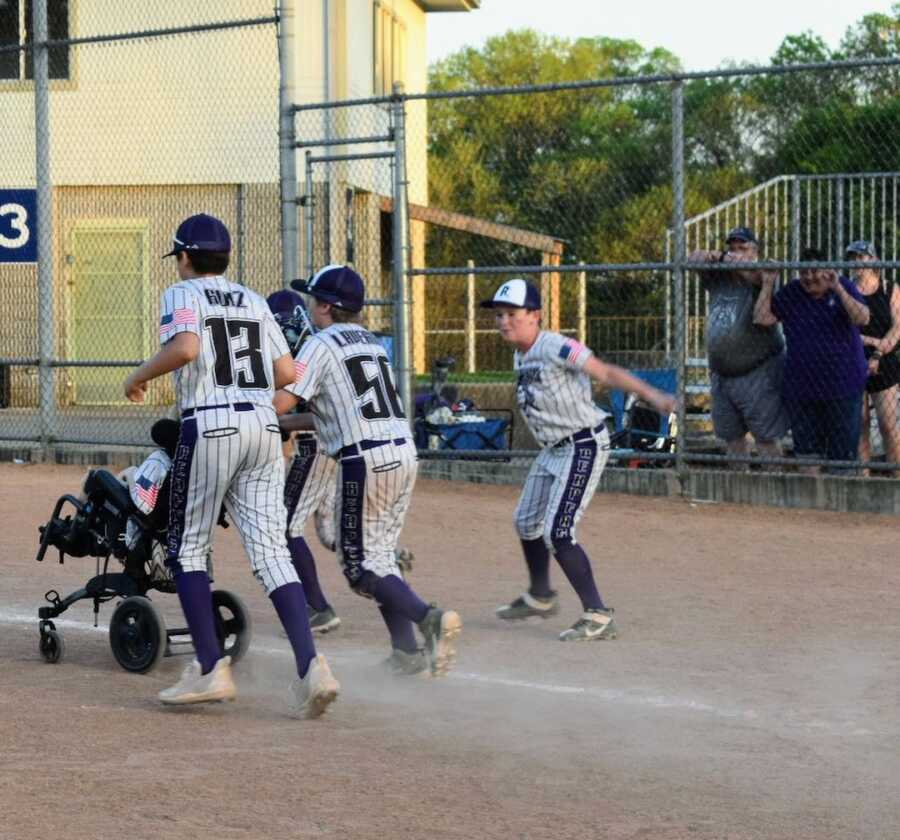 In her Facebook post about the heartwarming event, Shannon wrote: "These boys making Carson part of the team really teaches the world what inclusion looks like. The coolest thing about them is they don't even know the difference they are making. They just think Carson is the coolest and it'd be weird NOT to include him!"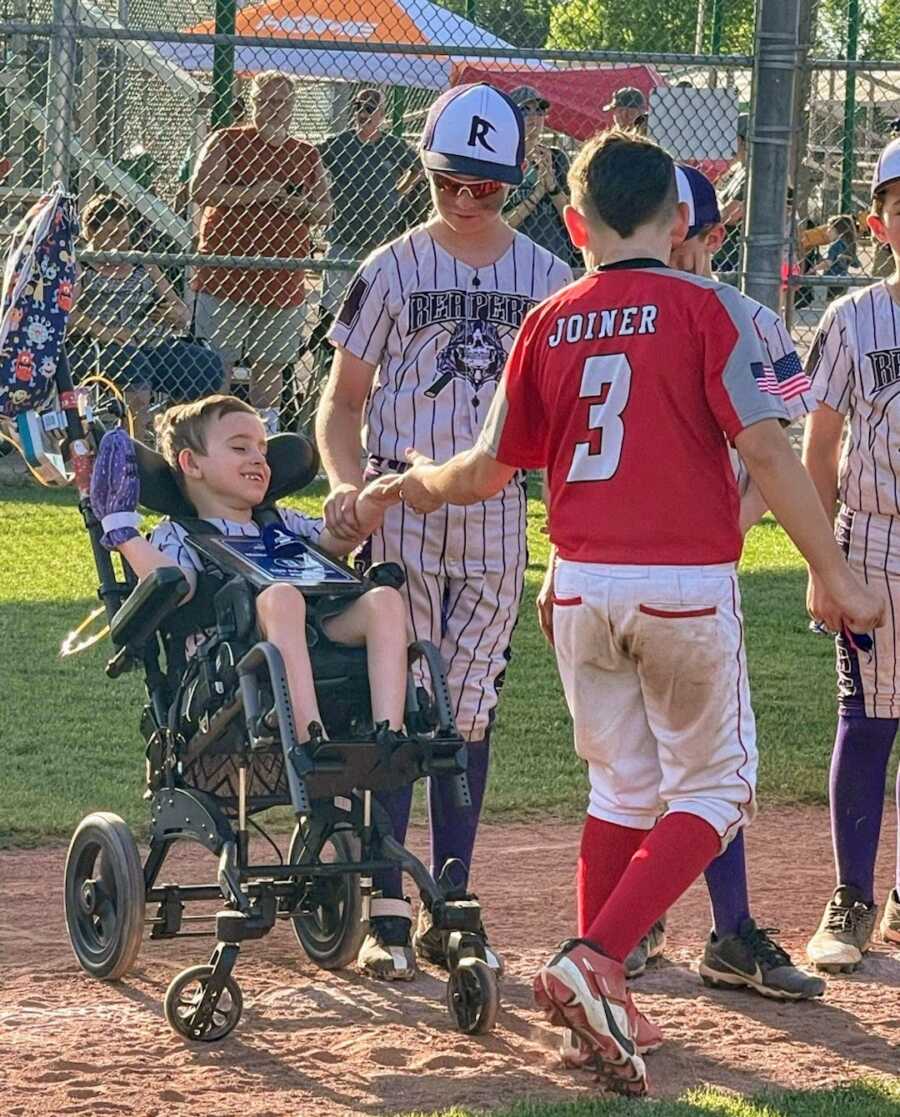 Several of the Reapers players attend the same elementary school as the Grimes boys and get to see Carson on a daily basis. Shannon notes, "One in particular, Eli, always makes a point to stop Carson and his nurse in the cafeteria so he can say hello."
She said these small interactions mean so much to her and Carson, and really help the boys become more comfortable interacting with her son. "It is not easy for an 11-year-old boy to carry on a conversation with someone who doesn't speak back, but they do their best and they are learning every day. My hope is that this carries over into these boys' lives and they interact with other kids like Carson without knowing them."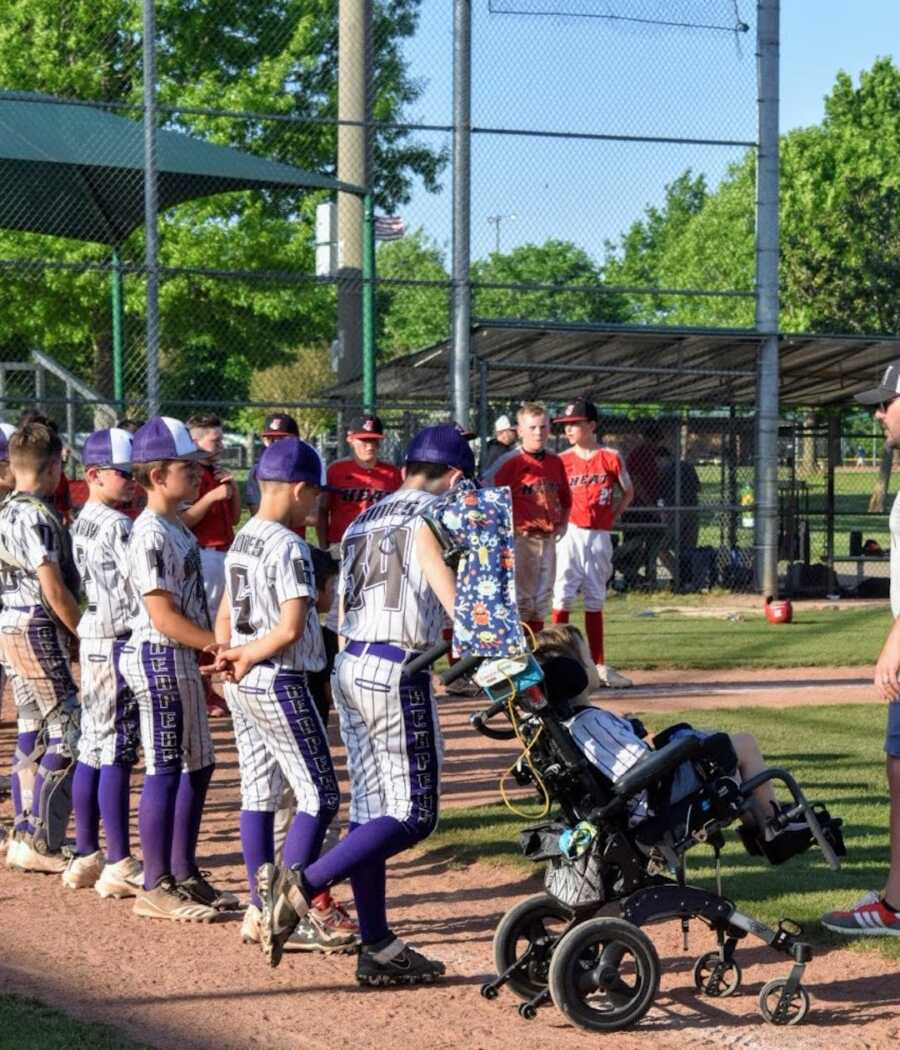 Shannon says she is an 'open-book' when it comes to her son, and LOVES when people ask her about Carson. "We, as parents to a child with disabilities, are just as responsible for educating our community, if not more responsible. I hear time and time again from other parents, 'I had no idea this was an issue. I would have never thought about that.' To which I ALWAYS respond. 'And that is ok! I didn't know either until we had Carson.' It is so important for me to educate our community and not shun them for not being aware of an issue."
"I want people to know the Carson's of the world just want someone to talk to them; to interact with them," Shannon continues. "They want to be INCLUDED. If there is a child you want to interact with but don't know how, ask their parent. 9 times out of 10, if that parent has them out and about, they also want you to ask."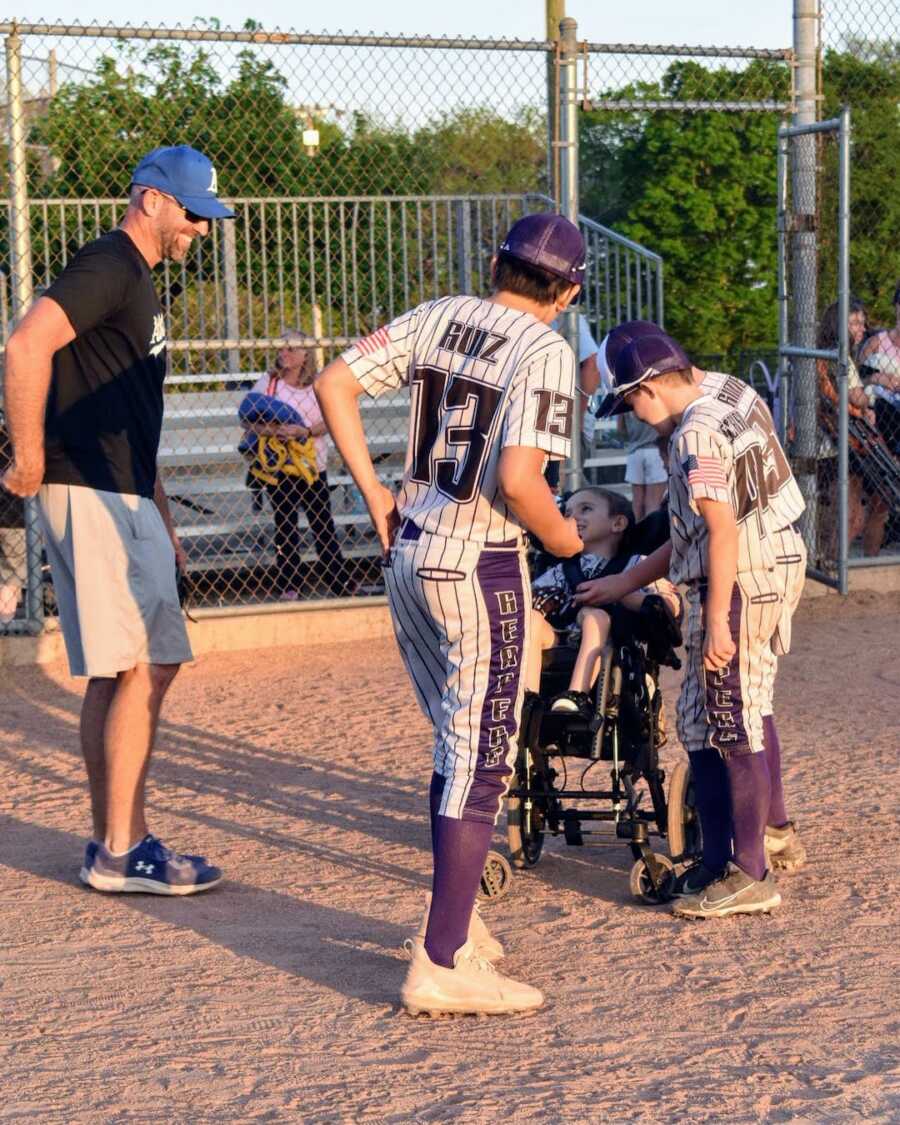 Speaking directly to other parents, Shannon says, "If your child asks you, 'Why is she in a wheelchair?' or 'What are those things on his legs?' or 'What is that tube, Mom?' …please do not shush them. All this does is teach them not to ask questions and to be timid around our kids, which is definitely what we do not want. I know you're uncomfortable, so instead of answering it, walk over to the child and parent, say hello, and introduce yourself! Kids are the perfect ice breaker because they have no filter and they are going to ask whatever comes to mind. Just don't be afraid. Don't be afraid to say hello. Don't be afraid you are going to offend. Don't be afraid you don't now what to say besides 'hello.' You never know what the little hello meant to them."
While you may never know what your small act of kindness and inclusion means, heartwarming stories such as this give us a glimpse and a powerful reminder that they really can mean SO MUCH.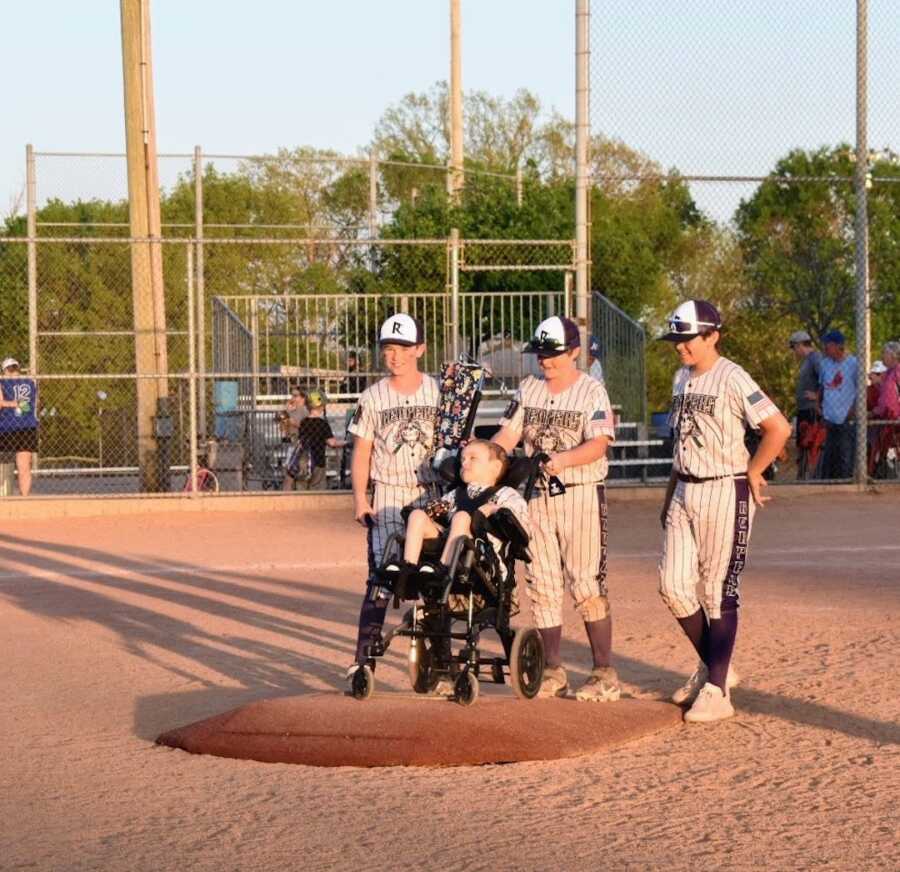 This story was submitted to Love What Matters  by Shannon Grimes. Submit your own story here and be sure to subscribe to our free email newsletter for our best stories, and YouTube for our best videos.
Read more stories like this:
'Scarlett's 14th birthday came around and no one showed up. A friend told me, 'I don't want my daughter to witness a seizure.': Special needs mom touched by friend's act of kindness for daughter's Sweet 16
'I rushed over to apologize. 'He's fine,' she said in a quiet voice. I swallowed my tears. She showed me my son is not a nuisance, but a gift.': Special needs mom shares stranger's act of kindness
'He didn't know this boy lost his dad, has been on the waiting list for a 'big brother,' and lives with his mom and sister, yet he was still kind enough to say 'yes.': Special needs mom touched by employee's act of kindness
'To the man in 2D – I don't know you, but I imagine you saw us. I was pushing a stroller and was also lugging an oxygen machine for my daughter.': Special needs mom thanks stranger for act of kindness
Help us show compassion is contagious. SHARE this story on Facebook with your friends and family.