"I recall an afternoon when the boys and I were at the grocery store, and as usual Alexander excitedly pushed Christopher around and caught the eyes of a few shoppers. There were two in particular who were extra curious, a boy and girl close to the ages 3 and 6. The little girl watched Christopher with curiosity as we zoomed by grabbing a pineapple and plums.
As we passed, I heard, 'Mom, that looks like a wheelchair.'
What came next from mom surprised me, 'Shhhh… just keep walking.'
She hushed her children and moved away quickly. This was most definitely not what I expected and immediately I felt all sorts of feelings. Sadness, anger, and confusion.
I wish I had turned around to say this:
It's okay if she's curious. It's okay if she wants to know why he isn't walking and has to use a wheelchair. It's alright if she talks to him, in fact, please come say hello. He's a little boy, just like your little boy. He's sweet and charming with the most adorable grin. He loves books and swinging at the park. Please don't tell your children to just keep walking. In that one sentence, you just taught your daughter to ignore someone with a disability; to ignore someone who is different. You taught her not to see my son.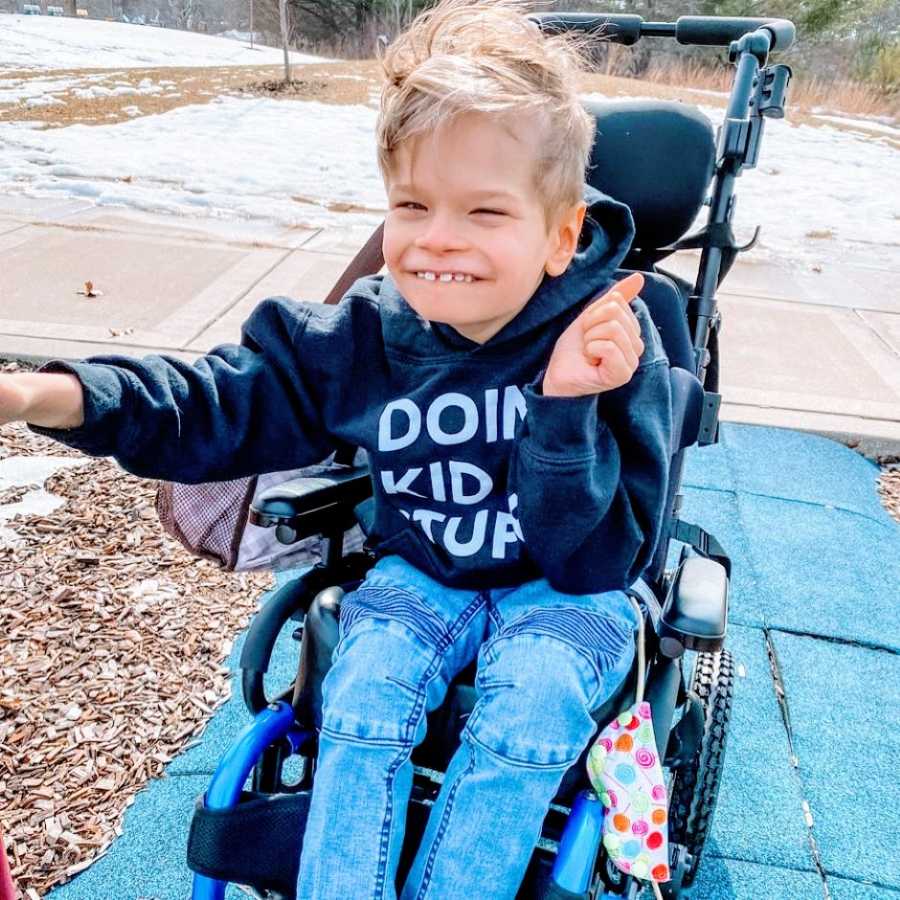 Parents, please teach your children being different is okay and it's more than okay to ask questions. I can understand the hesitation. I can empathize with being worried about saying something offensive. There are far too many lists of 'don't ask this, don't ask that' when it comes to talking to a parent of a child with a disability.
Ask me the questions, and I'm going to do something in return. I'm going to extend grace if you ask the question you're 'never supposed to ask' or make a comment that's on the list of 'never ever say.' If it's coming from a place of genuine desire to learn, I will educate you and help you understand our son. Help you understand who he is. I would love nothing more than to show you just how wonderful he is.
Please, help your kids make sense of it all, because if you don't, who will? They need you to help them understand. And to be honest, I need them to understand because they'll be the change makers in this world for my son.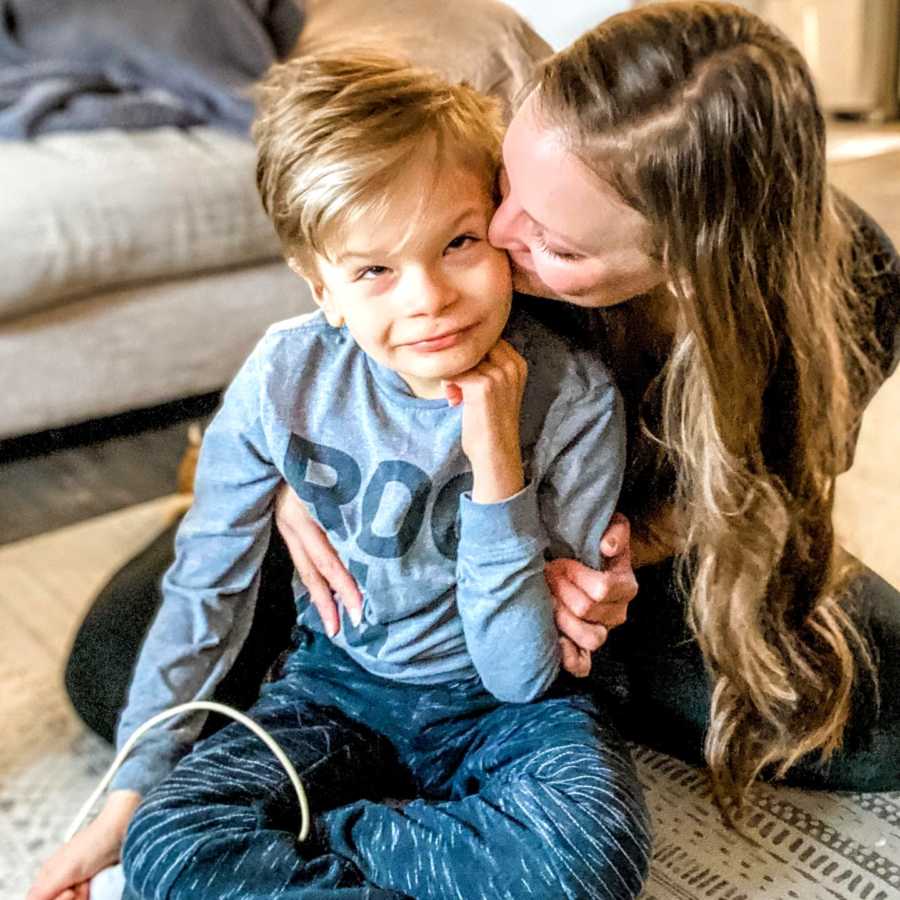 Please encourage them to walk up to us.
Teach them acceptance, not ignorance.
Show them love, not avoidance.
Be an example of inclusion, not exclusion.
And most of all, don't tell your kids to simply keep on walking with their questions swimming in their heads.
Please, ask the questions.
Start the conversation and see my son."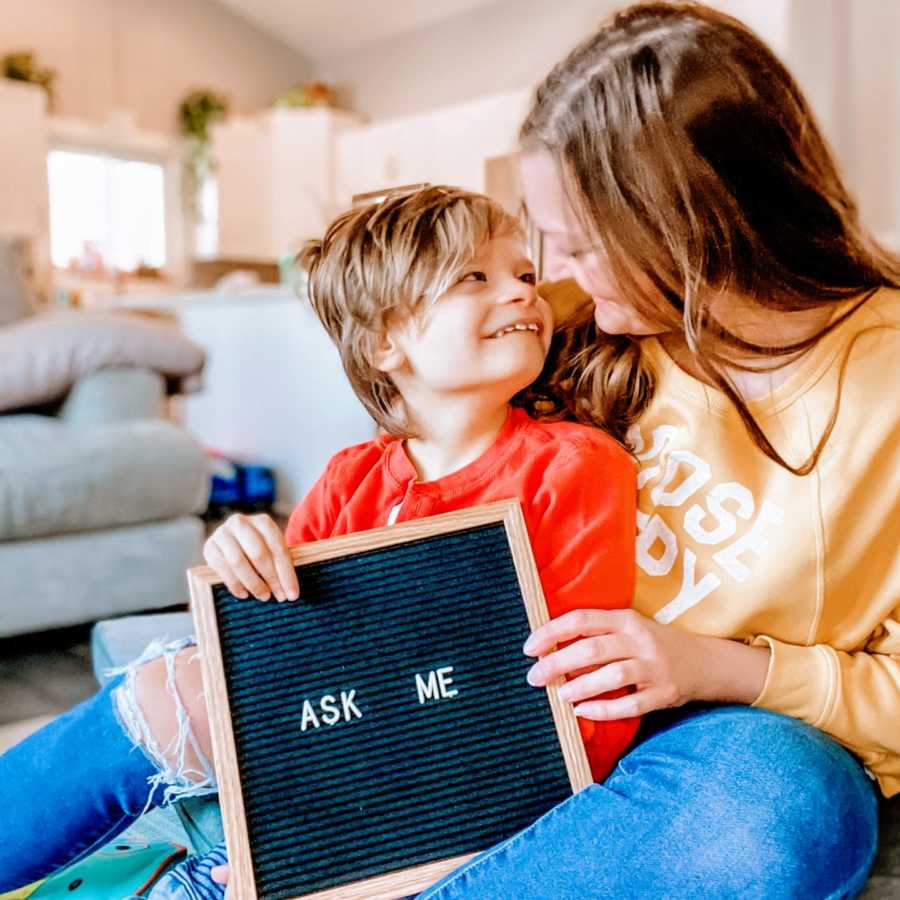 This story was submitted to Love What Matters by Melissa Schlemmer of Forest Lake, Minnesota. You can follow their journey on Facebook and Instagram. Submit your own story here, and be sure to subscribe to our free email newsletter for our best stories, and YouTube  for our best videos.
Read more stories from Melissa here:
'We carry a heavy load. Our bags and purses are full. What's even harder is going to bed and unloading our shoulders.': Special needs mom says 'there are plenty of beautiful extras we gladly carry'
'Somewhere there's a mom tired of picking up toys. Somewhere else, there's a mom choosing her child's first wheelchair.': Special needs mom says 'I'll always be grateful for where we are'
'I'm in a different boat. We're terrified of losing our children. I'd never wish for any parent to be where I've been.': Special needs mom begs 'do your part, stay safe for us'
'The neurologist called. 'I'm 90% sure your son has Congenital Disorder of Glycosylation. Do not google it.': Special needs mom urges, 'Life can be beautiful, even when it doesn't go as planned'
Spread beauty and strength for others. SHARE this story on Facebook with family and friends.