"Growing up in New York, I always felt very fortunate to live in the greatest city in the world. I never thought I would leave. I was also very fortunate from a young age to travel around world and when I visited Paris for the first time at 16, I instantly fell in love. I couldn't wait to return and after several other visits and spending a summer studying there during college, my love grew stronger for the amazing city. I then said if I could live anywhere else other than NY, it would be Paris, never in a million years thinking it would be a reality one day.
In June 2010, I received a Master of Science in Interior Design from Pratt, in Brooklyn. Upon graduating, I won a nationwide competition to work for an architect in Paris. I moved from NY to Paris, where I met my husband, Antoine, a Parisian working for the same architectural firm. We instantly fell in love.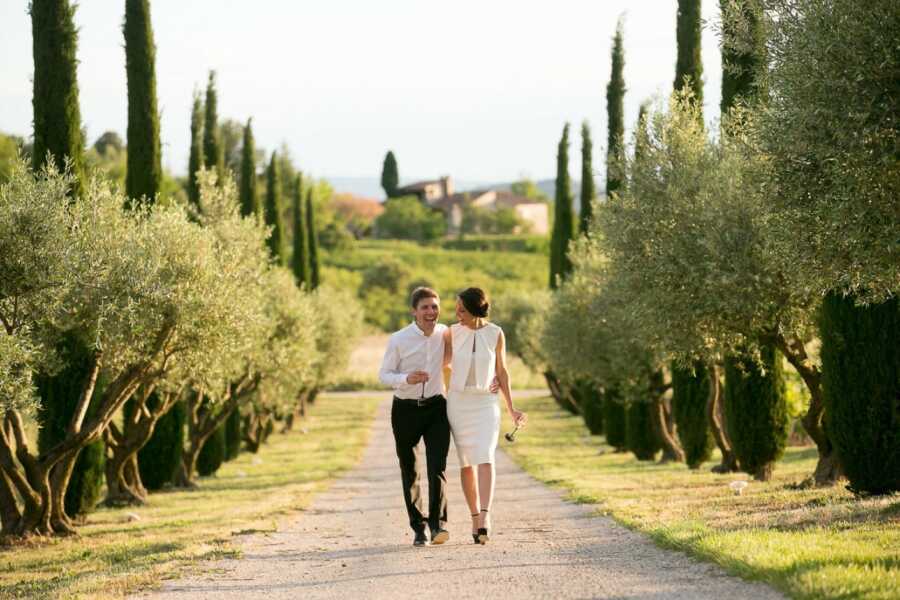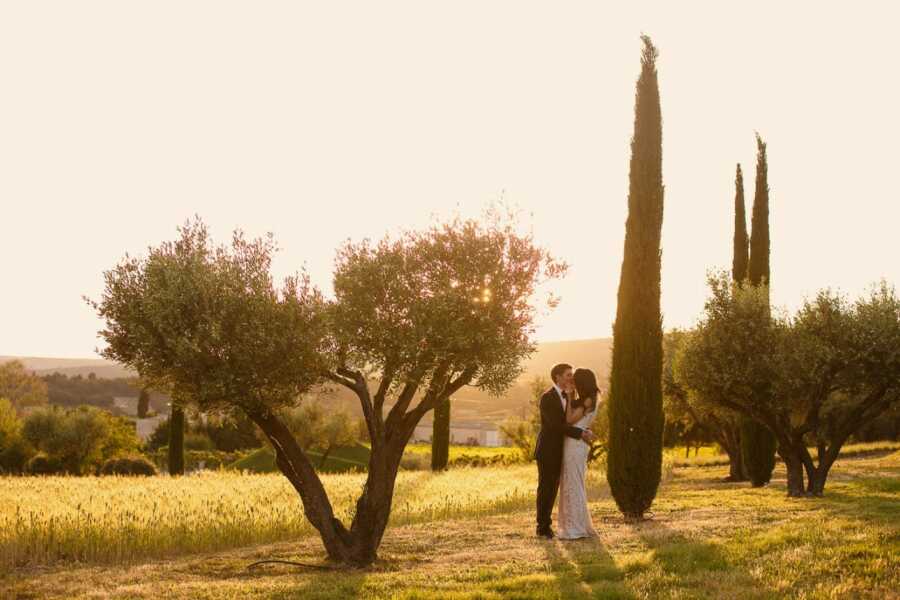 We married in 2014, in Provence. We had the most magical wedding, surrounded by all our close friends and family. Everything was perfect and I couldn't wait to start a family of our own together. I always considered myself a very lucky person so when we discussed children, I didn't have many hesitations.
Leo, our first child, was born in April 2016. Antoine and I were so in love with our baby boy. I had never been happier in my life. Leo developed as normally as most children. He started to walk, talk, and hit all other expected developmental milestones. At 14 months, when he first started walking but would constantly fall after a few steps, we were concerned. After speaking with several developmental specialists, nobody could find out what was wrong. After months of therapy and testing results all coming back normal, we even were more confused.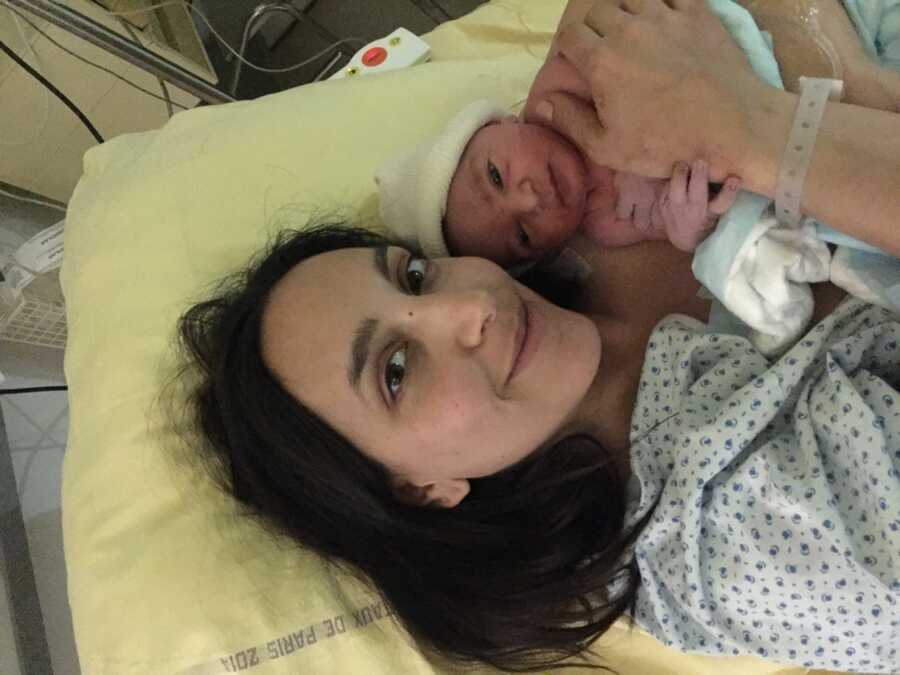 Leo turned 2 years old and was losing his acquired skills. The decline was rapid. The only thing we hadn't done at this point was genetic testing. I was also 5 months pregnant with our second child. The doctors were mostly concerned with what we planned to do if our daughter was also affected. They wondered, would we test for her as well? Terminate the pregnancy if she was also sick? I was a mess.
The genetic results came back 2 months later at which time I was 7 months pregnant. I'll never forget the day the hospital called asking Antoine and I to come in to speak with the geneticist. I knew then and there it wasn't good news. Antoine was traveling for work and had to rush home for our appointment the following day. I couldn't sleep.
Sitting in the waiting room for the doctors I felt scared not knowing what to expect, but never thinking the diagnosis would be so devastating. They told us Leo has a rare disease (only 150 known cases worldwide), called INAD – Infantile Neuroaxonal Dystrophy. What?! It's a neurodegenerative disease with no cure and not even any treatments. They also explained that Leo will never walk, talk, or live a normal life.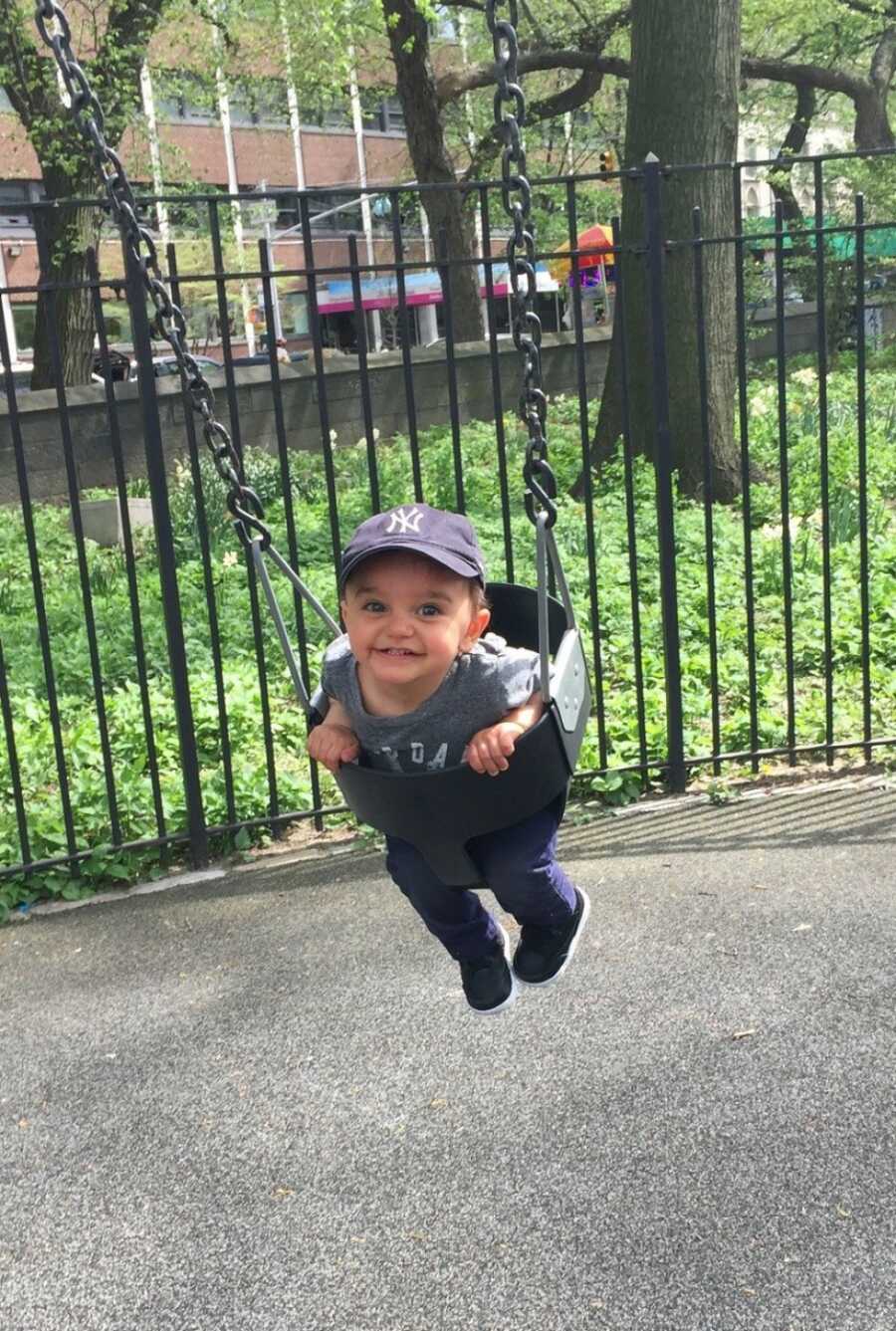 We were shocked. We didn't know what to ask. The first thing I did ask was the life expectancy. 5-10 years. How could it be true? The tears did not stop pouring. Our poor boy. Why should his life be cut short? They didn't tell us much other than they were sorry and the correct website to read more about INAD. They explained that it's a recessive disorder, meaning Antoine and I must both be carriers of the genetic mutation and therefore, a 25% chance that our daughter is affected as well. We had to wait another 2-3 weeks for her results. I couldn't sleep, I couldn't eat, and the nausea from my nerves took over. Finally, the results came back and our baby girl was okay! It was such a relief but not nearly enough for what we are about to face.
INAD is an extremely rare, inherited degenerative disorder of the nervous system. It starts early in life and progresses rapidly. It usually develops between 6 months and 3 years of age. Children affected will lose all acquired skills including mental and cognitive abilities, as seen in Alzheimer's, and physical abilities, as seen in Parkinson's, resulting in death likely before they reach their 10th birthday.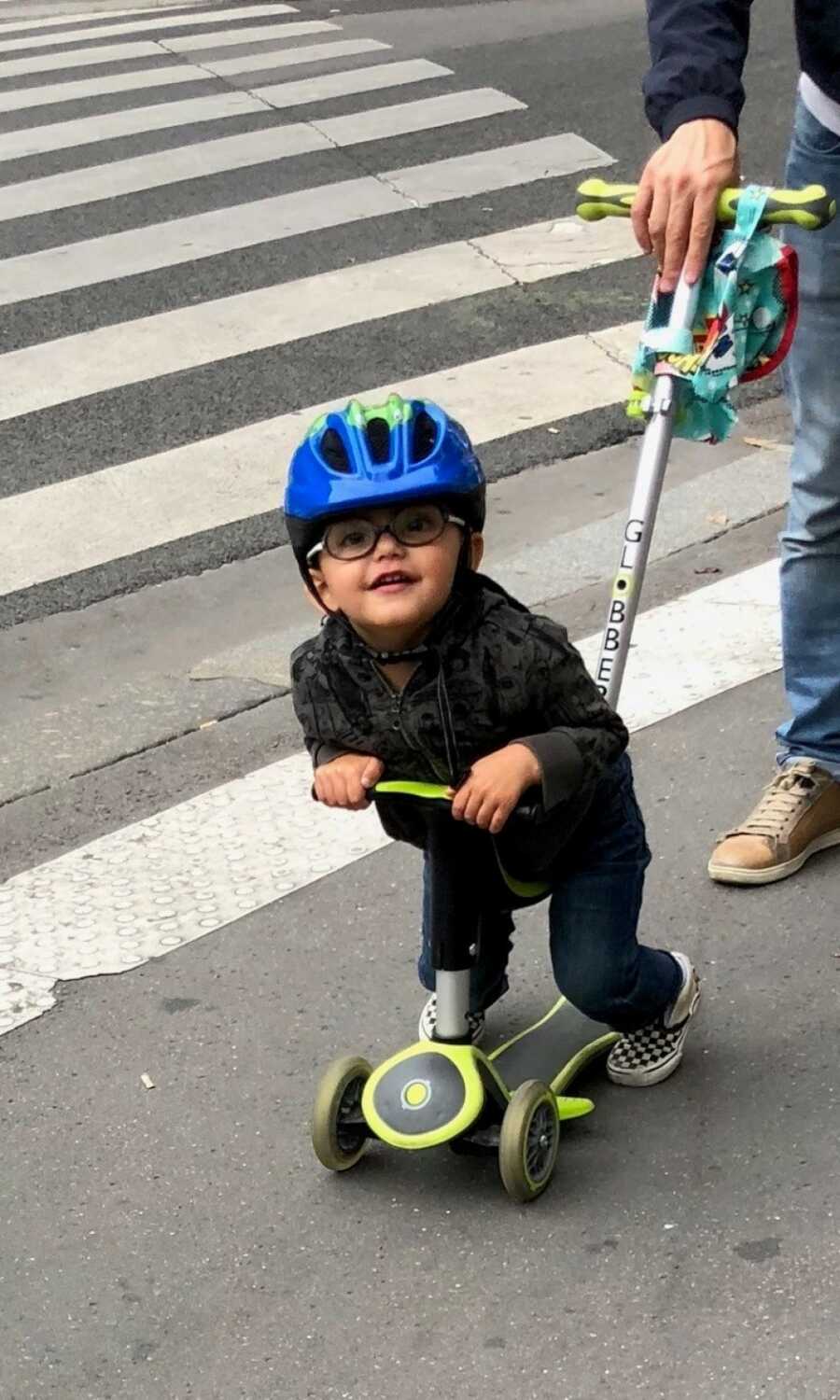 At the same day as the diagnosis, my best friend Emily and her daughter Chloe were expected for a visit from California. When they arrived, I realized I was so happy to have them there, especially when being so far from my family during this difficult time. The first thing Chloe did when she walked into our apartment was sit down next to Leo and kiss him. Emily immediately thought, if only we could kiss this and make it better… not only for Léo, but for all the children affected with INAD.
That is when 'Bisous for Leo' (Kisses for Leo in French), our campaign that helps to raise funds and awareness for INAD, through the INADcure Foundation was born. Emily waited a day or 2 to broach the subject to Antoine and me. We have been through every emotion, but once we got out of the initial haze of disbelief, we agreed immediately that we needed to take action. We are people of faith and knew deep down that there must be some greater purpose to this diagnosis. And there is.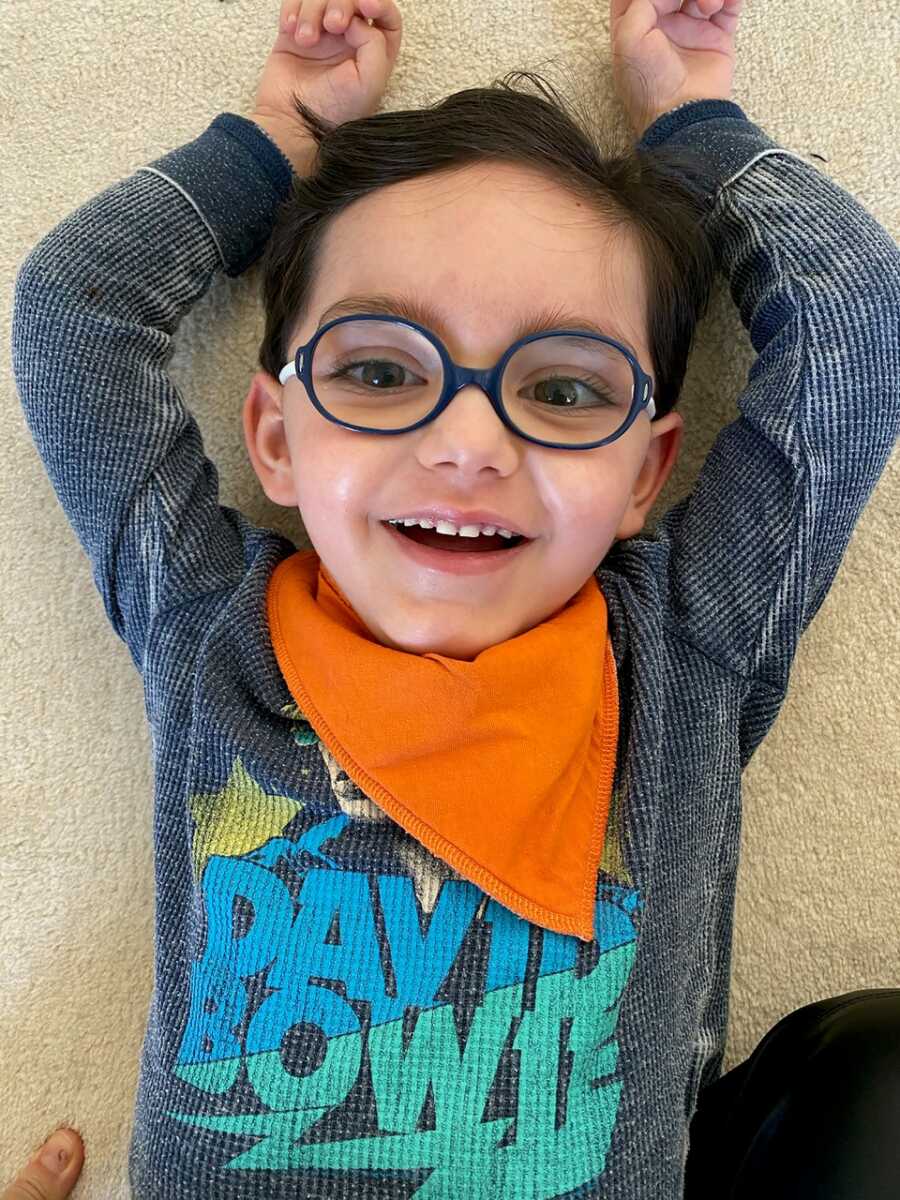 In September 2018, Bisous For Léo launched an Instagram account @BisousForLeo encouraging its followers to help kiss INAD goodbye, not just for Léo but for all children affected by the disease. People from all around the world have been posting their kisses, some of which include Nicky Hilton, Isla Fisher, Zoe Saldana, Josh Gad, Eva Longoria, Sebastian Stan, Chelsea Handler, Academy Award winner Sissy Spacek, Academy Award winner Casey Affleck, Academy Award winner Diablo Cody, Jamie Lynn Sigler, and many others. With more to come!
We work simultaneously alongside the INADcure Foundation, the only non-profit organization dedicated to INAD and funding scientific research for cure and treatment options. At the time of Leo's diagnosis, there were none. 6 months later, he became part of the first clinical trial for a drug called RT001, with hopes of slowing the progression of the disease. While it is not a cure, it could be an extension. In the meantime, we continue to work hard everyday to raise funds for research development in gene therapy (our potential cure) in hopes of giving Leo, and the INAD children, a chance at a future.
Since INAD is so rare, the more we continue to draw further awareness for the disease, the greater chance at preventing any more children from getting it. Antoine and I have met a lot of wonderful people on this journey. However, it's been physically and emotionally draining beyond words could ever describe. Caring for Leo only gets harder as the disease progresses. Knowing Leo and the INAD children don't have much more time is heart shattering. Each month we hear about a new diagnosis or another child who has left us.
INAD is considered a neurodegenerative disease. Neurodegenerative diseases affect millions of people worldwide. Alzheimer's disease and Parkinson's disease are the most common types, with more than five million Americans living with Alzheimer's disease, and at least 500,000 Americans living with Parkinson's disease. Finding a cure for the infant forms of the diseases could lead the way to find better treatments and ultimately a cure for the adult versions. Treating patients as early as possible have been shown to be more beneficial, of course, than after they have lost acquired skills. Therefore, working quickly to find the cure is key.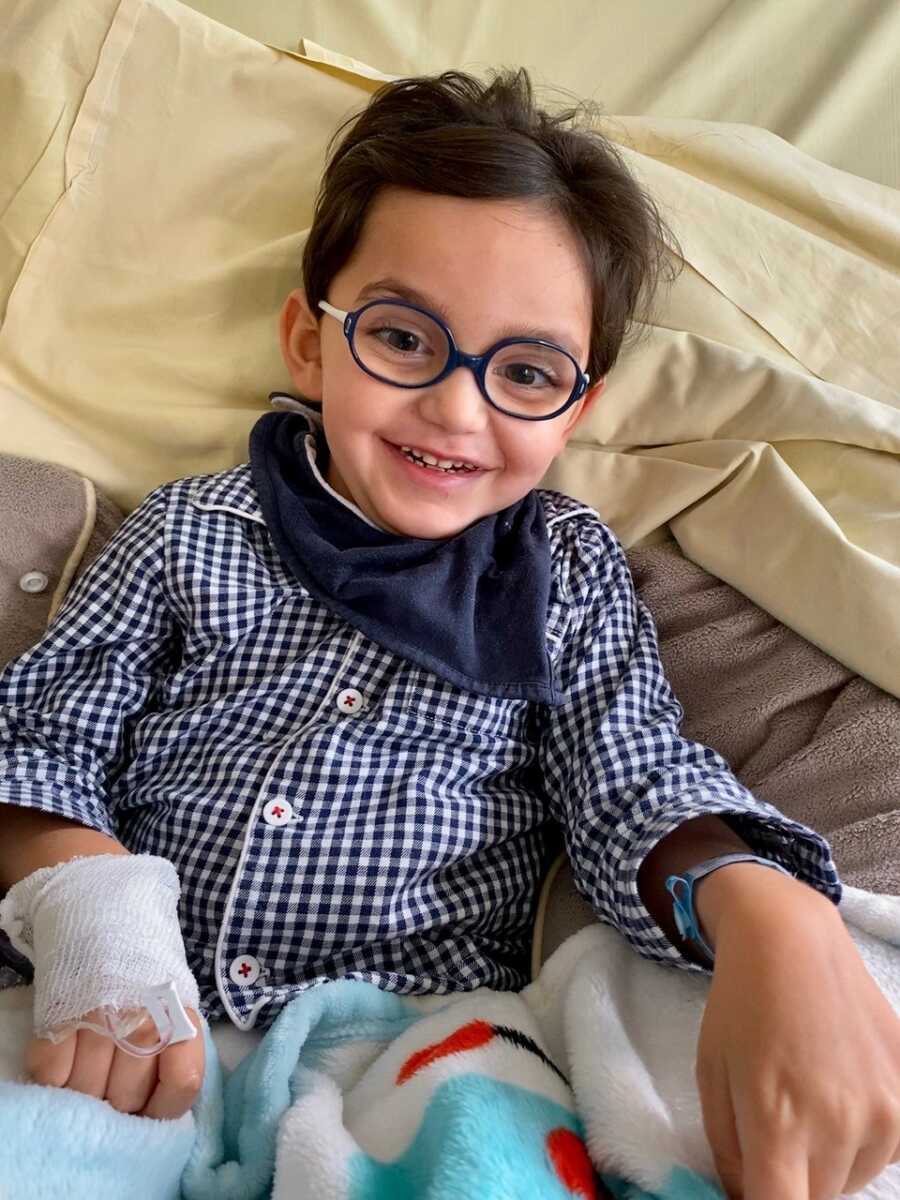 We are incredibly grateful to everyone who has supported thus far. The Bisous for Leo campaign has grown beyond our wildest expectations, and we are hopeful that it will continue to grow. If you would like to help you can do so by donating at BisousForLeo.org and posting your kisses on Instagram in support and tag @BisousForLéo. Don't forget to follow us too.
With everyone's continued help, we can hopefully not only kiss INAD goodbye, but Parkinson's and Alzheimer's too. Together we can do this. We thank you so very much in advance for your support."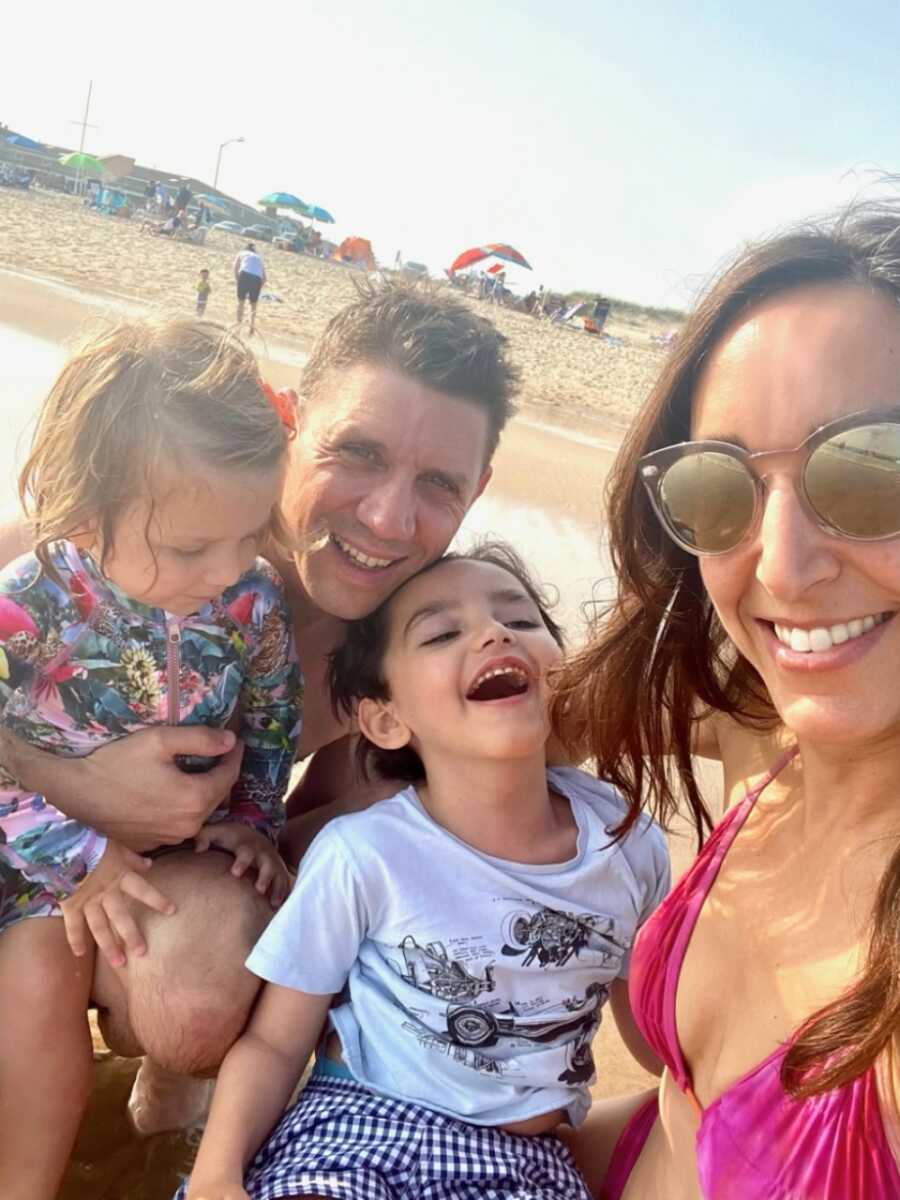 This story was submitted to Love What Matters by Deborah Vauclare. Click here to visit the organizations website. Submit your own story here and be sure to subscribe to our free email newsletter for our best stories.
Read more courageous stories here:
'Sedated and wearing diapers, I flew 3,000 miles during a global pandemic to have a life-saving surgery.': After 23 years of not being taken seriously, woman finally diagnosed with 3 rare diseases
'There is ALWAYS something to be thankful for': Mother, daughter bond through treatments for rare disease
'It's ultra rare. There are only 14 cases worldwide. Brace yourselves for what you'll read on the internet.': Mom advocates for son with rare Charcot-Marie-Tooth Disease
'I stood in my kitchen in stunned silence. My boyfriend mopped up the blood.': Woman diagnosed with rare autoimmune disease
Provide beauty and strength for others. SHARE this story on Facebook with friends and family.