"Mothering Different.
When you were pregnant, did you daydream of all the plans you had for your child?
Did you dream of all the firsts?
First steps, first words, the first day of school?
Did you imagine sports on the weekends?
Did you wonder who they would be?
I did.
Were all those dreams and plans wrong?
Mine were.
When the day came for us to meet our baby, I knew.
And at that time it broke me into a million pieces.
I knew for the rest of our lives our dreams and plans would never look the same as anyone else's.
But you know what?
We picked up the pieces.
We had new dreams and we made new plans.
We no longer dreamed of the firsts.
We dreamed our baby would make it through surgery.
We dreamed of living life outside of hospital walls at home with our baby.
We dreamed of the little milestones our baby might meet and we celebrated them because even though it's not a big milestone to you, it's a mountain to us.
We dreamed of seeing our baby boy smile and he did!
We dreamed that one day we would find a cure for our child's seizure disorder.
We adapted and we started watching our new dreams come true, one at a time, slowly but surely.
And if they don't?
That's okay too.
We keep dreaming anyway.
Mothering Different.
It's all I know now.
I know how to change a trach, how to place a g-tube and give tube feedings, how to give CPR, how to do physical therapy, how to do range of motion, how to draw up and administer medications through the g-tube.
I know how to put a brave face on when my child is being wheeled back for yet another surgery.
I know how to speak my child's silent language.
I know how to be an advocate because I need to be my child's voice.
I know how to find joy and miracles in the little things that are often overlooked.
But most importantly, I know how to love a special little baby with my whole heart, and give him the life full of adventure he deserves.
I know how to love different, how to embrace different, how to see all the different and know that it is beautiful.
And though my baby is no longer physically here, I'll live every day for him to make sure he lives on through me.
THAT is Mothering Different.
And it's an honor."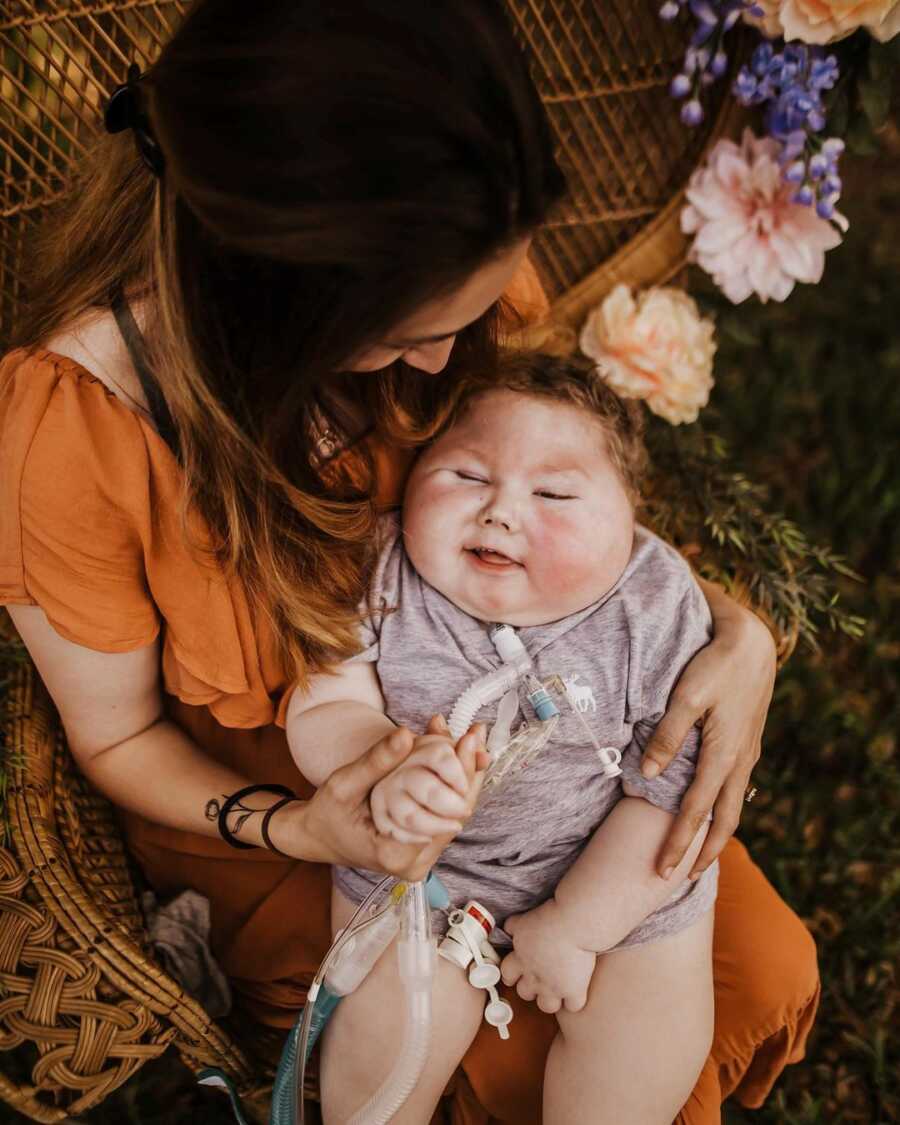 This story was submitted to Love What Matters by Chelsea Wasden of Valrico, Florida. You can follow her journey on Facebook. Submit your own story here, and be sure to subscribe to our free email newsletter for our best stories.
Read more from Chelsea here:
'We won't have a little voice waking us up Christmas morning, no opening presents. We put up lights, even though they can't express their excitement.': Special needs mom shares reality of Christmas season, 'Our babies are the gift'
'You don't fit in. Old friends move on without you. They go to theme parks. You go to hospital rooms.': Special needs mom pens ode to 'the parents who feel like they don't belong'
Read more stories like this:
'I know you feel invisible. I see you running your child to therapy when friends take their kids to Little League. I see you cringe when people whine about petty things that pale in comparison to your day.': Mom pens touching letter to special needs parents
'To the dad at the bounce park, thank you for teaching your child to interact with someone 'different.': Mom to son with Down syndrome shares stranger's act of kindness, inclusion that made her 'heart swell'
Do you know someone who could benefit from reading this? SHARE this story on Facebook with family and friends.