Eleven hours is a long time to sit on an airplane. However, for the passengers of United Flight 997, something unexpected took up much of that time!
Tiani Warren had just finished up a 3-week charity mission to Ghana and was on her way home to Los Angeles, California via Washington Dulles International Airport when she heard moaning from the seat behind her. When she turned around to see what was happening, she could not believe her eyes.
The woman sitting in the row behind Tiana had gone into labor! As luck would have it, one of the flight attendants was a former nurse, and she was helping the laboring mama as well as she could. Tiana struggled to get over her shock and began to pray.
"I thought, 'Oh God, I know she is not about to give birth on this plane,'" she recalled. "I was literally counting her contractions — seven to 10 minutes apart. I was, like, freaking out. Oh, my God."
Those prayers were answered quickly! It turns out there was a Ghanaian doctor and a registered nurse on board as well. Both rushed to help the mother, who was in active labor for about two hours. That's right — she laid right down in the emergency aisle and had her baby!
"Then the doctor started working on her," said Tiana. "They brought out an IV to put in her. She was moaning and yelling, but half the people on the plane didn't know what was going on."
After several long moments the baby began to cry, and, for a change, it was music to the passengers' ears! The caregivers quickly got mom cleaned up and back into her seat.
The passengers and crew handled this wild ride with such grace under pressure!
"Our crew was amazing," United wrote in a statement. "They acted quickly, assisted the medical professionals onboard and ensured everyone stayed safe throughout the flight. And we were especially thrilled to see the plane land with one extra, especially beautiful, customer onboard."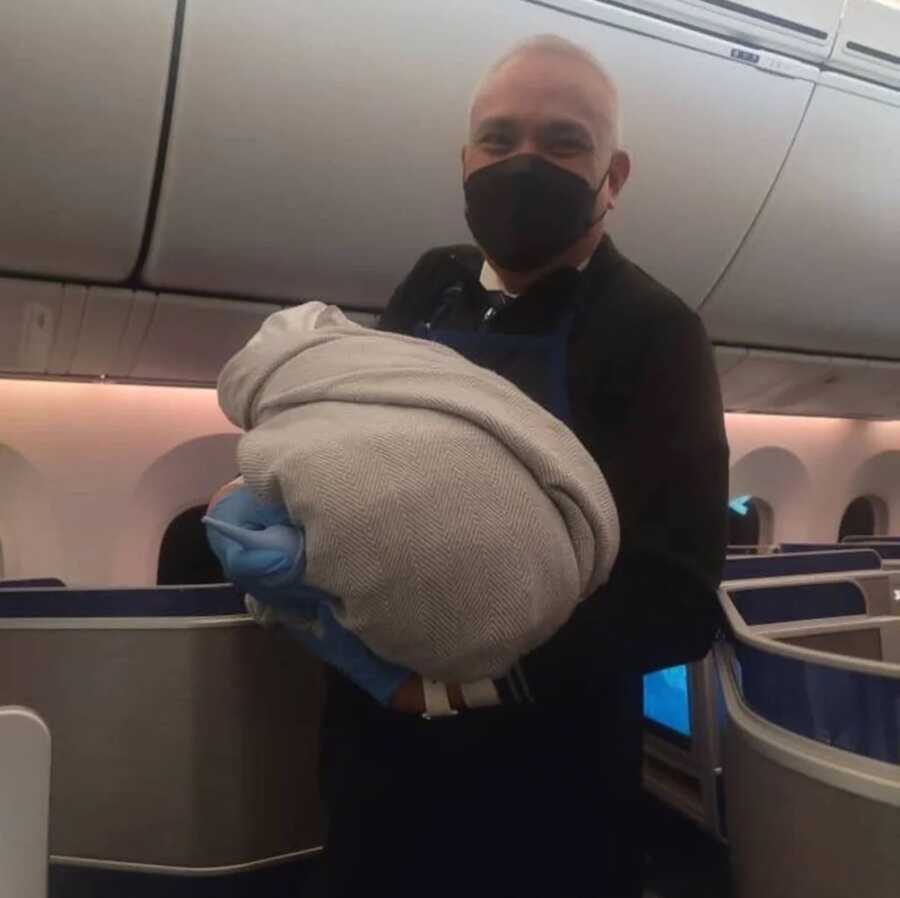 "To be up close and personal like that, Lord Jesus help us all," Tiana concluded. "I'm glad the baby is fine." She later shared pictures and videos of her front-row seat to the mid-Atlantic birth on Instagram, commenting, "Say hello to my airline nephew!! Meet United Airlines Baby Nolan…wow just wow!! What a day."
Paramedics met the plane at the gate to escort the mother and baby to the hospital. Everyone checked out just fine and will be heading home to New York City in a few days.
Did they write "somewhere over the Atlantic Ocean" on his birth certificate? Just curious! Congratulations to the new mother. We're so glad everything worked out so perfectly to welcome this little blessing to the world.
This story originally appeared on InspireMore. Join the Love What Matters family and subscribe to our newsletter.
Read more stories here:
Man With Limb Difference Overcomes Obstacles To Secure Dream Job As Commercial Airline Pilot
'Your kindness made everything better.': Autistic woman thanks Southwest Airlines employees who calmed her anxiety
Help us show heroes are everywhere. SHARE this story on Facebook with family and friends