"'You're having twins!' The ultrasound technician looked at us with a huge smile on her face, 'what? Are you serious?' We couldn't believe we were pregnant with twins. Our prayers about having twins had been answered. The next appointment we attended was to measure the fluid behind the babies' necks and that's when I knew something was wrong. The technician told us it looked like there was a build up of fluid on Twin B, but that she wasn't positive. That's when I started to get worried. A week later we got a call from my doctor. Just as I suspected, our test results came back abnormal and he was referring us to a geneticist and a Fetal Diagnostics doctor. We saw the geneticist first and she gave us all the possibilities of what this abnormal result could mean. Things like Down Syndrome, Turner Syndrome, and heart defects were all potential explantations. After listing all of these possibilities she then said, 'or it could be nothing! I just want you to have all of the information.' We clung to that last part like a promise. Hoping, praying, and believing it could be nothing. At 20 weeks we went to the Fetal Diagnostic doctor, walking in with mixed feelings. We were happy because we were finally going to find out the genders of our sweet babies, but we were terrified because this appointment would confirm if something was truly wrong.
Within 5 minutes of the doctor looking at our babies he said 'you're having two girls! But it looks as though Twin B has Hypoplastic Left Heart Syndrome.' What? What does that mean? I thought he may have just been mistaken, but I was the one who was wrong. After he finished the ultrasound he sat us down and explained what was wrong with Twin B's heart. The left side of her heart was underdeveloped and was not able to pump enough oxygen to her body. He referred us to a fetal cardiologist so we could get a more specific diagnosis but the cardiologist agreed with him. Our baby was going to be born with half of a heart, and there was nothing we could do. As we walked back to our car my husband said, 'I think we should name Twin A Emma, and Twin B Vivian.' I trusted my husband's judgement, so I agreed and we continued making our way to the car. Immediately after getting in we called our families to let them know and asked them to be praying for a miracle. We got a call back from my husband's mother, 'Do you know what Vivian means?' 'No.' 'Vivian means 'full of life, and alive.' Tears streaming down my face, I knew God was reassuring us, telling us He was going to take care of us and watch over both our girls.
Throughout my entire pregnancy we were told Vivian wouldn't make it, that she was extremely sick and that chances of her surviving after birth or even making it through the birth were slim. We listened to all of those remarks from the doctors but continued to trust God and pray a miracle would happen. Finally, the day came for my scheduled c-section. Our babies were going to be born and I was terrified as I walked into that hospital knowing that in a few hours our world would be changed forever. We were going to be parents of two children, and we weren't sure if one of them would even survive. The operating room felt very serious as we prepped for the surgery; I looked over and saw the two bassinets for my babies and wished things had been different. That both babies were healthy, that we would be able to take them home right away. But that wasn't the case and we needed to focus on being there for our babies no matter what.
Within the hour our girls were born. As the doctor pulled Vivian out of me, my husband and I held our breath as we waited to hear if she would cry. Seconds went by and then we heard it. Her tiny but strong warrior cry. She was letting us know she was here, she was alive and she was ready for a fight. The doctors immediately went to work on her; all we experienced of her was that small cry before she was whisked away to the catheterization lab to get a better overview of her heart. Although we got to see her sister, Emma, she had to be taken to the NICU in order to ensure she was stable herself. This was something we were not expecting. We got to hold her for a few minutes before the doctors took her away. We were left in the operating room, without our babies and worried about what the future would hold.
6 days later Vivian had her first open heart surgery. She weighed less than 3 lbs and already needed to be cut open. We had already spoken to other heart families in an attempt to grasp on to a little bit of hope, but what every heart family will tell you is that every experience is different. No two heart babies are the same and it's extremely hard to compare situations.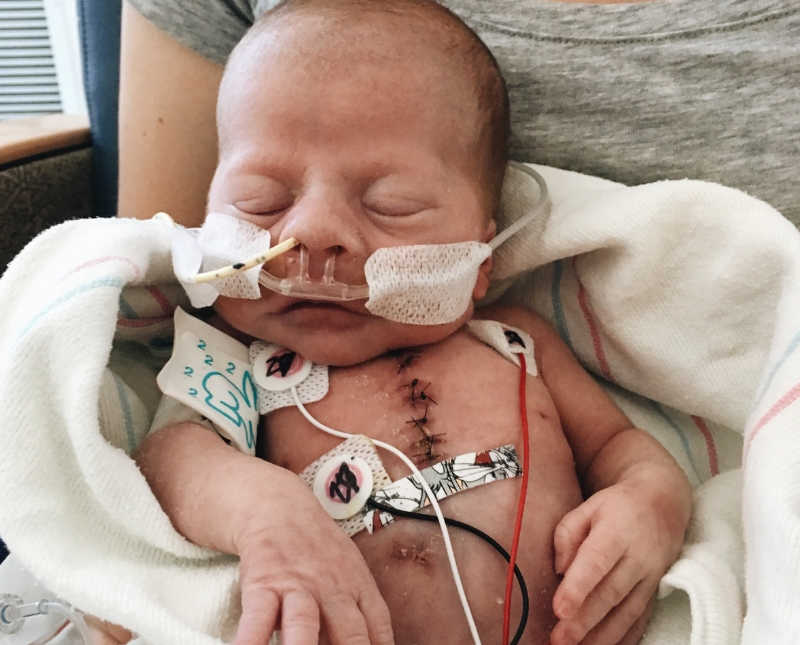 As Vivian got older and bigger she would begin to make some steps in the right direction before stumbling back again, maybe make a little more progress and then again stumble back. It was a never- ending cycle of one step forward, two steps back. She started experiencing breathing problems and was given a breathing tube that would remain in place for most of her life.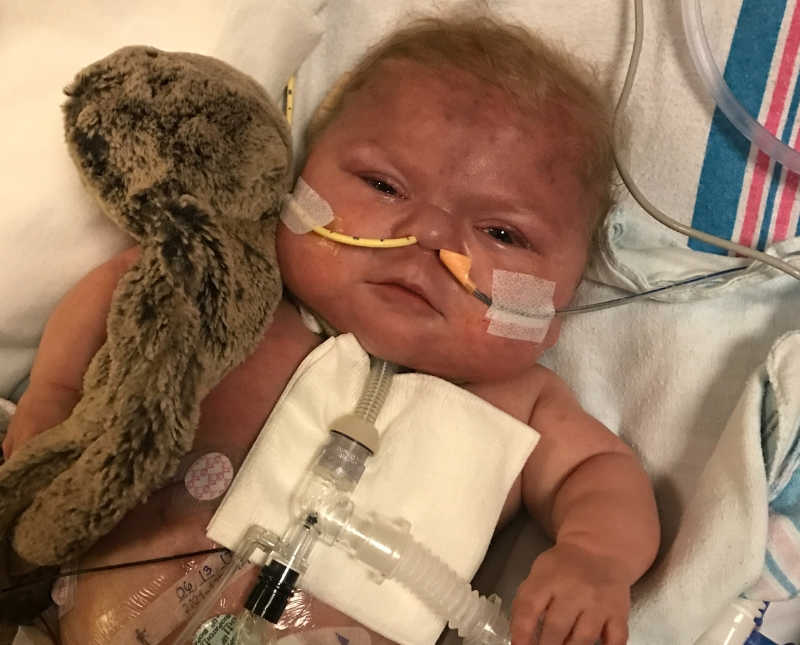 After Vivian turned four months old we transferred her to Children's Hospital Los Angeles, where she would have her second open heart surgery. She was still so small, but we knew if she didn't have this surgery her heart wasn't going to get any better. After she had the surgery, called the Norwood, we almost lost her twice.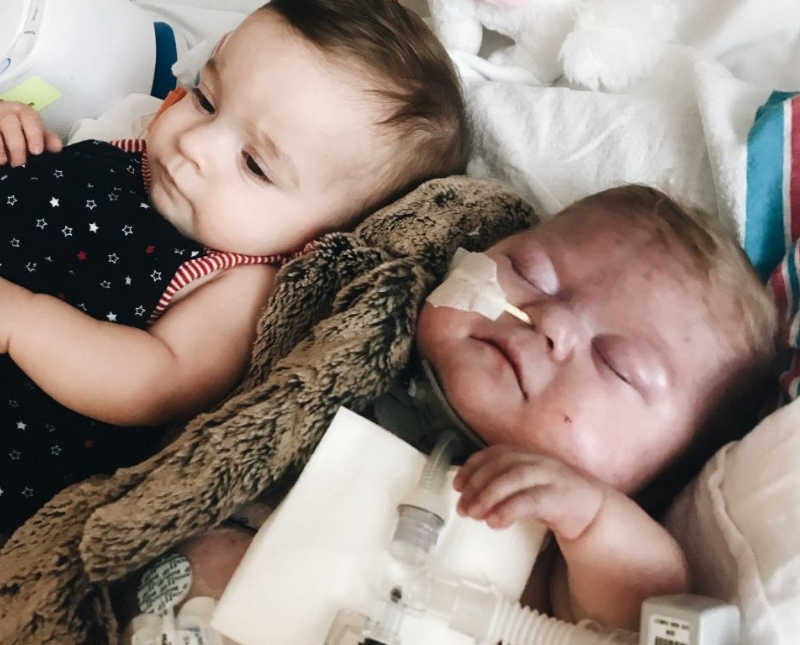 It was by the grace of God she made it through those first couple weeks of recovery. After those initial weeks, we ran into another problem. Her lungs were extremely sick, which is why she had been unable get off of the ventilator. For the next five months we worked with her in an attempt to get her breathing on her own, but her sick lungs just could not keep up. We finally decided, based on the advice of her doctors, it was time to get a tracheotomy so she could be more mobile while hooked up to a ventilator. After the surgery we started seeing a little bit of progress, and we were so excited!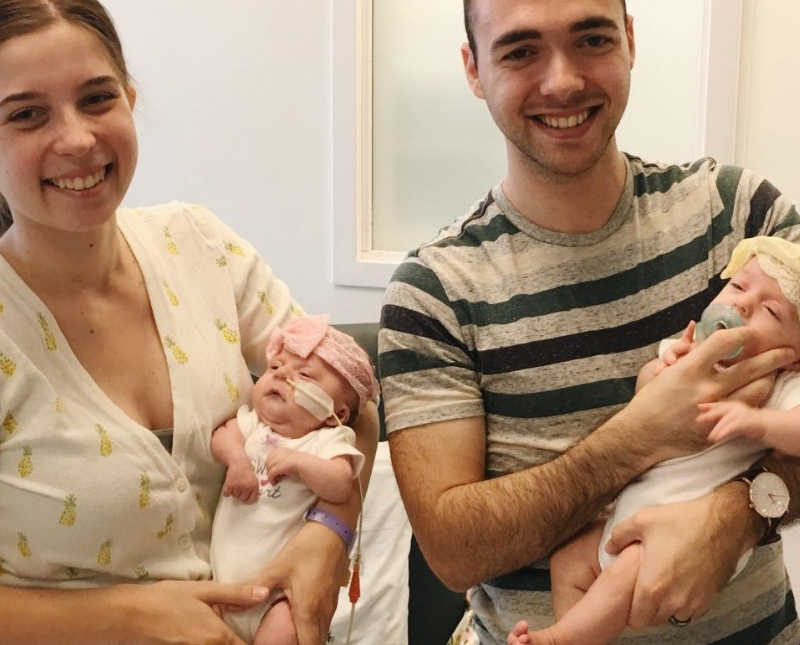 The doctors began to talk a little bit about the possibility of her going home with us, and after almost 10 months of being in the hospital that sounded unbelievable. But as the weeks went on we realized she was getting worse. We had meeting after meeting with our hospital team trying to find answers and come up with new ways to help her progress. Nothing was working.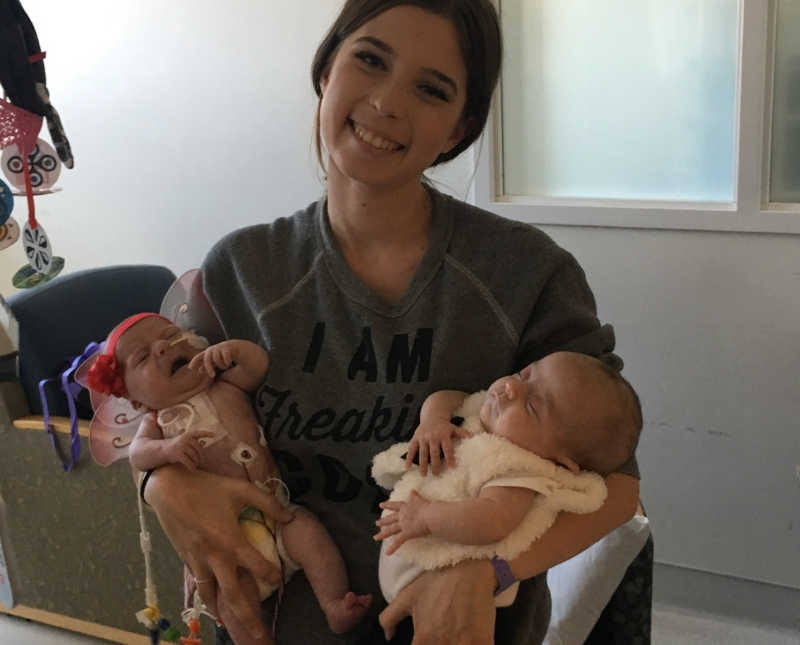 I was at my wit's end, as was my husband. We felt we needed to fight harder and keep going, but our team had a much different direction in mind. We sat down for another meeting and they told us that Vivian is a fighter, and has fought long and hard, but asked us to think about her quality of life. If we were to keep going, would that quality increase or decrease? Would we continue to push her without listening to what her body might be trying to tell us? So our plan changed again. Instead of focusing on large leaps of progress we began to focus on smaller victories, taking things one step at a time and making her as comfortable as possible in the meantime to give her tiny body a break. We switched out her crib for a real bed so that we could lay down and cuddle with her.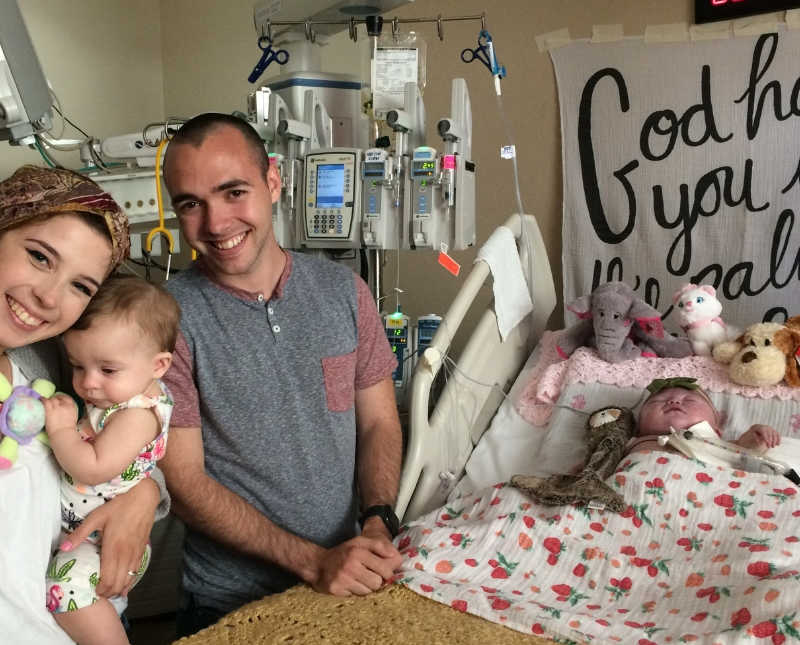 So that we could feel like we weren't in a hospital for once in her life. My husband and I rallied our family and friends, asking everyone to continue to pray for her. Pray for a miracle, healing, HOPE. We wanted to show this disease our God was bigger. My heart ached at the thought things might end up differently than we hoped.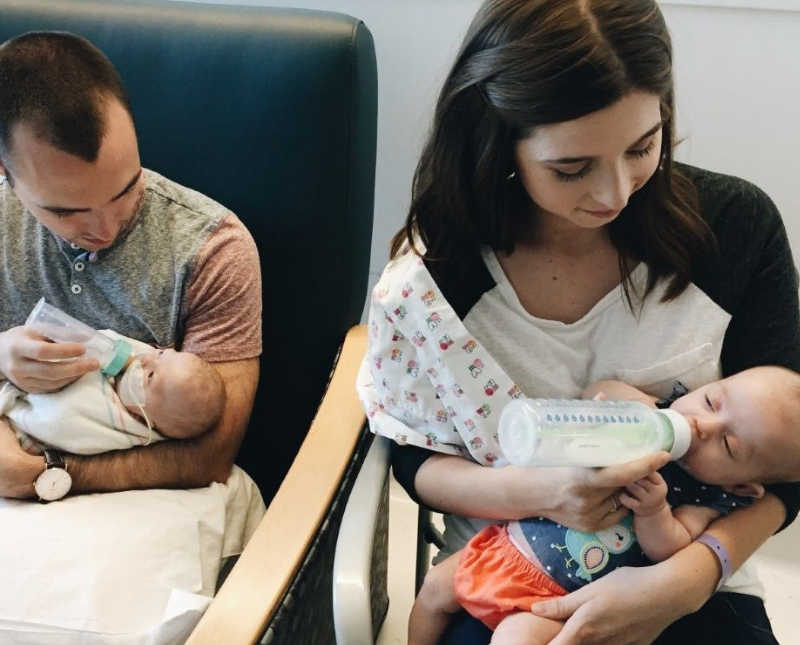 After about a week of this small victories plan, our doctor walked into our room and sat down with us. She was our favorite doctor and loved Vivian as if she was her own daughter. With tears in her eyes, she told us she had felt as though everyone had fought very hard, that Vivian had fought very hard, but she didn't think there was anything more they could do for her. She told us she thought it was time we talk about the possibility of withdrawing care. How do you ask a parent to make a decision like that? How were we supposed to do that? We always knew her survival was never guaranteed, but it didn't make the the reality any less painful. It didn't make it any less horrifying. After days of talking, praying, and meeting with our pastor, we finally decided that withdrawing care was the best chance Vivian would have of passing away peacefully. We picked a day (which was so odd — setting a date for your daughter's passing) and made our arrangements.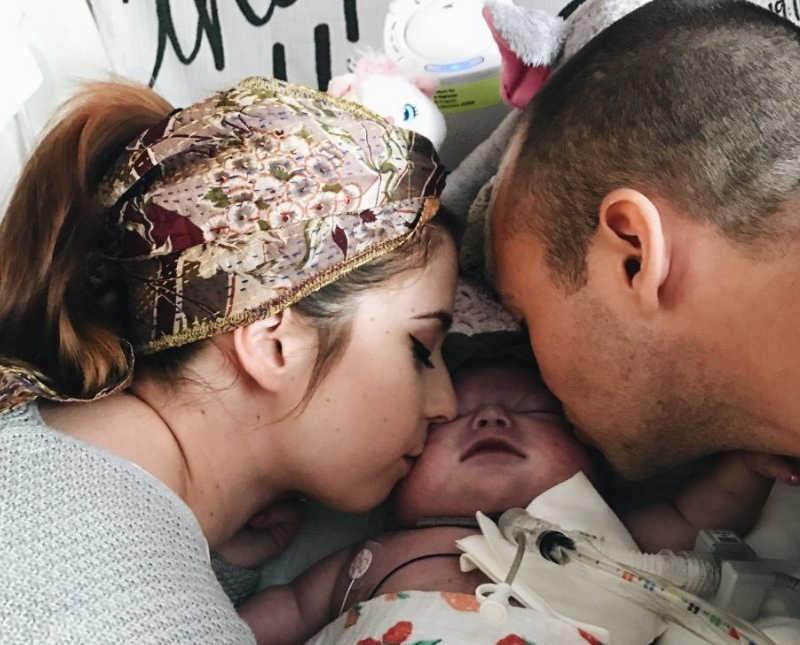 The day before, we invited our families to come and say goodbye, along with our pastor and his wife. We worshipped, thanked Jesus for the ten glorious months we shared with our Vivian June and dedicated our girls to the Lord. We spent the entire day with her, loving on her, cuddling her and just enjoying those last few moments with our families. The next day was by far the worst of my life, without a doubt. I can't go into detail as it's simply too painful, but I will say that in the midst of all of the pain, sadness, and anger, there was beauty; there was Jesus. We got to spend her last few hours together as a family. And that's all we could have asked for. It's been almost two years and the grief has not gotten any easier, it is still very raw and very real. But her joy and her fierceness lives on through her twin sister, and we will never forget our Vivian."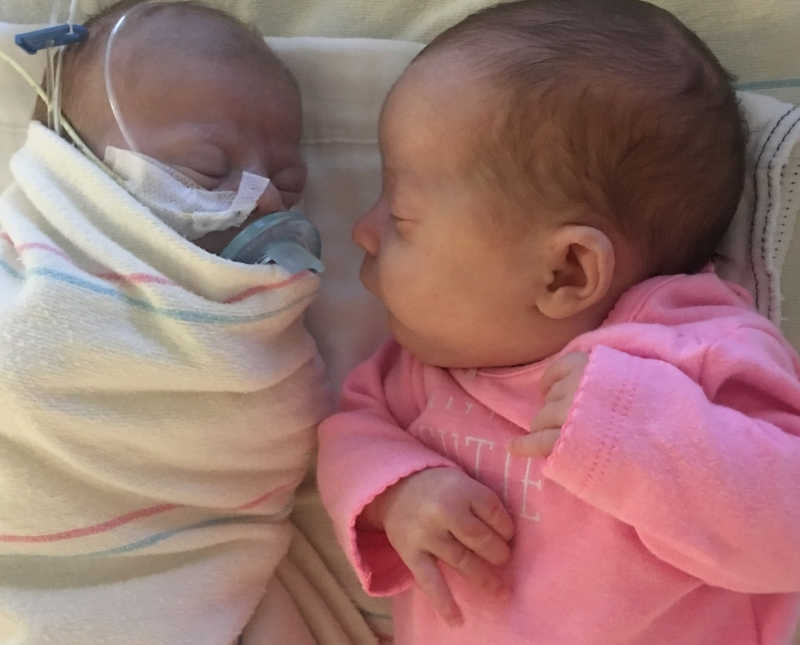 This story was submitted to Love What Matters by Bekah Wilkerson. Follow her journey here. Submit your story here. For our best stories, subscribe to our free email newsletter.
SHARE this story on Facebook or Twitter to support those dealing with child loss.