Disclaimer: This story contains details of child abuse which may be upsetting for some. 
This is the second part of Amanda and Jeffery's story. Read the first part here. 
Losing Brandon
"Brandon was in and out of the hospital most of the summer. His health was not improving. Due to his dwindling health and both Jeffery and Brandon's poor immune systems, we spent the summer of 2020 in quarantine. Jeffery continued to make progress in his therapies and was now able to use his left hand to move objects that spin, and sit up with minimal support. He was also able to jump with support.
In October of 2020, we bought a new house. Due to Brandon's continuous decline in health he decided to move in with his mother to ease some of the stress in my life. He would visit when he could but we saw less and less of him as the months went on. February 2021, Brandon had a heart attack and decided to move back in with his wife and kids. The next two months went by and he was gone. Brandon passed away April 12, 2021 at 2 a.m. in the hospital in Rochester. My children lost their father and I was a widow at 28 years old. Brandon was only 33 when he passed. He fought long and hard to be here. He was the best father he could be with the challenges he faced. He will never be forgotten.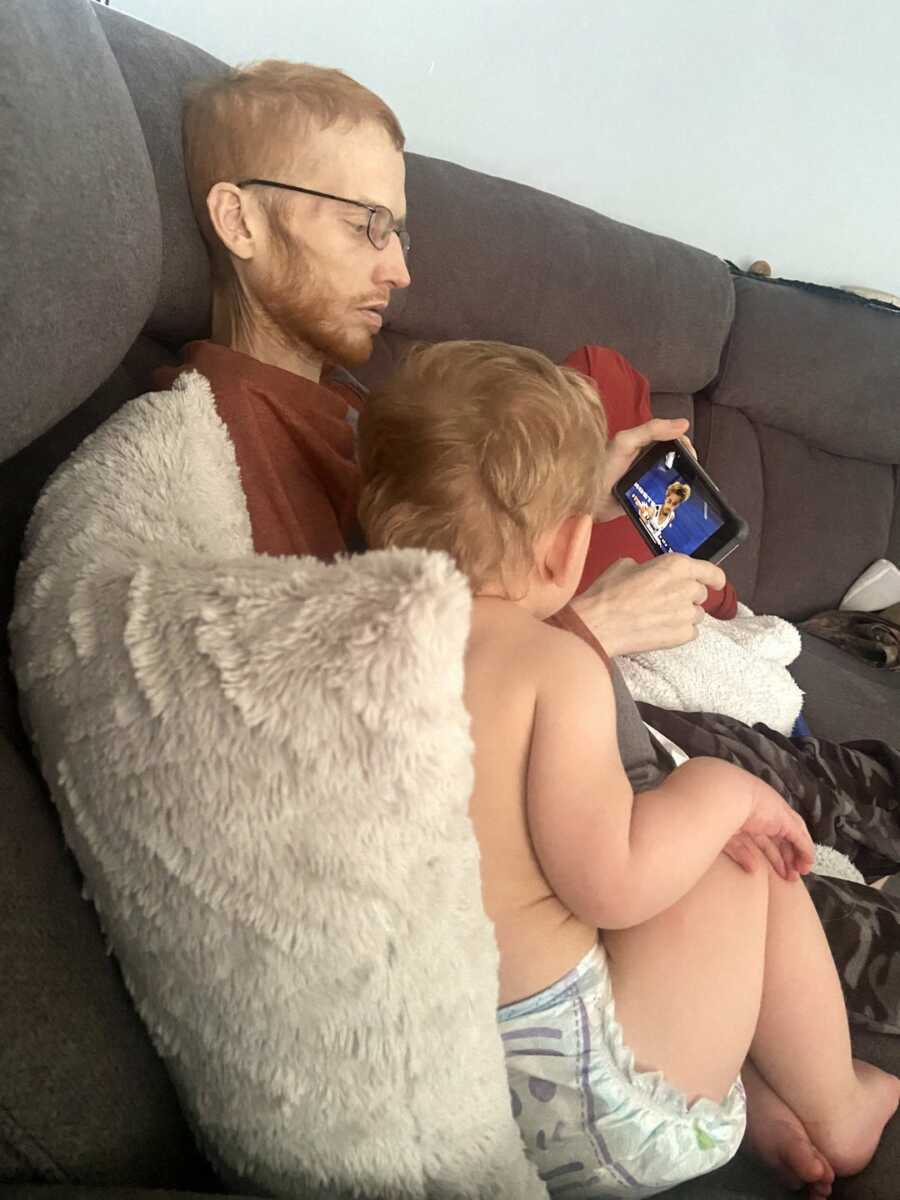 Planning On Adoption
After Brandon's passing, we made due with what we had and tried to rebuild our lives. We were in and out of court fighting for my sister and her boyfriend to have their rights terminated. They continued to not show up to their scheduled visits. They had not been to one single doctor's appointment. My sister's boyfriend admitted to punching Jeffery in the right side of his face. They had also abused the puppy they had been bringing to visit with them. She was choked, kicked, hit in the head, and left tied to a bed with only a 3-foot-long radius to move. She also was taken from their care and rehomed.
Adoption was now the best option for Jeffery. Peter and I loved him. He was already my child and Peter's brother. He was happy, healthy, and making a lot of progress. He was almost 2 years old and was able to pull to stand, could use both hands to pick up items, loved to jump when he could hold on to something for support (like the side of the crib), enjoyed playing in water, playing with the animals, playing with light up and spinny toys, and was a major mama's boy. Jeffery was already where he belonged and I wouldn't give him up for anything. I could be a single mom raising two boys no problem. I had the business for income and worked from home as it was. I took care of my grandmother two times a week and Jeffery went with me. He made my grandmother and grandfather very happy. They enjoyed his company and seeing the progress he was making. Jeffery was simply the best part of their day. We barely had to go to the doctors anymore and only had to focus on therapies. Speech was added to his therapies and he was now in therapy 4-5 days a week.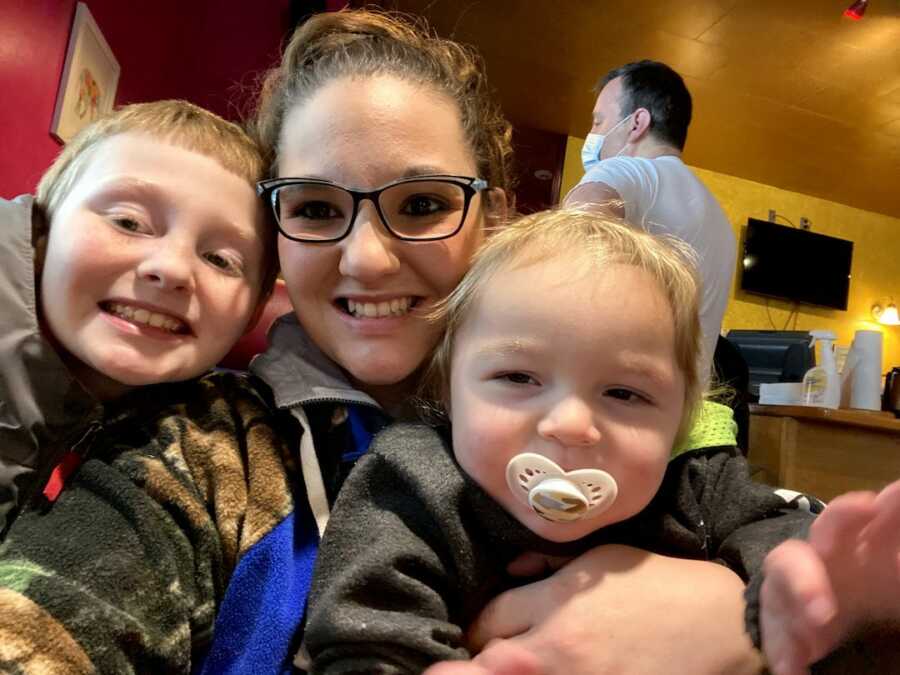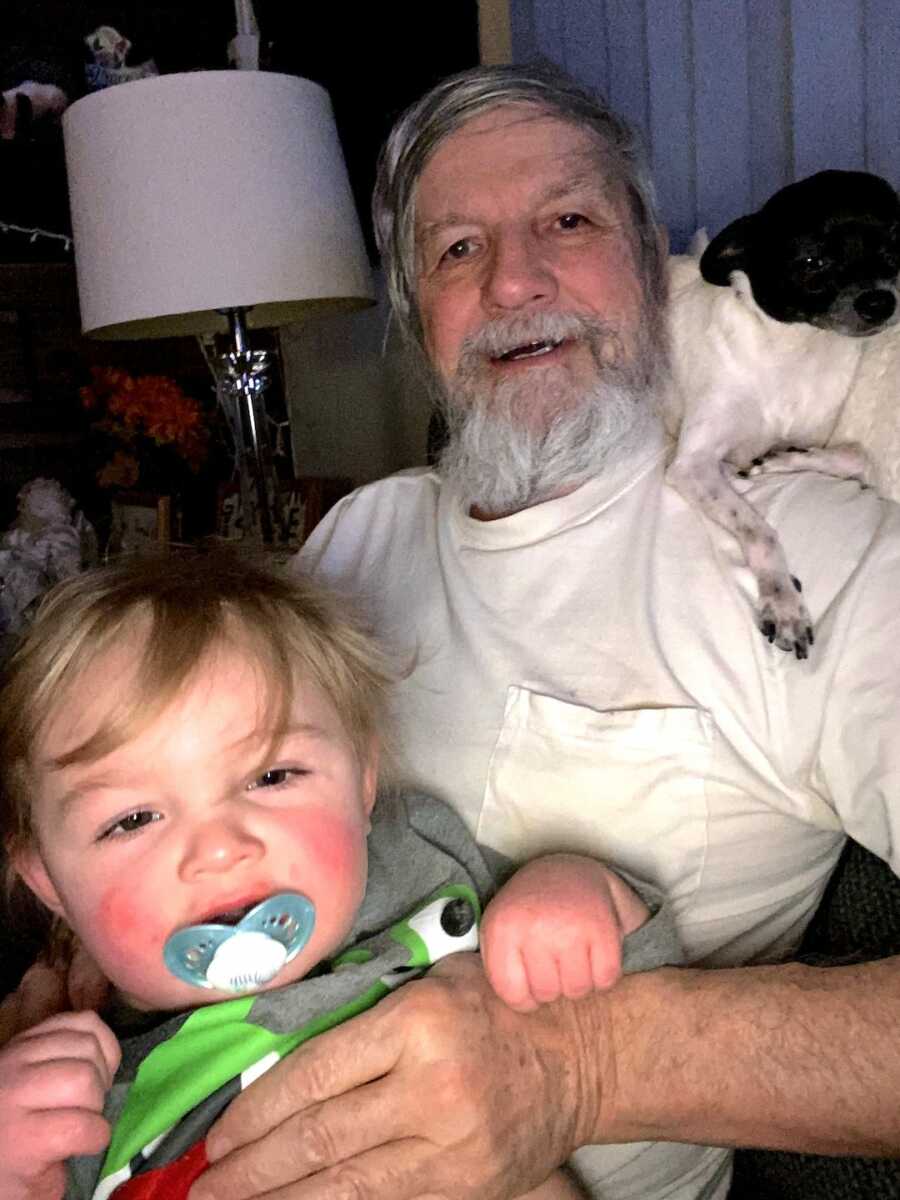 Meeting Steven
June 2021, I decided to start dating and met a wonderful man named Steven. We hung out a few times, then we decided to introduce our kids to each other. He had three children ages 10, 13, and 16. Peter and Jeffery liked them all from day one. We became a family pretty quickly as we just fit together well. Steven and his kids needed us just as much as we needed them. On Father's Day, we went with Steven's family to a picnic at the lake and Jeffery took his first steps! I dropped to my knees crying happy tears! Everyone shouted with joy and applauded Jeffery's success. It was a very happy day and we felt whole.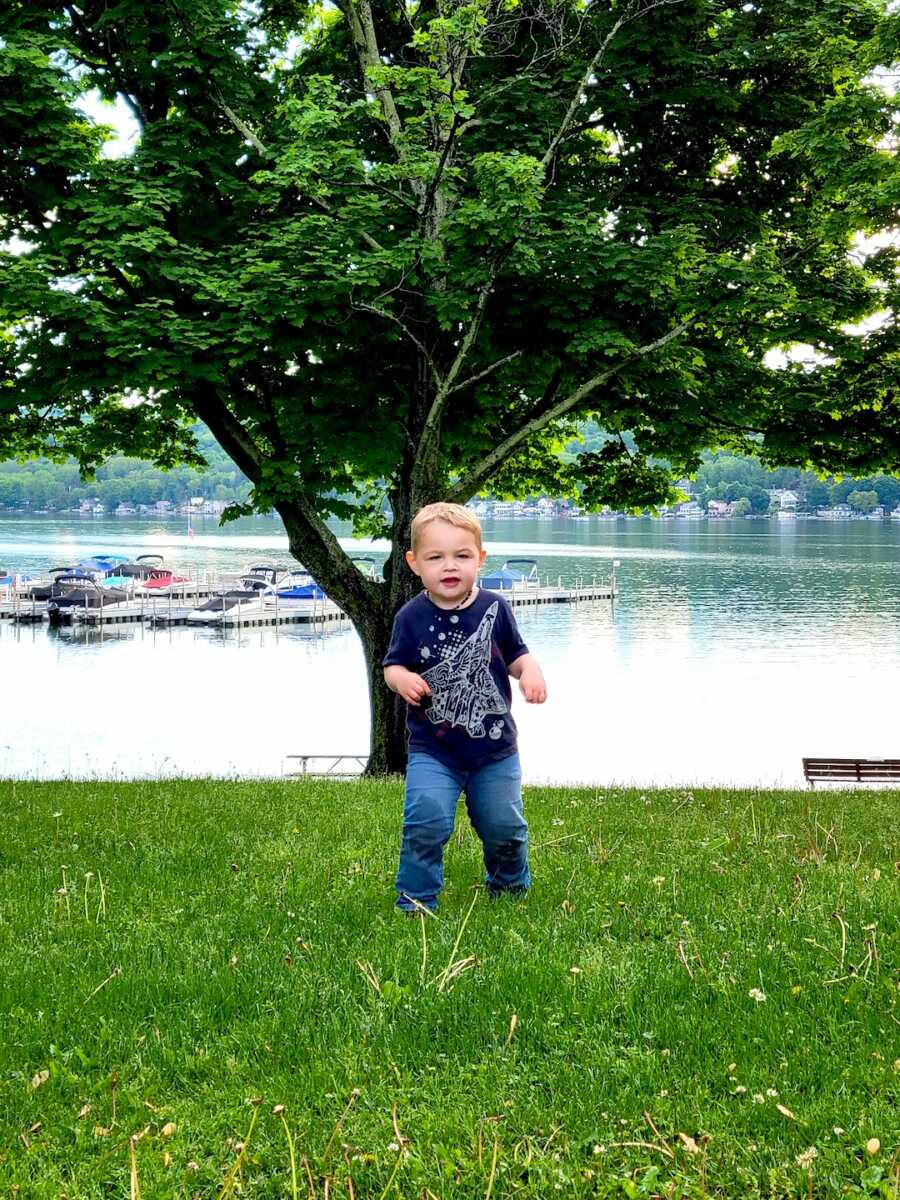 The days and weeks went by, and Jeffery slowly took a few more steps here and there. Then just like that, he was walking by holding on to just one hand. By November he was walking without too much assistance. In December, I had back surgery and was unable to care for Jeffery, or my grandmother by myself. Luckily, I had Steven who was there for all the highs and lows of my life. I am so thankful to have met him.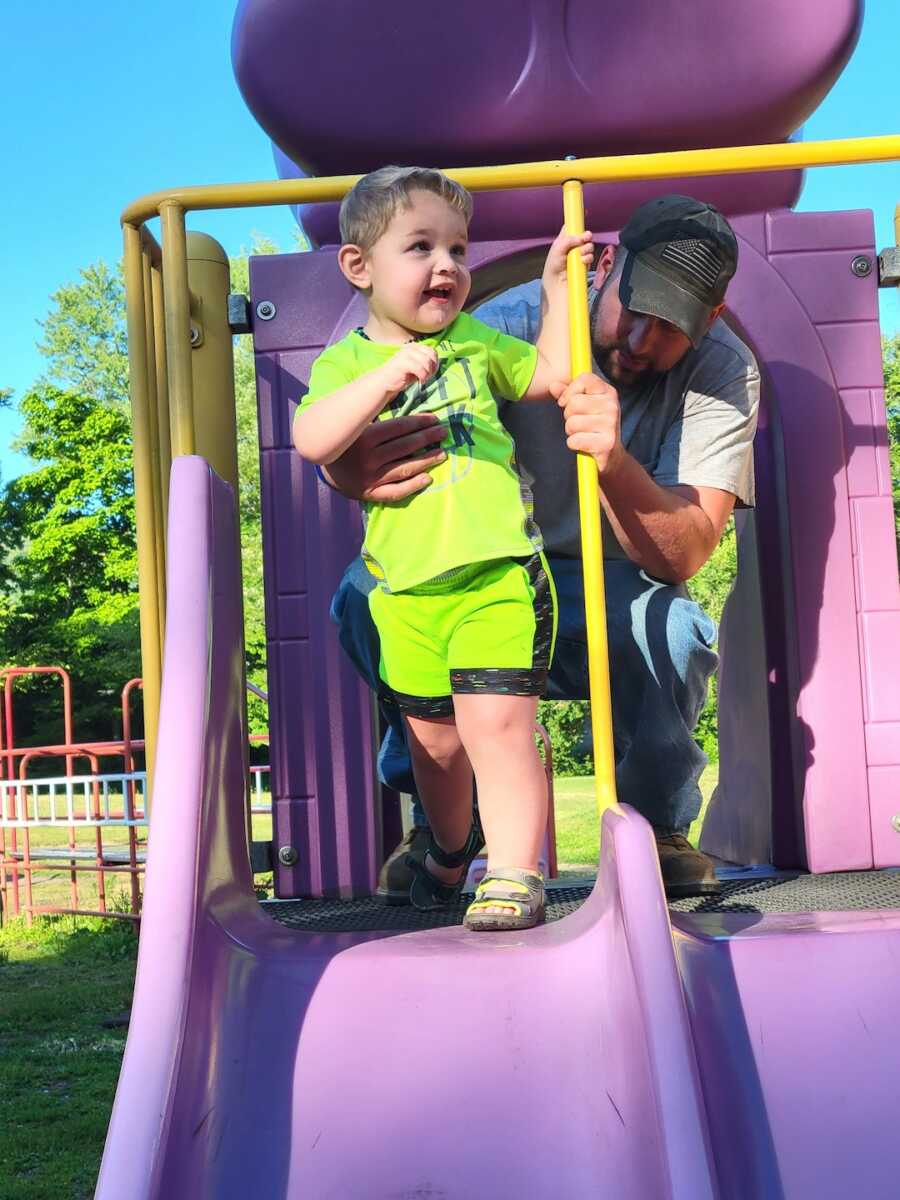 By January of 2022, Jeffery was running! Still unable to communicate with words, Jeffery often became frustrated and would bang his head to get what he wanted or show he was angry. He often had bruises on his forehead. He needed constant supervision. Steven and the children helped me to care for Jeffery as I was unable to bend over or lift Jeffery up. Since he was able to walk now, Jeffery was slimming down. But he was also getting taller. Jeffery was 52 pounds by February 2022! Jeffery was in 5T clothes before his 3rd birthday. April 14, 2022, one year and two days after the passing of my husband, Brandon, my grandmother passed away at Guthrie hospital in Sayre, PA. My life was flipped upside down again. My grandmother was my rock, my best friend, and Jeffery's biggest fan! She was always on the sideline rooting for me and pushing me to keep going when I felt like giving up. She will live on in our hearts forever.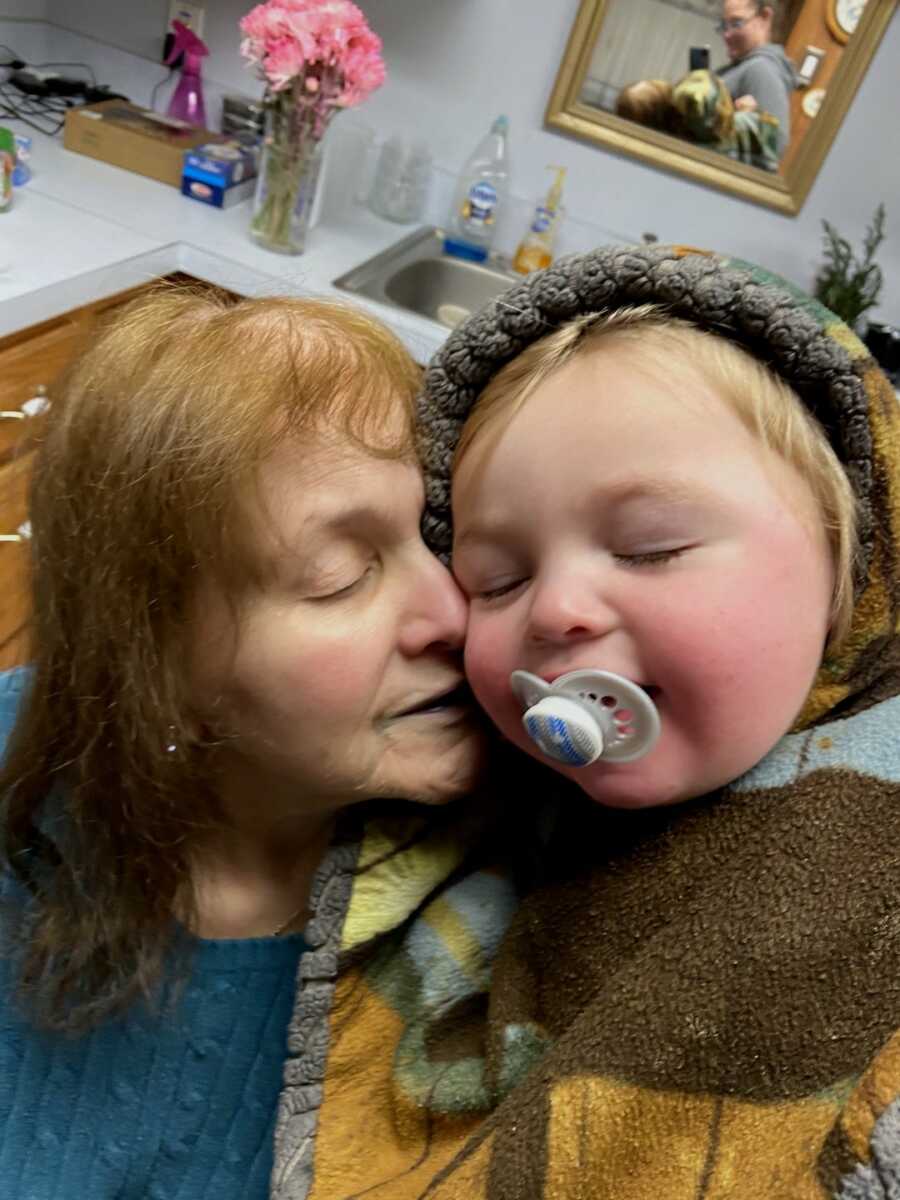 Life Now
On June 1, 2022, Jeffery's adoption was finalized! It's been a year now with Steven and the kids in our lives. We have a big happy family and my heart is full. Despite the losses and struggles of the past few years Jeffery, Peter, and myself are able to wake up every day knowing we are loved and have a family. We are safe. Jeffery will never be hurt by anyone ever again.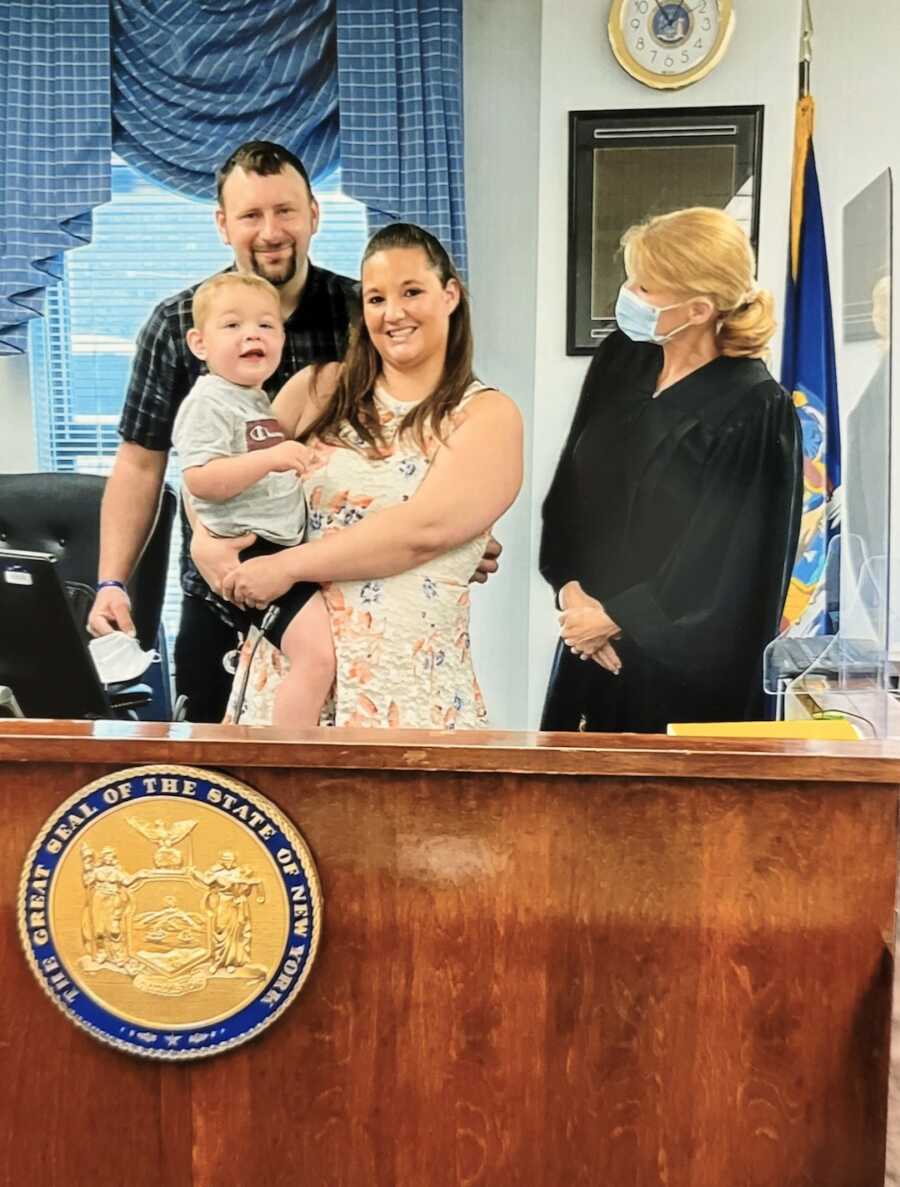 Jeffery continues to beat the odds every day. He might not meet society's standards; he may not look like anything special to you. But to me, Jeffery is amazing! Jeffery will always struggle to catch up with others his age, but I will be right here pushing him to be all he can be. Jeffery is the best of us all and deserves the world. Jeffery is my son and I'm so proud to finally be his mom!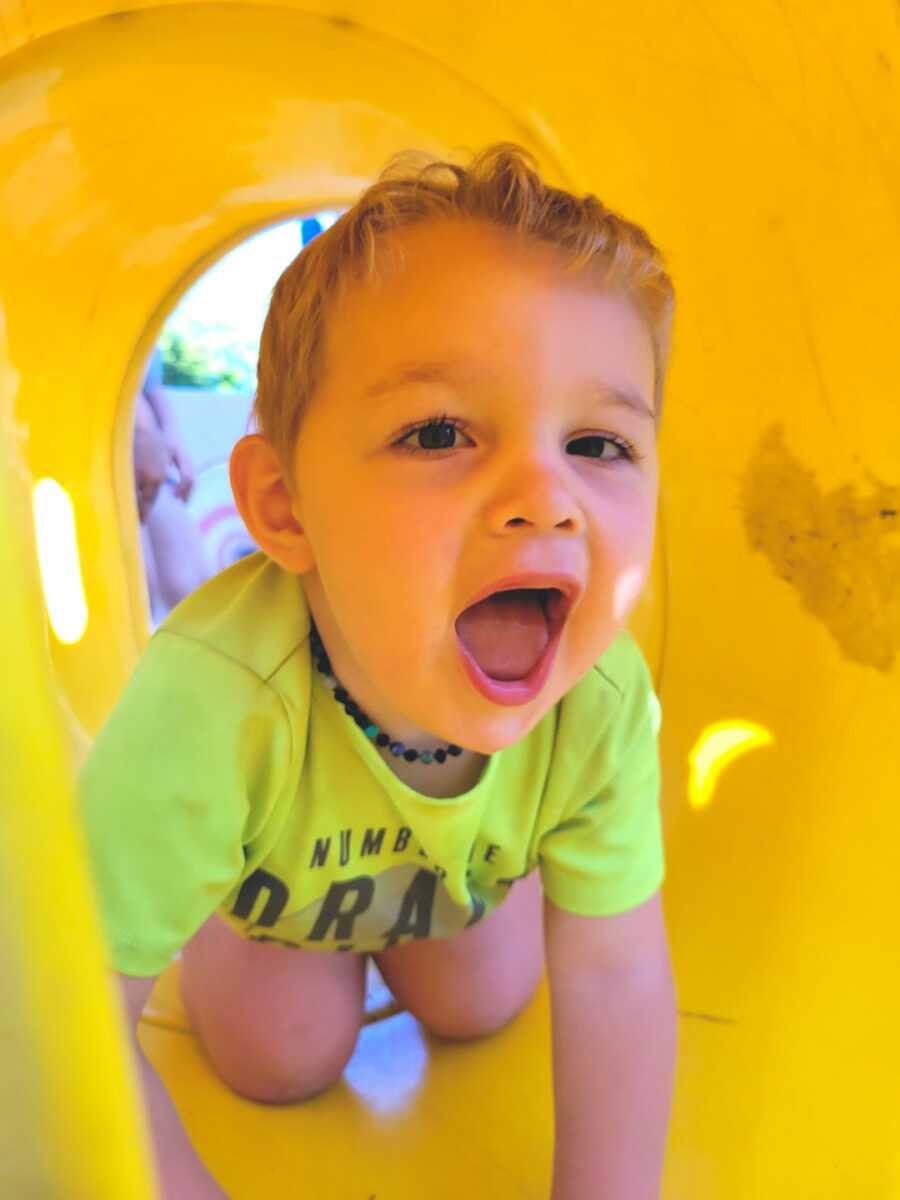 Where are we now? July 2022; Steven and I continue to make strides in our relationship and are happy to be raising our five children together. We are in the process of building a better future for our family. We own 5 horses, 3 dogs and a few barn cats. We own two houses between the two of us and have decided to start flipping houses. Steven works full-time as a tooling technician while I continue to work from home running my business which is called 'Life Personalized.' I make personalized items from T-shirts and cups to signs and crochet baby outfits. I specialize in embroidery, laser engraving, crochet, epoxy, HTV, sublimation, and so much more. Our oldest son is now 17 and will be a senior in the fall. He has decided to pursue a future caring for animals and recently adopted a dog of his own. The three middle children are enjoying the summer just being kids. Jeffery is happy to have his siblings home for the summer and it makes every day better for us all. He is full of energy and puts a smile on our faces no matter how our day is going.
My sister remains living with her boyfriend and his dad and grandparents. Her boyfriend has been reported to the police many times for domestic abuse yet she has not left him. They both continue to work with animals despite their past of abusing a dog and almost killing a baby. According to my mother, they have begun hoarding animals. They have many goats and chickens/ducks locked in a hot shed hidden from the world because they live in town and can't have them there. They also have many rats, mice, snakes, and reptiles in their bedroom hidden in cages under their bed so his family doesn't find out. Beyond the information my mother gives me, I don't know what happens in their life.
I have decided to create a line of products to put in my shop to help spread awareness of and to hopefully aid in the prevention of SBS. A portion of the proceeds will be donated to charity. My shop is located at my home in Bath, NY. I recently purchased a shed to use as a workshop and store front for customers. I will continue to work inside my home until the inside of my shop is finally opened to the public."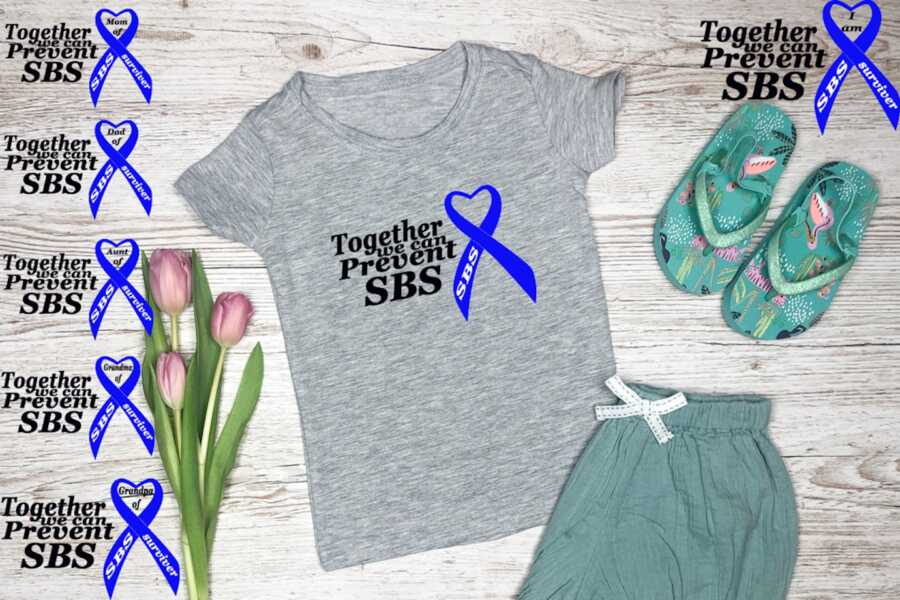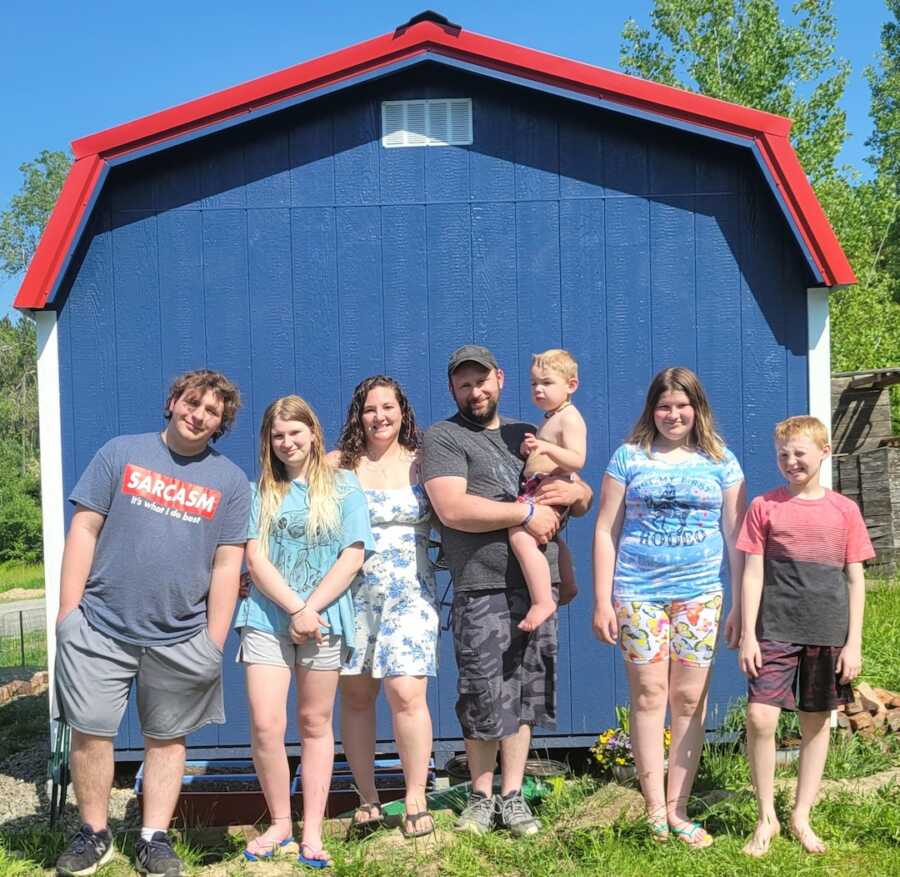 This story was submitted to Love What Matters by Amanda Hall of Bath, NY. You can follow her journey on Facebook and support her business. Do you have a similar experience? We'd like to hear your important journey. Submit your own story here. Be sure to subscribe to our free email newsletter for our best stories, and YouTube for our best videos.
Read more stories like this: 
'My dad got very angry at me for crying. I was a tiny, 5-week-old baby. He shook me, threw me against a wall.': Survivor of shaken baby syndrome's powerful account so 'other babies won't have to go through this too'
'He was so nervous. From the darkness of the hallway comes a little curly haired boy, weary of all these people.': Couple adopts twin survivors of shaken baby syndrome, loses son just 2 years shy of being in his 'forever home'
'Would you be willing to adopt a two-month old baby boy? He's been brutally attacked by his father.': Military couple adopt 'warrior' Shaken Baby Syndrome survivor
'Momma, I 'dopted now!' My son was bitten, strangled, and starved. He had 15 broken bones.': Couple adopt Shaken Baby Syndrome survivor, 'He was always ours, now we have the papers to say so'
SHARE this story on Facebook to help raise awareness for prevention of Shaken Baby Syndrome.