"At 12:01 exactly on January 22nd, 2022, my beloved first guide dog Unity passed away. She had been diagnosed with an aggressive Mast Cell Tumour the year before and had fought bravely for another year with the help of treatment. But when her health rapidly declined with the recurrence of the Mast Cell Tumour preventing her from being able to walk, we knew it was time to say goodbye.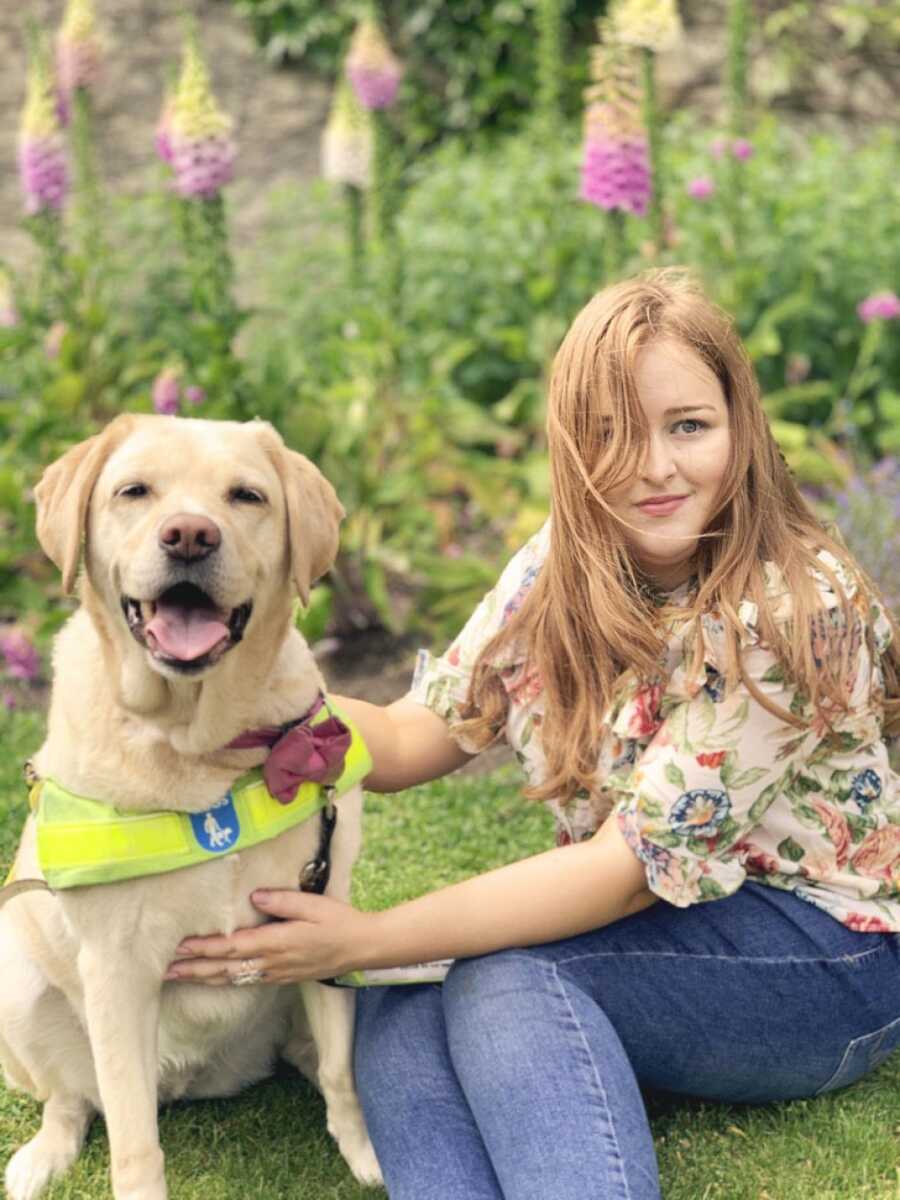 That Saturday, I lay there on the floor with her in the vet's, holding her head in my hands as she slept peacefully in what would be her final slumber. I held back the tears that were gathering behind my eyes because I knew how much she hated seeing me cry. The last thing I said to her before she passed was, 'You brought me to life, Unity. Thank you for everything. I'll never forget you,' before burying my head in her soft fur and inhaling her musky scent for the last time.
That day, I knew what it was to lose a part of myself: my grief felt as if it would consume me whole, and at some points, I wanted it to. But as the days went on and the messages of love and support flocked in from all those that knew her, I realized something. I didn't want her life to be marred by her death and my sadness. It would be a betrayal to her wonderful memory and all the years of joy, happiness, and freedom she gave me in her 8-and-a-half years of service as my guide dog.
Unity worked with me as my guide from July 2012 right up until February 2021 and spent her last year in retirement. Passing away at the age of 11 years and 3 months old. Yet even when she was retired, she never wanted to relinquish her role as my guide. The day before she passed, she still attempted to put her head in the harness now intended for my second guide dog, Rosie. Being a guide dog was ingrained into every fiber of her being, and that would never leave her.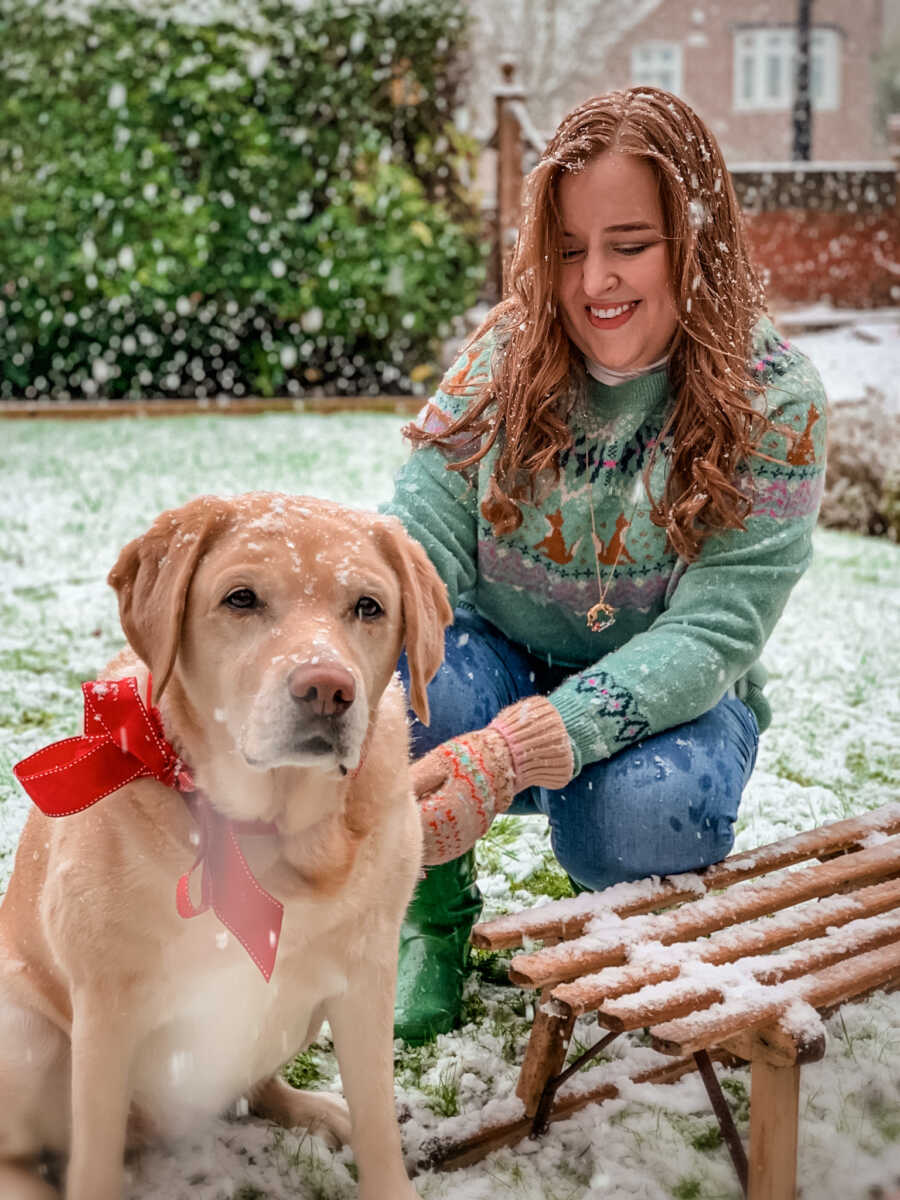 My name is Emily Davison, I'm 27 years old, and I live in London, England with my family and second guide dog Rosie. I'm a blogger, freelance journalist, and content creator. I was born with a congenital condition called Septo Optic Dysplasia. It's a complex endocrine illness that impacts the optic nerves and the pituitary gland. As a result, I've lived with severe sight loss and several illnesses due to the damage of my pituitary gland.
Growing up, I often felt as if I was a spectator watching my life pass me by. I'd often lay in bed awake for hours at night, thinking about how I'd be able to cope around the busy streets of London as an adult. It was something my family was too worried about on my behalf. In truth, I thought my life would forever be this isolated tiny world that I resided in that didn't stray outside of my home and school. I didn't go out, I didn't have a social life, I found it hard to make friends or talk to others.
After years of being bullied and ostracised at school for being disabled, I went into my shell. My mental health problems often felt like a lead weight pulling me down everywhere I went, and I didn't really have any high hopes for my future. How could I when I found it a struggle to even leave my home and go on a bus?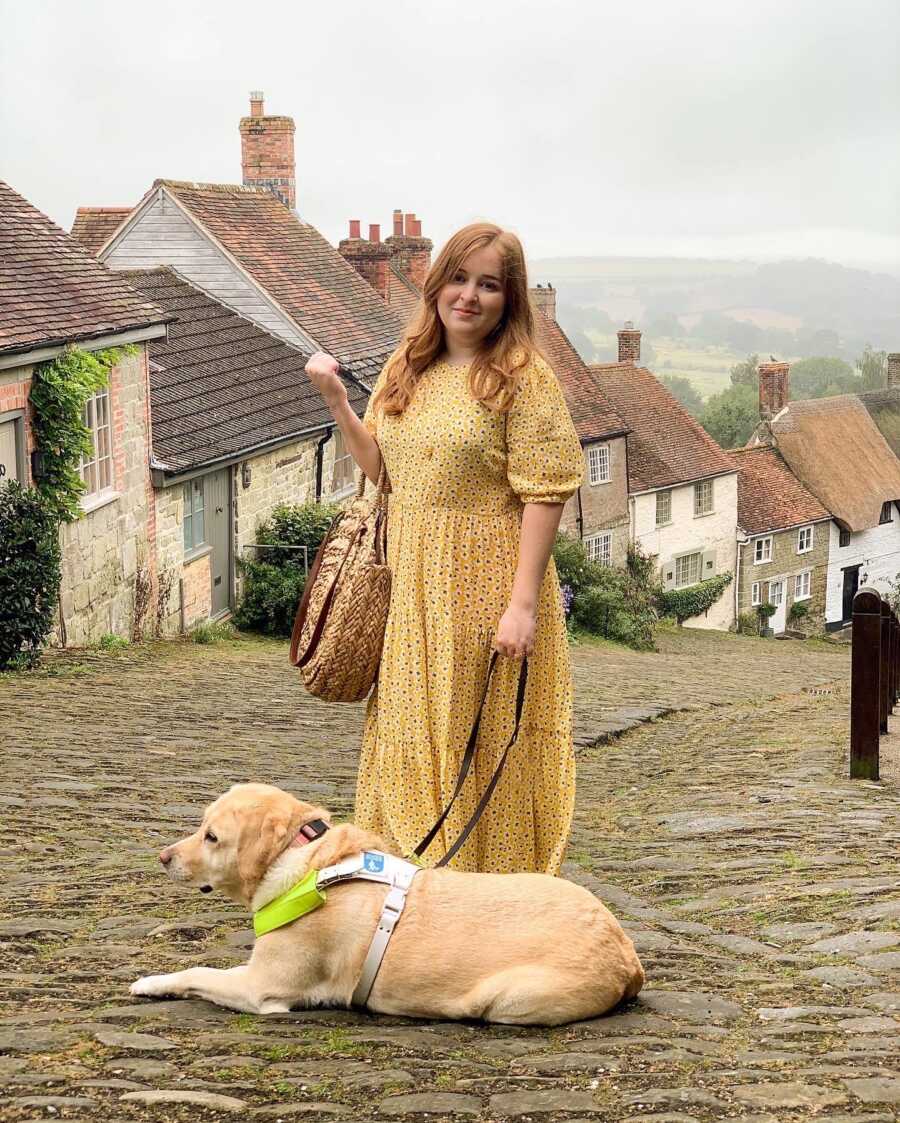 I wasn't correctly diagnosed as being severely sight-impaired (or legally blind) until I was in my mid-teens. When I was first diagnosed at aged 2, I was diagnosed as having partial sight, and so people didn't realize the extent of how much I struggled. I wasn't offered any kind of long cane training or mobility support until I was in my teens. So, for most of my childhood, I struggled, and the struggle felt like it would become too much to bear.
But one day, after having a breakdown at an eye clinic appointment and voicing all of my concerns. The liaison officer at the time suggested I apply for a guide dog and my life completely changed.
The first day I held that harness in my hand, it was as if someone had switched on a part of myself that had laid dormant all my life. I become a different person in a matter of moments and all the dark thoughts I had about my future washed away like driftwood being swept away by the tide.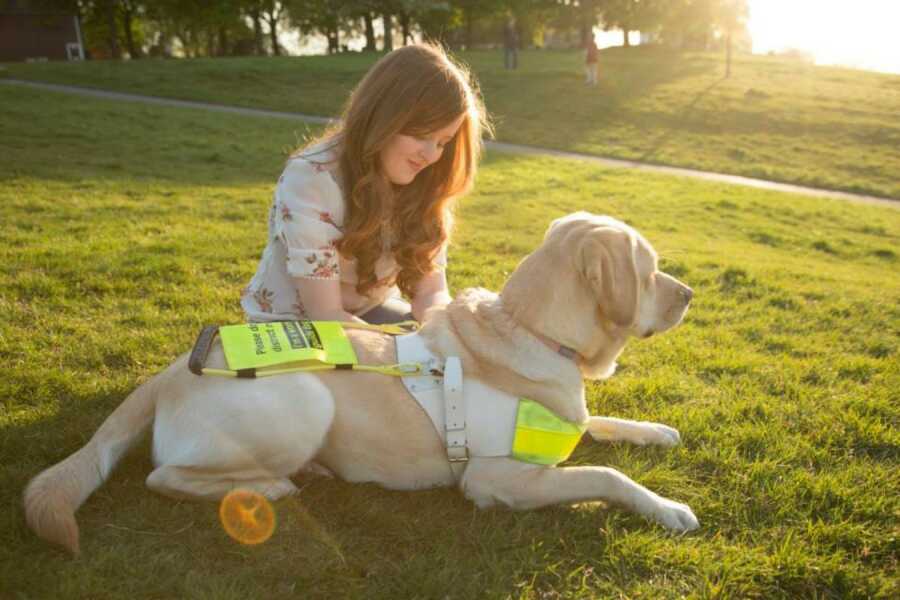 I first met Unity one warm and sunny afternoon in May 2012 on the cusp of my 18th birthday. I was due to start college in September, and Unity came into my life at the perfect moment in time. After over a year of being on the waiting list for a guide dog, I received the magical call from Unity's trainer, Mike. He described her as a hardworking and dedicated dog who he thought would make a good match for me as my first guide dog. To say I was excited about the prospect of meeting my would-be guide dog was an understatement! I couldn't wait for the day to arrive…
When you are matched with a guide dog, the trainers take a lot into consideration. Things like your height, walking speed, lifestyle, where you live, your age, and your personality. You must remember you are going to be working with this animal for several years. They're going to be your eyes, your most trusted companion, so they need to get it right. This is why sometimes guide dog owners can wait months, even years to find the perfect match. But believe me, it's so worth the wait.
Prior to Mike's call, I had been tasked to work on my long cane skills before getting a guide dog. The charity encourages guide dog owners to maintain good long cane and mobility skills so they can still be mobile and plan routes whilst waiting for a guide dog. So I worked hard with a mobility instructor on my long cane skills which finally improved, and I was ready.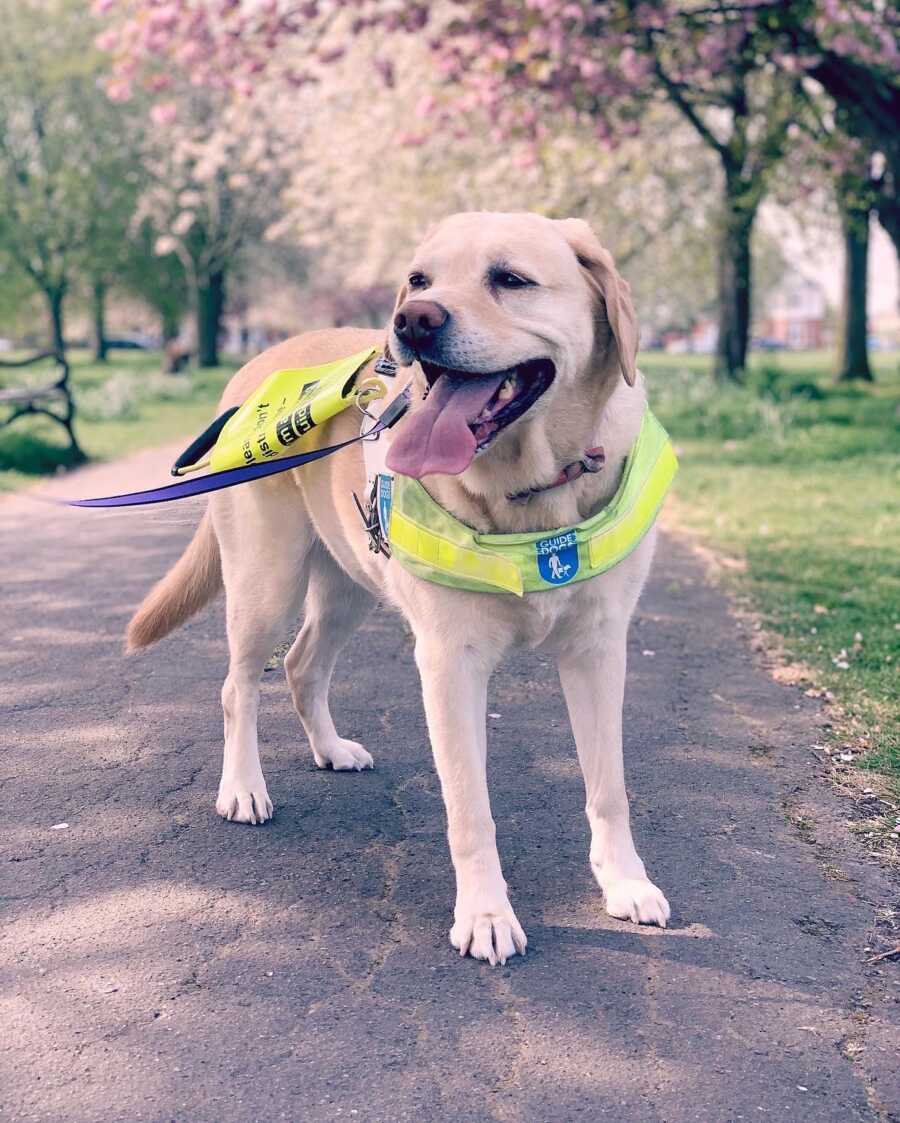 When Unity bounded into my backyard that day, I instantly fell in love. She was a beautiful golden Labrador/Golden Retriever cross with a face that would put any stuffed bear to shame. She had so much love of living that she infected me with it too. In her presence, I felt I could be something more than what I was.
I was eager to win her love, although at first, she wasn't a fan of hugs and physical affection. It was strictly business for Unity! I worried she didn't like me and that it would reflect during our matching walk together to see if we would work as a partnership. But I did not need to worry. We took to one another like ducks to water. Mike was so impressed he didn't feel the need to intervene much at all. After the walk, he said what I now know, 'You're perfect for each other.'
Up until that point, I'd had some doubt about how whether getting a guide dog would change my life like I'd heard so many others say it would. But after just one walk with her, all my doubts were gone.
Unity was a truly mesmerizing guide dog to work with, she was intuitive, caring, and incredibly intelligent. She was a dog that was truly and entirely dedicated to being a guide dog, she loved being out and seeing new places. She was never as happy as when she was putting her harness on for another day of work.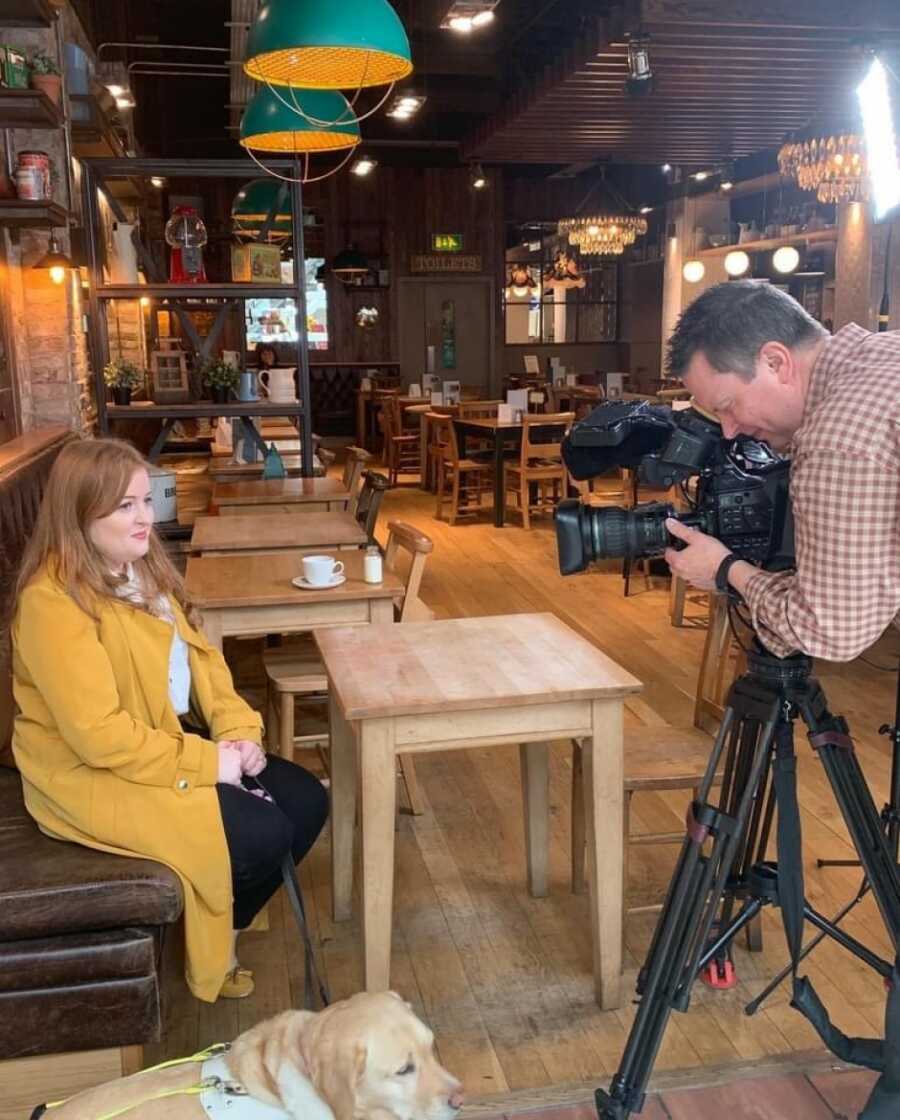 Having a guide dog aids me with so many tasks in my daily life. They can find curbs and crossings and help me navigate safely around objects and people. They can be taught to remember landmarks like shops, houses, buildings, bus stops and so much more. They can help you find a free seat on a train or bus and navigate you safely off when it's your stop. They know how to navigate you safely around things like roadworks and obstacles that block pathways. They can help you navigate around shops and supermarkets. Some specially trained dogs, like my second guide dog Rosie, are even taught to take you safely on and off escalators to access the London Underground. In short, a guide dog helps you navigate your way safely through daily life.
Sometimes they also go beyond the call of duty. Once when I was out with Unity, she saw a car coming that I hadn't noticed (it was an electric car, which was soundless, making it hard to hear). She tugged me back to the pavement and stood in front of me to prevent me from walking out. It was only when a passer-by rushed up to me and said in a shocked voice, 'She stopped you from being hit by a car!' that I realized that Unity had probably just saved my life.
In the time we worked together, we forged so many wonderful memories and did so many things. Because of Unity, I was able to go to university, which were some of the happiest years of my life. She walked me across the stage twice to get my degree and then my master's degree. She helped me make friends, Unity was truly the icebreaker that helped me meet new people and form lasting friendships.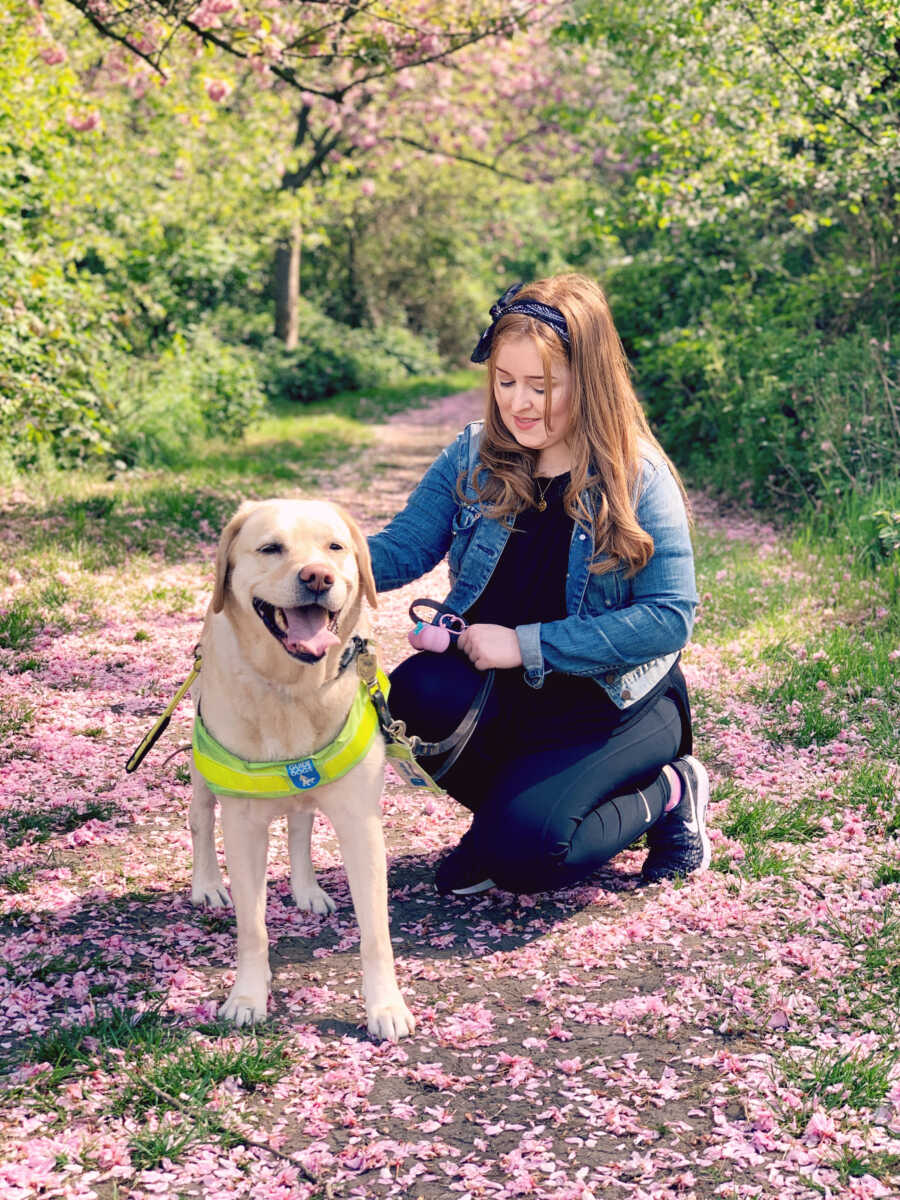 She was there when I got my first job and then my second and all the freelance work I've done in-between. Together, we appeared on TV many times working on campaigns and news reports covering matters of disability. Our biggest 'flex' was when we reported on consecutive nights for Channel 4 News on the topic of guide dogs being refused access to public places. It was an in-depth piece where I had to interview contributors and attend a lobby at the Houses of Parliament in London.
We worked on many disability campaigns, advocacy projects, and appeals. We've raised money for the Guide Dogs UK charity and appeared on billboard adverts, radio ads, and TV fundraisers.
It was because of her that I started my blog by the name of Fashioneyesta and had the confidence to show others that living with sight loss doesn't prevent you from wanting to do things like go out and shop for new clothes or wear makeup. She accompanied me to so many bloggers' events and worked with me on so many brand campaigns. Through it all she was a real pro, all she asked for in return were belly rubs from all her adoring fans and the odd carrot to nibble on.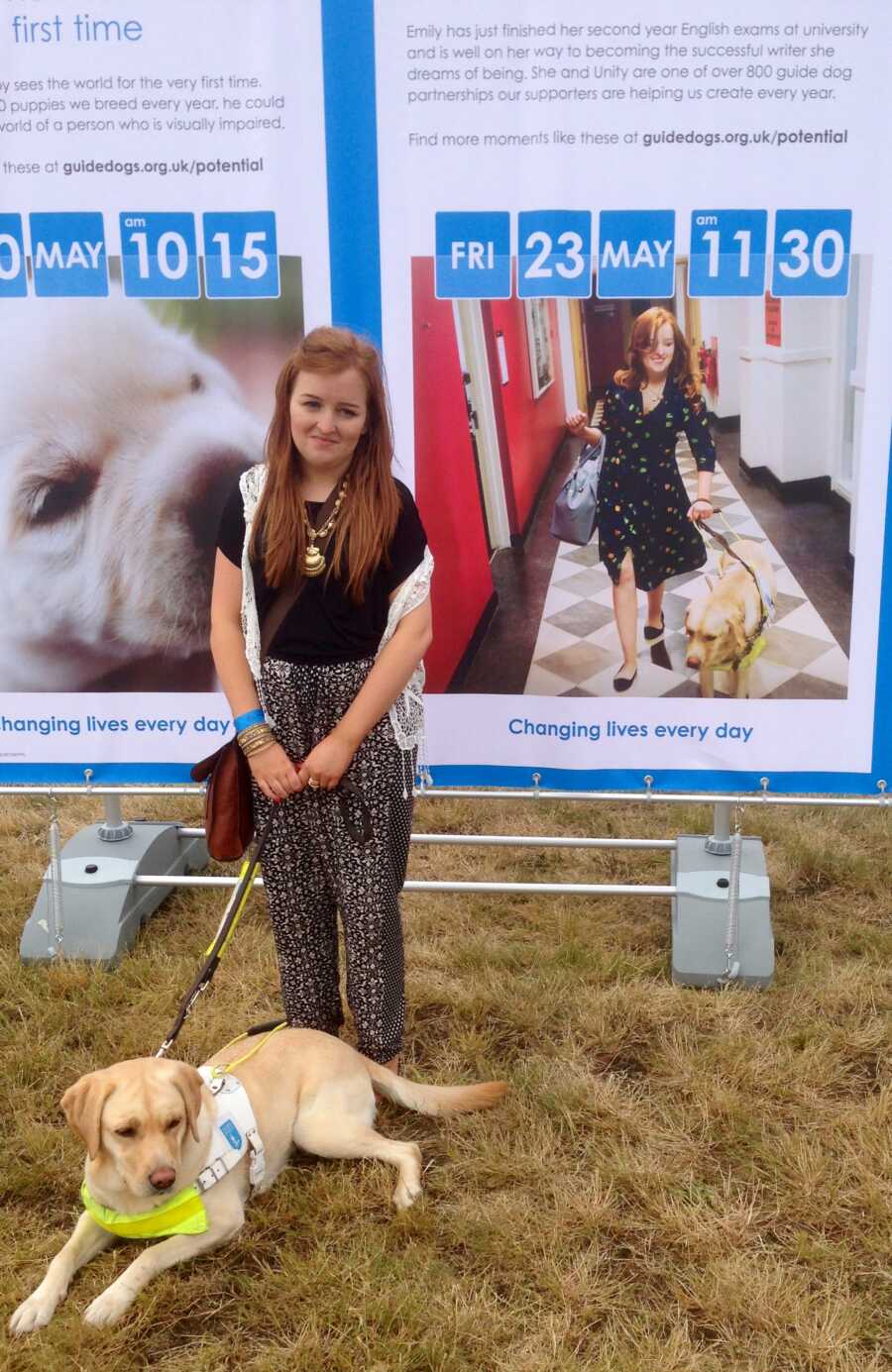 We traveled and saw so many places, Unity had many staycations here in the UK, where she enjoyed blissful days lounging with me in the sunshine or ambling through streams with a newfound stick in her mouth for me to throw. She's been with me on speed boat rides, punts, long train rides to all parts of the UK, and once an airplane ride to Edinburgh.
Unity loved her work, every day was an adventure to her as it was to me. No day was ever the same, and I'm blessed to have created so many incredible memories with her.
She welcomed Rosie my second guide dog into our home in September last year and helped her adjust and settle into her new home. When Unity was first diagnosed with cancer, my greatest fear was that she'd leave this world without having met my second guide dog and knowing I'd be safe. But fate meant Unity got another precious year to enjoy her retirement and got to meet Rosie. I felt this was a rite of passage for me transitioning from my first to my second guide dog. Luckily my wish was granted, and I'll cherish the precious time they spent together.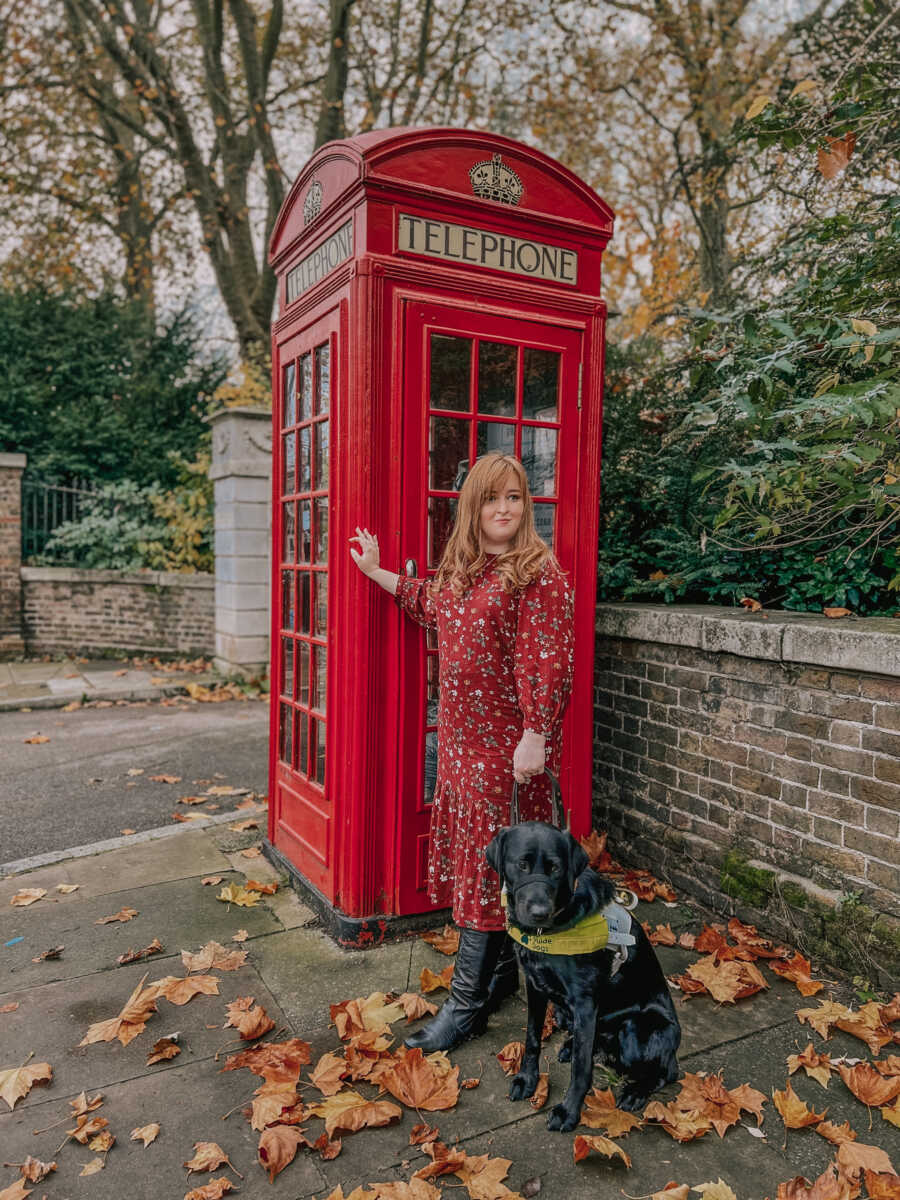 When I first had to retire Unity back in February and hang up her harness for good, it felt like a piece of me was missing. Before that I'll admit I took having her for granted, I forgot what it felt like to go through life without a guide dog by my side. All those previous feelings of loneliness, vulnerability, and isolation came flooding back to me. I longed to feel that comforting bulk of a faithful companion by my side once more.
Rosie came into my life 6 months after retiring Unity, and she brought my smile back with her. I remember her small form scampering into the office where I met her. I fell in love with her expressive eyes that were almost cartoon-like in their appearance and her charming tendency to offer her paw in greeting. Within one afternoon of meeting Rosie and going on a walk with her and her trainers Amy and Nicola I knew she was right for me. She showered me with love and affection, always eager to be there when I needed her. She's entirely different from Unity in so many ways except one, she too loves being my guide dog.
The mantle of responsibility now falls on Rosie and I know as the years go by; she'll make me as proud as Unity did before her. For all her quirks and strange ways, she's truly the best second guide dog I could have hoped for.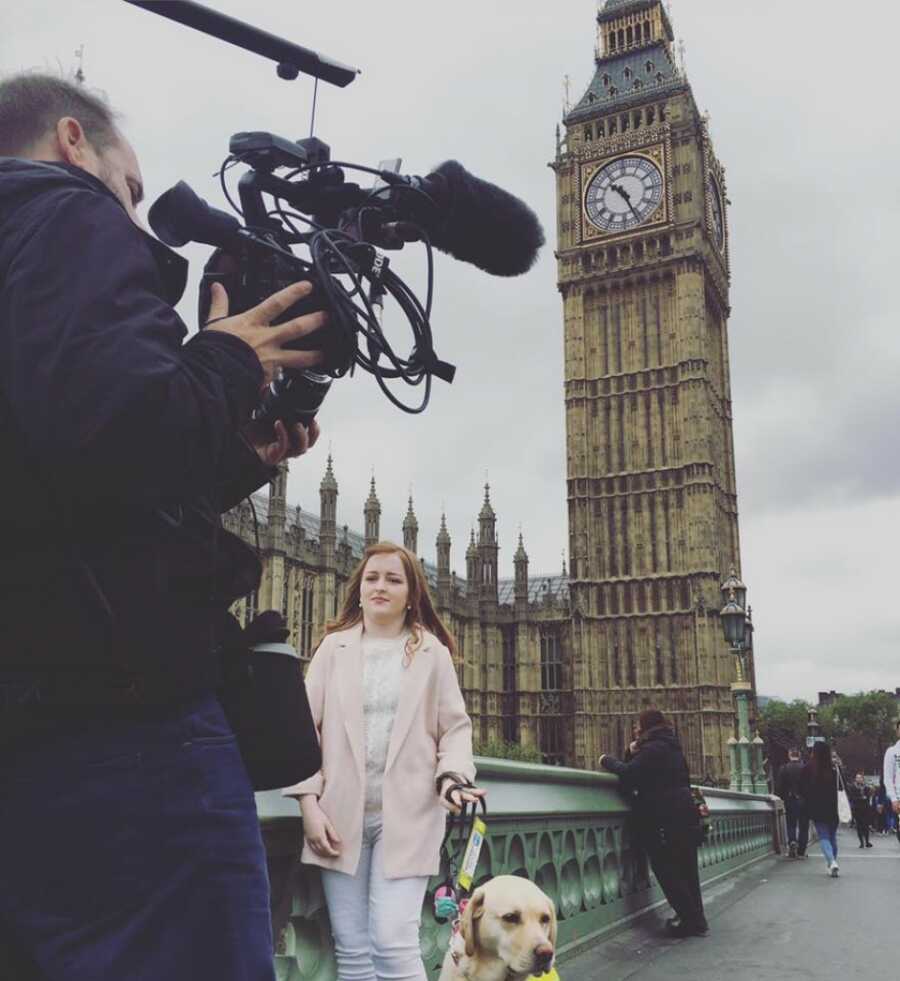 I firmly believe these dogs come into our lives at the right time. Unity came to me as a calm and confident soul that led me out of my doubt and solitude. She helped me grow up and saw me become a woman. Whereas Rosie is the sweet and youthful soul who is now a constant source of comfort as I deal with my grief and move forward in my adult years.
For some, having a guide dog might not be the right path for them. But if you find yourself yearning for more freedom and can shoulder the responsibility that owning a dog brings, then applying for a guide dog may be the best decision you will ever make."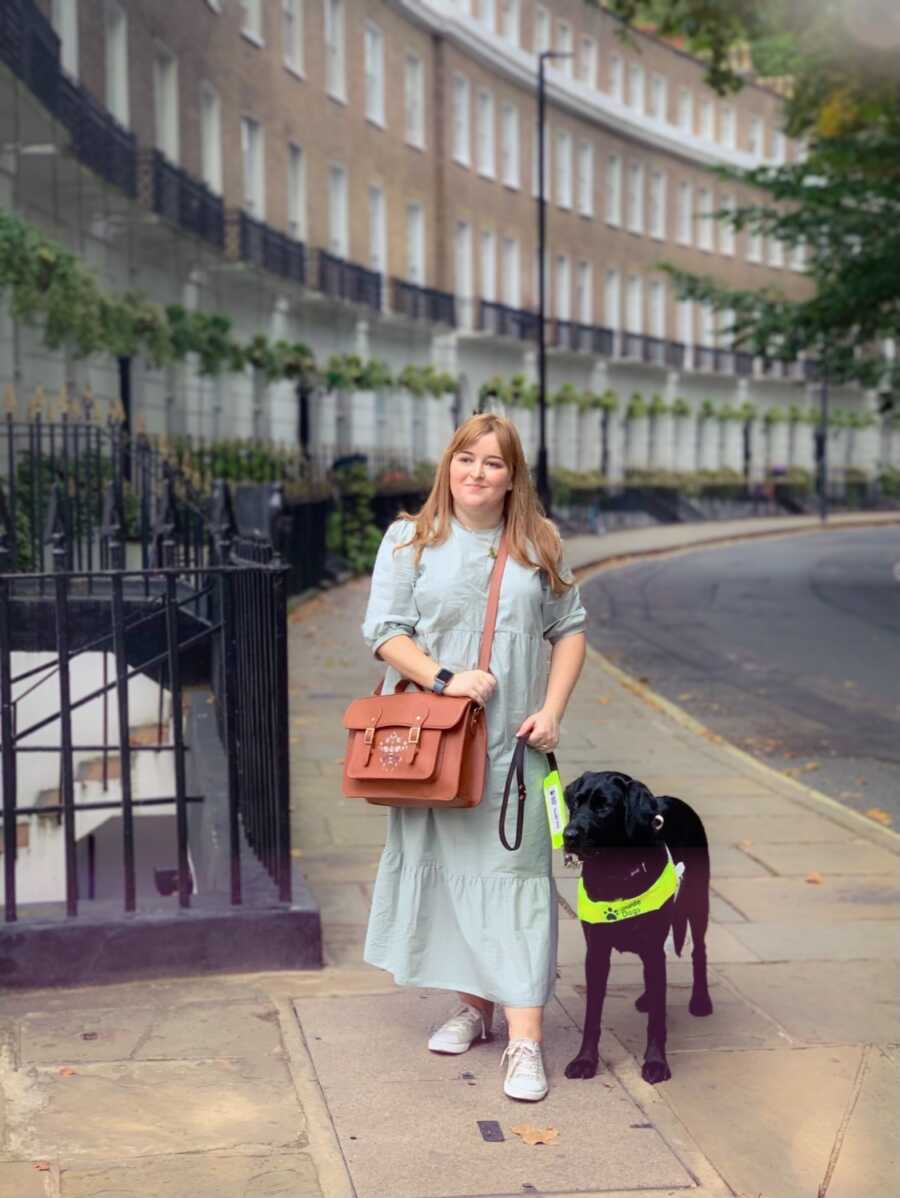 This story was submitted to Love What Matters by Emily Davison. You can follow her journey on Facebook, Instagram, Twitter, YouTube, and her blog. Submit your own story here and be sure to subscribe to our free email newsletter for our best stories.
Read more stories like this:
'She paused from petting and looked up at me, she said, 'Can he pray with me?' I said, 'Of course.': Woman says 'therapy dogs are desperately waiting to hear the words, 'It's time for work'
'A 3-legged dog and a one-armed wife? We even each other out!' Sandy was always meant to be mine.': Woman with anxiety disorder, limb difference finds 'angel' therapy dog
Do you know someone who could benefit from reading this? SHARE this story on Facebook with family and friends.