A well-trained service animal is an invaluable tool for helping people with disabilities function in the world.
Bridget Evans of Champaign, Illinois got her first service dog, a black Lab named Coal, when she was just 11 years old. She was born with spina bifida and needs a wheelchair to get around, so she personally trained Coal to help her with her mobility. With his support, she was able to finish high school and regain her independence!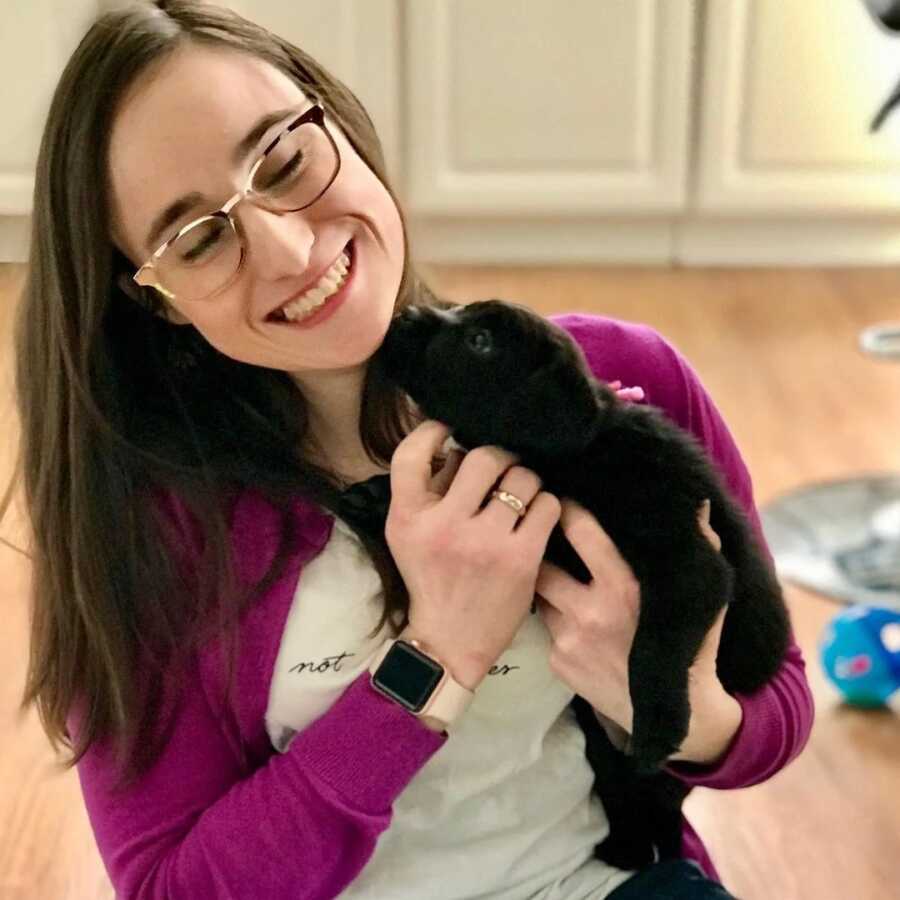 Training Coal herself was an eye-opening experience for Bridget. She realized how difficult it is for most people to obtain a service animal, and she vowed to do something to make it easier to access this life-changing assistance. In 2011, she started a nonprofit called Illini Service Dogs, which pairs puppies with college students for training. Once the pups are trained, they're matched with people who need them and are given away for free.
These days, Bridget's beloved sidekick is another black Lab, this one called Lily. Bridget has had Lily since she was a puppy and has trained her herself, and together, they can do just about anything!
Lily is a very special service dog, though. She doesn't just help her human; she also helps her canine sister, Kinley.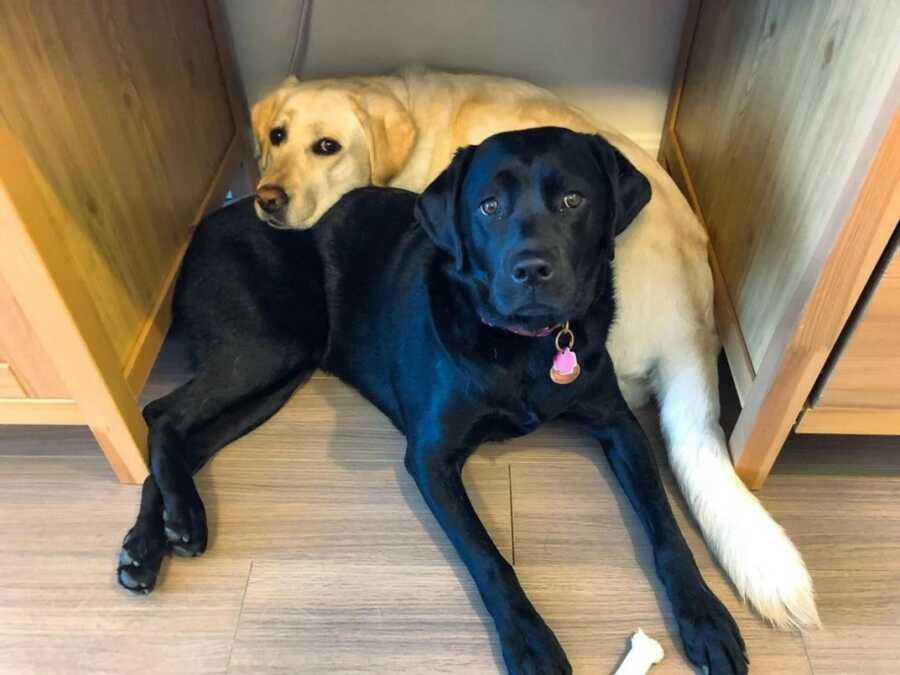 Kinley is a 9-year-old yellow Lab whom Bridget adopted when she was a puppy. Due to neurological problems, Kinley lost her hearing at just 6 months of age. She knows sign language and, with help from Lily, leads an incredibly full life of long walks and lots of cuddle time.
Bridget recently shared a video of how Lily helps take care of Kinley, and it's just too sweet. When Bridget tells Lily to "go get Kinley," the black Lab runs off to find Kinley and gently "boops" her to get her attention. Kinley then follows Lily back to Bridget.
"Kinley and Lily are best friends and spend most of their day playing with each other or cuddling on the couch together," Bridget said. "Since I am now working from home, we've been able to spend even more time together. The girls get along perfectly but there may have been one or two lamps that did not survive their zoomies."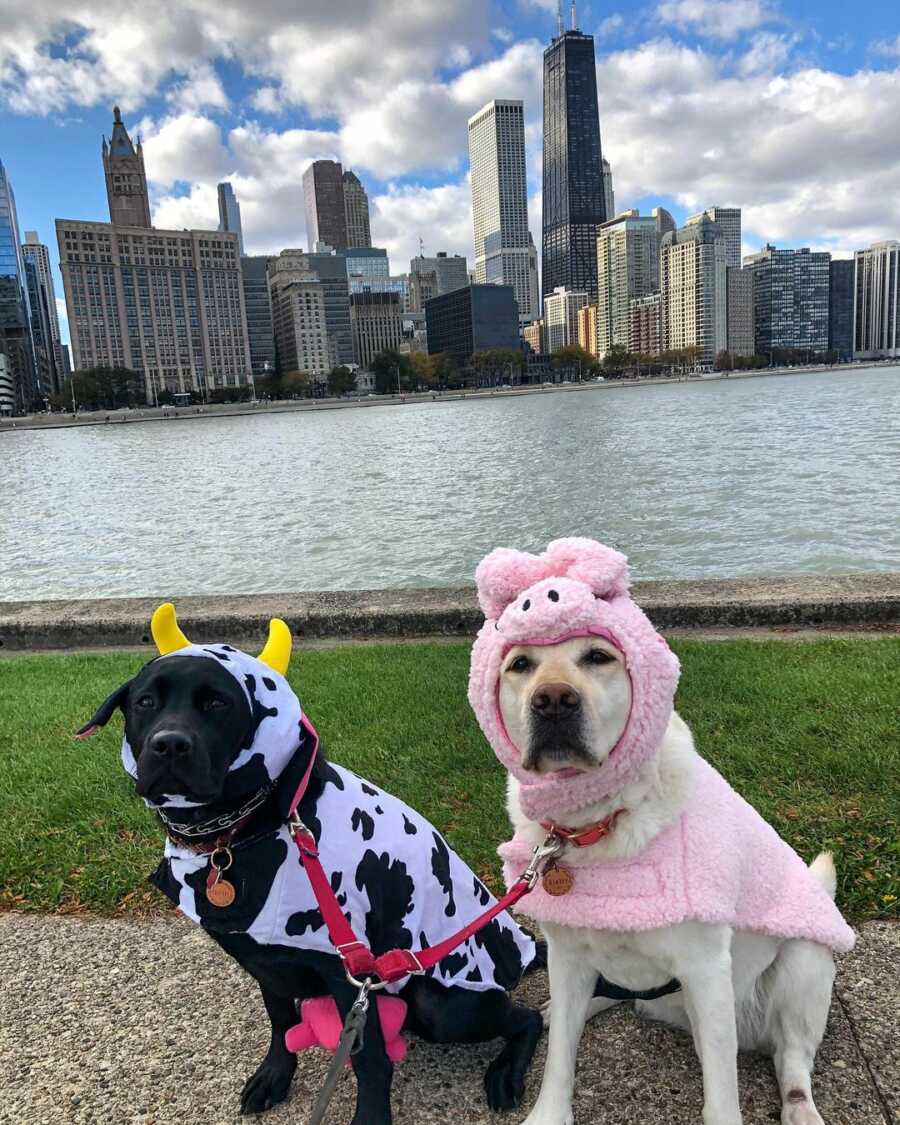 Bridget went on to say that humans could learn a lot from the way these two dogs love and take care of each other, and we couldn't agree more!
This story originally appeared on InspireMore. Submit your own story  to Love What Matters here, and be sure to subscribe to our free email newsletter for our best stories, and YouTube for our best videos.
Read more stories here:
'A living plush toy.': Dog with adorably unique Mickey Mouse ears is stealing hearts
'Dogs Are Family Too.': Hero Puppy Rescues Newborn Baby Abandoned In Garbage Dump
Golden Retriever Is So Gentle With Baby Bunnies That They Adopt Him As Their Mama
'It was meant to be.': Deaf man gives neglected deaf puppy 'forever home'
Help us show compassion is contagious. SHARE this story on Facebook with family and friends.