Our Love Story
"Brandon and I met in our 20s over a shared love of hamburgers and Jesus. Brandon was on staff at a boujie new burger place in Little Rock, called 'Big Orange,' and I frequented the establishment because I have no self-control when it comes to a bacon avocado burger. After frequently seeing this tatted up, bearded stunner at my favorite burger place, we actually ran into each other one Sunday before church—as fate would have it.
We were both scheduled to lead worship at the same church on the same day and I had no idea he even went there. We continued to bond over SNL skits, song-writing, New Girl, Matt Wertz, and more. He found out I worked at the church we both sang at and asked me for coffee. Seven months after that he proposed, and we were married five months after the proposal.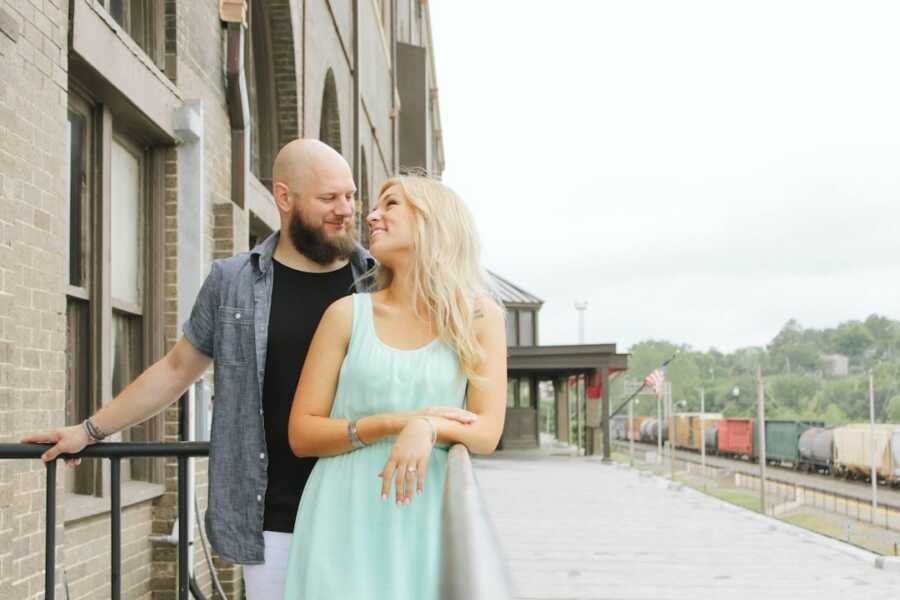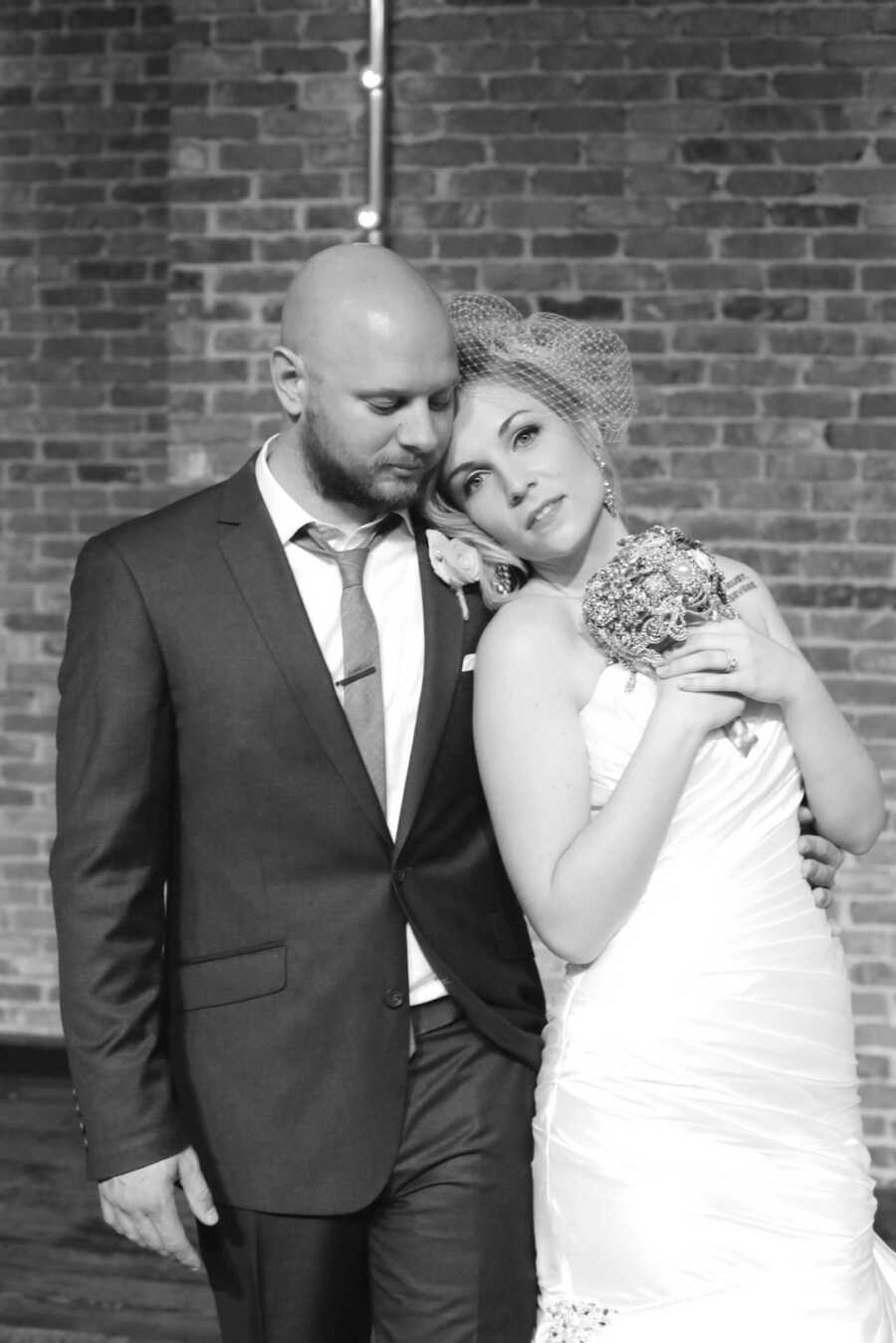 Over the course of our first year of marriage, we continued to lead worship on the weekends for our church and volunteer-pastor young adults in our city while we worked full-time jobs. We thought we would probably start trying to have a baby three or four years into our marriage but hadn't really talked about adoption being an option at this stage in our lives. I knew growing up I wanted to adopt children, but Brandon hadn't really expressed his opinions about it either way. He himself was adopted, so he obviously knew the ins and outs of that dynamic.
An Undeniable Calling
On our one-year anniversary, we attended a wedding out of town for Brandon's best friend. While he and I stood on the elevator waiting for the door to close, an adorable, scrawny 9-year-old girl jumped onto the elevator with big, bright eyes and bouncy, curly brown hair and told her caretaker in the hallway, 'I can just go with them!'
We had never seen this little girl in our lives but my husband was familiar with the caretaker as she was related to the bride. The moment she said, 'I can just go with them,' an overwhelming weight of sobriety and responsibility dropped onto us. We all froze and stared at her. The caretaker quickly said, 'You don't even know them! Sorry guys,' and took her off the elevator by her hand. When the door closed, my husband and I stared at each other in silence, quietly processing what just happened.
I texted my best friend that exact moment, 'I think I just watched Brandon fall in love with adoption.' We asked the bride about the little girl since she was with her sister. The bride let us know she was one of five children and was on a temporary visit with the caretaker. After years of abuse and neglect and parents whose rights were terminated, this little girl was the last one up for adoption. I won't share the extent of her trauma because that is HER story to tell.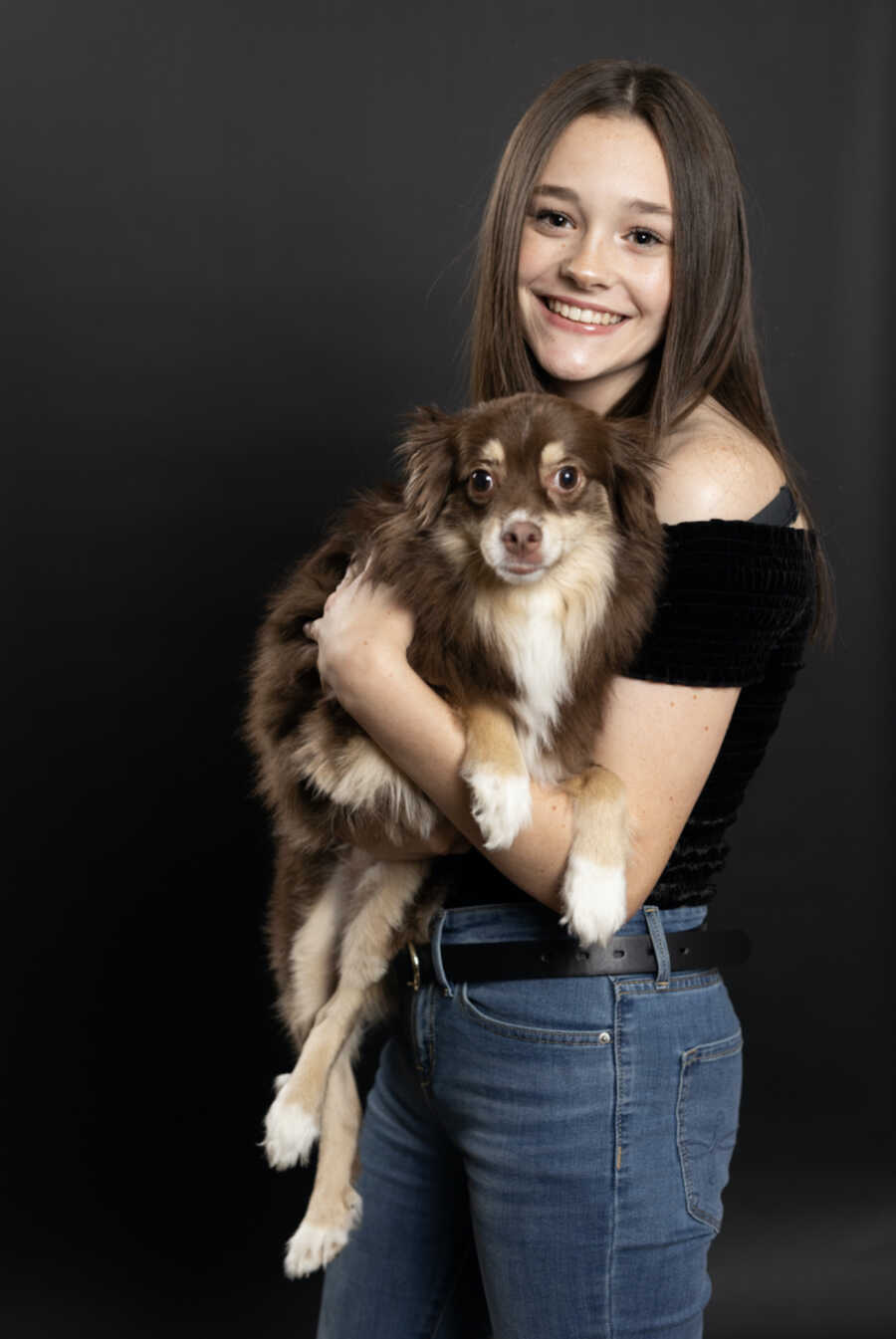 Brandon and I got into our car after the wedding and that's when he broke his silence. 'Now we know her story, we know what happened in the elevator. We either have to find her a family or we are that family, and we have to be open to both.' I remember being so scared and mad he said something because verbalizing it made it real and we couldn't ignore it and go on with our happy, easy lives anymore.
Now we had to take on someone else's hardship—a hardship someone else laid on her. A hardship that was never her fault, but was now—unjustly—her responsibility. It didn't make any sense. We'd only been married for a year. We had no biological children. No muscle memory of being parents. Ordinary. How in the world could we possibly help this child who comes with more pain than any person should see in a lifetime? She had already had a different family for nine years. Many families, actually. And in one moment, I was just as aware of my inadequacies as I was the weight of responsibility handed to us. And with the loudest peace, I could almost hear what Jesus would say, 'I, too, know some things about pain. But daughter, take heart for I have overcome the world and there is no pain deeper than my love can heal.'
The caretaker reached out to me the next day on Facebook, saying she could not deny what happened in the elevator. Apparently she felt it too. She shared a voice recording of 9-year-old little Jazmine saying, 'When I saw them on the elevator, a light hovered over them and told me, 'These are now your parents.' I was in shock. We all knew. It happened for all of us at the same time and we had to move forward with this alignment of fate.
Working Toward Placement
For the next 3 months, we had weekend play dates with her and the caretaker. On Christmas of 2015, we asked her if we could adopt her. She laughed at us when our love for her made us cry—and she still to this day laughs and gets uncomfortable when we do that—and she agreed. The next few months were a whirlwind of unknown, guessing, stumbling, and somehow succeeding.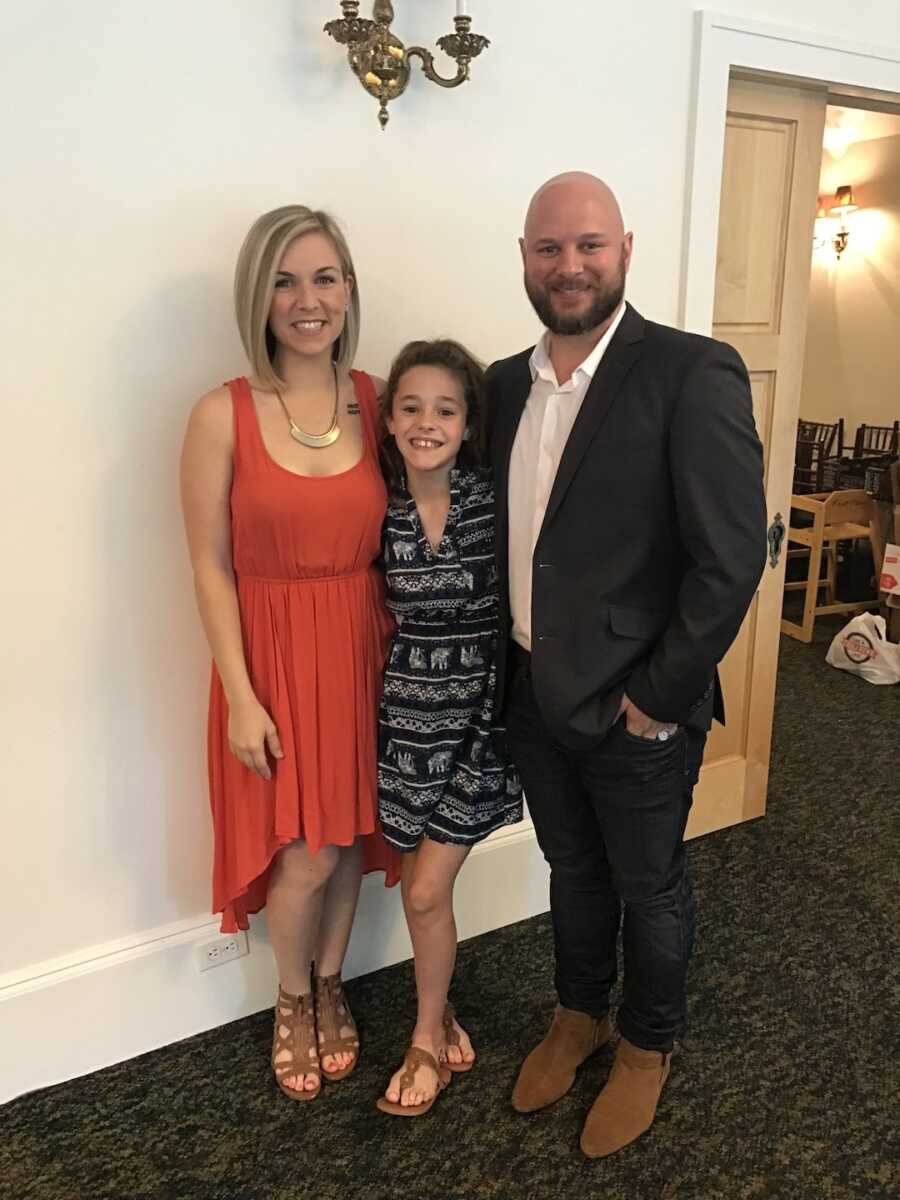 We scheduled a court date to meet with the judge of her case two months later to ask for placement to be in our home, and they advised us to get foster-certified so the placement could happen more smoothly, so we did. The fostering process revealed we couldn't get certified until we moved into a new place that had an extra bedroom. We had JUST signed a new lease on our one-bedroom apartment before we met Jazmine and it required $1,900 to break the lease. An anonymous donor paid for our lease to be broken and for the deposit for a new place. It was all starting to line up. Generous people continued to fulfill our needs for furniture and clothing and it was overwhelming. I would sit on the floor of her future bedroom night after night while we waited and just cry and pray her room would be a place of peace and belonging.
We traveled deep into Texas and met with the judge, asking for Jazmine's placement into our home. While many emotional words were shared—there wasn't a dry eye in the house—Brandon said, 'Blood or not, my children are my children,' and the judge (apparently a Christian woman) replied, 'The spirit of God has confirmed to me you are her new parents. As of today, she is granted placement with you until the adoption is finalized.' It honestly felt like a historic, monumental moment—something so divine it could've come from the Old Testament.
We traveled back to Arkansas, gathered her things, and moved her into our new, two-bedroom apartment. We were in that apartment on a 6-month lease as the THREE of us shopped around to buy our first home. I remember one day after we bought our house, we were leaving Home Depot with renovation supplies and she said, 'I can't believe it. I've always dreamed of living in a home that has bricks on it. I can't believe I live somewhere that has a mailbox. Like a real family.'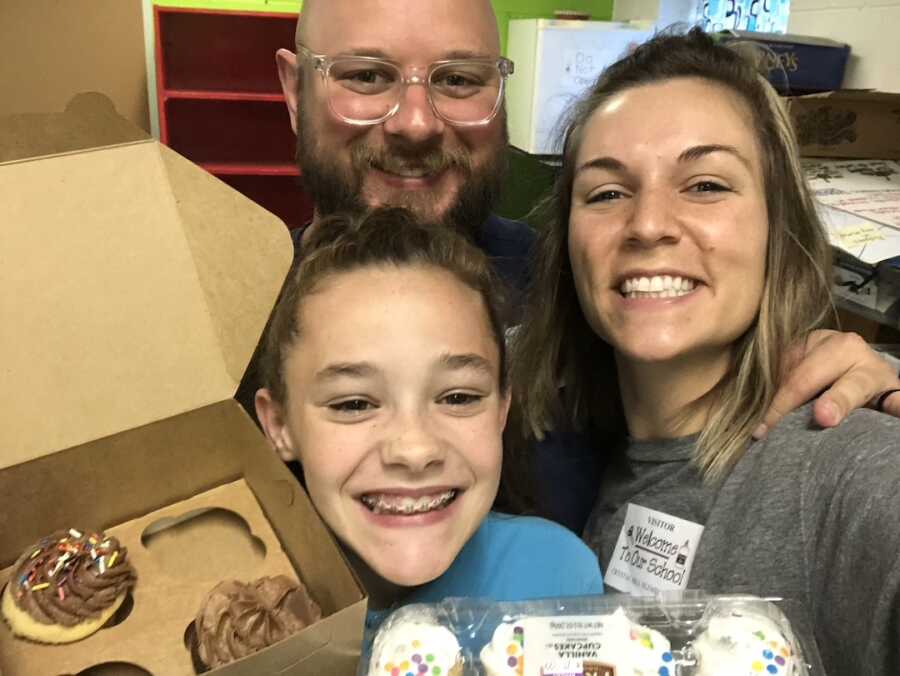 Finalizing Her Adoption
Brandon and I were brand new to being parents. And before that, I felt like I was brand new to being an adult in general. And here we were, a family of three, creating a home in our first ever house while we waited for the adoption day scheduled for November.
National Adoption Day came around November 12, 2016, and our adoption was scheduled with the judge via Skype. Brandon's family and my family all gathered behind us in the living room as Brandon, Jazmine, and I sat on the floor in front of the TV. What we didn't know was the entire court dressed up as superheroes that day so we were dumbfounded when the Skype call started and a female judge dressed as Batman filled our screen! After a good laugh, the proceeding was short, quick, and final.
We all celebrated as she took on the last name Payton. When the Skype call ended, we all just looked around with tears in our eyes like, 'What do we do now?' We grilled out, took pictures in our matching t-shirts, and enjoyed the day.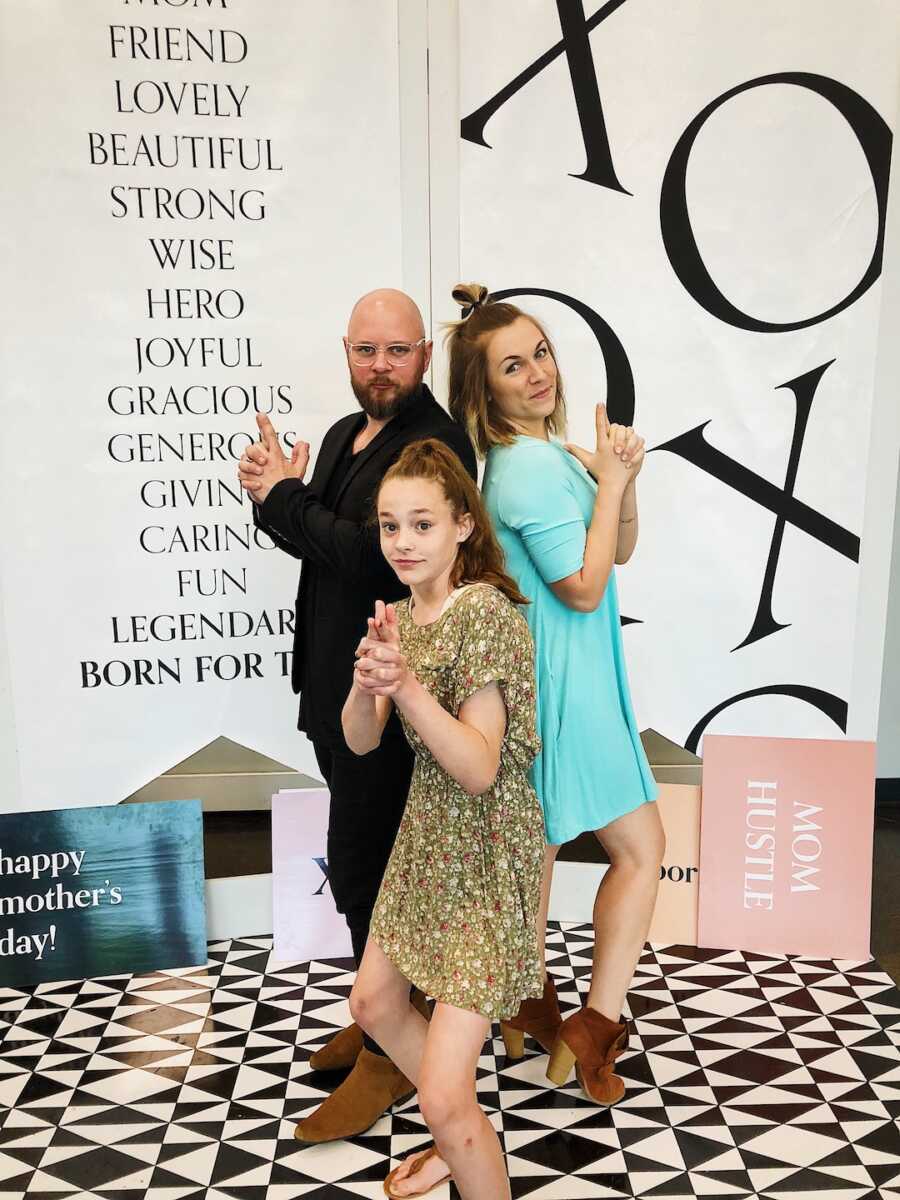 Creating Our Own Healing
'What do we do now?' became the mantra for our parenting journey and I have since learned it is a shared mantra for most adoptive and biological parents. When we are asked how the transition period was, I really didn't know how to answer because I feel like every single day is a transition period. While we were trained in fostering, we were not well-versed in the lasting effects of trauma or how it presents itself in the day-to-day.
We felt ill-equipped when PTSD would flare up and she would get aggressive without remembering it the next day. She needed specialized care and we had no idea how to find that. We asked our church but they weren't used to families adopting children, so they didn't know. We asked our friends but they were in their early 20s, none of them had children, and they had no advice to offer. We asked parents of kids in her grade, but all of them were 15 years older than us and their children were biological and they couldn't understand her behavior or trains of thought. We felt so alone. We realized we had to forge our own path.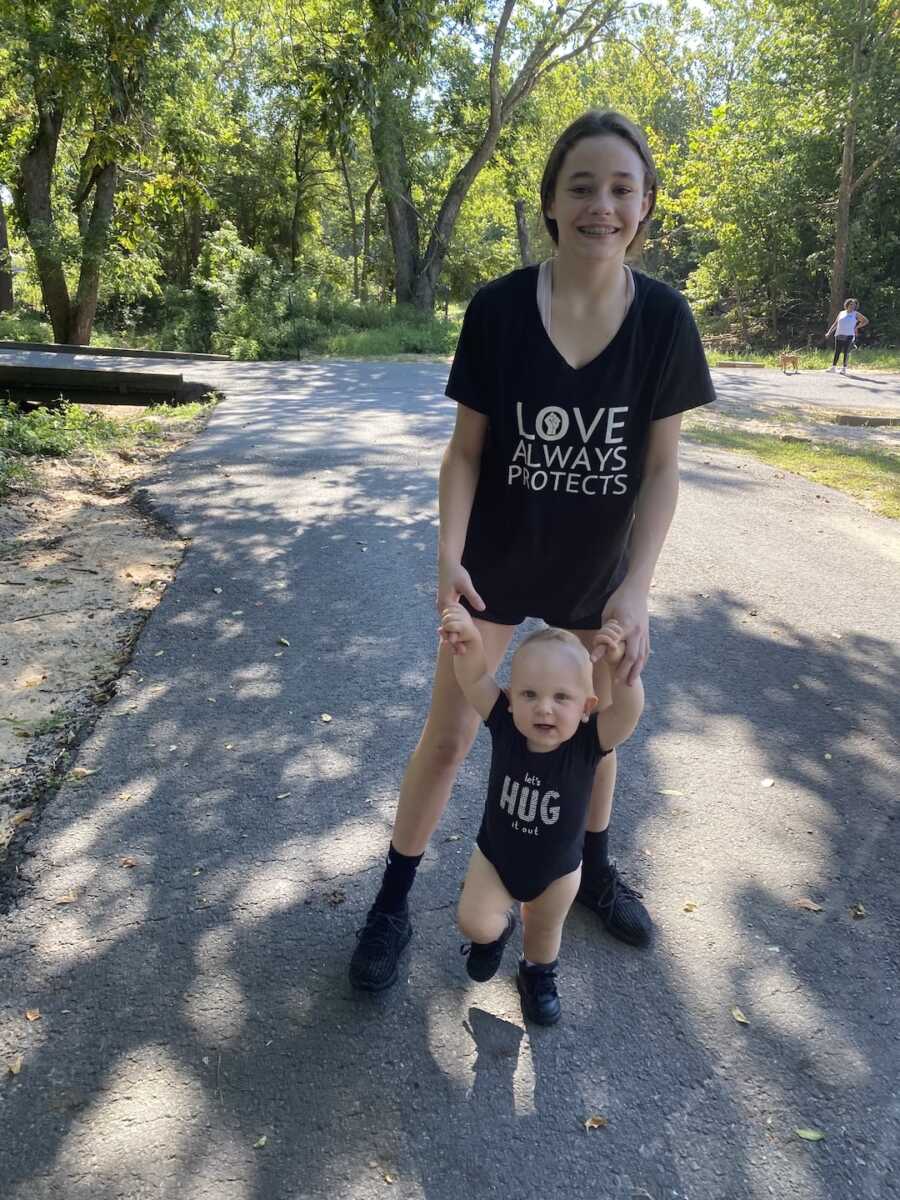 We had to create our own pipeline of healing and togetherness for our family. We went through about a dozen therapists as they continued to drop her as a client because they felt ill-equipped to help her psychologically. But we never gave up and kept finding another therapist. We lost some friends because we were no longer relatable. While our friends were jet-setting around the world or headed to bars late at night, we were searching for discounted uniforms, trying to schedule appointments for braces, and keeping a bedtime routine. We felt so alone for years but we had each other. When you exhaust all options, it's time to become your own option.
We have since found support in various places to strengthen our longevity as a family and our enjoyment of one another. We found a support group of other adoptive families who meet once per month through an incredible program in Little Rock called 'Immerse Teen.' This program also supplies mentors for each adoptive child and various events for them throughout the month so they can bond together through shared experiences.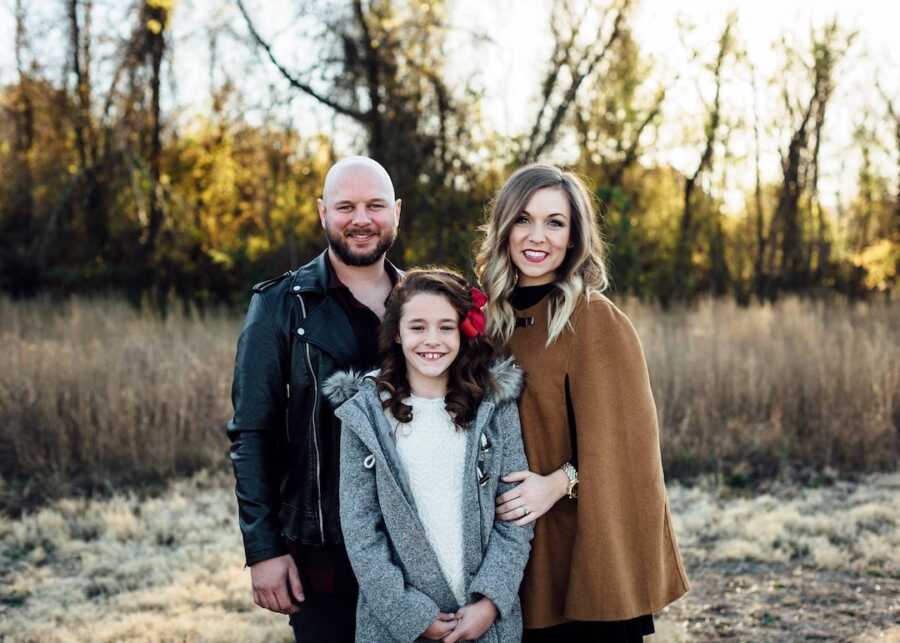 Finally, for the first time in six years, I have felt validated AND valued in my experience as an adoptive mother when I speak with other moms who are like me and have frequent officer visits, residential treatments, coregulating exercises, and Medicaid. We now have the support of the justice system through a F.I.N.S. Petition (Family in Need of Services) when our family consequences aren't enough to give her a sober understanding of obeying the law.
Her probation officer is able to meet with her monthly and we meet with the judge every three months for continuation of care. I meet with my own therapist weekly to heal second-hand trauma and better equip myself as a loving member of society. We now serve the community as a family every week at Healing Waters Outreach Center—feeding the hungry so we don't get too wrapped up in ourselves. We stopped doing what everyone else said we should do to have a 'close-knit family' and we decided to just do whatever we could with whatever we had. We created the support we needed, one initiative at a time.
The only consistent thing that existed throughout our entire journey as a grafted-together family is what worked for other people never worked for us. We had to make it up as we went. I would get so discouraged because 'it wasn't working' and that feeling would overwhelm me and isolate me.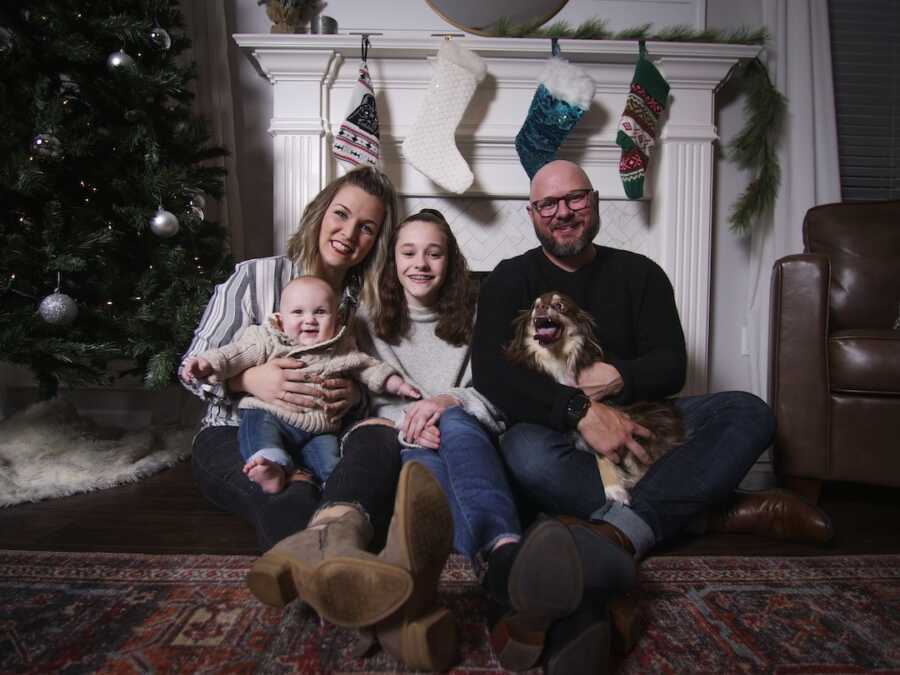 Advice For Adoptive Families
My advice to families considering adoption is this:
1. Get your own weekly therapist and don't lie to them about how you're really feeling.
2. Antidepressants are not a big deal—do whatever you need to do in order to be the parent your kid needs—it's the best decision I've ever had.
3. Your story is as unique as eternity is long, so take other people's advice as suggestions and write your own story.
4. Attend the support groups in person, not just online, because love and shared experience is stronger and more effective in person.
5. MOST people will not understand you or how insanely unpredictable your parenting life is, but remind yourself your purpose is not to be understood but to love.
6. Don't go into adoption thinking this is a step to creating your ideal family because adoption is actually about securing a loving future for the child—kids aren't pawns, they're people. This will be the hardest thing you've ever done but it will also be the most 'worth it' thing you've ever done. So my closing piece of advice is this: don't give up. When option A and option B don't work, become option C—become the new option.
Jazmine is now a thriving high school student on the track team and she is a loving older sister to our biological son, Liam, who is three years old. She has big dreams to become a nurse, feed the hungry, and hopes to get her driver's permit this year. She loves Tik Tok dances, ramen noodles, Taki's, playtime with her brother, long walks with her mom (me), clothing design talks, and shopping with her dad, Brandon. We love her and are overwhelmingly proud of the person she is, what she has overcome, and what she has to offer this world because she is truly one of a kind."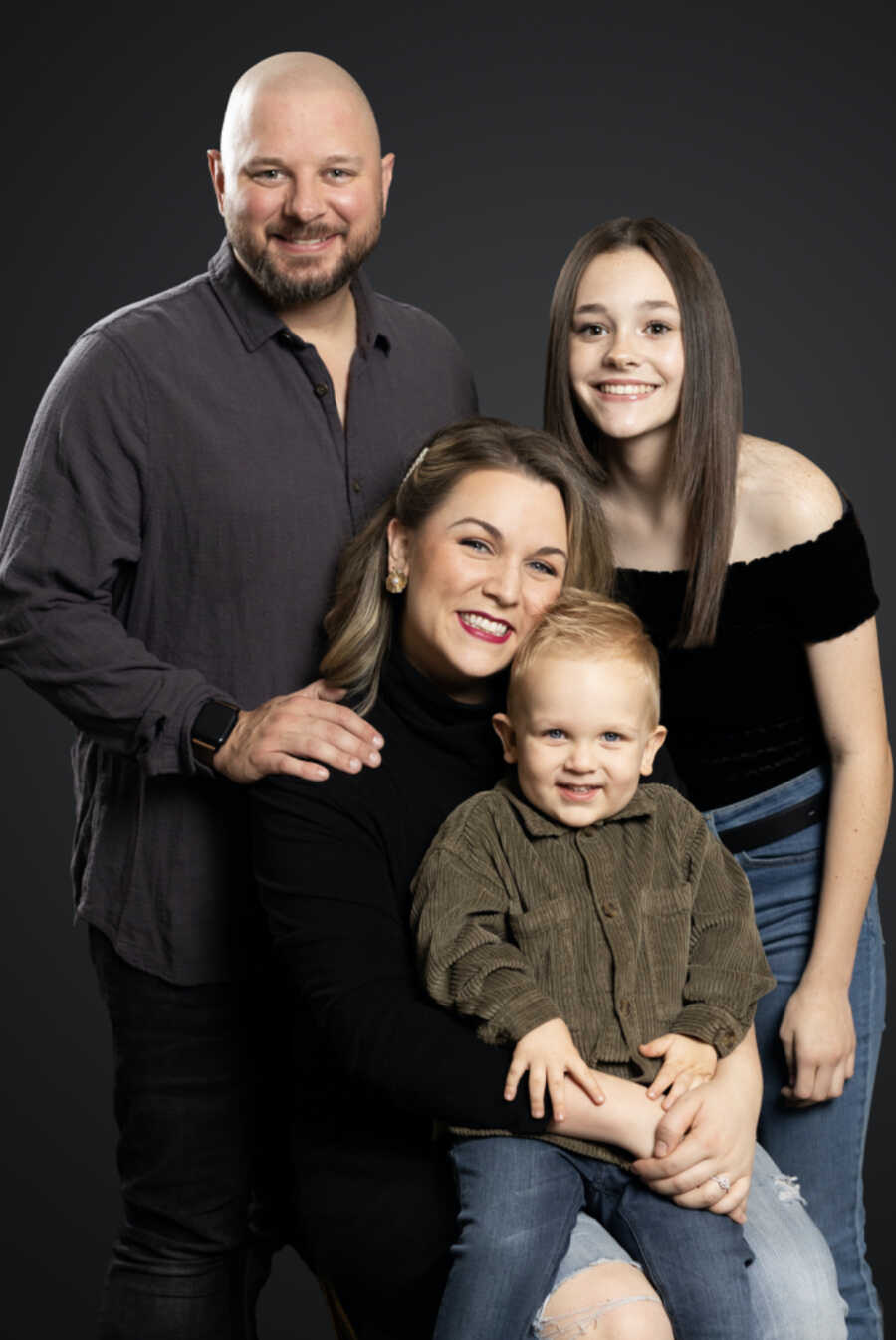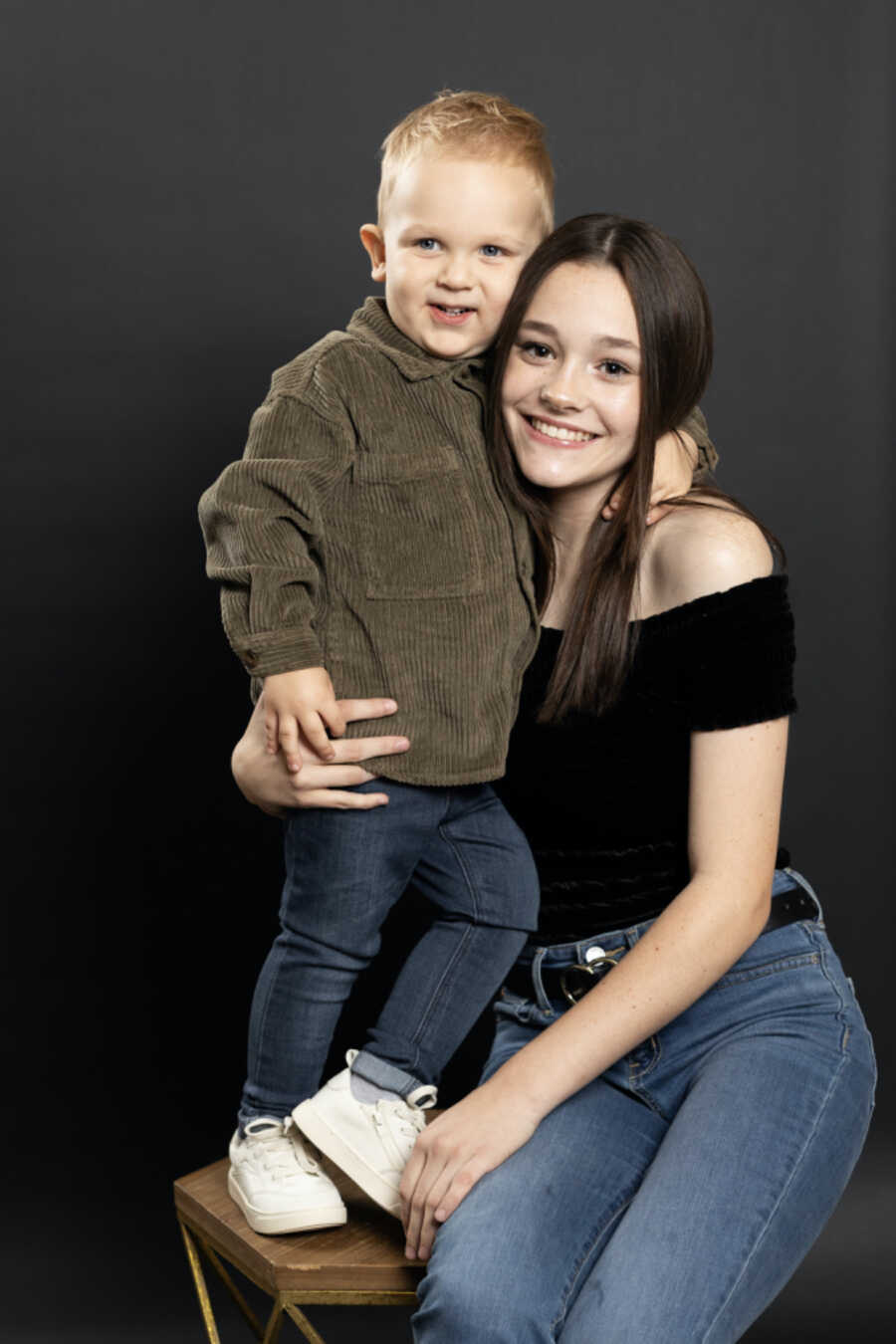 This story was submitted to Love What Matters by Kelsey Payton of Bryant, Arkansas. You can follow her journey on Instagram and Twitter.  Submit your own story here, and be sure to subscribe to our free email newsletter for our best stories, and YouTube for our best videos.
Read more stories like this:
'I love you,' June said to Ivy before anything else. All our struggles were worth it.': Mom shares beautiful international adoption story
'I was a failure as a woman and a wife. I had to 'fix' what was wrong. Then it all became clear. 'Oh gosh, this is it.': Woman shares touching adoption story, 'She is ours and we are hers
'I was only 16. I brought my stuffed Eeyore for comfort, a child giving birth to another child. I wanted different for her.': Mom shares open adoption story, 'Our families are bound together'
'I could tell by her tone things weren't good. 'You'll need to prepare for her to come pick him up.': Mom shares journey through 3 failed adoptions to adoption of baby girl
Are you or someone you know looking to adopt? Please SHARE on Facebook to make them aware there is a community of support available.