"I did my first story on the coronavirus pandemic in the beginning of March. By July, I became part of the story.
I am a reporter and sports anchor for a local CBS affiliate in Savannah, Georgia. For months, I reported on COVID-19; everything from how it impacted local sports and business, to people who shared their own stories with me. I knew it was real. I knew it was scary. I knew it could impact me, but I didn't realize just how much.
My birthday week coincided with the RBC Heritage golf tournament on Hilton Head Island, South Carolina. I was thrilled. It was the first live sporting event I was getting to cover in months and a big deal for our viewing area. Ironically, my stories that week mostly centered around COVID-19: the mobile testing lab the PGA Tour traveled with, how spectators were few-and-far-between due to the pandemic, I even covered the first positive test on the PGA Tour.
My birthday was June 19th. I turned 27 and was healthy with no prior existing conditions. The following day, I interviewed a group from Charleston, South Carolina, which at the time, was a growing hot spot. I didn't know it then, but one of those spectators was COVID-positive.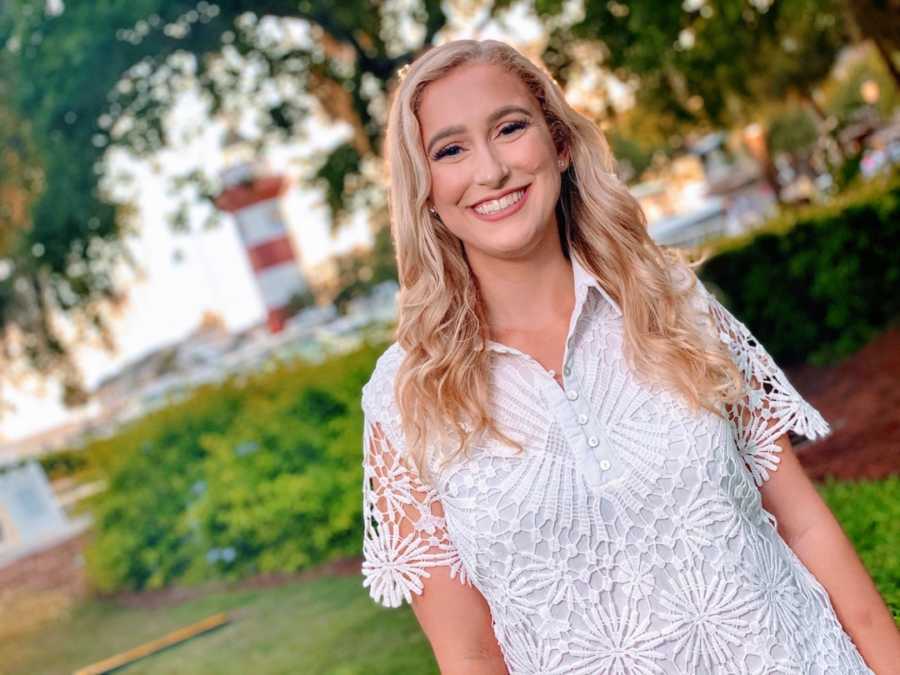 The evening of June 20th and into the 23rd I was tired; I chalked it up to only having one day off and a long work week in the hot sun on the golf course. It wasn't anything too out of the ordinary. Until it was.
June 23rd in the late afternoon I began to feel the 'flu-like symptoms.' It started as congestion, a slight cough, sore throat, then progressed to body and muscle aches, chills, loss of taste and smell, weakness, and nausea. From the 23rd on, I began isolation.
I called in to work on June 24th. The 25th I tried to get tested by the Department of Public Health on the 25th. I mustered my strength and drove to the drive-through testing site only to find that they had run out of tests. I returned early the next morning on the 26th– waited four hours and got my test.
On June 30th I got the answer that I already knew deep down: I had COVID-19. I was now a statistic.
I continued to quarantine, and while my symptoms were worse than the flu, I never had trouble breathing, or a fever.
By July 4th weekend, I was feeling better, and hopeful I could return to work on July 8th, but that Tuesday, things took a turn. I began to have severe abdominal pain- so much so, I almost couldn't sit up or lay down. I had night sweats, lack of appetite, and increased symptoms. I gave it two days to improve, but it didn't. At one point, I nearly passed out trying to take my dog to use the bathroom.
Thursday, July 9th I called my primary care physician. They sent me to Urgent Care. After waiting at Urgent Care, they sent me on to the Emergency Room. Months later, the provider who sent me to the E.R. told me I was lucky to be alive.
When I got to the E.R. I was waiting outside, as many things in 2020, the waiting room was closed. A nurse saw I was clearly in pain and took me straight back. The E.R. was surreal with everyone in full PPE. I had seen it on video, after all, I am a reporter, but to see it in person is like entering a different world.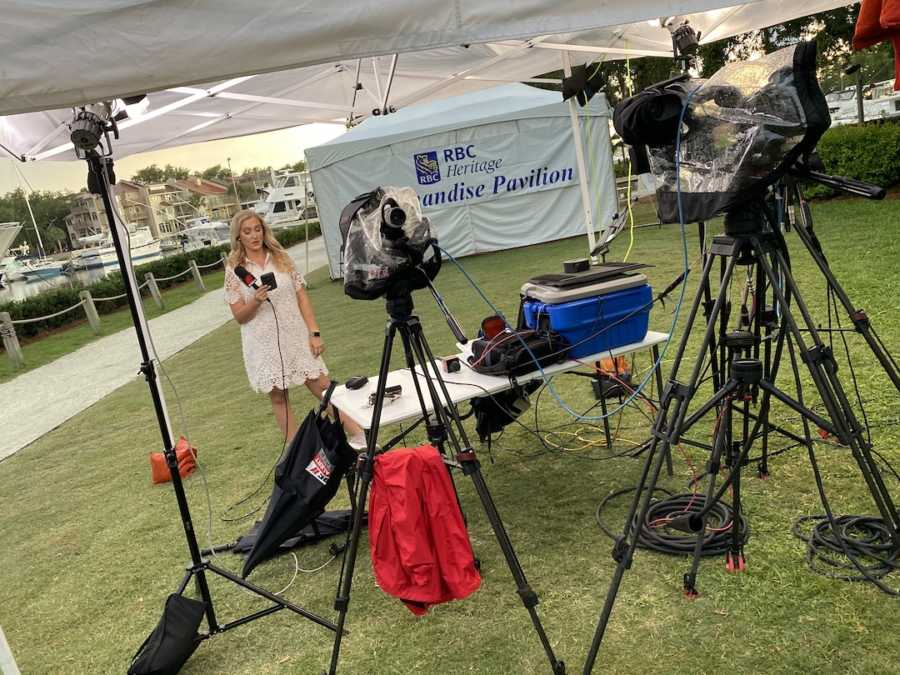 I went in thinking that I would get some pain medication and IV fluids and be on my way- that was not the case. After a CAT scan and some other tests, the doctor came in and told me they were calling in a surgeon, the best they had, because my appendix had ruptured, and needed to come out NOW.
Prior to surgery, I was given a rapid COVID test: still positive, more than two weeks later. The doctors told me normally, they wouldn't operate on a COVID-positive patient, but this was necessary. Through tears, I called my mom who was states away, to tell her I was heading into emergency surgery within the hour, but don't worry about making it down to Savannah- I am positive still, so no visitors.
The last thing I remember, is being wheeled through back hallways through the hospital to avoid as many people as possible, and a nurse stroking my head through a clear encasing over my head (to protect the operating room team from me possibly infecting them) and telling me it was going to be okay.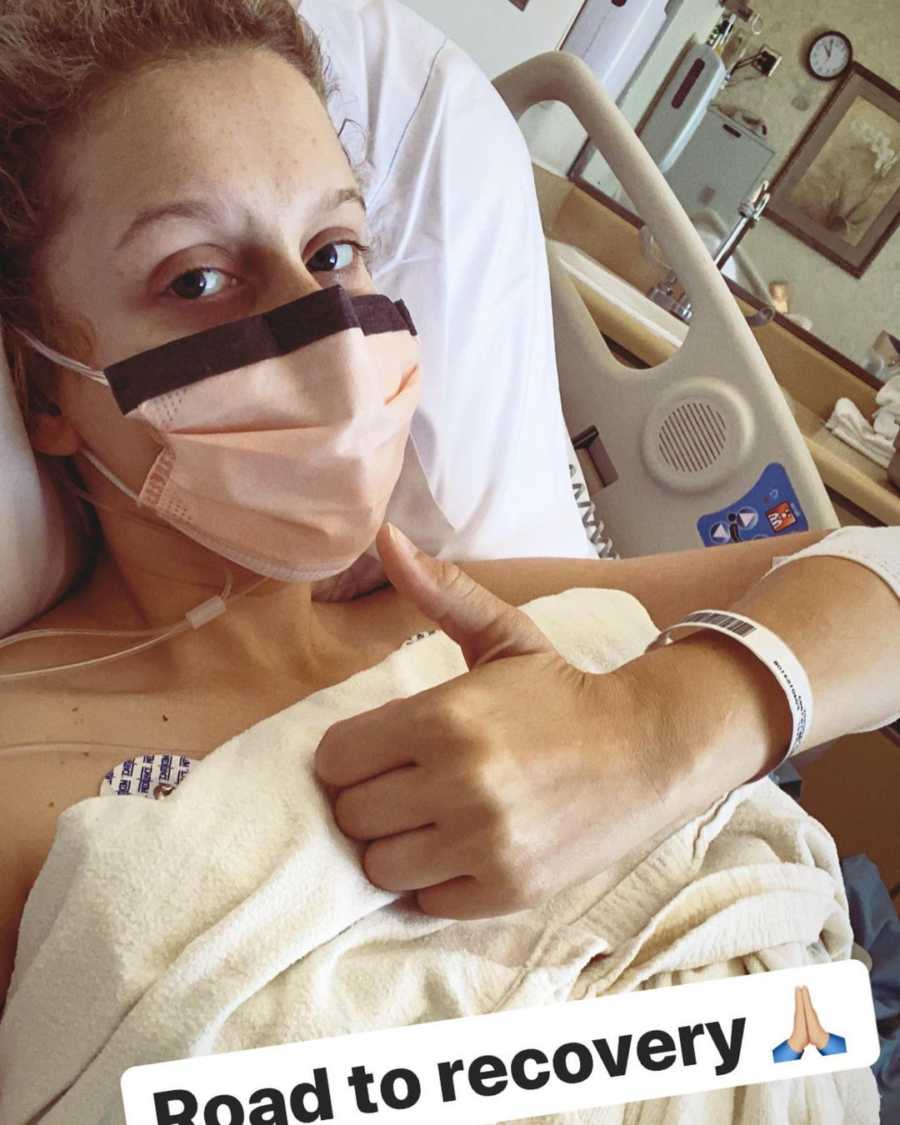 When I woke up, I was alone, in a dark room in the COVID ward. I later learned I was one of more than 30 patients on that floor that week (my newsroom tracks the numbers). I was obviously confused, but later learned more about what had transpired.
My surgeon's words will always stick with me: 'COVID was a lightning strike to your body.' My body was trying so hard to fight coronavirus, that my appendix ruptured and caused a massive infection in my abdomen. They removed my appendix, secum and part of my colon. I had three incisions (two where they tried to go in laparoscopically, and one large one) along with 17 staples down my stomach. My doctor told my mother of his decades of doing appendectomies, he had never seen an appendix like mine: hard like play dough left in the sun and the size of a baseball.
I spent 11 days in that room, but truthfully, I don't remember the bulk of them. I had an NG tube two different times. Most of my stay I couldn't have any food- I only got solid food on the final day. I had people come in every two hours around-the-clock to prick my finger and check all my vitals. I had my blood drawn each morning and night and a shot in my stomach to go along with it. My fever was high, and I was on oxygen.
I had no visitors and half the time my throat hurt so bad from the tube I couldn't call or FaceTime either. Waves of social media messages (mostly kind) poured in and became my 'lifeline' of sorts.
I remember sobbing when I finally worked up the nerve to look at my stomach.
Once I was discharged, my body was unrecognizable I had lost so much weight. My clothes hung on me. I still had a long road to recovery.
After numerous doctor's visits and days of sleep, I returned to work 74 days later on 'light duty.' Ironically, my story was a young football player fighting COVID.
Months later, I still feel the fatigue and headaches. I'm alive with a big scar and a testimony. Looking back, I was in much worse shape than I realized (which was probably for the best). The fact that me, a healthy 27-year-old came near death, is terrifying.
I feel grateful for all the doctors and nurses that cared for me- and for those health care professionals everywhere, that are risking their lives to battle this virus.
I was guilty of thinking that if I got COVID, I would be really sick for a few weeks, and then get over it and move on. That simply wasn't the case. I took precautions. It still happened to me. My hope and prayer is that people are as careful as they can possibly be to slow the spread.
I almost didn't go to the E.R. that day. I wasn't sure if my symptoms were 'normal' and I just had low pain tolerance. I thank God every day I went. Always trust your gut, even if it is infected."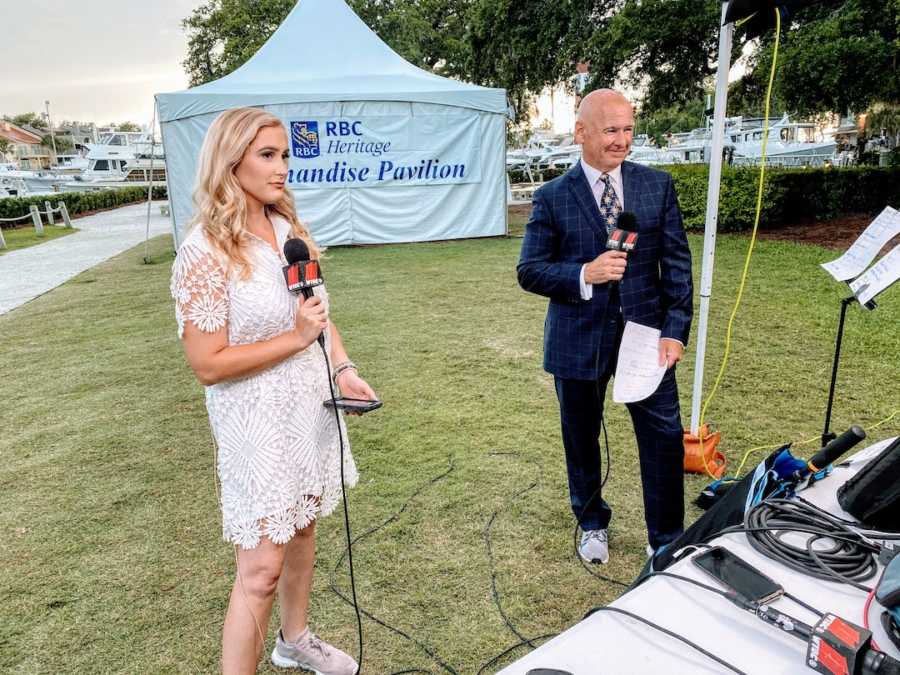 This story was submitted to Love What Matters by Lyndsey Gough. You can follow her journey on Instagram, Facebook, and Twitter. Submit your own story here and be sure to subscribe to our free email newsletter for our best stories, and YouTube for our best videos.
Read more stories like this:
'My daughter called me from a party. 'Mom, I'm violently throwing up. I swear I'm not drinking.' She went from asymptomatic to waking up at 3:00 p.m. every day.': Mom details daughter's journey with COVID-19
'I'm not scared of getting the virus. I probably won't die,' they say. I survived, and now I'm battling post-viral syndrome.': Woman diagnosed with Myalgic Encephalomyelitis after COVID-19 recovery
'I knew the test was positive before they even called. I'm FaceTiming him from the other side of the house, just to tell him I love him.': Woman asks for prayers after healthcare worker husband's COVID-19 diagnosis
'Your girl looks sleepy,' I knew something was wrong when a doctor, not my normal midwife, came in.': Scary birth of miracle baby born during Covid-19 leaves mom 'overwhelmed with gratitude'
SHARE this story on Facebook with family and friends to let others know a community of support is available.