"A letter to my Beautiful Brown Son (Landon),
We had our very first racial encounter today and I experienced the very same pain I have been hoping I would never have to experience. I have thought of what would happen in times like this from the moment I knew you were in my belly. I'm ugly crying as I write you this letter, not because I'm hurting but because I am proud. Proud that you were chosen to be my Black and Mexican- American son, proud that I was chosen to be your Mexican- American mother.
There are many things I will teach you but one thing I, as a Mexican mother, cannot teach you. Being African American is one of those things. So, today we were walking around a resort in Corona Del Mar when a little boy saw you and yelled 'You're brown, you're not supposed to be brown!'.
My heart dropped to the floor. You had the most innocent look on your face. The boy's mom quickly said, 'He is brown, but he's beautiful.' The little boy yelled again 'No, he's not. He's not beautiful because he's brown!'.
In the moment, I couldn't even open my mouth. I couldn't process what had just happened. As I think back on it now there are so many things I could have and should have replied to him and to his mother who didn't make the situation better by commenting on your Nikes and calling them 'cool shoes'.
Lady, there's no coming back from your 7-year-old son being taught that my 4-year-old 'Brown' son isn't Beautiful! As soon as we got into the elevator, I kneeled down held both of your hands and told you to look me in my eyes and repeat 'I am Brown and I AM BEAUTIFUL.' I told you that no matter what anyone ever says to you, you are the most beautiful kid I know. And that as long as you know that, those kids' words should never have an effect on you.
As a single mother of a mixed child this has and always be my biggest fear. Being who you are and being yourself cannot be taught. You cannot teach a person to be a girl, you cannot teach a person to be a boy, you cannot teach a person to be straight, gay, Black, Mexican, tall, short, fat, skinny. I can teach you your roots and educate you, but I cannot avoid the racist experiences that will come your way as you get older that I may or may not understand. The best I can do is teach my you to be a strong, independent man who knows his value and worth. And I promise to always try to do that. But after today, my mindset has really shifted. I had to face my biggest, biggest fear. I wasn't prepared to speak on it but from this moment forward I will be.
My heart is really broken from this. I love you so much and I will always, always, always have your back, my beautiful brown baby.
Love,
Your Mother (Ashley)."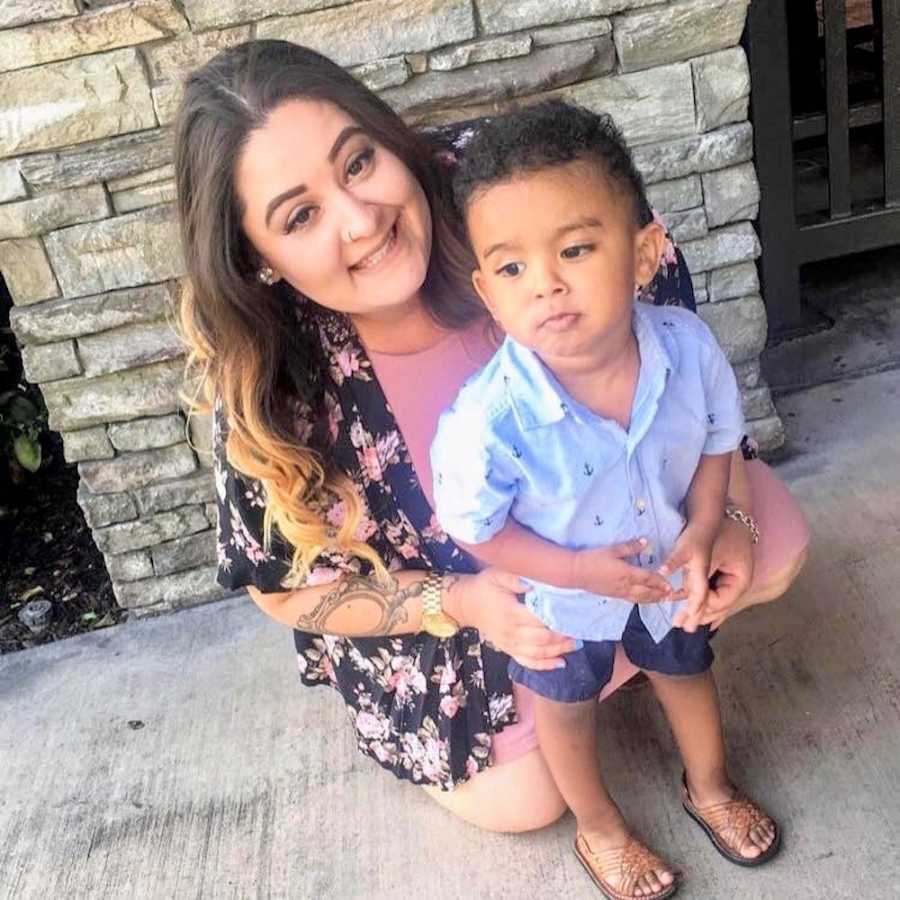 This story was submitted to Love What Matters by Ashley Gonzalez, 28, of California. Follow her on Instagram here. Submit your own story here, and be sure to subscribe to our free email newsletter for our best stories.
Do you know someone who could benefit from this story? Please SHARE on Facebook to let them know a community of support is available.