"One year ago today, the kindest, most gentle, most loving man I had ever met, took his last breath on Earth and went to his forever home in Heaven. A huge part of who I am went with him that day.
He made sure we would have plenty of things to laugh at, from his ridiculous requests of where to spread his ashes, to all of the crazy stuff he had stashed away in this house when he died, that we found while cleaning it out to sell. Even after he died, the Amazon orders he so loved kept rolling in. He loved mail. I let it pile up for months after he died because it was his to open, and he wasn't here.
Life without him is not what we planned. He used to look at me and smile and say, 'I can't wait to see you old and wrinkly.' His plan was to work for the railroad for 30 years, then retire and watch our grandchildren play. Any railroad wife knows you suffer through the long years to get to the sweet retirement, but he didn't make it that far. He couldn't wait to see Quinn grow up. He doted on her and loved her so much it made my heart explode. He provided us with the best life he could, and we wanted for absolutely nothing. He didn't take anything too seriously, and when I say he lit up every room he walked into, he did. His head was always on a swivel because he was always looking for excitement. When Matt was around, the fun began. You never knew what was going to come out of his mouth, and he instantly disarmed everyone with his quick wit and charm. If you weren't his friend before, you were by the time he left. His personality was magnetic and rare. He could make anyone love him.
A huge part of Matt's life was giving. He would do it quietly, never wanting a second of recognition for it. Over the years we were together, I watched him quietly pay bills for people, send people things anonymously when he knew they were in need, and bail friends out of issues they couldn't handle themselves. He was just so good. There wasn't a single person he helped that he did with any expectation of return. When I was very pregnant with Quinn, and we didn't have two pennies to rub together, our 'treat' was Arby's one night. It was so cold, and the employees were trying to kick a homeless man out of the restaurant in Atlanta. He walked to the register, bought him a meal, sat it down in front of him, and told him to eat real slow and stay as long as he wanted. Then, he came back to the table and quietly ate his own food. There was no one who was immune to the goodness of Matt's heart, because that's who he was day in and day out. When he was diagnosed with cancer, our entire community rallied around us and carried us, and this humbled him every single day. He would sob with gratitude. He wasn't used to being on the receiving end. He felt things deeply. He felt the pain of other people and was always trying to fix it for them or make it better in some way. He was good in a bad world.
There was no better person to have in your corner in life. I used to tell people, 'Oh, you love your husband? Because I LOVE my husband.' We had seen each other at our absolute worst, and we had faced hardships that never broke us. We weren't perfect. I'm a difficult person to love on a good day, but he did. Right up until his last breath, he did. He could see a silver lining where I couldn't see one. He could take the worst situations and make them better, usually with humor. His instructions for our family were clear when he knew death was coming — move on, love, live, and laugh — because he believed there was humor to be found in every situation.
Cancer didn't stop him from playing Alexa on 10 and dancing around the house. Cancer didn't stop him from being the best dad he could possibly be to Quinn. Cancer didn't take that quick wit and charm. If anything, cancer magnified who he was and what was important.
He lived life as if he knew his time on earth was limited. He loved speed, and one of my biggest regrets is saying absolutely not to the 'motorbike' he wanted. I was convinced he would kill himself on it. I should've just said yes.
I see him in Quinn every day. She is the most wonderful part about him. All of her quirks and weirdness are a mix of us both, but her great big heart and her ability to make everyone fall in love with her came straight from him.
It breaks my heart every day she has to live in a world without him. It breaks my heart she won't have her daddy there for the important moments. It breaks my heart she has to hurt because he's gone. I can't even put into words the pain of that, because it's insurmountable, even a year later. That's the biggest and most raw pain of all.
Many of our friends have asked what we're going to do today. Balloon release was suggested, but Matt would rather die than hurt an animal. Today, we will eat Oreo cream ice cream, because he loved it. We'll take a fast ride on his favorite curvy road. We will watch videos of him, just to hear his voice, and look at old pictures of him. We will let the love of God hold us like we have every day since he left this Earth for heaven.
Today, as you go through life, remember him. Remember his spirit, his smile, his unwavering love for people and for what's good in the world. Do something kind for someone else. Be someone's happy, because he was always someone's happy. Make an inappropriate joke. Laugh too hard at something. Don't take anything too seriously. He didn't, and it served him well in his 35 years.
He loved gentleman jack and coke. He loved America. He loved England. He loved chocolate. He loved tacos. He loved guns. He loved singing and dancing. He loved his family with his whole heart. He loved cars, especially fast ones. He could take a car apart and put it back together with relative ease. He loved his job. He loved candy. He loved laughing. He loved life, and he loved Jesus. He may be gone, but his spirit lives on in the heart of a little 7-year-old fireball who is exactly like him.
Matthew James Smith came crashing into this world on April 5, 1984, and he left it a whole lot darker on August 10, 2019.
I'll love him forever."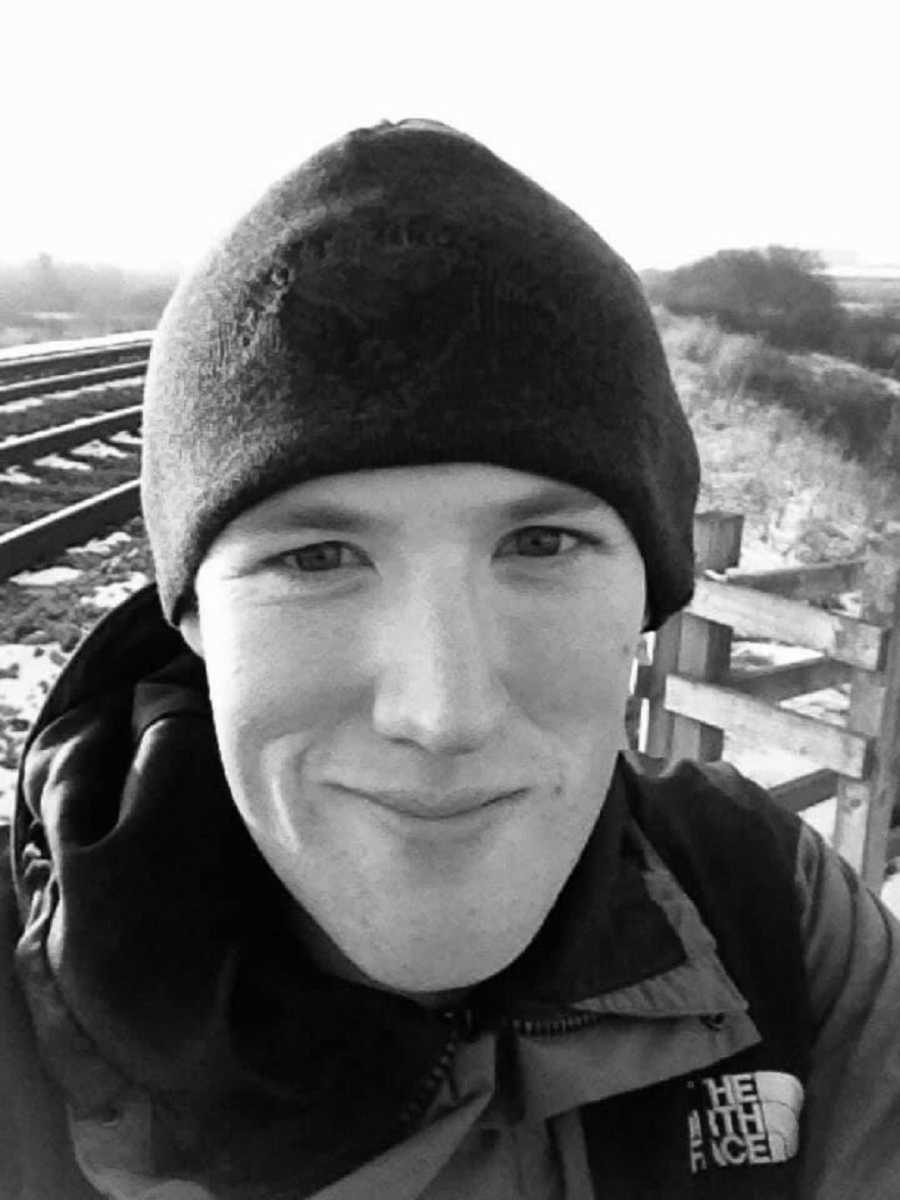 This story was submitted to Love What Matters by Cyndi Smith of Moody, Alabama. Follow her journey on her website here. Do you have a similar experience? We'd like to hear your important journey. Submit your own story here. Be sure to subscribe to our free email newsletter for our best stories, and YouTube for our best videos.
Read more stories from Cyndi:
'I feel like I'm dying.' He started going downhill. He was diagnosed with the flu, and sent home to rest.': Woman loses young husband to incurable colon cancer, 'I know how much he loved me'
'I carried his ashes. I carried them in a box all over the airport. I didn't want to put him on the floor. It didn't feel right.': Woman's journey to return her husband's ashes to his home
'Unprompted by any of us, she began drawing in the sand. 'I love you'. It took my breath away thinking about her leaving messages in the sand to her dad.': Widow and young daughter visit Wales to spread husband's ashes
'He quietly wrote, 'Before I die, I want to see my Quinn grow up.' We never thought for a second he wouldn't.': Widow shares how husband understood the value of a moment, always 'showed up'
Do you know someone who could benefit from reading this? SHARE this story on Facebook with family and friends.