Chad Kempel set two Guinness world records running a full and half-marathon while pushing his quintuplets in their special five seat stroller. But Chad would be the first to tell you his wife, Amy, is the one who deserves recognition, and his miracle babies are the real prize.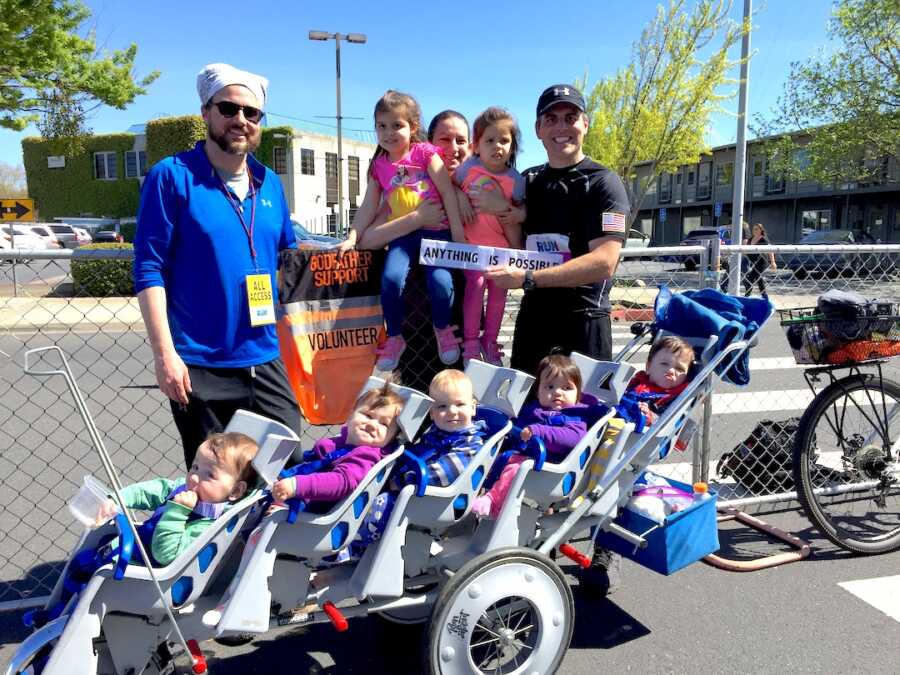 Shocking News
When the Kempel's first saw the ultrasound revealing not one, but FIVE babies, the couple were overwhelmed with fear and sadness. Despite having a 2-year-old and a newborn at home, the fear was never really how they would manage with seven small children, but how they would manage if they were to lose another five. The couple had already tragically experienced five miscarriages and lost twins at 23 weeks to preterm birth.
"We thought we would be planning another funeral in our near future," Chad tells Love What Matters.
But just as quickly as the fear set in, another thought entered Chad's mind. He pictured himself and his wife in their home, surrounded by their seven laughing, smiling children. And suddenly Chad's perspective changed.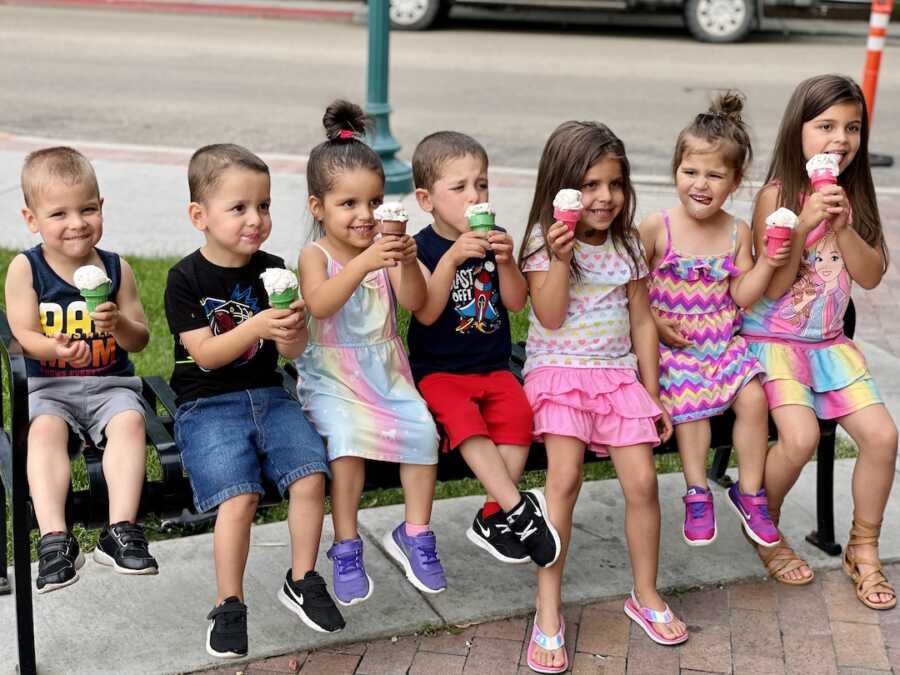 "It honestly felt like all of the fertility and pregnancy struggles now had meaning," Chad shares. "I felt in my soul we were meant to have these quintuplets, and although all the doctors were telling us this was going to end in tragedy, we had already lost too much to accept that as our outcome."
Chad recalls reaching for his wife's hand and squeezing it as he told her, "I don't know how yet, but we're going to figure this out. One way or another, we'll make it through this like we've made it through everything else."
Praying For A Miracle
Because their doctors had already given up hope of saving their babies, the Kempel's took it upon themselves to do whatever they could to encourage a healthy pregnancy.
"We scoured the internet for anything related to 'how to keep someone pregnant,' and leaned more than ever on the power of prayer — straight up begging God to, 'Please let us keep these children.' We promised, 'If you do, we will never ask you for anything else and we will create and extraordinary life for them.'"
The previous loss of their twins helped remove any feelings of concern regarding how they would raise seven children three and younger, and filled the couple with gratitude and desire for their miraculous quintuplets.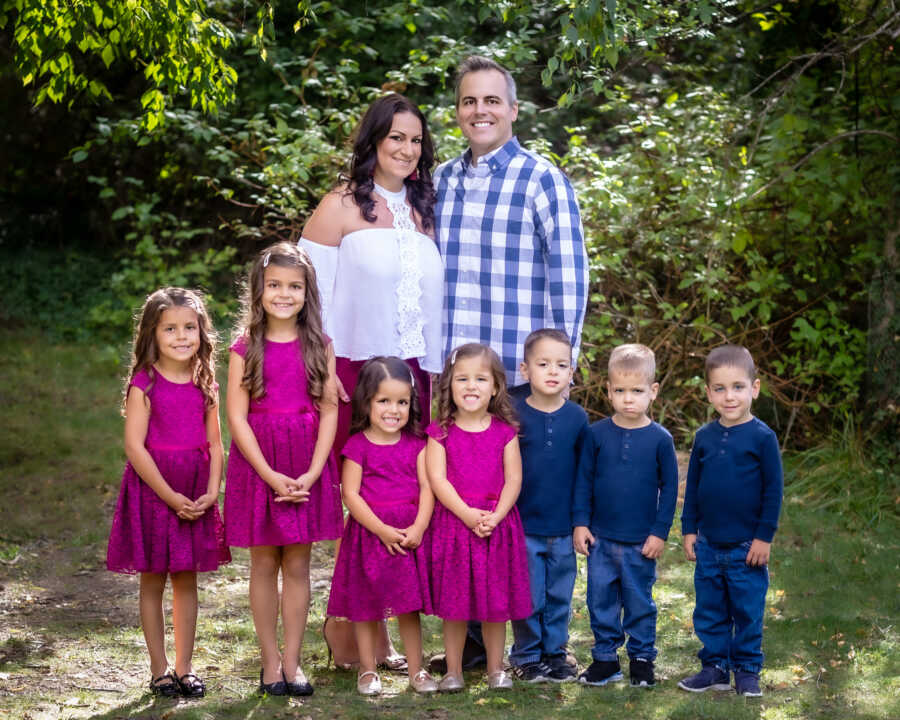 "Five years prior, we held our twins as they died in our hands. So when other peoples' jaws drop when they imagine struggles like feeding five newborns at once, the never-ending diaper changes, sleepless nights, or the inevitable financial struggles, I don't share in that sentiment," Kempel explains. "Those are all things people figure out one way or another. I would have signed up to never sleep again or for a lifetime of poverty if I could have only kept the twins we lost."
Chad continues by saying, "That genuine, utmost gratitude I feel for all seven of our children is how, to this day, I can be completely overwhelmed by the loudness and chaos in our home but take pause and smile because I know just how fortunate I am to have them."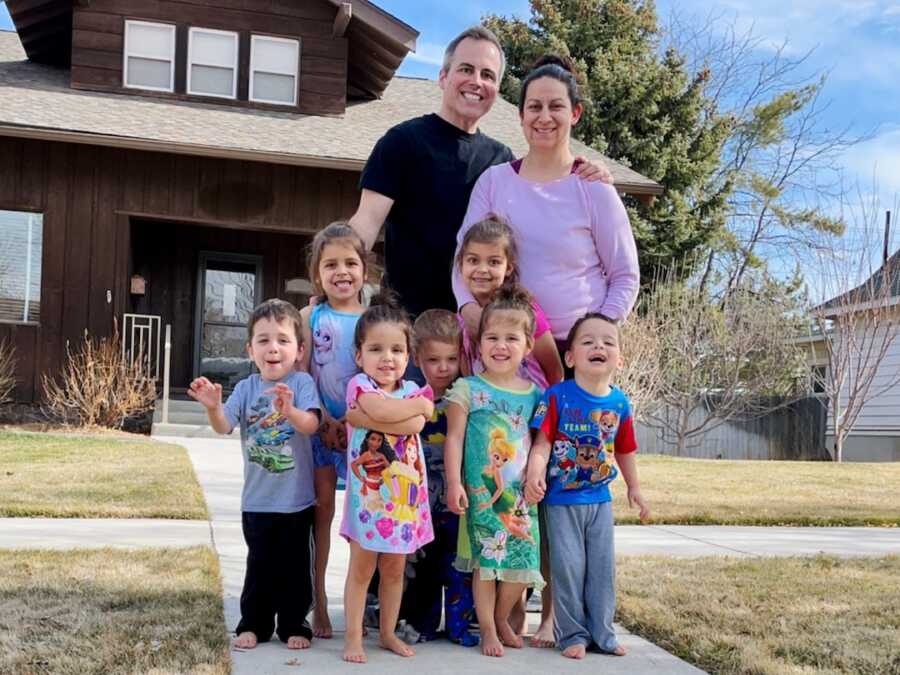 Honoring Amy
Amy was, amazingly, able to carry their five babies for 27 weeks and 3 days before giving birth to two girls and three boys. As the quintuplets approached their first birthday in 2019, Chad wanted to do something "outrageous" to celebrate the milestone and to honor his wife's sacrifice throughout their fertility and pregnancy journey.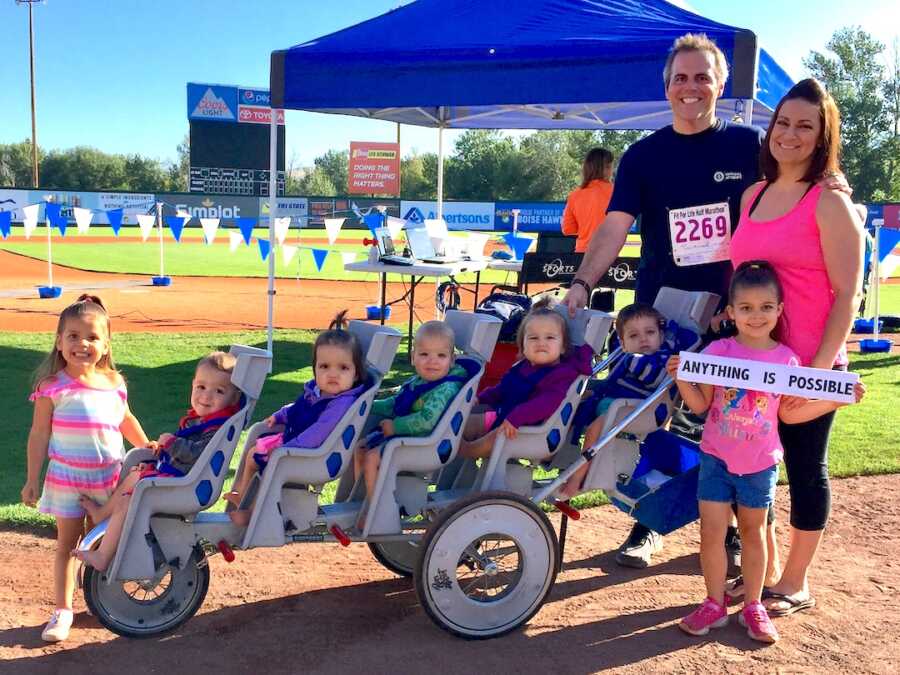 So, Kempel decided to run a marathon with his little miracles. But instead of stopping at the finish line, he kept running and pushing his babies another 1.1 miles to hit the 27.3 mile mark, in recognition of the number of weeks and days his wife carried their five babies. Chad completed the race in 4 hours and 42 minutes.
"It was just a small, symbolic way for me to honor the true remarkable feat Amy had accomplished," Chad tells Love What Matters. "Women don't always get the respect and admiration they deserve for the miracle of life they make possible, so I wanted to put myself through a small fraction of discomfort to show her, 'I acknowledge your suffering and I am eternally grateful for these children you carried.'"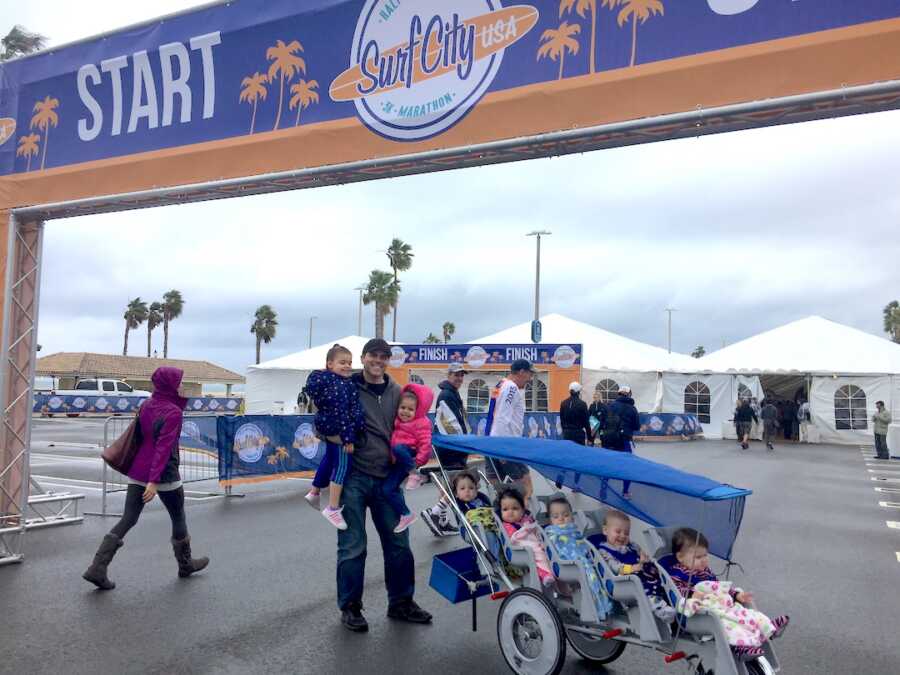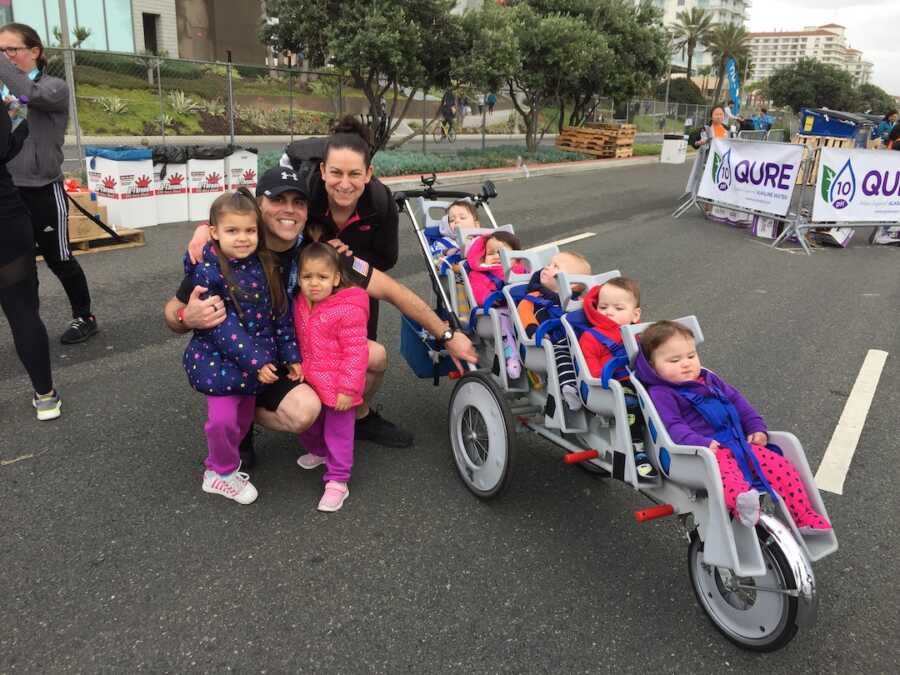 Continuing To Inspire
But Chad didn't stop there. The ambitious dad recently completed a half-marathon with his now 4-year-olds, and his wife, Amy, biking by his side. He wanted to set another record, and continue to show people anything is possible. With the combined weight of his stroller and five young children weighing more than 240 pounds, some might deem the feat unreasonable. But Chad doesn't run on reason. Their family runs on faith.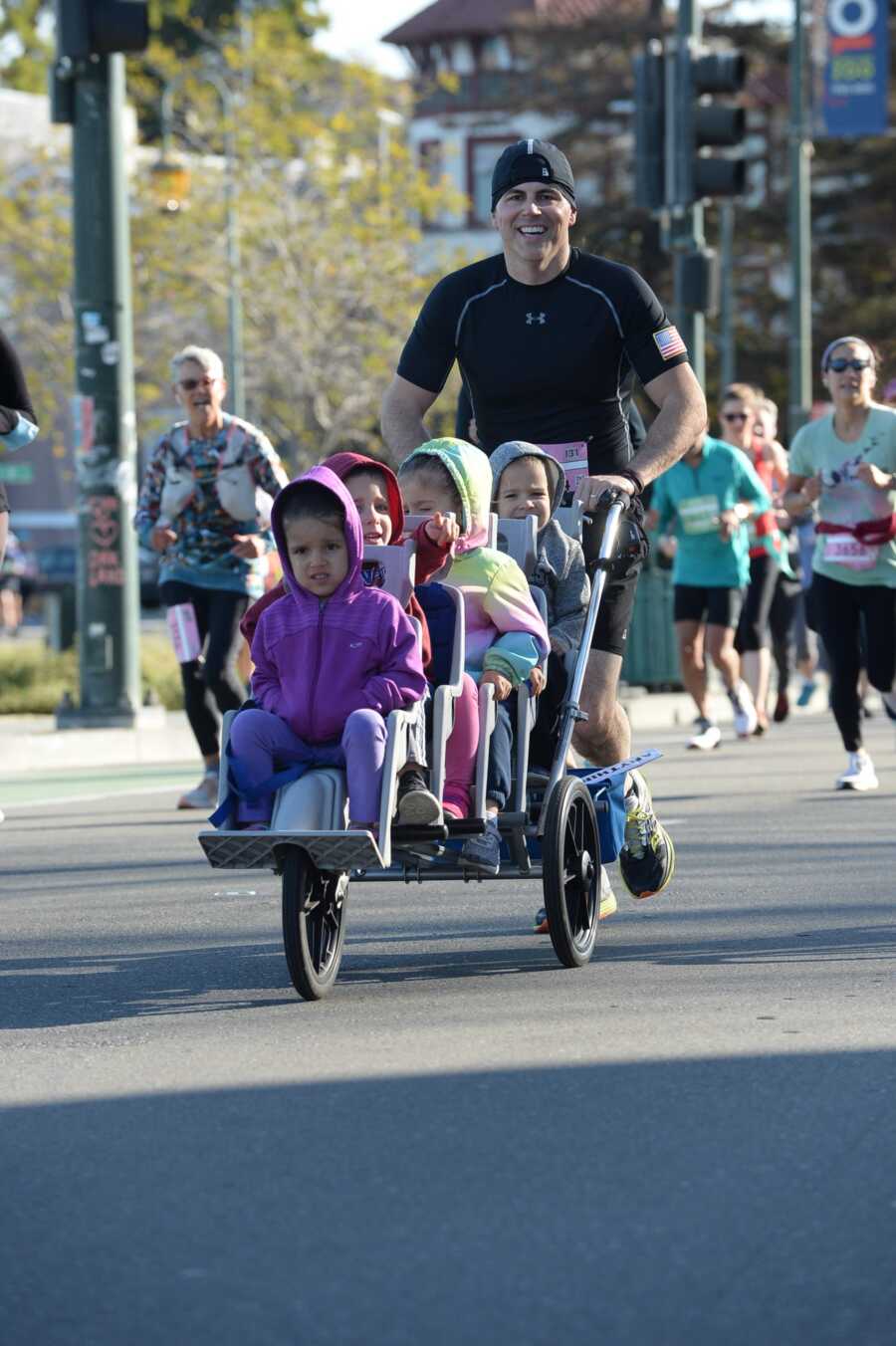 Despite the day being hot and the course being hilly, Chad completed the half-marathon in 2 hours and 19 minutes, securing a second Guinness world record.
"I know people see us and they're in shock a parent with that many children has the time to train for something like this, and that anyone could push that kind of weight for that distance," Kempel says. "My hope is that as they have those thoughts and see my sign, they think to themselves, 'If that dad can be out there doing that, then there's no reason I can't do that thing I've always dreamed of doing but thought would be too difficult.' My ultimate hope is that my children read articles like this someday and have the same thought."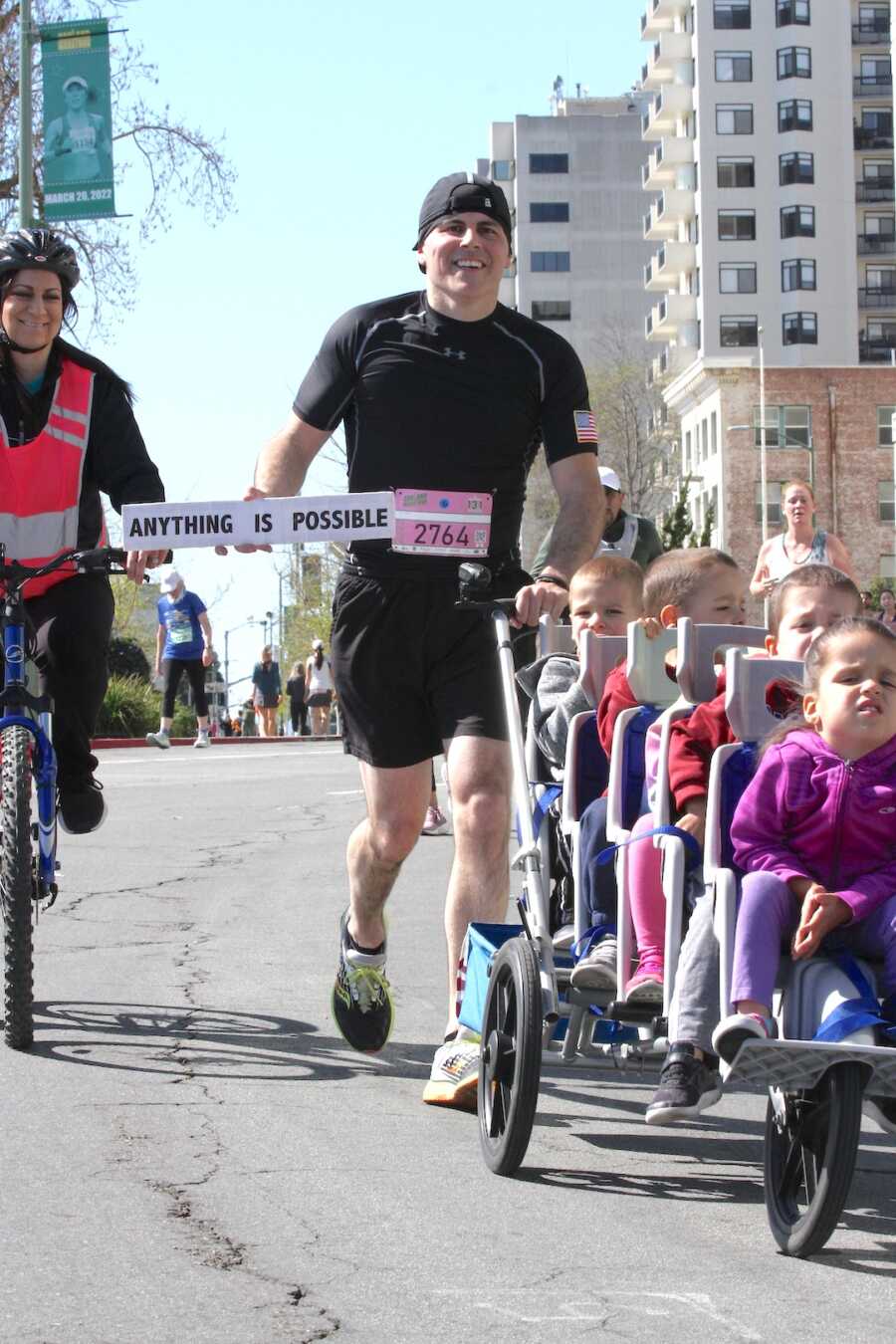 In addition to inspiring others and his own kids, Chad is also keeping his promise to "create and extraordinary life for his children." This last race was extra special for him because he knows his five 4-year-olds will have memories of it for the rest of their lives.
"My hope is that when all seven children think back about the running events, they feel like they had an amazing and magical childhood because that is what I promised them before they were born. These records were just the beginning. I will continue fulfilling that promise by creating an extraordinary life for them and making amazing memories with them and their mother. This is my sole purpose in life."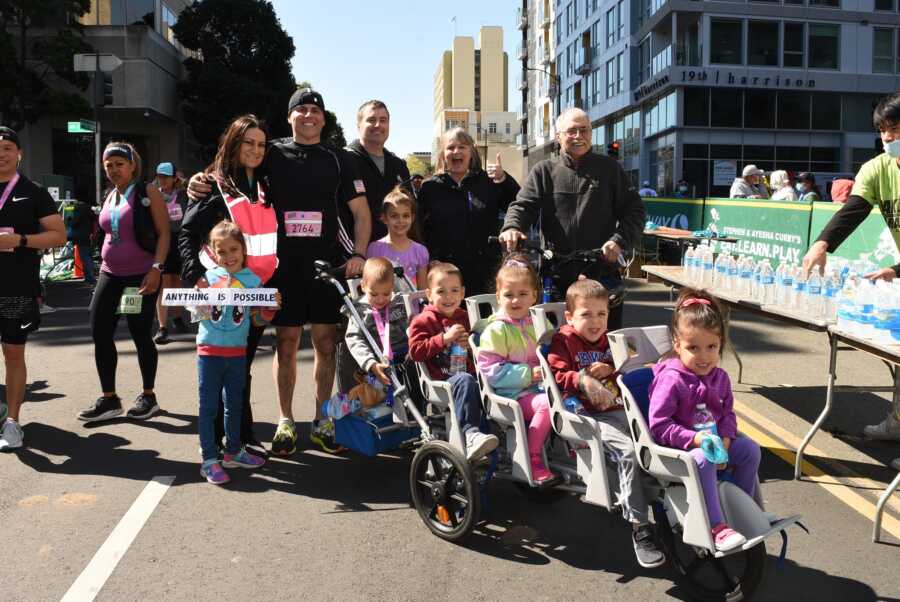 This story was submitted to Love What Matters by Chad Kempel. You can follow Chad's journey on Facebook. Submit your own story here and be sure to subscribe to our free email newsletter for our best stories.
Read more stories like this:
'I see twins!' The doctor's face paled. 'I think there are five.': Mom battling infertility births quintuplets with high school sweetheart
Mom Of 8 Survives Pregnancy So Rare It Happens 1 In Every 55 Million Times
'There's a 5th baby developing.' We were encouraged to consider reducing the pregnancy, or terminate it altogether.': LGBT mom to all-girl quintuplets recounts journey to family of 8
SHARE this heartwarming story on Facebook with family and friends.