Dad's Alzheimer's
"It was bath time in the Fall of 2011. I had managed to get one of my toddler daughters out of the tub and was working on the other, when Mom called. 'Your father has Alzheimer's,' she stated. 'What? What are you talking about?' I replied, with a bit of disdain and disbelief in my voice, as Mom was notorious for assuming the worst in just about everything, so I tend to take what she says with a huge grain of salt.
And to be honest, 10+ years later, I am not quite sure of Mom's reply. It may have been that it was Dad's lack of smell or some other symptom that triggered Mom's diagnosis, but I didn't quite believe it.
Nevertheless, my husband, Jon, and I drove from our home in Cedar Park, Texas to visit my parents in Amarillo, Texas in October of 2011, a few months after mom's initial call. What greeted us was a very unpleasant surprise. Dad was never the best housekeeper, per se, but he was generally on top of things, especially the kitty litter boxes for his three cats. However, when we walked through the doors, we were hit in the face with the most intense smell of cat urine. This was clue number one that all was not well in Dad's world.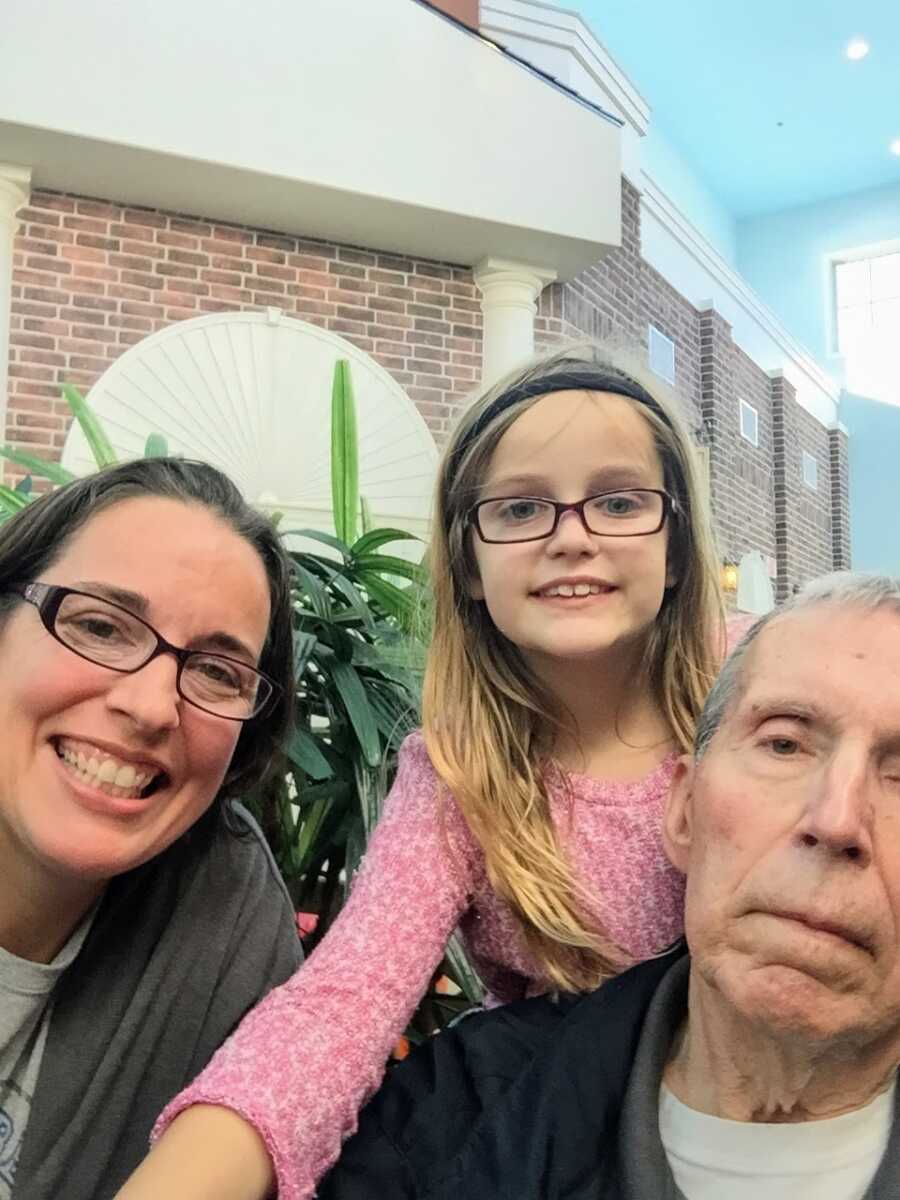 I immediately went to work convincing my parents I needed them to move closer to me, as my help was extraordinarily limited being an 8 hour drive away. Plus, as a full-time corporate employee, wife, and mother of two toddlers, I was already pretty overwhelmed.
It took some time and convincing, but my dad finally acquiesced to moving closer to me and my family. In the interim, I took numerous trips to Amarillo, sometimes with a child and dog in tow, sometimes not. I began the slow process of sorting through my parent's house of over 20 years, and over 40 years of marriage that took them all around the world. It turns out Dad was a bit of a hoarder, which required us sorting through decades of papers and letting go of years of VHS tapes and magazines.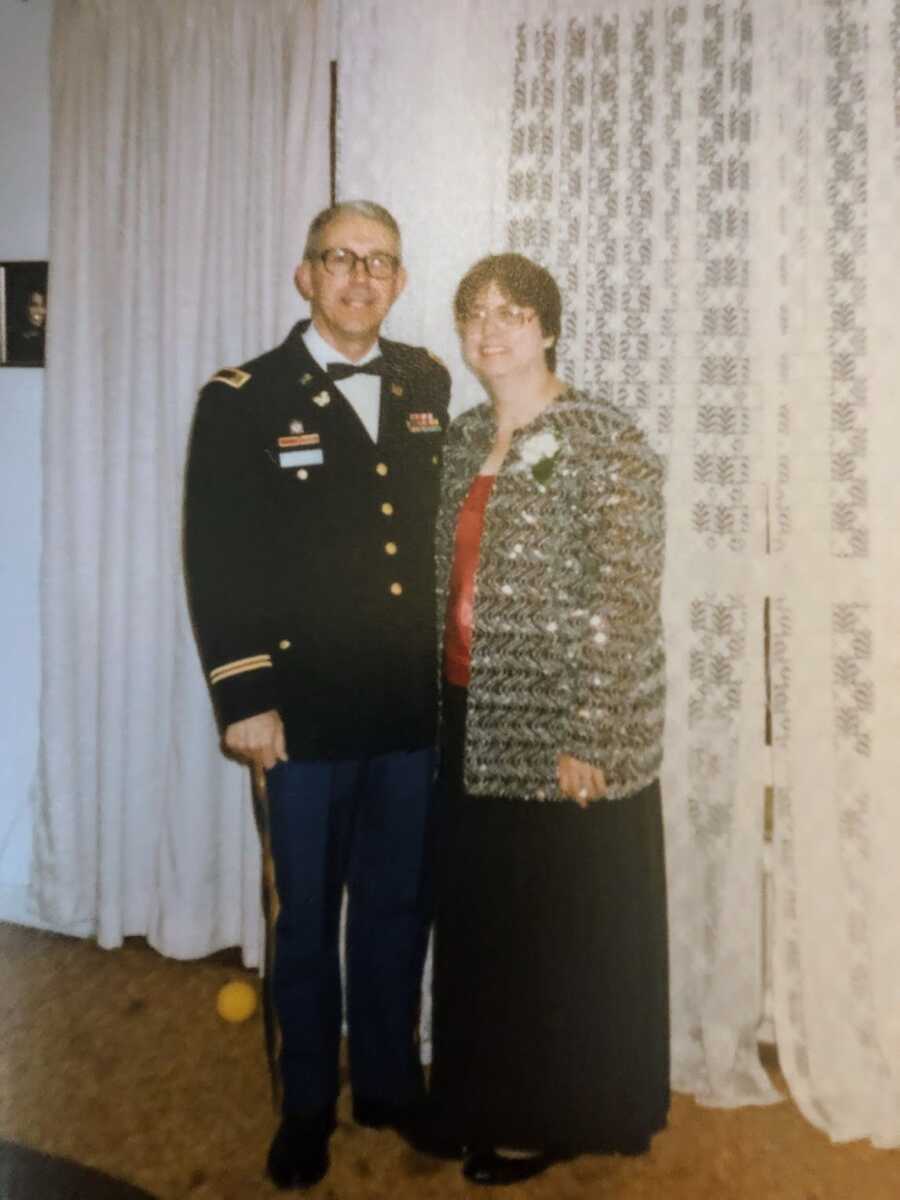 Finally in March 2013, Jon and I were able to get my parents packed up and made the drive to their new apartment in Cedar Park. And this is where the fun really begins.
Prior to their official move, I started to do some homework. I visited numerous memory care facilities, read many different books, and attended seminars. I needed to get a better understanding of Dad's disease and how I could best support him and Mom. Even with all my homework completed, I was not prepared.
Caretaker
The first step we took was meeting with an Elder Care lawyer. We updated all of my parents' legal documents which was vital for me to be able to effectively help them. With the power of attorney, I was able to begin assisting my parents with their finances. This turned out to be almost a full-time job in itself. Over the years, Dad had opened up several bank accounts, and I began to consolidate them. Two of the credit unions required their own notarized power of attorneys. Taking care of the finances while Dad still had his cognition, though impaired, was vital, as I needed his signature.
Dad was also a very social guy who thrived in cultural events. He went from working a full-time job and having his community of people to not. I found out about one of the senior care services at a seminar and got my parents enrolled through them. We worked through a variety of caregivers and times to keep Dad engaged, allowing Mom some downtime. I was fortunate to be able to spend a lot of time with Dad after work and on the weekends. This time was priceless, as we were able to create some amazing memories seeing concerts and plays, and engaging with my girls.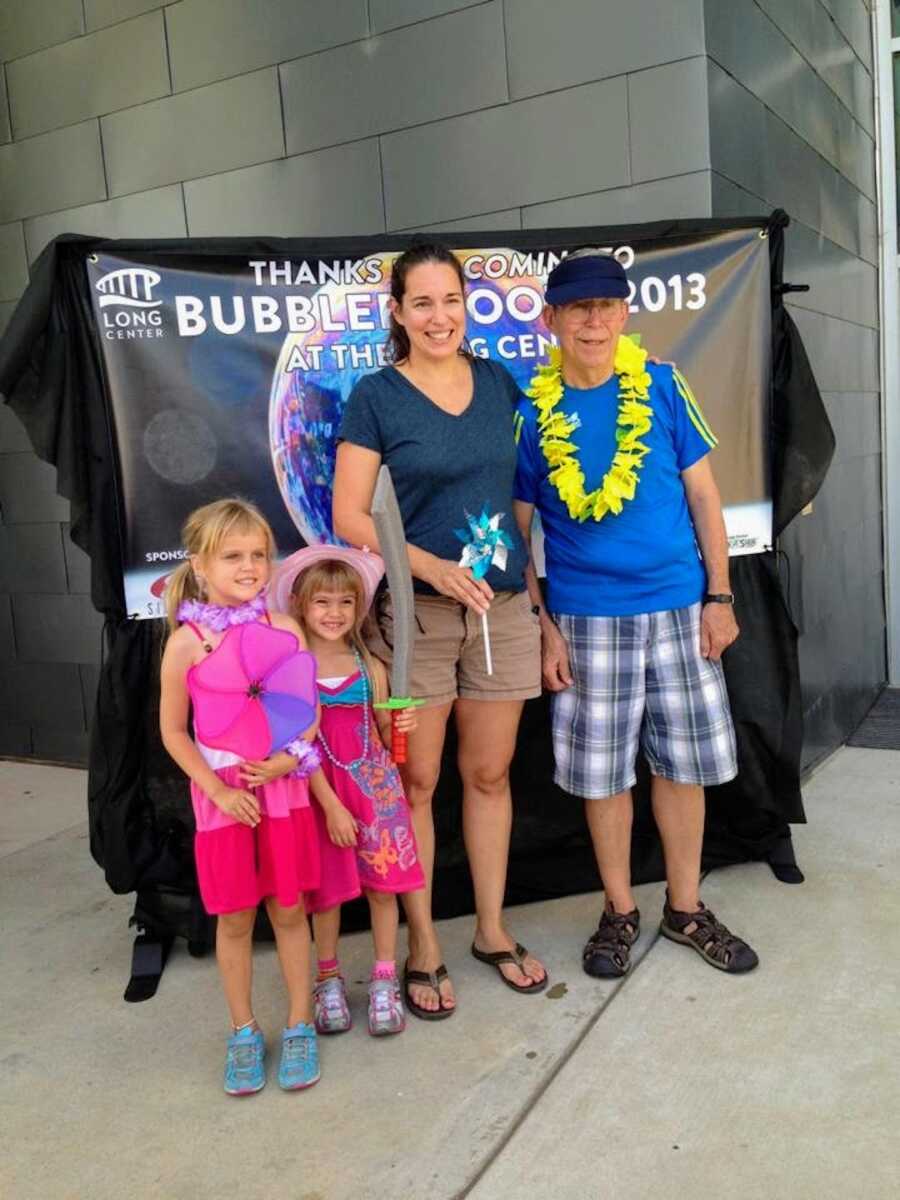 The senior care aids were helpful, but Dad needed more engagement while I was working. Thankfully, I found out about the adult day care through AGE. This facility was amazing, as it provided a wealth of structured activities, meals, an in-house nurse, and most importantly, locked doors to prevent Dad from wandering. As an Army veteran, the Veteran's Administration paid for Dad's monthly fee to attend.
Mom's Health
Mom and I were in the process of planning to move Dad to a memory care after the holidays when she ended up having a heart attack and was hospitalized for 8 days in October 2013. This turn of events allowed Mom and I to approach the memory care transition as a need for Mom as opposed to Dad. The memory care was wonderful, and the services provided helped keep Dad engaged while Mom could get respite.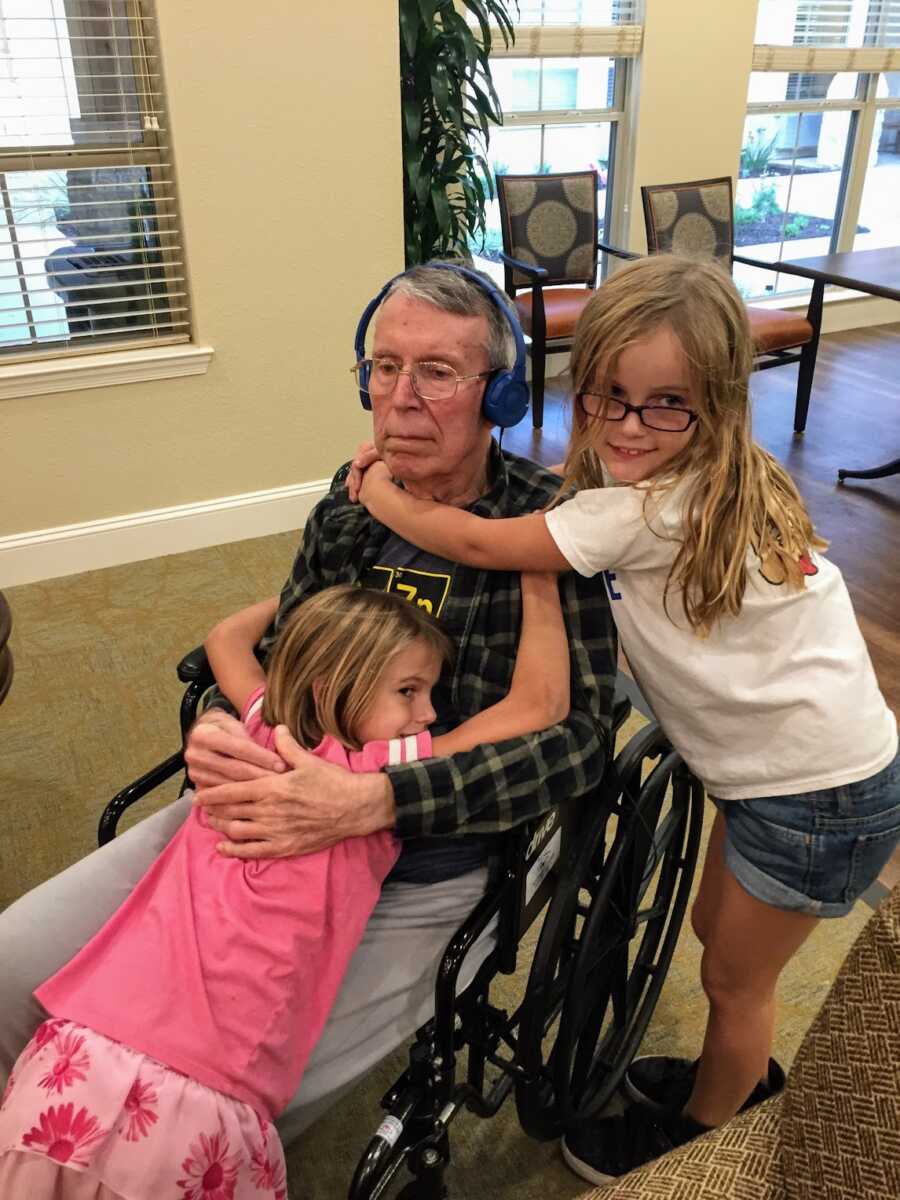 While at the memory care, the staff suggested hospice care. Of course, like most people, I only knew of hospice care as being needed in the last moments of one's life. Turns out, this is not the case. Because Alzheimer's is a degenerative disease – meaning, it will never improve, only worsen – Dad qualified for hospice care under Medicare (This qualification process has changed a bit since then). I loved the idea of including hospice care to Dad's health care team, because this meant so many more eyes on him and resources provided.
Dad passed away January 30, 2016, very peacefully, in part due to the support he received from hospice and the memory care staff. Thankfully, I was present when he passed. 'I got you babe' by Sonny and Cher was playing in the background.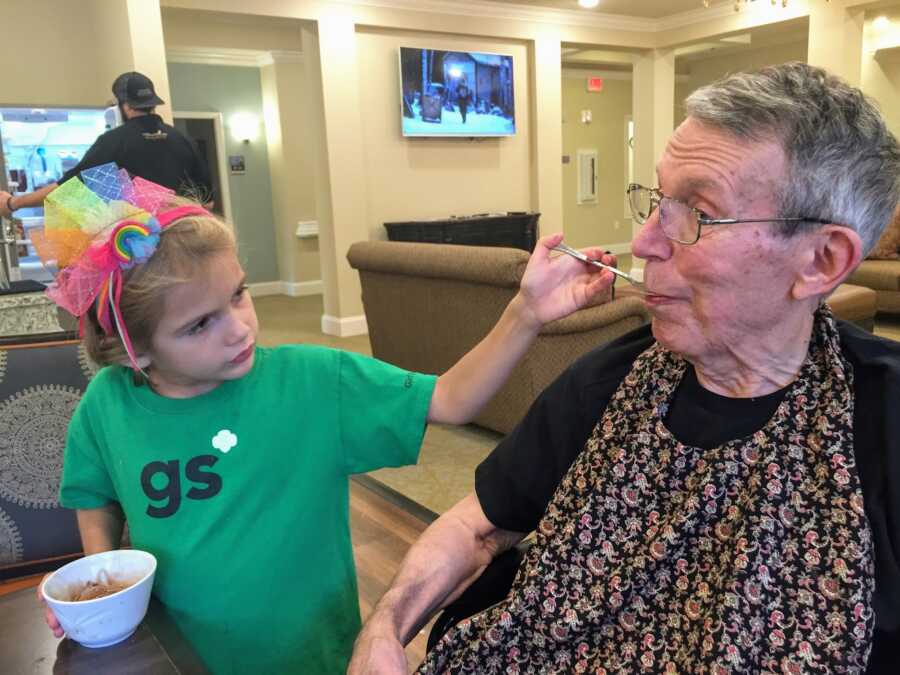 At this point, we had moved Mom to an assisted living facility as she didn't require the same level of care as memory care (the main difference being locked doors to prevent from wandering). I had been handling all of Mom's medical appointments and shopping. She was not in love with the facility, so we moved her to the memory care where Dad had lived, as she knew and loved the staff. However, due to a change in the facility ownership, we knew the cost of her room was going to increase substantially, so we decided to buy a new house where we could all live.
In my mind, I thought the transition into a new home with all of us living together, and me being available full-time (as I had left my corporate job in January 2014 to care for my young children and parents), was going to be a smooth endeavor. It was not.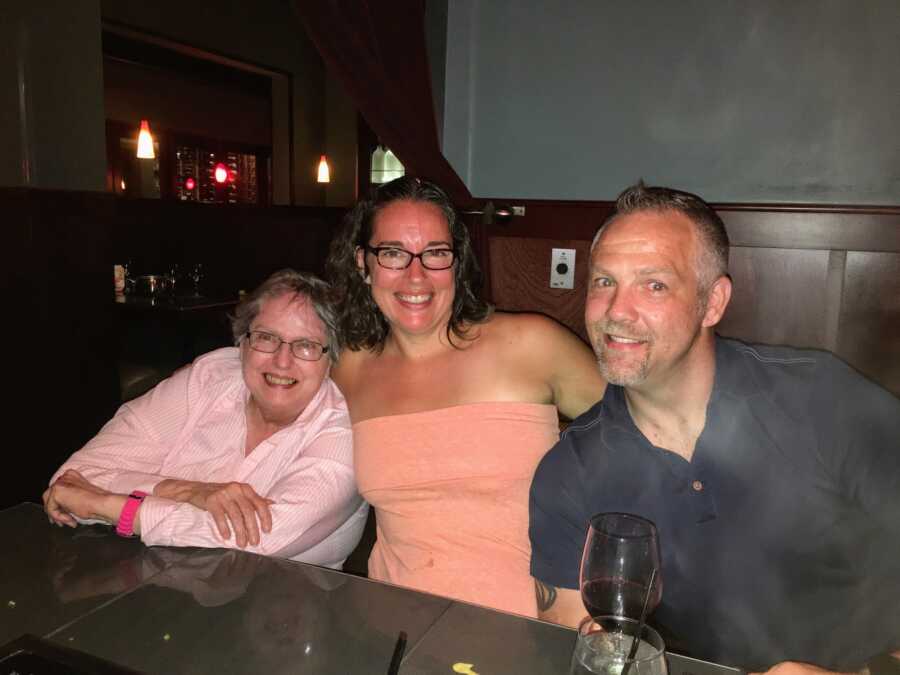 Mom's Alzheimer's
I don't know if Mom's cognitive health quickly declined after we all moved into the new house together, or if it was the fact I was able to witness the decline as we were together more often. Nonetheless, her cognition was impaired, and she was diagnosed with Alzheimer's.
I was the main caretaker for Mom, taking her to all her doctor's appointments and being her full-time companion, in addition to trying to manage taking care of my own family. Happily, I was introduced to a caretaker who was able to provide me respite and bring joy to mom's life. I also incorporated a personal trainer to help keep Mom physically engaged. Through Medicare, we utilized their services and had a general practitioner doctor, nurse, and the various specialists regularly visit. We tried bringing Mom to AGE's adult day care, but it was just not a great fit for her. After a few safety issues with Mom wandering out of the house, despite our changing the door handles to having a key opposed to a handle, and needing around the clock care, we moved her into a memory care facility in August 2019.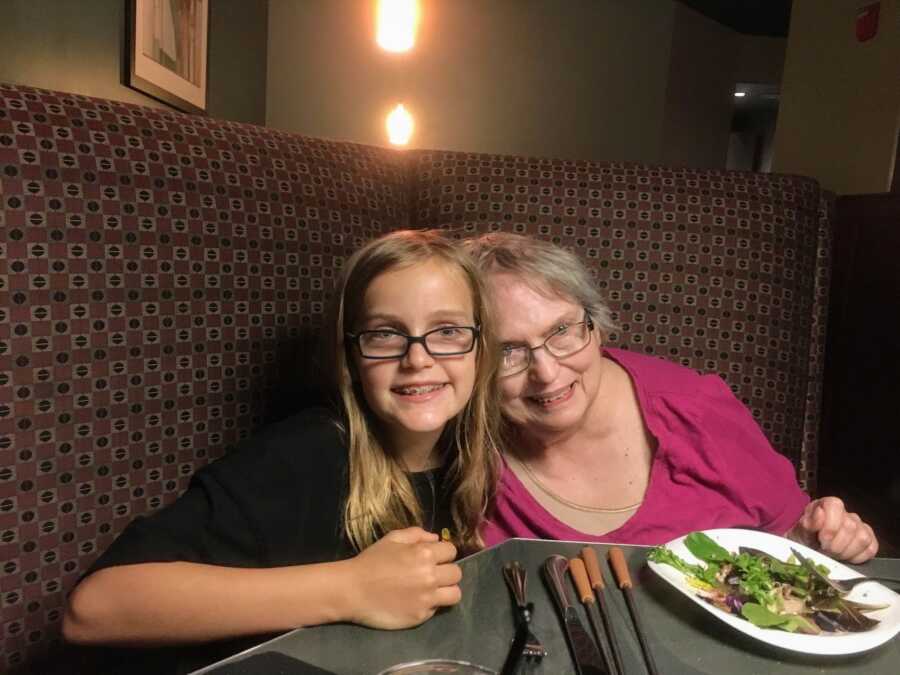 The adjustment for mom was a bit of a struggle. Her experience with Alzheimer's was much different from Dad's, which isn't too surprising as we are all unique. However, with Dad, he was such a curious man and incredibly intelligent. He KNEW he was losing his cognition. He was scared. He needed reassurances that everything was going to be okay. With Mom, her emotional insecurities were brought to light, and she was in constant despair. By the grace of the universe, they both pushed through the disease to the other side, bringing them both calm and peace.
As with Dad, we are utilizing hospice services, in addition to the memory care staff, for Mom now. The requirements for hospice care changed fairly dramatically since Dad qualified, so it was a bit more of a process to get mom qualified, but we did.
Mom is currently in late-stage Alzheimer's. I am able to visit her often. She doesn't know who I am and, in fact, hasn't in over 3 years, but it's important for me to lay eyes on her. It's important for the staff to see I am laying eyes on her. It's important for me to create memories with Mom as, when she passes, all I will have left are memories and pictures.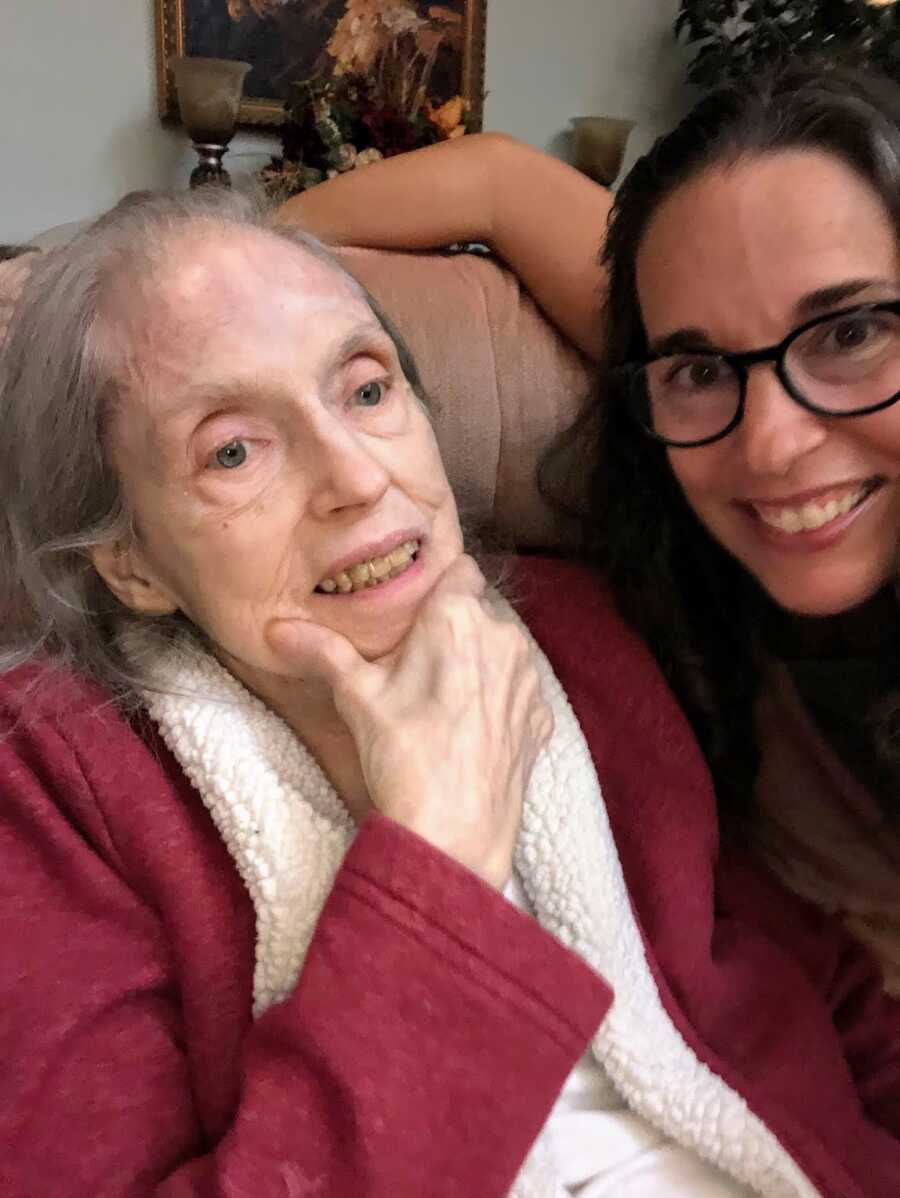 Alzheimer's Prevention
Having intimately watched and participated in my parents' Alzheimer's journey, I have become passionate about Alzheimer's prevention. While genetics can absolutely play a role, I believe in epigenetics, that our daily lifestyle choices play a much larger part in one developing Alzheimer's disease or not. I believe in incorporating joyful movement every day to build BDNF (brain derived neurotropic factors – essentially miracle grow for our brain). I believe in the importance of nightly quality sleep to allow our glymphatic system to remove the metabolic waste from our brains. I believe in choosing healthier foods for overall physical and brain health. While I can be fearful of developing this dreaded disease myself, I take comfort in taking daily actions to hopefully prevent the disease.
Living in a somewhat larger American city, I am grateful for all of the resources available to assist with my parents. I am also incredibly grateful my father was as frugal and as much of saver, as growing old in the US, especially with a degenerative disease, requires so many resources that are incredibly costly. I feel fortunate we have so many resources available to us. It can be a challenge navigating the system. It does take time to find the correct resource, and the costs can be staggering. I am grateful we got my parents legal documents in order while they were still cognitively able to do so, and I have a supportive family encouraging me to be my parents' advocate."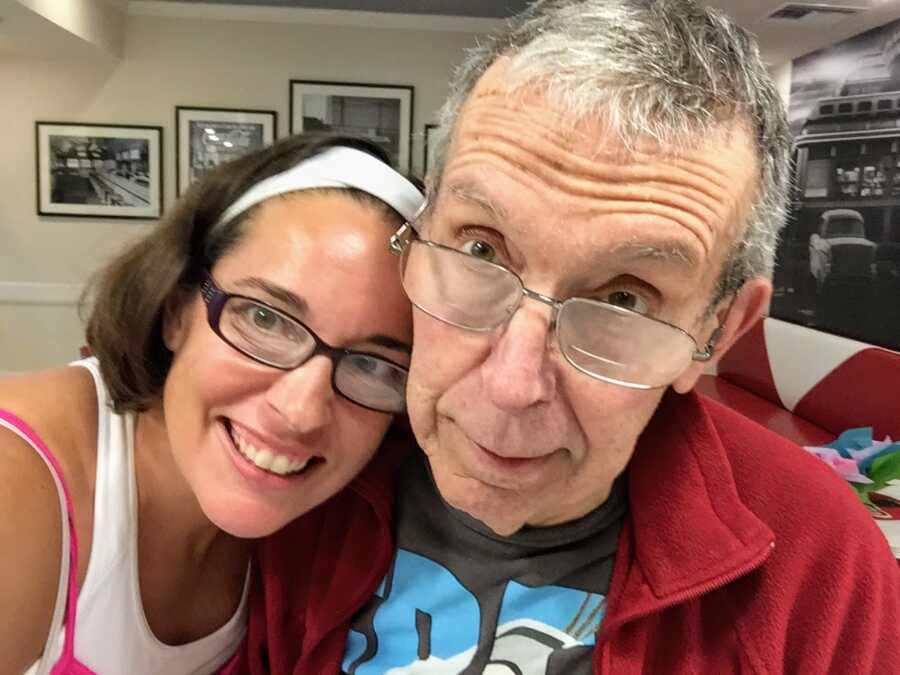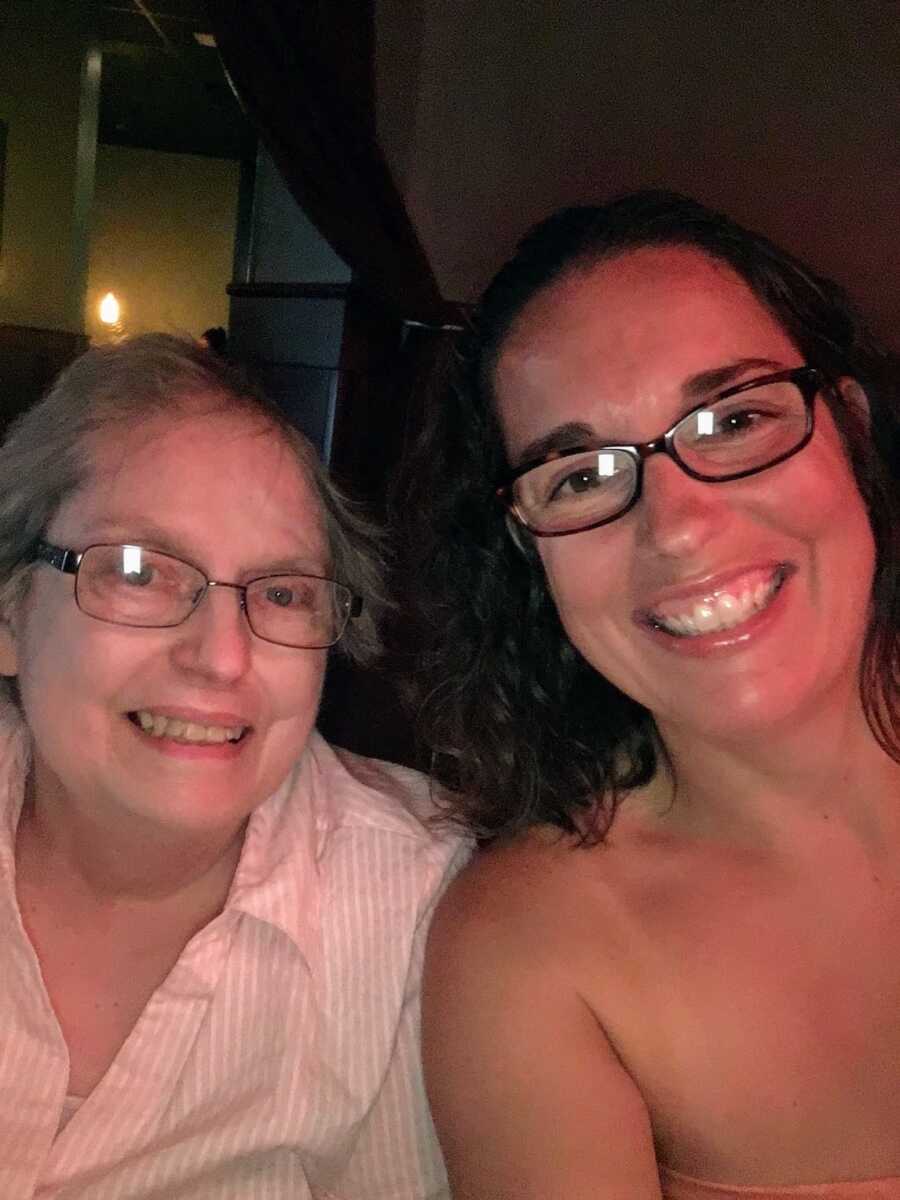 This story was submitted to Love What Matters by Liz Dean Phelan from Leander, Texas. You can follow her journey on Instagram. Submit your own story here and be sure to subscribe to our free email newsletter for our best stories, and YouTube for our best videos.
Read more touching stories like this:
'Well, dishwashing it is!': After separated 114 days, wife becomes employee at husband's Alzheimer's facility so he doesn't forget her
'As my daughter was giggling, bursting with love in the next room, I was learning she wouldn't be growing up at all.' Mom's 18-month-old daughter diagnosed with 'Childhood Alzheimer's'
'We should be married,' he said to my mom. She explained to him they had been married for 50 years.': Caregiver to dad with Alzheimer's shares journey, 'I won't regret the time I spend with him'
My Mom May Have Forgotten My Name, But She Will Always Know My Soul
Do you know someone with Alzheimer's or dementia? Please SHARE on Facebook to help their loved ones know there is a community of support available.