"Dear NICU Mom, I see you.
I see you coming in for the day with a smile on your face but so many emotions in your heart. You settle in on your assigned plastic covered recliner, watching others care for your tiny baby you worked so hard to grow.
I see you armed with a bag of distractions, but you rarely pull out the book or magazine because it's hard to escape the ever-present soundtrack of beeping machines; each one reminding you of how far from normal your life has become.
I see you carefully wash your hands before you lean over that tiny plastic crib to touch your baby's face—hoping you'll get to wrap her whole body in your arms soon.
I see you coming in with a special heirloom dress and milestone blocks commemorating her first month of life. This moment isn't at all how you envisioned, but you are determined to embrace it anyway.
I see you leave your chair every three hours to pump milk from your body, milk you are wondering when your baby will actually be able to drink.
I see you throughout the day looking weary, but also soaking in every moment your baby is awake.
I see you leaving for the evening—feeling torn between two places, caring for this new life and the lives inside your home.
I see how this experience is changing you. You know more medical terms than you ever cared to know, you know more fear than you've ever experienced, but this place is also refining you.
I see how you long for your life to begin outside the hospital, but how you are noticing things you may have never noticed before. You see not only your baby but your neighbor's. You see the baby with the private suite, the suite no parent wants because it means their baby is in dire need. Your trouble is real, but so are the troubles of the others around you.
I see you with your eyes wide open, mom.
You are becoming more empathetic, stronger, and are learning how to embrace the moments with more vigor.
Most of all NICU Mom, I see a fierceness about you.
That baby of yours' is fiercely fighting. You are fiercely fighting for him. And the love that was already in your heart, is fiercely growing here.
Dear NICU Mom, I see you.
Love,
A NICU Mom x2″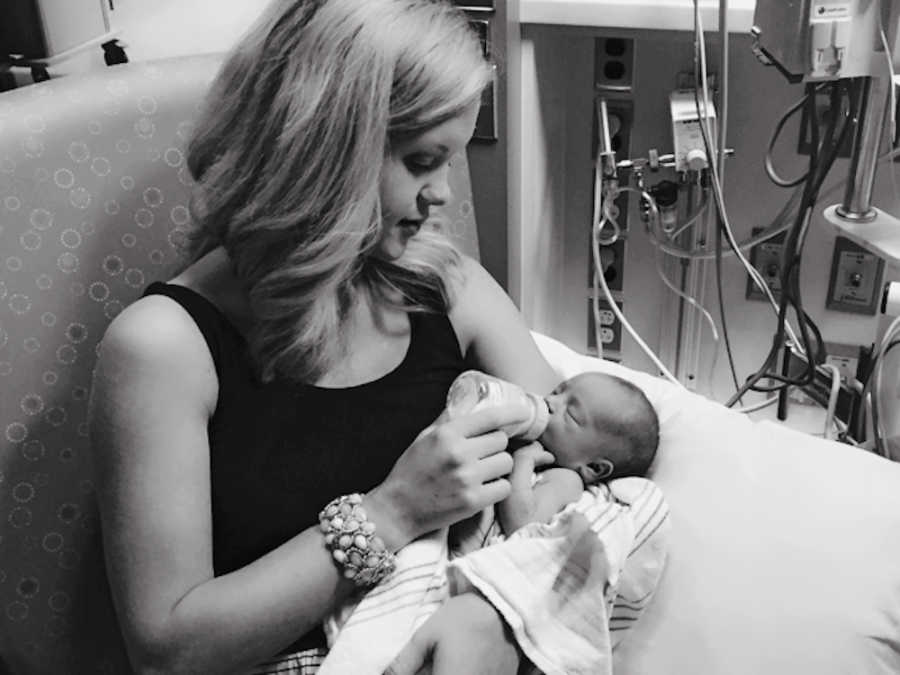 This story was submitted to Love What Matters by Jillian Benfield. You can follow her journey on Facebook. Subscribe to our free email newsletter, Living Better—your ultimate guide for actionable insights, evidence backed advice, and captivating personal stories, propelling you forward to living a more fulfilling life.
Provide strength for other struggling parents. SHARE this story on Facebook with your friends and family.