"Being a twin is unlike anything you can explain or understand, unless you are one yourself. The bond is so strong that one can feel what the other feels, and vice versa. Growing up we were inseparable. We dressed alike every day, shared a car and cell phone, had the same friends…we were glued to each other's hip. Teachers would recommend to our parents we be in separate classes, and we would cry at the thought of being away from one another. Our mom did not have the heart to break that bond between us, and we were so thankful she kept us in the same classes. That lasted until freshman year of high school. Teachers worried we would not be our true selves by always being in the same classroom, but we think it benefitted our personalities and we always had straight A's.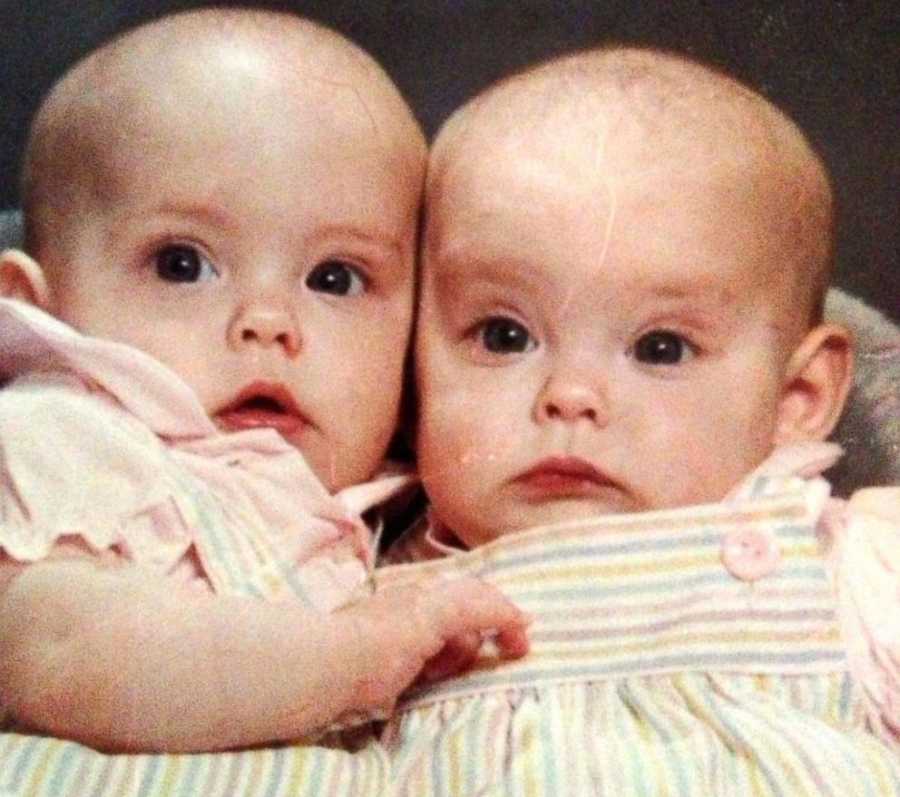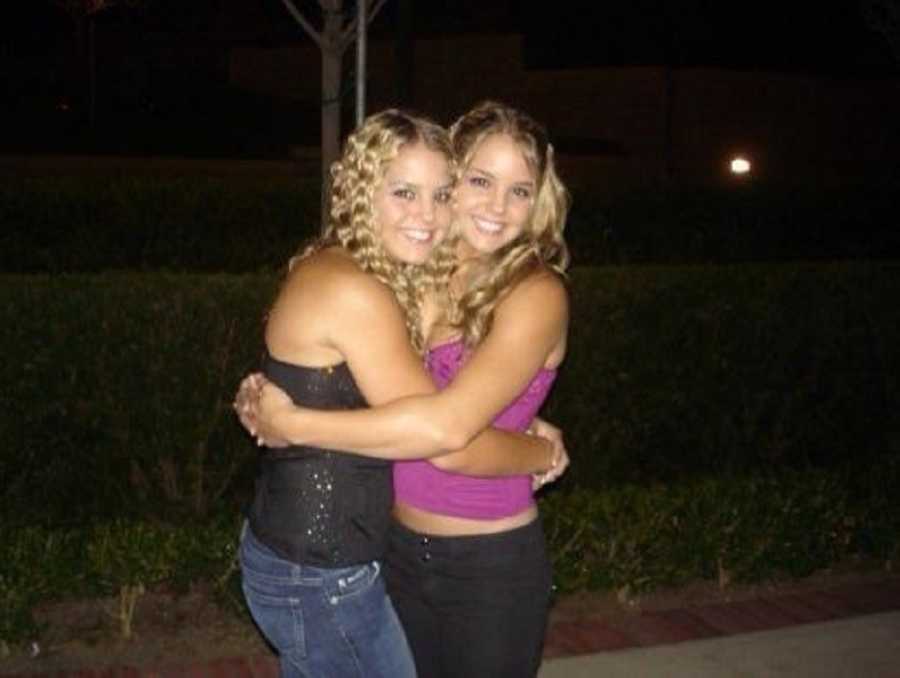 In our family, we have five older siblings: a sister Jennifer, brother Jeremy, sister Jamie, sister Joanne, and a brother Johnny. My parents thought the family was complete at five; however, my mom always dreamed of having twins. Surprise! She got pregnant with us shortly after my brother. This completed our family of nine. Our parents, along with our siblings, always admired and adored our close-knit relationship they called the 'twin connection.' My mom and dad told us we even had our own 'twin language' that only we could understand.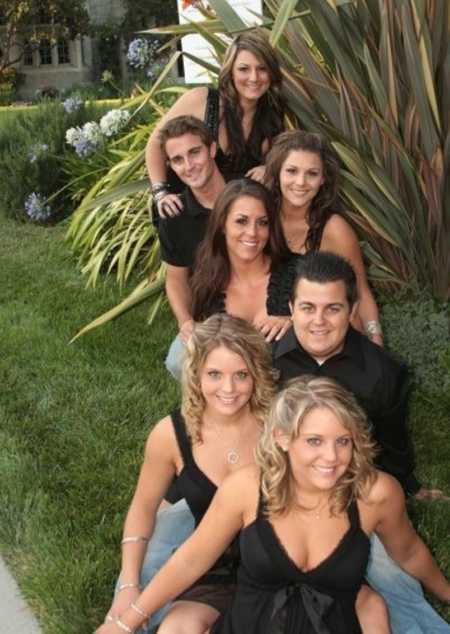 Although our personalities differ, our interests were identical. We both loved doing the same things, playing with the same toys, competing in the same sport (gymnastics), same degree, same master's degree in education, the list could go on. We were growing up and continued to be inseparable. In high school, I wrote a paper about how we would someday live near each other with our houses connected by a bridge, marry twins (that did not work out), have babies together, and grow our families nearby. We always wanted our kids to share a relationship similar to ours.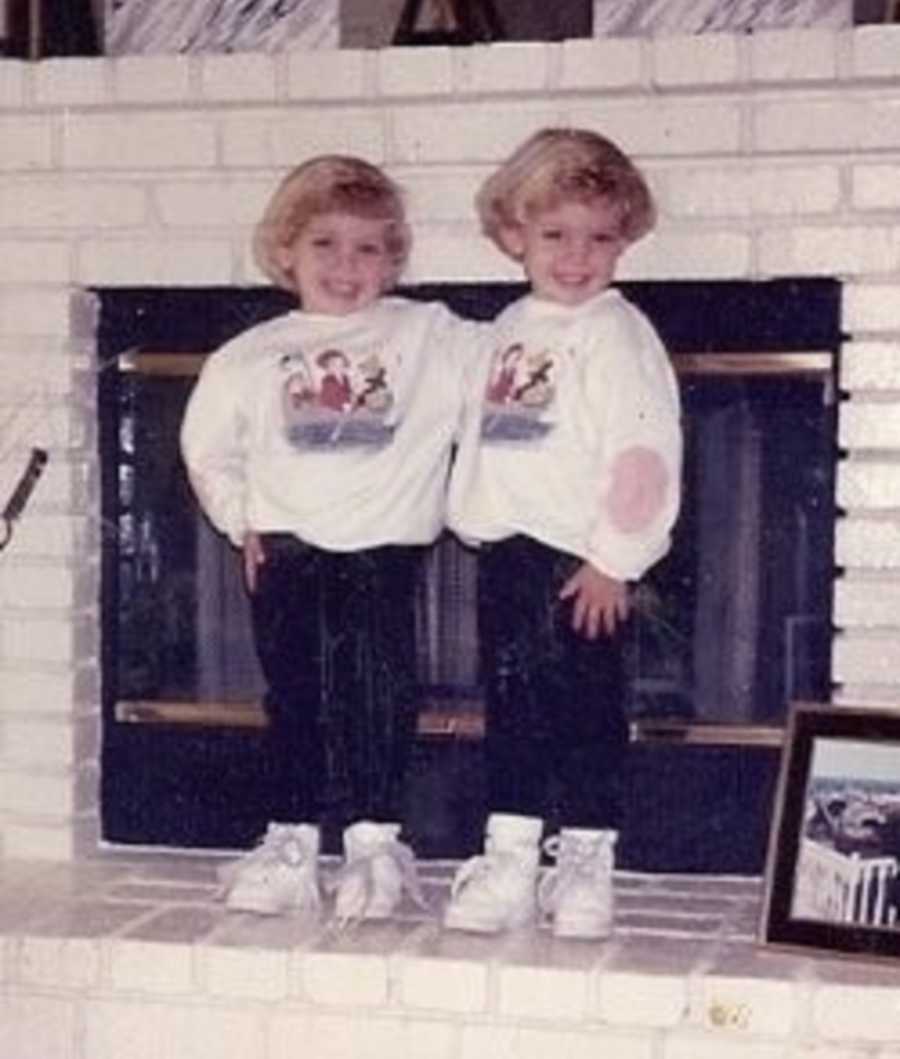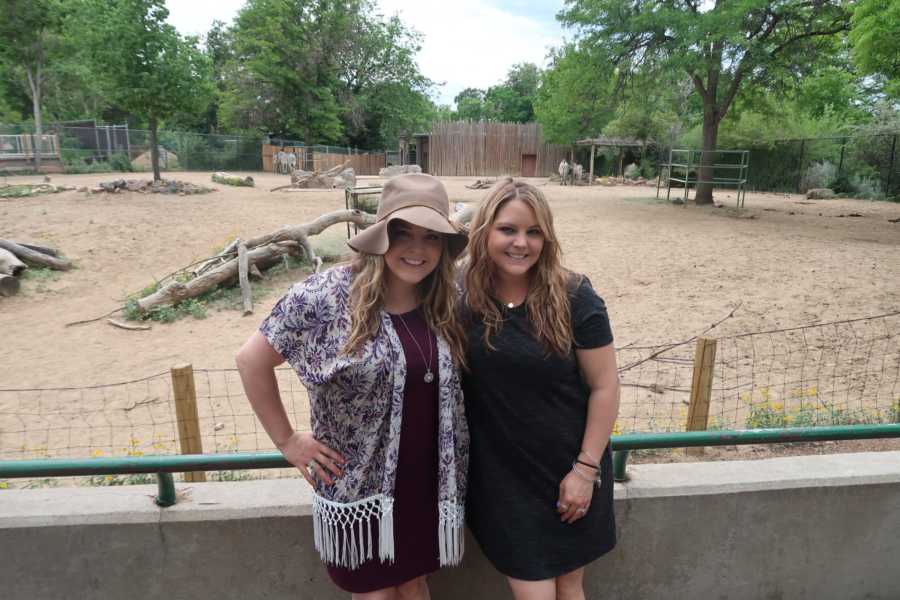 As I mentioned before, we both went to college together and received full athletic scholarships to attend UCLA. We are Bruin proud! This is where Janelle and I met our college sweethearts! Sports brought us together as we both married athletes as well. I married in 2011 and started my family right away. My husband Brandon and I had two daughters back to back. Janelle married a year and a half later and decided to wait 1 year before starting her family.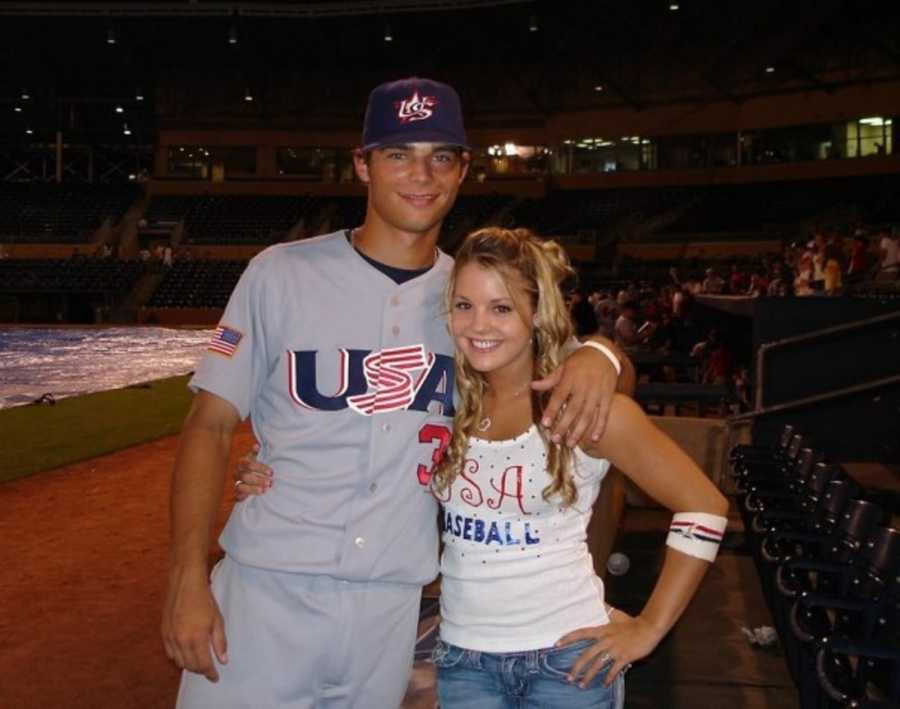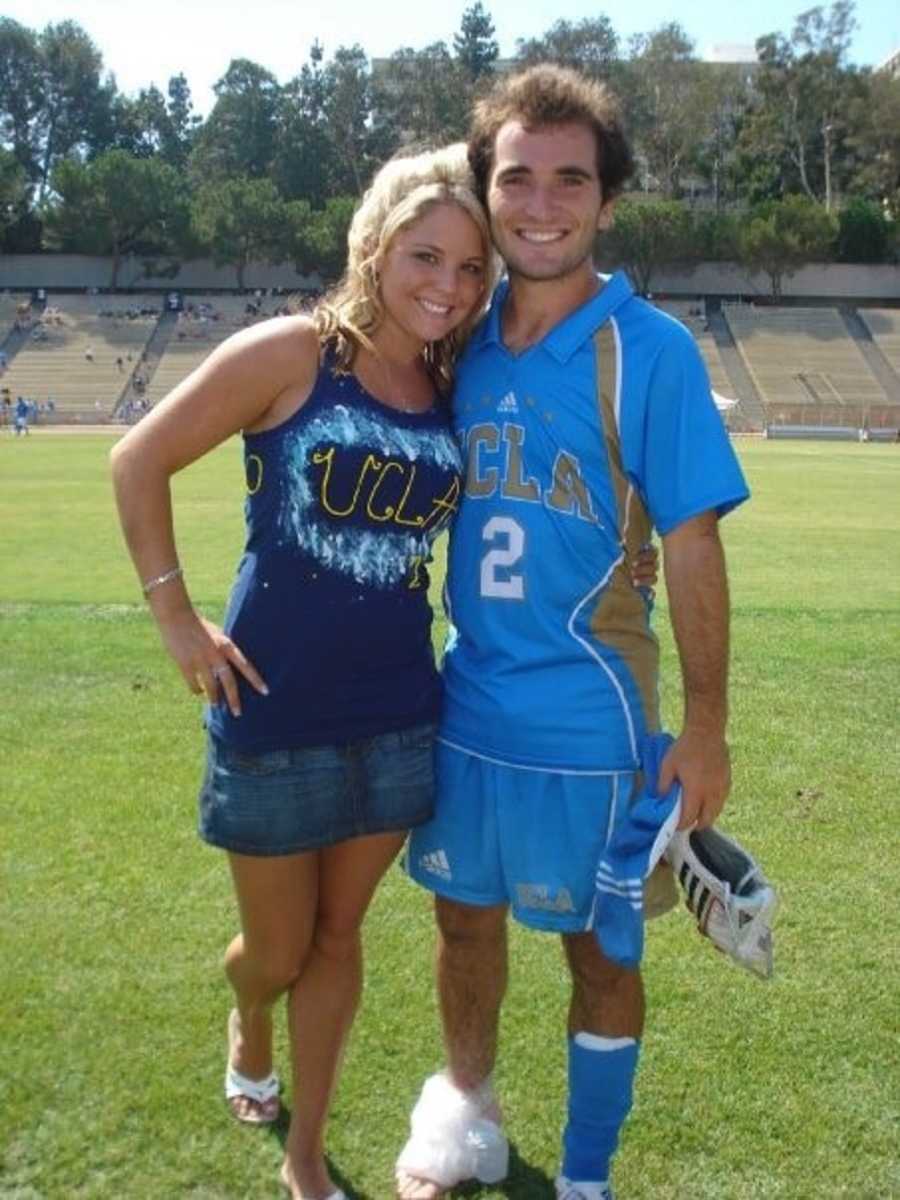 Shortly after I delivered my second daughter Jaydyn, Janelle found out she was pregnant with her first son Jerrick. Then, oddly enough, two weeks later I found out I was pregnant with my third. In that moment, we felt like we had just missed sharing that pregnancy together like we always wanted. This is where Janelle's infertility journey began. Due to the nature of my deliveries (C-sections) the doctor recommended giving my body a little break if Brandon and I decided to have another baby. After trying for six months and struggling with many symptoms, Janelle was diagnosed with PCOS (Polycystic Ovarian Syndrome). She then began researching about her condition and finding alternative ways to help get pregnant. Two months later, she got pregnant but suffered an ectopic pregnancy that ended in emergency surgery and a tubal loss. After this traumatic experience and a year of fertility treatments, multiple doctors recommended her to go the IVF route. During this time, Janelle and I both suffered miscarriages and thought it was time to trust in God's timing. We told ourselves we needed to be patient and we hoped it was His way of saying He would help us get pregnant together.
During these difficult times, our relationship grew even closer. We leaned on one another by talking and continuing to pray daily. Not only were we suffering the loss of an unborn child, but also mourning the loss of our beloved oldest sister Jennifer who passed away suddenly from an asthma attack at the young age of 38. With our entire family being so close, this was a tragic event that continues to weigh on our hearts daily. We constantly feel a piece of us is missing.
Months later our prayers were answered, and the timing was just right; I found out I was pregnant with my fourth child. I was really excited but also anxious to share the news with my twin due to her fertility struggles. Four days later, she called me to say she was pregnant, and we cried happy tears! That moment was so special and we relive it constantly with each other. We were not only so excited to be pregnant together, but also loved how it ended up being in the same gestational period. It was even better than we thought. From that moment, I joked that maybe we could deliver the babies together. Due to the nature of my husband's career in professional baseball (Brandon Crawford of the San Francisco Giants), my schedule changes daily and we live our lives on the road. However, Janelle and I continued to share every aspect of our pregnancy journey together.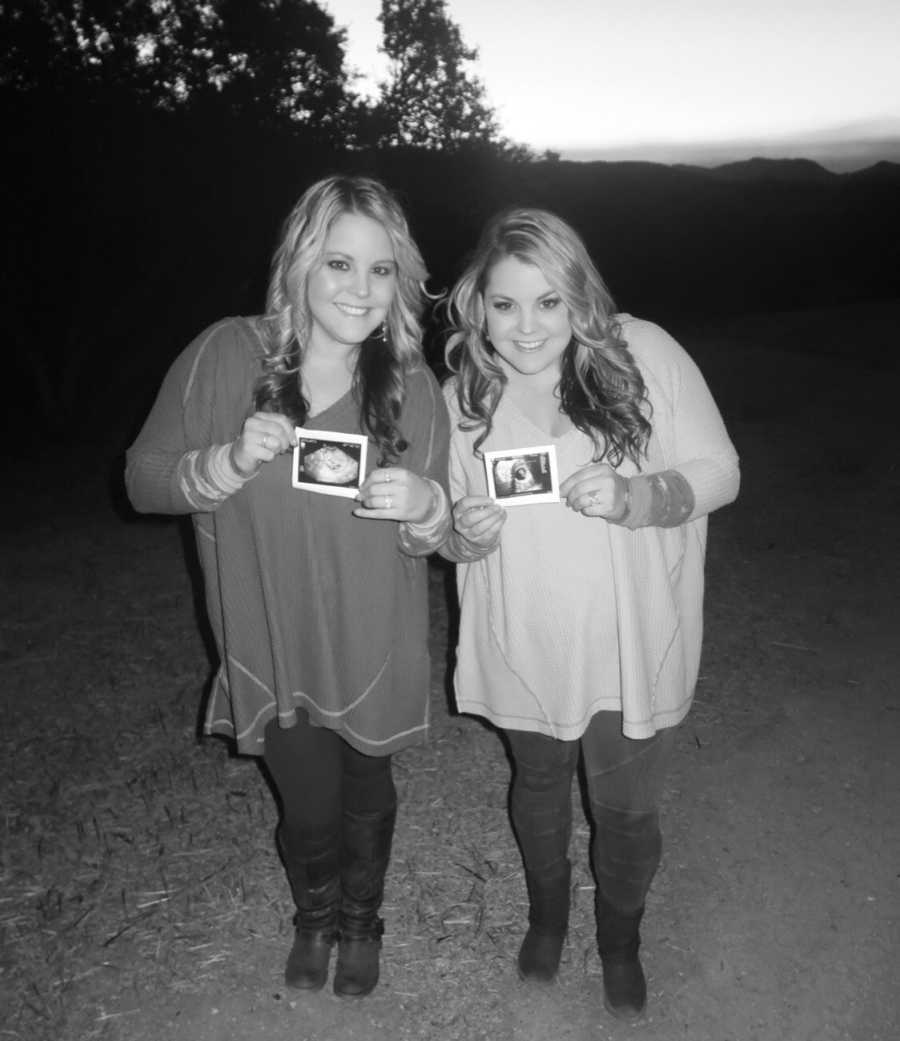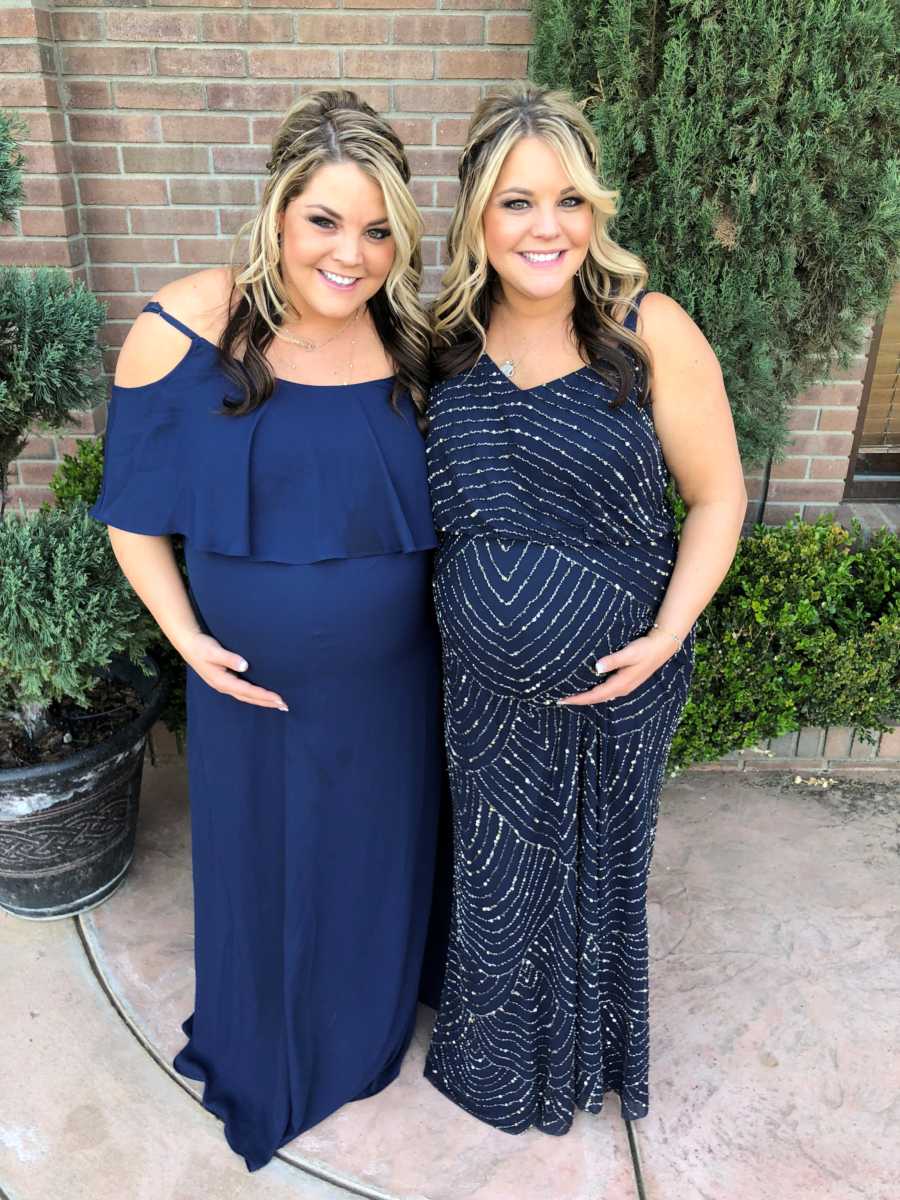 We constantly shared ultrasound pictures, discussed our doctor's visits, and talked about our baby's movements. At the 4-month mark, we went to every doctor's appointment together. As more time passed, we discussed the possibility of delivering together. As long as we made it to 39 weeks and our bodies did not go into labor naturally, we were all set. Our pregnancies were almost as identical as us. The babies were positioned in the same way, their weights were ounces off, and length was the same. Our doctor and the ultrasound technician could not believe their eyes! Neither had ever seen twins share a pregnancy together and they discussed how crazy it was that the babies were growing so similarly. As we reached the end of pregnancy, our dreams of delivering our sons on the same day were becoming more of a reality.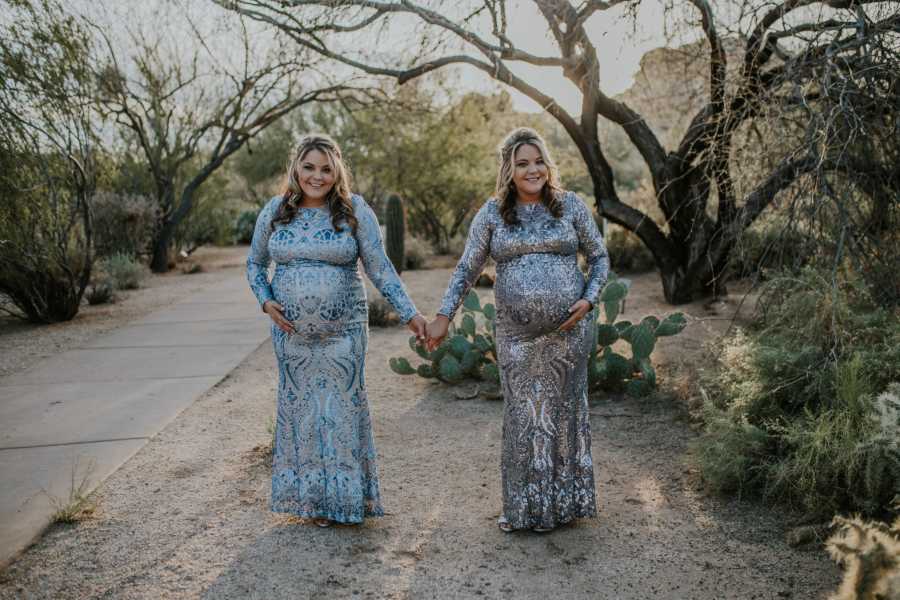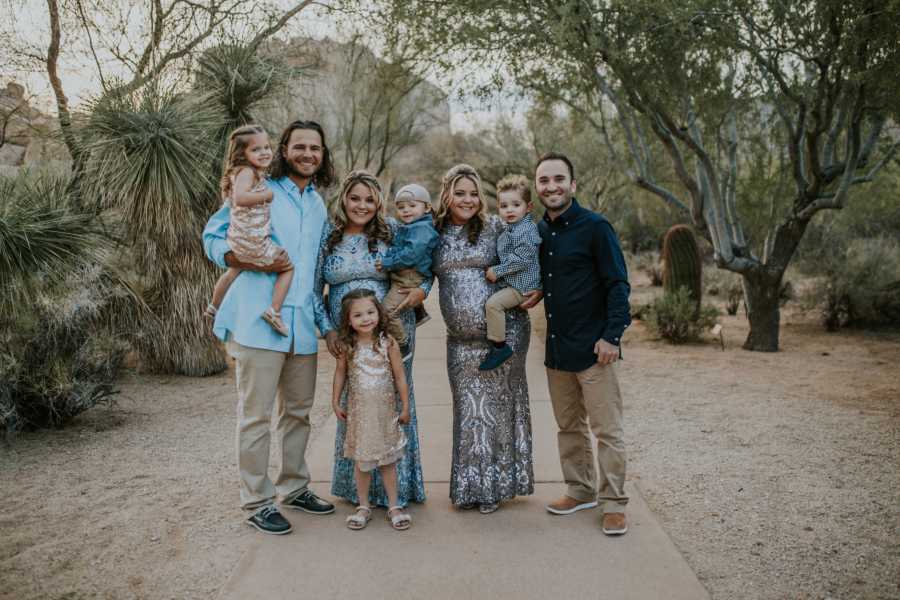 Now I am going to take a moment to back track and give a little background information on my prior birthing experience and Janelle's. With my first daughter, I was 9 days past my due date and needed to be induced into labor. Unfortunately, I tried labor for 51 hours and with the help of Pitocin, a Foley Balloon, and many other methods my body could not dilate past 4 centimeters. After 40 hours stuck at that dilation, my daughter's health was at risk as her heart rate was decreasing, so I went in for an emergency C-section. I came to learn that my pelvic bone/birth canal was not meant for a vaginal birth. I was required to have caesarians from then on out. Similarly to me, Janelle labored for 18 hours and with the help of a midwife. She also was required to have a caesarian since her son got stuck at 4 centimeters as well. Oddly enough (or maybe not), we have the same birth canal that requires C-section. With that being said, we hoped our bodies would make it to 39 weeks pregnant, so we could make it to our planned C- sections. Lo and behold, we did it. We delivered boys on the same day, in the same hospital, both of us having C-sections by the same doctor only about 3 hours apart. We are grateful for our healthy pregnancy journey and June 18, 2018, will forever be a special day where we celebrate our sons' birthday.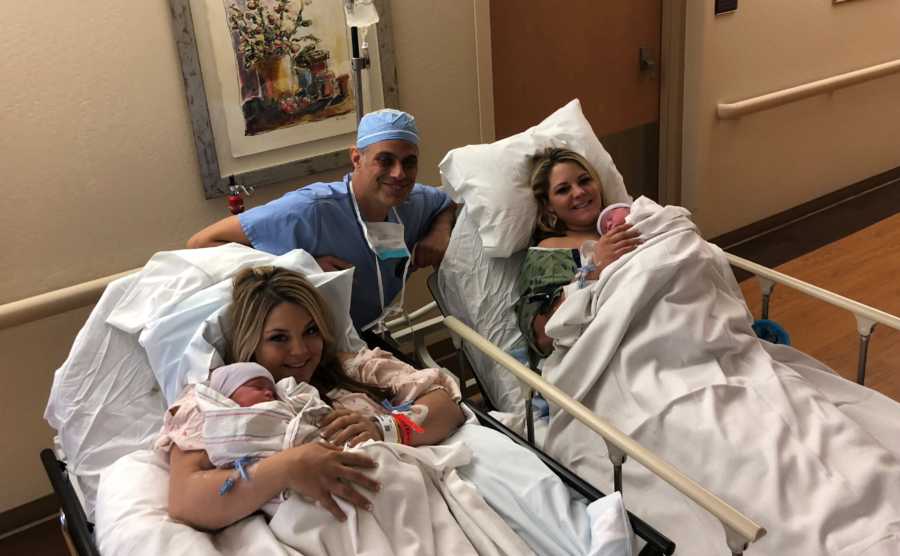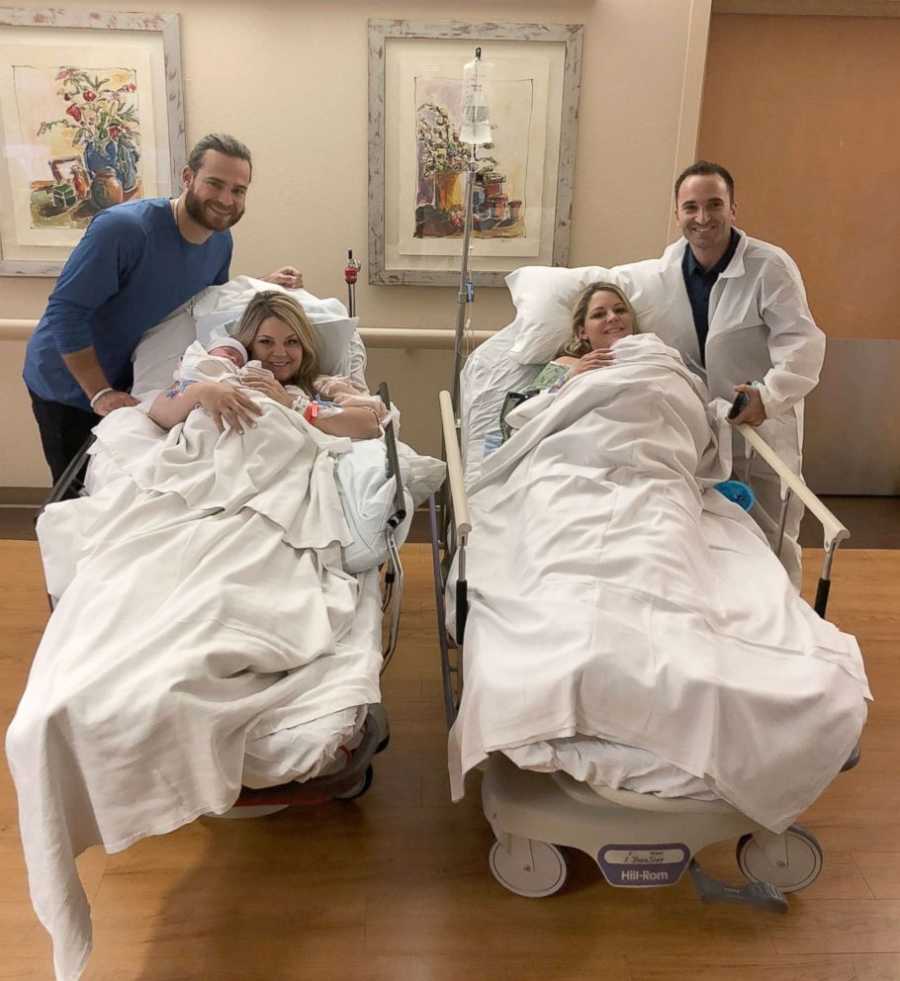 People always ask how we chose who went in for childbirth first. We decided I was born first, I was due first, and my husband's job only allows for 3 days paternity leave, therefore I went first.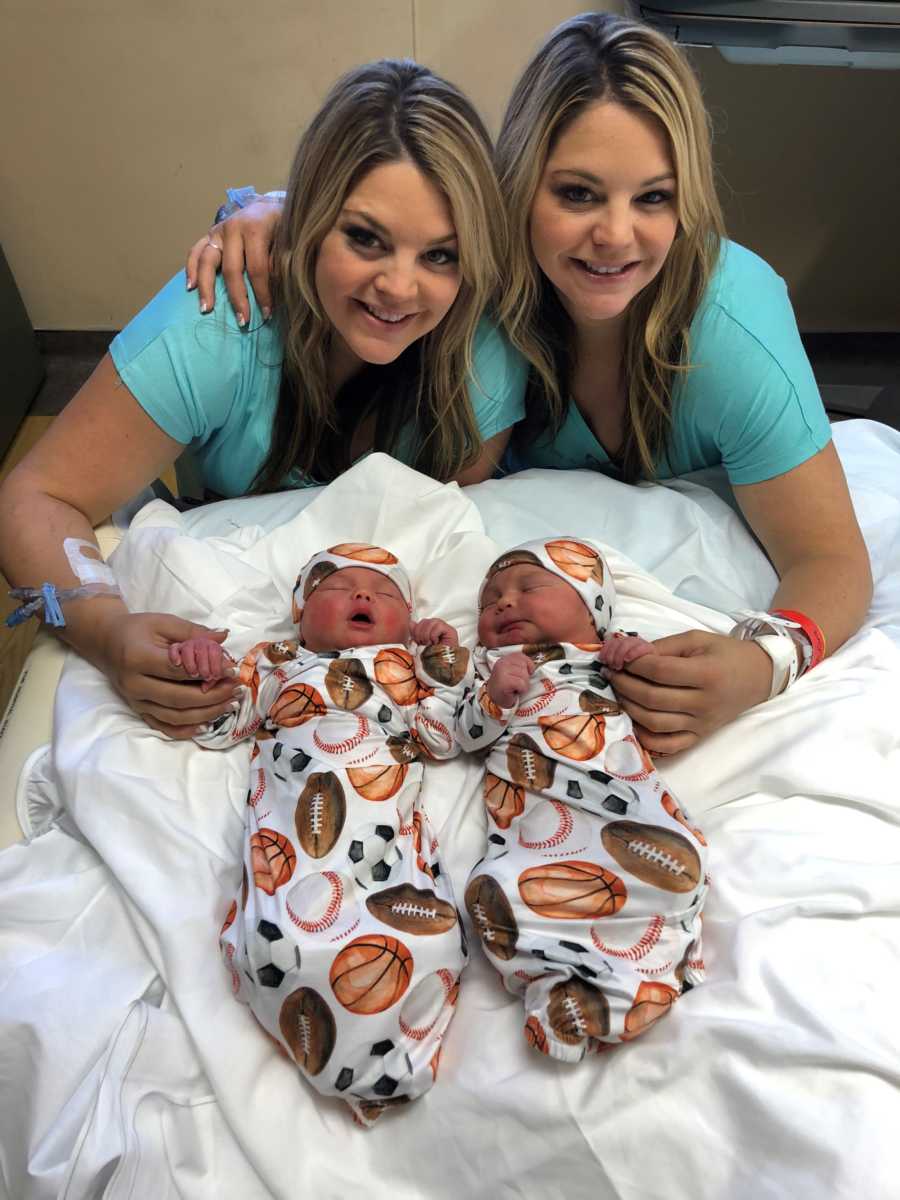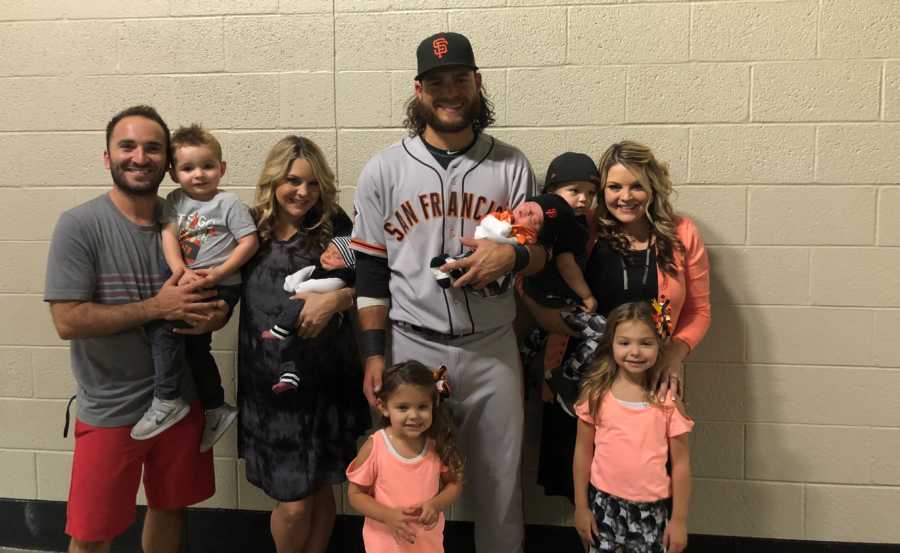 We cannot wait for our sons to grow up together and we can only hope for a bond like ours. Our 6 children between the two families are already so close. Every time we leave each other, our children are asking us when we will see them next. How blessed we are! Family is number one in our homes. The whole experience was magical and a dream come true!"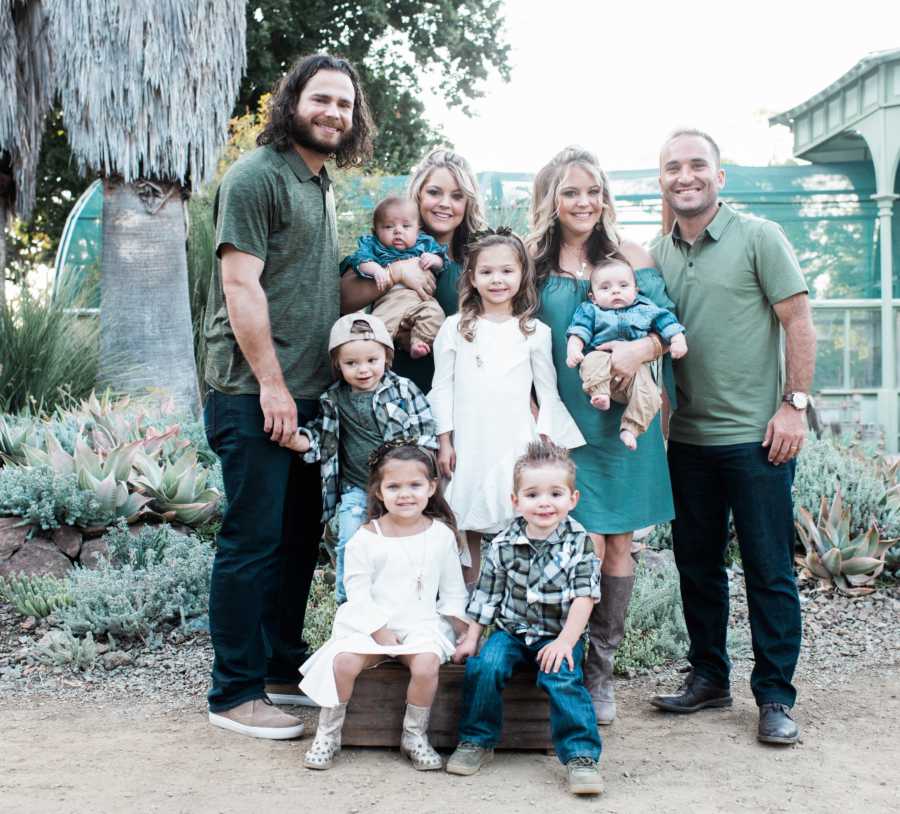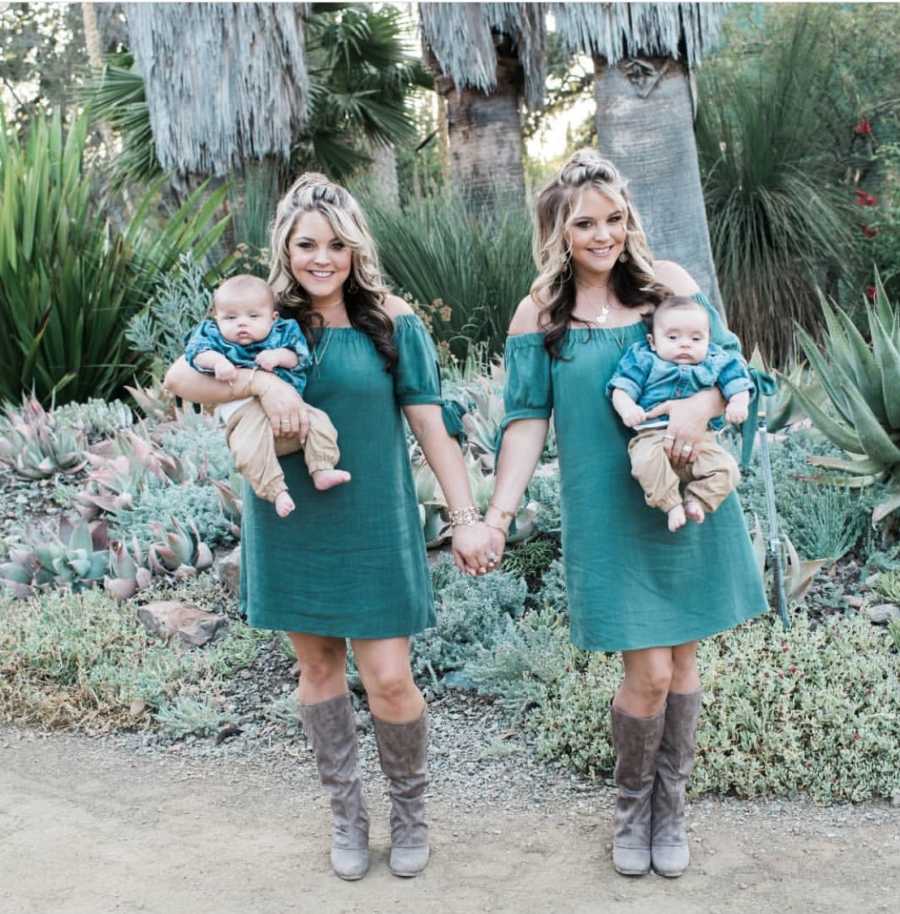 This story was submitted to Love What Matters by Jalynne Crawford, 30, of Scottsdale, Arizona. Do you have a similar birth experience and would like to share your journey? We'd love to hear from you. Submit your story here, and subscribe to our best stories in our free newsletter here.
Read more stories like this:
'Terminate one baby.' My weak heart couldn't handle triplets. But as a triplet myself, I wanted all three.': Triplet births triplets against all odds, delivers 3 'healthy, amazing little miracles'
'Either pregnancy is harder with age or we're having twins.' Our son with down syndrome had just battled multiple heart failures and a stroke. 'Actually, there's 3.' Um, excuse me! What the heck?!?!' Mom delivers baby with Down Syndrome & heart defects, gets surprised with triplets 1 year later
Please SHARE this story on Facebook to encourage others to cherish every moment and love what matters most.