"Last week, a friend of mine posted an image of a cat in our cleft moms group chat. This kitty was taken in by a rescue group in Minnesota. We knew immediately that this kitty was meant to be part of our family.
Not only does he have a cleft lip like our 7-year-old son Madden, but he also has complete heterochromia iridum like Madden. They were destined to be best friends. It's funny how a pet can make you feel less alone.
Heterochromia iridum is when a part of the iris has at least two colors. Complete heterochromia iridum, where the eyes are complete different colors all together, is quite rare, existing in less than 1% of the population (I'm told). That plus the cleft lips is exceptionally rare.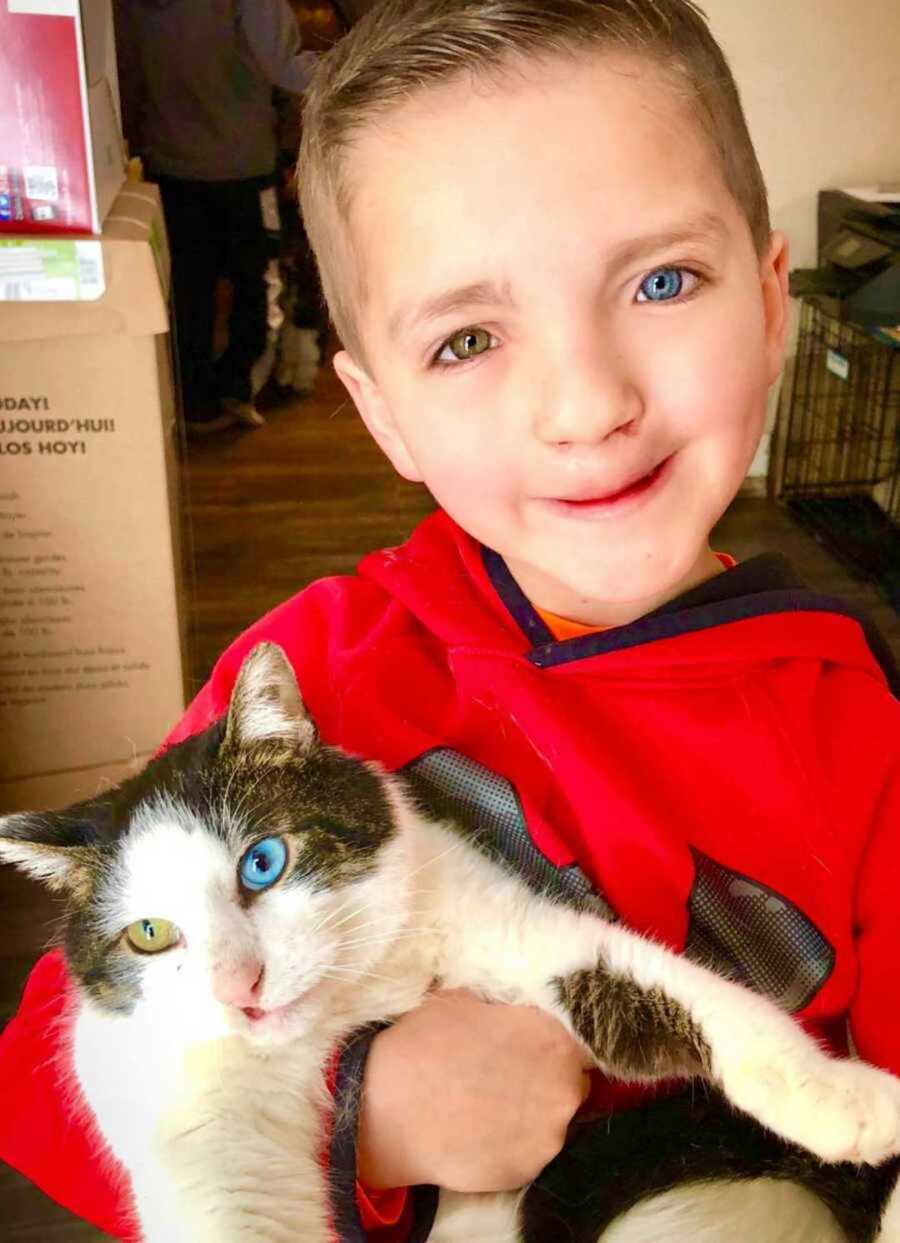 We have friends that kindly helped fund a road trip so that we could travel from Oklahoma to Minnesota to adopt this sweet kitty and bring him home.
We're usually not spontaneous people, but we knew that we were meant to love this kitty. Moon, the kitty, and Madden are the perfect companions for each other. In a word full of bullies and hateful words, we will choose to chase love.
I think it's safe to say that this kitty is love, and was certainly meant to be part of our journey and Madden's journey.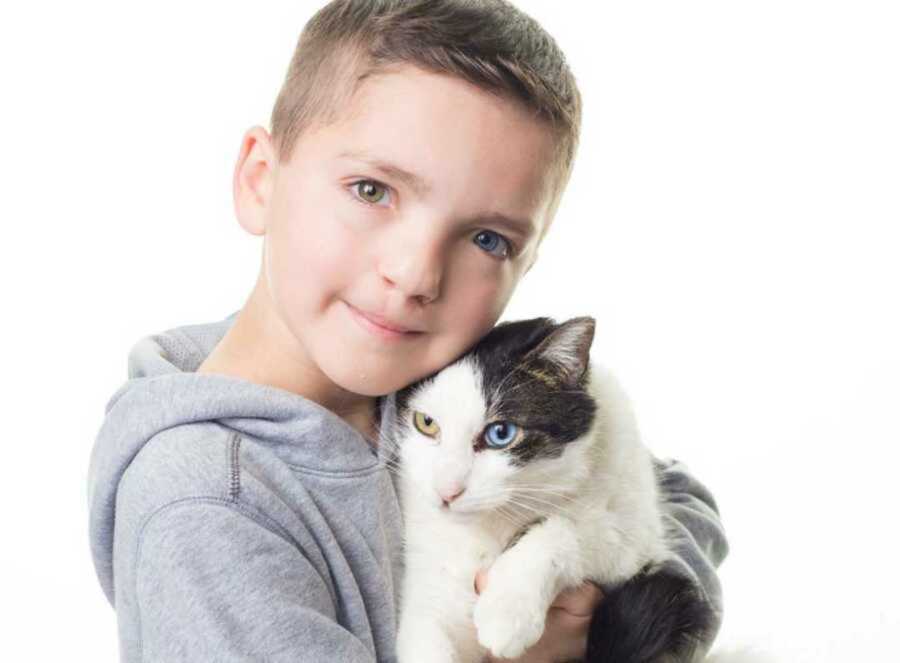 I'm stunned at how this all played out. It sounds silly, but fate willed these two together. There's no other explanation.
This kitty was so far away from us. I'm amazed that we found out about him, and even more amazed by the friends and strangers that helped us get to him and adopt him.
Everyone needs a friend, and everyone needs to feel understood. I'm so thankful Madden has Moon.
Not only so that both he and the kitty have a relatable and sweet companion, but also, I hope Moon helps Madden realize that being born unique in an incredible thing; that he is magic. These two handsome guys truly are a wonder.
I had no intention of our family getting attention from this at all, but if anything does get attention, I truly hope it benefits kids with cleft lips, if only to raise awareness."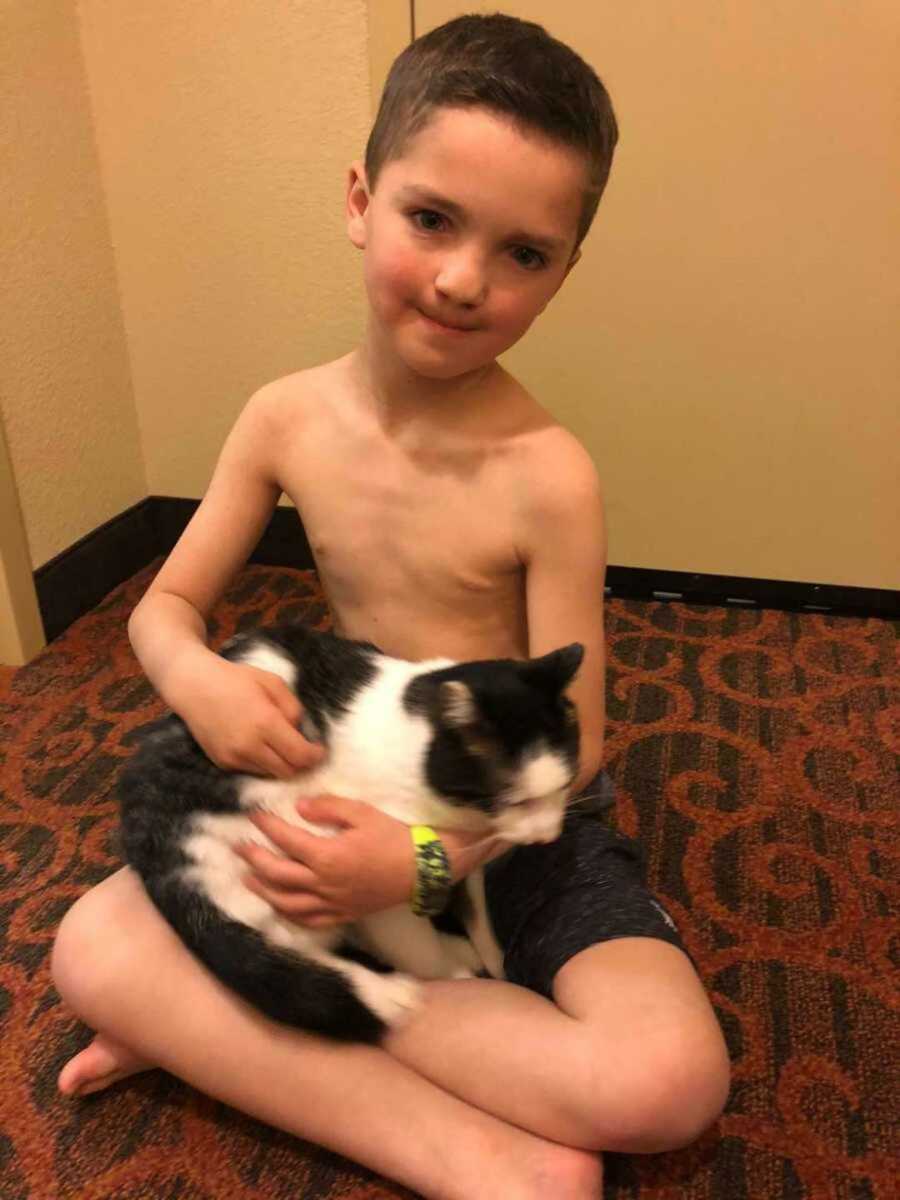 Madden previously went viral for this inspiring anti-bullying video celebrating his differences after he was bullied on the school bus. Now he's got a precious four-legged friend to reinforce just how special their differences make them.
"Don't be mean to other people that are different. We've already been through a lot of hard stuff," he proudly says in the video. "Show everybody kindness! You're missing out on a lot of awesome people if you're being a poophead to them. If somebody's being mean to you, be nice to them. Because the most unlovable people need love the most."
Madden's mom told Love What Matters the bullying "broke his spirit" at the time, but she's confident Moon will help her son's confidence soar. 
"There were a few kids saying really ugly, mean things to him. It really broke his spirit and he had a rough year. The bullying still rears its nastiness once in a while, but the only thing we can do is try to change our perception on bullies, and try to change the way it affects us.
Unfortunately, there will probably always be an unkind person that we'll encounter. It will always sting and hurt, but we can't control other people's behavior, so we will just try our best to change our own mindset.
We're full of shortcomings, just like every other human, but we will always try our best to show others kindness, even when we face our most difficult adversary, even when we're standing up for ourselves, and even when we feel like being kind is the last thing we want to do in a difficult moment.
I just want Madden, and our other two boys, to grow up to be good people, and have healthy mindsets."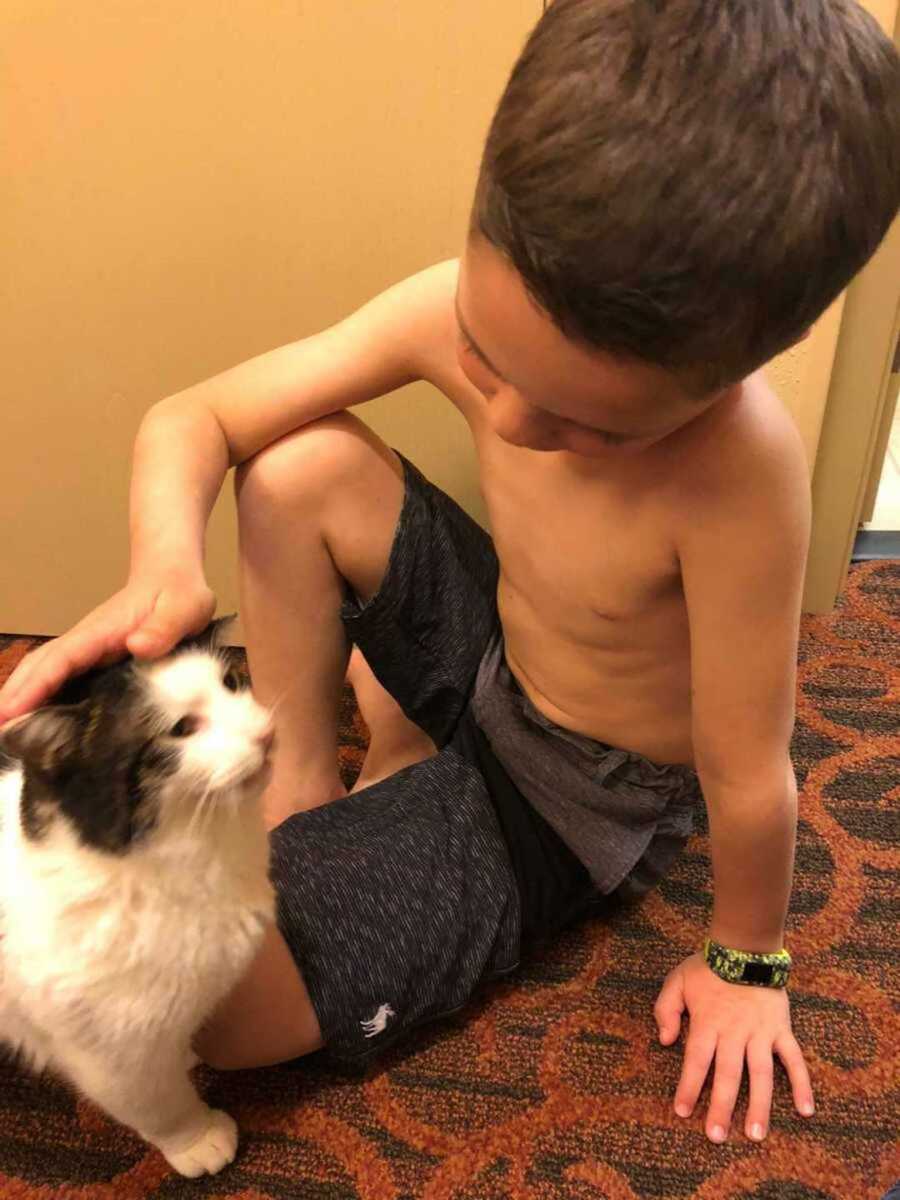 This story was submitted to Love What Matters by Christina Humphreys of Oklahoma. You can follow Madden and Moon's adventures on Instagram. Be sure to subscribe to our free email newsletter for our best stories.
Read more animal stories:
Marine Turned Adoption Coordinator's Videos Of Shelter Animals Being Adopted Will Melt Your Heart
Woman Creates Innovative Prosthetics For Animals, Improving Their Quality Of Life
Provide beauty and strength for others. SHARE this story on social media with family and friends.