"One day at work at my practice, it was super busy with clients and some administrative work. My guide dog Georgie and I stayed late at the office that night.
The other therapists have left, and it's a perfect time for me to clean the bathroom, make sure the candy bowl on the reception counter is full, and refresh that Febreeze – once I'm positive no one is in the waiting room. I know my way around the office pretty well, so one evening I febreezed the waiting room after hours without Georgie, when I suddenly realized a late client was also in the room. She narrowly missed being air-freshened from head to toe. Oh excuse me as we have a laugh and I explain the situation. It feels good to find laughter in the moment.
But tonight the office is truly empty, almost ready for a new year. I pull the calendar from the wall, and with the fuzzy, dime-sized peephole of vision I have left, read the large words at the bottom, 'Live like someone left the gate open.' It is a message that resonates. Years earlier, I mourned closed doors, but now I realize that so many gates in my life have been left open, and I have done my best to go running through them. I remember a sweet voicemail that my vocational rehabilitation counselor had left years earlier when I wasn't sure how I'd do the things I wanted to do blind.  Paraphrasing Helen Keller, she said, 'Now Becky remember when one door of happiness closes, another opens, but often we look so long at the closed door, we do not see the one that has been opened for us.'
Georgie and I lock up and get in the Uber I've called to drive us home.
As a child, my eyesight seemed to be diminishing, although I wouldn't fully understand until a diagnosis of Retinitis Pigmentosa and legal blindness at age 18. I had a wonderful childhood with my family and friends filled with dancing, dress ups, time with friends, and lots of time on the trampoline and clubhouse. Night games, Halloween, volleyball were more challenging, as night blindness and loss of peripheral vision are the first symptoms of Retinitis Pigmentosa.
As a freshmen in college, I attended a dance the night of a diagnosis and told a good friend Steve, who would later become my husband, that I had retinitis pigmatosis, and it explained why I couldn't see at night, nor missed him when he walked right by me. This diagnosis gave clarity and also led to losses. The first one to leave was the ability to drive.  Over the months to come, Steve and I fell in love. He didn't seem to mind that I was losing my eyesight, and met it with compassion, humor, and support. Just what I needed. One of our first acts of teamwork with low vision was at our wedding reception. He would tap my elbow as I needed to put out my arm. We had a plan not only for that night, but also to set the groundwork to continue to find a way, as we raised our family, master's degrees, building business, tandem cycling, and running.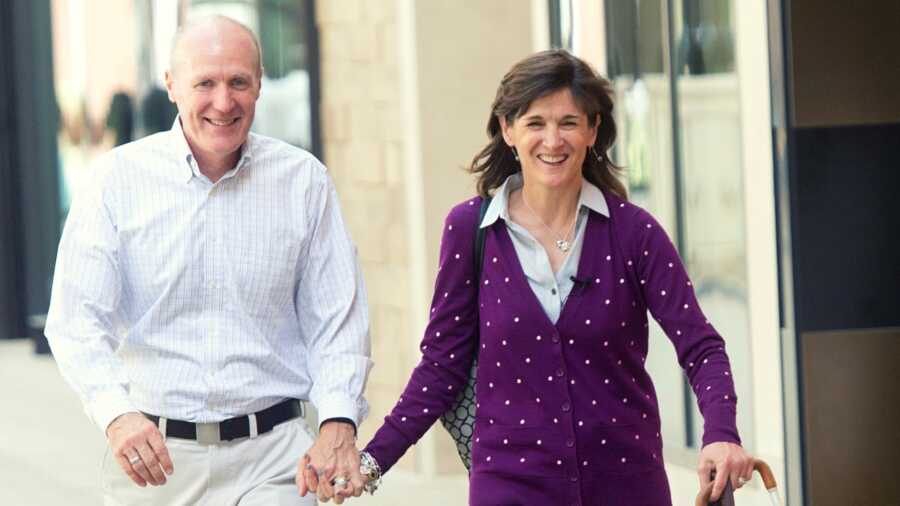 Running to the Boston Marathon.
A few years ago, my friends – Brenda, Suzette, and I were running along Davis Boulevard (our running route in Bountiful). I was following their lead, both with verbal cues, and a red tether, where one side is around their arm and the other side I hold on to for guidance. We were preparing for our first marathon – Top of Utah. We began to talk about the qualification process to get into Boston. A dream was planted!
In life as well as a marathon, preparation gives us confidence. To qualify for Boston, it took four marathons to reach the qualifying time. Each marathon point had its own story of lessons learned and memories to be treasured. In NYC, I experienced the amazing energy of 50,000 runners coming together with crowds calling out our names and cheering us on. However, one of the marathons I learned the most from was the one that I wasn't able to run. I received a stress fracture during our sixteen mile run —  just a month before the Ogden marathon – which ironically has the theme (Get Out and Live). The doctor suggested maybe I shouldn't run anymore. No! I explored shoes, physical therapy, improving my running technique, more calcium, and then lots of patience as my foot healed. I became a stronger runner during this time.
At the Utah Valley Marathon, when my friends were much more prepared than me as I had another injury, I was reminded of the value of teamwork and incredible friendship and support. I was concerned about holding them back. My friend shared: If you want to go fast, go alone. If you want to go far, go together – Afrikan Proverb. I am so grateful for how far we have gone together!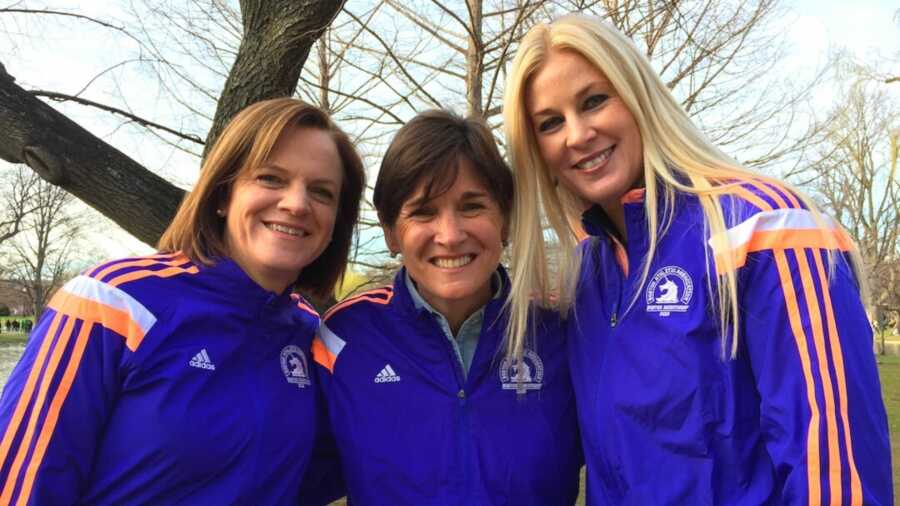 While contemplating whether I could run St. George Marathon after yet another injury, this quote spoke to me reminding me of the value of showing up!
The miracle isn't that I finished.  The miracle is that I had the courage to Start. – John J. Bingham
I showed up, and on about mile five, a woman seeing my vest — blind runner –  began talking to us. Her grandson was one and blind. We talked and talked and shared until the next water stop, when we hugged and were lost in the crowd.  I was so glad I had shown up.
I still get chills thinking of Brenda and I walking up to the Start Line of the Boston Marathon. In Boston, you can only have one guide runner at a time. Suzette would be ready near mile 13 to make the trade with Brenda. It was a cold rainy April morning. I was clutching Brenda's elbow as we navigated our way to the start line. We were a part of 30,000 other runners experiencing this moment!  We had worked hard for this day.  They were announcing:  WELCOME TO THE Boston Marathon. I was fighting back the tears as I knew I needed to concentrate on following her lead and starting to run, and also wanted to take in this moment!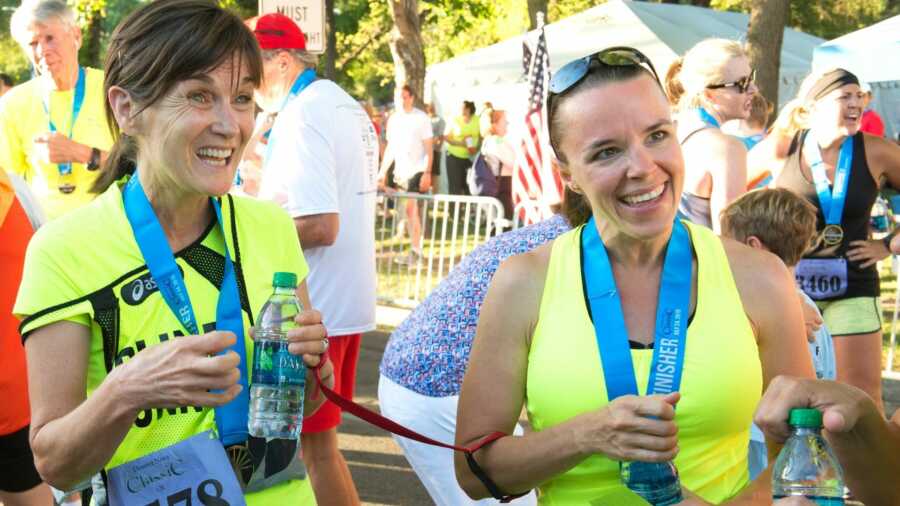 We started off running, attempting to avoid the puddles, and then realizing that was impossible. We got in a stride and felt the energy and excitement of the other runners and people of Boston. Brenda was navigating all the people, giving me verbal directions, as I held on to her elbow. The crowds of runners were too tight to use the tether as we began. I loved listening to the collective sound of all the runners shoes hitting the pavement.
Even in the pouring rain – the crowds were incredible. People calling out – You got this! Thanks for coming to Boston! Good job! I believe in you!
The collective spirit of people supporting one another on and off the marathon course is inspiring.
We were in a rhythm making good time. Suddenly we were near mile 13 and there was Suzette ready to make the transfer!  We took a moment the three of us together for a hug and picture. I relished in the moment of us being here. Also, Steve, my kids, and parents were there along the route cheering us on! Suzette and I took off for part two. She was there not only guiding me with our tether now that the crowds had thinned out, but also telling me what our surroundings were, and asking me if I needed Gatorade, or our favorite energy boost candy.
Near Mile 20 I began to feel what is called: Hitting the Wall. At this point you might feel the sudden urge to quit. What was I thinking? Seriously, I can't do this? I feel like I'm going to die? This will be my last marathon …
I reflected on a quote I heard … Negative thoughts make our feet feel heavy. Thank heavens Suzette was encouraging me along with positive thoughts!
The wall is a time to dig down and find our inner strength. A time for reflection on the difficult things that we have overcome and knowing we are stronger because of them.
Just as we were going up the top of what is called Heartbreak Hill … there is our cheering section— they gave us the lift to keep on going. I felt such gratitude for those around – both family, friends, and strangers going out of their way to cheer us on.
As Suzette and I rounded the corner on Boylston street near the finish line, the joy of the moment surpassed any exhaustion and physical pain. We had run the Boston Marathon! All the work we had put in was realized! I was wet and cold, but my heart was warm and grateful for those who had shared it with me.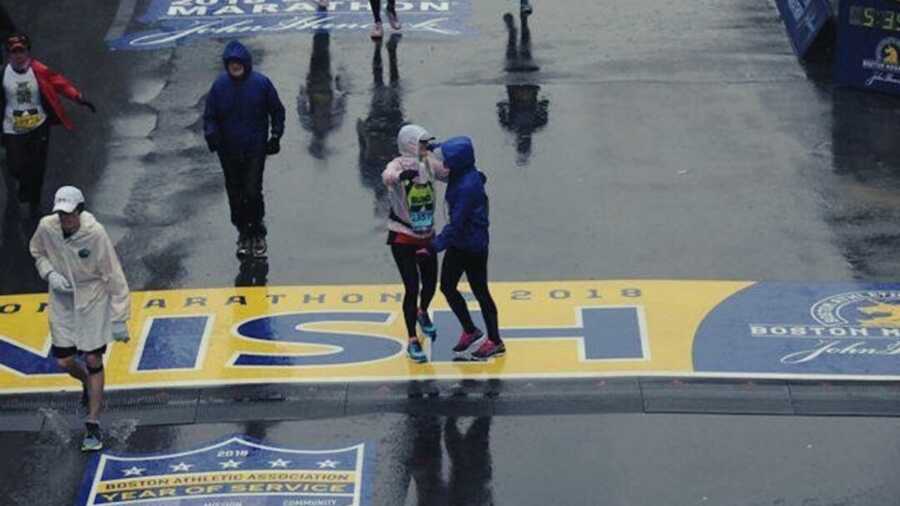 I titled my book: 'Look up, move forward', which has become a motto and a story experienced with my second guide dog, Cricket. Cricket and I had a favorite route we'd take during our lunch break, a nice one-mile loop around the office that took us through our old neighborhood in Centerville, past the elementary school our kids had attended, and to our favorite grocery store. On this route, a month or so after Cricket and I were matched, she and I liked. It's a definitive moment I've experienced with each of my dogs, a realization that we are working together on a new level. Our steps were in perfect rhythm, the connection between my hand, and her harness almost seamless. One day after a busy morning at work, Cricket and I went for our walk. I imagined she needed to clear her head as much as I did. We had just hit our stride when my phone rang. I don't usually talk on my phone while walking with my guide – perhaps it's the equivalent of not driving and testing. But since the call was from one of my colleagues, I picked up to make sure everything was okay. Thing were fine at the office, but my colleague was going through a difficult time. She needed to talk, and I was happy to listen, hoping I could upper her in some way that would help. I slowed down as we talked, and Cricket sensed that I was preoccupied. She slowed down too, and then got distracted herself, sniffing along the edge of the sidewalk. We were barely moving. Hoping I could redirect her without interrupting my friend, I whispered, 'Cricket hop up, move forward.'
'Becky, what did you say?', my friend asked.
'Oh sorry. Cricket was just off focus. I told her to hop up and move forward.' She then said, 'I thought you said 'Look up, move forward,' and that is just what I needed to hear.' My friend heard a gift in my instruction, a bit of wisdom that has struck with both of us. Cricket gets all the credit for the insight and for teaching me a lesson I treasure.
So often we are encouraged to just move forward during difficult times or press on through challenging circumstances. The frequently prescript remedy is to get moving again, or to keep moving through the pain.
Obviously, I believe in movement – I love movement. Moving forward does play a role in healing. But just like I asked Cricket to hop up, or 'lookup' first, real progress requires a period of refocus, a sort of pause in our lives.
For me, looking up is often seeking spiritual help, but it can also be taking a moment to look for silver linings, or to bask in gratitude for the beauty in my life. It's the quiet moment of contemplation or the consideration of my values. When I take that moment to refocus, and select on my motivation and desires, I find the strength to move forward with purpose and determination. Then, moving forward really does make sense.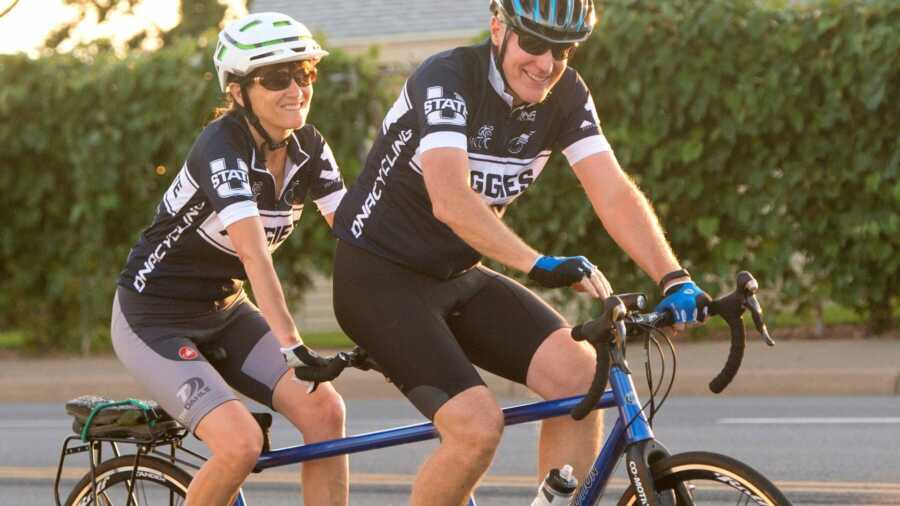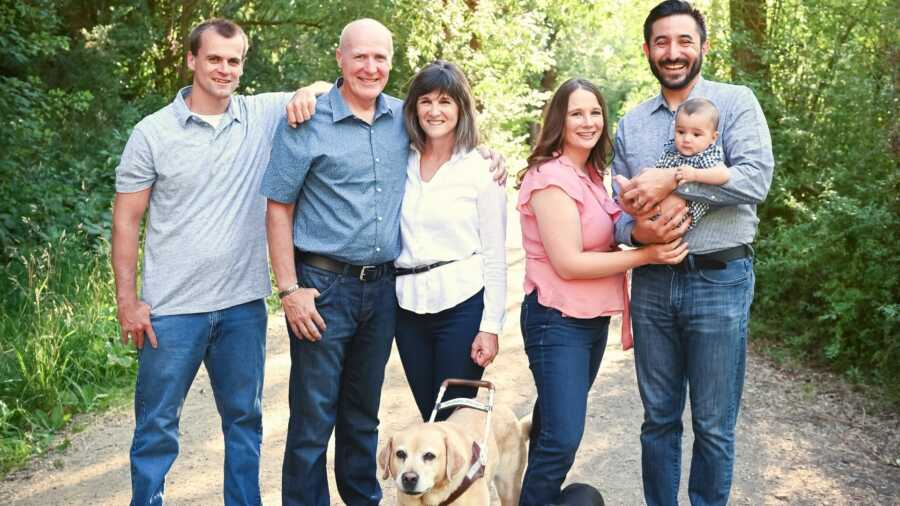 Throughout my life, there have been challenges bigger than running the Boston Marathon and losing my eyesight. However, they both have been examples of incredible teachers and analogies for other aspects in my life. When I dream big, when I am persistent and don't give up, when I tackle challenge with grit, accept help and lend a hand to others with gratitude for all that is around me, I create a life that's rich, peaceful, and full of joy. It's exactly the soft of life I've always wanted.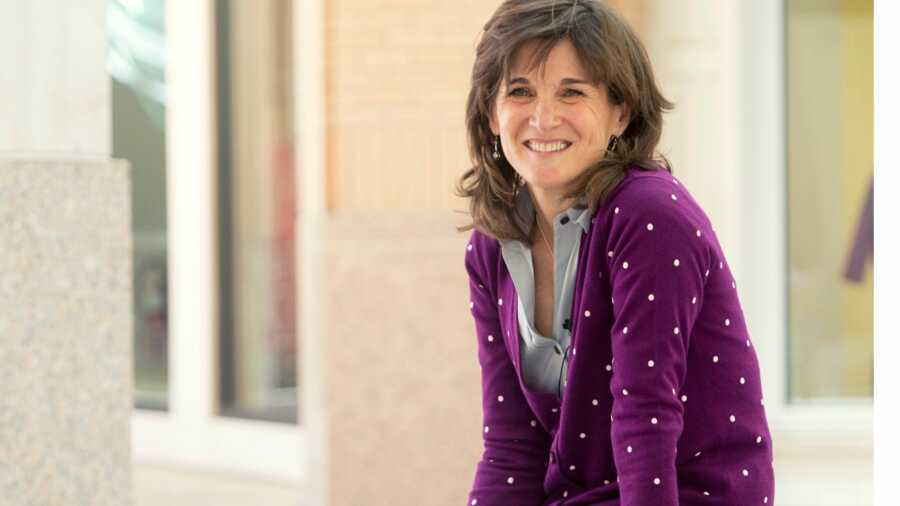 This story was submitted to Love What Matters by Becky Andrews of Bountiful, Utah. You can follow her journey on her Instagram and her practice's website where you can also purchase her new book. You can also support the eyesight loss nonprofit organization she is very passionate about. Submit your own story here, be sure to subscribe to our free email newsletter for our best stories, and our Youtube for our best videos. 
Read more inspiring stories like this:
'Growing up, 'blind' was a dirty word. Once I accepted it, everything shifted. It turned from a dirty word into a powerful word.': Blind man embraces label
'Both of his eyes bounced. I knew there was something wrong.': Mom says 'we didn't know how beautiful raising a blind child would be'
'I TOLD you, I'm blind. I can't anymore.' His response surprised me. 'So?' My new life began.': Man shares journey learning to live visually impaired, 'Fail, get up, keep moving forward'
Help us show compassion is contagious. SHARE this beautiful story on Facebook with friends and family.