"My name is Trinity Campos and I have been married to my husband, Bryan Campos for 2 years but we have been together for 5 1/2 years. We met through a mutual friend and we both really had no interest in a relationship but hit it off the first time we met. We were together for one year when I found out I was pregnant.
We were thrilled and of course scared. But we knew we wanted to be with each other for the rest of our lives, so we were prepared to take on this challenge. However, when I was 20 weeks pregnant, I found out our daughter, Aria, had Gastrochisis, which is a deformity where her intestines were outside her body.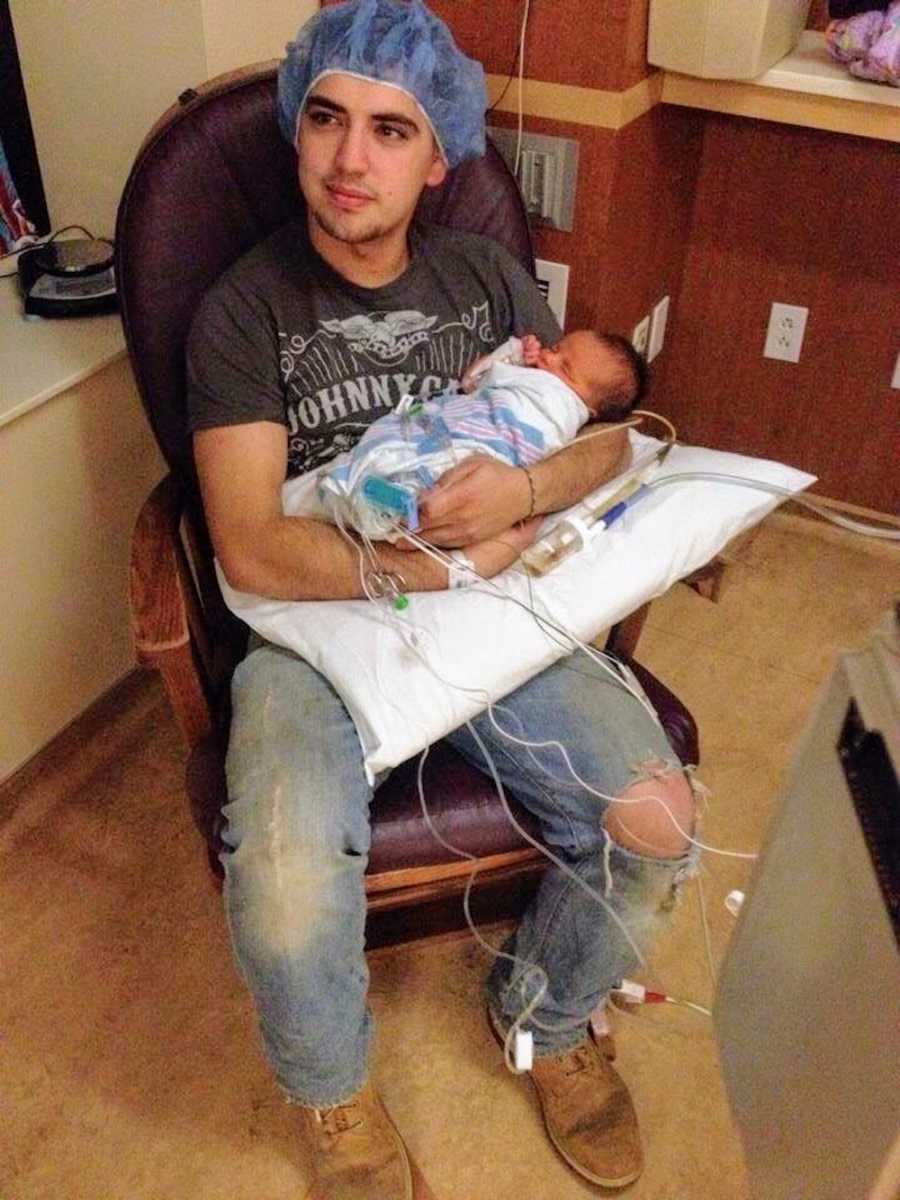 I spent the entire pregnancy at so many doctor's appointments and then of course she had to get surgery when she was born. The first year after she was born was the hardest. We were in and out of the hospital with her and it caused a lot of tension and stress in our lives.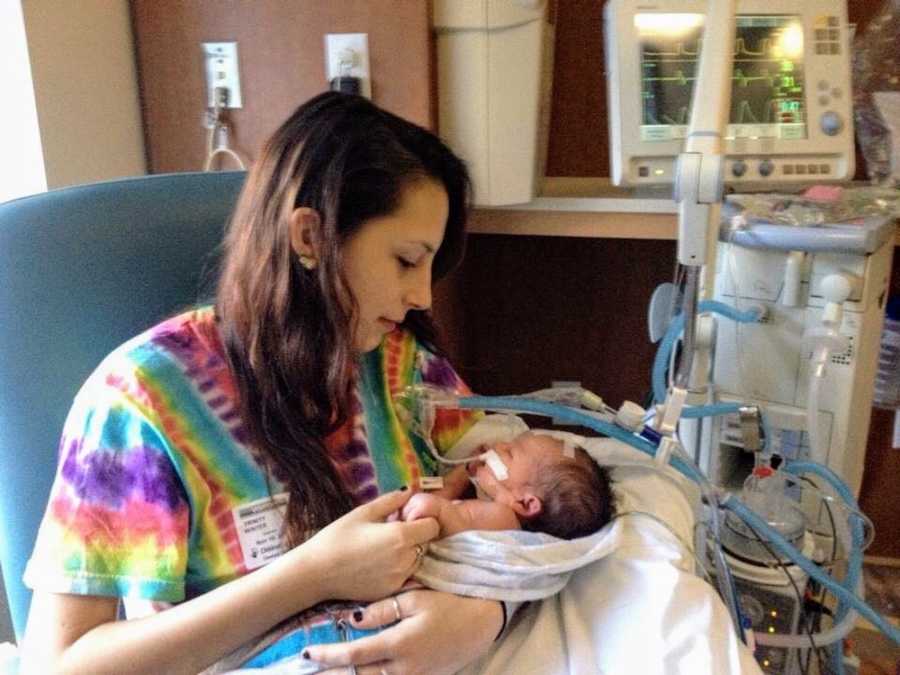 Three and half years later, she is perfectly healthy and the most amazing little girl I have ever known. Of course, after we had her, we started thinking of ways to better our lives for her. I had thoughts of joining the Police force and Bryan got certified in welding. But that wasn't enough, so the idea of the Military came up. It took a year for us to finally commit to it because we wanted to be absolutely sure we were ready for that new chapter in our lives.
My family supported him 110% while his family did not. So, it was a constant battle of not knowing what to do. He eventually went through with it and left for basic training in September of 2016. At the time, I thought those nine weeks without seeing him were tough, I had no idea what I was really in for. We went to Fort Jackson in November to see him graduate and it was like we got a whole new Bryan, kind of like an upgrade.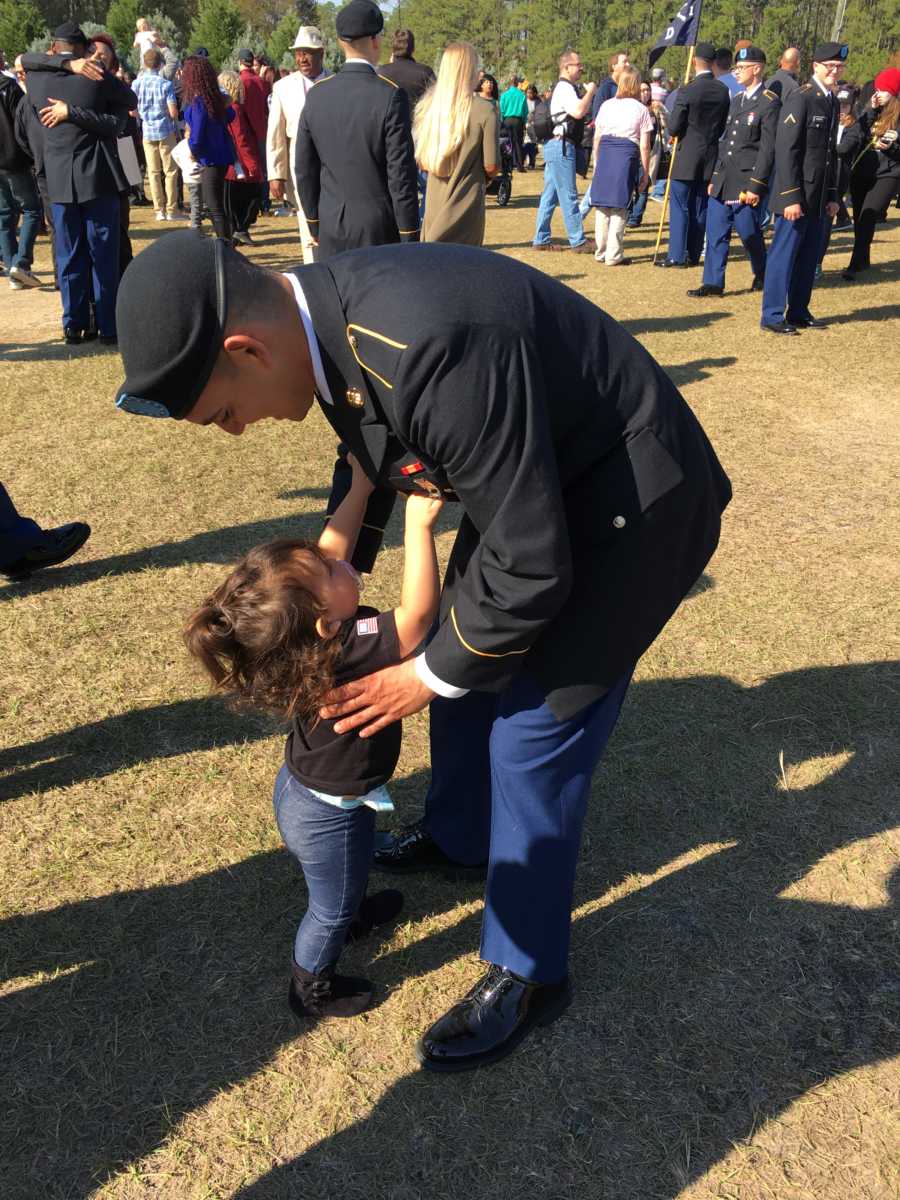 We had this new man who was full of life again, who was proud, and who felt accomplished, and it was very obvious he felt all of that. When Aria first saw him, she was a little timid, but it took her no time at all to warm up to him. We drove him to Fort Eustis, VA where he would be doing his schooling for the next 5 months. After I dropped him off, I quickly realized I wanted to be closer to my family during this time because I really needed the support. So, I packed up our entire house in Ohio and moved to PA where my family lives. Staying with them really helped time go by quickly and kept us busy.
The first of his many accomplishments was graduating at the top of his class with distinguished honors, and I remember feeling so proud of him. He gave a speech at his ceremony, said goodbye to all of the new friends he had, and just like that we were leaving VA and making our way to Fort Hood, TX. When we first got to Texas, we were excited. Not only for the new adventure but for the awesome weather! About a month after we settled in, we both started feeling home sick and we missed our family. We still kept busy and found so many hidden treasures in Texas. When it was confirmed Bryan would be deploying so quickly, we were heartbroken. So, we spent as much time together and made the most of every moment! October came very quickly, and we were not prepared for what was coming next. The goodbyes were awful, and Aria didn't understand why I was crying all the time, but she was always trying to comfort me.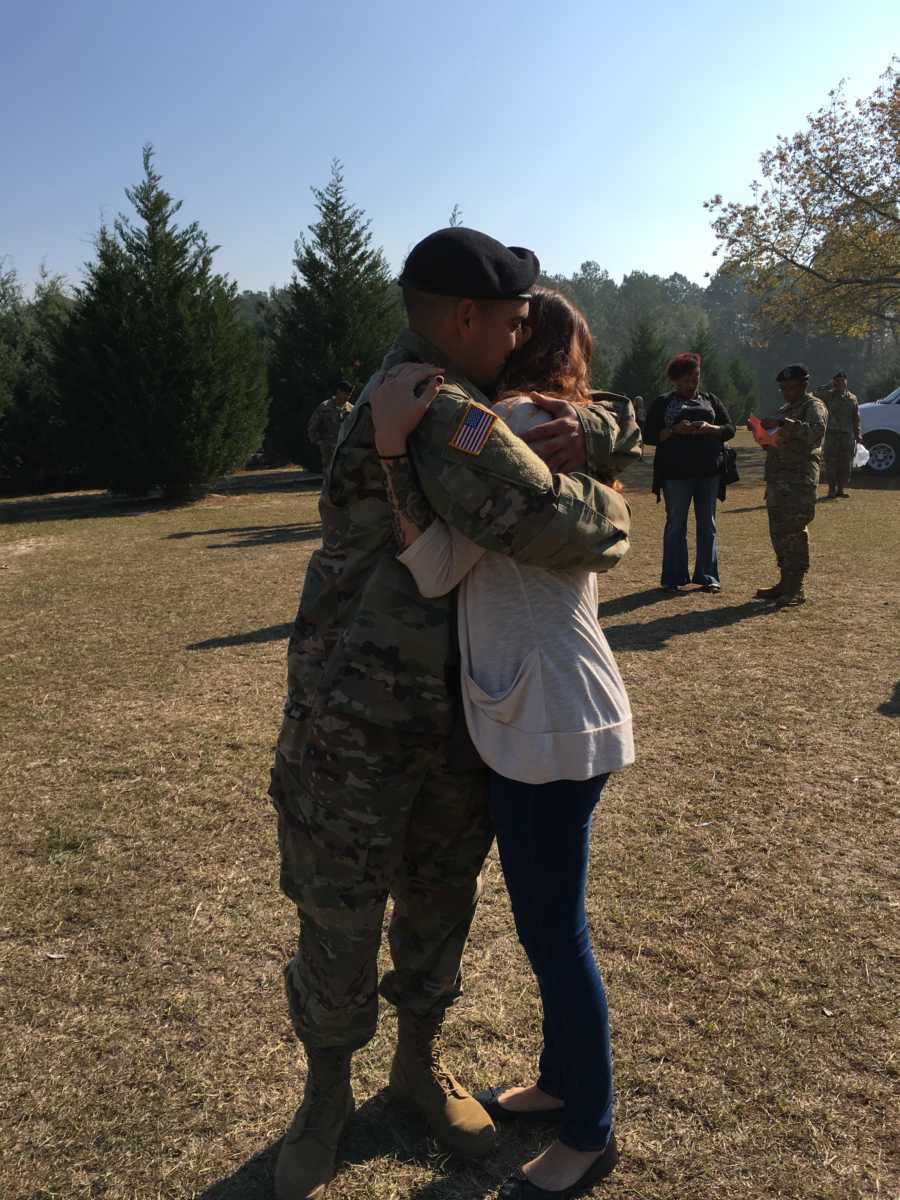 The entire deployment felt like an eternity! Days were going by so slowly and Aria was growing up so fast. She turned into this little spunky, full of attitude Threenager. So, trying to learn how to be a single parent to her was hard. I had to play the role of Mommy and Daddy, good guy and bad guy, and try to make life more understandable for her. She started asking me questions about Bryan and I tried my best to answer them in terms she would know. I got Aria in daycare and I started my photography business which really helped the last few months speed up. One day, I was scrolling through Facebook and came across some military homecoming videos where the Dad surprises the kids. Aria and I ended up watching those videos for hours and she was so happy. So, then I had the idea of making her own video for her to have. So, I wrote down the ideas I had, and I started filming and putting it together.
The day before Bryan was supposed to come home, we received the devastating news that he wouldn't be home the next day and that we had to wait 5 more days, which won't seem like a lot to some people, but those days felt like years. Aria was so heartbroken, she didn't leave her room that entire day and wouldn't eat or talk to me. The day of his return was so special because it was finally here, and we knew he was actually coming home.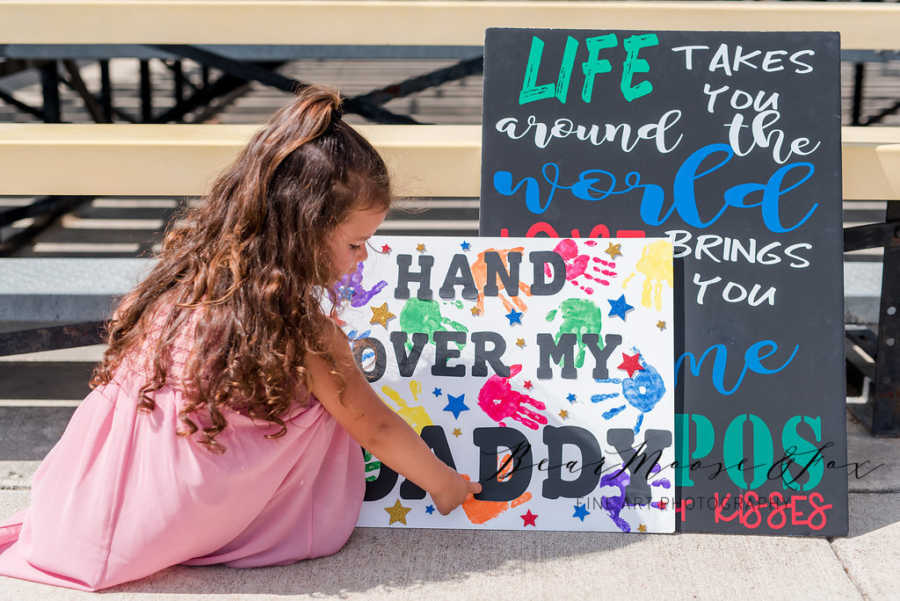 When we got to the field, I felt so sick to my stomach and it didn't go away until I saw him running towards us. That moment we saw him, we all took off running, Aria threw her sign down and ran into his arms.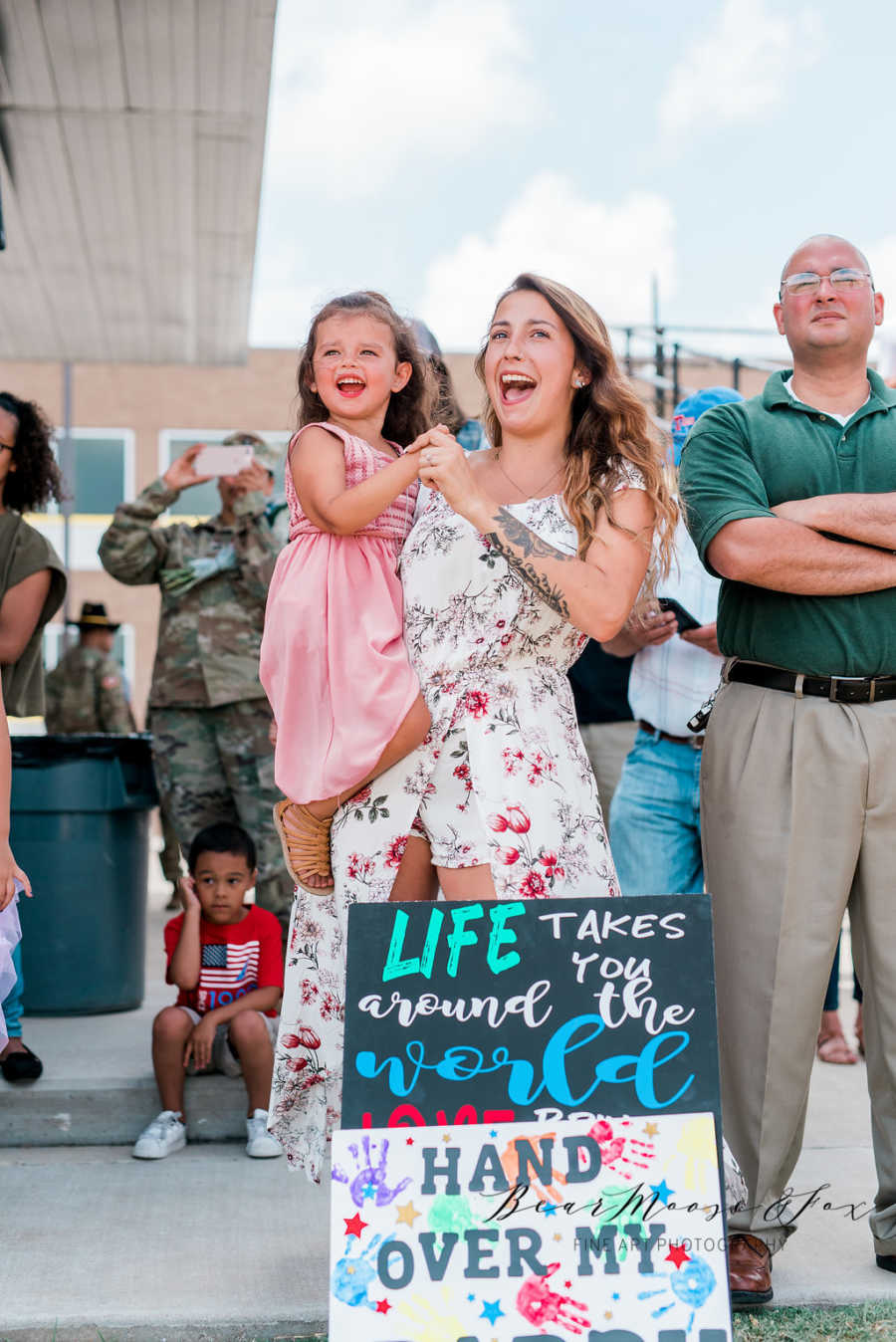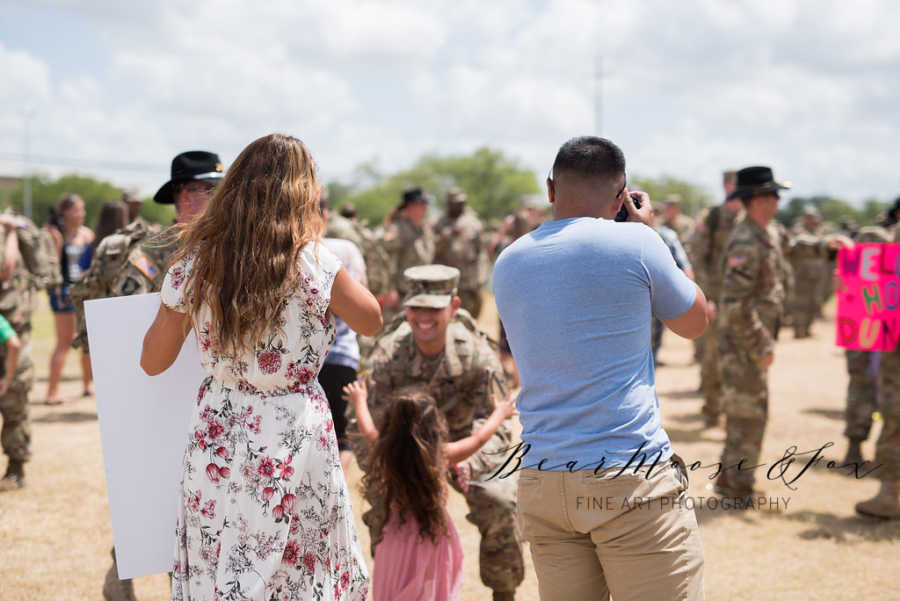 That was a moment I wish I could relive over and over again. When we were all finally together, everything felt right. All of the struggles I dealt with during the deployment seemed so far away. The loneliness, that sadness, the depression, all went away. Having him home is a blessing because not everyone makes it home. We are fortunate, and I thank God every single day.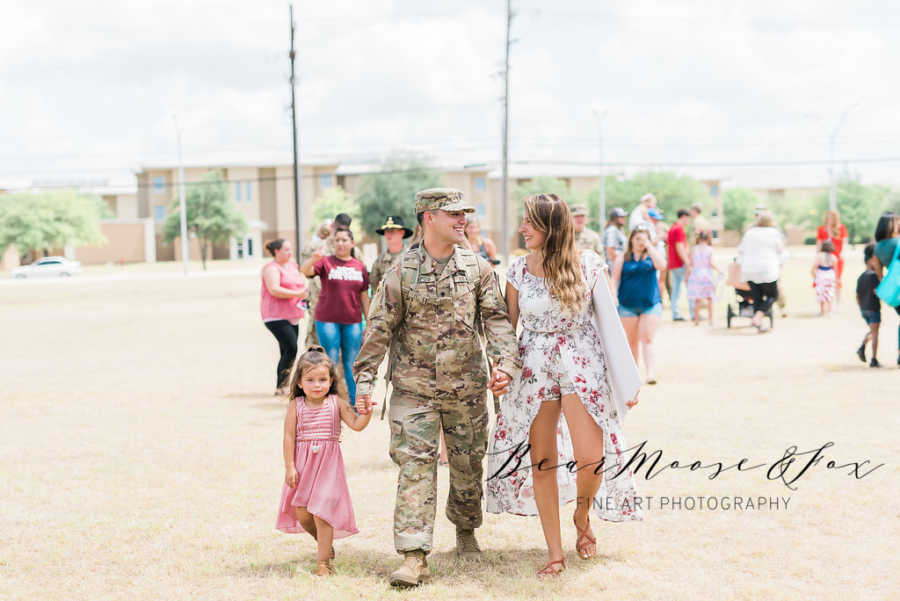 When I posted the video, it got attention very quickly. I started getting messages from people all over the country, calling me an inspiration and telling me that I have helped them with whatever they're going through.
That right there, I can't even put into words how that makes me feel. Knowing that something I did is impacting thousands of people all over the country is amazing!! I can only hope that I can continue to help people because that's all I've ever wanted to do my entire life!"
This story was submitted to Love What Matters by Trinity Campos, 24, of Fort Hood, Texas. Submit your own story here, and subscribe to our best stories in our free newsletter here.
Read more stories like this here:
'We're the only American family on the block. 'Dear Neighbors, we'd be happy to see you tonight.' They took the time to include us.': Military family finds community during deployment, urges 'make others feel welcome'
'They ran towards him. 'Daddy, are you gonna die?' Deployment was 10 months. We planned a surprise. I never mentioned it. I didn't want to get my hopes up.'
'It felt like the longest 3 days of my life, keeping the secret from him.': After miscarriage, woman surprises Army husband with pregnancy before his deployment
'I have two toddlers that need a place to stay.' He was nonverbal, drug-exposed, and had a brain lesion. We were terrified.': Military family adopts brothers from foster care, 'Miracles happen every day'
Help us show compassion is contagious. SHARE this beautiful story on Facebook with your friends and family.