"Broke down then lifted up…
My dad was on a motorcycle ride on 4/13, enjoying the warming spring temperatures when he passed a van on the side of the road near Greencastle.
He immediately went home, grabbed a gas can, the dogs, and his van, and returned to meet the stranded motorist.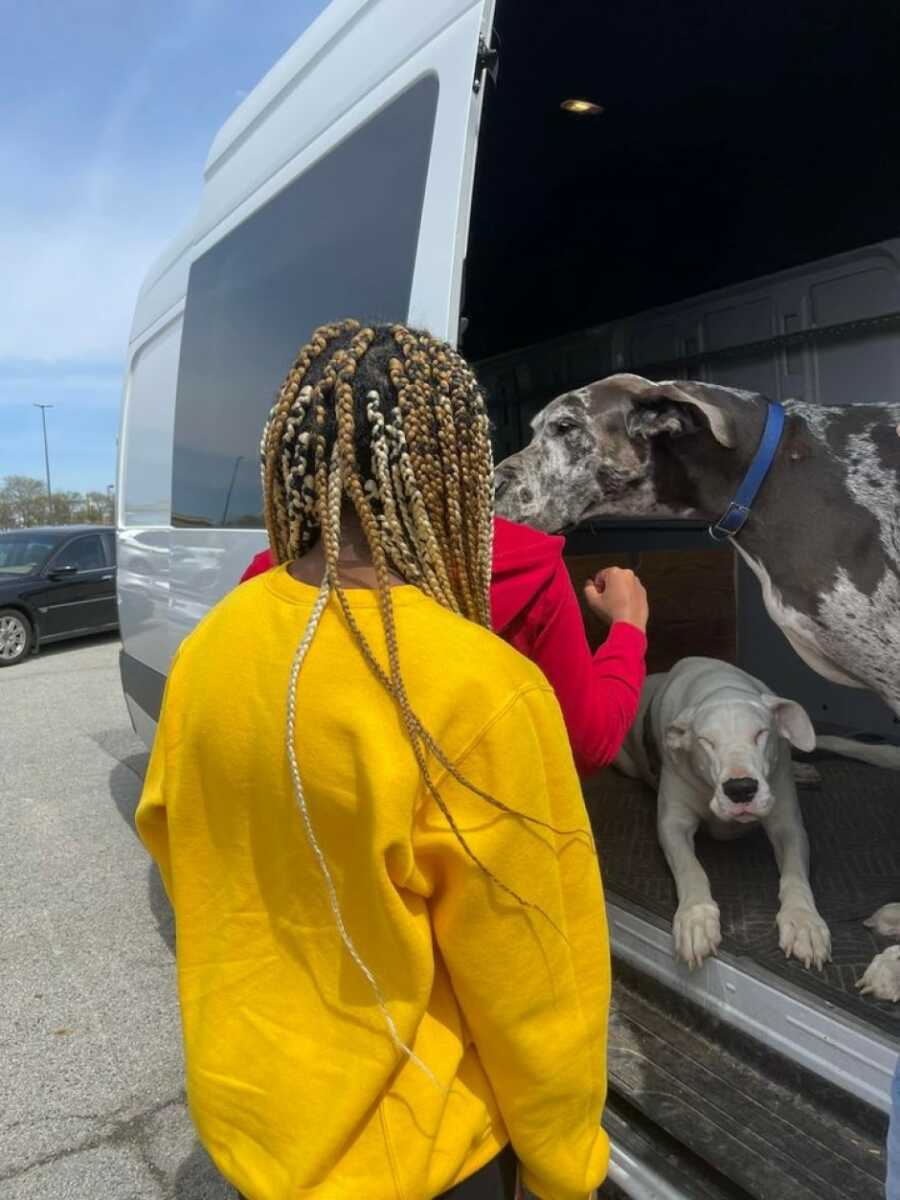 That's when Dad met Roodie, who was driving back from a college visit with her three children when their van broke down.
Roodie, a single mother, expressed they had roadside assistance, but due to the location it was going to take a while and it was going to be more expensive than anticipated.
Dad called a company in Brownsburg that offered a better price, and quicker pickup, and told Roodie about Pence Auto in Danville, which would be able to address any issues at a reasonable price.
So the van problem was solved, but she and her kids needed to get back to Anderson, IN – about a 2-hour drive, one way.
Wouldn't you know it, Dad offered to drive Roodie and her kids home.
4 hours later, dad was back at home and expressing how wonderful the family was that he was able to assist.
Fast forward to today, 4/15.
Pence called and advised that her van was fixed.
Roodie tried contacting other family and friends, but due to it being Easter weekend, others were out of town or unavailable, so she reached out to her new friend, my dad.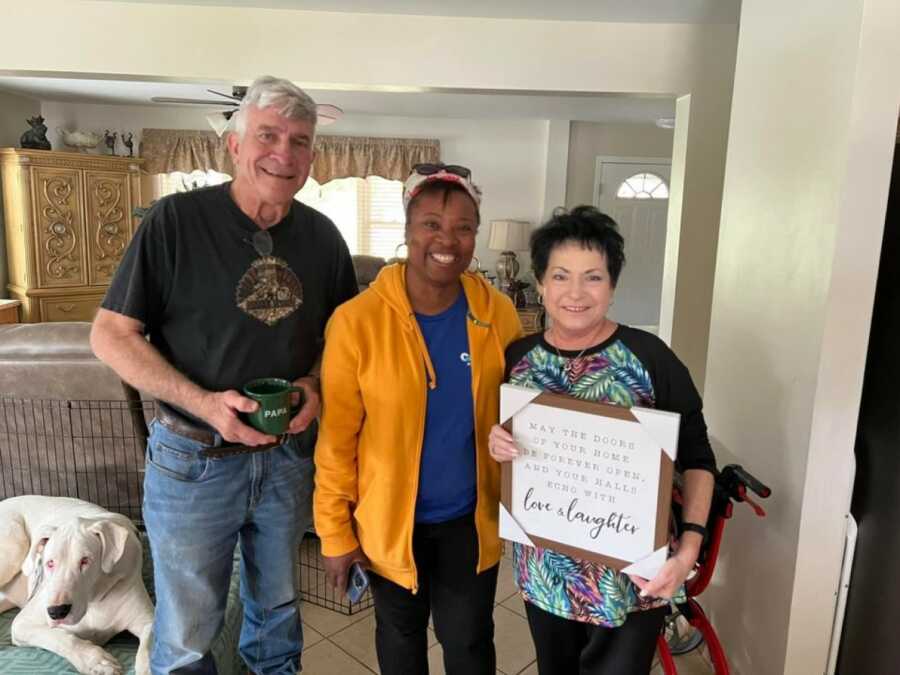 He was happy to help.
He drove to Anderson, picked her up, and while driving to Danville, she expressed her interest in meeting my mom and me due to hearing so many stories about us.
We met Roodie and she gave mom and dad a nice wall decoration and mug for 'papa' as a thank you for Dad's help.
She was so genuine, kind, compassionate, and told us her story.
Originally from Haiti, she immigrated to Florida and later sought a new life in Indiana 8 years ago with her kids.
She has found a great life here and constantly pushes and works hard to provide for her three kids.
She has taught them the importance of education, hard work, honesty, integrity, and dedication, backed by faith.
She is a wonderful woman with a great family and we are so happy a simple act of kindness brought her into our lives.
We talked about how important it is to share the good and how important it is to act on faith and trust in Jesus Christ, in times of trial and joy.
May we all find more joy and look to be more like our Savior and help others in need.
May we find joy and peace in that service!
Never know who you might meet, a friend you may make, or a life that your service may change – possibly even your own."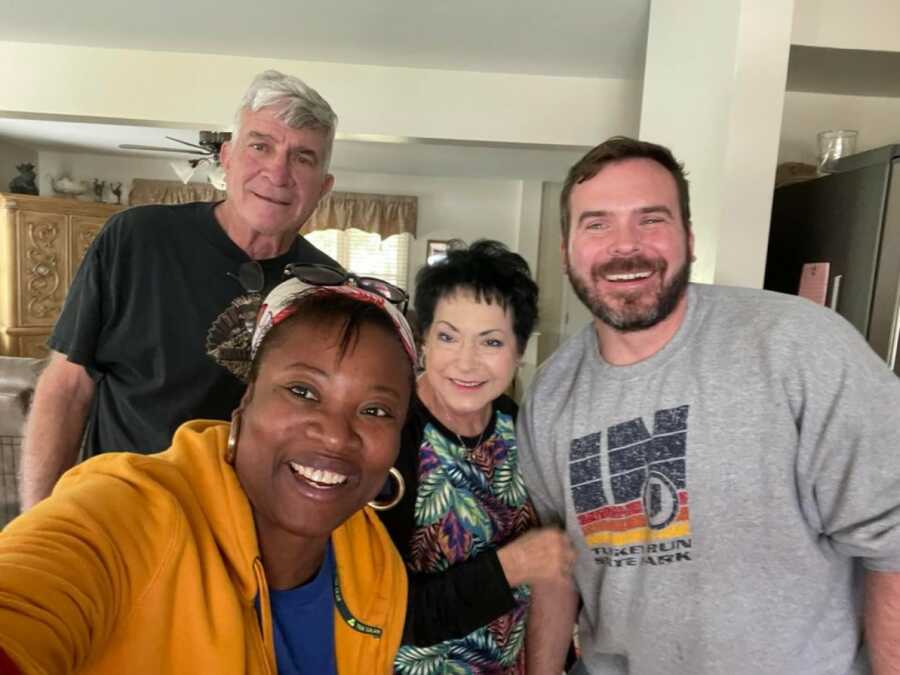 This story was submitted to Love What Matters by James Gillespie from Indiana. You can follow his journey on Twitter. Submit your own story here, and be sure to subscribe to our free email newsletter for our best stories.
Read more acts of kindness here:
'I pulled myself out of my office, empty and defeated, to a plate of DIY tacos and sparkling water.': Husband's sweet act of kindness for wife in need
'He said to my son, 'Do you really like my shoes?' The boys will never forget what Quinten did.': Mom shares act of kindness from stranger, 'Kindness changes the world'
'I started getting texts from Mrs. Tina. 'If you need a nap, just throw Emily over the fence and I will watch her.': Struggling mom thanks neighbor for standing in the gap during pandemic
'MOM, look!' Out my window was the N-word. I couldn't breathe. 'Mom, why? We love everyone!': Neighborhood comes together to help family after hate crime
Spread beauty and strength for others. SHARE this story on Facebook with family and friends.