"Just throw her over the fence!
My husband and I just moved to a new neighborhood in the middle of a pandemic with our four daughters ranging from ages 2-10. We were living in 900 square feet, trying to virtual school, and keep our sanity. There was no privacy or space. We knew then it was time to move on.
We sold our starter home quickly and soon found a larger home to plant permanent roots. Soon after moving in, my husband and I found out we were expecting our fifth little one. This time around though, we were not greeted with many congratulations.
Instead, we were met with a bunch of, 'Are you crazy?!,' 'Why would you bring a baby into the world during a pandemic?,' '5 kids?!,' and 'With such an unstable economy and people losing their jobs left and right, bringing another kid into that world is such a bad idea.' My own mother asked me 'if I was joking' when I told her I was pregnant. It was then when I knew I would be alone in this pregnancy.
The pregnancy was also tough because I had to experience the entire thing without my husband by my side. I wasn't able to share in the joys of the first heartbeat or seeing our baby on the screen. My husband was also an essential worker during this time, working 6 days a week an hour from home. I held down the fort at home, and did my best to nurture my pregnancy. So, here I was, alone with my husband and kids, pregnant, and in new house, in a new area where we didn't know anyone.
Weeks after moving into our new home, my girls ran to the fence and started waving to a woman working in her garden. My kids are naturally chatterboxes and will pretty much talk to anyone. The lady was sweet and came over and introduced herself as Mrs. Tina. She was a 50-something-year-old grandmother and we hit it off immediately.
Soon after, she was extending invites to my children to come over and play with her grandchildren when they were over for visits. She would bring out the bubbles, copious amounts of popsicles, and blow up the swimming pool.
As the weeks and months followed, Mrs. Tina became a huge part of our life. Soon she was offering to babysit so I could attend my doctor's appointments, as no children or partners were allowed to attend. My husband and I never had a huge support network as none of our family was local and we were essentially raising our girls by ourselves. To have someone like Mrs. Tina was a huge blessing.
Our daughter Julia was born in April of 2021. Due to my husband's work and limited staff, my husband had to return to work the day after I returned home from the hospital. Once our big girls headed back to in person school, I was left alone with my toddler Emily and a newborn. As the weeks followed, I felt like I was drowning trying to keep up with nursing a baby and entertaining a toddler on virtually no sleep.
A few weeks after Julia's birth, I started getting text messages from Mrs. Tina that would say, 'If you need a nap, just throw Emily over the fence, and I will watch her.' So I did. I would pack up a small bag of snacks and Pull-Ups, look for Mrs. Tina on the patio, and then hoist Emily over the fence. She would sprint off towards Mrs. Tina without looking back. Mrs. Tina would send pictures and I finally knew my kids had a safe place to go and I didn't have to do this alone.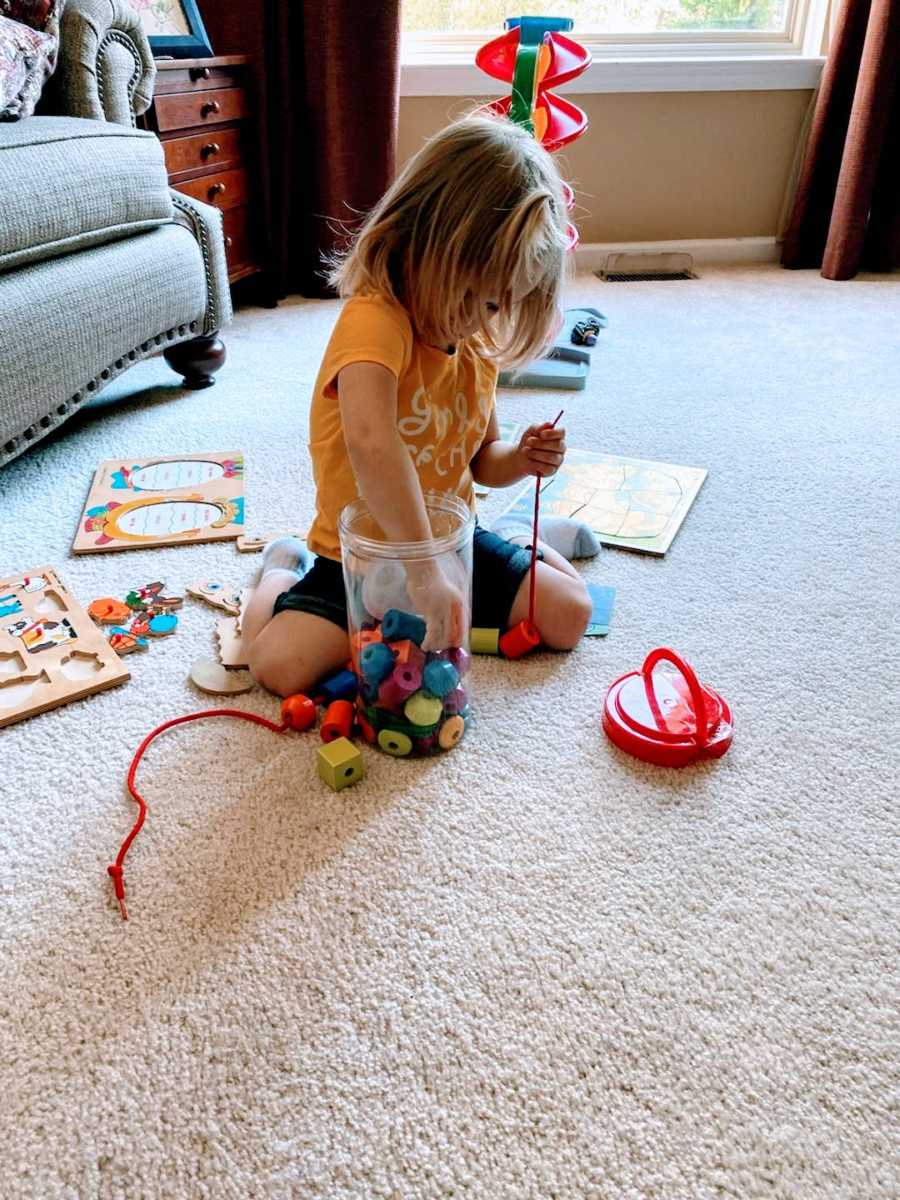 These gestures of kindness saved me. I was able to nurture my newborn and shower without guilt. I could sleep when the baby slept, knowing Emily was safe. How do I thank a woman like Mrs. Tina for being my saving grace? There simply isn't enough 'thank you's' I can offer.
I know Mrs. Tina will probably never read this, but in the rare chance she does, I hope she knows how grateful I am for her kindness towards me and towards my children. She has allowed me to be the mother I always wanted to be because now, after years without a support network, I finally have someone who has become my biggest cheerleader, a source of support and someone who has created a safe place for my kids to go. Thank you just isn't enough."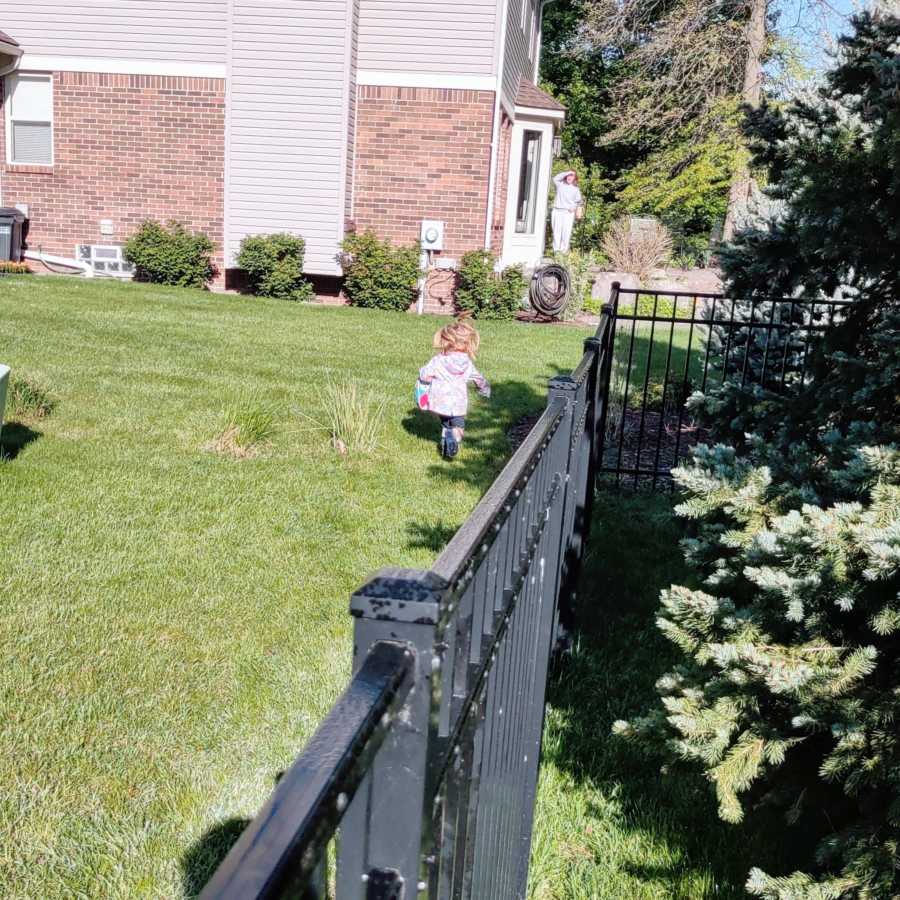 This story was submitted to Love What Matters by Sherry Lazdinsh. Submit your own story here, and be sure to subscribe to our free email newsletter for our best stories, and YouTube for our best videos.
Read more stories like this here:
'Follow me to the side yard. I have a surprise.' They were nervous. 'I'd like you to adopt them.': Girls befriend bakery gnomes during pandemic, get surprise adoption party
'I asked Audonte what he wanted for his birthday. 'Just some cupcakes.' Every day, he's at the park by himself.': Mom shares act of kindness for wandering boy at park, 'It takes a village'
'With three kids crying, I realized I left my purse at home in the McDonald's drive thru. 'I am so sorry, I have to cancel that order.': Woman in tears after employee's act of kindness
'Late-night milk run, huh?' I was standing in front of a tired momma in Target just before closing. 'Go get that precious baby to bed. I got you.': Woman shares act of kindness for stranger
Do you know someone who could benefit from reading this? SHARE with all the amazing special-needs parents out there!