"I had reconnected with an old friend from high school just a few years ago! We hadn't seen each other in over 20 years. After a few months of chatting to Luke, he told me he was given only days to live; my partner Jaye and our son had only met Luke once.
As soon as Luke sent me a message that he only had days to live and I spoke to Luke on the phone on Thursday, I texted my partner and said, 'Luke has only got days to live. Can we, by any chance, go and see him this weekend or next weekend?' His reply was, 'ROADTRIP' – as we live in another state to Luke.
There was a few things Lukey wanted to do, but number one was put his feet in the sand. Luke said in that call on Thursday, 'It's a shame we live so close to the beach but never go there. I would like to see the beach again.'
We arrived at the hospital at about 12:30 p.m. on Saturday; it was a gorgeous day on the Gold Coast (Australia) considering it is nearly winter here! We told Luke we can go anywhere he wants to go! He reminded me of our phone call, and requested a beach visit.
On our way to the beach, we drove through Surfer's Paradise and Luke was kind of disappointed his eyesight was failing him, and couldn't do the usual 'looking around' as a single man. So, my partner felt like it was his duty to describe all the pretty young things walking alongside the road, making comments about how beautiful everyone was, as well as letting Luke know where we were on our journey, so Luke felt like he wasn't missing anything!
We had 90's heavy metal blaring out of the stereo in the Ute – Pantera, Metallica, Danzig, and so on – Luke was loving it!
So, stop one was the beach! When we took Luke to the beach, the footpath was about 80m away from the shoreline. The surf club didn't have the wheelchair runner out and when we got there, Jaye tried to push Luke on the sand, but the wheelchair just bogged in.
So Jaye said, 'F–k it…hold on Luke' and Jaye proceeded to turn around the wheelchair and dragged Luke backwards 80m, as close as he could to the shoreline. Luke sat in his wheelchair, with the winds blowing on his face and his toes in the sand. And talked to the seagulls as he quoted Nemo…. 'Mine Mine Mine!'
He said he wished he had thought ahead and had brought some chips down. (Queue my other friend Dazz running off to the local fish shop, at the Tropicana to buy a serve of chips.) Jaye looked out to the ocean and said, 'Are ya ready, mate?' And Luke replied, 'Don't worry mate, this is good enough!'
Jaye said, 'Mate, we didn't drive 7.5 hours to just look at the beach! We ARE getting you down there!' Luke's face lit up! He said, 'Are you sure? I dunno if I can?' Jaye said, 'We'll carry you up and back if we have to!'
Luke was adamant he could walk the extra 10 meters or so, of course, with assistance; we supported him down to the water's edge. My son, Cade, went with Luke down to the water. Jaye followed closely behind and I took some shots to post on his timeline for his friends and family.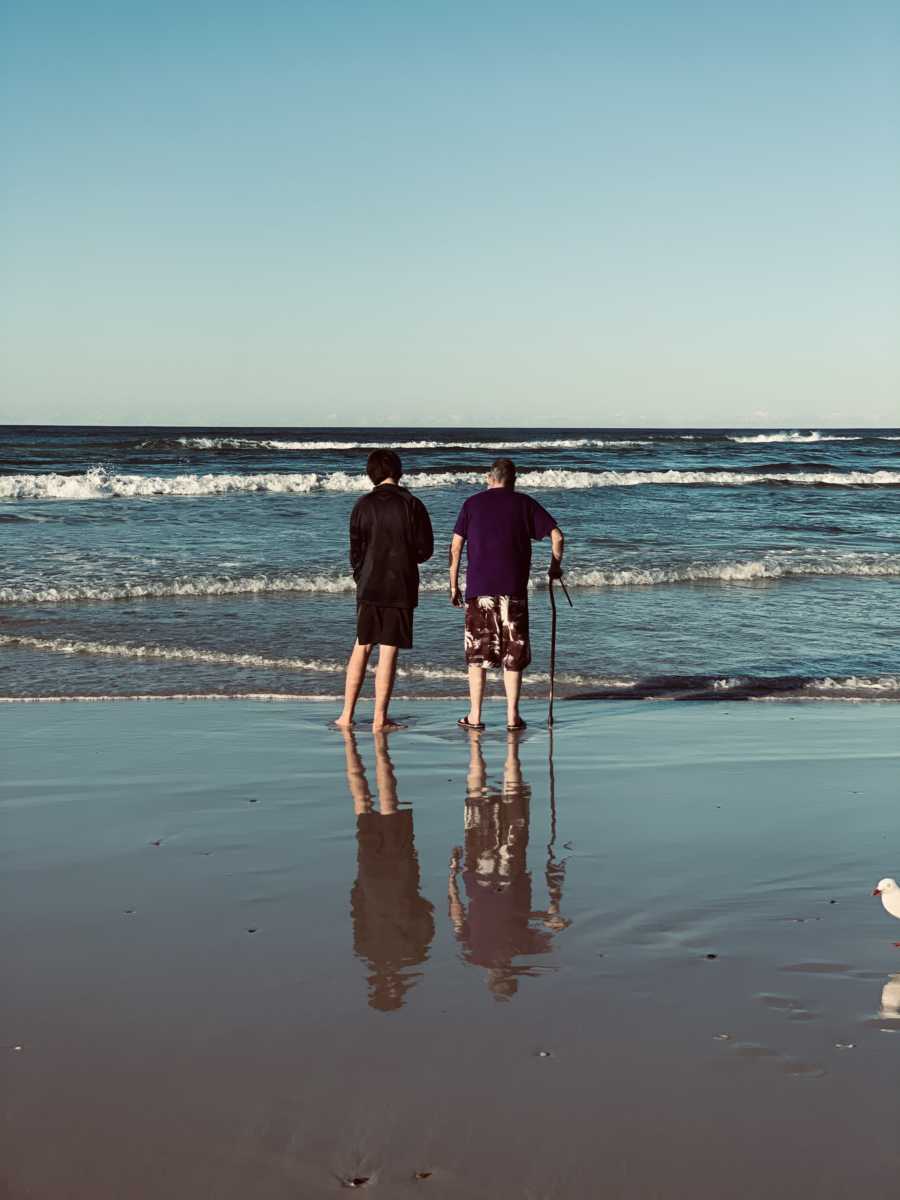 Luke said, 'OK that's done- what's next?' We supported him back up to the wheelchair, just in time for Dazz to rock up with the chippies! Luke was so happy! He chucked some chips at the seagulls and again said, 'Mine Mine MINE!' The chippies were gone and Luke's feet were sandy; he was happy his shorts were a bit wet from the ocean. He said, 'Cool, what's next? I would like to have a beer!'
Luke was definitely talking Jaye's language! So, Jaye proceeded to drag Luke backwards once more, all the way back to the walkway. So off to the shark bar we went! Luke had a VB and tried to watch the football. His team were playing and we had to tell him the score every few minutes. He was happy they won over the doggies!
He ordered a burger and tried to eat it, unfortunately he could only manage a few small bites. My son Cade was happy to help him out by finishing the burger. Jaye stole the steak knife for Luke's Avocado collection in his draw at the hospital.
And time was ticking on, we were supposed to have him back at 6 p.m. So, we blared the music all the way back to the Gold Coast University Hospital and Luke said he had a fantastic day and to pick him up tomorrow for another adventure!
Luke passed away on this Monday morning, just gone, and we were so grateful to have spent the weekend with him, helping him to tick off his final wishes.
Life is short! Do what you can for people, now! Before it's too late.
Tell your friends you love them, tell your friends what they mean to you!
Show compassion, be kind to each other.
And a very special thank you to my beautiful partner for being such a fantastic support in those last few days of Luke's life!"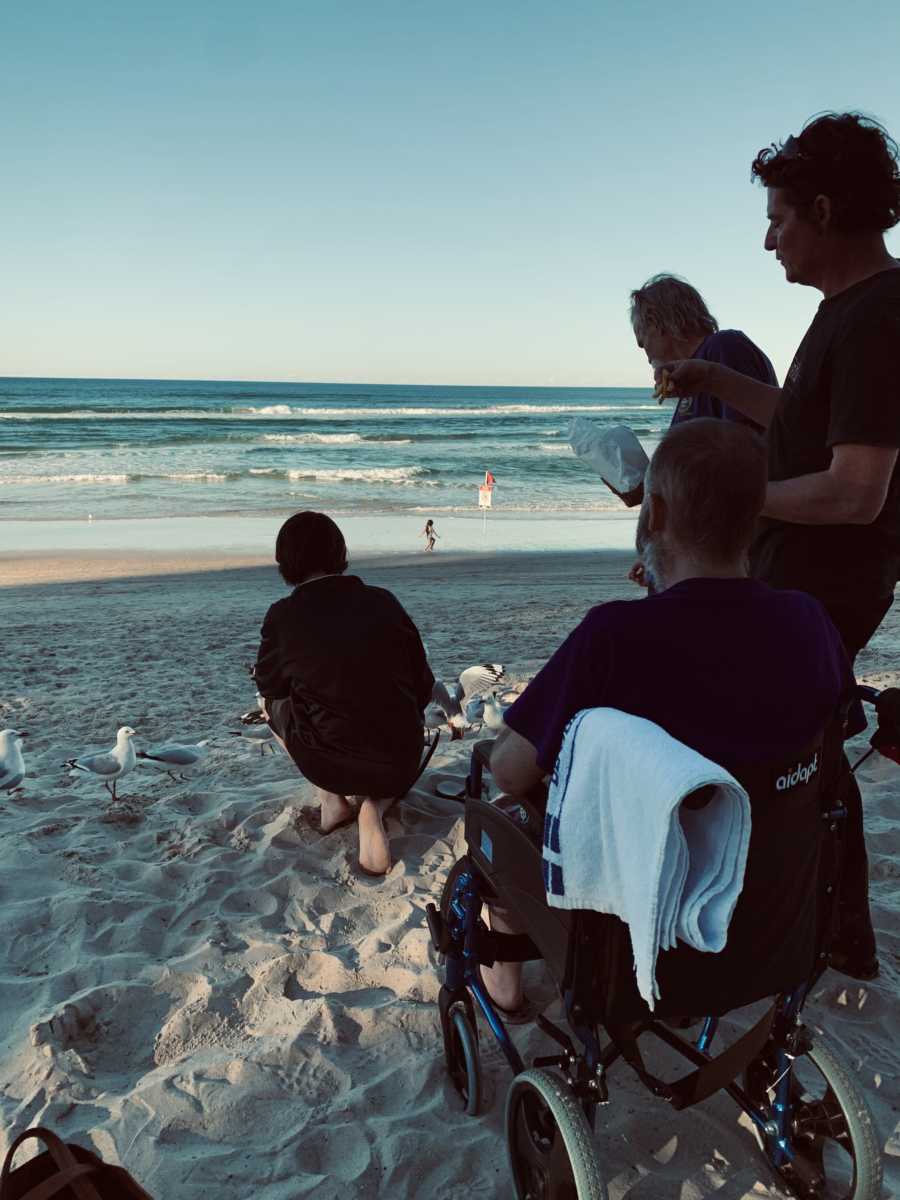 This story was submitted to Love What Matters by Renee Cummins of Australia. Submit your own story here, and be sure to subscribe to our free email newsletter for our best stories, and YouTube for our best videos.
Read more stories like this here:
'I'm not scared of dying. I'm ready to go anytime God wants to take me home.' I began to cry. It was the first time I realized she wasn't going to be here forever.': Woman urges us to cherish time with our loved ones, 'I wish I knew then what I know now'
'He whispered, 'You are not alone,' and cradled this stranger in his arms as she took her last breath. Chad, too, was dying.': Widow details police officer's kindness during final weeks of life
'Is this a nightmare?' We said goodbye, not knowing if she'd recognize us again. Our sweet, perfect girl was dying.': Mom 'crushed' by Childhood Alzheimer's diagnosis, 'We spoil her every day'
'One more thing,' she said. 'What?' the pastor replied. 'I want to be buried with a fork in my hand.' His eyes welled with tears.': Woman shares life advice, reminds us 'the best is yet to come'
Do you know someone who could benefit from reading this? SHARE this story on Facebook with family and friends.