"I own the little Whirling Dervish Bakery and Coffee Shop in my little town of Annville, PA. I also have Gnomes living in my little Bakery. Often they just get into trouble, but this past Saturday they helped me do something pretty wonderful.
Recently, two sisters, Sophie (the oldest) and Gillian, were in the Bakery and wanted to borrow a gnome for a week because we let you do that if you sign the Gnome Care Contract.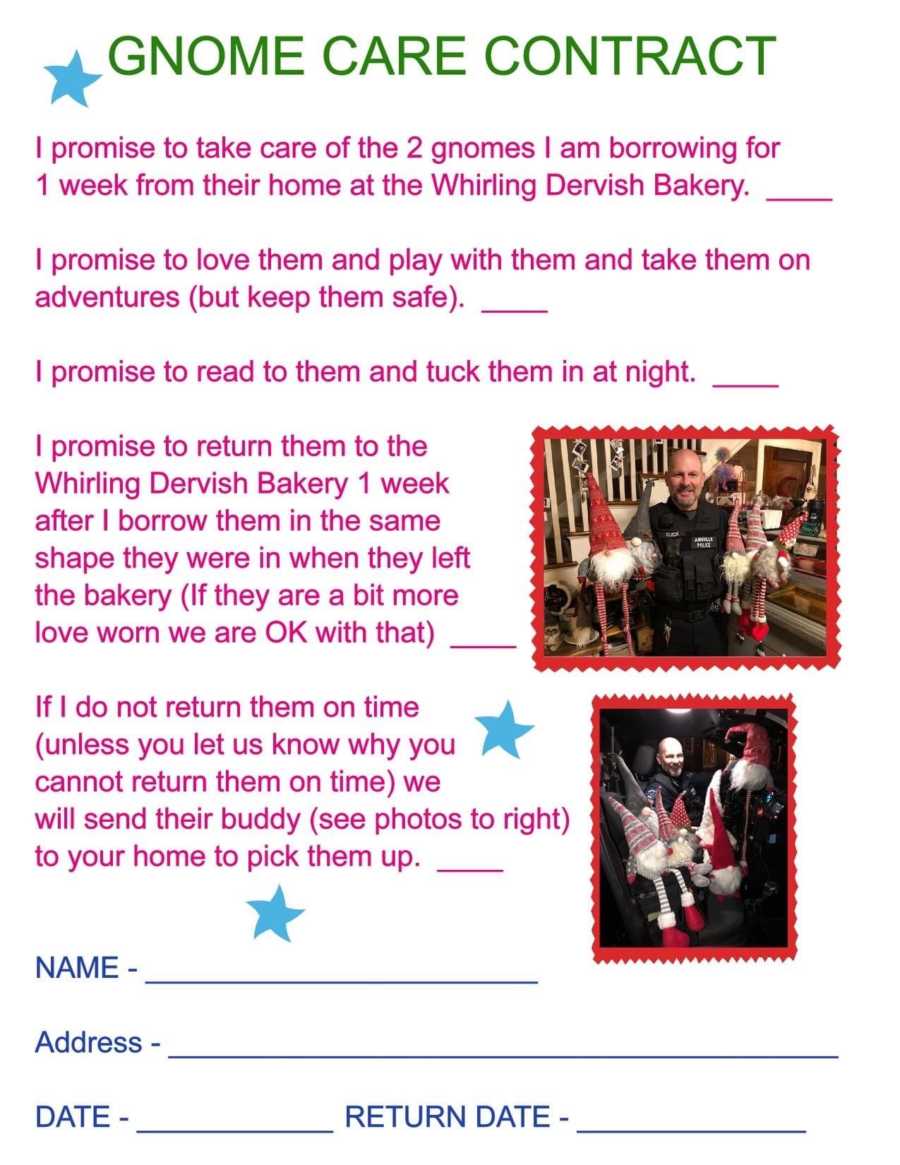 They were due to come home to the Bakery a week later, but their mom had contacted me asking if they could stay an extra week because her girls had grown VERY attached to the two gnomes they had chosen to take home to love. They had chosen our Finnish Gnomes, Fallon and Kusta. My sister, Tarja, from Finland, brought them to live in the bakery when she came to visit. Tarja was a Finnish exchange student and stayed with our family 40 years ago and once you stepped into the Gacono home, you became family. So, I gained a sister.
You know what came next – COVID-19.
As you may know, gnomes are immune to COVD-19, so there was no chance they were going to get sick or spread any YUCK to anyone else. Life went on and I knew Fallon and Kusta were being loved and cared for, so their adventure was extended once again. Little did I know it would be for a few months. During that time, their mom contacted me again. 'Is there any chance we can buy Fallon and Kusta?' You don't mean my adorable little Finnish Gnomes??? I thought, 'Let me make a call to Tarja and see if she can send me 2 more for your girls.' Finnish gnomes only come out at Christmas. It was May…I broke the bad news to Sophie and Gillian's mom.
Once again, time moves on. On Friday, July 17, 2020, I got a text message. 'We left Fallon and Kusta on your outside porch. Thank you for letting them keep Sophie and Gillian company through the pandemic. They were well loved during their adventure.'
WHAT? These two sweet little girls had to put Fallon and Kusta in a bag and leave them outside on our bakery porch. NOOOO!!! I replied, 'How hard was it for Sophie to leave Fallon?' 'Very hard but we did a few weeks trial separation at home and she did okay.' Oh my gosh, she had to do a trial separation. I realize they are 'just gnomes,' but Sophie is real and she loved Fallon and I had a little girl bag her up so she could leave her on a bench at the bakery to be returned to be with all the other gnomes. Tears started running down my face. What had I done?!
I quickly sent her mom a text, 'If it's OK with you, I would like Sophie to adopt Fallon.' I continued, 'Our family has always been a strong advocate for adoption! If that's OK with you, I think Kusta should be adopted also, for Gillian.' My parents started the process 45 years ago to adopt a child from Vietnam. A few days before their child was to arrive, they got a phone call, 'We have two half-brothers – would you take them both?' They said 'absolutely' and we headed out to buy bunk beds.
So, I knew what had to happen. Saturday morning Sophie and Gillian would come back to the Bakery and we would surprise them with an ADOPTION PARTY!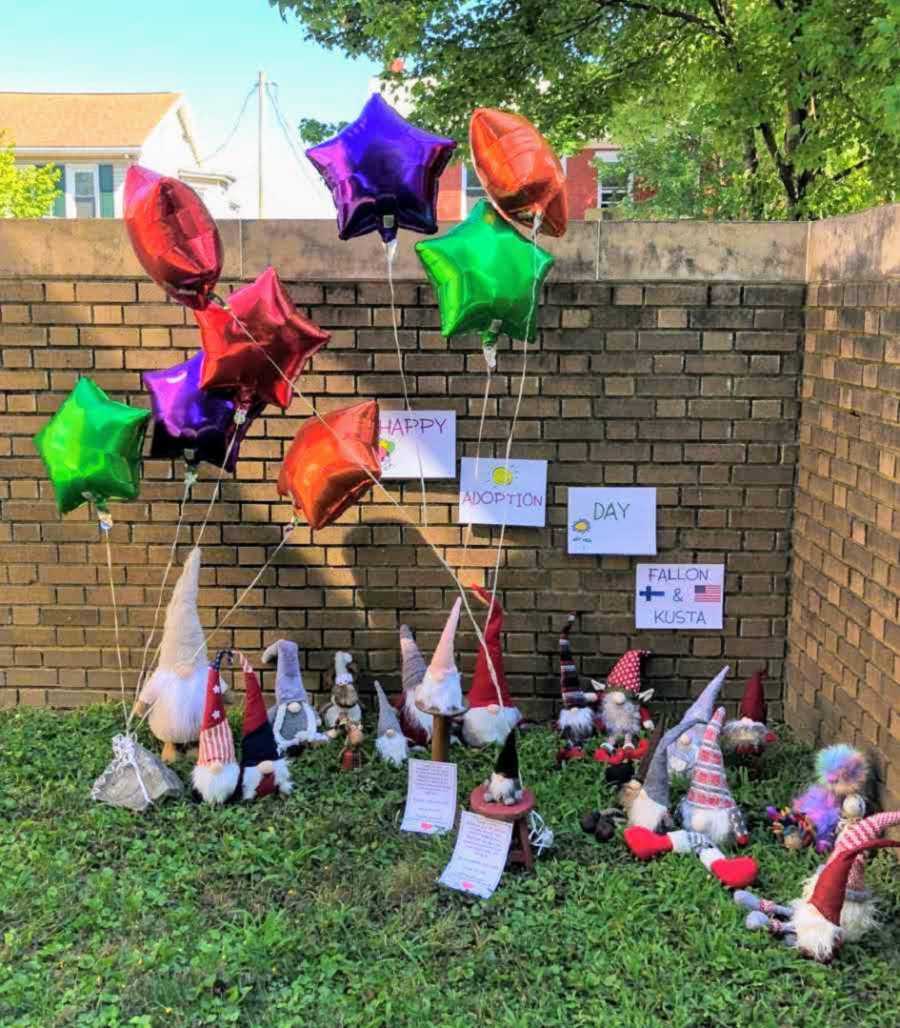 I don't think I can put into words what took place in our side yard this past Saturday morning. Sophie and Gillian's parents did not tell them what was going to happen at the Bakery on Saturday so when they arrived, I met them outside and asked them to follow me to the side yard. I had a surprise for them. They were a bit nervous (as they should have been) but their parents encouraged them to follow.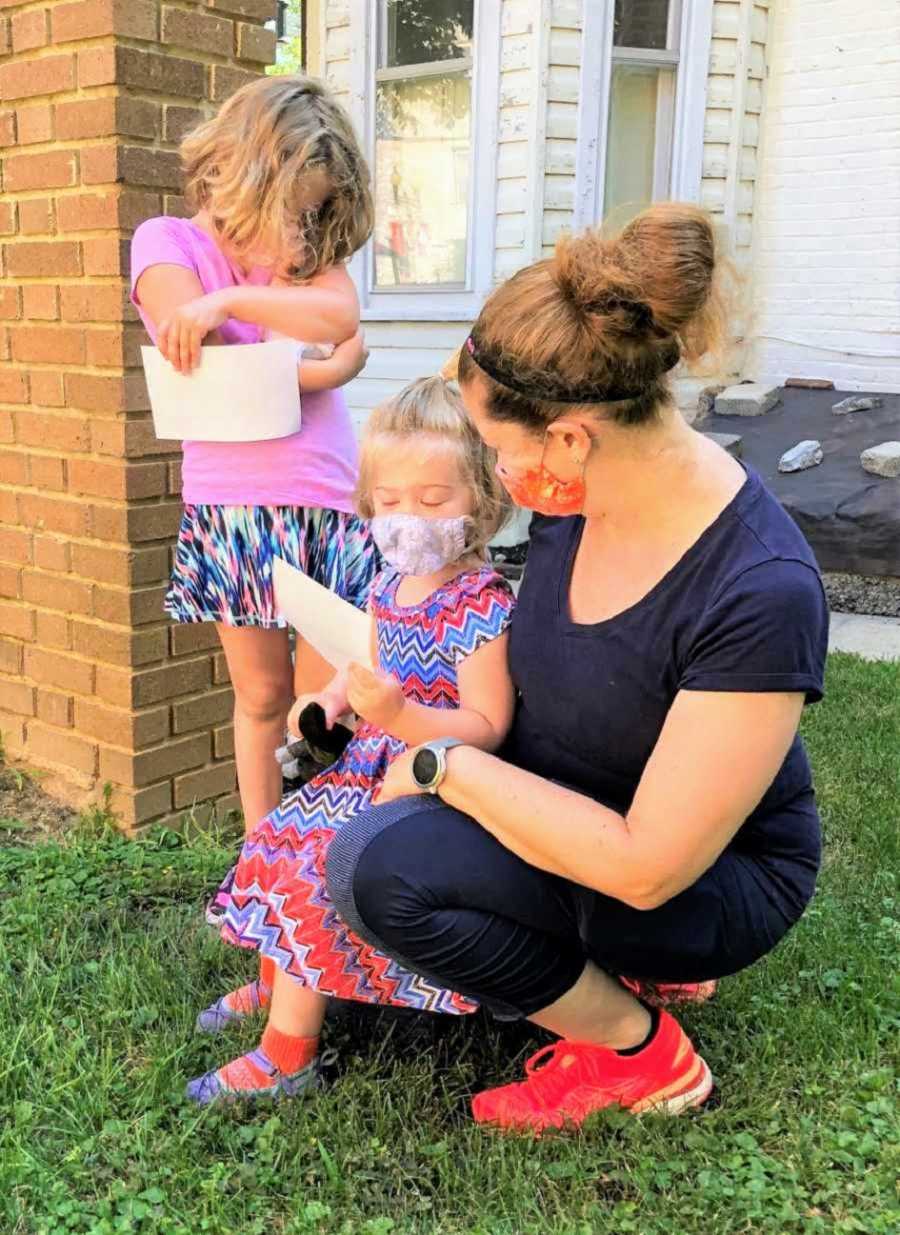 In the corner were all the bakery gnomes with balloons and signs celebrating Fallon and Kusta's exciting day; the day they would become a family with Sophie and Gillian. A family where they would be loved and read to and snuggled and go on amazing adventures! What a joyful day for everyone. Sophie was quiet at first, but she and Gillian could not stop hugging Fallon and Kusta. After a few minutes, Sophie said, 'Thank you. I am going to take her on wonderful adventures.' Gillian just kept hugging Kusta.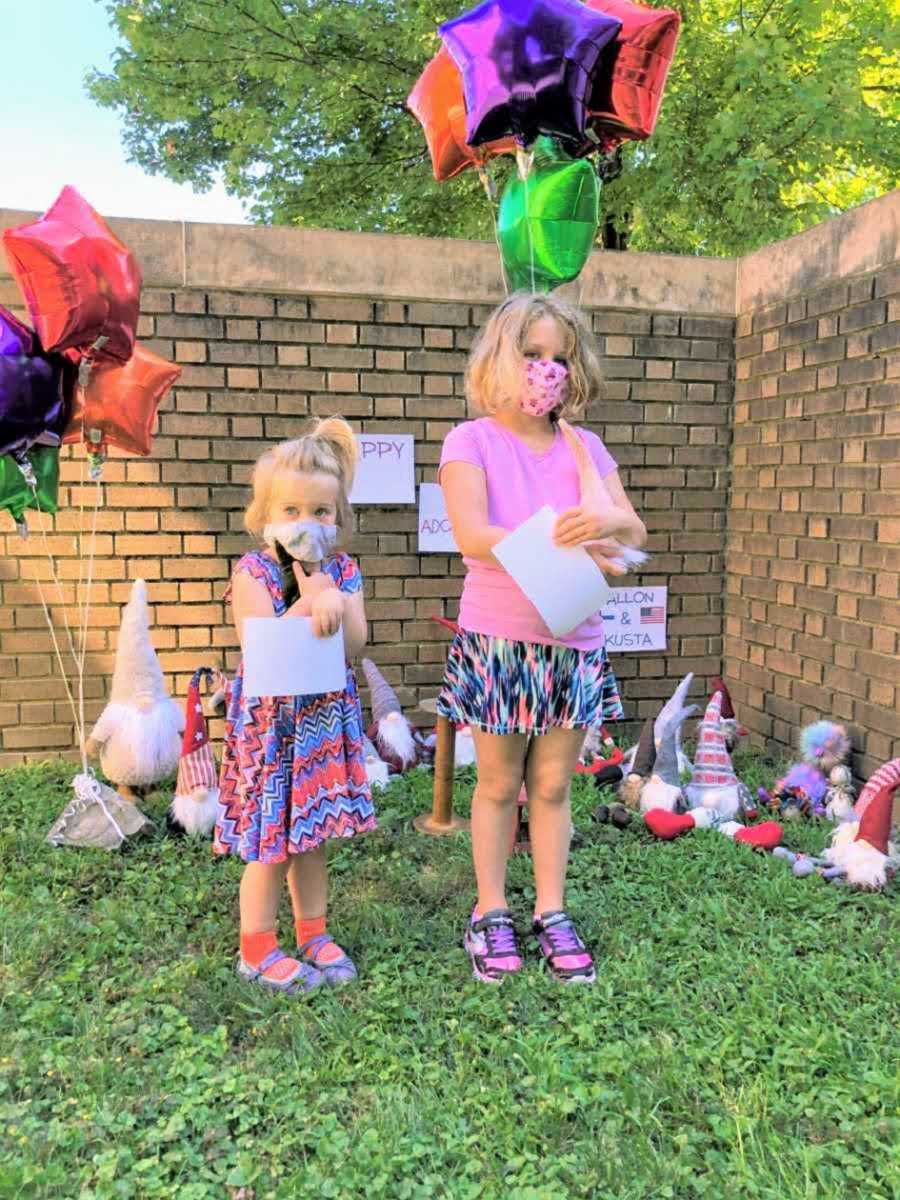 This past Saturday, although they are 'just gnomes,' they brought such pure joy and love to two little girls and they made my heart melt with happiness. It was another amazing day at our little bakery!"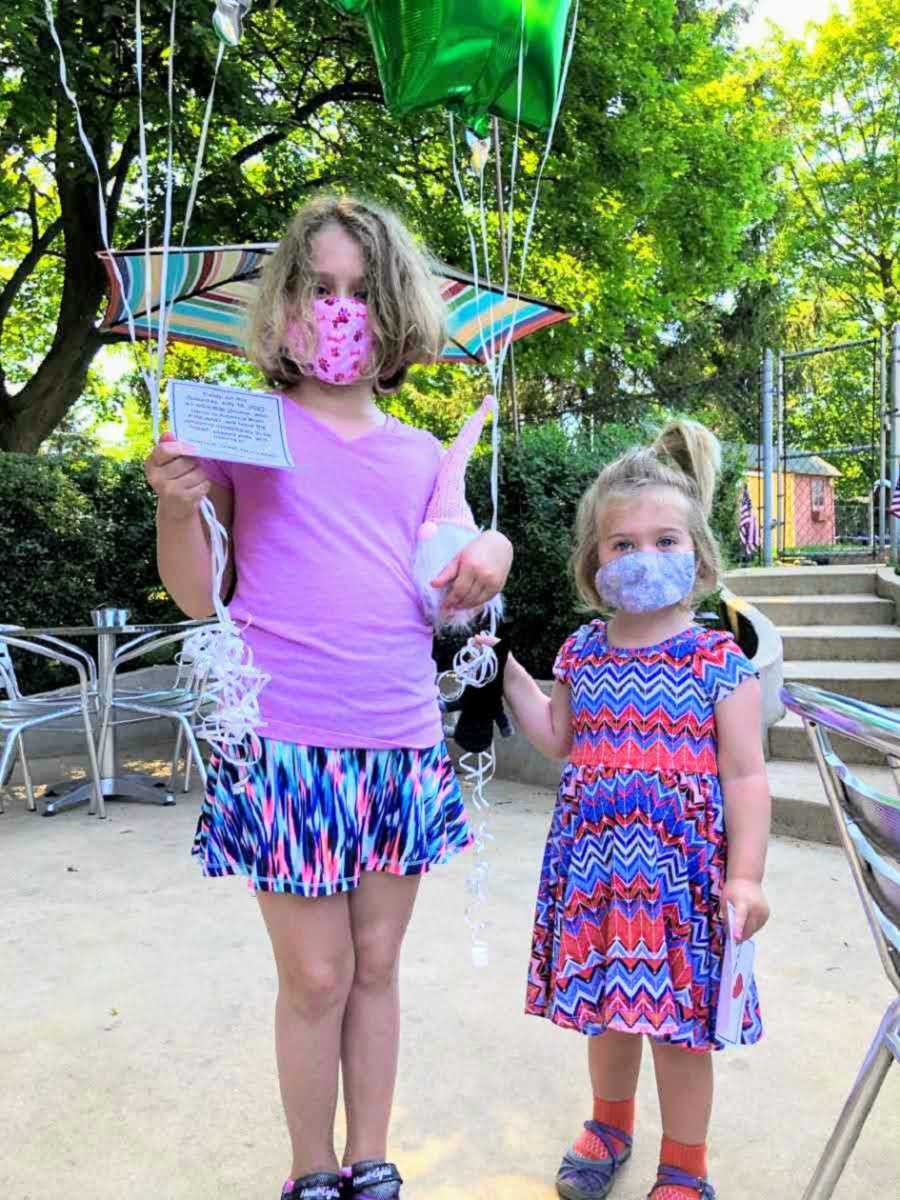 This story was submitted to Love What Matters by Becky Gacono, 57, of Pennsylvania. To read more gnomes adventures at the bakery check out Whirling Dervish Bakery on Facebook. Submit your own story here and be sure to subscribe to our free email newsletter for our best stories.
Read more from Becky:
'I want to go see her.' He said through his tears. 'I'm so blessed to have found her. I wouldn't trade one moment I had with her.' We all needed tissues. He misses her so much it hurts.': Grieving widow visits his beloved wife at cemetery
'Can you wipe my eyes? Can you make my tears stop?' We sat in silence as my 90-year-old father's tears fell. He was going to be alone for the first time in 69 years.': Elderly man's emotional final goodbye to his beloved wife
Help us show compassion is contagious. SHARE this story on Facebook with family and friends.