"When Danny and I met three years ago (after a year of our families wanting us to meet), within the first five minutes, I told him I had lupus. His response was, 'That's ok… I have asthma.' He's always known how to make me laugh, and that's one of the biggest things I love about him. My health took a steep decline about six months after we started dating, but he stayed by my side. He came to almost every doctor's appointment with me, helped with big decision-making, and cried with me when I was finally approved for the only medication specifically for lupus. We've had an amazing three years together, DESPITE being sick.
No, we aren't your average couple… but, what does average even mean? We have so much fun together and are always smiling, even through the toughest of times. Danny and I had discussed not getting engaged for a while—at least a year. We've been doing renovations on a house we moved into a year ago; and we knew we'd be spending the rest of our lives with each other, so there wasn't a rush.
Although there are many triggers for lupus flares, my biggest trigger is stress. Danny knows me better than anybody; we had even talked about having a super-small wedding to avoid the stress that would come with planning. We both knew that an event like this would most likely make me very sick, and that's something we try to AVOID as much as possible. I also have had to miss many things over the years—parties, birthdays, holidays, etc., so we also had worried about me having to miss our own wedding. Although I am doing better, my health is still unpredictable, and could change in the blink of an eye.
Without me knowing a thing, Danny started planning our fairy tale about five months ago. The day before my birthday, he surprised me with a trip to Disney World. I knew we were going away, but figured it would be upstate or to a ski resort… never something this big. I hadn't been to Disney since I was five years-old, so that alone was amazing; and we both said it was the best trip we ever went on. On December 8th, we flew home and had dinner plans with my family, to celebrate my birthday. My mom cancelled when we landed and for a minute, I suspected a surprise dinner, but that was quickly put out of my mind when Danny suggested Chick-fil-A for dinner. Little did I know, he was stalling because our plane landed early. So, we sat in the parking lot at Chick-fil-A… I remember telling Danny I couldn't wait to get home, in comfy clothes, and to snuggle with our dog. When we pulled into our driveway, I saw a string of lights in the back yard, and Danny's response was, 'It's not over yet!'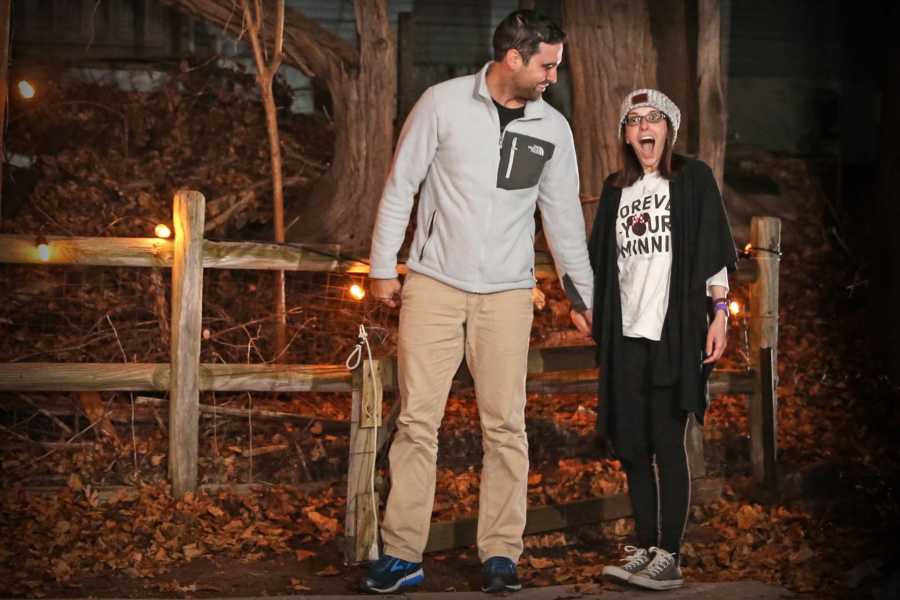 I figured his mom and step-dad (who were watching the house and dog) decorated for Christmas for us. He walked me into the back yard, and I saw a huge tent with our families lined up outside of it. My next thought was that he threw me a surprise birthday party, but I was so confused why, because he just surprised me with an unbelievable vacation, and I turned 32! It wasn't even a big birthday! Then, I started to realize what was going on because I saw my mom start to cry, I realized my dad was in a suit, I heard a song we love, 'Fix You' by Coldplay; and Danny said to me, 'You know how much I love you, right?'
I was SHOCKED. Once again, I didn't think an engagement would be happening for a LONG time! We greeted our family and then walked inside the tent where our closest family and friends were, and he walked me to the middle and proposed. Words can't explain how happy (and shocked) I was. As I greeted everyone, I had to hold my ring hand with my other hand because I was shaking so much!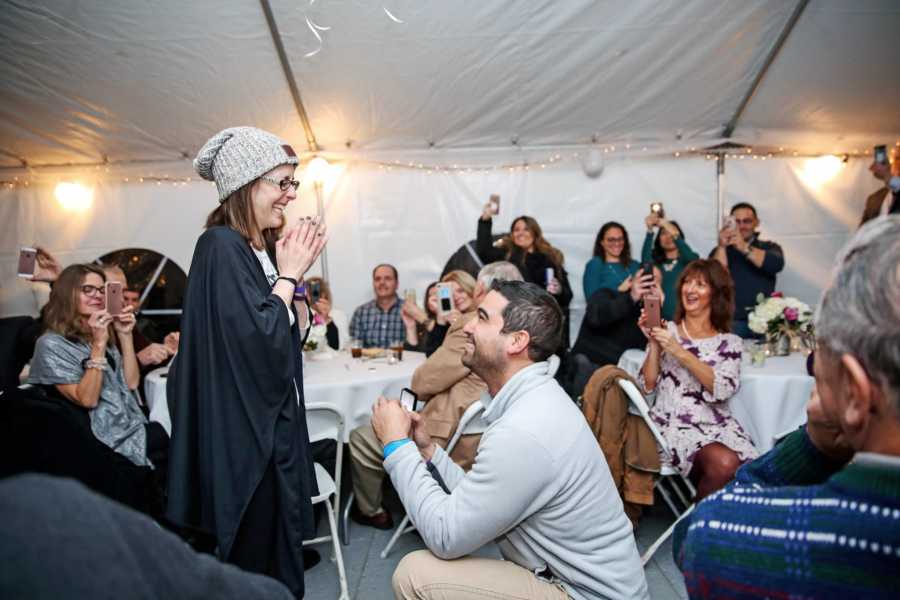 After about 20 minutes, Danny asked me to go inside with him for a minute, which I thought was just to process what had happened and maybe have a minute to ourselves. We sat down on our bed and again, he told me how much he loved me. He said that if I wanted (and ONLY if I wanted to), we could get married that night. I was confused, but he quickly cleared things up. He told me to turn around, and I saw a wedding dress and suit hanging up. He told me his dad had gotten ordained. He said that everyone (except a few family members who helped set up) thought it was an engagement party, so there was no pressure. We could have an engagement party and plan a wedding together, or get married right then and go to bed with me as his wife. I kept saying, 'YES!' So much so, that Danny made sure I sat and thought about it for a minute. This incredible man knows me—and knows how stressful planning a wedding would have been for me, so we both said, 'OK'.
His Dad announced to everyone, 'SURPRISE, it's actually a wedding!' My close family and friends helped me get ready, and kept commenting on how calm I was. The second I realized we could be married then, all of the shakiness and shock went away. I was ready to begin my life with this man, and what better way than not having to possibly miss my own wedding. So, we had a wedding!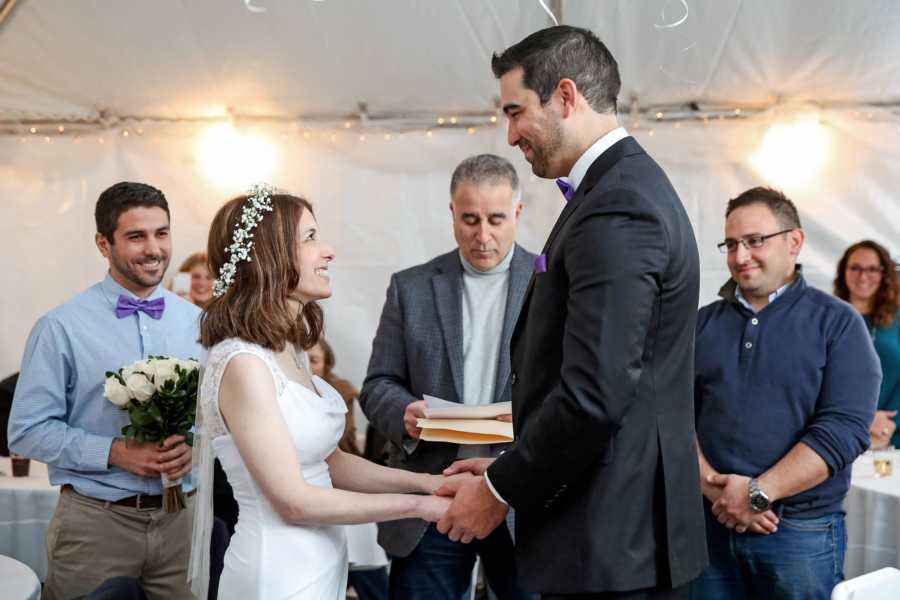 We were engaged for about an hour and a half before we were pronounced husband and wife, and had a very laid-back party after. I was able to relax at my own home in my wedding dress, and was on cloud nine.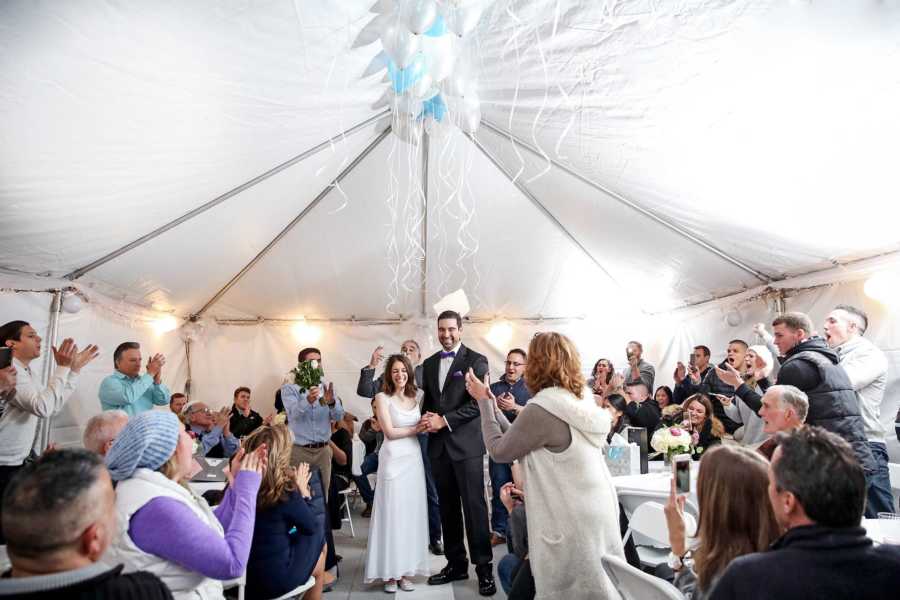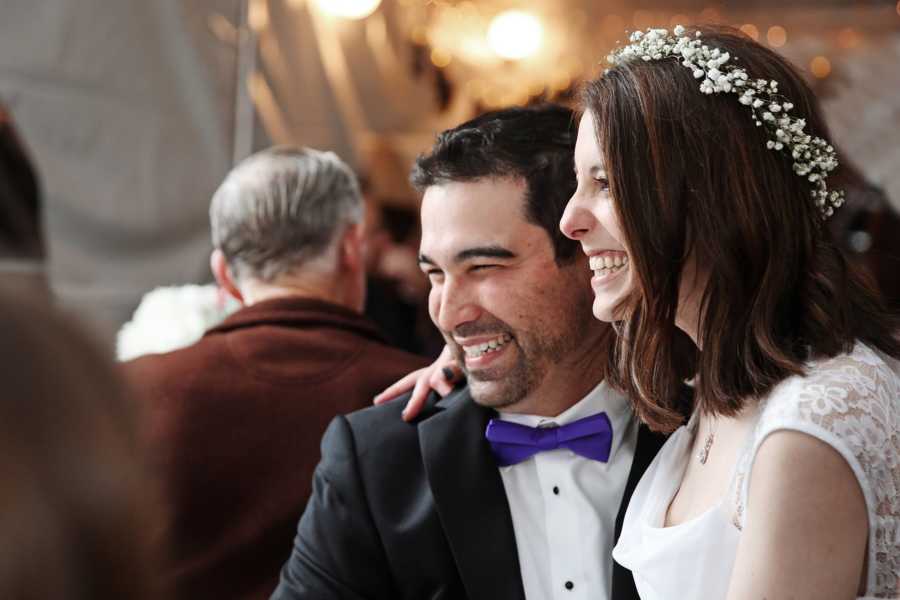 I've always admired my (now) husband. He's a police officer; and while everyone is running away, he runs toward anything without hesitation. He has the biggest heart and would be there for any of his friends or family if they needed, no questions asked. I feel so blessed to have found a man like him; someone who understands the ups and downs that come with illnesses and someone who knows me so well, that he saved me from unnecessary flares.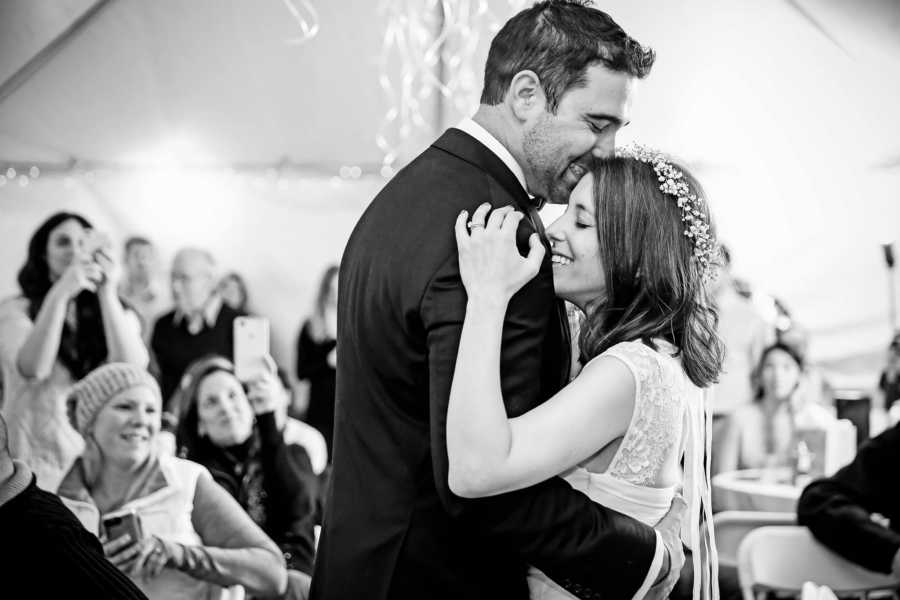 I feel like we truly know what the meaning of 'In sickness and in health' is… I wouldn't have changed anything about that night for the world; and like he suggested, we went to bed that night as husband and wife."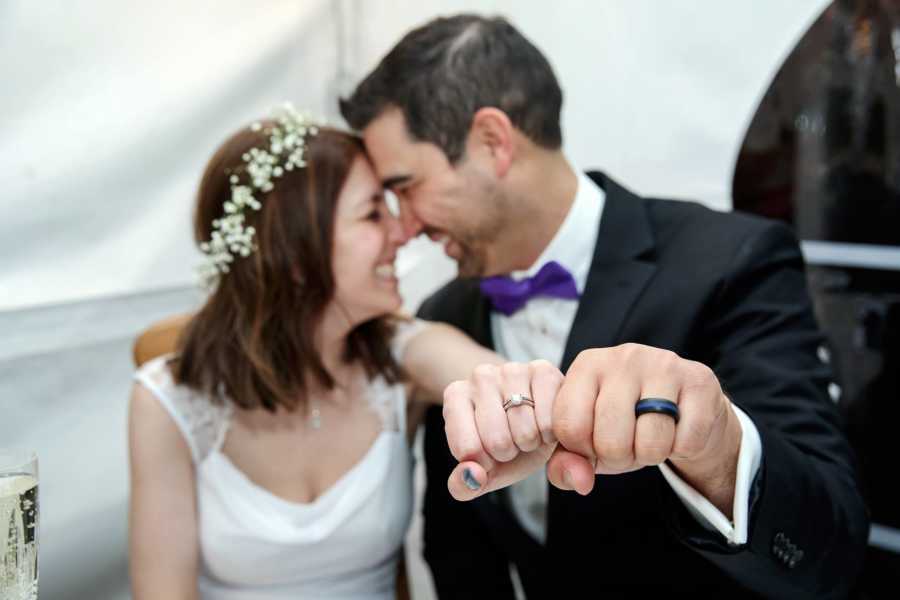 This story was written by Nicole Carfagna & Danny Rios, of New York.  Submit your story here, and subscribe to our best love stories here.  You can support Nicole's efforts to end Lupus by clicking here.
SHARE this story on Facebook or Twitter if you believe in overcoming struggle and that love always wins.
SaveSave