"I've done so much in my 34-year life. Played sports, worked hard labor, Wrote/performed music, and eventually became Spider-Man for children battling the odds all across the world.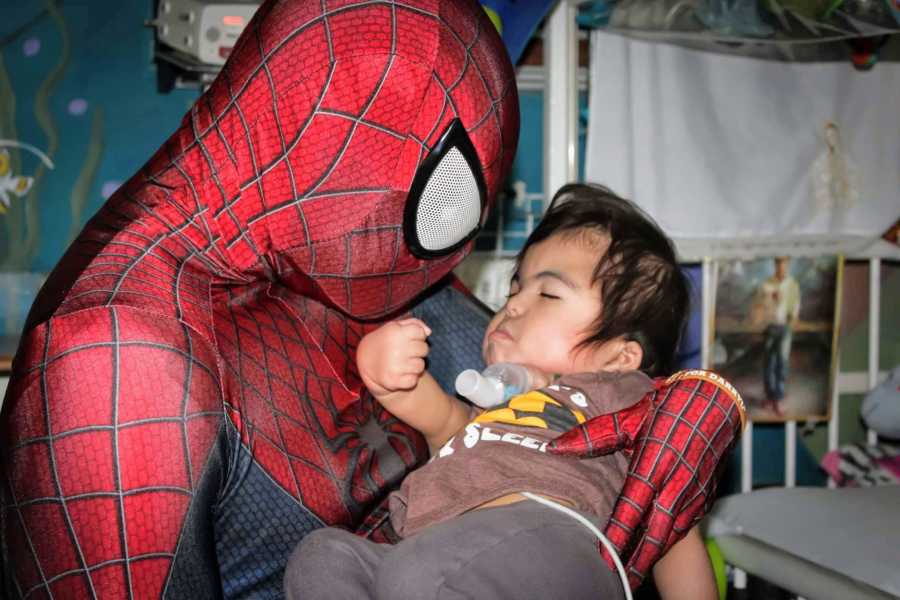 Everything started when I hit an ultimate low financially in the beginning of 2014 and slept on the couch of my friends Kristin and Michael as they graciously offered to help get me back on my feet. After months of trying to find work, I kept coming up short until I landed a personal training job at a local gym. I enjoyed being a trainer, but something was still missing. As I was still on that same couch, living out of a duffle bag and washing clothes every other day, I fell asleep one night in early June and had a dream that would change my life forever. As I drifted off into Dreamland, I was greeted by my grandmother (who had just recently passed away a few months prior). She put her arm around me and told me she has something to show me. She proceeded to walk me towards an old school looking reel to reel movie projector and turned it on. A huge movie of Spider-Man walking towards a children's hospital shot in the sky. He walked through these double doors and on the other side was thousands of kids lying in bed, hooked to hospital tubes, IV poles, and more. He began swinging around bringing them joy through jokes, toys, and taking pictures. The kids' faces lit up when he got to them! In confusion, I looked at my grandma and asked her what all of this had to do with me. She looked at me very seriously and said, 'That IS you, and when you wake up, that's what you'll do.'
At that moment I literally awoke from my dream. Still on that couch, living out of the same bag, just as broke as I was before but there was a huge sense of curiosity pertaining to the dream I just had. I mean, it felt so real. So, I started a google search for 'Realistic Spider-Man Suits' And after a while of searching, I came across a man who custom made them. Before I knew it, we were negotiating a price for one. Even though I was broke, I knew I could come up with whatever he said. We came to a price of $1,400 and I told him I would message him once I had it. I looked outside into the parking lot of the apartments I was staying and looked at my car. It was a luxury car I had paid off a few years back before my finances plummeted. It was a Dub edition Chrysler 300 to be exact and it was the only thing I owned of any value. I knew as I gazed upon it that I would have to sell it. So not even 24 hours later, I did just that! I used the money to buy that first suit and purchase a small Honda. I had to wait a few months to get the suit and, in those months, I went back and forth on whether I was crazy or not but those same friends I stayed with supported me so much that they offered free rent and food to see how much good I could do.
While waiting for the suit, I emailed every hospital in the bay area California (I live in Pittsburg. An hour outside of San Francisco). Every single hospital emailed me back with a "no" due to my nonexistent experience with children. Although discouraged, I knew God wanted me to do this and nothing would stop me. So, October of 2014 finally came, and I got my first Spidey suit! I tried it on and my friend Michael took pictures of me on his phone. We couldn't believe how real to the character I actually looked! I didn't announce what I was doing on social media yet but a fitness client of mine referred me to her Godson who was very sick at a local hospital. The hospital said I couldn't visit him, but the child's mother asked me, 'Do you work for the hospital? Or God?' That question stopped me in my tracks and I answered 'God!' So that led me to visiting my first child ever by sneaking my suit in my backpack, changing in a bathroom close to his room, and rushing to his side. I spent an hour in there before security kindly asked me to leave but mission accomplished! His god mom sent me pictures of the visit and I was in tears by the smile on his face. I knew I was supposed to do this with my life. After that I began visiting special needs children, autistic kids, homeless kids, fostered kids, and disabled children.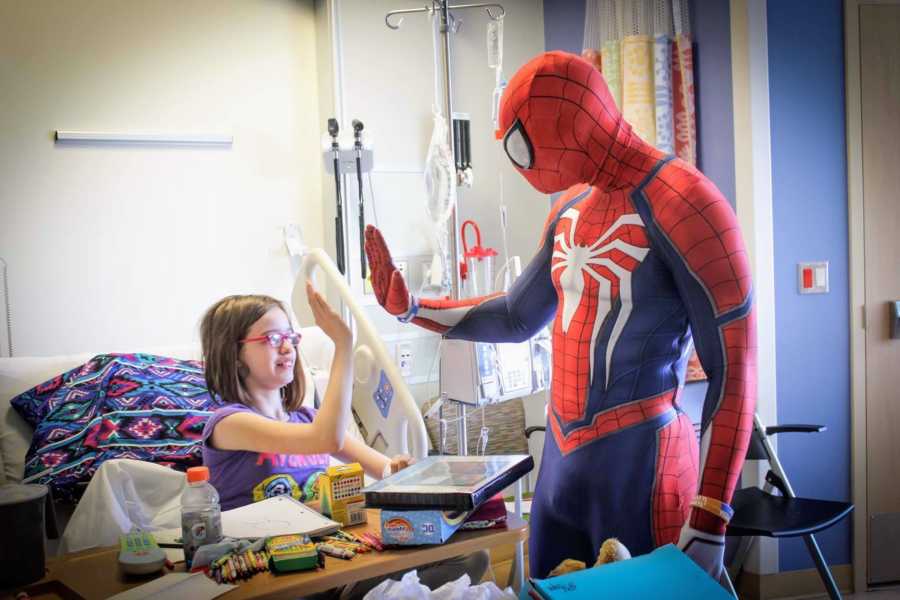 After a few months I announced what I was doing on social media in hopes of gaining credibility to get into hospitals. Well, it worked because after months of making visits to kids at home and other facilities, Oakland Kaiser asked me to come monthly. Next thing you know I had 4 hospitals a month to regularly see! Parents began posting about how much the visits helped their kids and it just kept growing from there. I started a GoFundMe to help pay for toys I could bring to kids and shortly after that I realized I needed to create an actual nonprofit.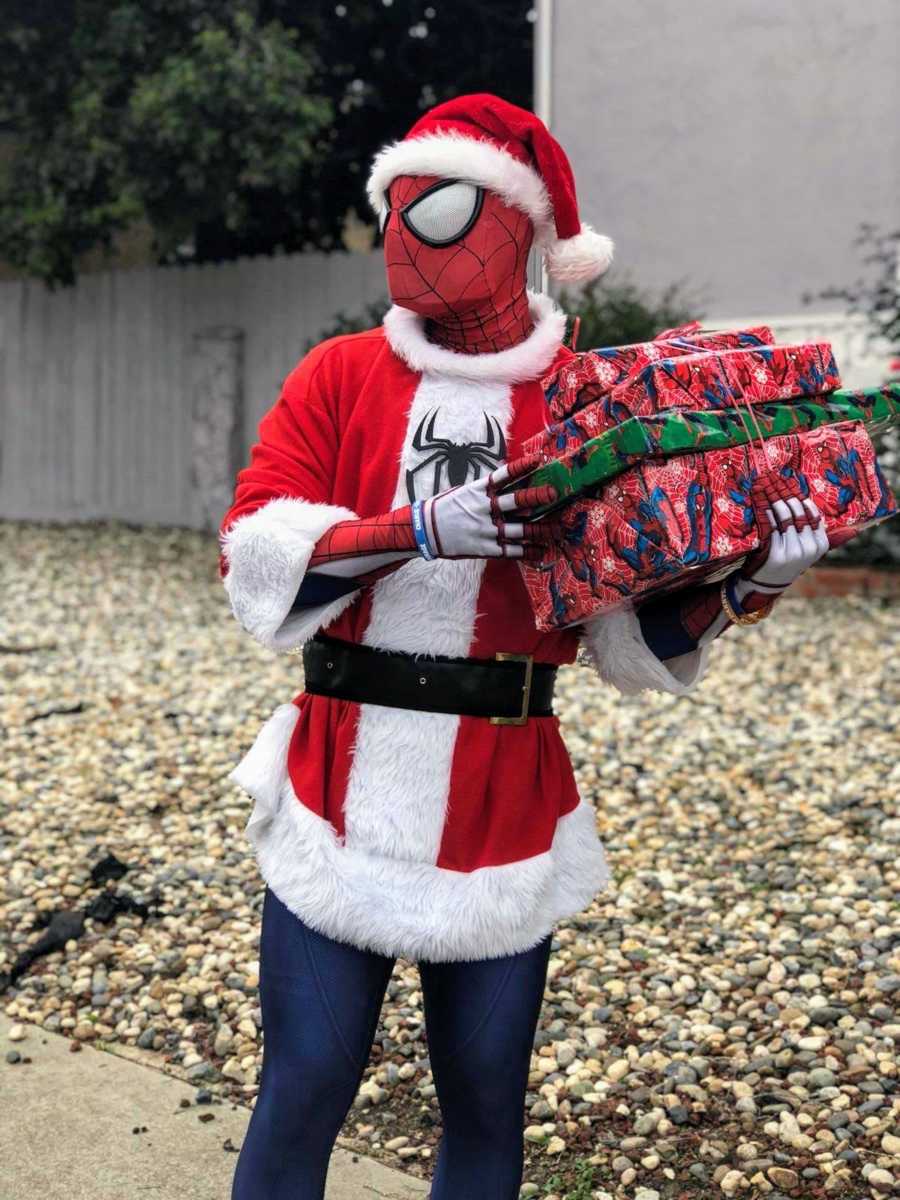 The demand for this service became overwhelming but I was up for the challenge! The friends I was staying with then moved to a house and offered me a free room on the terms that I would train them and do more Spiderman visits. Of course, I accepted! In February of 2015 I started the paperwork for our now 501(c)(3) organization known as Heart of a Hero. Once the nonprofit was built, I became a very busy man. I had to stop training people. Because I was so booked, and it took up a night security job to make ends meet and cover what the company couldn't pay for.
As I continued visiting children, the severity of what they battled got worse and worse and before I knew it, I was visiting terminal children. The first child I ever met who was terminal was named Charlie Derange.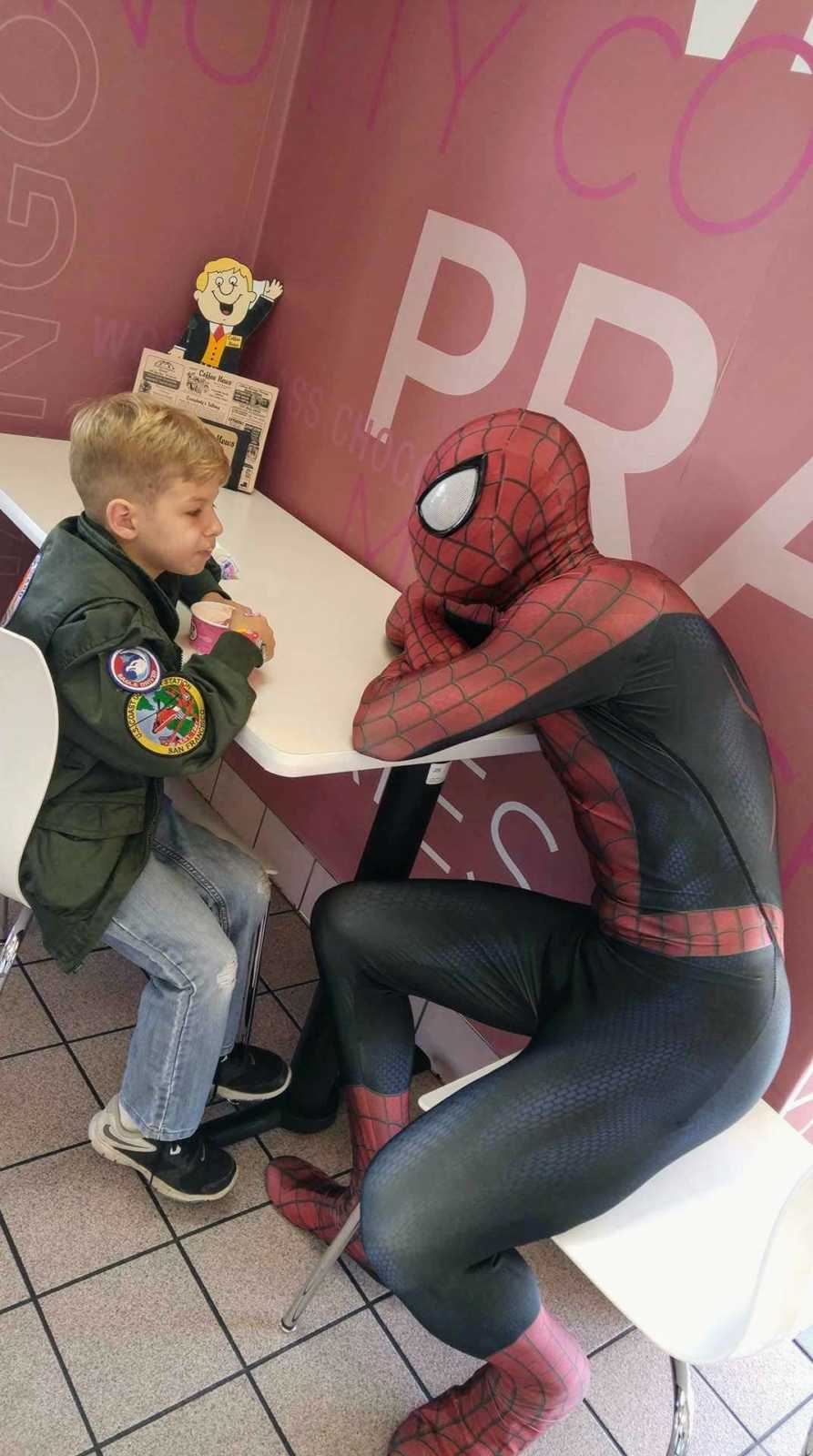 He was 9-years-old and battling a terminal brain tumor known as DIPG. I made over a handful of visits to Charlie and became very close to him and his family. It was excruciating watching this disease take away his mobility, his speech, his childhood, and eventually his life. Charlie passed away and his funeral was the first of a child's that I ever attended. It tore me apart, but it filled me with a sense of duty and I knew I had to go on for kids like him. Two days after his funeral I was back in the trenches doing God's work. Since I began in October 2014 I had seen roughly 10,000 children. I traveled all the way to London to visit a girl named Zamora Moon several times.
She was battling the terminal tumor DIPG as well and receiving treatment there. At the same time, I was becoming good friends with 18-year-old Darryl Aikens who was battling Leukemia. We were more like brothers.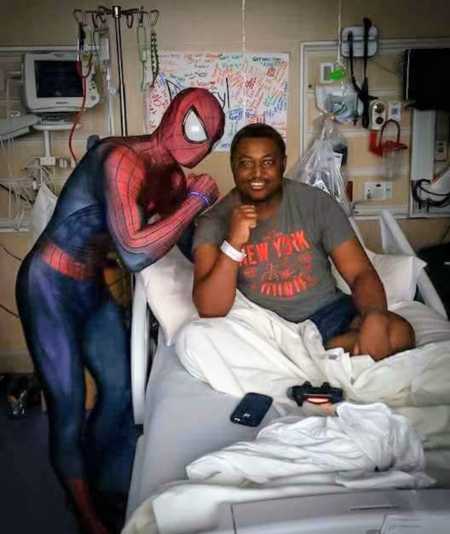 I mention both of these children because I actually stepped out of my suit for them to help their parent's caregiver. Change diapers, feed, pray, wash, all of that. It was an intense experience to say the least.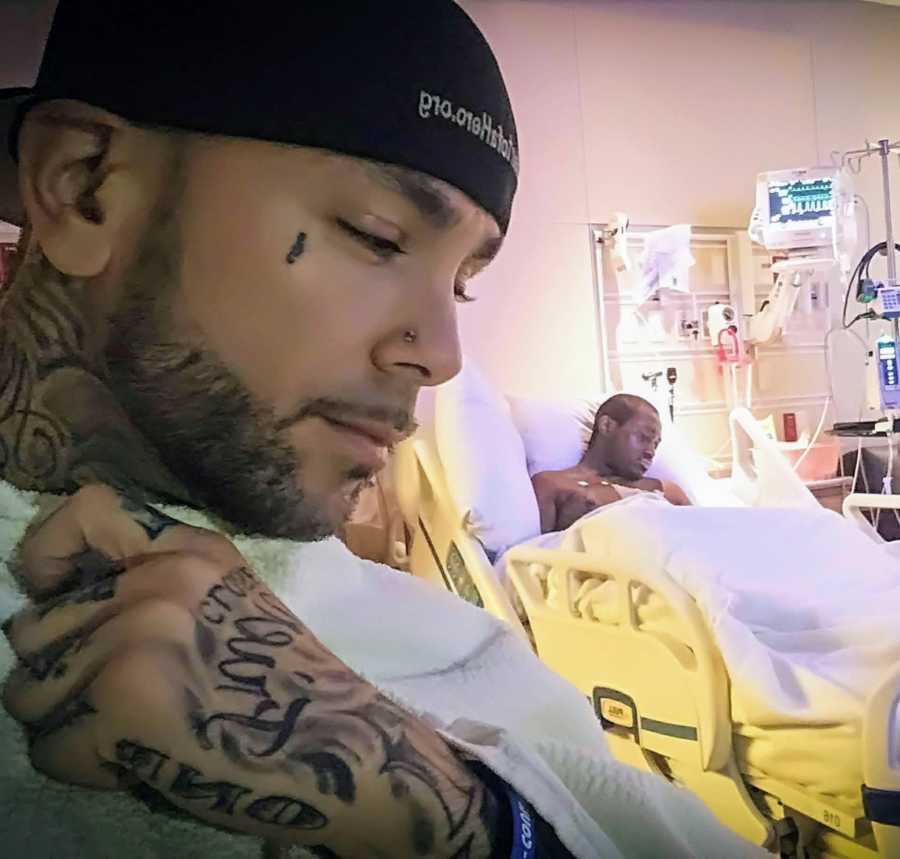 After coming back home from London, Zamora was flown back to the bay area because her tumor progressed. Her mother asked me to be at her side and of course I said yes. I spent the next 7 days with Zamora until she passed away holding my hand.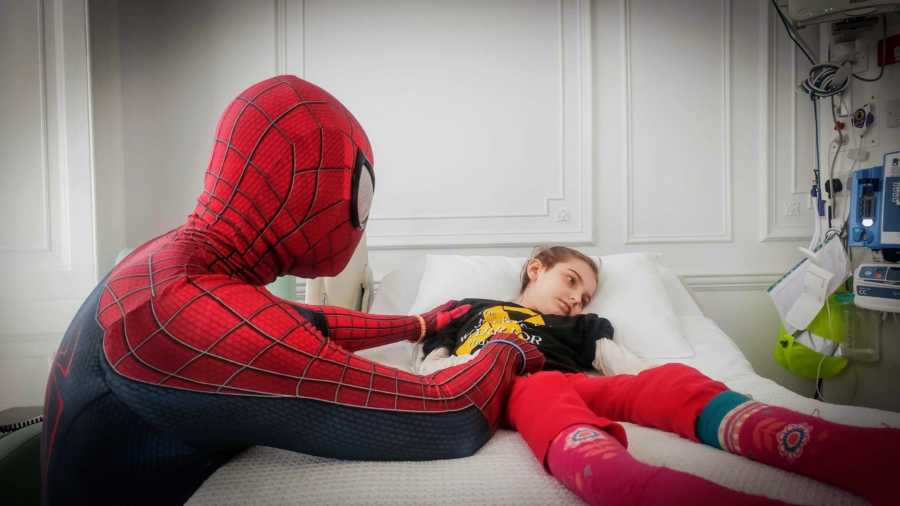 Two weeks later I literally held Darry as he took his last breaths, coaching him to the other side. After his passing, in the same month, 3 more children I was extremely close to passed away making the total 5 in just one month. After watching these kids pass away so closely, my world was turned upside down and I started experiencing great amounts of anxiety. I was almost passing out several times a day. Along with all the kids passing, my friends I lived with were moving to Florida. So, I was losing their presence as well as having to figure out my living situation. Everything came all at once, but God answered by bringing us a supporter who basically paid for a whole years rent at my house so I could continue this work but also focus on healing. What a blessing! I tried fighting through the anxiety as if it would simply pass but I continued to deteriorate. I was at a Denny's in Sacramento before heading to the hospital the next day when my volunteer Biance asked 'You ok?' And I began crying uncontrollably. I admitted for the first time in 3 and a half years that I needed a break. So, I took a whole month of September 2017 off. In that month I was diagnosed with PTSD, Generalized Anxiety, and Depression. I found myself in therapy and eventually went on a low dose of celexa (5mg). In that month I questioned if I could continue. If I could handle more of what I've been doing. It got so dark. I hit a low I didn't know was possible. I woke up every morning and fought those feelings to go to the gym and do small chores around the house. I mean here I was this man who traveled the world inspiring kids and now I could barely take out the garbage! But I kept believing and praying and I went back to duty as Spidey in October of 2017 with a few modifications. I used to be suited up and traveling 6-7 days a week. Now I gave myself restrictions to protect myself and the longevity of the mission. I'd only suit up 2-3 times a week. I worked through my anxiety with all my new tools to combat it through December and I again took the month of January 2018 off. As February rolled around I felt more confident than I had before, feeling more like myself. Since January of this year I've gone nonstop fearlessly and yes, it's been more difficult with these new added challenges, but it helps me relate to the children more. They feel nervous and so do I. Plus, we both don't like hospitals!
Visiting children is my passion and I've been tested beyond measure in doing so. Nonprofits are up and down financially as we are in such a low that I sold my car yesterday to come up with money to survive as well as continue being Spider-Man. I won't give up and am relentless in my need to share the stories of these children. Holding children as they take their last breaths. You'll never feel more vulnerable than you do in that moment. Every other difficulty in life, I've been able to shake and move forward. But this? It's something I'll never shake, and I've come to terms with it. My life is theirs and the journey goes on."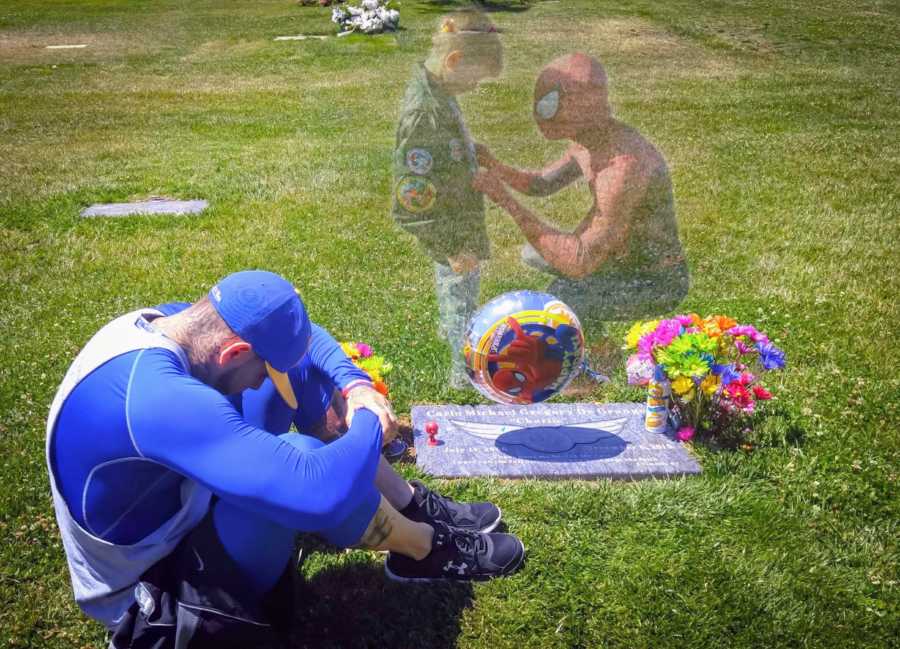 This story was submitted to Love What Matters by Ricky Mena, 34, of Pittsburg California. You can follow his journey at Heart of a Hero here. Be sure to subscribe to our best stories in our free newsletter here.
Read more stories like this:
'I could not mentally prepare for what I was going to witness. He had been hospitalized due to Shaken Baby Syndrome. My heart immediately sank.'
Provide beauty and strength for others. SHARE this story on Facebook with your friends and family.