"I have dreamt of a fairy tale wedding since the time that I was a little girl, horse drawn carriage and all! Never in a million years did I imagine that I wouldn't know what my groom looked like, let alone the day itself.
When I was 18 and sitting my year 12 exams, we found out that my mom had been diagnosed with a rare I condition called Cone Rod Dystrophy. The condition is a degenerative eye disease that leads to blindness. One year later, I was diagnosed with the same condition. I remember the one thing that really upset me was that my mom would never be able to see me walk down the aisle.
As it had affected her later on in life, even though the doctors told me that each person deteriorated on a different time frame, I thought I wouldn't start to lose my site until I was at least in my 40s like my mom, but boy was I wrong!
For our best love stories, subscribe to our free email newsletter 
At just 23 I was told I was no longer allowed to drive and the deterioration kept going. I traveled as much as I possibly could and tried to come to terms with the fact that I was going blind. I found dating a little difficult in this time as I was still able to hide some of my site issues, but when it came to telling the guys, I had mixed responses. Unfortunately some people just can't deal with dating a person with an impairment. Fast forward to when I started using a cane at 30 and it became a whole other ballgame, I was literally beating them off with my stick haha! I knew that any guy that approached me could clearly see that I had a vision impairment, but they still wanted to chat with me. It was an amazing feeling and really boosted my confidence.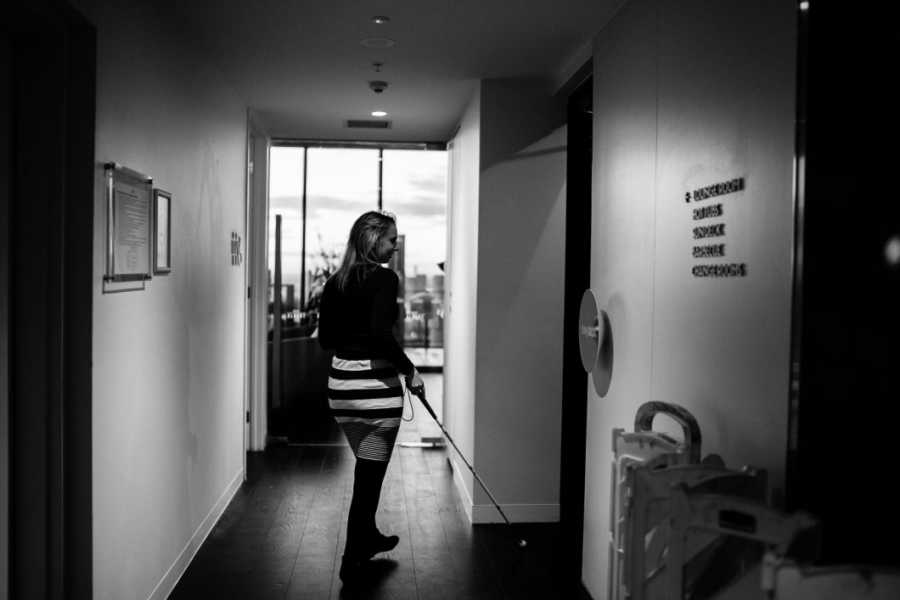 One day in October 2016 I was at one of our building events and I was introduced to a man and told that he was my next-door neighbor. I couldn't believe that after living next door to each other for 18 months we hadn't met. This man towered over me at 6'4", he smelled nice and I could just see the outline of his broad shoulders and was told that he was dressed well in jeans and a nice blazer, we chatted briefly but I didn't really take much notice. It turns out that this man had taken a shine to me immediately and at the next event upon seeing me he made a beeline straight for me and waited on me hand and foot, making sure I always had a glass of wine and whatever I needed. Safe to say he impressed me that night, and after that we were inseparable.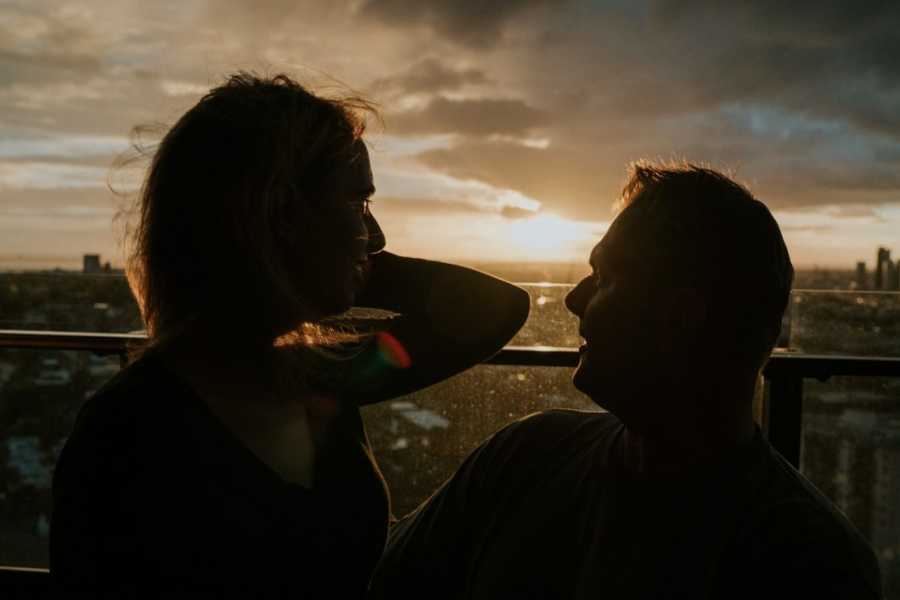 We talked a little about getting married but I said to him that now that I could not see, I didn't want a wedding. I thought it would upset me too much not being able to see the day that I had always dreamt of and if he was really set on marrying me, that we would just do it in a registry office with no fuss. Luckily after we were engaged my mom caught wind of this and convinced me that I would regret not having the wedding I had always wanted and, as always, she was right so I started to plan our wedding.
Planning a wedding when you have no useful vision is extremely difficult, you need to rely on other senses and other people's opinions. There was no picking a venue from the images on the Internet, we had to go to each venue and see if I felt it. When we chose our venue, 'Weddings at Tiffany's,' I could feel the beauty. It was so relaxing in the gardens and the Director described it to me so well that I could picture it in my head. As she was describing the view of the Glasshouse Mountains, I had a childhood memory pop back into my head. I remembered being at my great auntie's house in the same little town when I was just 12 years old and I remember taking so many photos of the stunning view. I called my grandmother to find out what the address was of my great aunt's old property, and it turns out it is on exactly the same road as our venue so I can rely on my memory to picture on the day.
The next big challenge was choosing my dress. Again, I couldn't search the Internet for dresses that I liked to show the store. I had a couple of styles in mind but they were from about four years ago when I could still see photos, so I was completely unsure to the current fashion trends. I wasn't really that excited about going to try on dresses. I was very apprehensive and truly feared that I was going to have a massive breakdown because I couldn't see what I look like and had no idea how I was possibly supposed to choose a dress.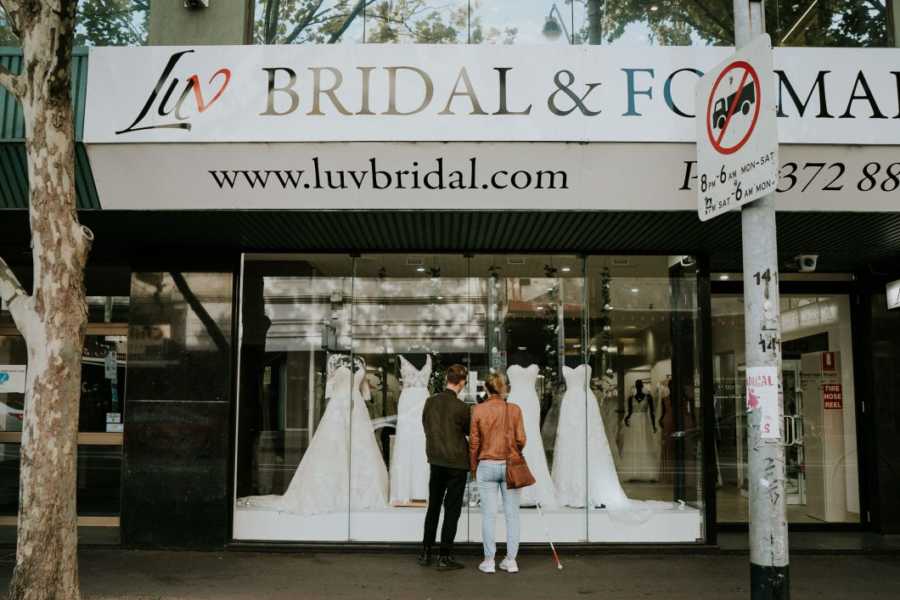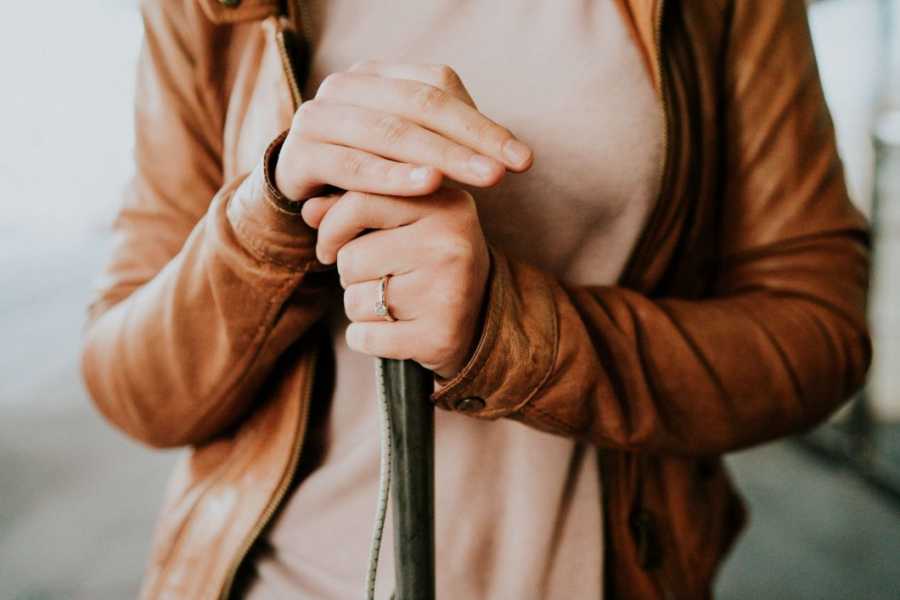 In the years up to losing my site I had toyed with the idea of going wedding dress shopping, just to see what styles I liked and what I thought suited me, but I was worried that I wouldn't be allowed to try on the dresses because I didn't even have a boyfriend let alone a fiancé. My photographer James Day and videographer Sean Tolhoek from Lemon Tree Film House asked me if it was possible for them to come along with me trying on dresses to record the event. There were two reasons for this, the first being that I am passionate about raising awareness about vision loss and the three of us want to be able to tell my story. The second reason is that hopefully one day technology will be able to restore my site and I will be able to look back on the photos and film taken that very day.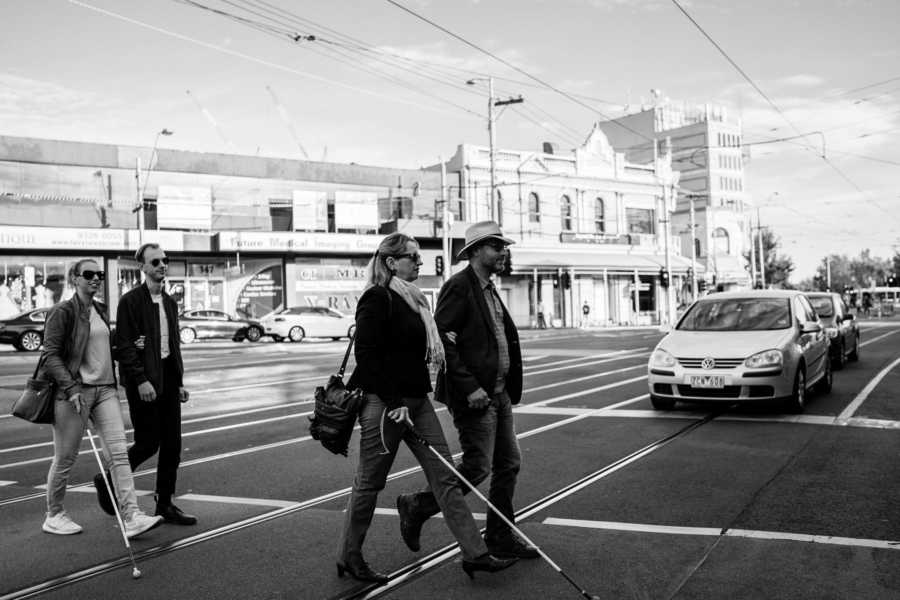 The night before my dress appointments, we were all sitting around the table discussing the next day. It was myself, my fiancé Rob, mom, dad and one of my brothers along with James and Sean recording the whole thing. I was feeling very nervous about the next day and told them all that I was unsure as to how I was going to react and what I needed from them. I told my dad and my brother that I needed them both to be completely honest with me as they were going to be my eyes, along with my bridesmaid Jess. I told them that I had a few styles in mind but if they saw something that appealed to them on the dress shop floor, that they should tell me as I was happy to try anything on.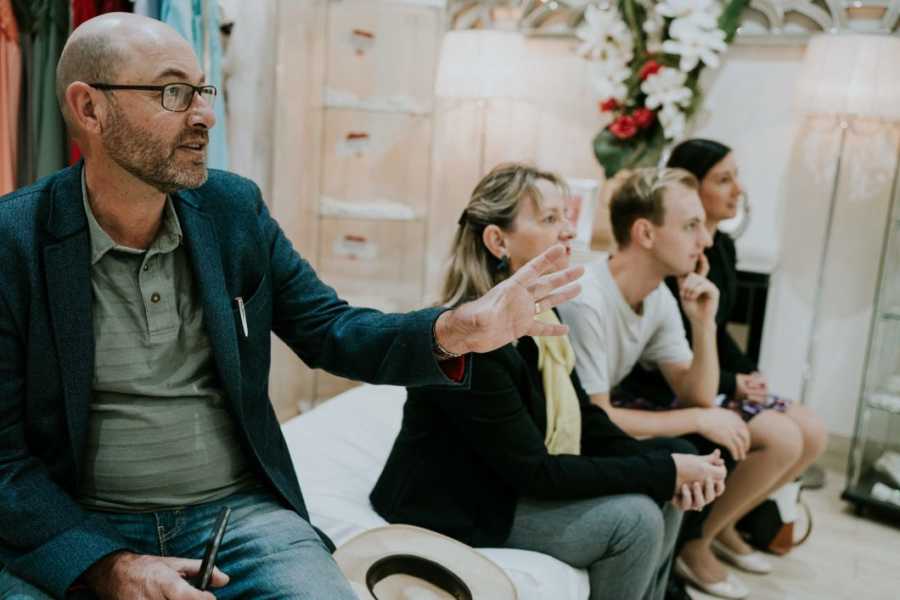 As I stepped into the first dress and the assistant helped me out to the podium I felt a smile creep onto my face and I realized that I wasn't going to get upset at all. We quickly worked out a routine where I would stand on the podium and my mom, who is also blind, would be lead up to me and she would feel the dress as the shop assistant describe it in detail to both of us.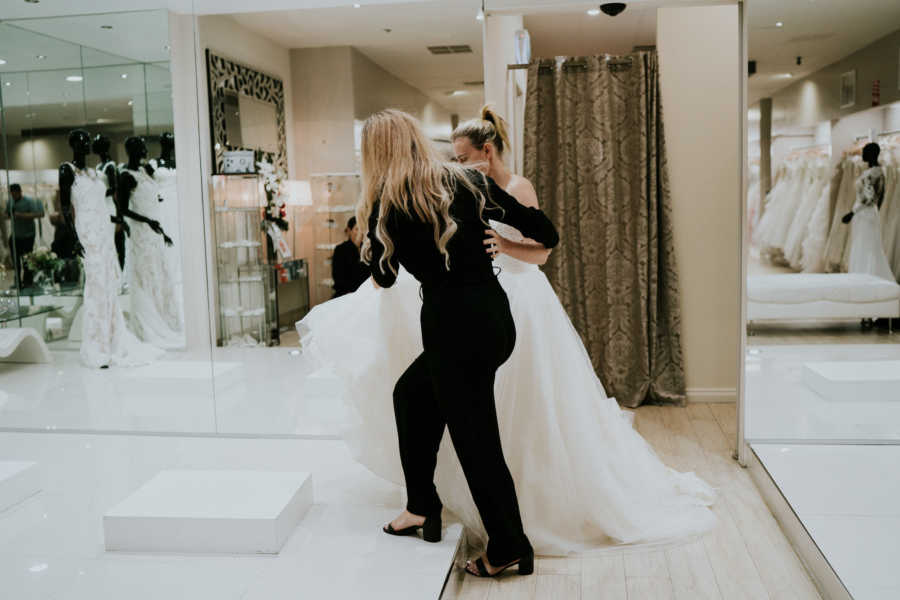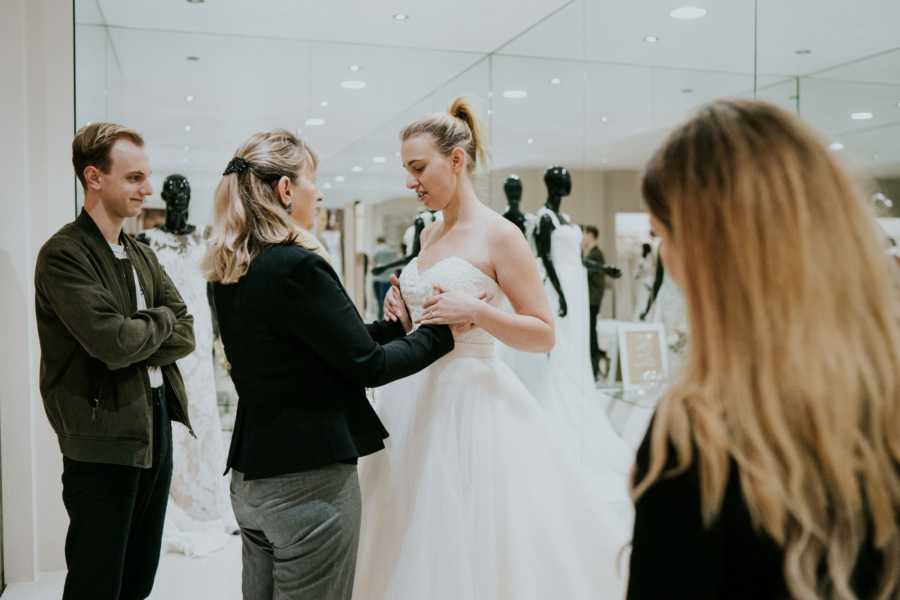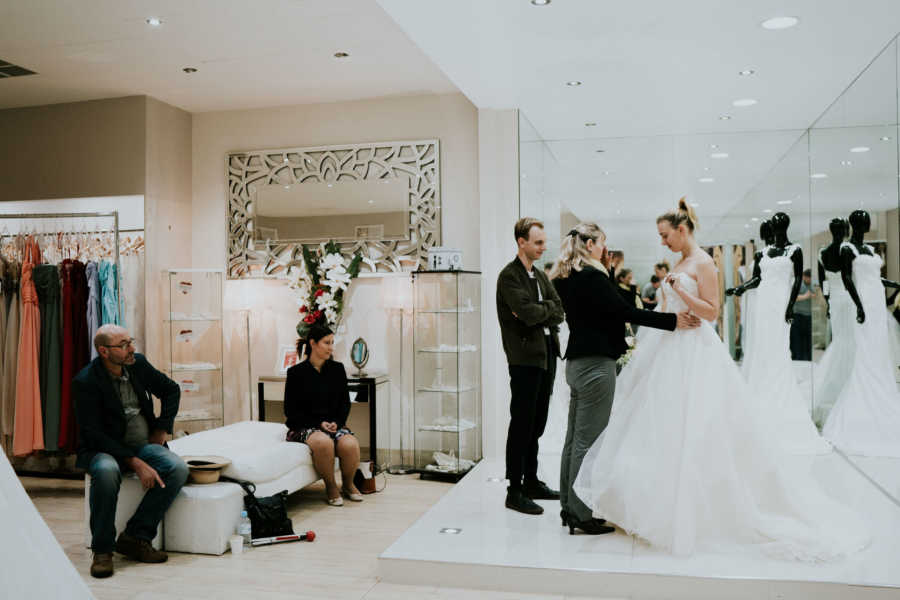 I would then wait for my cited entourages opinions, which seemed to take forever at times! I would feel the fabric and really take notice of the texture, how I felt in the dress and how easy it was to walk in it.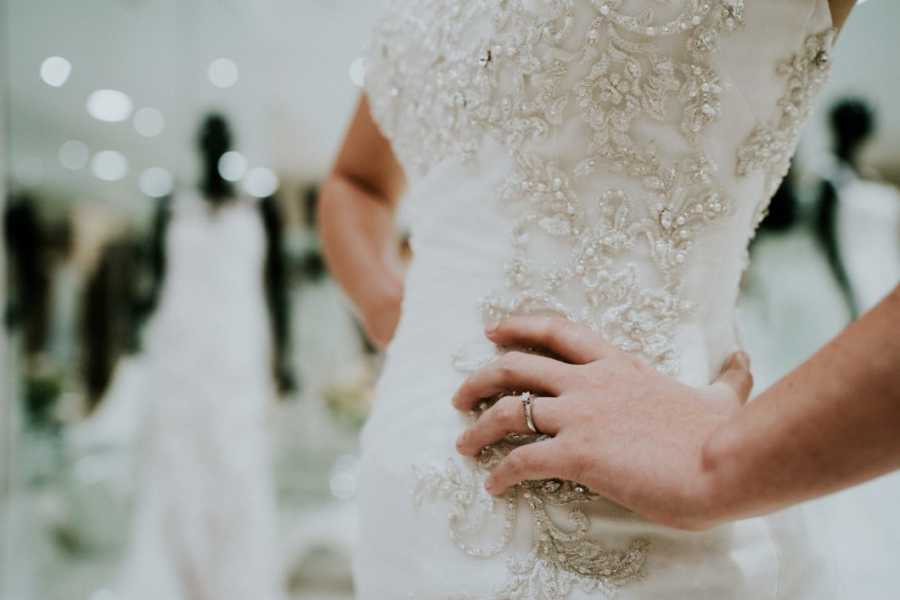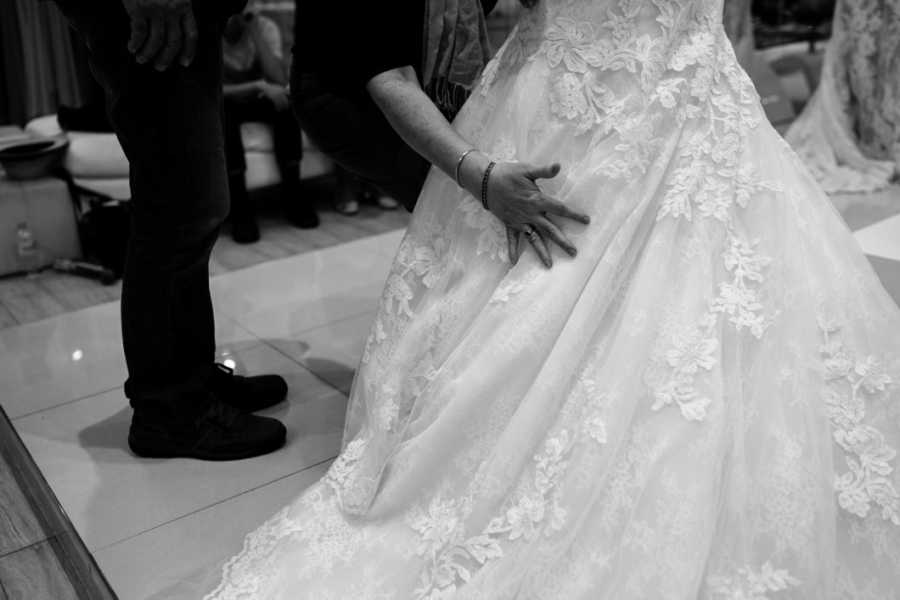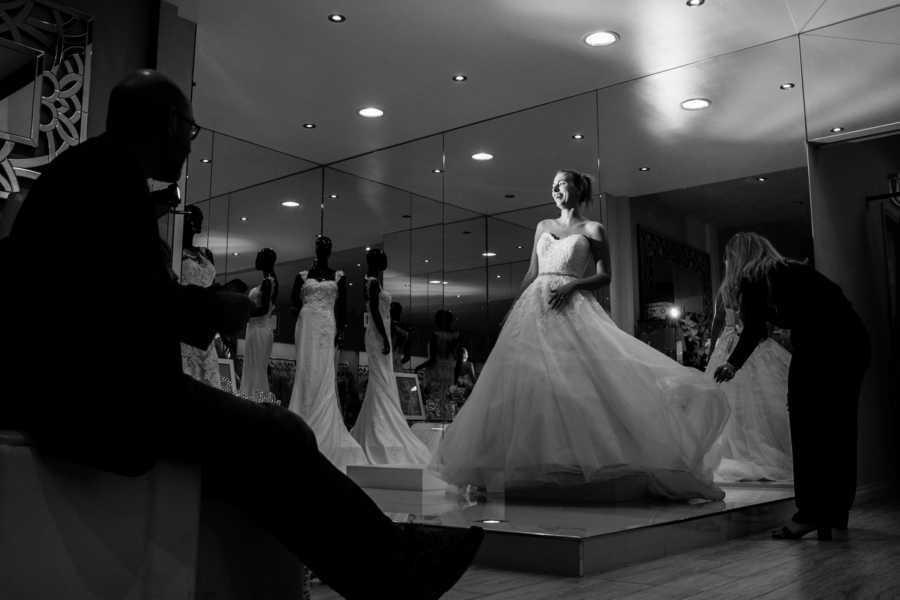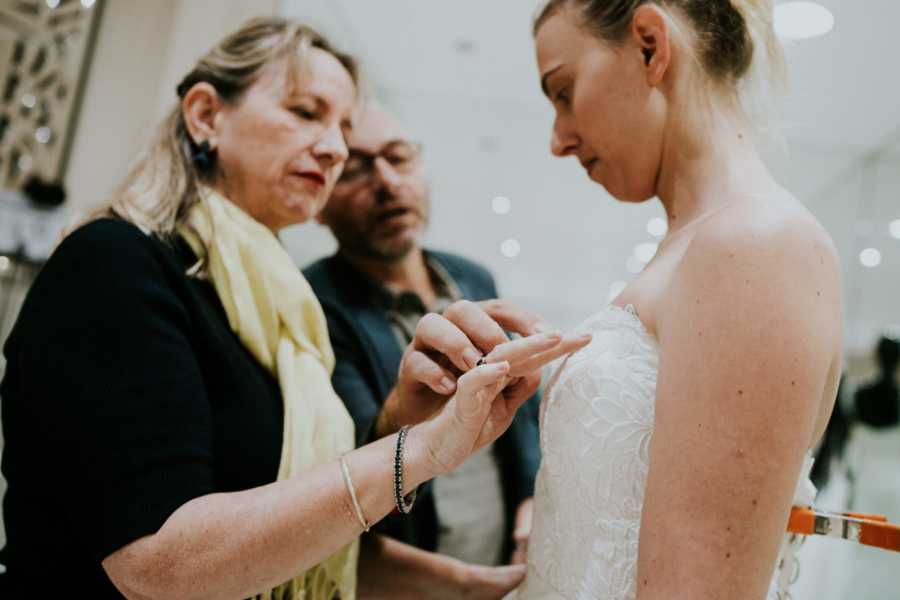 The first dress really stood out to me but I just didn't get that feeling and there were a few things that my entourage was unsure about on that particular dress. We went to the next store and tried on some more. I was getting really frustrated because everyone was saying to me that every single dress looks good on me, which really wasn't helping the situation.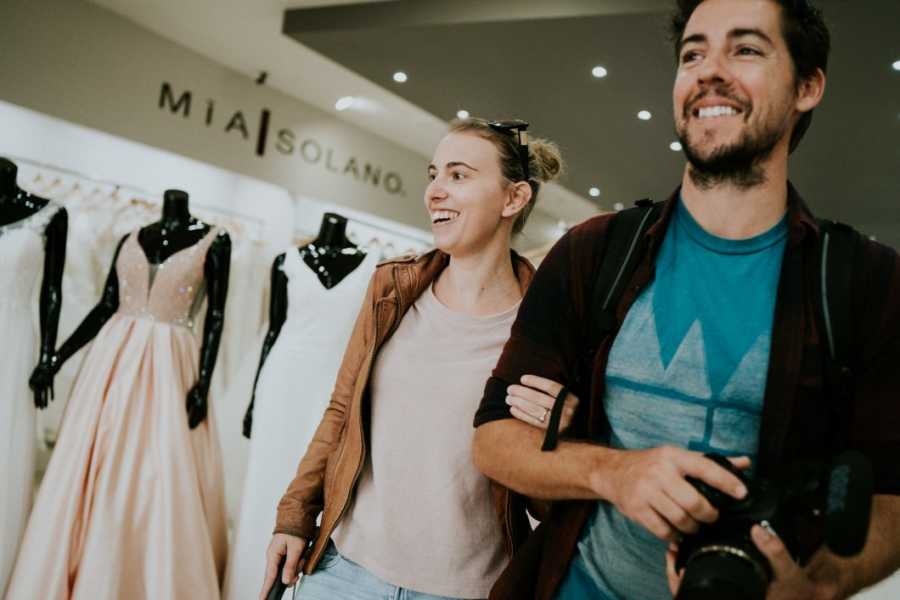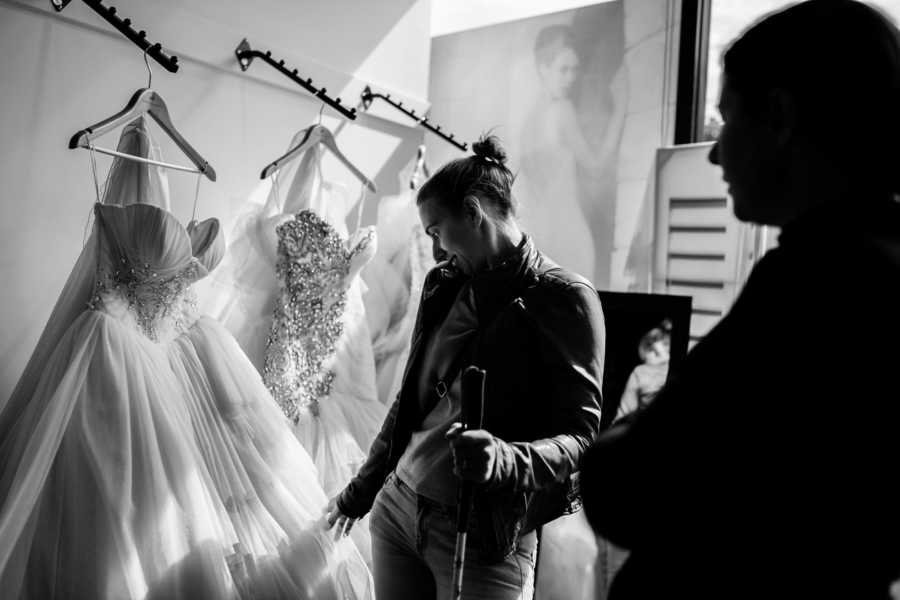 After 17 dresses I said we will just try on one more. I enlisted my brother to go and scour the shop room floor and find something that really stood out to him. He chatted to the shop attendant and describes what he thought would look good on me but said he couldn't find it. She then said, 'I think I may have something in the back' and went to retrieve it.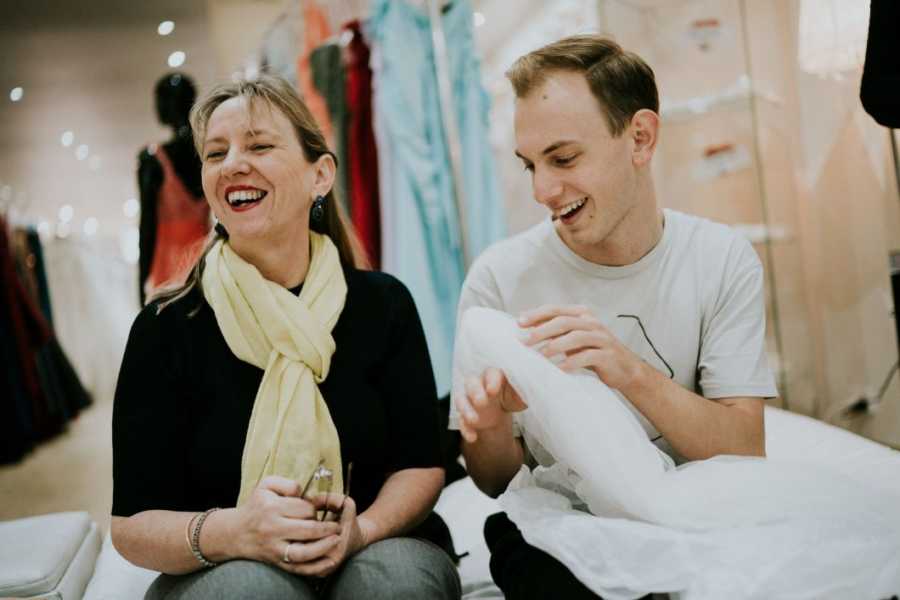 It was described to me as a blank canvas that I could make alterations to the dress to suit me. I put the dress on and thought yes, it just feels like the others, but then we made a few changes and I felt a huge smile creep across my face. I felt my cheeks start to go pink and I could feel my face changing and lighting up and everybody else saw it as well. I thought to myself, 'Oh my God, I actually got the feeling and I can't even see myself! The shop attendant then said to me, 'Are you saying yes to the dress?' … I said 'Yes, I don't want to take it off!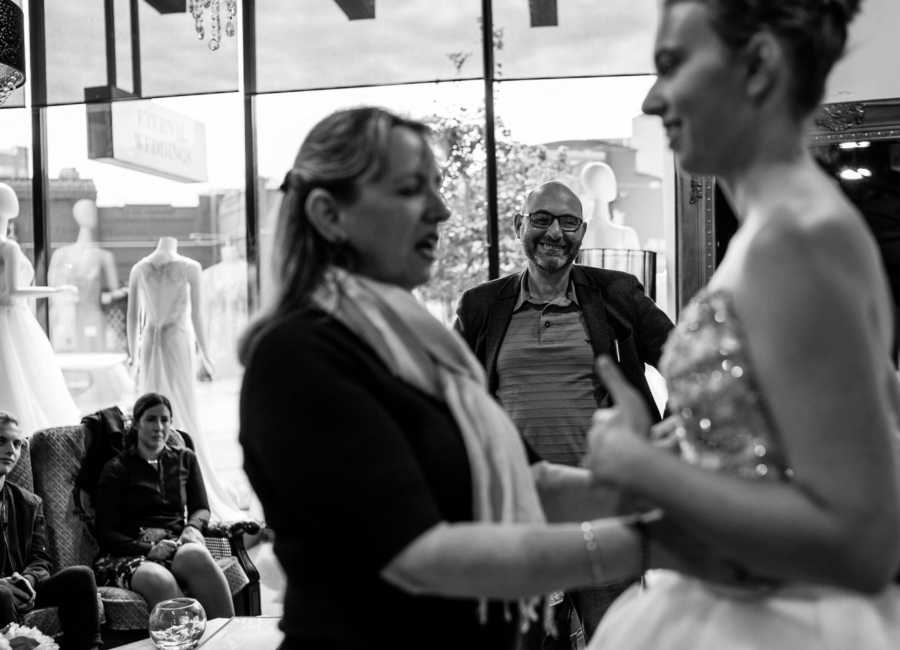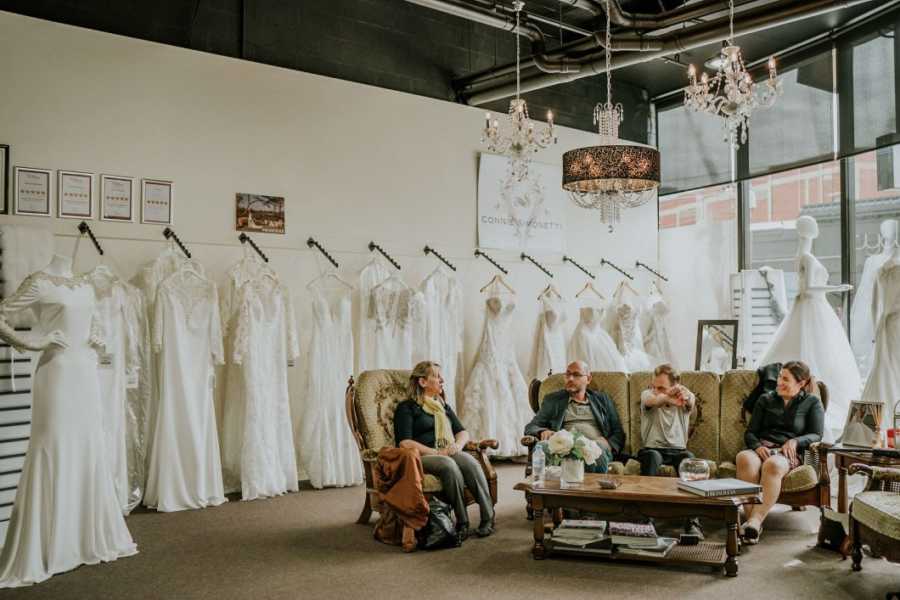 This story was submitted to Love What Matters by Stephanie Agnew of Australia. Submit your own story here, and subscribe to our best stories in our free newsletter here.
SHARE this beautiful story on Facebook if you remember the magic of being a bride!