"This is the story of a little girl's love of a green dress, and a mother who tries to instill independence, and how those two things came together in the most epic and brilliant combination possible.
School picture day can be stressful for any mom. How should you do their hair? Will they smile?
Which background will complement your child the best? Can they stay clean until the shutter snaps? Our family is no exception to the chaos that is picture day.
All this was swirling in my head one crisp Friday morning in September, as I helped ready my oldest two children for their school photos. We had sat down and chosen backgrounds the day before, and I allowed both my son and daughter to pick out their clothing.
My daughter chose her current favorite dress, a beautiful shade of green with sequins that highlights the green of her eyes.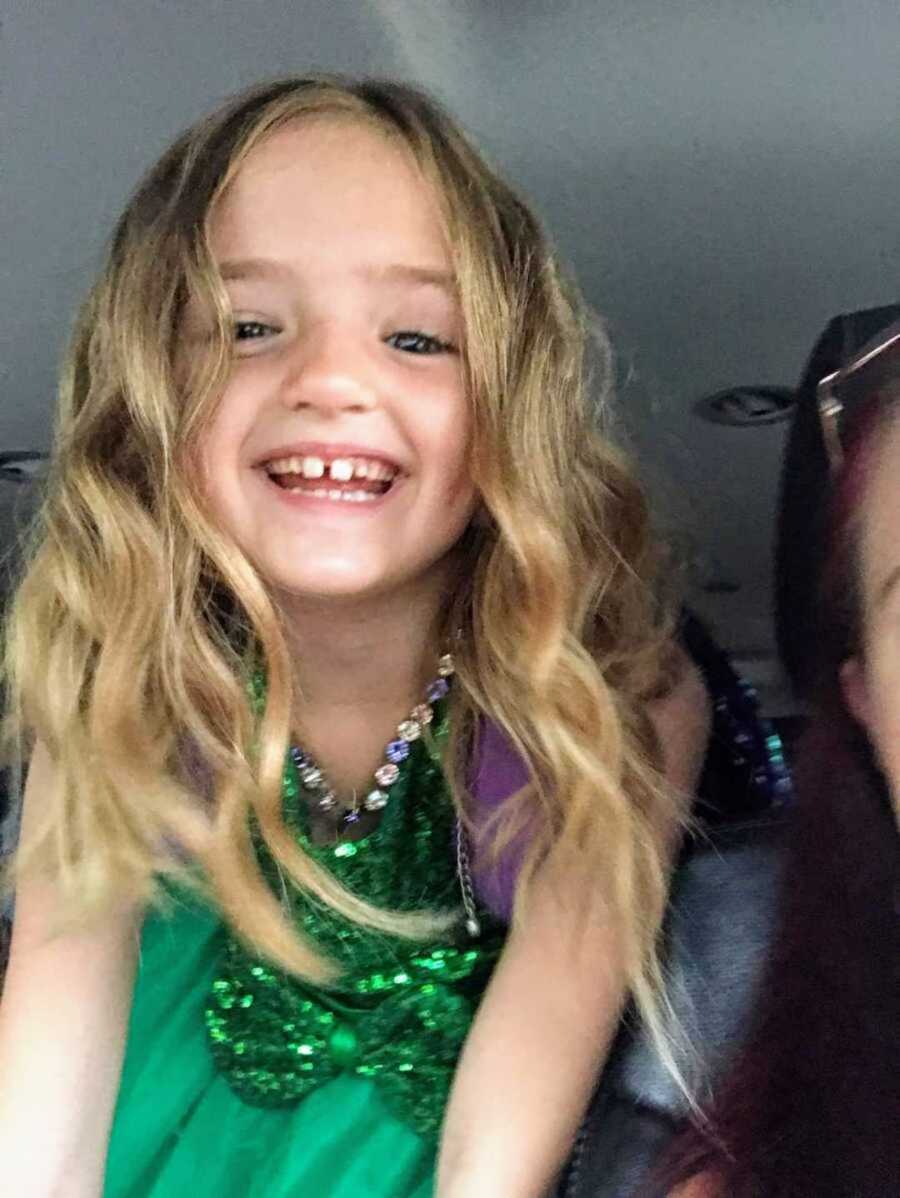 I woke her up a little earlier than usual that morning, so we could curl her hair. Together we decided she could wear the special necklace her grandmother had custom ordered for her as a Christmas gift when she was just 1 year old. My mother passed away from cancer before she was able to give Addy this gift, so it only is worn on special occasions.
My husband works long hours and wasn't able to see her that day, so we snapped a quick photo in the drop-off line at school to show her daddy how cute her hair looked. I didn't give the color of her dress a second thought as I waved goodbye to my children.
This is part of the story where all I can do is claim mom brain/pregnancy brain/lack of coffee. Had I been thinking about it, I should have realized what was about to happen.
On my birthday, I received an email with her school photo preview. I opened it up, hoping to see Addy's smiling face, excited about how beautiful my little girl would look with her sparkly green dress and the purple background she has helped choose.
I immediately dropped my phone, laughing hysterically. I screenshotted a few photos and sent them to my husband, tears streaming down my face from laughter.
Our school's photographer uses a green screen. Our little 1st grader was now hilariously blended into every single background, from the regular single-color backgrounds to the scenic views.
She's a road!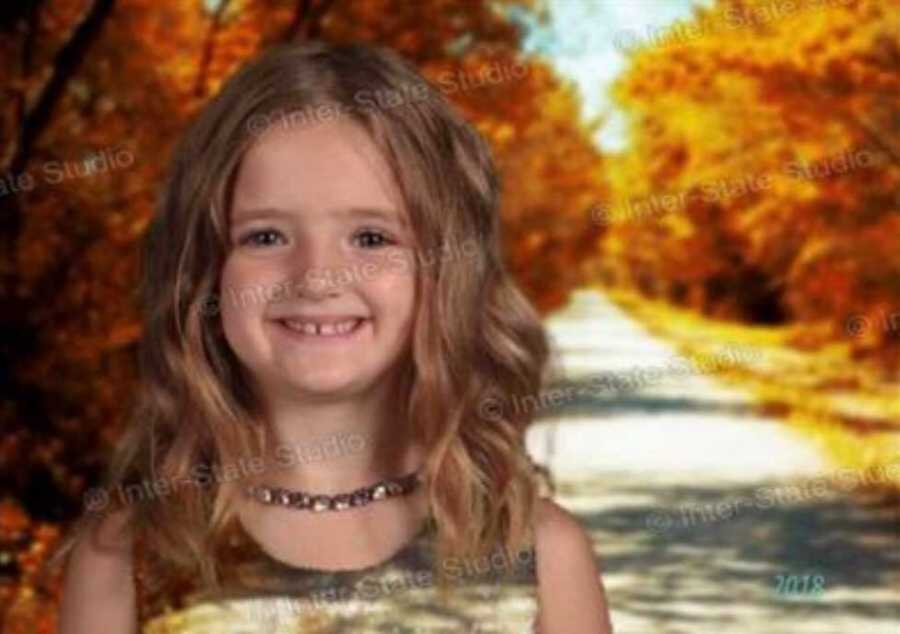 She's an American flag!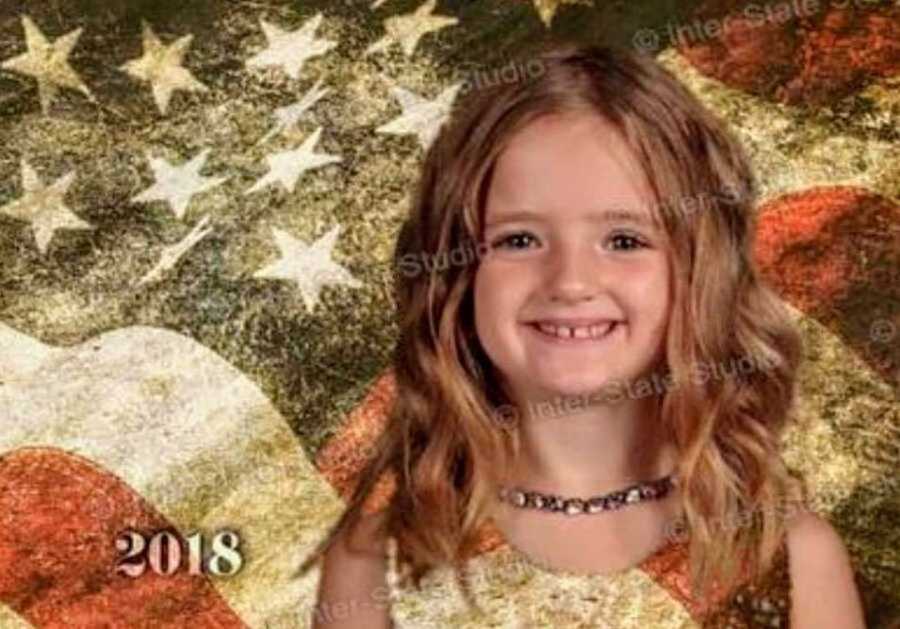 THERE ARE 87 STYLES. I NEED THEM ALL! I originally ordered the purple.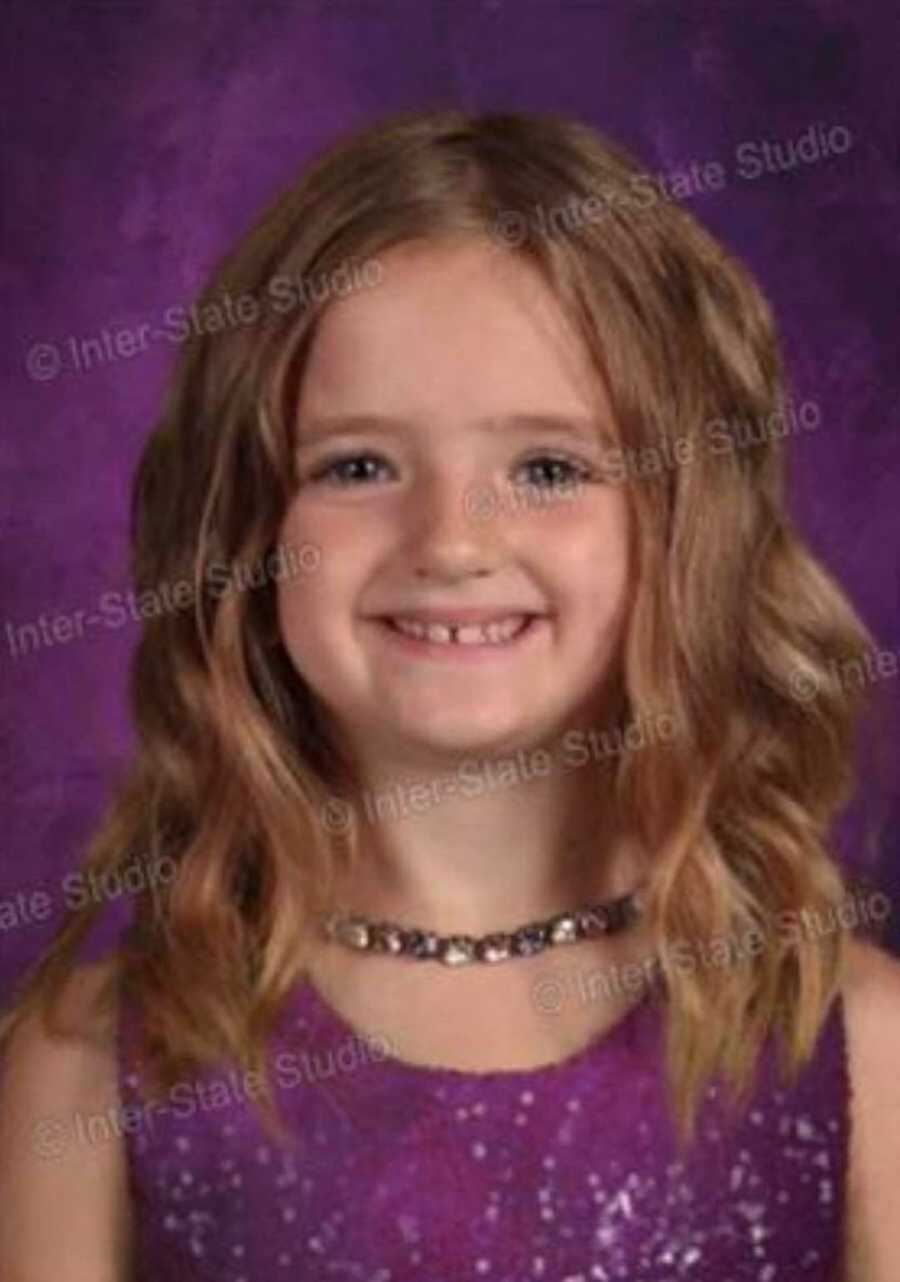 Honestly, I have never messed up anything so brilliantly in my entire life. Addy's photos perfectly fit her Addy-tude, and our entire family cannot help but laugh over how amazing and hilarious they are.
Where some might be upset, my husband and I definitely find humor in our story, and Addison absolutely loves looking through them. This is an event we will cherish and laugh about as a family for years to come.
School photos don't have to be such a serious thing. As a mother, I am so proud my daughter was able to see these photos and find joy and humor in them. My husband and I hope to continue teaching our children that while life can be stressful, you can always find happiness in little things, even unintentional mishaps involving a green dress."
This story was submitted to Love What Matters by Laura Pyle of Pennsylvania.  Join the Love What Matters family and subscribe to our newsletter.
Read more stories like this:
'We were having a good day as a family and I foolishly thought I could document it.': Mom to teen son says 'I'm learning to smile and take the picture anyway'
'You can't treat her like a princess forever.' I don't have to compare my child to another.': Mom shares important reminder about helping children
Please SHARE this story on Facebook to encourage others to cherish every moment and love what matters most.