"14 years ago, I stood with my roommate, in my tiny bathroom, terrified. We were both staring at the clock, counting down the seconds until we could flip over the stick and check my test. The day my entire life changed. This was the day I went from basketball player to pregnant teen, this was the day I went from carefree college student to mother. This is my story.
I found out I was pregnant in my second semester of college, freshman year. I had no idea what was going to happen, so I turned to my parents. Though they were disappointed, they immediately jumped into action, moving me home from college, building an apartment for me and the baby in their basement, all while still having my three younger sisters living at home. My parents were truly such a godsend during this time.
Throughout my pregnancy, I went to a lot of appointments with my mom, but I mostly went alone. I found out I was having a boy at my 20-week ultrasound. I remember feeling like I knew nothing about having a son, but unfortunately I didn't really have anyone to talk to who could relate at the time. Most of my friends were off to college or had jobs, but none of them had or were having kids yet. My pregnancy was quite a lonely time for me.
When I went 2 weeks past my due date, my doctor decided to induce me. My mom was with me through the entire grueling 26 hours of labor, which ended in a C-section delivery. I named the baby Jaden, and goodness he was so perfect to me. After Jaden was born, my parents really stepped in as almost second parents to him. They helped me through my recovery. They were there for all of Jaden's 'firsts.'
When he was a little older and attended daycare and they would have 'dads and donuts' day, my dad would always attend. When I worked overnights at the local hospital, my parents would keep him with them while I worked. And every time an apartment lease would be up, there were my parents with a moving truck and helping hands.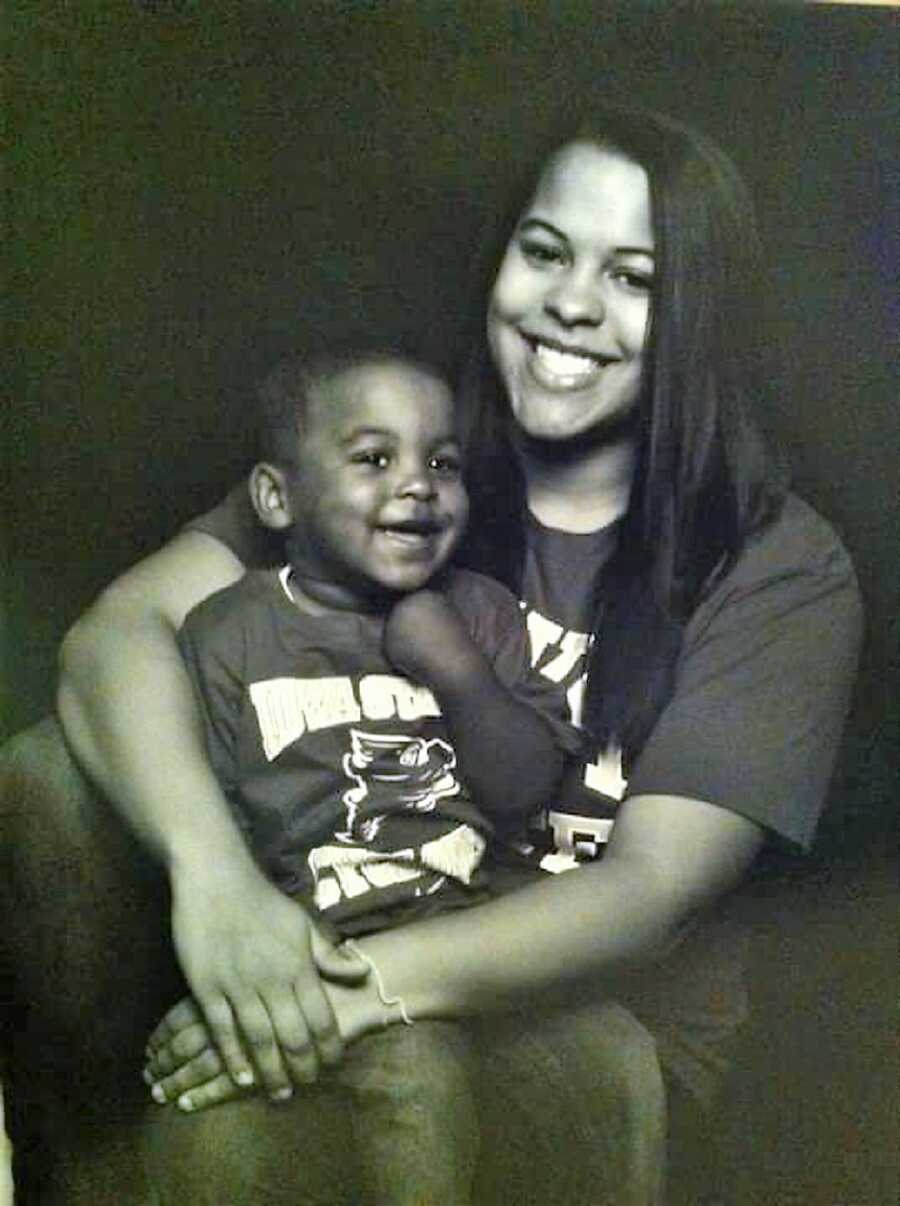 For the first five years of Jaden's life, we lived within 10 miles of my parents, never venturing too far from home. I dated around while attending college and working, but never really hit it off with anyone seriously. When Jaden was five, we made a big change. I had been working at a country club in a city about an hour away from where we lived, and the drive back and forth was becoming too much.
I also had to think about Jaden starting kindergarten soon. So, we packed up and moved into an apartment with my coworker (from the country club) and her son. It was tough at first not having my family close by to be involved in everything, but we adjusted. We created a little village of other single moms in our new community. I felt proud of myself for branching out, but also like something was missing. I remember sometimes having almost a hopeless feeling I would never find someone who would love me and my son.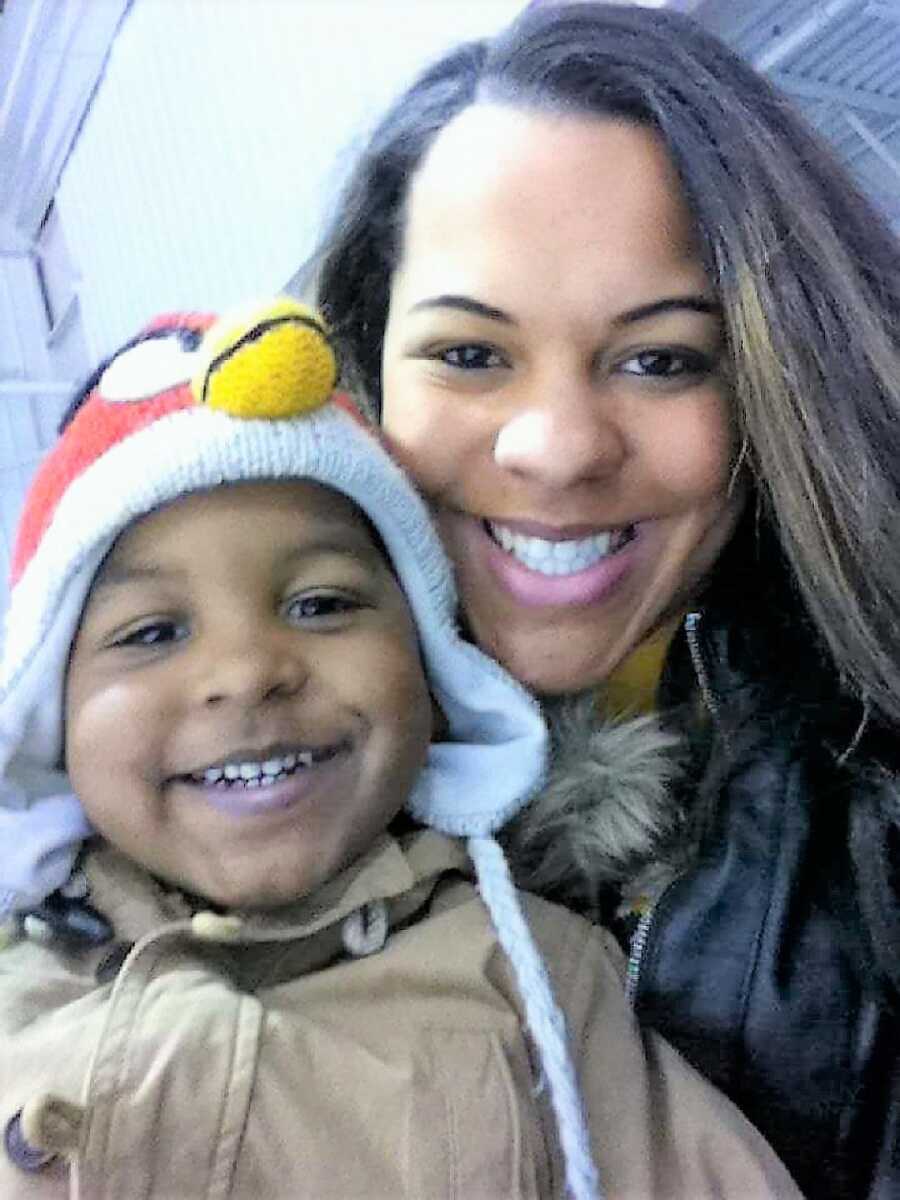 Things really started to change for me after the move. I found more confidence in myself after taking a new job in car sales. It was a huge opportunity for me to be able to financially provide for my son without working multiple jobs at once. One of the downsides to the new job was the crazy hours, so Jaden spent many late nights with me at work. There was a lot of turnover in the car industry, so there were constantly new salespeople starting.
When a new salesperson named Alex started in the summer I thought to myself, 'At least it's an easy name to remember.' The first time I saw Alex I looked him up and down. He had bright blue eyes, blonde-styled hair, and was wearing a khaki pair of high water pants, which seemed much too small for him. He was giving me 'frat boy' vibes, not my type at all, but he had a warm smile. Over the next few months, I would see Alex at work and chat here and there but not much else.
One night, I had to stay late to help a customer well after store closing and I had Jaden with me. I was trying to set him up at my desk to hang out while he waited when Alex came up with a ball and asked Jaden to play catch outside. They played for about 45 minutes while I was finishing up with my customer. I thought as I was driving home how nice it had been for Alex to stay late to help and how happy Jaden looked playing catch with him. It also made me feel a ping of sadness, wishing I could give him this kind of male interaction consistently.
A few weeks after, Alex sat next to me in a meeting one morning. Afterwards, everyone was sitting around talking about their weekends and going out to the bars and Alex turned and asked me what my favorite drink was. I told him I was a red wine fan and he just looked at me like I was crazy. 'Do you drink beer?' he asked me. The answer was no, I hadn't drunk a beer since college. 'You HAVE to try Coors light,' he said. I just laughed and told him I would try it sometime.
A few days later, I took a picture with a six-pack of Coors light and texted it to Alex. He responded and said, 'I just knew I was going to love you.' I got instant butterflies. It had been quite a long time since someone said the L word to me, and even though I knew he didn't mean it like that, it was a jolt to see it on my screen. After this, we started to talk more at work and send texts back in forth occasionally.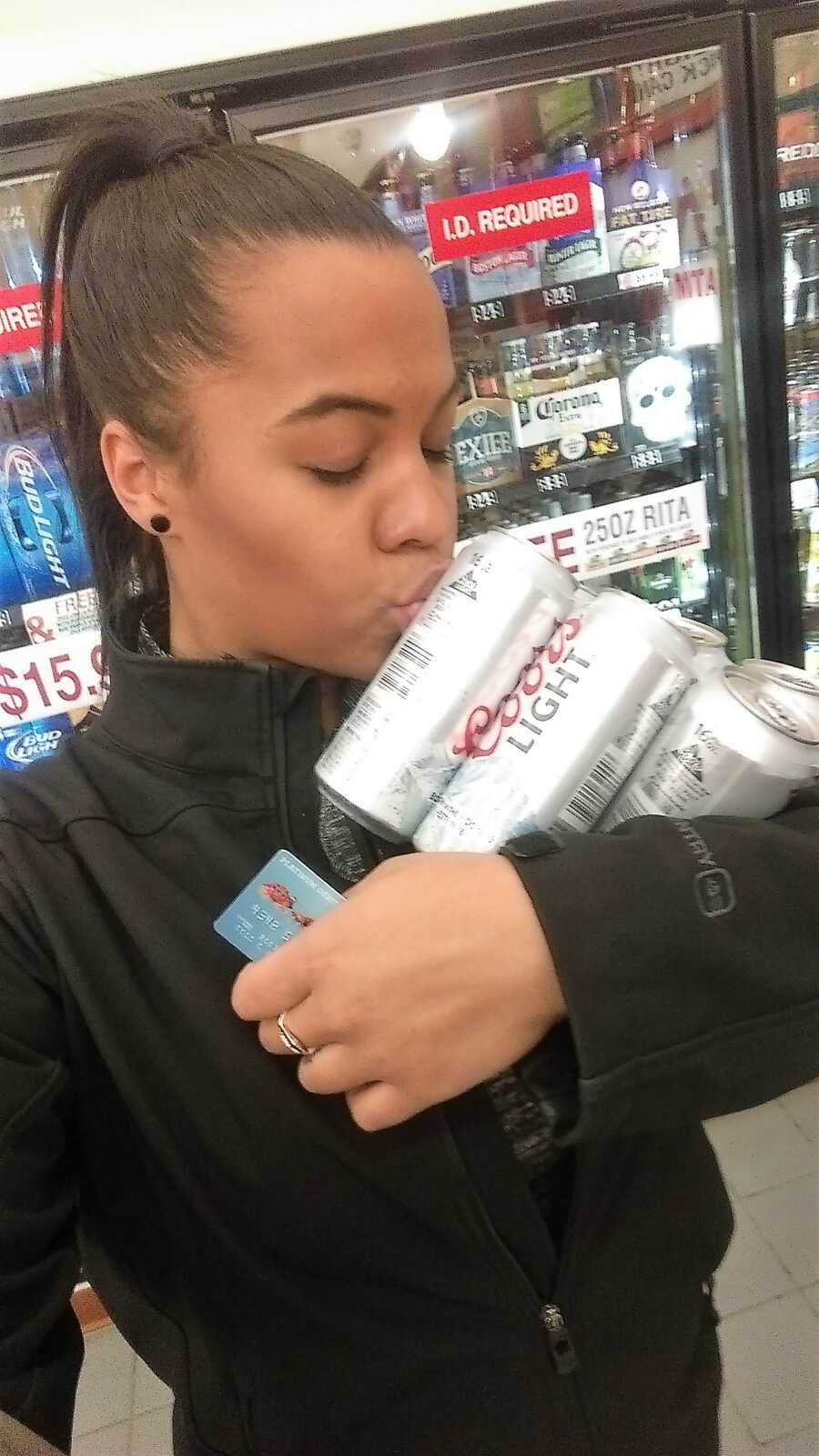 One Friday night, he sent me a text asking to join him for drinks with his roommates. Though I was less than excited about the roommate part, I said I would come. We all hung out at the restaurant for hours just laughing and chatting. Alex and I ended up talking until 6 a.m., and by the time I was headed to work the next day, I definitely had a crush.
Over the next few months, we started hanging out more and more. We would go out to lunch together at work, and he would come over in the evenings after Jaden went to bed. I hid the relationship from Jaden in the beginning because I wasn't sure where it was going and I didn't want him to get hurt. But as things got more serious, Alex and I agreed we should probably let Jaden know what was going on. I worried about how Jaden would react, I worried about if it would be too much for Alex – I basically worried all the way up until the date came.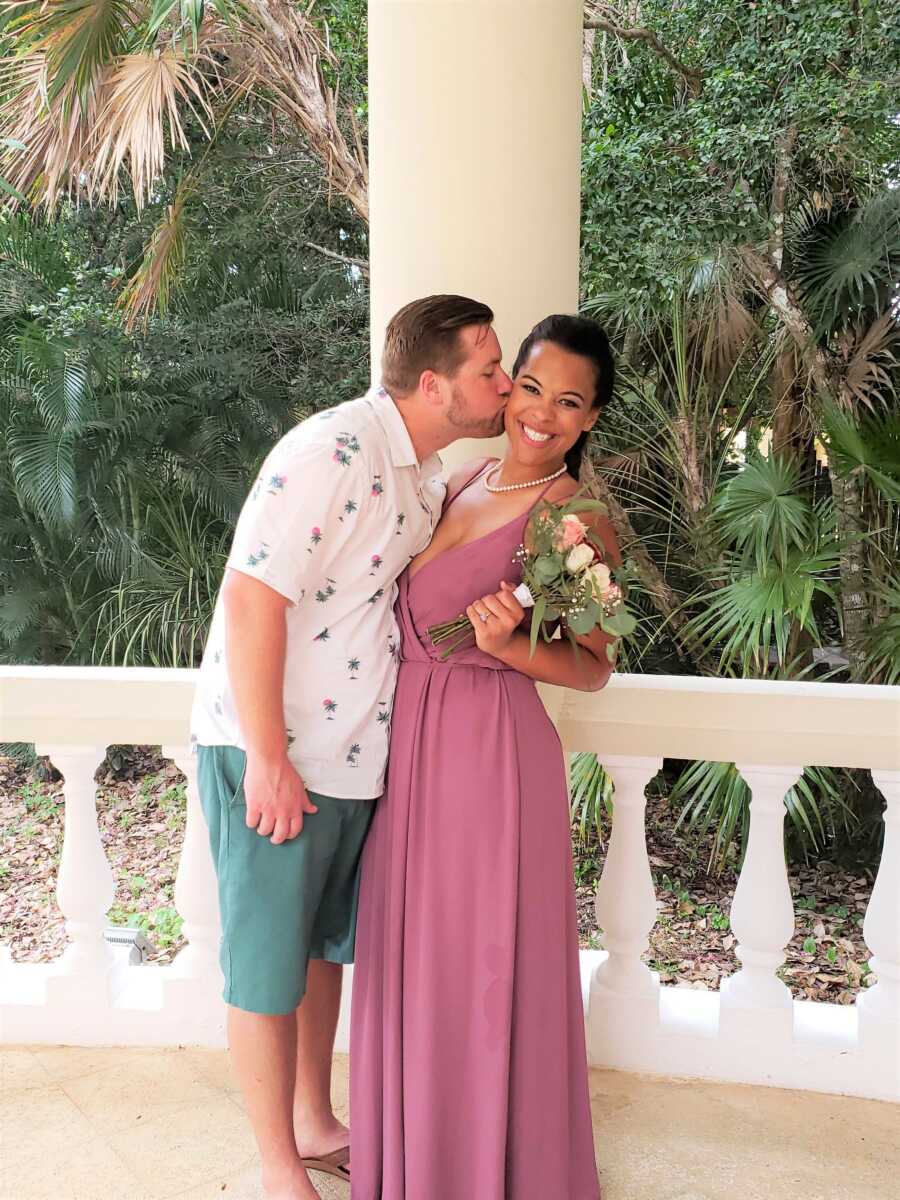 We decided to take Jaden to a basketball game, and I found out pretty quickly all my worrying was for nothing. We all had a blast. Alex and Jaden talked about stats, NBA, players, etc. and by the end of the evening, I could tell how comfortable they both were. I think once Alex decided he was ready to meet Jaden, he jumped feet first into our relationship. Within a month of this date, Alex asked me to be his girlfriend and shortly after, told me he was in love with me.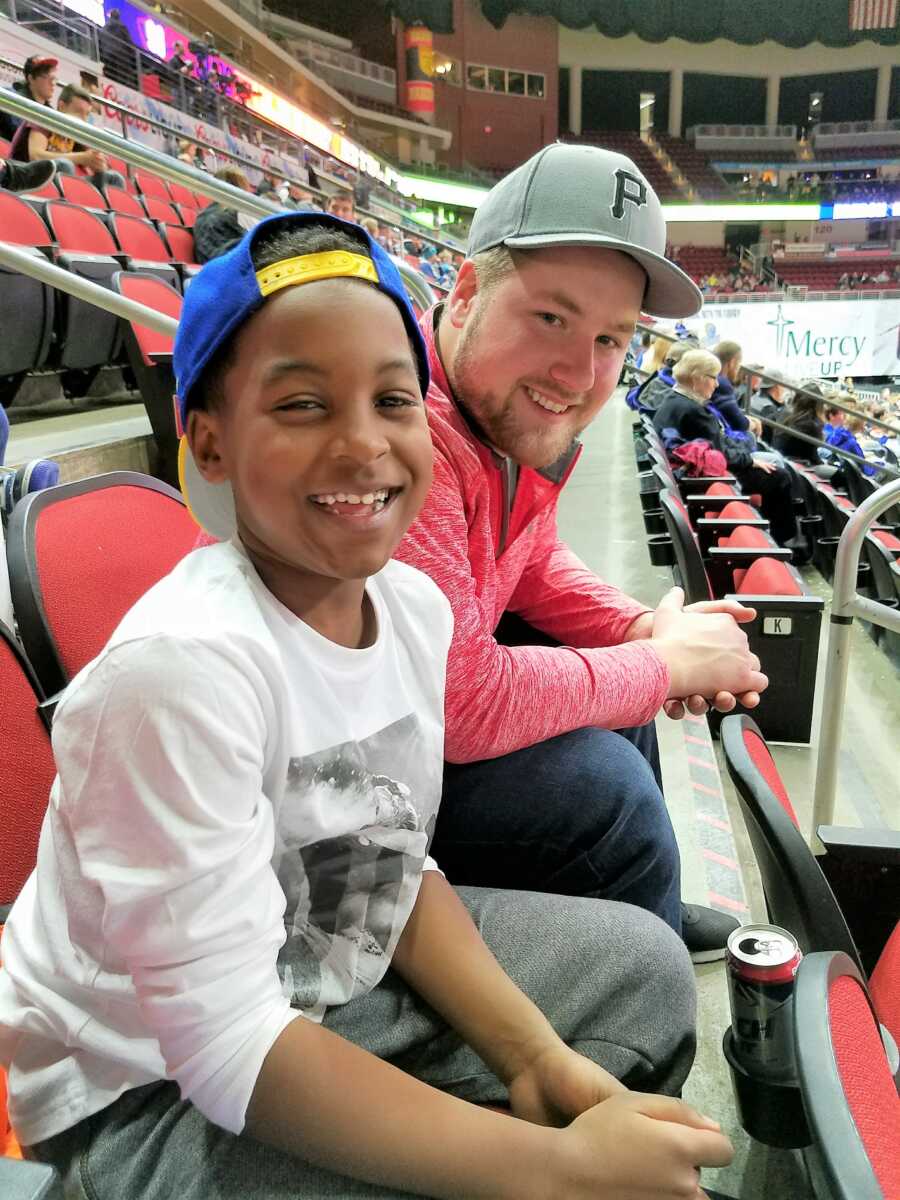 His relationship also developed with Jaden, they grew closer and bonded over sports, video games, and Marvel movies. Alex really put in a lot of effort to strengthen the relationship between them. I felt like he was just as concerned with proving his love to Jaden as he was with proving it to me and their relationship blossomed.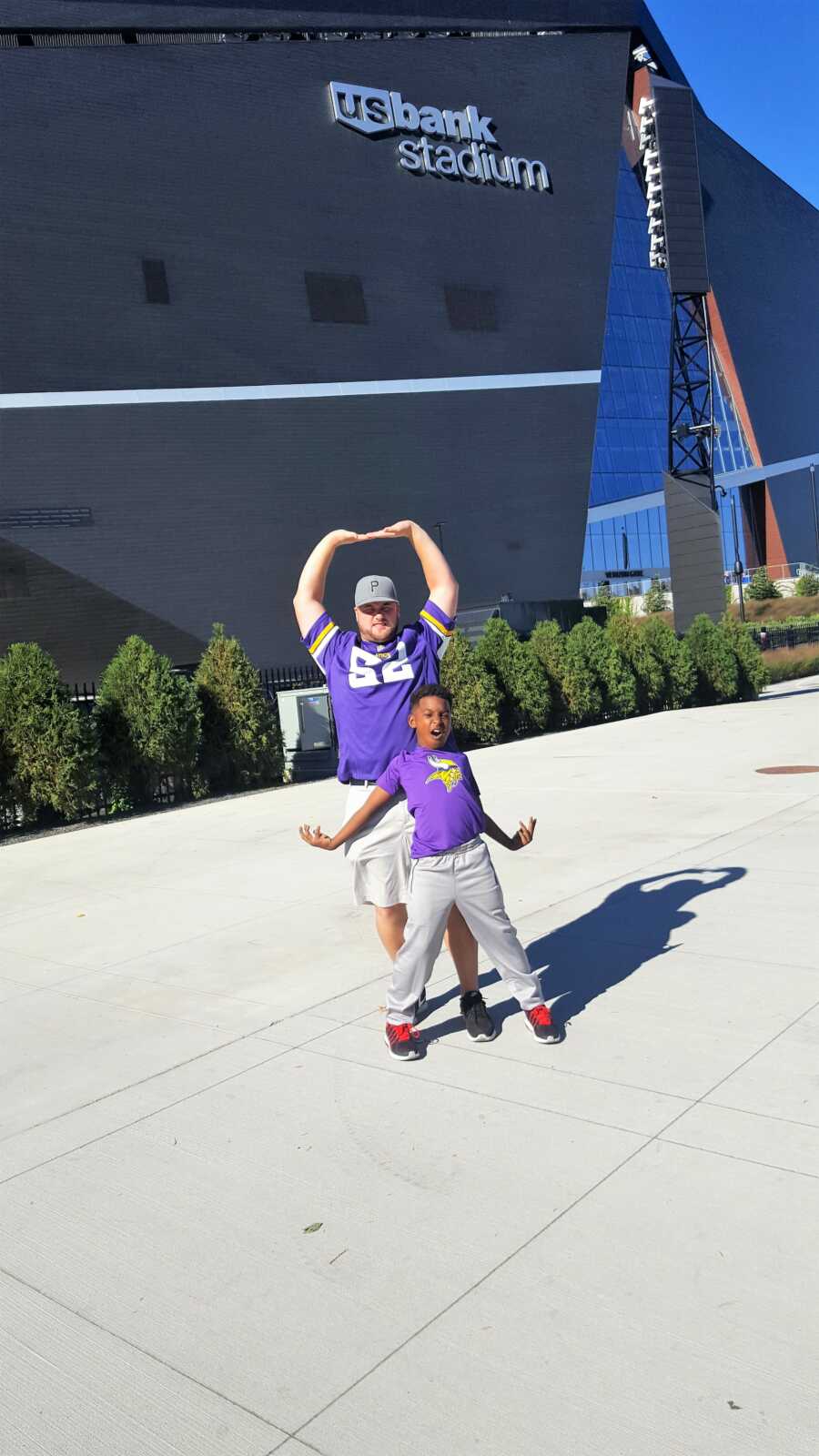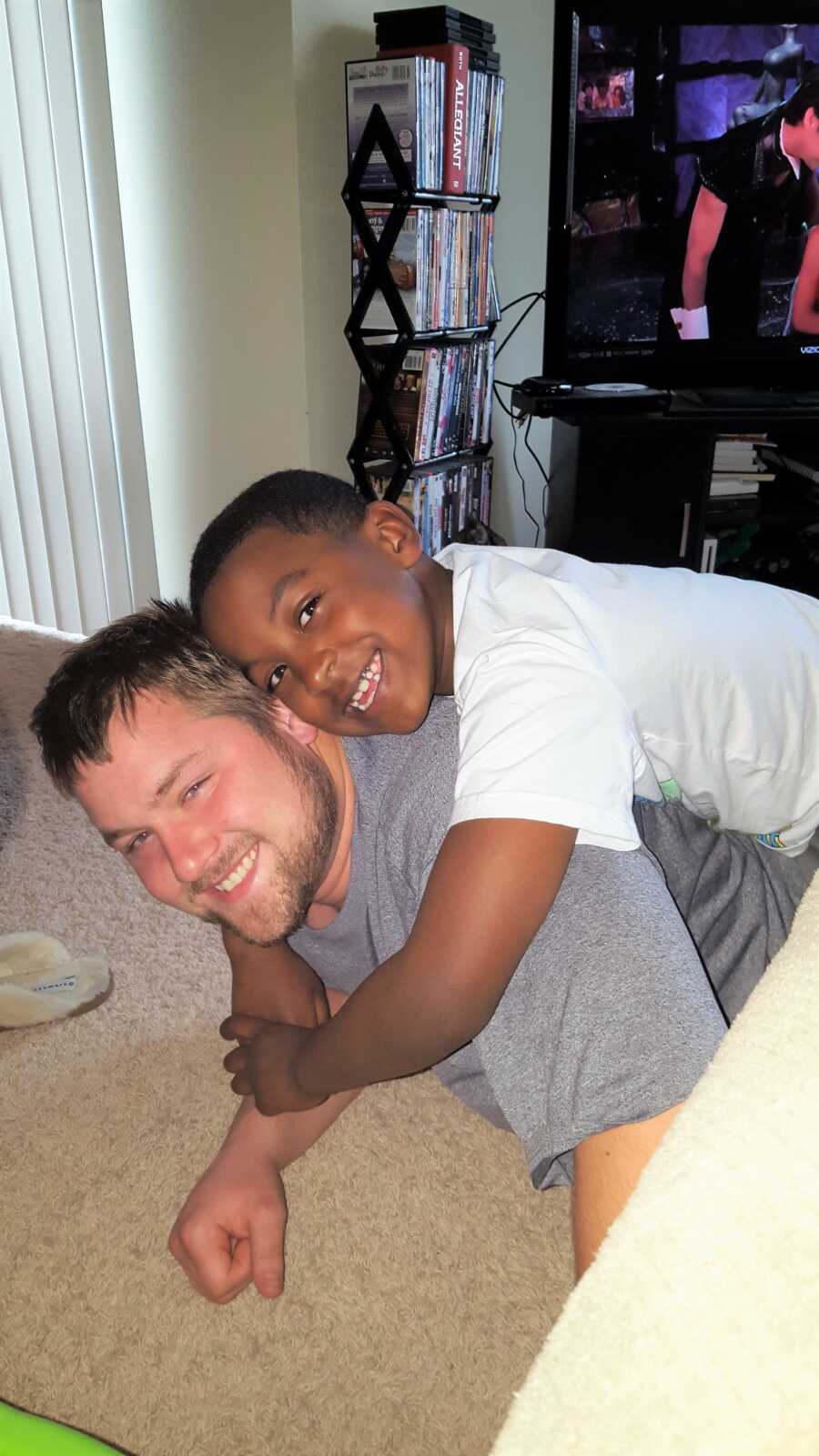 After a few more months, my apartment lease was going to be ending. Alex was also looking for a new place and the timing felt right, so we started shopping for a house. We found a house we loved in a good school district and jumped on it. It was a big adjustment going from being a single mom with just Jaden and me, to a family in a house. So, we sought out a family counselor to help guide us through the major transition.
Our counselor ended up being a huge blessing to our relationship. She taught me how to define Alex's role with Jaden and how to uplift him in our parenting. She taught Alex how to have patience with Jaden and with himself and how to create a lasting bond between them. She also taught us how to effectively communicate with one another.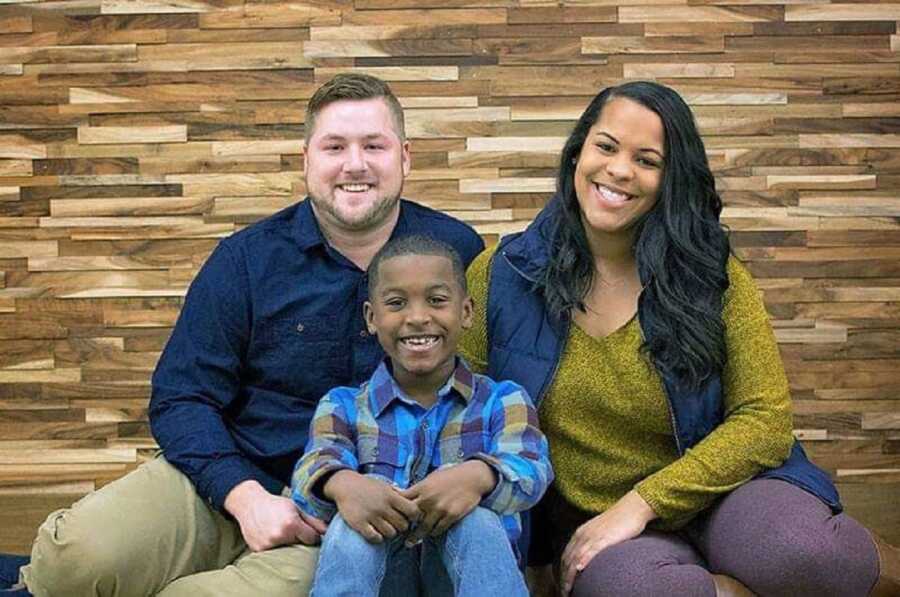 Over the next two years, we found our groove and had a great routine as a family of three. In the summer of 2018, we were preparing to go on our annual vacation with my family. Little did I know Alex and Jaden had gone ring shopping and the two of them planned a surprise engagement in front of my entire family. It was a beautiful day. We all went for a walk on the beach and while I was taking a video of the waves, Alex was down on one knee behind me. I was elated and of course, I said yes.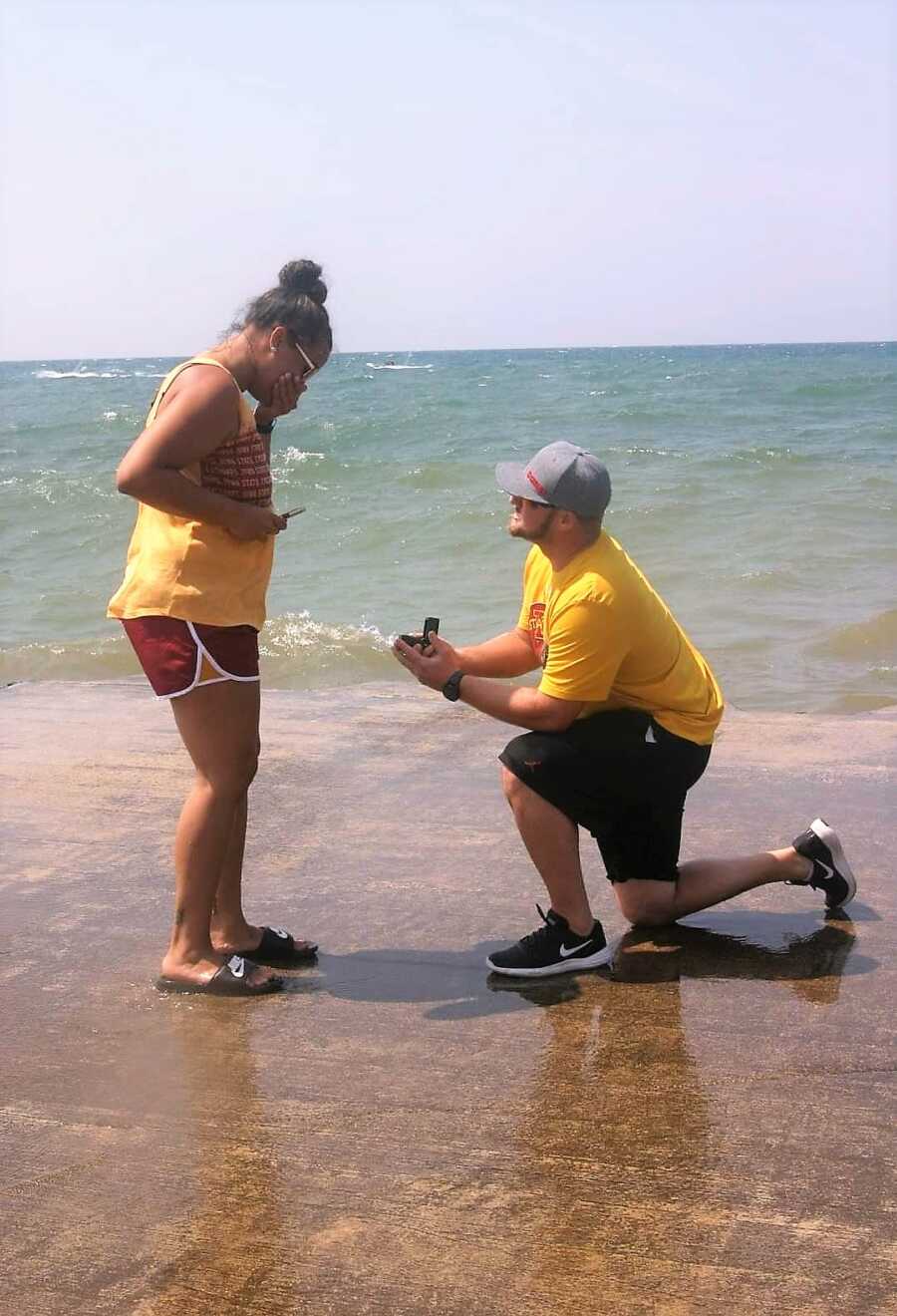 We set a date for the following fall, and the wedding planning began. Alex asked Jaden to be his honorary best man, which was a dream come true for me. I had always wanted someone who would love my son like their own and here I had a man who wanted my son to stand next to him on the biggest day of his life.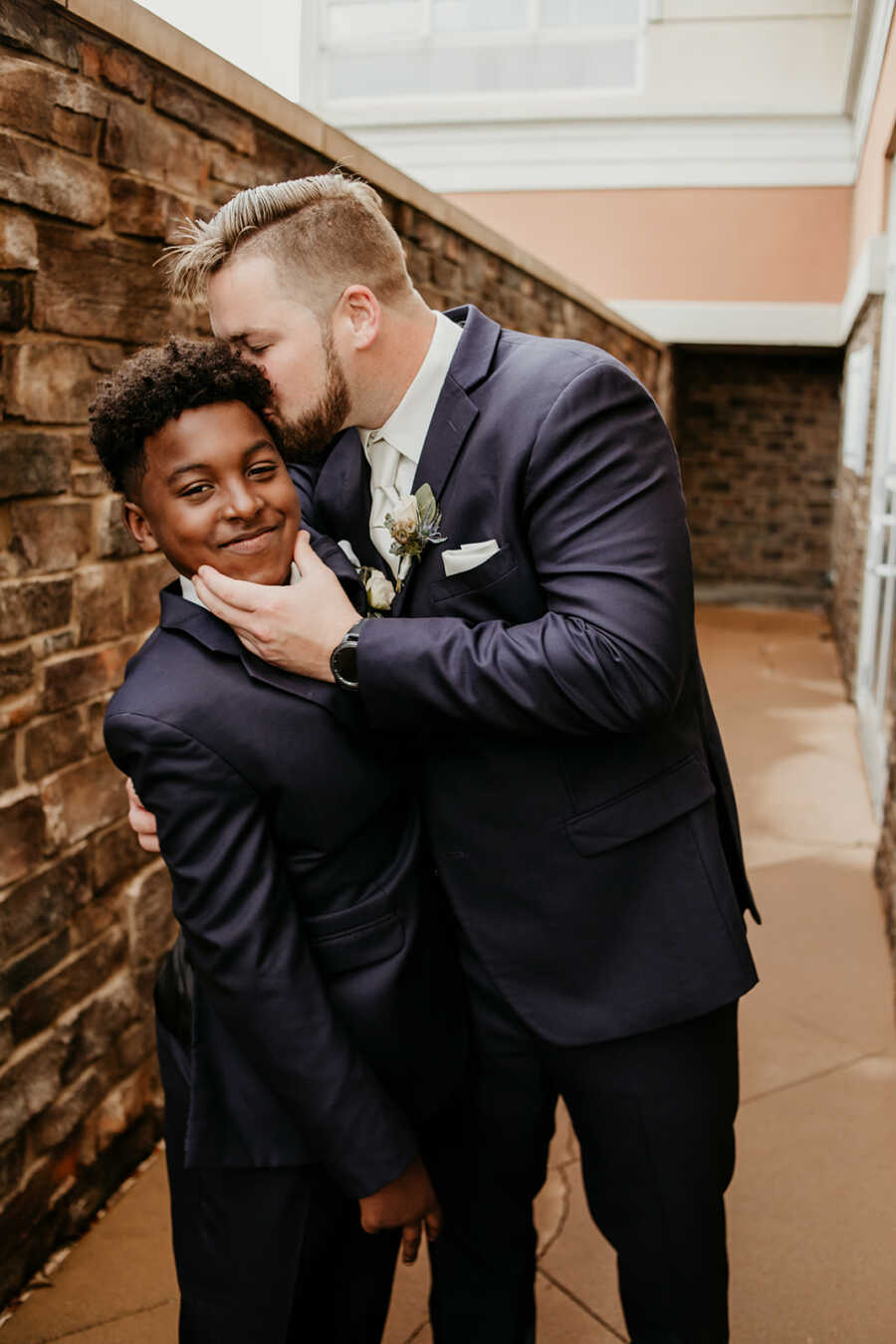 When it came time to pick the honeymoon destination, we decided on Costa Rica but we both agreed it only felt right to have Jaden join us, as he was a huge part of our relationship. So we changed it from a honeymoon to a 'familymoon.' This wedding wasn't going to just be a union of two people, but an official union of our family.
Our wedding day was one of the most perfect days. I did a 'first look' with Jaden, but waited to see Alex until I walked down the aisle. I'm not sure which one made me more emotional; it was everything I could have dreamed of. I was walking down the aisle to the man of my dreams who was standing proudly next to my beautiful son. I have never felt so happy. We were surrounded by our closest family and friends feeling overwhelming love and support. This is a day I will forever cherish.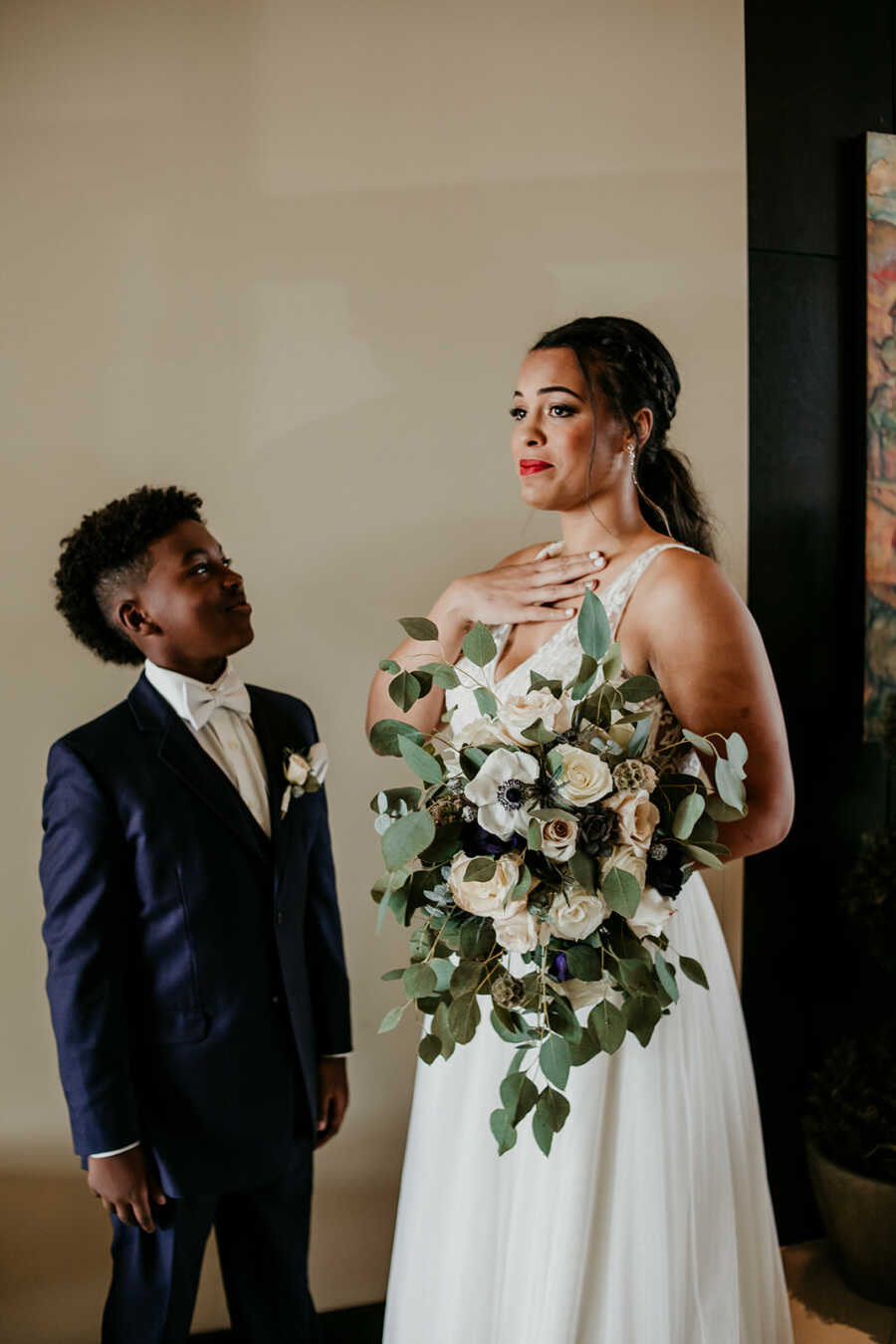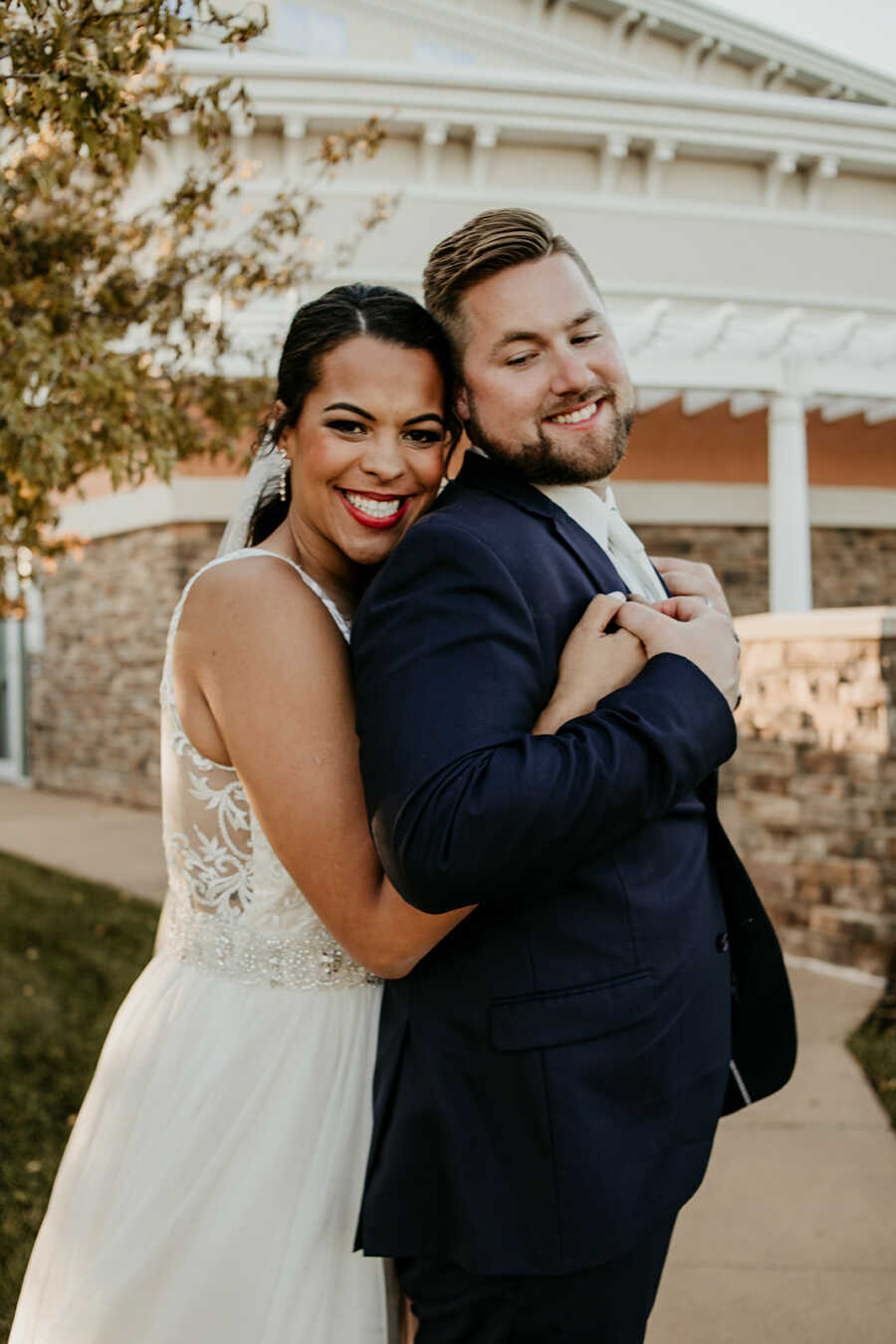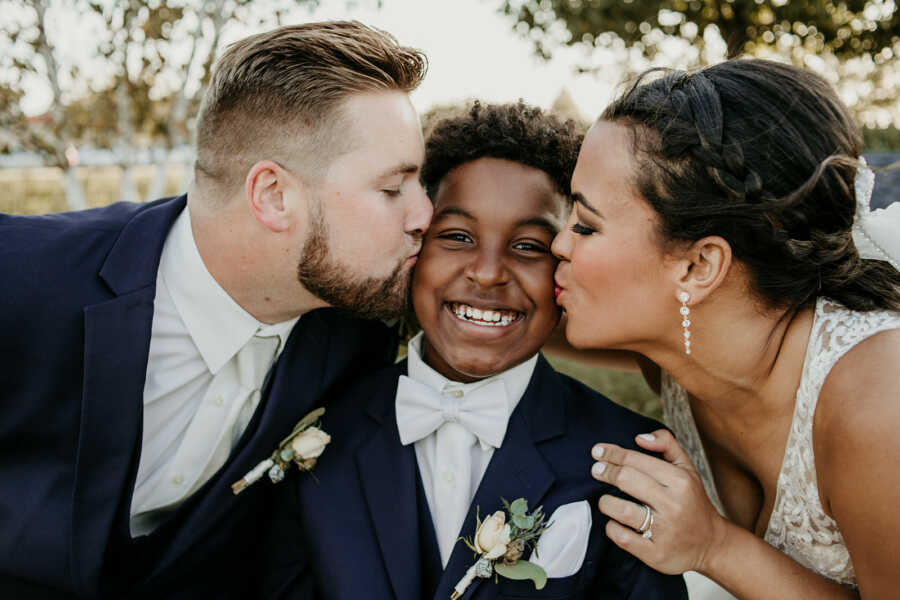 After the wedding, we took off on our 'familymoon.' It was a trip full of adventures; we went ziplining, whitewater rafting, ATVing, horseback riding, and Jaden was right there with us experiencing everything. The trip really solidified our bond as a family unit. It was amazing from being to end. The day we got home I had a feeling I was pregnant, so I wasn't too shocked when a test came up positive. I surprised Alex the following day with the news. He was so excited when I told him and immediately started thinking of fun ways we could tell Jaden.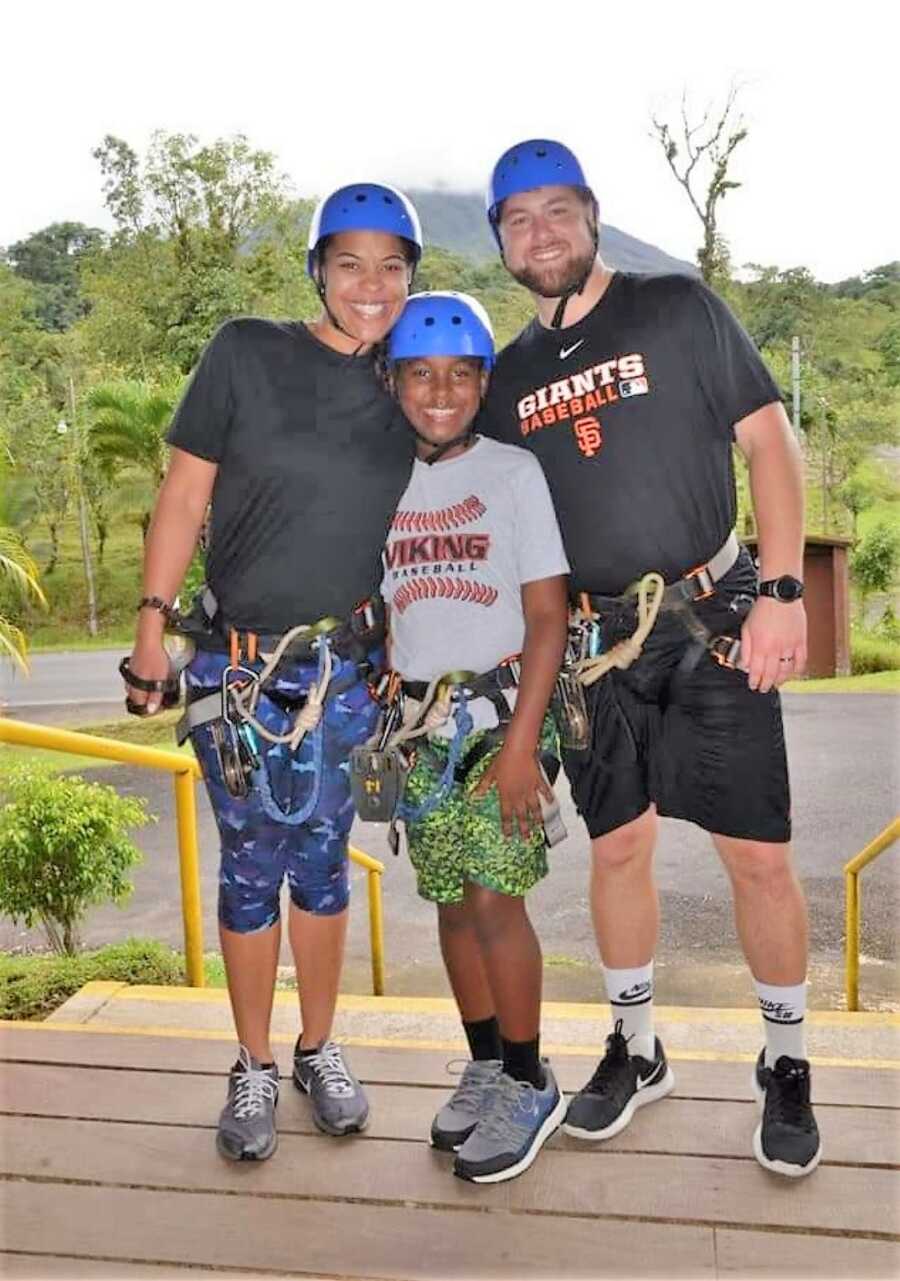 We found a shirt online that said 'Notorious Big Brother' with a picture of Biggie Smalls on it and ordered it. His birthday was only a few weeks away, so we wrapped it up to save till then. When Jaden opened the shirt his face went from confused, to surprised, to pure happiness and excitement. He couldn't wait to finally be a big brother. Jaden helped us plan surprises for both of our families over the holidays, it was really fun to see his enthusiasm while telling everyone.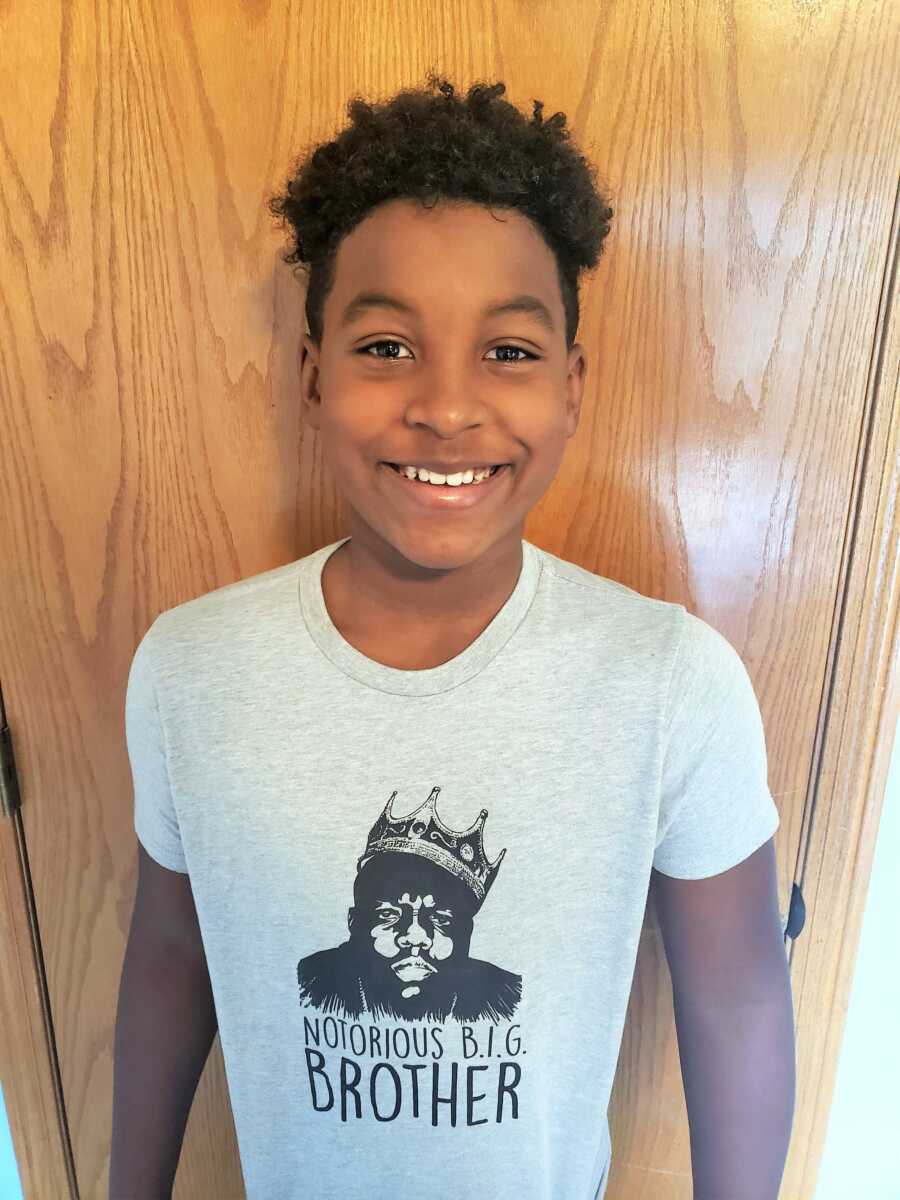 I was really looking forward to getting to do all of the pregnancy things with Alex this time around; the baby classes, the baby shower, and I was most excited about my 3D ultrasound. By the new year, we had scheduled our baby classes (months in advance), and our baby shower was scheduled for early April. Then Covid happened. The pregnancy I had envisioned wasn't going to happen, but we worked to adapt.
My baby shower turned into a drive-thru baby shower, we took virtual baby classes, and I videotaped my 3D ultrasound and watched it with Jaden and Alex at home. It was a weird time to bring a baby into the world, but I never had any doubt in the amount of love they would be coming home to. I was pretty nervous going into the hospital to deliver this time. I was having a scheduled C-section and remembered the pain from having Jaden.
From the moment we got to the hospital, Alex was superman. He did everything he could to put me at ease through everything. When they delivered, the doctor held up the baby and let Alex announce to the room it was a boy. I will never forget what his face looked like; he was beaming and so proud. Once we got settled back into our hospital room, we video chatted with Jaden to show him his new brother. He was beaming just like Alex had been.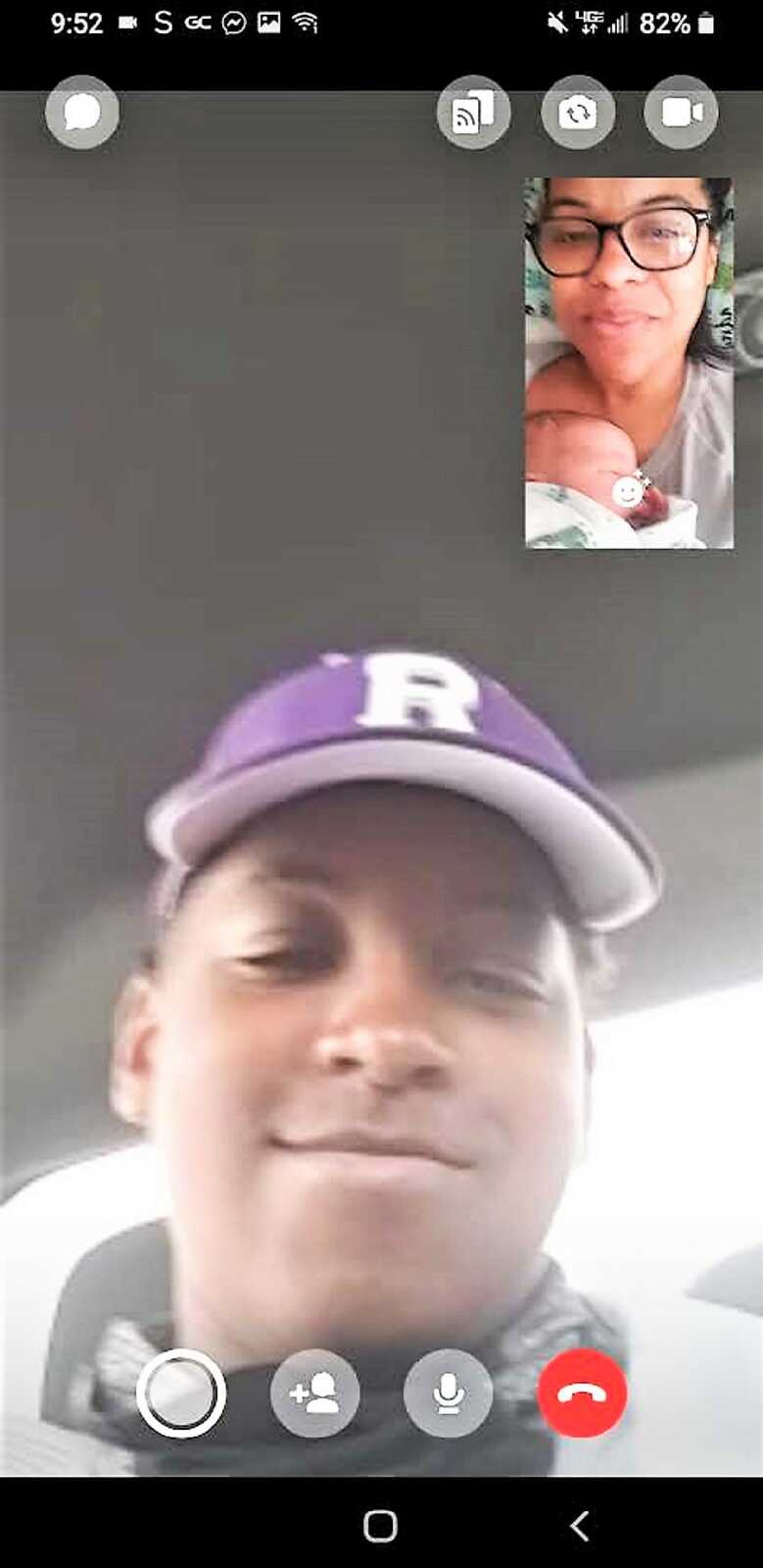 The best was getting to finally come home from the hospital and watching Jaden hold Callum for the first time. He was so loving and gentle, I felt like the luckiest mom in the world. Once we were home, Alex continued to step up when it came to caring for Callum during my recovery. He was up multiple times a night helping Callum and helping me all while also working all day.  If the last four years of our relationship hadn't shown me how incredible he was, those first two weeks home from the hospital proved it all over again.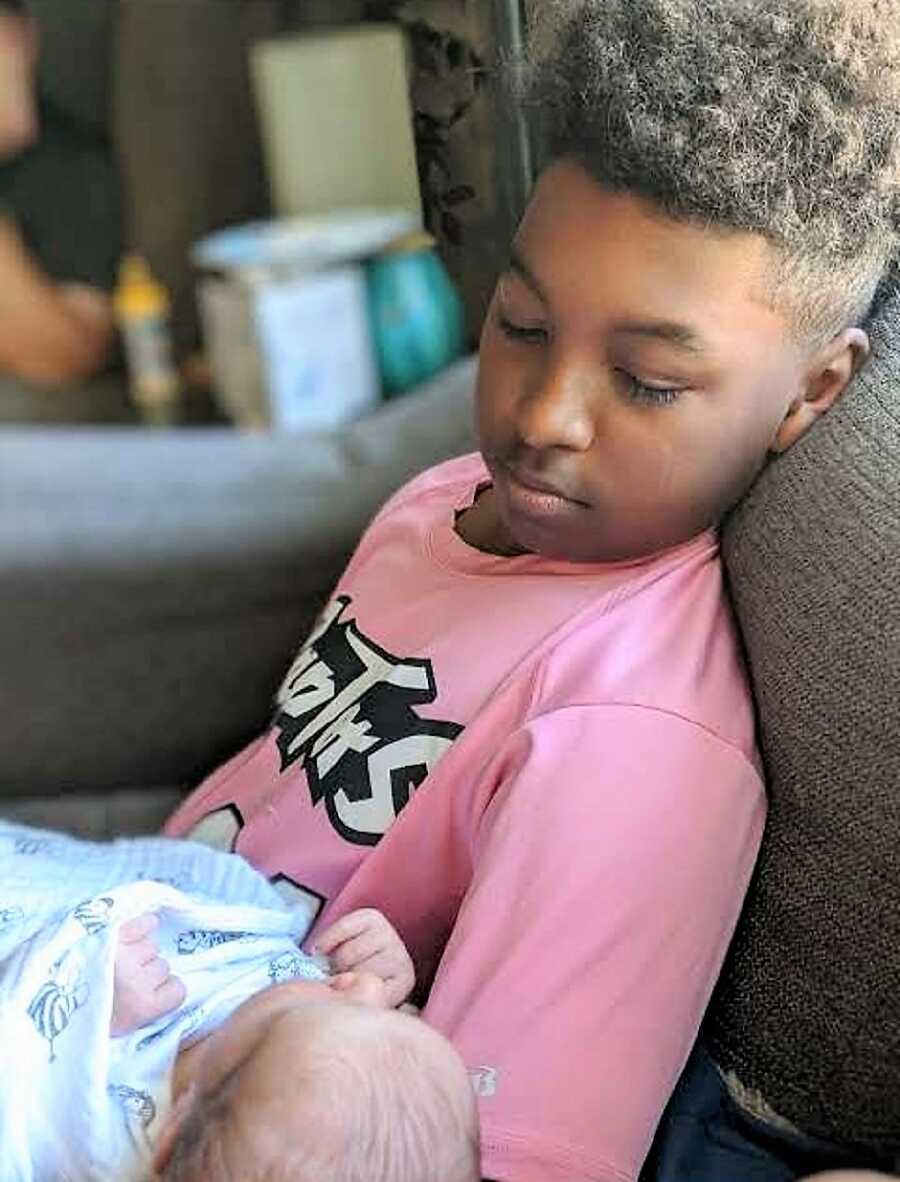 Since Callum was born, I have gotten to watch Alex and Jaden evolve into daddy and big brother. The three of them have such a crazy bond. Callum is now 18 months old and our days are filled with chasing after him, taxiing Jaden all over for his various sports, and enjoying our time as a family. I look at my life and am beyond thankful. I feel content, I look forward to every day with them, and I am happy.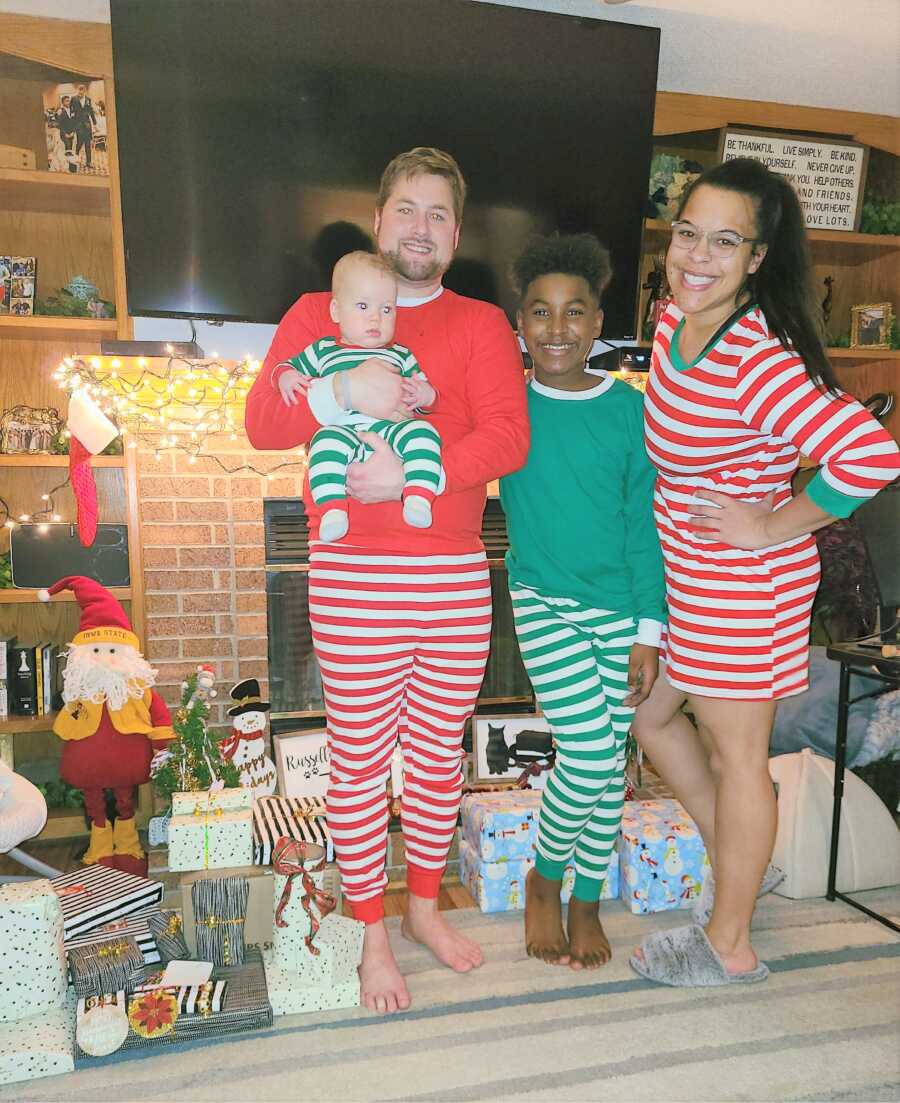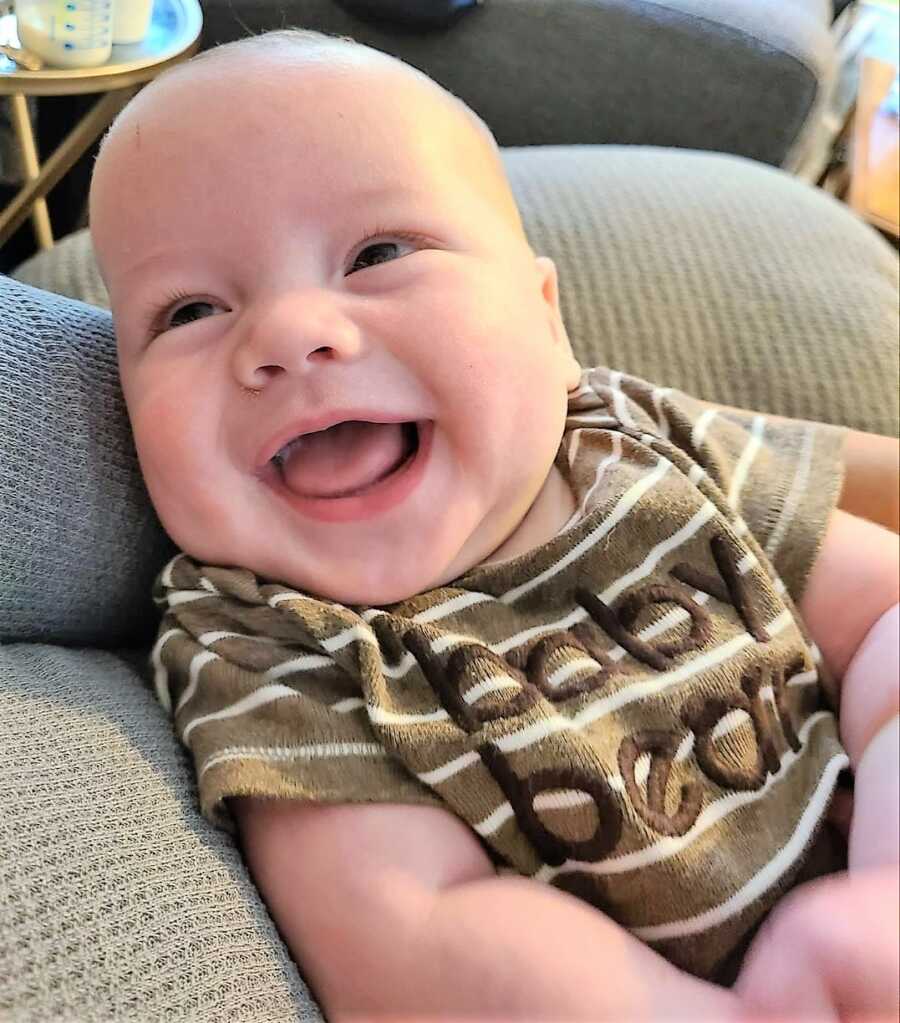 I hope my story brings hope to any single parent out there who is feeling like finding love isn't in the cards for them. I also want them to know it is okay to seek out help and advice when dealing with unchartered territory. I want them to know the right person will show up for you in ways you didn't even know you needed. And if you have a child, the right person will love your child as they deserve.
I also think it is important to show diverse/non-traditional love stories. I recently shared our love story in video form on my TikTok and it went viral, which showed me how representation matters. I have gotten hundreds of messages from other people who have similar stories or can see themselves in our family. It has been so encouraging to read all of the good wishes of support. I am so proud of the little blended family we have made."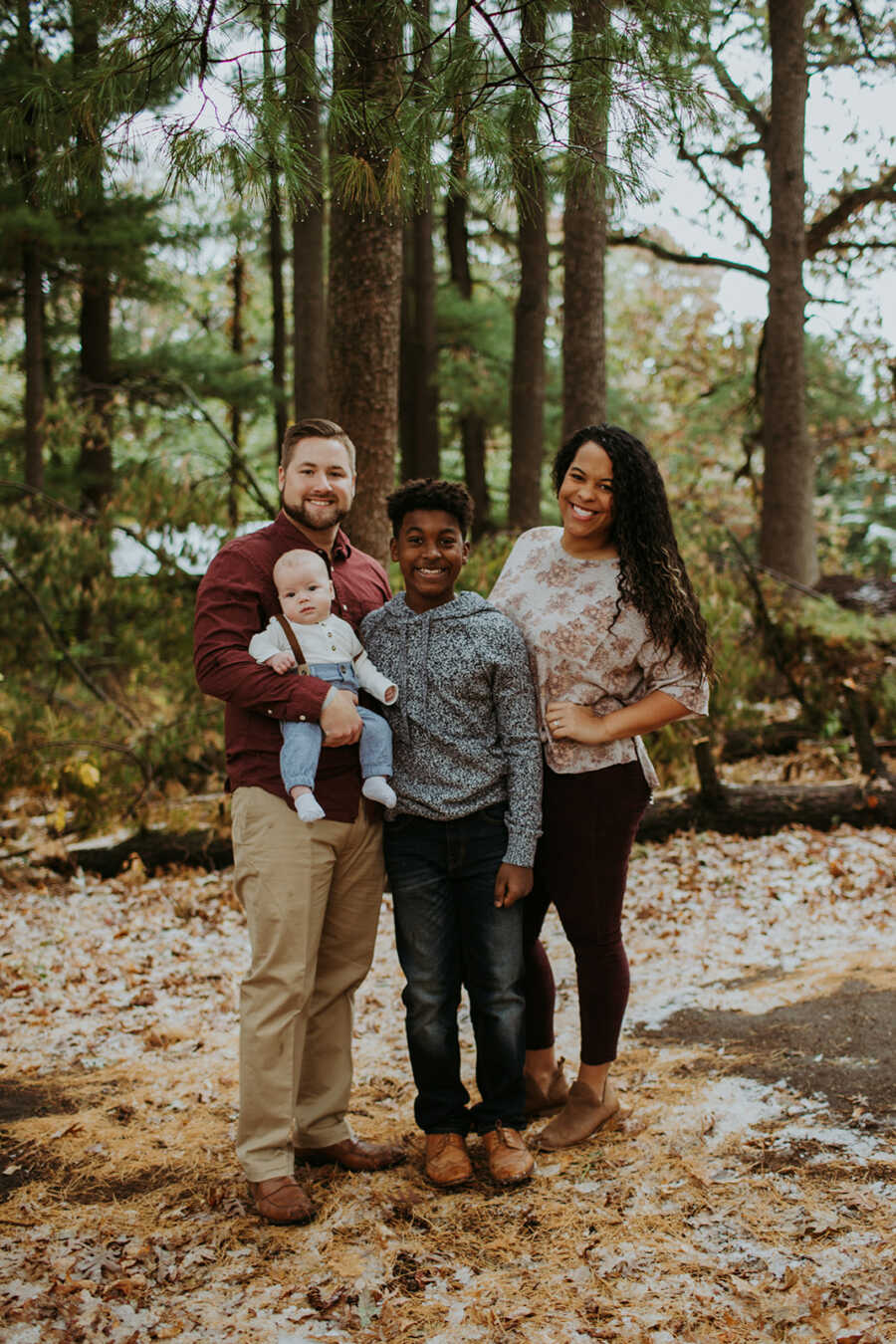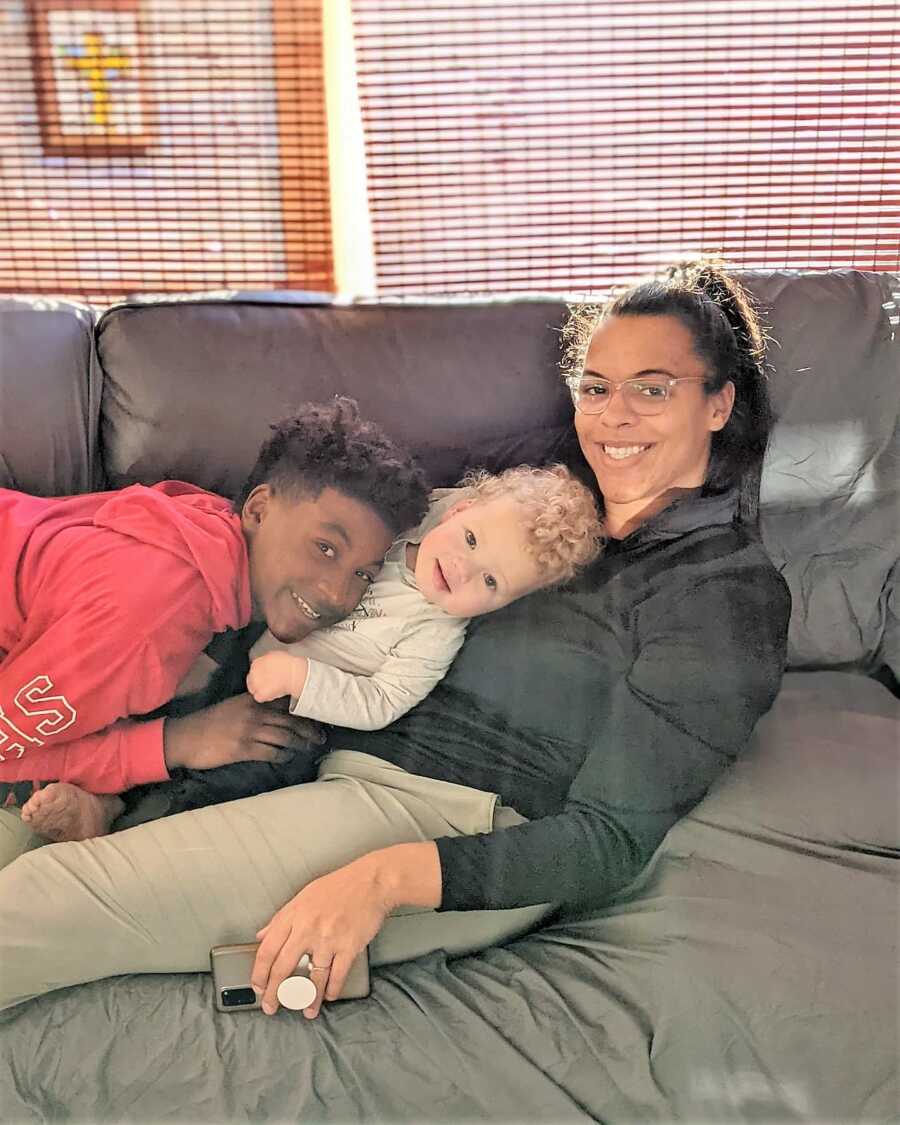 This story was written by Madelyn (Maddie) Houser Webb, Des Moines, IA. Follow her journey on Instagram and TikTok. Submit your own story here. Be sure to subscribe to our free email newsletter for our best stories, and YouTube for our best videos.
Read more stories like this here:
'I left my husband. This wasn't the man I married at 24. In the emotional turmoil, we got pregnant again.': Divorcee urges 'your future is so much bigger than current circumstance'
'It HAS to get better!' I didn't want divorce. But dating sounded AWFUL. We both ate our words.': Single mom finds love after heartbreak, 'I'm the happiest I've been'
'I knew about birth control. I told myself, 'It won't happen again.' I was 17 years old and pregnant.': Woman shares teen pregnancy journey with high school sweetheart
'I immediately kicked my boyfriend out of my parent's house. He'd been cheating during my pregnancy. I questioned bringing a baby into a broken home.': Single teen mom urges 'you will achieve your goals'
Do you know someone who could benefit from reading this? SHARE this story on Facebook with family and friends.