"I come to you all with news that is the most joyous, but also the most somber.
On December 2nd, my husband Jb and I welcomed our second son, earthside.
This boy entered the world in the bravest and magical way, with a very big miracle to fulfill in a short matter of time.
My husband Jb was admitted Sunday to Hartford hospital with complications from his cancer.
Wednesday, we received word that his 6-month prognosis was now turning into a matter of days.
With our second son's due date 3 weeks away, my husband and I knew asking for an induction was the right thing to do.
Without hesitation, the team of ICU doctors communicated with the head of high-risk labor and delivery doctors.
They offered me an induction as soon as I was ready.
I kissed my sweet husband goodbye and told him to be strong and hold on for me and the baby – he said he would.
We began the induction process Wednesday night with hopes of a quick labor and vaginal birth.
Those plans changed in an instant when a team of ICU doctors entered my room Thursday morning at 8 a.m. with the news that Jb was declining fast and had a matter of a few hours.
It was either a c-section right at that moment, or Jb would not have the opportunity to meet our son.
Without a question in my mind, I said, 'Let's go.' And we did just that.
In a matter of literally one minute, I was in the OR, and in just a short 20 minutes later, our son was born.
He was given to me for a quick kiss, and then a team of doctors and nurses ran him up 2 floors, and he was placed on his daddy's chest.
The miracle of all this?
When our baby was placed on Jb's chest, Jb's vitals all instantly improved.
He was also acknowledging our son was there by making small head movements and sweet moans.
After stitching me up, doctors and nurses made room for my bed to be wheeled in right next to my husband's.
Straight from the OR to ICU, I went. I spent my recovery time gazing at my husband.
I was gazing at him in sadness but in awe of his strength.
He took his last breaths with our son on his chest and my hand in his hand.
Delivering a baby 3 weeks early can come with a slew of complications that can require NICU time and breathing support.
God prepared our son for this very moment because he came out weighing 7lbs 4oz at 20in long, with fully developed lungs that let out the sweetest of cries.
From the OR to the ICU room, there were what felt like hundreds of doctors and nurses floating us through this process effortlessly.
Not one of them having a dry eye the entire time.
Some of them told me they'll never forget this act of selflessness.
Some called my actions brave and heroic.
I just call it love.
I acted out of love.
I put my trust in God that this was part of his plan, and I did what I had to do, out of love, to fulfill my husband's last wish.
Up until the moment of induction, we had not had names picked out.
I knew in my heart it was only right to honor my husband.
So, it is my pleasure to announce the birth of our brave, amazing son, John Beeson Parke (Jb).
Welcome to the world baby Jb.
Your story is truly a miracle."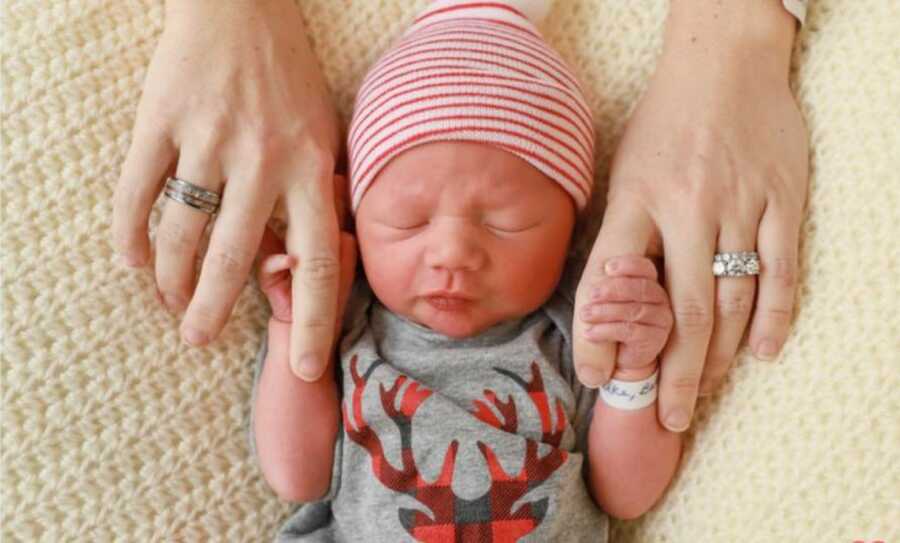 This story was submitted to Love What Matters by Haley Parke. Submit your own story here. Be sure to subscribe to our free email newsletter for our best stories, and YouTube for our best videos.
Read more touching stories like this:
'To you, this may look like a normal night before trash day. To me, it's so much more.': Man thanks 'selfless' birth mothers for turning him into a dad in touching moment
'He built the American Dream with nothing but his own blood, sweat, and tears.': Daughter pays it forward after selfless father passes away
'Dad takes broken things and makes them whole again, with the love, sweat, and all things great only a father can provide.': Grieving daughter says 'it's not just houses he fixes, it's people too'
'Last Christmas, I didn't put up a single decoration. I didn't wrap a single gift.': Widower celebrates holiday early after last Christmas stolen by grief
Please SHARE this story on Facebook to encourage others to cherish every moment and love what matters most.