"From as far back as I remember I have always been the chunky kid. I absolutely loved food. Granny's home-made macaroni and mom's lasagne were some of my all-time favourites and I was always having extra servings whenever I got the chance! In my spare time I loved to play video games and while playing, I would always be snacking and drinking soda. It was a regular occurrence that myself and a group of friends would stay at each other's houses hooking up 4 Xbox's and smashing Halo until 4 a.m. while working my way through a 6 pack of Monster and 2 family sized bags of Doritos. I knew this wasn't healthy, but it made me happy. As you can imagine being the chunky kid back in the late 90's was tough, I was bullied and targeted daily in school especially from the older children. I had no brothers or sisters unlike most kids in my school, so I think I was seen as an easy target.
Going into my teens I slimmed down a fair bit as I hit puberty and was barely in the house, always in the boxing gym or doing some form of martial art/contact sport. This quickly changed when high school was over and I struggled to get a job as the 2007 credit crunch was in full swing. This really got me down and I found myself back in my bedroom playing video games and eating anything and everything. During this time, I met my then future wife Steph and despite myself being overweight, she looked at me like no one else ever had, and treated me like a king. All I could see in the mirror was a worthless loser. I will always love her for looking at me like that. Two years later Stephanie got pregnant with our first child David and we soon moved into our very own apartment at the age of 18. During all this I was still eating and eating, continuously gaining weight. The stress of working a zero-hour contract with no guaranteed income and trying to provide for a family at the age of 18 really took its toll and I started to eat myself sick.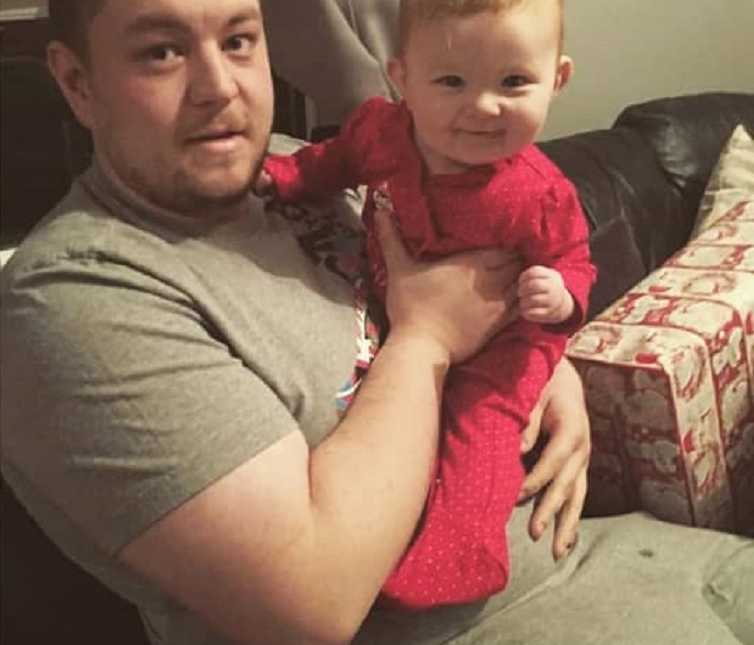 I had a very close relationship with my Grandad. Everyone is always telling me how much I look like him and we were even born on the same day. Growing up my Dad was not around, and my Grandad was a real father figure for me. I would always try and make him laugh and loved all his stories, even the ones that he had obviously made up. I remember he told me he wrestled a tiger with his own bare hands while he was in the army. I knew he was kidding but I loved this story and told everyone. He sadly passed away in December 2013 after a long battle with cancer.
Two years later Steph was now pregnant with our second child Erin and I finally managed to secure a good job as an apprentice joiner. I forced myself back to training, finally thinking my mental health and eating habits would improve now that more money would be coming in. Unfortunately, this wasn't to be. Training quickly stopped as I lost motivation yet again as my apprenticeship was a nightmare. Despite being in my early 20s I was spoken to and treated like a child. I had no choice but to accept this and get on with it, I couldn't risk losing my job as we were saving to pay for our wedding in late May of 2017.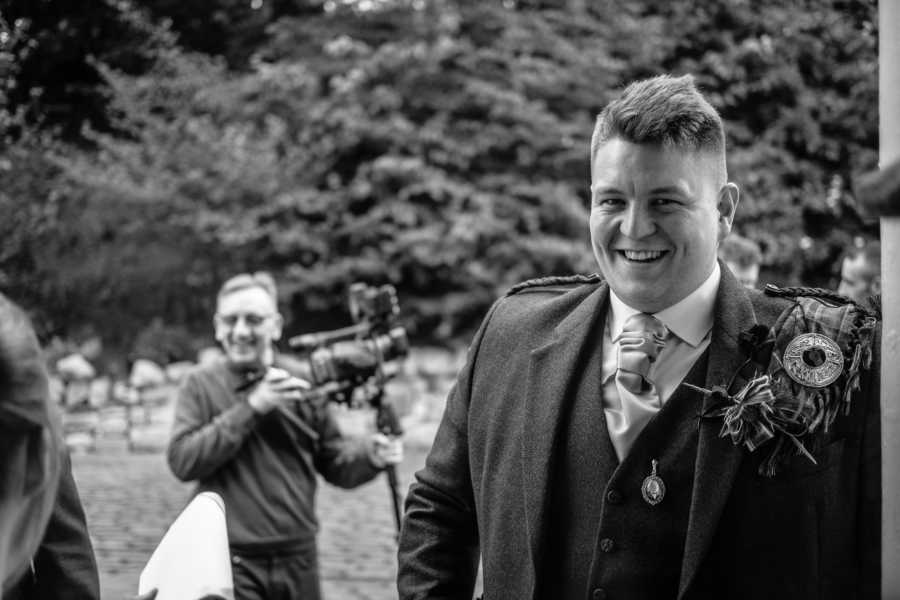 Diagnosed with depression, our wedding kept me focused and gave me something to work towards. I was working most evenings and every weekend. Binge eating was still a huge factor in my life. Despite working a very physical job with long hours, I still continually put on weight. On the week before my wedding I stepped on the scale and felt physically sick at the number that was in front of me. I had not checked my weight in months as I was too scared of what it would be. I now was at an extremely unhealthy 376 pounds, which was the heaviest I had ever been. I was days away from the happiest day of my life, but was the unhappiest I had ever been. It was on this day that I joined my local Brazilian Jiu-Jitsu (BJJ) Academy called CVA BJJ with the intentions of trying to finally improve my health once my honeymoon and wedding were out the way.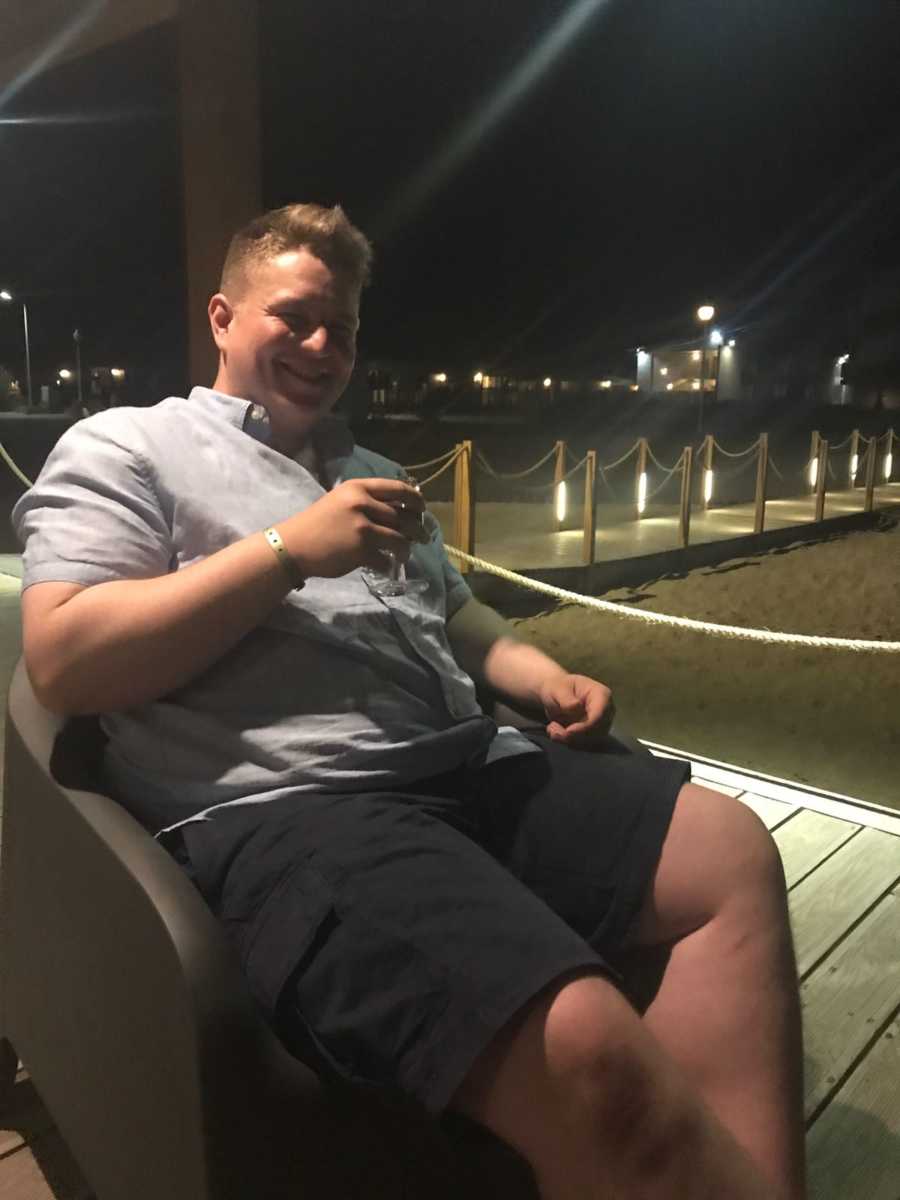 Two days after our wedding we were flying to our honeymoon in Cape Verde. Once in Cape Verde all my negative thoughts were put to one side and we had the best 7 days relaxing in the blistering heat, enjoying all day buffets and the all-inclusive bar. It wasn't until we got home that I saw the photos and videos from the wedding and honeymoon. I couldn't look at myself like this anymore and I had to change, no matter what.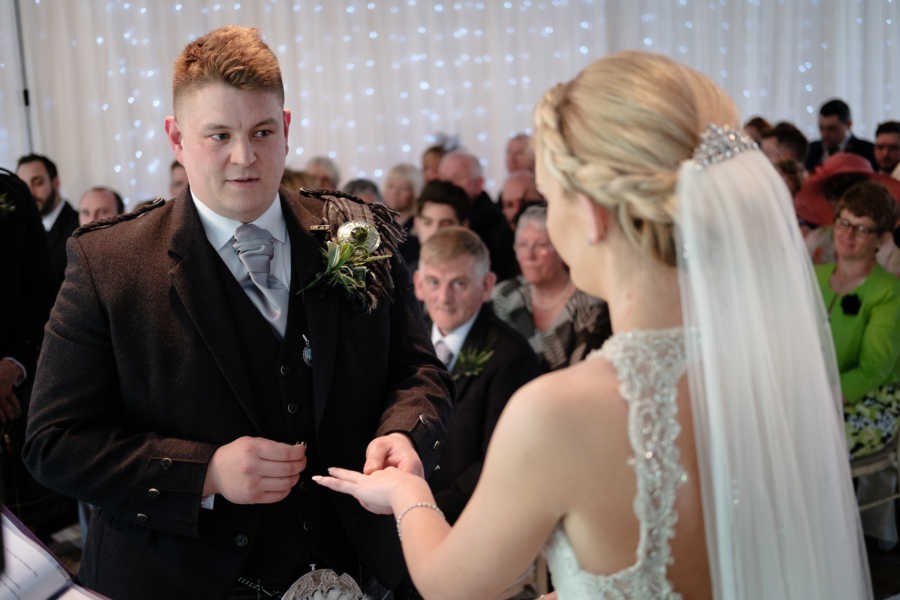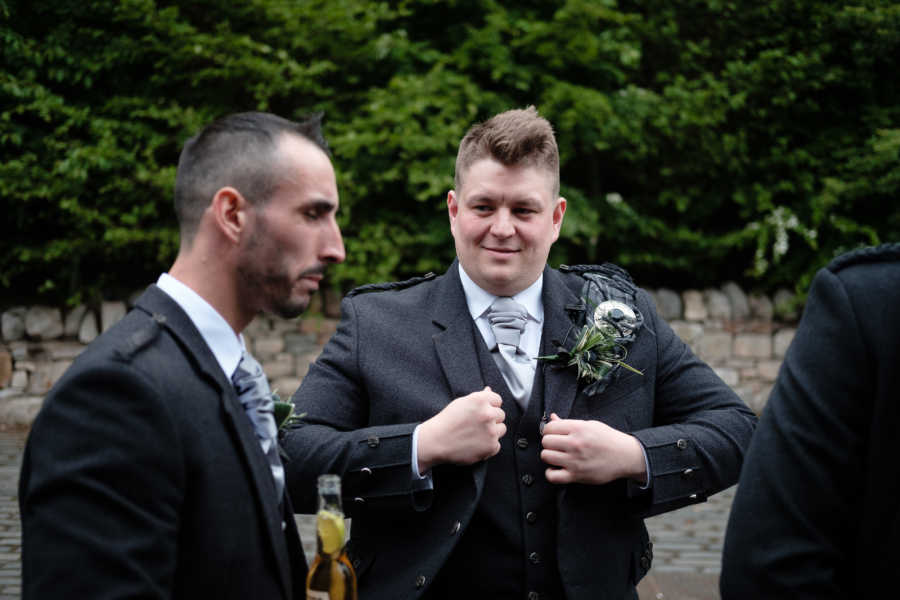 I was now one month into BJJ and I could already see physical changes. My energy levels were at an all-time high despite being exhausted after each session. It was many years since I had done any exercise like this.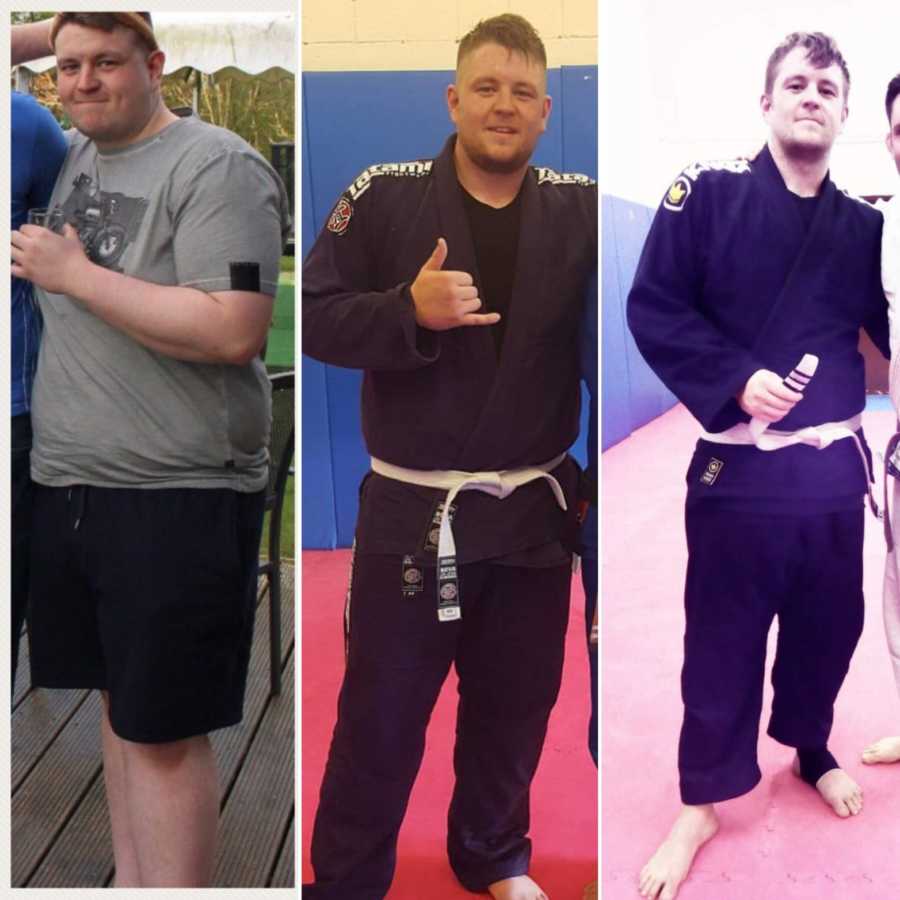 Two months in I was now training BJJ three times a week and lifting weights in my home gym once a week. I had now lost 28 pounds and felt amazing. All my clothes were now loose and I had dropped a few sizes. My weight loss began to slow down but this didn't stop me. I had been eating slightly better but was still not really on top of my diet at this point. I began tracking calories daily and changed my diet to where I didn't cut anything out as I had tried this in the past and it had only lead me to have uncontrollable cravings. I was gradually re-writing 25 years of bad habits and establishing new healthy habits.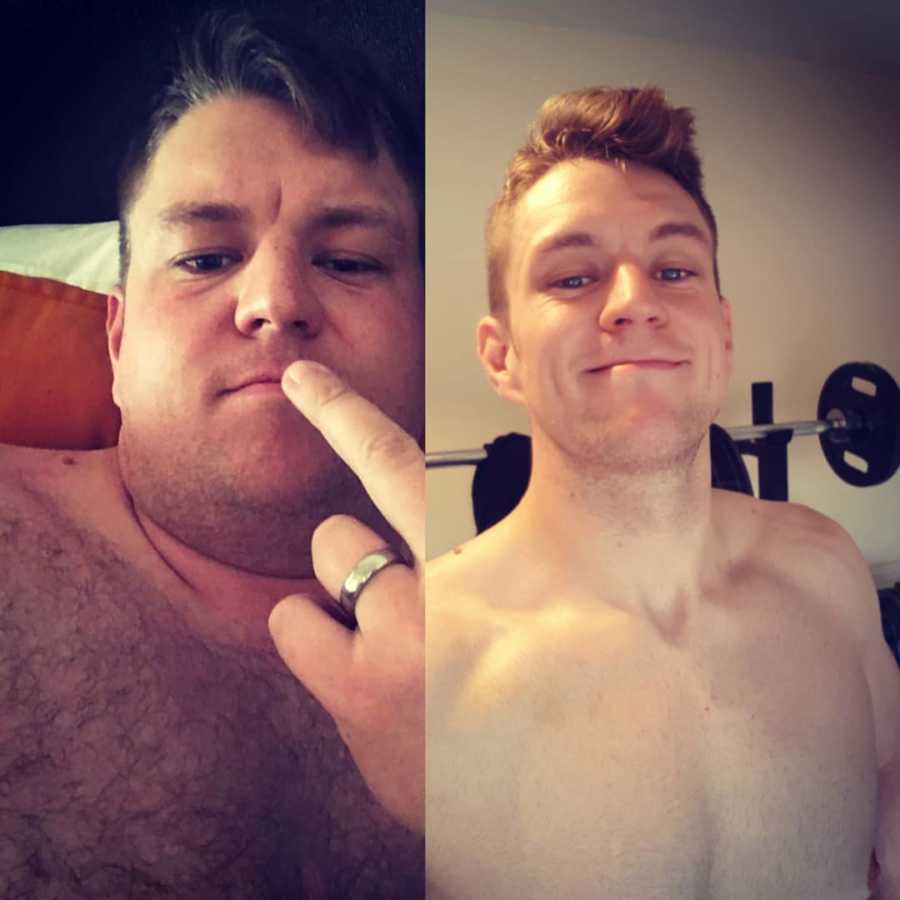 In late July 2017 I was the happiest and healthiest I have ever been, but something was still needing to change in my life. Despite working hard throughout and after my apprenticeship, I realized I was not happy with my job. The money was great but the hours were long and I was always working away from my family, sometimes days on end. I applied to Edinburgh college to begin an HNC in fitness, health and exercise, and one week later I handed in my notice. A new chapter in my life was about to begin.
Fast forward to June 2018, college was now complete. I had passed the year with an HNC Grade A and completed a Personal training level 3 course at the same time. I have now lost 170 pounds in one year. I finally did it. Not only had I finally overcome my depression and obesity, I have now found my dream job working with people from all over the world using my own personal journey as a tool to motivate, inspire and guide others to achieve their own goals. While also working with clients on a personal basis I also post videos weekly on YouTube giving advice on all things fitness and sharing my knowledge of weight loss. I am on a new journey now and feel it is my duty to use my hardships to guide others through theirs."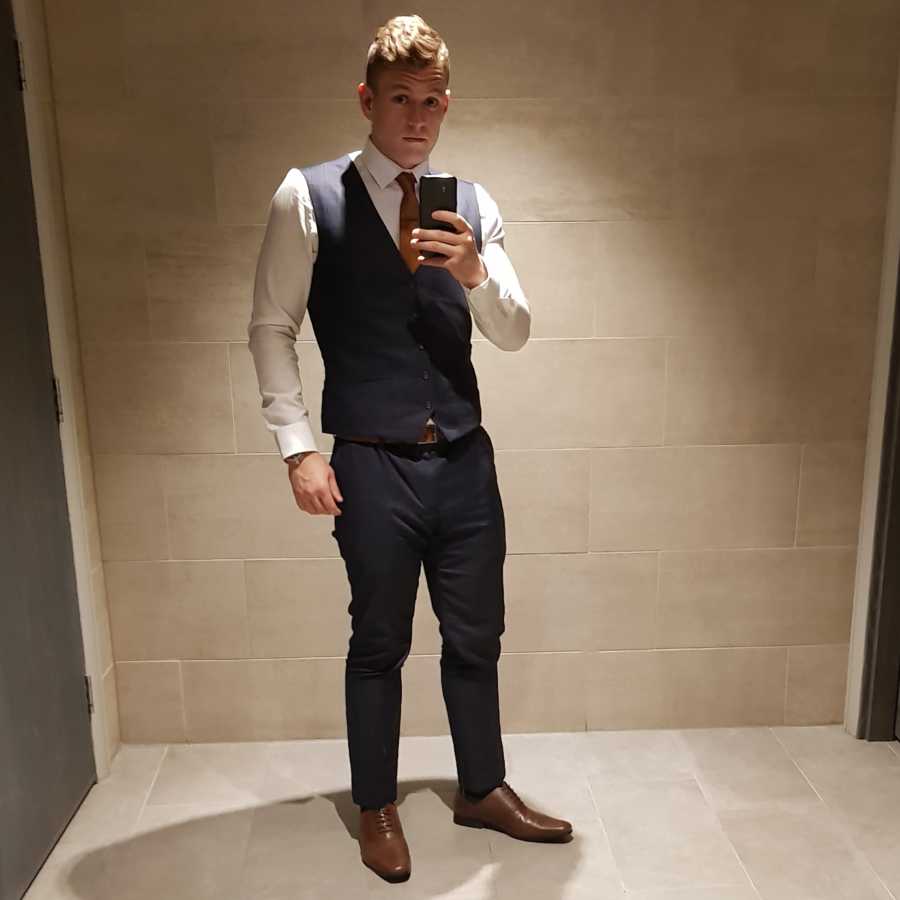 This story was submitted to Love What Matters by David Steele, 27, of Edinburgh, Scotland. You can follow his 'Hidden Potential' weight loss adventures on his Facebook page, Instagram and YouTube. Do you have an incredible weight loss story? We'd love to hear from you. Submit your story here, and subscribe to our best stories in our free newsletter here.
Provide hope for someone struggling. SHARE this story on Facebook with your friends and family.