"For the flustered momma I saw in the store today…
I know that you are tired, and taking on the world, and wondering how you are going to go on doing this another day.
We were dressed semi-the same. Yesterday's smeared makeup, leggings and a 2-minute messy bun, and probably the only sweatshirt we had that was clean. I could tell you couldn't find your lint roller, or maybe you were like me and just didn't have time think about, let alone look for it.
I know that, in the midst of that full cart of groceries and a screaming toddler, you are looking for the emptiest aisle, or the nearest exit. I could see you looking around, hesitant about whether or not you should stay in the check-out line. Who was watching? Were you irritating people? Could those thoughts racing through your mind echo any louder?
If you are in that moment of wishing you could drop it all and run, you are not alone. You're still doing ok, and girl, you aren't crazy. You have just grown weary, my dear – as all the fellow moms do.
It's sad, you know. That we live in a world now where we have to defend ourselves as parents. In fact, we have to defend ourselves and our choices pretty much every day. If someone is judging you for the way your child is behaving, or the way you are reacting to it, that's ok. Let them cast the first stone. Your journey is not tied to anyone else's assumption of what your reality actually is. It's not uncommon for other parents to shadow their own issues with someone else's. After all, better you than them with the screaming cranky baby, right? Maybe they just lucked into a better day today. Tomorrow it could be them. Lord knows we've all had those entire days of pure chaos when we had our heart set on peace.
I see you. I see you doing everything you can to stop the oldest from crying over toys, and candy, and condescending toddler logic. I see you frantically wiping down the cart with a germ-x towelette, so the baby doesn't get the flu from licking every nook and cranny, only for your other child to find and snack on a stale, half eaten cookie she found under the candy display. Which, by the way, your mom-dive to stop her had me at full inner-applause. The miraculous things we can do in leggings, I tell ya.
Looking at your cart… full of chicken nuggets, Cheetos, baby wipes, and pacifiers. Not a single thing for yourself but the tube of cheap concealer and double pack of dry shampoo. The bibs for the baby and new shoes for the toddler. Probably her fourth pair this month.
You're ok. You are going to be ok. These days – they are tough, and sometimes overwhelming. They can seem far longer than they are. You may feel a weakness greater than what is. You may have to survive and thrive on double shot espresso. In this time, there is no normal. There is only what is. And honestly, what is normal? You will be exhausted. You will be frantic. And every single day you will probably question, 'am I doing any of this right?' You are. If your babies know your love, you're doing everything right.
I wish I could sugar coat it a little, but unfortunately there are not going to be many days when it will be easy. You'll probably spin more plates than you ever cared to as a server in college. You'll probably turn to clumpy mascara and 99 cent lip gloss makeup routines. But I want you to know this. I looked at you. You are beautiful, and capable, and strong. I am with you. I admire you. I admired your patience with the germy, determined cookie eater. How you gracefully calmed the fussy baby who had tested your patience from the start. I saw you put your children's needs before your own. I watched your $7 iced coffee melt while you settled the score of sibling rivalry. I saw a mom who wanted to be the best she could be and worried that someone somewhere in that store wouldn't see that even on the hardest days, she was still trying. I saw the best. Never a minute did I doubt it, and can you even believe we know nothing about one another.
What we do as moms is not for the faint of heart. It's so important that we build each other up instead of tear each other down. We need each other, no matter our differences. This is a journey we're all on together and a single moment of encouragement should never be passed up.
Mothers are always needed, even on our worst days. We are always wanted, even on days we'd rather die than be touched. And to this particular momma I encountered today; I know you may think you looked as if you were completely falling apart inside of the local Target store – but from where I stood, you had it together, you had it right. And in a chaotic world that can turn upside down at any moment, you were, and still are, right where you should be.
I watched you grab your items, round up the kids, and walk out of the store relieved it was finally over. As I await our turn in line, I looked down at my arguing boys tugging at each other, causing a scene. I sipped on my half-melted Starbucks drink, put my dry shampoo and concealer on the counter and smiled."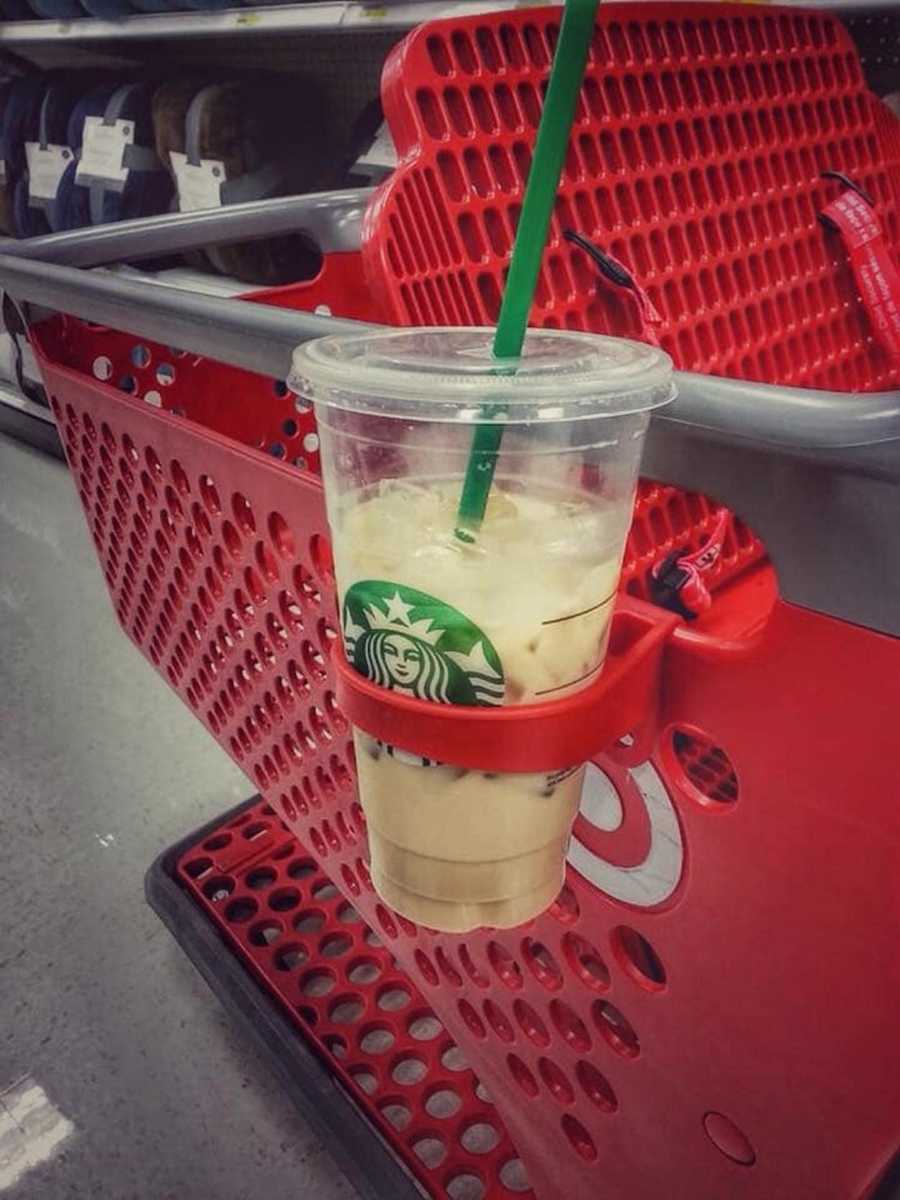 This story was submitted to Love What Matters by Molly Claypool of Life Unscripted. Follow her journey on Instagram here and her website here. Do you have a similar experience? We'd like to hear your important journey. Submit your own story here. Be sure to subscribe to our free email newsletter for our best stories, and YouTube for our best videos.
Read more stories from Molly here: 
'He doesn't mind me in the dirtiest pair of leggings or the most pristine outfit I own. He's just there, always, ready.': Mom of 3 reminds busy parents that 'perfection isn't the goal. Love is.'
'Why bother?' She asks herself. 'Why put myself through it all again this month.' She walks past this test in Target, and gives it a doubtful glance.': Woman urges those battling infertility 'you are not broken' in viral pregnancy test post
Do you know someone who could benefit from reading this? SHARE this story on Facebook with family and friends.