"My daughter Kaylie was killed in a horrific car accident on April 27, 2018, on her way to her senior prom. She was my best friend. I had her at a young age so we grew up together and learned from each other.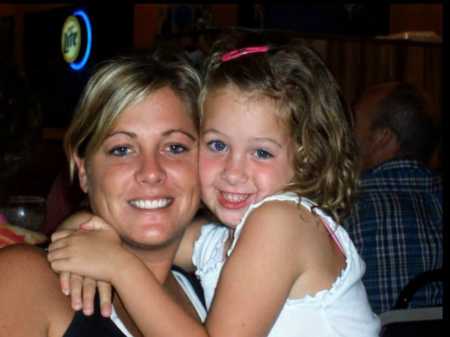 We lived at my parent's house when she was young. Kaylie was spoiled by her Aunt Ashee and Uncle Andrew.  Kaylie loved everyone to the fullest but was especially fond of my dad, her Papaw. They would spend hours playing with Barbies and having tea parties. They were inseparable. He passed away when Kaylie was 5 and she was beyond devastated. As the years passed Kaylie learned of his illness and how he received two kidney transplants that gave him an extra 13 years of life. This stuck with her throughout the years.
Kaylie was a very, very smart girl. She was in gifted classes throughout elementary school and took college courses at Miami University during her Junior and Senior years of high school as well as AP classes. She maintained a job and amazing grades as well. She was accepted to her dream college, The Ohio State University, and was set to attend this fall to pursue her medical career with her best friend.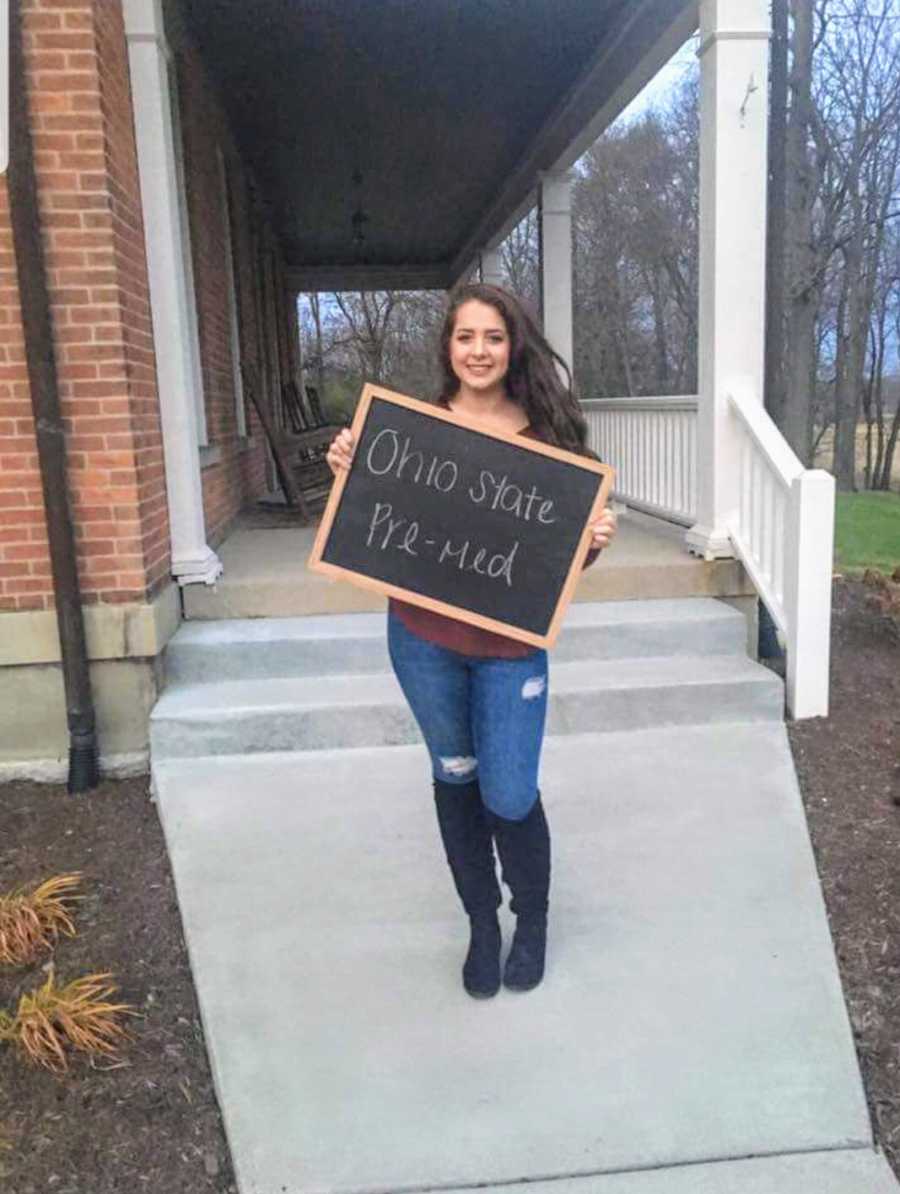 When she found out she was accepted she cried the happiest tears I had ever seen from my little girl.  She was so excited to start this next chapter in her life.
On the night of April 27th I was there taking pictures of my beautiful girl with her lifelong friends. They all looked so beautiful and happy. Senior prom is the highlight of your senior year. I hugged her tight, told her I loved her and to be careful. She said, 'I love you too Momma and don't worry, I will.'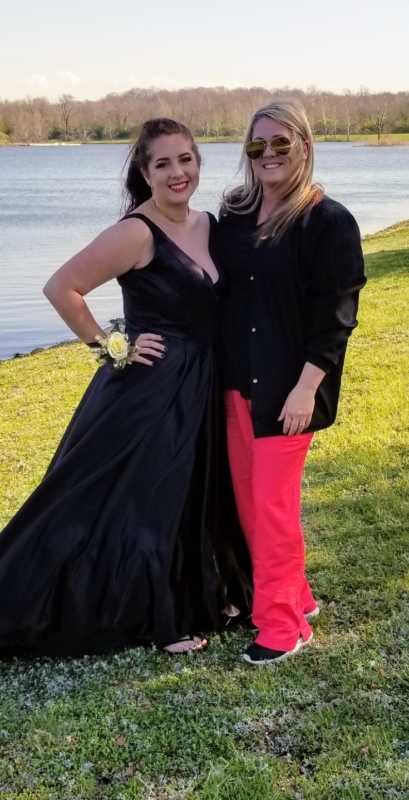 I believed her, she had a strong head on her shoulders and I always told her I trusted her, but it was all the other people I worried about. I waved goodbye as they all got into the fancy car and drove off.  Never would I imagine that was the last time I would see my baby girl alive, hear her voice or feel her tight embrace.  Only 15 minutes after she told me she loved me, she was ejected more than 50 feet from the car that was taking her and her friends to the Senior prom. She was air lifted to University of Cincinnati where she fought a tough fight for 3 days. The amount of family and friends that filled the waiting room was beyond unbelievable. The amount of love and support my little girl had was overwhelming and humbling. Unfortunately, she put up a tough fight but was without oxygen for too long after the accident and was pronounced brain dead on April 30 at 11:27 a.m.
Kaylie was an organ donor. She was proud to be able to put that on her license. She knew her Papaw was given this gift twice because someone answered yes to be an organ donor and she was able to love him for many more years. We asked the doctor if this would be something Kaylie would be able to do, and she was. The process was amazing. The Life Center Operations director treated not only us, her family with respect, but also Kaylie.  She explained the whole process and was with us every step of the way.
In the end, Kaylie was able to give the gift of life to 6 people, gift of sight to 2 and help over 50 people with tissue and skin donations.  In the near future we will be able to possibly meet the recipients of Kaylie's gifts. We were given teddy bears with her heartbeat and necklaces with her thumb print as a gift from Life Center that I will cherish forever. I have been able to see this process from both sides, receiving and now giving. It's the most amazing process I have ever witnessed.
For our best love stories, subscribe to our free email newsletter 
I want Kaylie's story to be seen by as many people as possible. I want people to know about her love for life, her family and her friends. I want teenagers to know that they are not invincible. I want people to know that this can happen to any of us. I want people to know of the importance of being an organ donor and maybe after seeing this not hesitate when they are asked if they want to be an organ donor at the DMV. I want people to hug their loved ones and tell them EVERY DAY that you love them, you never know when it could be your last.
Kaylie's favorite song growing up as a child was 'You Are My Sunshine.' She was our ray of sunshine. So just remember when the sun is shining or peeking through the clouds, Kaylie helped to make it a brighter place and will continue to do this for years and generations to come. She was and forever will be our sunshine."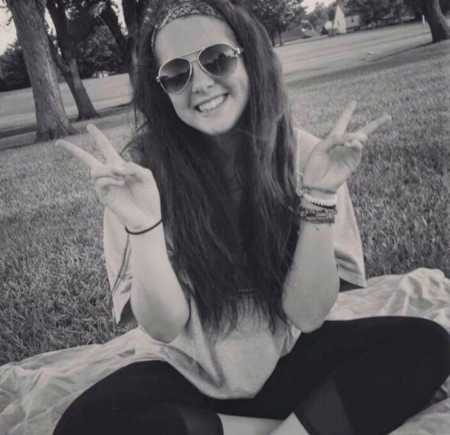 This story was submitted to Love What Matters by Amanda Garcia of Monroe, Ohio. Submit your own story here, and subscribe to our best stories in our free newsletter here.
Read more stories like this here:
'We're about to have a HARD conversation.' This was my 7th baby, it COULDN'T happen to me.': Mom shares journey with organ donation, pregnancy after loss, 'Your baby is loved and remembered'
'How could this active, healthy boy need surgery? How could I care for him after major surgery of my own?': Mom shares 'blessings' after kidney donation, son's open-heart surgery
'I'll call you when I get to the parking area.' They decided to coast the truck down the mountain. They had no brakes.': Daughter honored for organ donation, mom connects with another through 'divine intervention'
'She will save many lives. There are going to be two kids who make it a lot longer because of her.': Parents urge organ donation after infant loss
Do you know someone who could benefit from this story? Please SHARE on Facebook to make them aware there is a community of support available.