"Our journey with Bennett began with our discovery he was coming, which was quite a surprise! We found out at 23 weeks pregnant our boy would be born with a severe congenital heart defect. We had wonderful care, and he was born in early January of 2011, without incident. An echo after he was born showed he had a partial Atrial and Ventricular Septal Defect (partial AVSD), meaning he didn't have a septum between his atria and was born without a true mitral valve.
We had been told throughout the process of our care to expect him to need surgery at 6-12 months of age. However, he began going into congestive heart failure (CHF) toward the end of May of 2011, which required him to need surgery a bit sooner. On June 3, 2011, Bennett had his first open-heart surgery, a few days shy of being five months old. The surgeon was able to use his pericardium (the sac surrounding the heart) to repair his atrial septum, which was wonderful because it meant his body wouldn't reject it! At that time, they also tried to repair/create his mitral valve, and did the best they could with what they had. The surgeon predicted, at that time, Bennett would need another surgery in 10-15 years.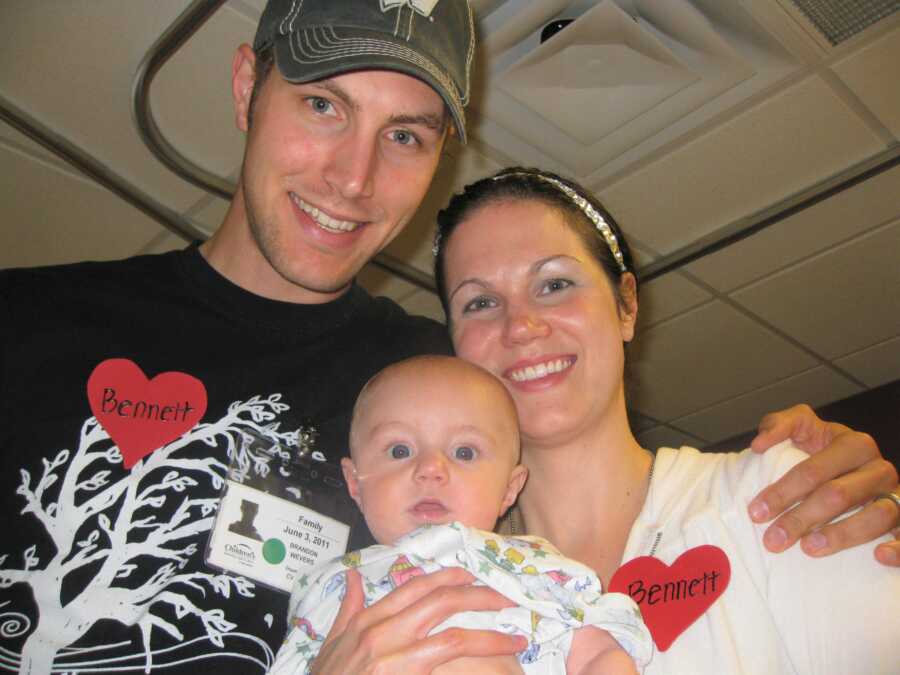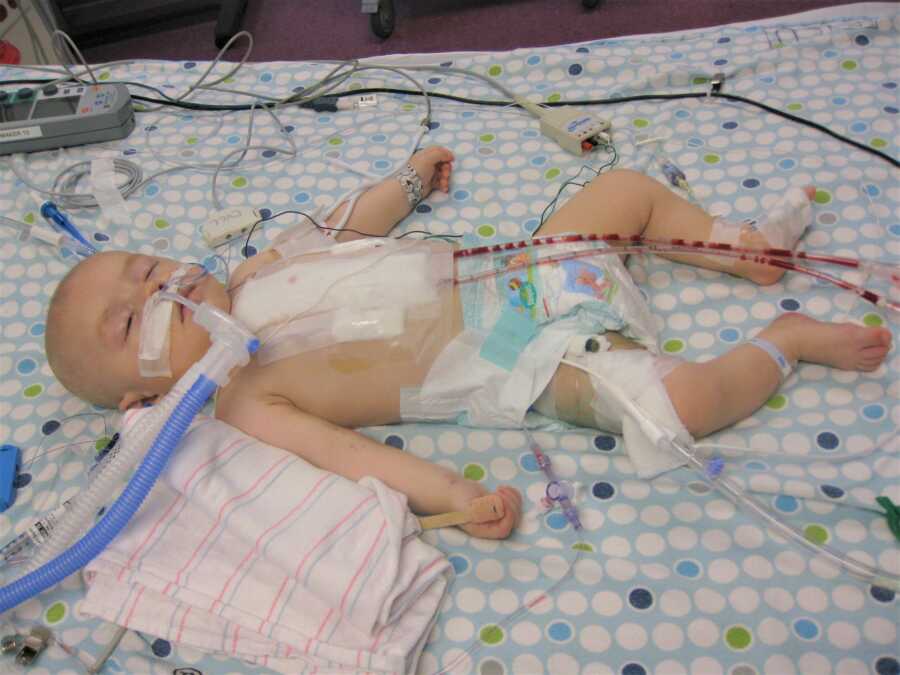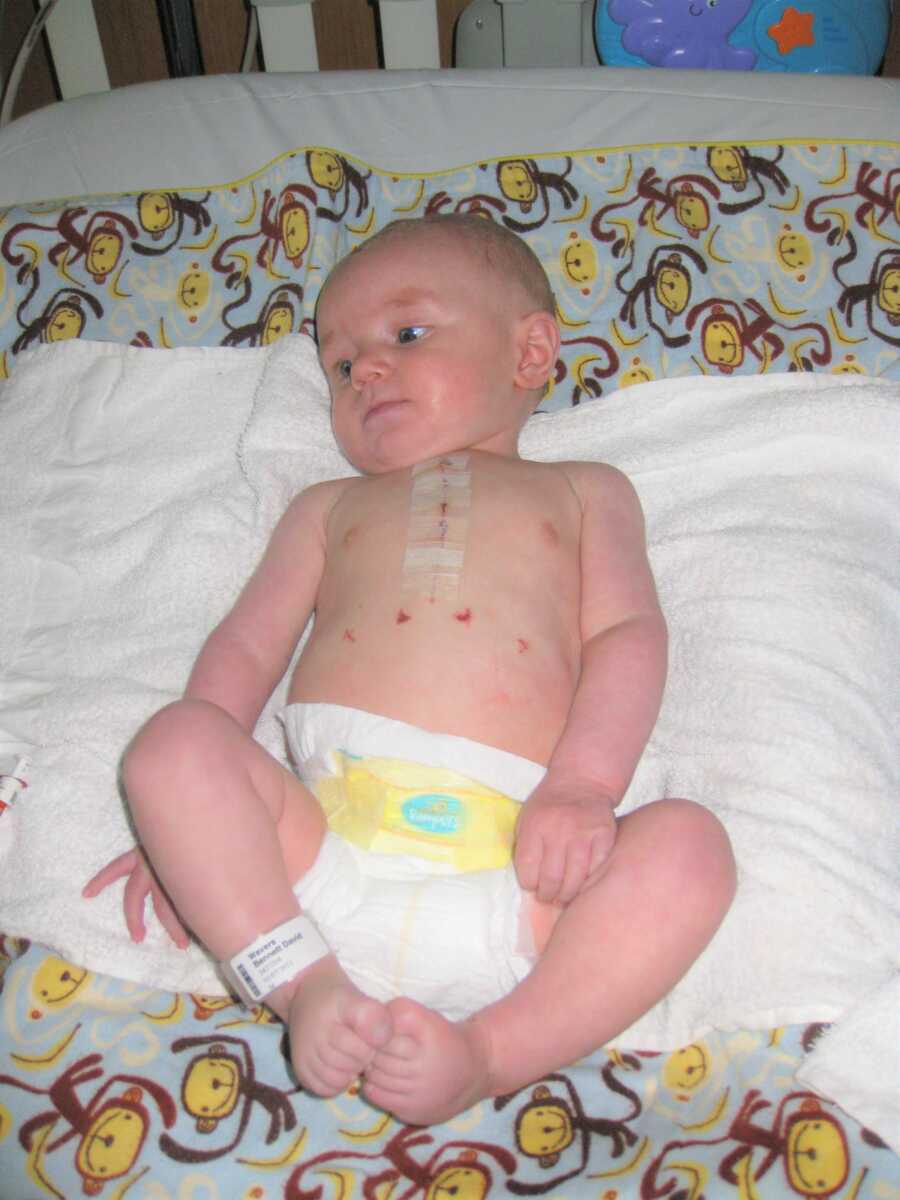 Bennett healed quickly after his surgery, and was able to live a very active life for the next 10 years. His cardiologist told us not to hold him back and keep him as active as he wanted; so he played basketball, baseball, and football, with none of them seeming to slow him down. Around age six, he started daily heart medication, but that still didn't stop him! He continued to grow and thrive, but every visit to the cardiologist was a reminder another surgery would be necessary. We just never knew quite when. It was often confusing to watch our extremely active son and know he would need another open-heart surgery in the relatively near future. We got especially nervous when Covid started, because we knew as healthy as Bennett was, he was at much greater risk due to his heart condition.
In addition to worrying about Covid, in March of 2020, we discovered my brother-in-law, Kelly (my sister, Kelcey's, husband), was diagnosed with IGA Nephropathy. It progressed very quickly, and by July of 2020, he was told he needed a kidney transplant. We got the word out and had a few wonderful people willing to be tested, but none were matches. My youngest sister, Nicole, decided to be tested as she was healthy, didn't have any kids, and getting time off of work wouldn't be an issue. But she was unable to donate at that time, so as the oldest sister, it was my turn to see if I could help (since neither my parents, other two sisters, or Kelly's biological family were able to).
Like Nicole, we knew I wouldn't be a match to Kelly because we had different blood types. However, through the paired exchange program, Kelly and I would be presented as a pair and matched with another pair (I would donate to X, and X's partner would donated to Kelly). It is a wonderful program that allows for even more donors and recipients to be connected, who otherwise may have never been able to before. There are currently about 100,000 people in the U.S. waiting for a kidney, with approximately 5,000 living donors and 11,000 deceased donors available each year. So if donating a kidney has ever crossed your mind, please go to www.kidney.org to see how you can start the process!
I was able to complete all of the testing and was approved to donate via paired exchange (through the National Kidney Registry) on January 4, 2021. We were elated and waited for the process to play out and for the transplant center to find our 'perfect matches.' Since Kelly lives in Colorado and I live in Minnesota, the plan was for all of the testing, and ultimately the surgery, to be completed in Colorado through Kelly's transplant center. There was a lot of coordination to be done as I would need to be there for a week prior to surgery and for two weeks after surgery, meaning we needed to find three weeks worth of childcare for our three children (since my husband would be my caregiver post-surgery).
Mine and my husband's jobs were both wonderful in their flexibility with us, knowing we would give them little notice of being gone for weeks at a time. At the end of February of 2021, Bennett had his routine six-month check-up with his cardiologist. Very gently, his doctor explained we had now reached the time for Bennett's second open-heart surgery. Even though we knew this was coming, we were still shocked. Bennett had just finished a very busy travel basketball season and had also just made the travel baseball team for the first time. How could this active, healthy boy need heart surgery?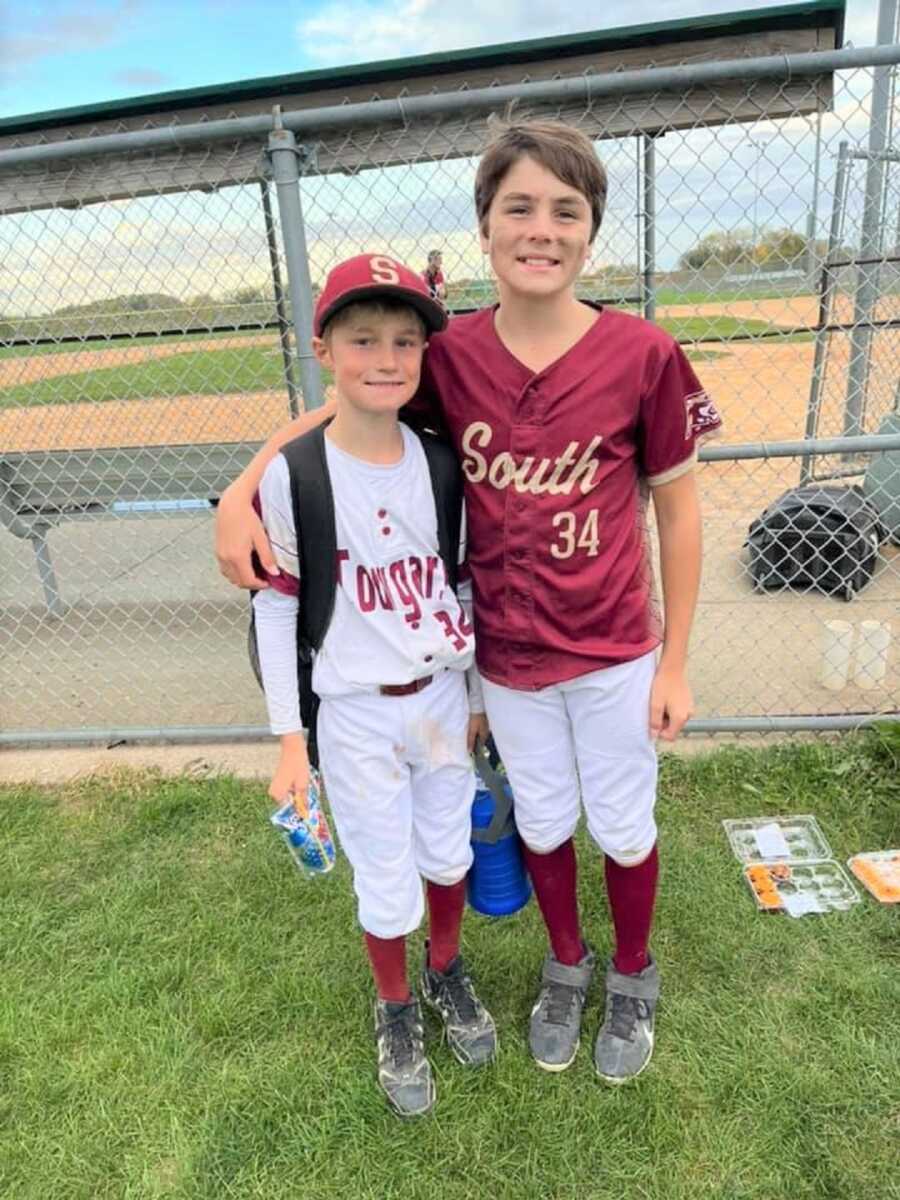 Through more discussion, we learned his doctor wanted him to have the surgery sooner rather than later, because he was still healthy now and his heart would only get worse. Scheduling the surgery now, rather than when his heart would inevitably start failing, would increase the chance of a quick and complete recovery. It made complete sense, but was still very overwhelming. We were still stuck in limbo with my impending kidney donation surgery, not having a concrete surgery date. What if my surgery was scheduled around the same time as Bennett's? How could I properly care for my sweet 10-year-old boy after major surgery if I was still recovering from my own? My emotions were on a rollercoaster. I wanted to help Kelly, but I knew my son needed to be my priority.
We were able to schedule Bennett's surgery for June 14, 2021. I wanted him to have as much of a baseball season as possible, so we scheduled it after all of his tournaments had finished, so he would only miss a few weeks. We were also hopeful he would be recovered in time to play football in the fall. What a humbling and scary experience, calling to schedule open-heart surgery for your son!
After a day or two to process this new information about Bennett, and after talking with Kelcey and Kelly, I called my donor coordinator and asked to be moved to the advanced donation list. With the advanced donation program, I would determine the timeline I'd be available to donate (independent of Kelly), and Kelly would essentially get a 'voucher' for a kidney that matched him at a later date. After a lot of paperwork, I was approved as an advanced donor on March 8th. I was told it could take quite a bit of time to be matched. I did some calculations and determined I would need at least eight weeks to heal before being able to adequately help Bennett, so I gave a six-week time frame.
However, I got a call just TWO days later on March 10th, saying I'd been paired with a female in Minnesota! Since my recipient was here at 'home,' it was decided I would transfer to the University of Minnesota transplant center. This was ideal because it meant I wouldn't have to travel for surgery, my husband wouldn't have to take as much time off, I wouldn't be away from my kids for very long, and my kidney would only have to travel down a hallway instead of across the country.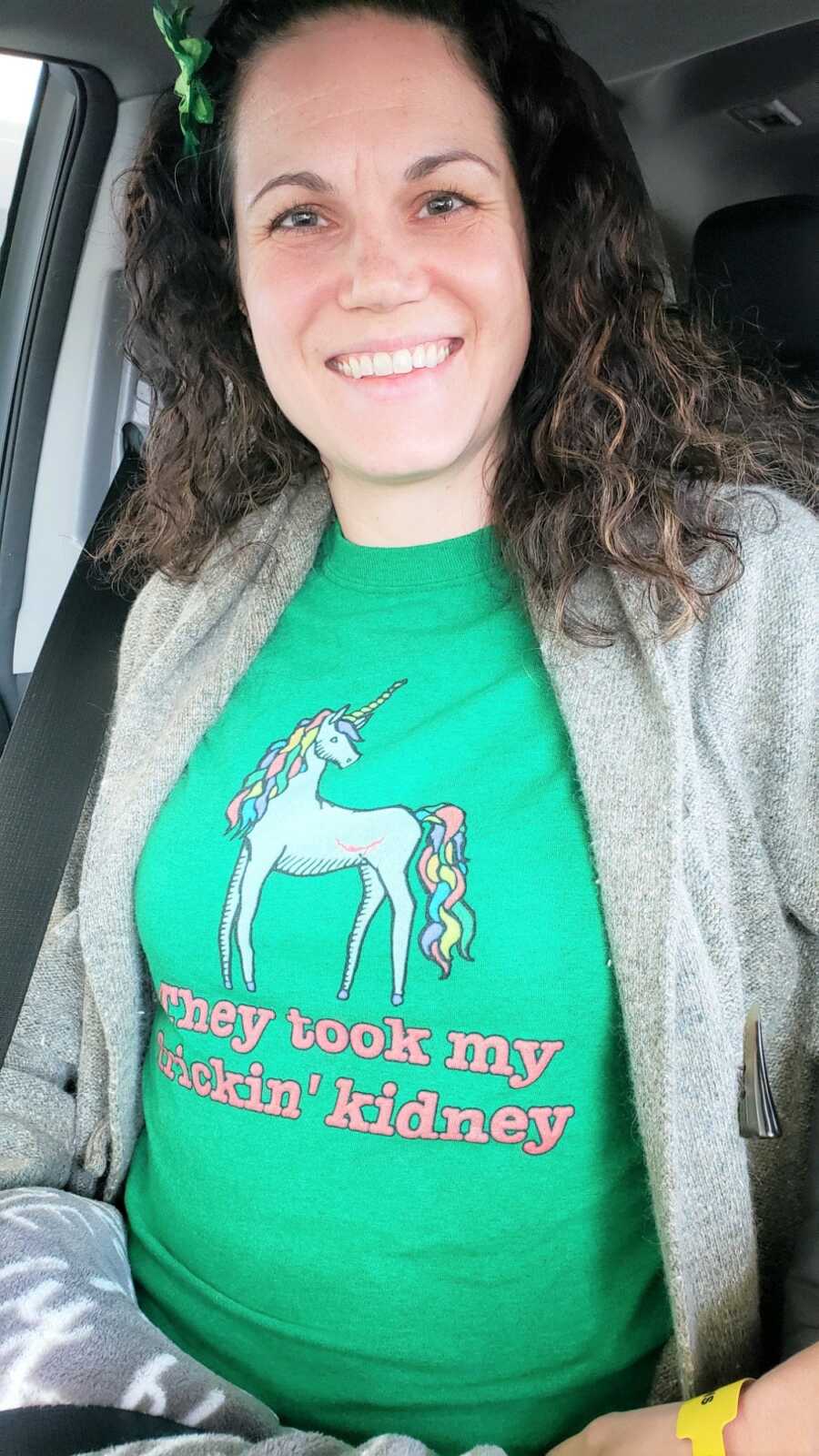 A surgery date was set for just three weeks later, on March 31, 2021. I was able to coordinate eight weeks off of work (I'm a labor and delivery nurse). My parents also came and stayed with us to help with the kids, as they all had gone back to in-person learning for school and were in sports. Throughout this time, Bennett started to have some issues at school with acting out. This was unusual, but we addressed the behavior with Bennett, and I also contacted the school counselor to see if maybe some of the acting out could be related to his upcoming surgery.
As scary as the situation was for me to process, I can't imagine what was running through the mind of my little boy. After speaking a few times with her, we were able to get to the root of the issue and he was able to discuss how he felt
about the surgery. He was too scared to talk to me because he didn't want to make me sad. That is far too much for a little boy to process on his own. I'm so glad he was able to verbalize his feelings and work through the fear and anxiety.
My surgery experience was wonderful. I went in to the hospital at 5:30 a.m. with my husband for pre-op, and by 7:30 a.m. I was taken back to the OR. I have absolutely no memory of leaving pre-op or going into the OR, but I do remember waking up in recovery. Honestly, the entire process went as well as it possibly could. I was in my hospital room by 1 p.m. and was able to see my husband, Brandon, soon afterwards. I was up and walking later that evening, able to make quite a few laps around the unit, with Brandon encouraging me to both walk and rest. He was such an excellent supporter and never left my side in the hospital, except to go home for sleep. I was discharged after only two days and was able to recover at home.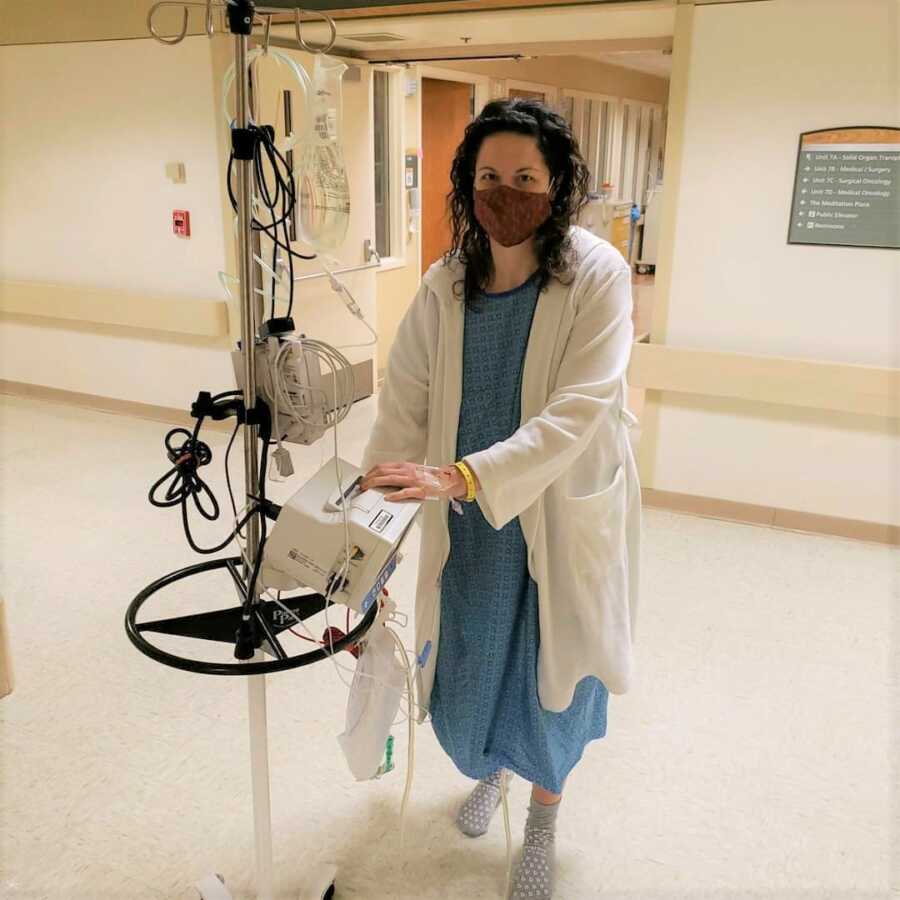 My kids were wonderful, doting over me and getting me whatever I needed. I have some amazing friends and family who brought meals to us for two weeks. My friend, Jennifer, also made some incredible cookies for me to give to the hospital staff, including some shaped like kidneys! I was able to go for a walk every day, read a ton of books, and watch my kids play sports. I only had a week or two where I didn't feel very well, but my recovery was overall very quick. I had the opportunity to meet my recipient about six weeks after surgery, and it was a very humbling experience. I was part of a small chain, with my donation ending the chain series. It was amazing to see how many people were affected by just one person's choice to donate. I went back to work in June for a few days before Bennett had his surgery. Meanwhile, Kelly continued to wait for his kidney.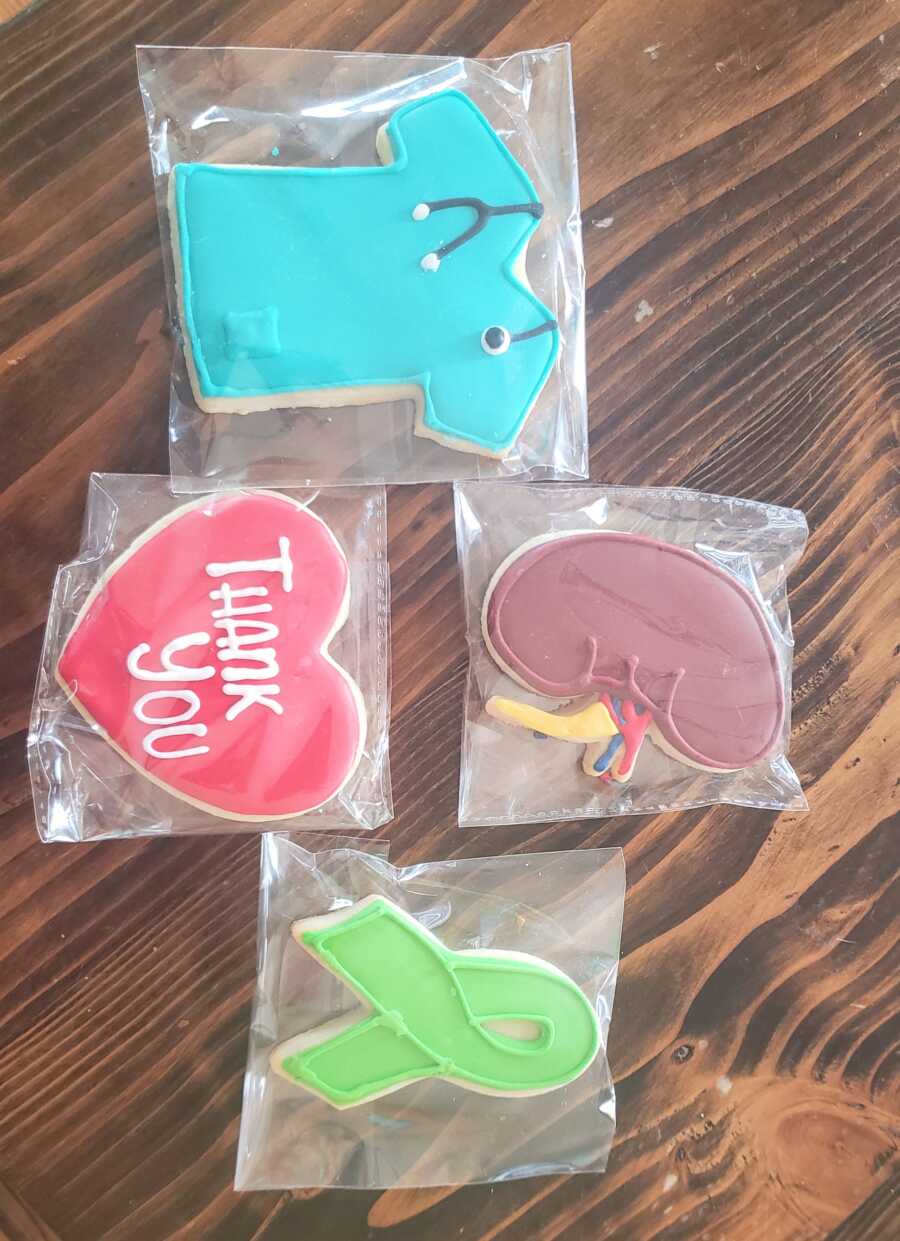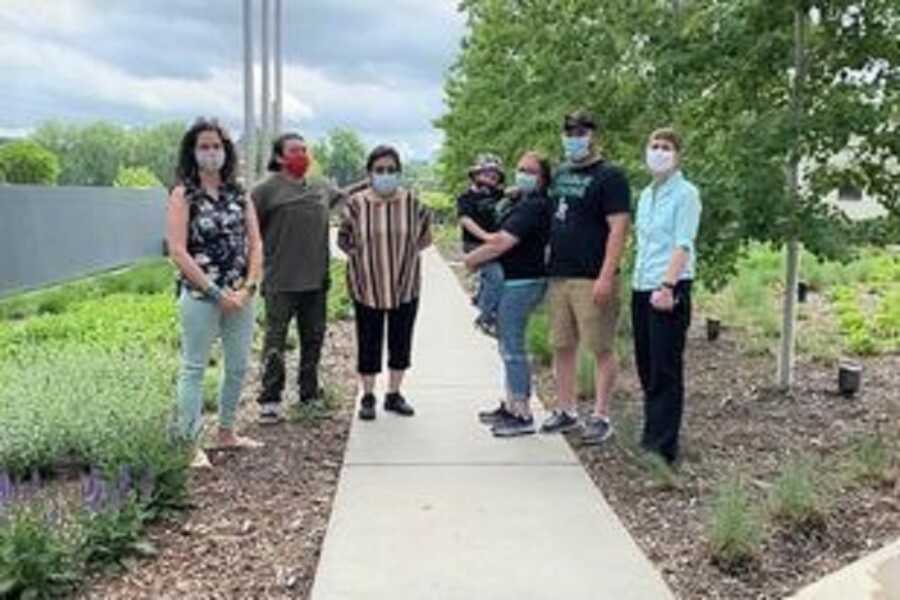 In the weeks leading up to Bennett's surgery, I got very anxious. Watching him play baseball with his team, running hard and keeping up, made it hard to wrap my brain around the fact my sweet boy needed to have his chest cut open and his heart repaired. At his pre-op appointment a few days before his surgery, his cardiologist explained to us the very real possibility Bennett would need to have his mitral valve replaced, due to the fact it was very abnormally formed. The reality of that would mean the end to playing contact sports. Bennett is a very active child who plays multiple sports, all including contact. I struggled with the idea I scheduled his surgery in the middle of baseball season, and he may never be able to play baseball again. I felt like I was taking the joy from my son.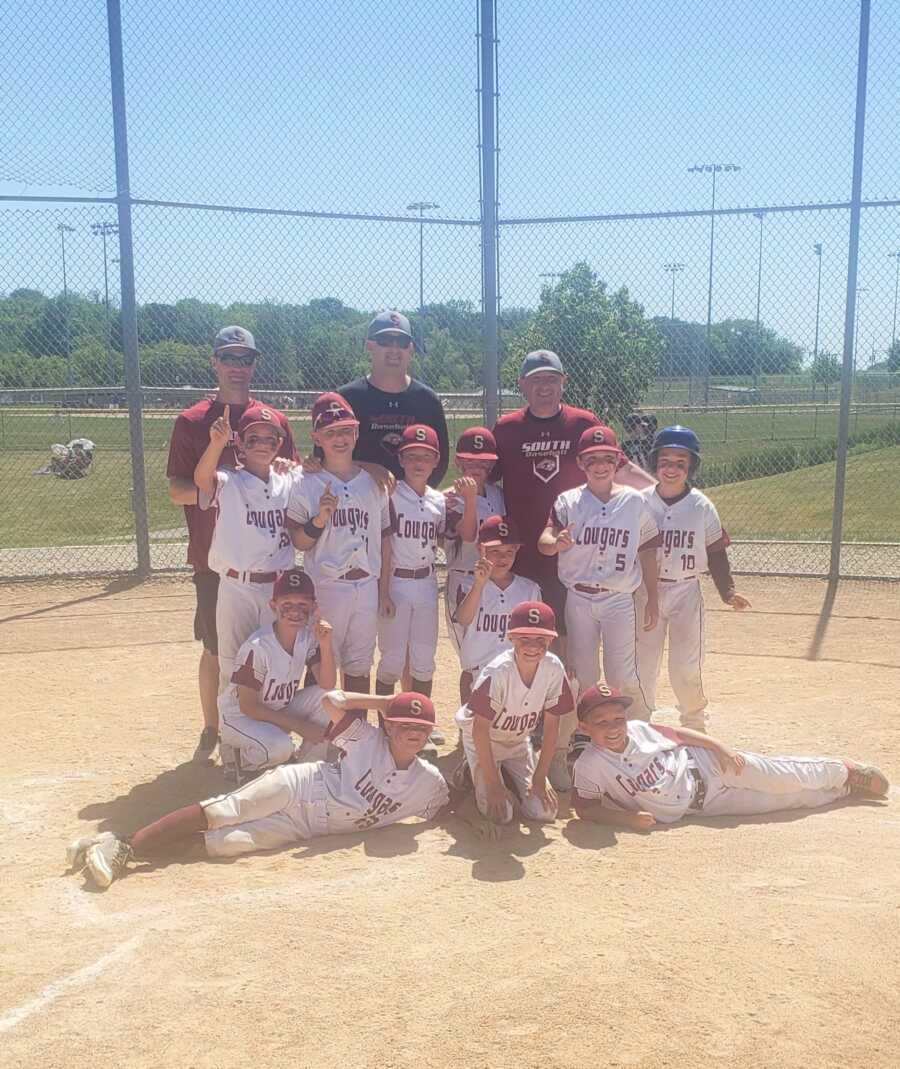 I knew it was what he needed, and ultimately he would be okay regardless of being able to play the sports he loved, but it was a very hard, emotional time. My husband and Bennett started brainstorming to find things Bennett could do in the event he wasn't able to play his sports. Bennett had a few moments of sadness, but as per the rest of his life, he bounced back quickly and started formulating a plan. His surgery was scheduled for Monday morning. On Friday, I got a call asking to move Bennett's surgery back a day as there was an urgent surgery another child needed on Monday. Of course, we said yes. If it were us in that situation, we would hope others would do the same.
Bennett had his last baseball tournament on July 13th. His team went on to win the whole tournament, and afterwards gave him a basket of things to keep him busy during recovery. They also gave him an amazing sign to encourage him, which we brought with us to the hospital to remind him how many people he had in his corner. We had so many people praying for him throughout this process. It was incredible to see the love for our sweet boy! Jennifer again made us cookies, this time in the shape of fixed hearts, for the staff. As a nurse, I appreciate how much things like that mean.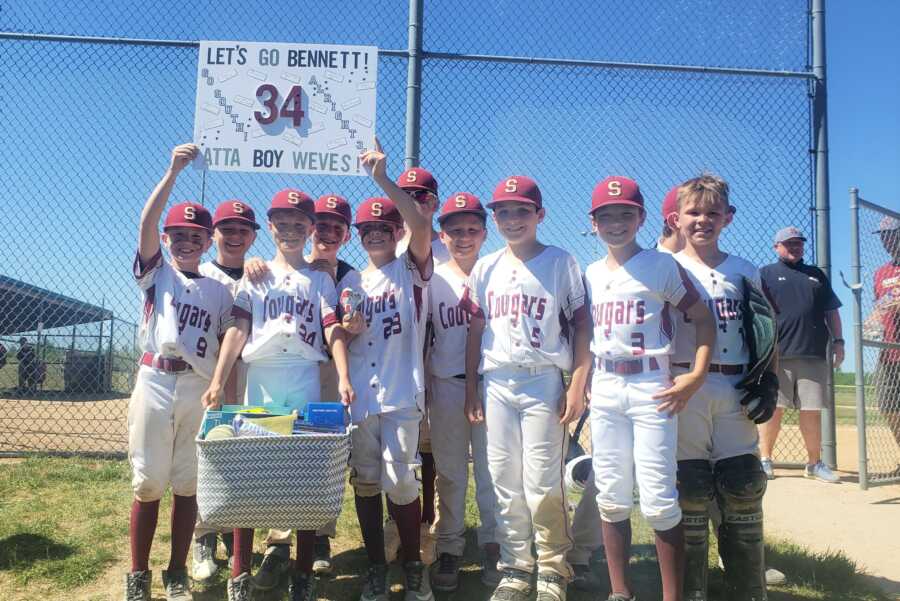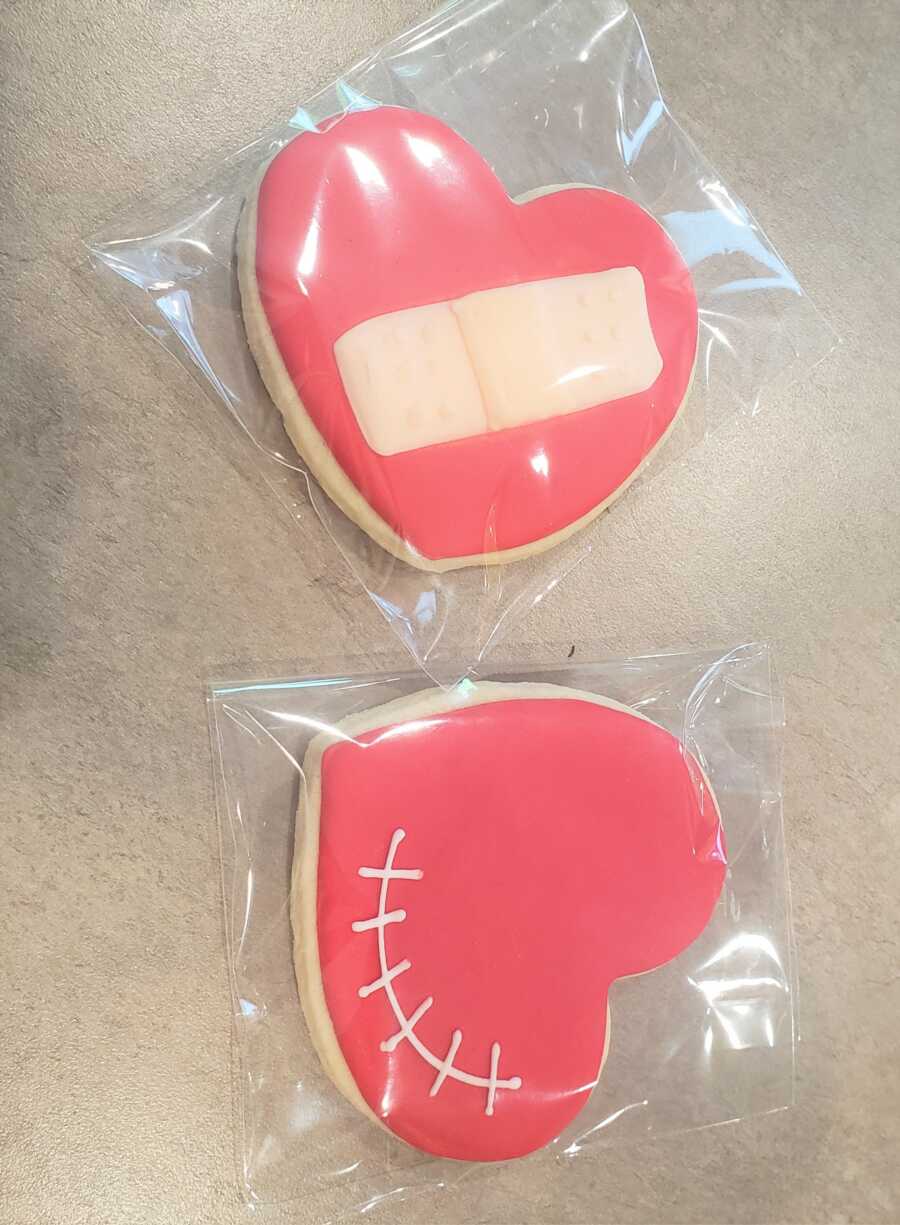 On the day of his surgery, we had to report to the hospital at 11 a.m. The surgeon came in and explained what his plan was, and he stated he had 'no intention' of replacing Bennett's valve unless it was absolutely beyond repair. He had the same surgeon as his first surgery, so we trusted him completely. I was able to walk Bennett into the OR around 1 p.m. and hold his hand while the anesthesiologist put him to sleep. I was sobbing as I walked back to the waiting room to wait for news on how he was doing. The on-call cardiologist came in multiple times to give us updates, which we greatly appreciated.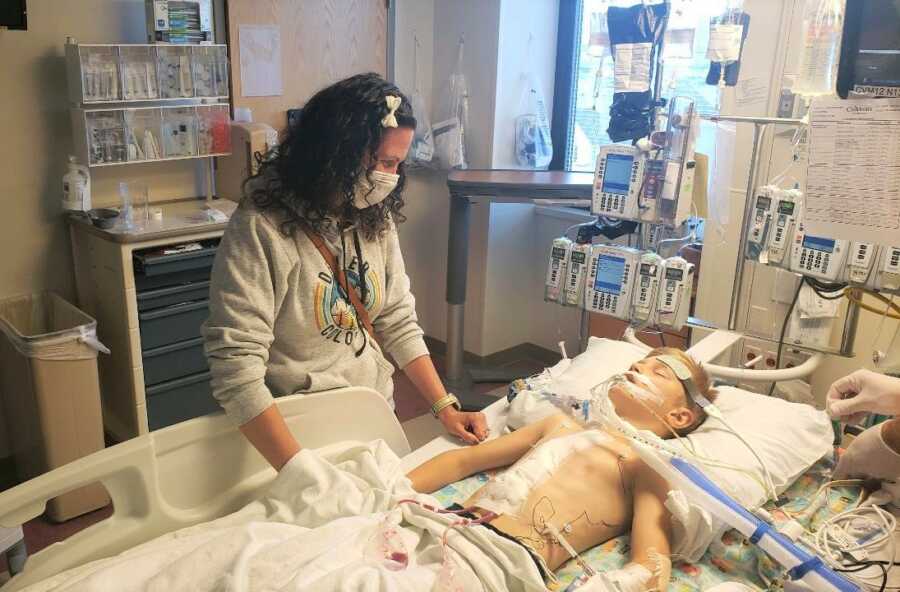 By 6 p.m., Bennett was back in his room in the ICU, with a fully repaired heart. His surgeon came out and explained he was able to fully repair Bennett's mitral valve without needing to use any prosthetics. His prediction was Bennett shouldn't need surgery again for 20-30 YEARS! We were ecstatic with this news. It was difficult to see our sweet boy attached to so many wires and tubes, but they removed more and more as the days progressed.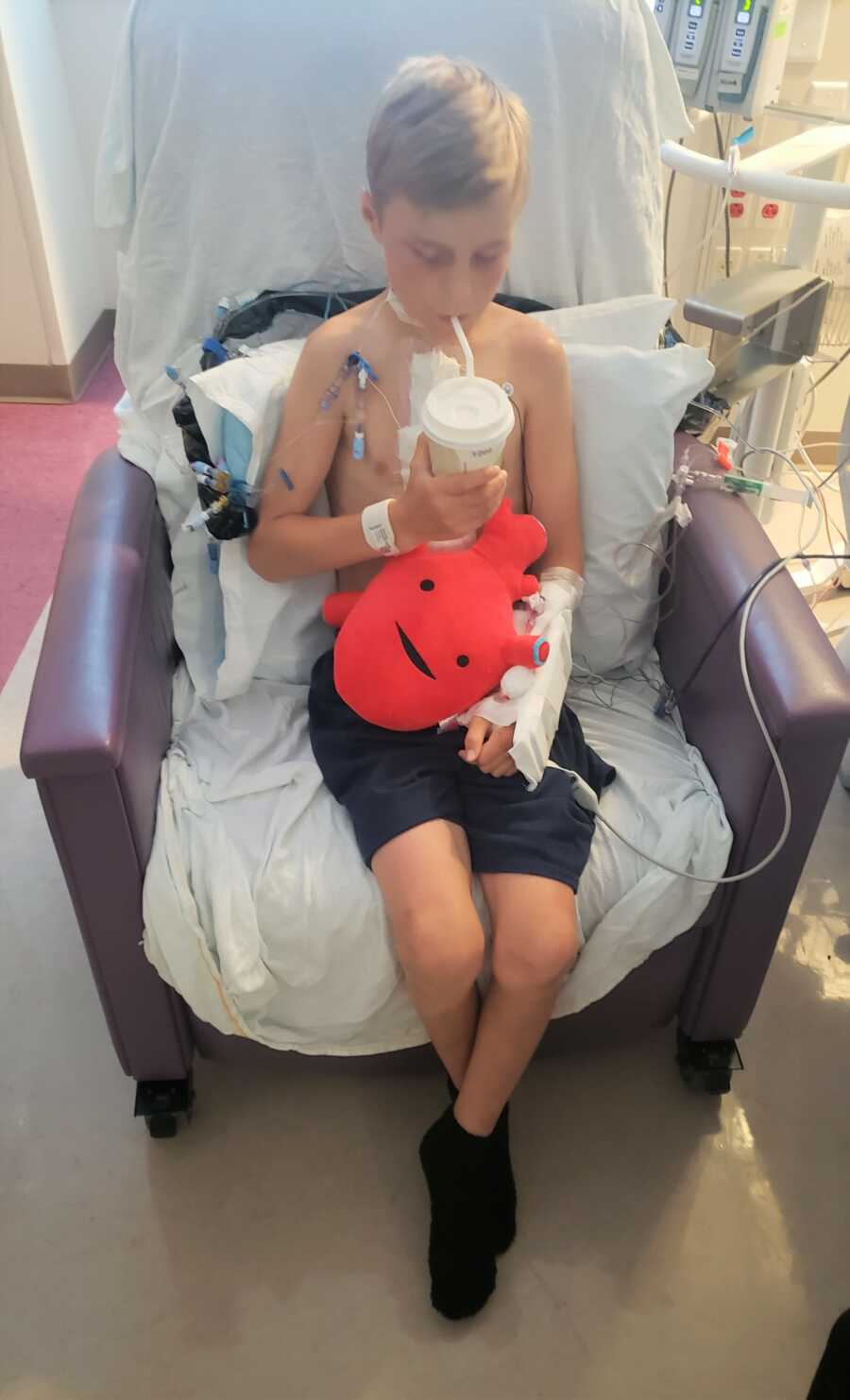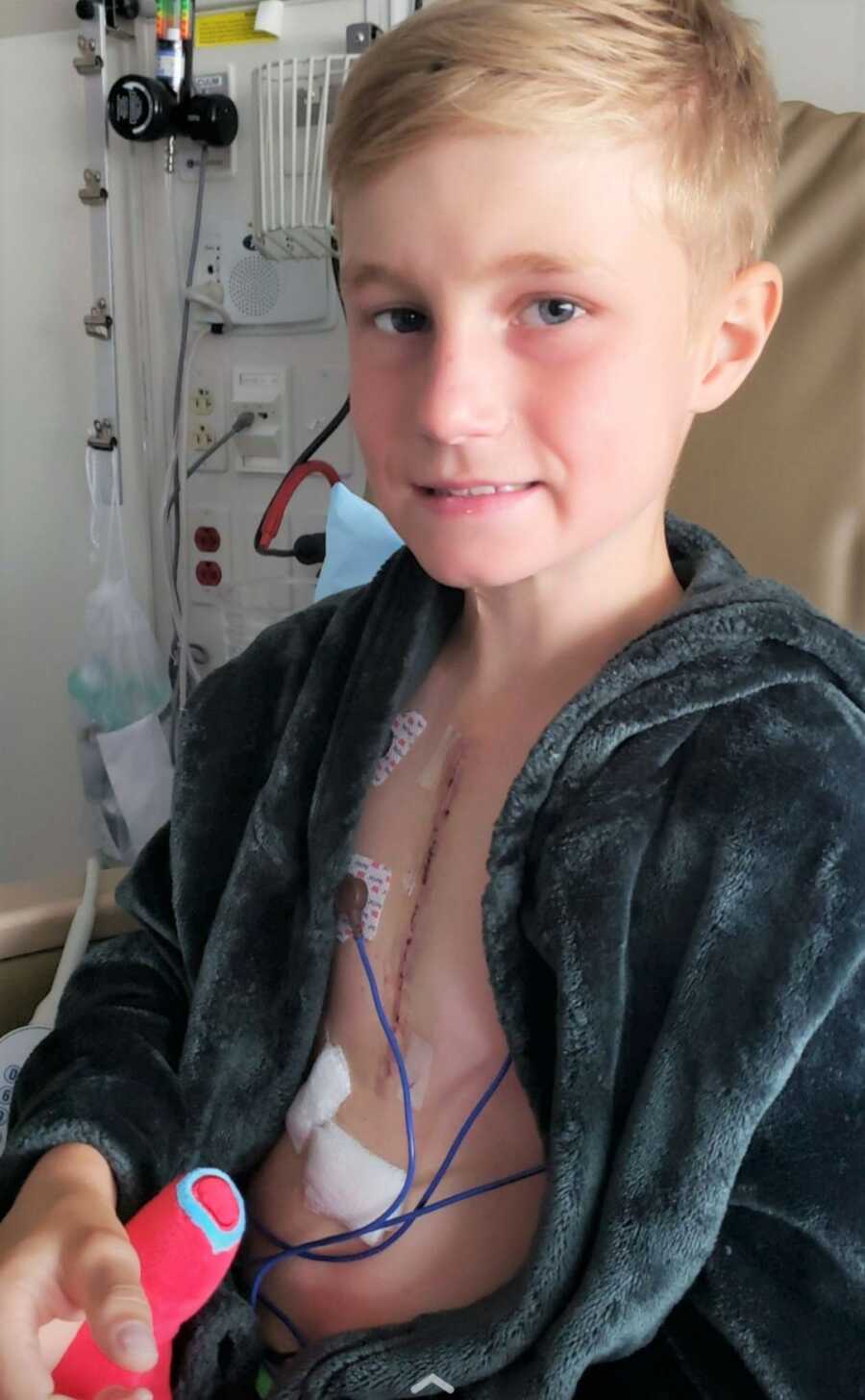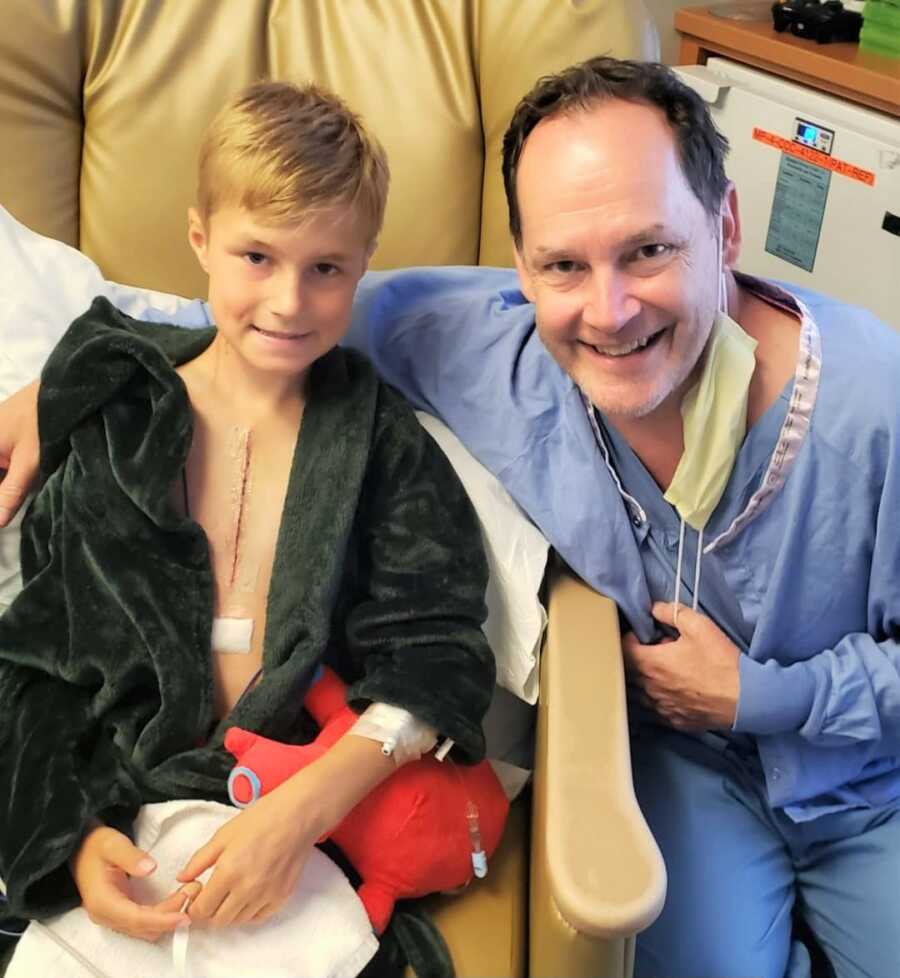 He was out of bed on day one after surgery, walking laps on day two, and climbing stairs on day three! When the surgeon told us, Friday morning, Bennett was being discharged that day, we could hardly believe it! With his last surgery, we had been in the hospital for a week. It was amazing he was being sent home just three days after having open-heart surgery. The most amazing thing to me was he no longer had a heart murmur. He was born with a grade VI murmur (you could feel it when you touched his chest), and after his first surgery, a grade II murmur that continued from then on.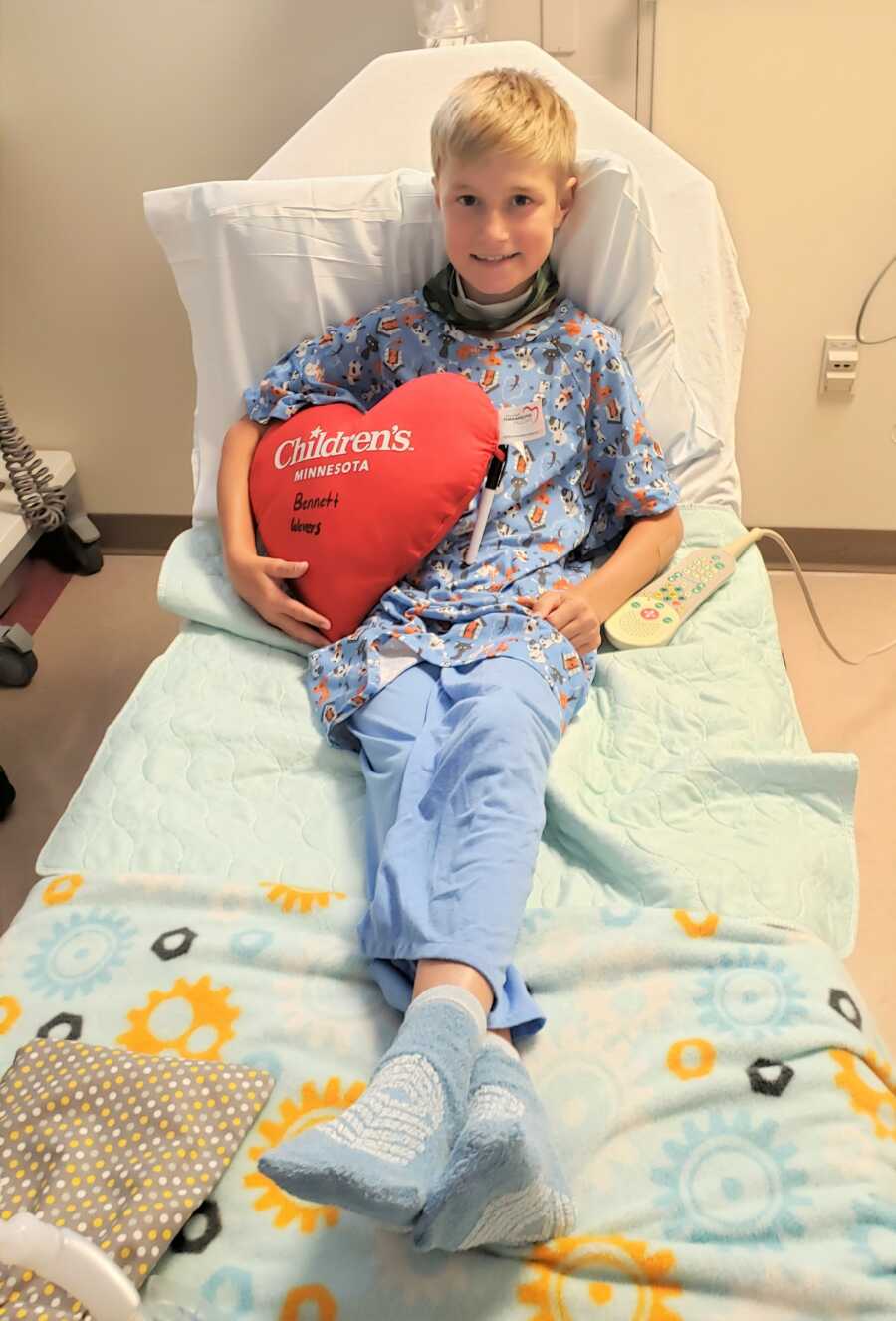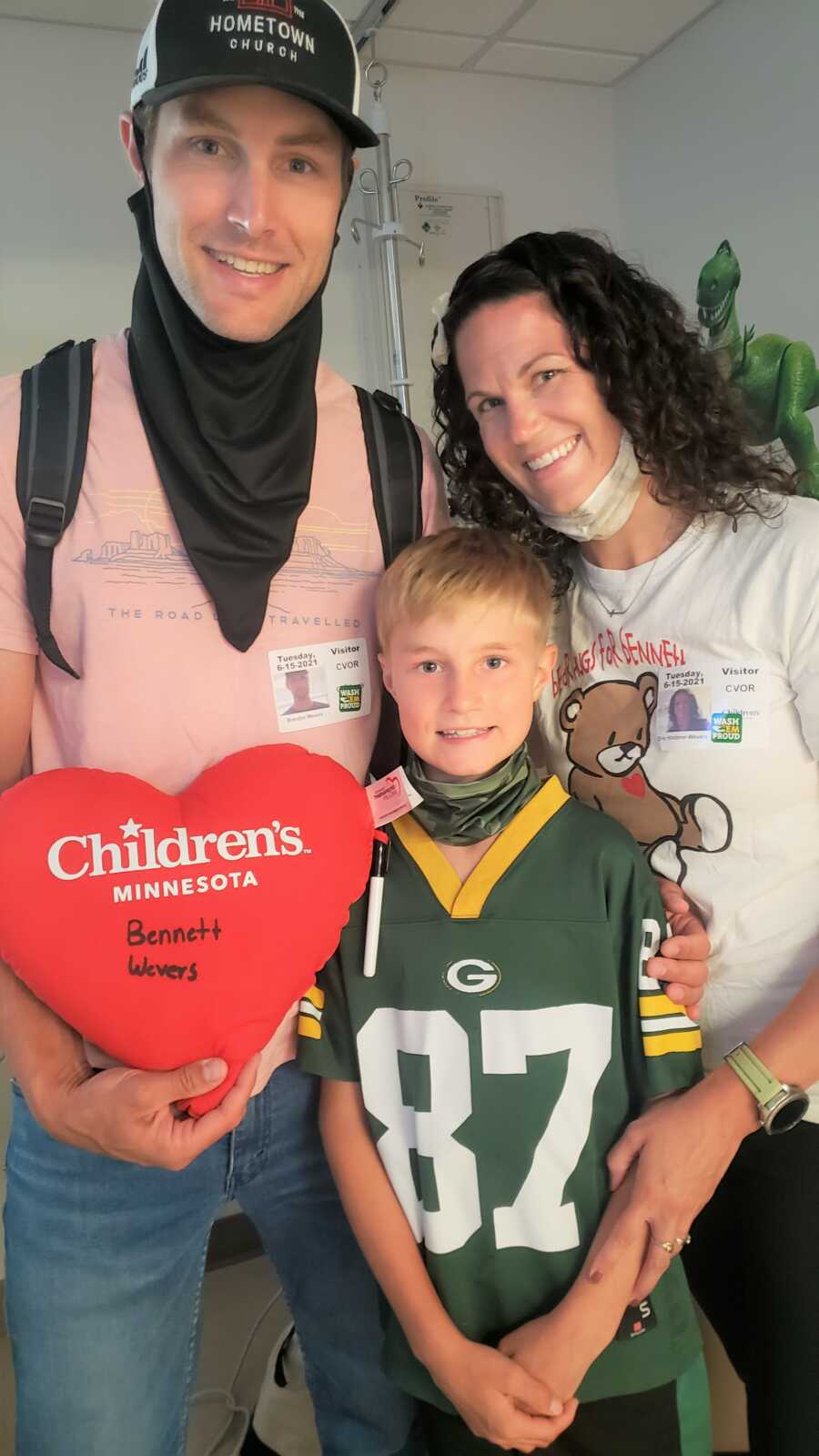 The fact I could listen to him with my stethoscope and not hear any murmur at all was absolutely astounding to me. He got sick of my listening because I truly couldn't believe it. He was our living, breathing miracle! Our boy continued to do the hard work he needed to recover. He had a big goal of playing tackle football in the middle of August (I wasn't so sure). He walked every day and started shooting basketball around week four. He even completed 10,000 shots over the summer, despite being out for four weeks. His goal was to try to keep up with his brother, and he did! The hardest part was trying to keep him STILL throughout his recovery. How do you stop a 10-year-old from being a 10-year-old?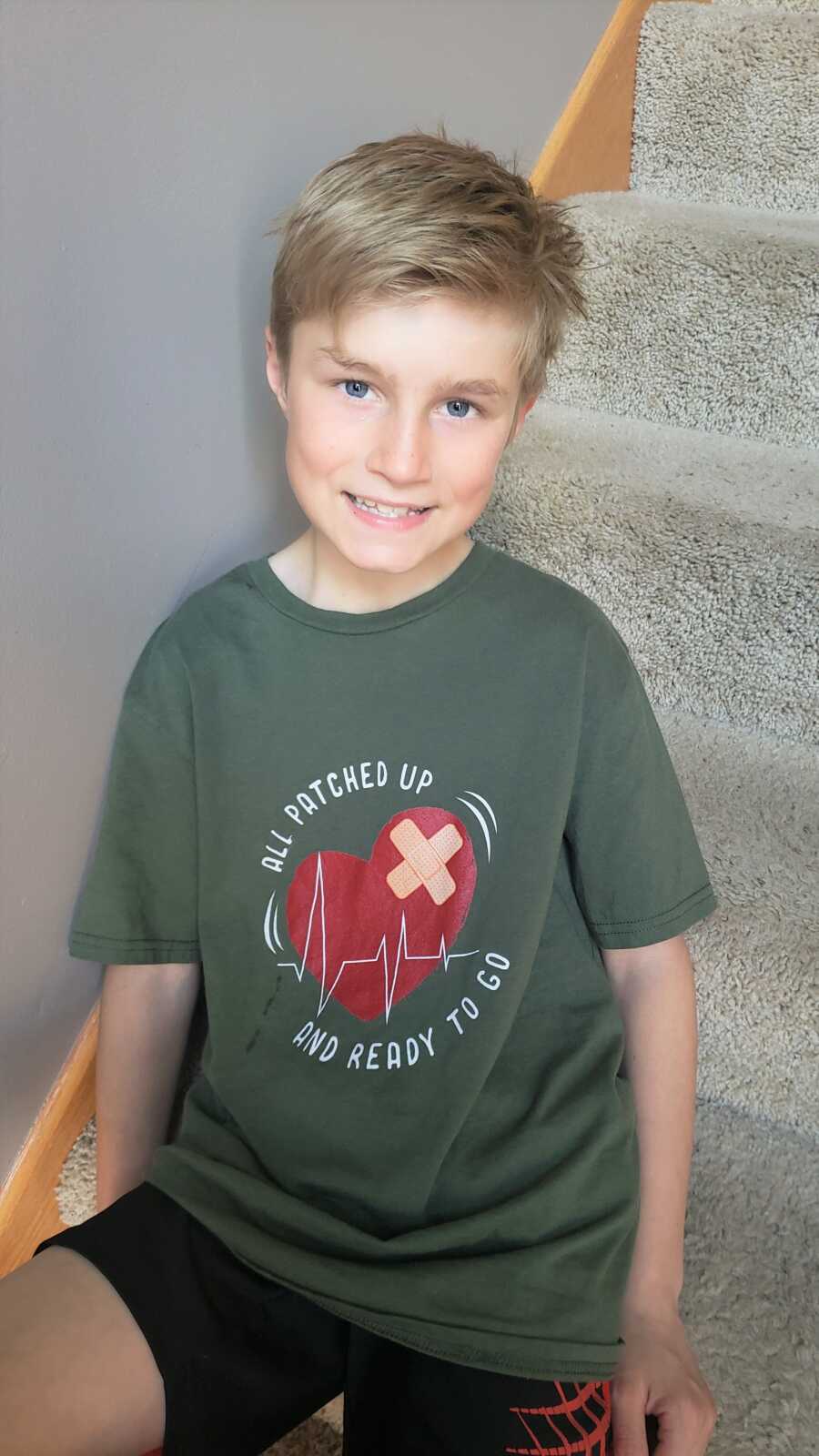 During his downtime, we went and watched his baseball team play, as well as watch his brother play baseball. He had many friends come over and just sit with him to pass the time. Through some trials and tears, we made it to his post-op appointment, and Bennett was given the all-clear to start football in the fall! We were ecstatic and a little nervous. He was also cleared for all of his other sports. This made for a very busy fall, as both of our boys played football, fall baseball, and 3-on-3 basketball, in addition to our daughter playing volleyball. Sports are a huge part of our family, and watching both of our boys and our daughter get to do what they love made the outcome so much sweeter!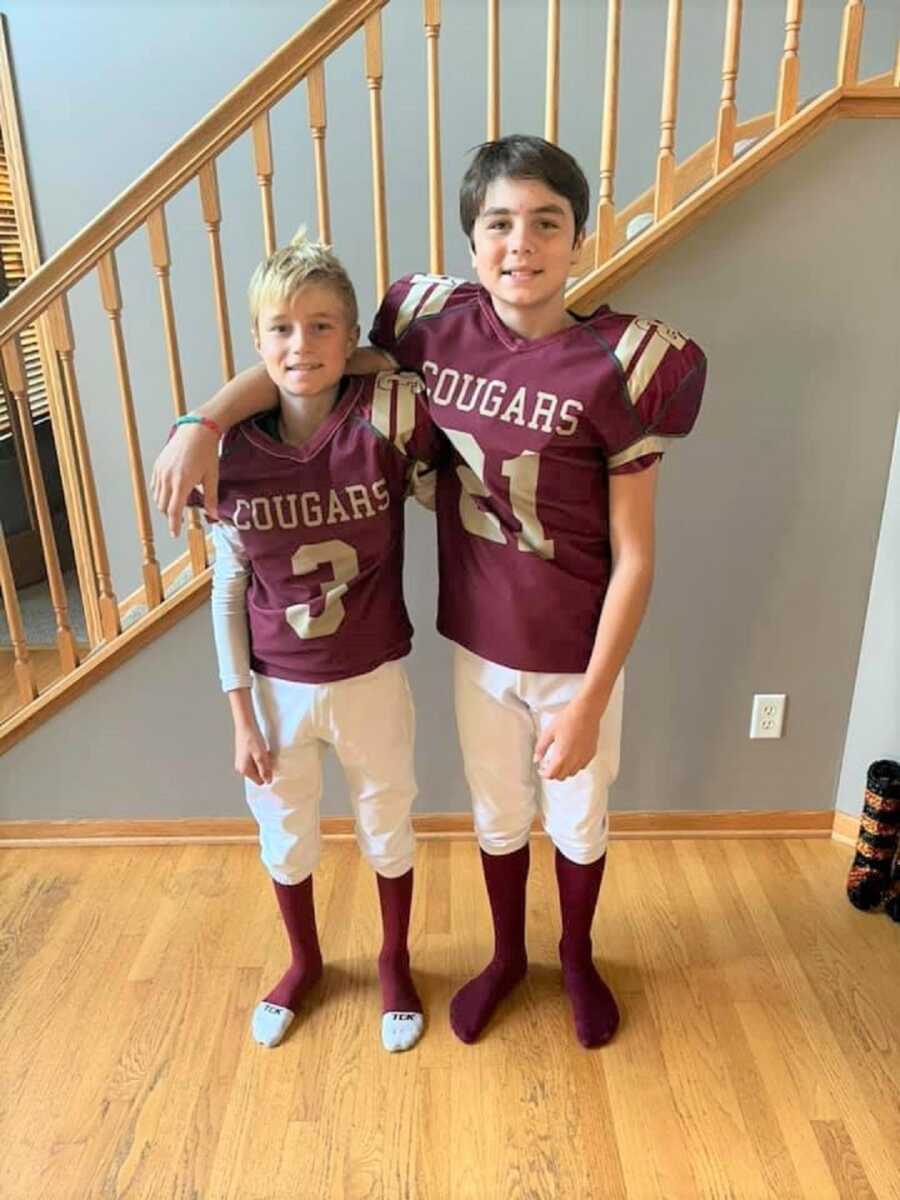 The only way you can tell Bennett even had heart surgery is by the scar on his chest. He is the same energetic, smiley, wonderful boy he was before his surgery. We are so incredibly thankful for both of our medical teams taking such amazing care of us and answering all of our questions, and for our family who helped us both more than words can say. To say we are blessed is an understatement. The final blessing was my brother-in-law, Kelly, receiving a kidney from a stranger on August 25th. He has been healing well and is back on the road to recovery after a few bumps in his journey. We are grateful to God, and to those who helped us stay faithful throughout this very trying process for our family!"
This story was submitted to Love What Matters  by Erin Wevers. Submit your own story  here, and be sure to  subscribe to our free email newsletter for our best stories, and  YouTube for our best videos.
Read more stories like this:
'Must be nice to have a vacation from your baby every day.' Tears welled up in my eyes. I know she didn't see it.': Mom's emotional encounter with woman after son endures open heart surgery
'I have a huge favor to ask. I'm in the ER. I can't leave my daughter alone, but I really need a coffee.': Single mom touched by act of kindness during daughter's open heart surgery
'When he is older, how do I explain this?' We handed over a tiny 3-month-old for his first open-heart surgery.': Mom of heart warrior thanks those who helped, 'He lived, and so much of that is due to all of you'
'She was a ticking time bomb. 'Was this my fault? It could be the last time we'd see her.': 4-month-old with Williams Syndrome survives open heart surgery, 'She is our perfect daughter'
SHARE this story on Facebook with family and friends.