Disclaimer: This story contains mentions and photos of child loss which may be triggering to some.
"My husband, Mark, and I met in May of 2017. As a newly single mother of five, very recently leaving a bad seven year marriage, I wasn't looking for a relationship. What started off, as my sister would put it, 'a joke,' turned into the one of the biggest blessings of my life. Mark was serving in the same unit, in the National Guard, as my brother in law, Alex. Alex gave him my information and the rest is history.
Fast forward to September 2019. We are expecting our second little girl, who we named Corbyn. All my previous pregnancies were textbook easy. This included giving birth to our daughter, Cassyn, the previous year. Never did we expect the devastating news that we would receive just a month later. On November 26th, 2019, a day we will never forget, I had my routine anatomy scan. Unfortunately, Mark was unable to attend due to a work conflict, which was fine because everything was going to be fine, right?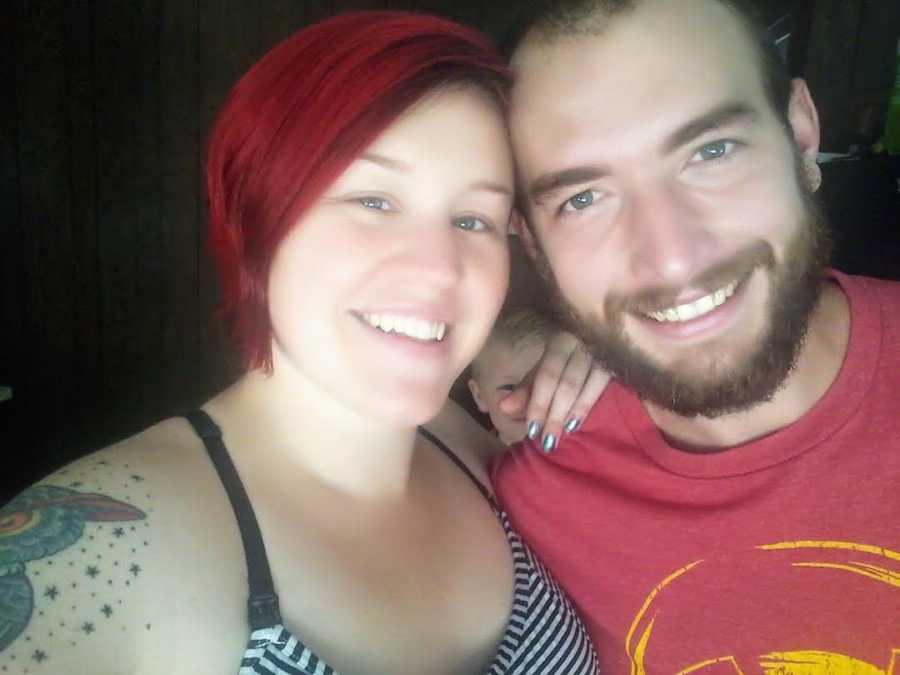 My mom came with me to help with my 17 month old. The scan started like usual. The tech had asked if I wanted to know the sex. I told her that we already knew she was a girl. She double checked and confirmed that to be true. As the scan went on, the tech was really focused on her head. She pointed out that she was sucking her thumb. I noticed that her shoulders seemed large but just thought she was big like some of her other siblings were.
When the ultrasound was finished, she said she was going to forward this to the doctor and that she would be right back. She took the printed ultrasound pictures with her. I knew then something was wrong. I then said to my mom, 'Something is wrong with the baby.' She tried to calm my worries, but I knew. After about 15 minutes, the tech returned and asked us to step into the office across the hall.
When we got seated, two doctors entered shortly after. Dr. Chester looked at me and said, 'We are about to have a really hard conversation about your baby.' She then tells me our sweet girl has a rare neural tube defect. I then replied 'It's anencephaly isn't it?' She nodded yes. I had heard of anencephaly before from my countless hours of anxiety ridden searches on the internet.
This was baby number seven, none of that could happen to me. Those things are so 'rare.' Rare, until it happened to us. Anencephaly is a NT defect that happens in early conception. The neural tube doesn't close. The baby's skull and brain do not form. She then says I have two options. I could end the pregnancy or carry to term. There was a high possibility of her being stillborn or me going into premature labor due to excess fluid called polyhydramosis. It's really common in pregnancy with babies that have anencephaly due to their inability to swallow. It never crossed my mind that I would end this pregnancy.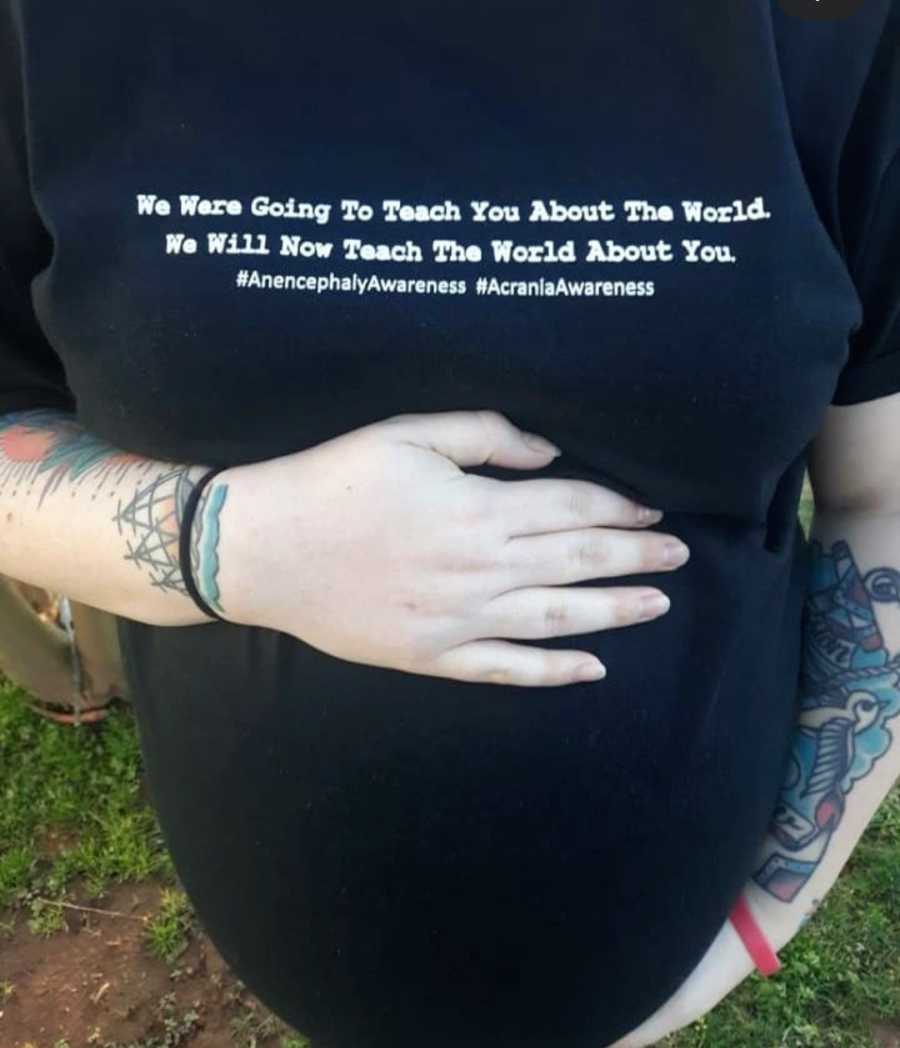 I knew Corbyn wasn't going to have a long life, but whatever life she was going to have I wanted to see that through. I wanted to cherish every moment we had. I asked about organ donation, but due to her size and lack of brain, organ donation wouldn't be an option. We would later find out that this wasn't entirely true. I was devastated. How can my little girl, who is moving and kicking as we spoke, not be able to live? How do I explain this to my other children? How do I call her dad and tell him that we don't get to bring our little girl home?
When I was leaving the parking deck, the other doctor, a neonatologist, called me. She had wanted to tell me that she admired me for thinking of others, through organ donation, with the news that I received. She gave me the number to Carolina Donors and Chris Tozel, someone we are forever grateful for. The following day, I received a call from Chris. We scheduled our meeting to talk about our options, if there were any and how that process would look.
We had our meeting a couple of weeks later. We found out that Corbyn would be eligible for heart valve donation for transplant if she met the weight requirements. While her organs couldn't be used for transplant, they could be used for research. A much better outcome than we had anticipated. Even in Corbyn's short time here, I knew our girl was going to move mountains.
We spent the next few months preparing for her arrival. I joined a couple of groups online, Anencephaly Hope and anencephaly.info. Thanks to Lisa and Monika for their outpour of information, love, and support to help others with this diagnosis. At my 30 week visit, I was measuring at 33 weeks. My doctor decided to send me for an ultrasound to check fluid levels and check how Corbyn was growing. During that visit, we found out that my levels were normal. Corbyn was measuring small in the stomach. Babies with anencephaly tend to be smaller in utero than other babies without anencephaly. It could also be placental related. It was something we would look into at our next prenatal appointment.  I still had hope that she was going to meet the weight requirements.
After this visit, we decided that we should make the arrangements to have maternity photos taken soon. We knew our circumstances could change at any moment and wanted to have as many memories as possible. I reached out to a local photographer who, little did we know, would end up becoming a part of our family. I told Cortney of our situation and how time sensitive it was. She responded within hours and asked if we could meet her that weekend. She would be honored to take our photos, and she would love to gift them to us.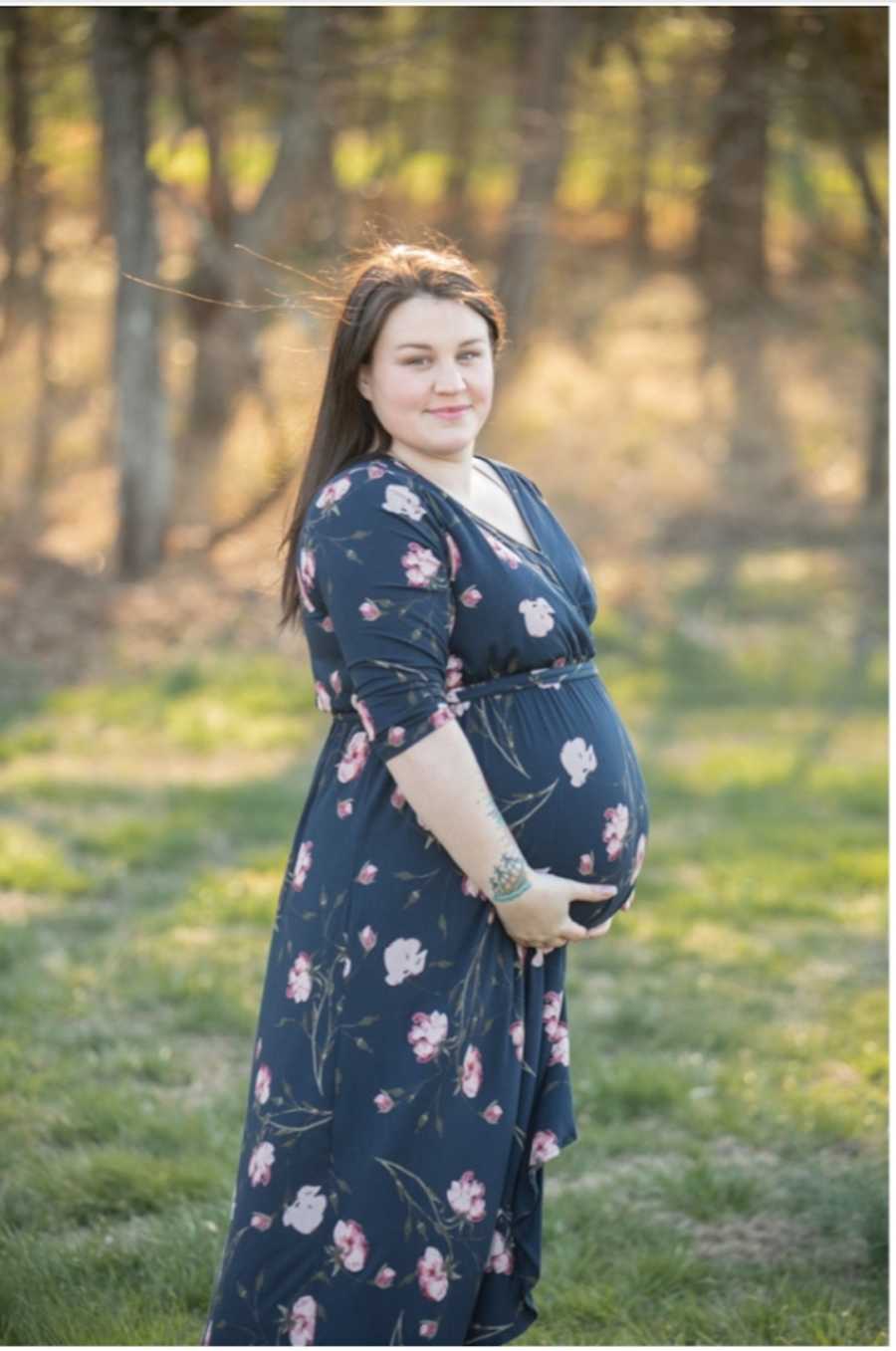 After our session, she offered to come to the hospital and take photos of our birth and our sweet girl. Something that never crossed my mind but we were thankful for. We met with our palliative care team in March 2020. This was the start of the Covid pandemic. We talked about our birth plans. What we wanted for our time with Corbyn. How we planned to parent her in this time we had. What care would look like if she lived for an extended period of time. All of our doctors were on board with everything we had requested.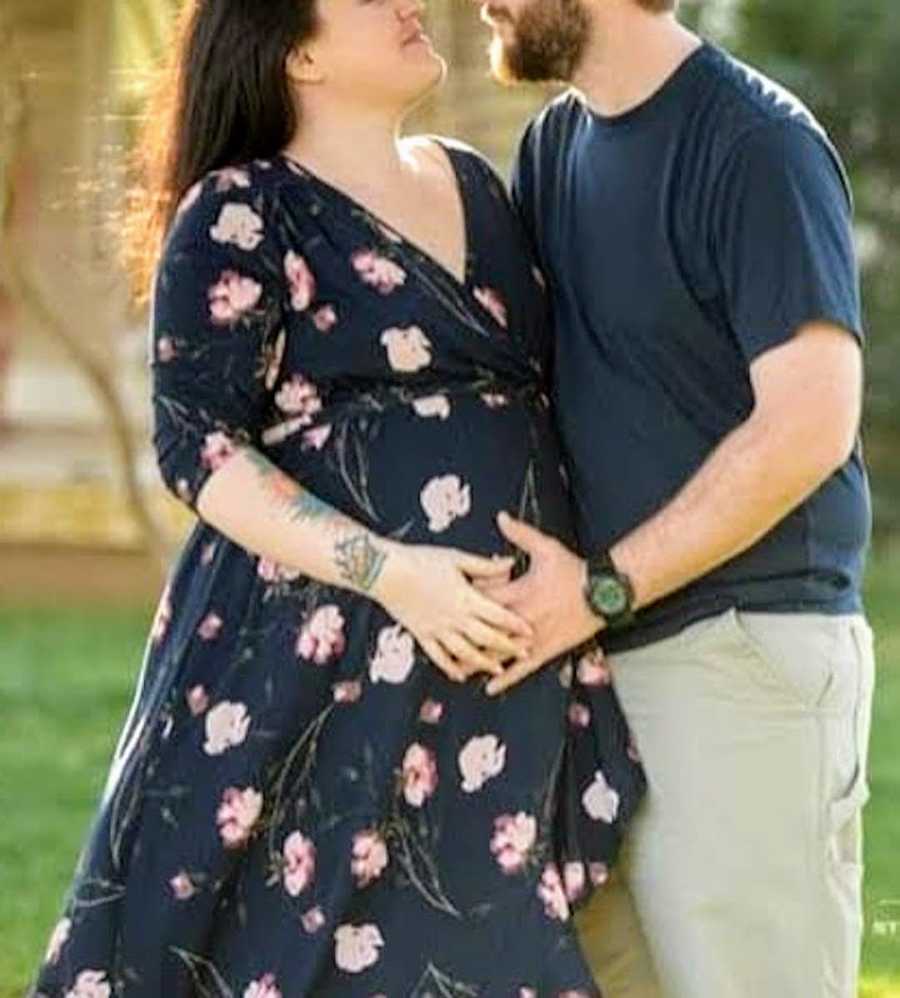 Our induction date was set. April 15th, 2020 at 39 weeks and 1 day. We headed to the hospital to meet our little girl. The ride over was hard. Even with all the planning, how do you prepare for the best worst day of your life? It was bittersweet. While I was so excited to meet this amazing little baby, I was sad because I knew she couldn't stay. We got to the hospital at 10 a.m.. We checked in. Got our things settled. The nurse started the pitocin at 11 a.m.. Labor was slow. We choose to do intermittent monitoring on Corbyn. We knew that labor could be too hard on her and the chance of her passing away was high. We wanted to stay positive and just focus on getting her here, whatever the case may be.
At around 6 p.m., I was 5 cm dilated. The doctors decided to give me the epidural and break my water to help speed things up. After that, I was asked to call our mothers and our photographer. Labor picked up. Around 11 p.m. it was time to start pushing. The nurses prepped the baby warmer, got everything set up for delivery. I did a few pushes, the nurses then paged the doctors. At 11:22 p.m., we got a heart rate on Corbyn. 122 beats per minute. Music to our ears. I continued to push for the next little bit.
At 11:56 p.m., Corbyn Elizabeth Reign was born. They laid her on my belly. I rubbed her little cheek. It was then, at that moment, I knew that she was gone. The pushing was just too much on her little head. Our girl put up a fight until the end. They wiped her off, listened for heart tones. Then put on a pulse ox monitor. It was then they confirmed what I already knew. The nurses took her over to the scale to weigh her. She weighed 6 pounds 2 oz. The weight requirements for heart valve donation is 6 pounds. Even though she didn't get to stay, a mama somewhere was going to get to hold her baby a little longer.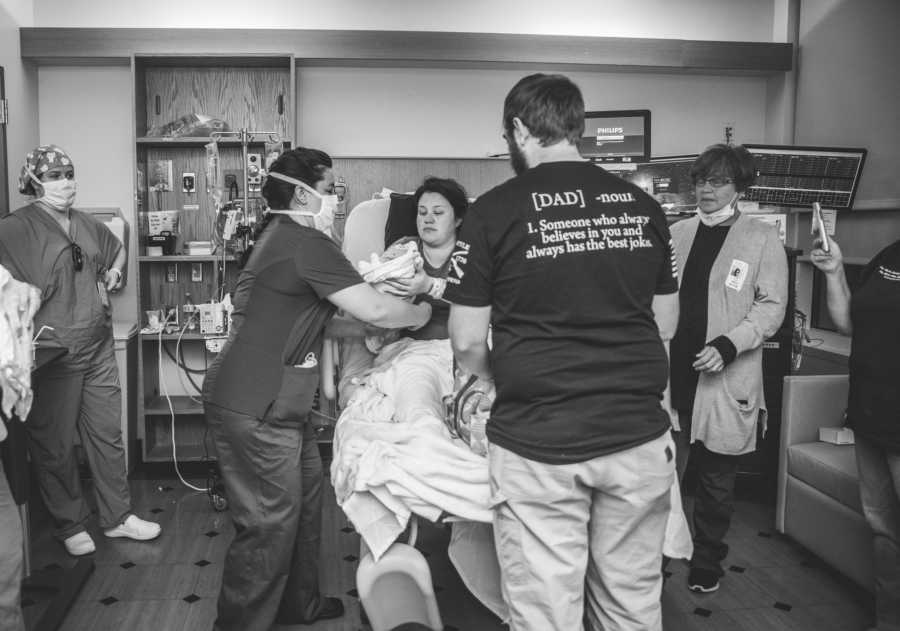 The nurses finished tending to me. Put a hat on Corbyn and wrapped her in a blanket. Unfortunately, it was almost time for them to take her back for donation. Chris came into the room to do the Donor ceremony. After the ceremony, we said our 'I love you's' and gave her many kisses. Our parents left, and so did our photographer. The donation took about five hours. In that time, we got some much needed rest.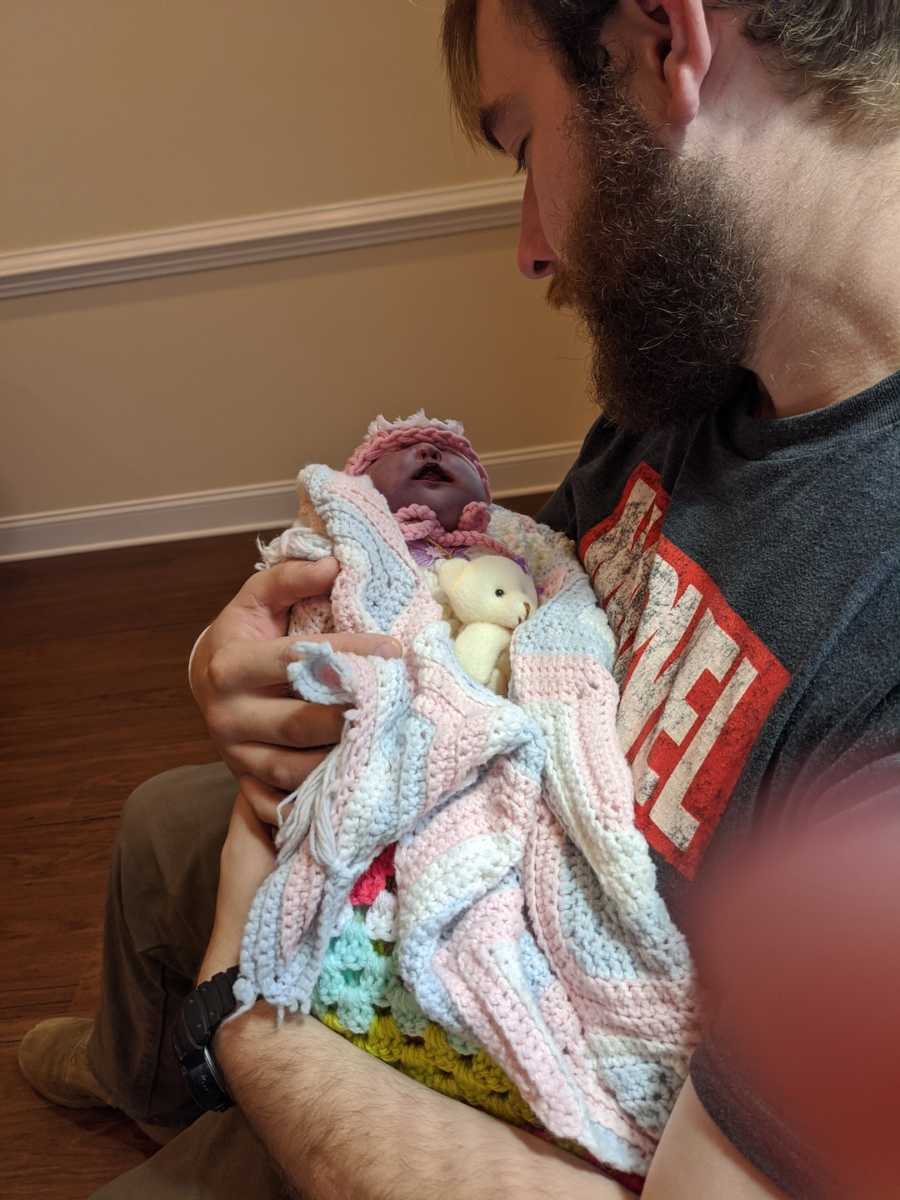 Corbyn was brought back into the room around 5 a.m.. Mark and I dressed her. Wrapped her head up and put on a beautiful hat. We played some songs for her and took some pictures. The nurses came in and helped make molds of her feet and prints as well. We just soaked up these moments with her. We placed her in the cuddle cot to take a nap. After a couple hours, we woke and decided it was time to head home to our other children. We said our 'see you soons.' and left. We had a small memorial the next day for the family. After everyone left, we asked if, before the funeral home did her cremation, we could see her one last time. Due to Covid, that was delayed.
On April 21st, 2020, her due date, we said our final 'see you laters.' We felt peace that day. Our little girl, in her short time here, changed someone's world. How lucky we were to get to be her parents. The few months after her death were hard. There was an immense ache that I had. I just wanted her here. I was barely hanging on. I was drowning in grief. My nose was barely above the water. There were days that I wished the waves would just take me under and not bring me back up.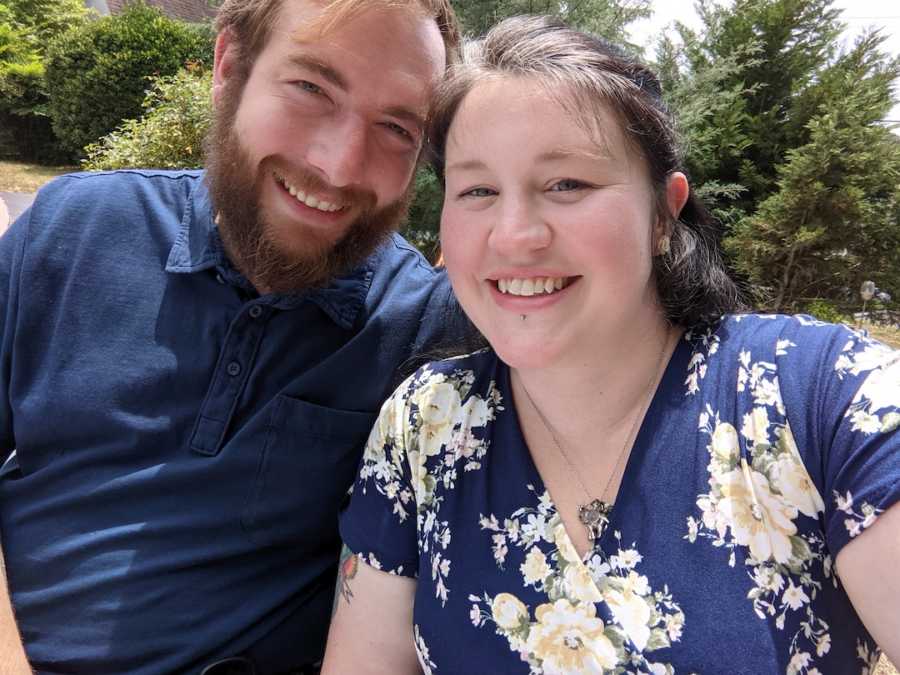 I'm so thankful for Mark during this time. We leaned on each other in these moments. Those moments turned from minutes, into hours, into days. Then into weeks. We could finally speak of Corbyn and smile. We include our 'Corbyn bear" in our photos and special occasions. We donated memory boxes in honor of our girl on Anencephaly Awareness Day. We speak of her often and keep her memory alive.  We didn't know if we wanted more children. We talked about it here and there. There was a small risk of having a baby with a NT defect again and we didn't know if that's something we wanted to risk.
The universe had other plans. In February of 2021, we found out that we were expecting again. We were happy but also scared. Less than a year ago we experienced such a devastating loss. Could we handle that again? I had my first ultrasound and saw our little baby on the screen. There he or she was. Heartbeat was perfect. We had a follow up ultrasound a month later. At this point, we had blood work done and knew that we were having another little girl. During the ultrasound, the doctor was able to rule out anencephaly. This little girl, so far, was growing and healthy. We could officially be in the clear at our 20 week anatomy scan.
Again, due to Covid and limited scheduling, we didn't get our scan until 24 weeks. We got the best news. Our girl, who we named Colby, was completely healthy. In this moment I felt extreme happiness but also deep sadness. I missed Corbyn. These are the moments that I wished we could have shared. Colby's presence reminded me of Corbyn's absence. That was hard to navigate but this is pregnancy after loss. While this journey has been hard, it's also been rewarding, eye opening and beautiful. To any mama struggling with loss, I see you. Say their names. Your baby is loved and remembered."
This story was submitted to Love What Matters by Anna Flack Colbert from Hillsborough, NC. You can follow their journey on Instagram and FacebookDo you have a similar experience? We'd like to hear your important journey. Submit your own story here. Be sure to subscribeto our free email newsletter for our best stories, and YouTube for our best videos.
Read more powerful stories like this: