"Our daughter, Hannah, was approaching 5 when we decided it was time to try for baby number two. After about 6 months of trying, I knew we were pregnant; I was beyond exhausted and had terrible headaches for about two weeks.  I took two tests, both negative, but I knew I was pregnant. I waited a week and took another one afternoon while I was home alone. This one confirmed what I'd known for about 3 weeks…I was pregnant! I cried happy tears and called my best friend to tell her the news – I had to tell someone right away but wanted to tell Matt in a special way. My first pregnancy, I wanted Blizzards all the time so I went to DQ and got him a gift card and wrote a note: 'I know this seems like a nice gift for you, but you're going to need it for all of the Blizzards you'll be getting me for the next 9 months! You're going to be a Daddy again!!' When he got home from work that night, after Hannah went to bed, I gave him the gift card; he was so elated.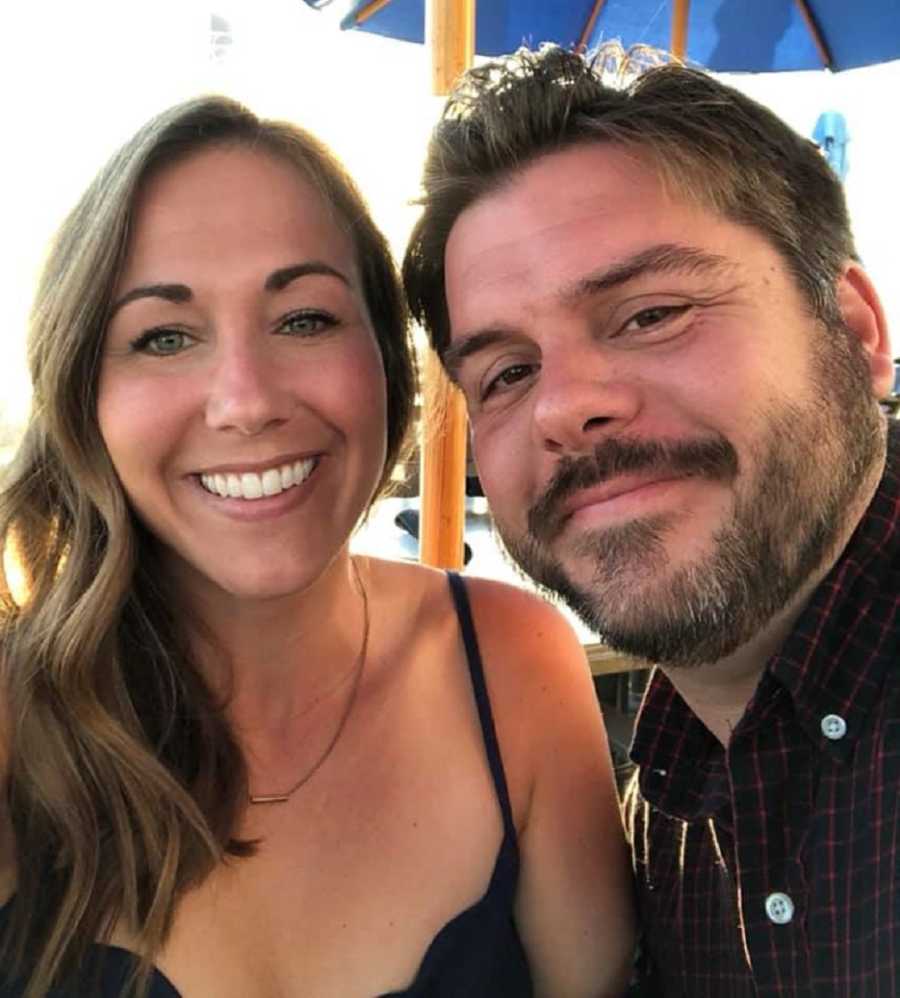 We decided to wait a few weeks to tell Hannah, just to make sure things were ok. When I was about 6 weeks, we decided to tell her. We got her a 'I'm a Big Sister' book and let her open it when my mom was in town. She read the title and just looked at me, confused. She said, 'Nuh uh, I'm not a big sister?!' I said, 'Yes, you are!  I'm pregnant!' She said 'No, you're not! You don't have a pregnant belly!' I explained that it takes time for a belly to grow and she started to understand and got so excited. My mom was crying, so happy to see Hannah realize that she was going to be a big sister.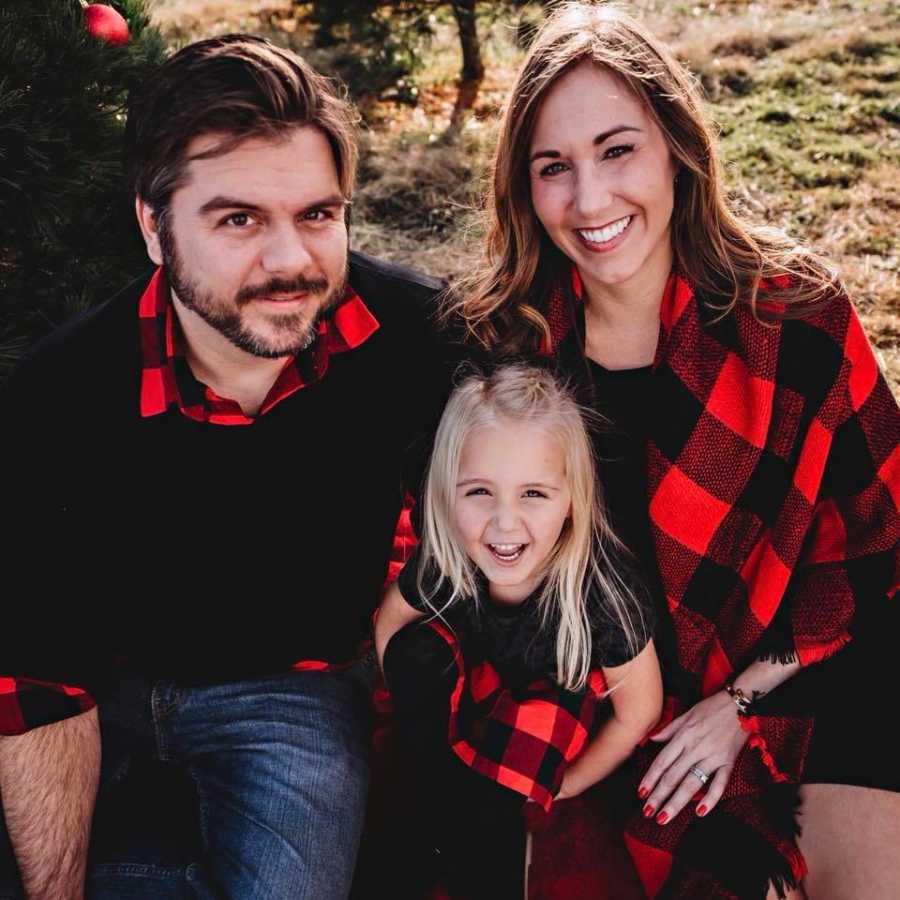 It's a good thing we told her when we did, because I got super sick, really fast! I was sick all the time, so much so that I ended up in the hospital at 6 weeks. I had an appointment with my OB at 8 weeks, but she agreed to see me early since I wound up in the hospital, dehydrated. I told her my symptoms: nausea, headaches, vomiting, etc.…I had lost 11 pounds in three days! I was sure there was something wrong. We went in for our visit and she did an ultrasound. She said, 'Well, there is a reason that you're feeling this way.' And my heart dropped. I thought she was going to tell me I was sick, or something was wrong. She said, 'I usually make a joke about this, but when you told me your symptoms, I thought better of it…you have two babies in there!' Matt and I both started to cry! Our doctor shared some books to read as she was a twin mom. Here we were, thinking we were ready for another baby and we were having two! We were terrified and overjoyed – so many emotions at once!  I called my Mom from the parking lot and told her; she laughed and cried.  We didn't have a history of twins in the family.
We had another appointment scheduled for 8 weeks and we would find out the sexes then. The doctor told my mom the sexes and she made a cake for us to cut at Thanksgiving with the family to see what we were having. We cut into the cake and first saw pink, then blue! Hannah was so excited to have a baby sister to dress up and share JoJo bows with.  Things were going well, minus my morning sickness (which lasted all day) and we were moving right along. I started to plan the nursery that they would share, my mom started making matching onesies for them; everyone was preparing to meet our twins! We shared our news with friends and family on Facebook in late November.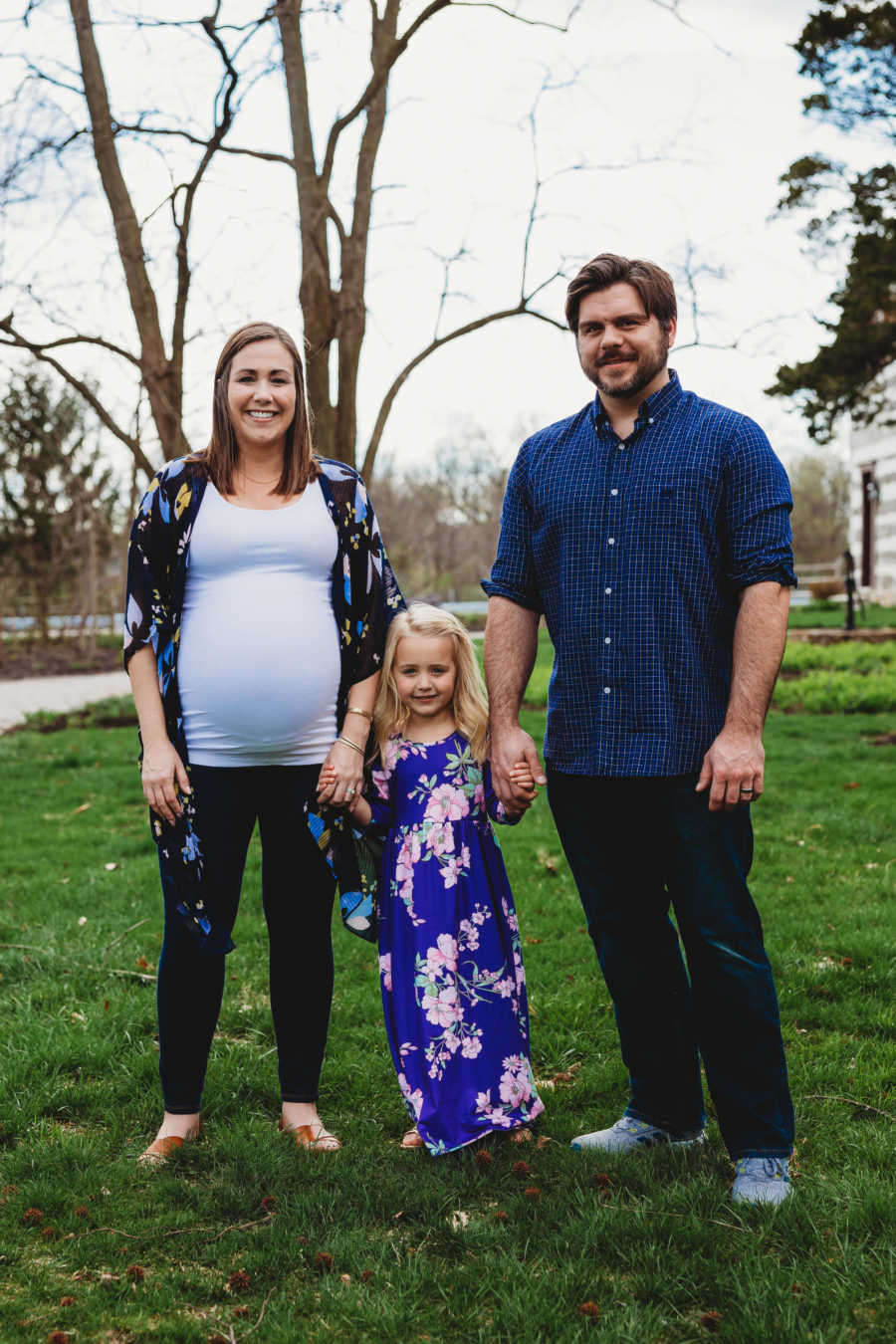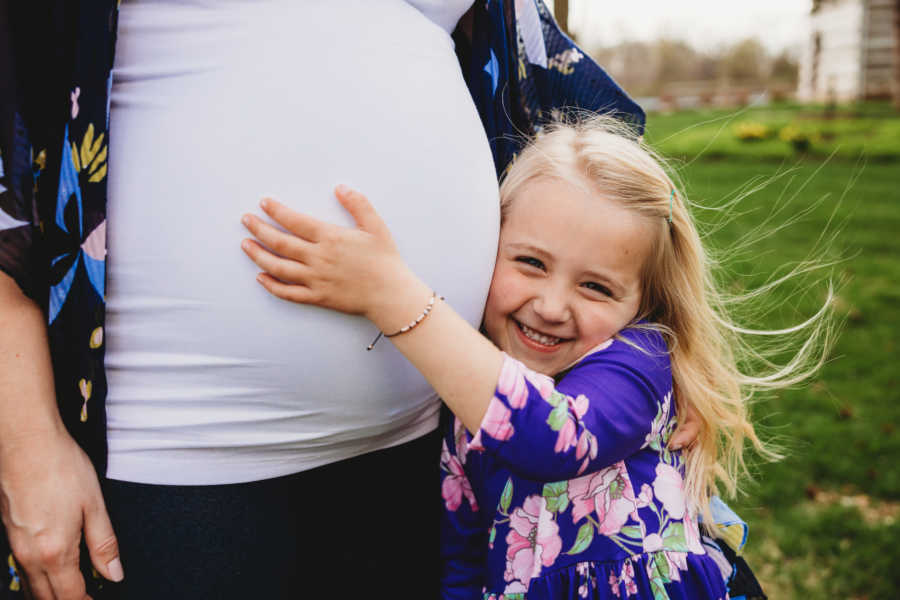 We had our 19-week scan on January 22nd.  I had been nervous for this scan because it was the last test before we were really in the all clear, though our chromosome test was clear, and every scan has been fine to this point. Matt and I met at the doctor office. We went back with the ultrasound tech who started with Baby A (Cameron) and everything measured perfectly, I think she took about 40 measurements and photos! Next, she went to Baby B (Camille) and she went in a different order. She skipped the head, but I didn't think anything of it. When it came time to do the head, she said the words every pregnant mother dreads, 'I need to talk to you guys. There's something wrong with Baby B. Do you want me to tell you or should I get the doctor?' We immediately said, 'just tell us!' She said, 'Have you heard of anencephaly?' and I had. I just said, 'the brain.' At this point, she left to get the doctor and I broke down. Matt was just in shock, confused; but I knew what it meant, I knew it meant we wouldn't be getting our baby girl.
Our doctor came in and explained in more detail. She said this is a defect that is incompatible with life. She also said I would have to carry to term to keep Baby A healthy, but he should be fine as they are in separate sacs. She took us to her office to talk a bit more. I don't remember much of what she said other than I would go for more scans soon and we'd talk later. She walked us out through the back door. I couldn't drive, so Matt took me home. We stopped to pick Hannah up from school and seeing her, bouncing out of school without a care in the world broke my heart even more. How would I tell her that she will not be getting the baby sister we've spent the last 12 weeks talking about and planning for? The baby sister that she's saving her mini JoJo bows for? The baby sister she's asked for, for years? But seeing her also gave me something else to think about; her love is one of the few things helping me get through these days. My mom had been texting and calling all day wanting to hear about the appointment. By this point, she was getting worried. I called her from the bathroom, where I was hiding from Hannah, sobbing. 'Is everything OK?,' mom asked. 'No,' I simply replied. I couldn't tell her what was going on, but I told her Camille wouldn't live and we cried together. That first night, I didn't sleep a wink – I researched, and cried, and researched more and thought and wept. By some harsh twist of fate, this night was also the first night I felt either baby kick hard enough to feel on the outside and it was Camille; like she was telling me she's still here.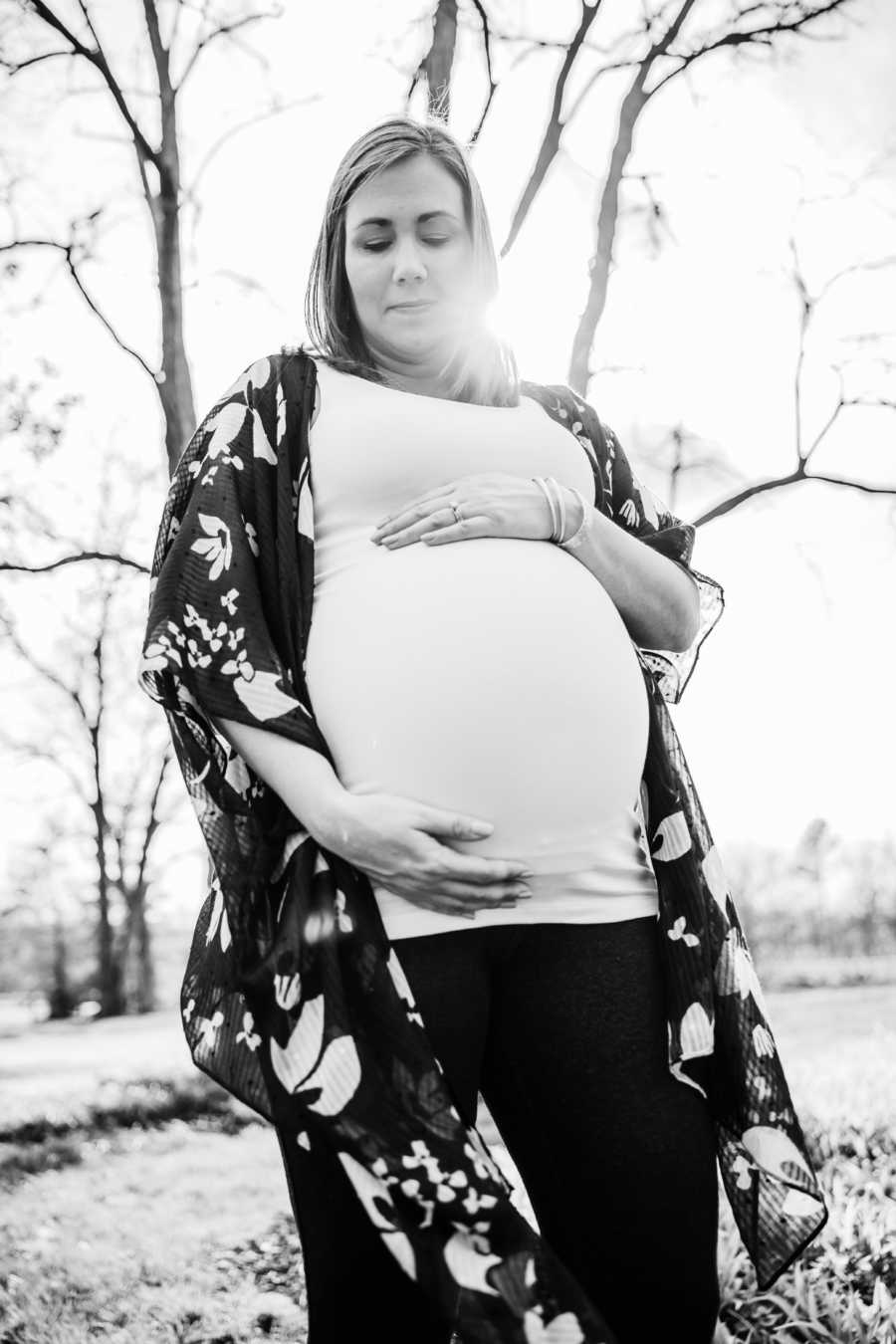 The next day, I found some support online; I spoke to a doula who specializes in woman carrying babies with a terminal prognosis. She gave me hope that I would be able find the joy in the rest of Camille's short life. It was nearly impossible to think that we will be having a child who we know will die before, during or directly after birth. I couldn't wrap my mind around how to embrace the joys of pregnancy or even imagine enjoying Cameron at this point. I felt robbed; I wanted another baby girl, I wanted Hannah to have a baby sister to teach dress up, makeup and barbies, I wanted twins (I'd had a terrible pregnancy – I want to experience the joys of twins, too!). She gave me some ideas to find some joy in this time: 1. Box up the sadness. It's ok to grieve, it's normal; but put the sadness away until after you say goodbye so you can fully enjoy the short time that we have with Camille. 2. Make memories with her every day. This is the only time that we have with her, so we must make memories while we can. 3. Buy an animal for each child and one to bury/cremate with Camille so the kids can have something of hers here with them. I did each of those things and decided to try to find some peace in the situation.
We told Hannah a few days later. At first, she was confused and just said, 'So I'll only have a baby brother??' Once we told her baby Camille would come out of Mommy, but would die and go to heaven very quickly, she said she got mad. She wanted a baby sister. She was fine most of the night, but at bedtime, she came in our room crying. She had a lot of questions and cried about not being able to do Camille's hair or play with her. She gave me a lovey for her to take to heaven. This was the first time Matt broke down. After telling Hannah, he was so sad. We took some time to talk about what we wanted for Camille; we were hopeful that she could be an organ donor.
A few days later, I wrote a letter that we shared with our family.
"What we want to share with you is going to be the most difficult thing we've been through, separately and as a family; but we will need the support of our loved ones over the next days, weeks, months, and probably years.  We were told our precious girl has a terminal birth defect and there is no cure; the only care that is provided is to give comfort during what will be her very short life.  
We do not know what we need right now beside a lot of love, support and prayers or thoughts for courage and strength. We know conversations may be hard to have and you will likely not know what to say, but please do not avoid us. We will be as open as we can be during this process and want to celebrate the moments we have with Camille and want anyone who wants to be a part of her too brief life to have that opportunity. If you have questions, ask; but most of all, please let us share our stories of Camille with you because we want everyone we love to have a chance to love her and we don't want to act like she doesn't exist, because she's been very real to us since we've started try to grow our family and will always continue to be a very real part of our family. Please know that our grief is not lessened by the fact that we should be bringing home one healthy baby, though we hope it will make it more bearable."
And we got just that; an outpouring of love and support from our loved ones. My step sister and mom threw us a Baby Sprinkle and I got some beautiful gifts for Camille; lovely keepsakes to help us remember her, personalized blankets to hold her in at the hospital, a gown to dress her in; it was a beautiful, but devastating day. It was so difficult to celebrate Cameron while mourning Camille.
We'd been seeing a specialist bi-weekly since we got the diagnosis. At 36 weeks and 6 days, my blood pressure jumped up. The doctor came in. 'How do you feel about giving birth tomorrow?' I was so terrified, not ready to lose my baby girl; but also excited to meet them both and hold them in my arms. We were told to expect Camille to pass within minutes of birth, if she survived the birth. We went in for a C-Section at 7:00 on May 24th.  Cameron was out at 10:00 on the dot, followed by Camille by 1 minute. They brought her to me almost immediately. When she first came out, she was almost grey. My doctor knew how important it was for me to have Hannah meet her, so she called out to a nurse to go get my Mom and Hannah; we thought we were losing her. I was holding her on my chest with my Matt, Mom and Hannah when they brought Cameron over. Camille pinked up almost instantly. I got to hold both of them on the way to our recovery room where all our immediate family was able to meet both of them. Our room was decorated in purple butterflies, which signifies the loss of a multiple so all the providers who came in would be aware of our situation.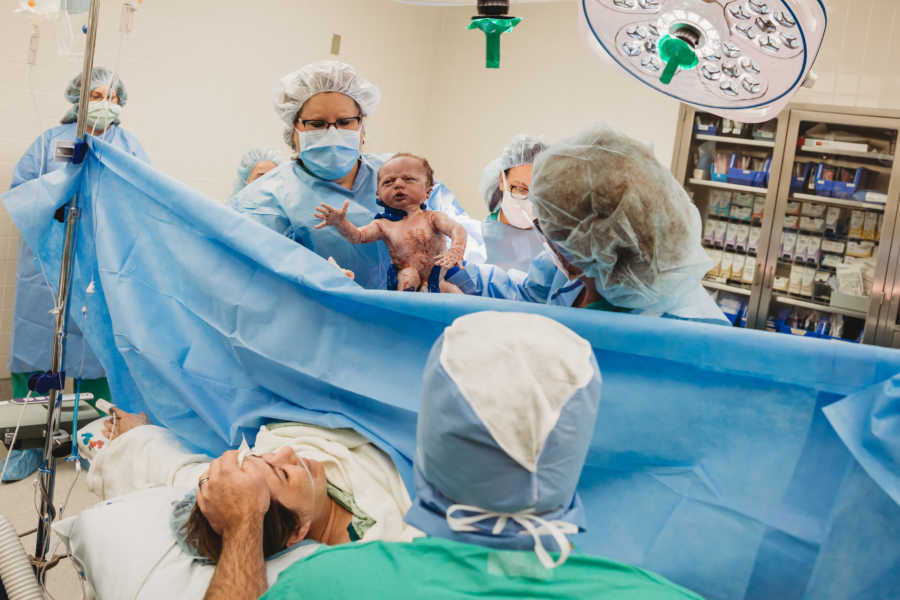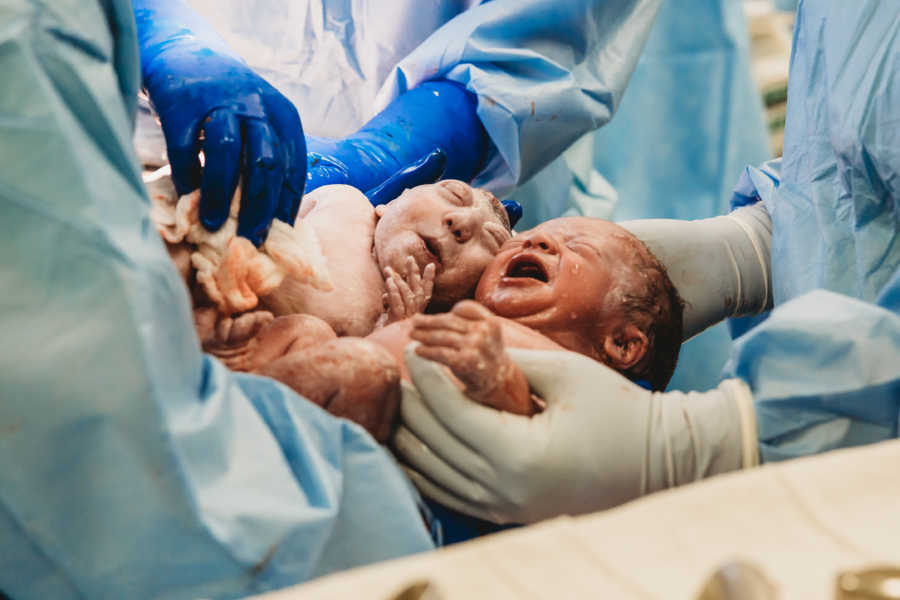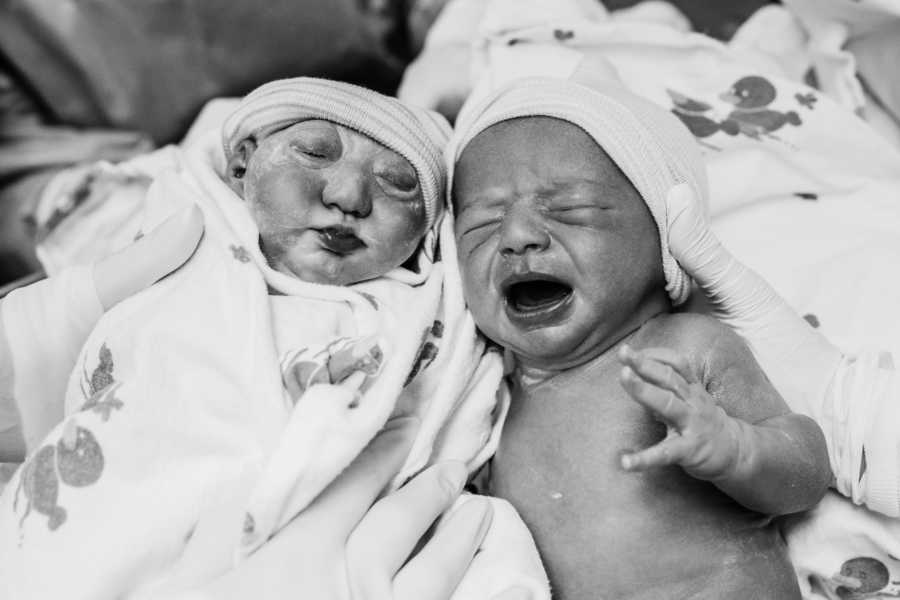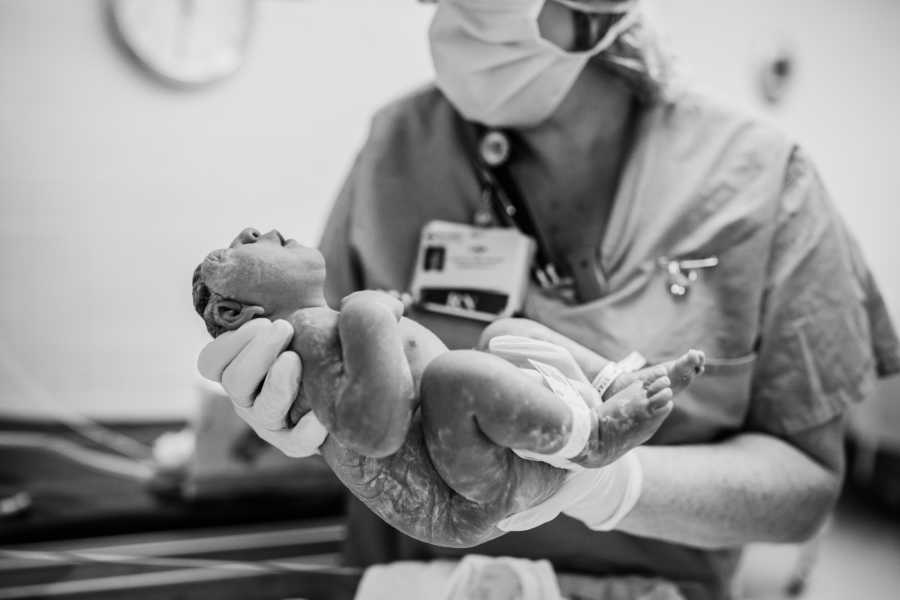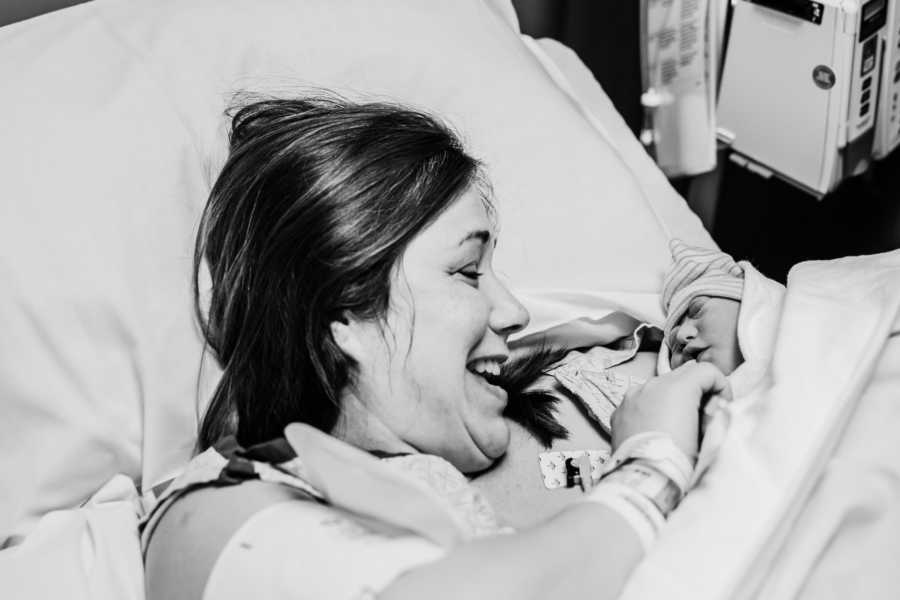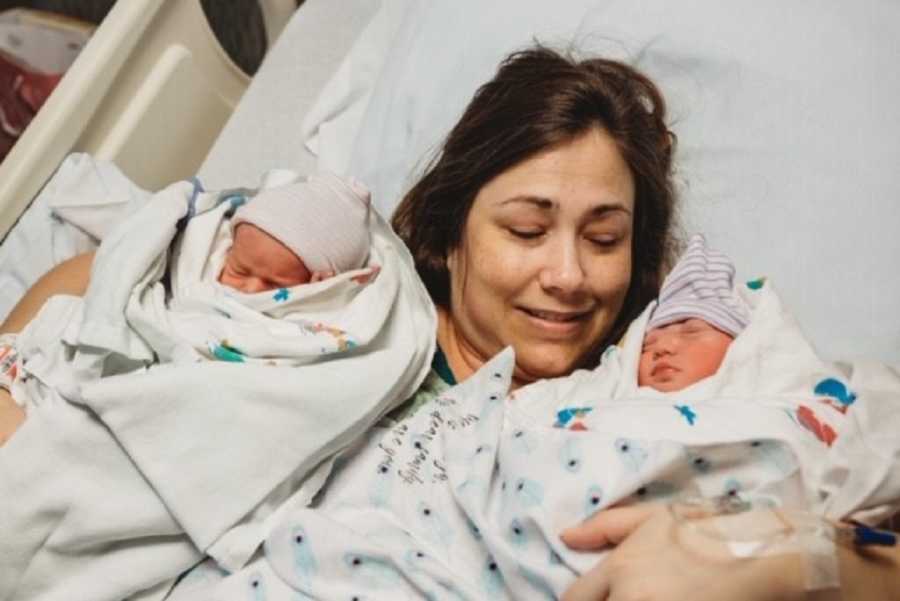 Camille struggled to regulate her body temperature and she couldn't eat; but she was alive! We had decided not to intervene medically since there was nothing that could be done for her and she would not feel pain; we decided to hold and love her every minute of her too short life. I was counting the minutes, which turned to hours and days. I wasn't prepared for her to live and it was hard to change my mindset from accepting that she was going to pass to thinking about taking her home. We stayed up most of that first night, thinking that she wouldn't survive it. Matt held her most of the time as I was working on breastfeeding with Cameron.  It was so hard to feel both emotions; the joy of having two new babies and the sorrow of knowing we would likely leave the hospital with only one of them. It was just a rollercoaster. She would be fine one minute, then gasp, turn red, then ashy and I'd think that was it; then she'd pink back up. Towards the end, she started having little seizures. The doctors assured us she didn't feel pain, but it was awful to watch. On the 3rd night I prayed, something I very rarely do, and I asked God to make her comfortable and to let her pass peacefully. We were up with her little seizures and noises on and off that night.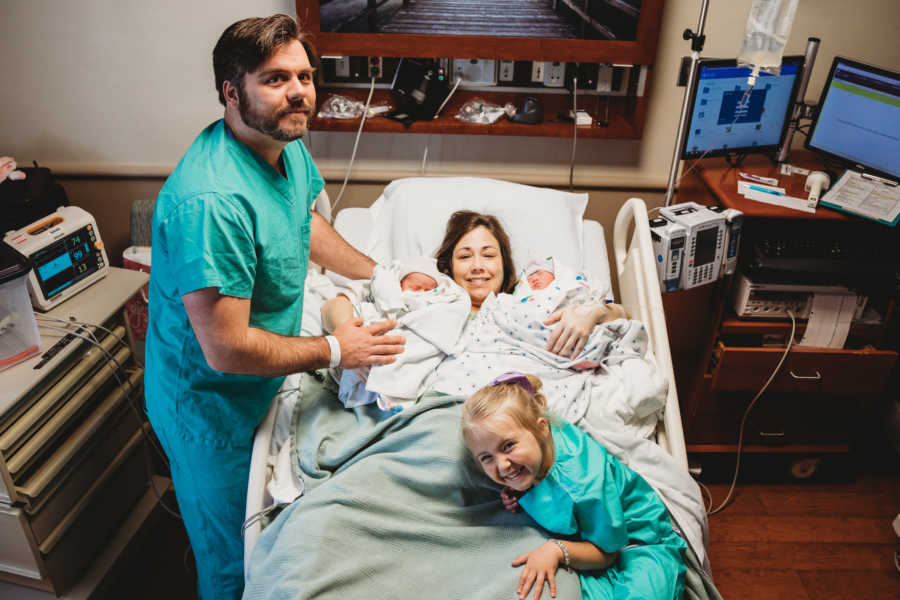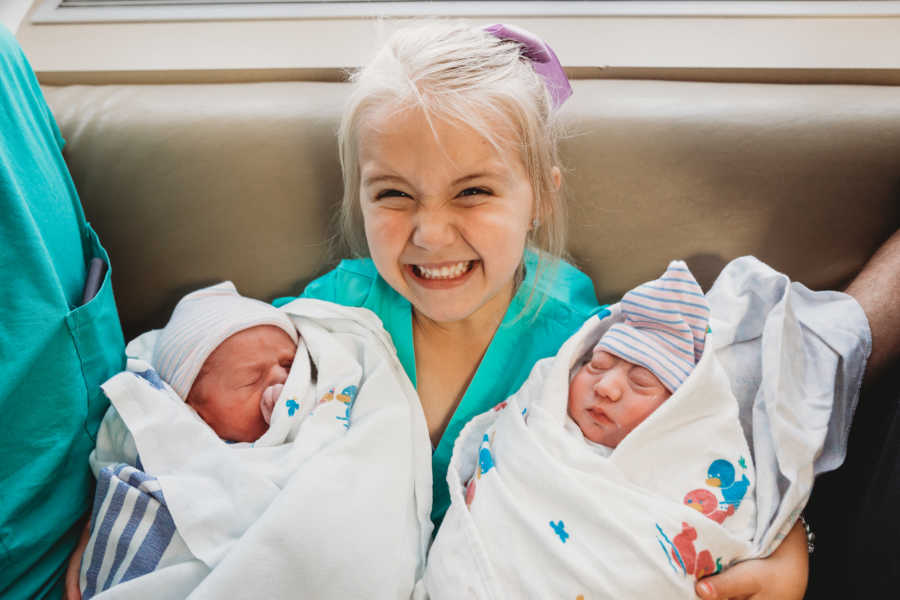 I woke up at 5:24 that morning and went to check on her, in Matt's arms, and she was gone. I was grateful that it happened peacefully. I woke Matt up telling him, 'She's gone.' We each held her, then one another for a few minutes before calling the nurse in.  The nurse helped us take hand and foot imprints for some keepsakes we wanted, then called the doctor in. The doctor confirmed what we already knew and left to give us some time with Camille. Matt and I both held her and kissed her perfect little cheeks, saying goodbye to our sweet girl. My Mom had made special receiving blankets for her to be wrapped in so we took those off of her to take home. The nurses took her and brought back her outfit and a lock of her hair. We went home later that day, with Cameron. The hospital handled the next steps with Camille for us. She was too small to be an organ donor, but Mid-West Transplant honored her with a plaque anyway, which was really touching.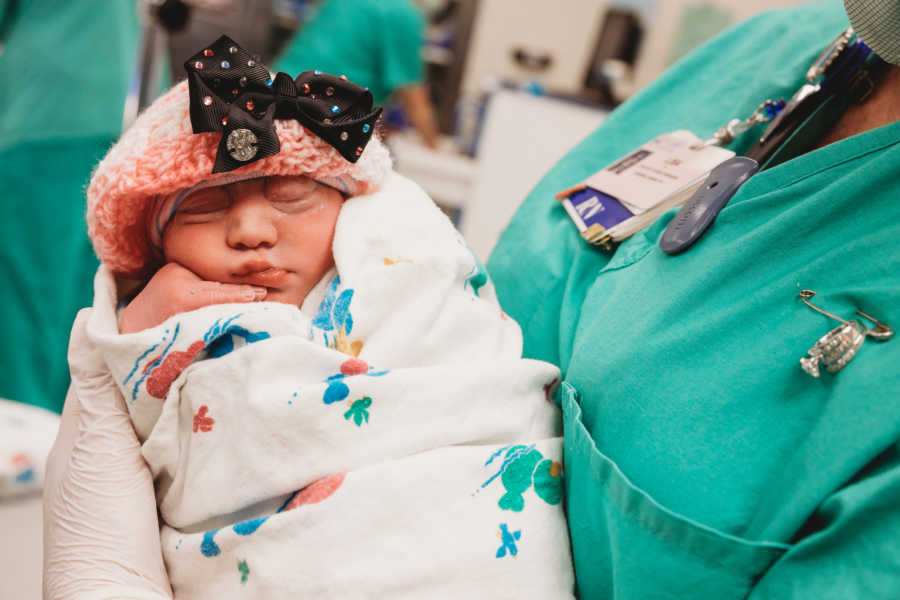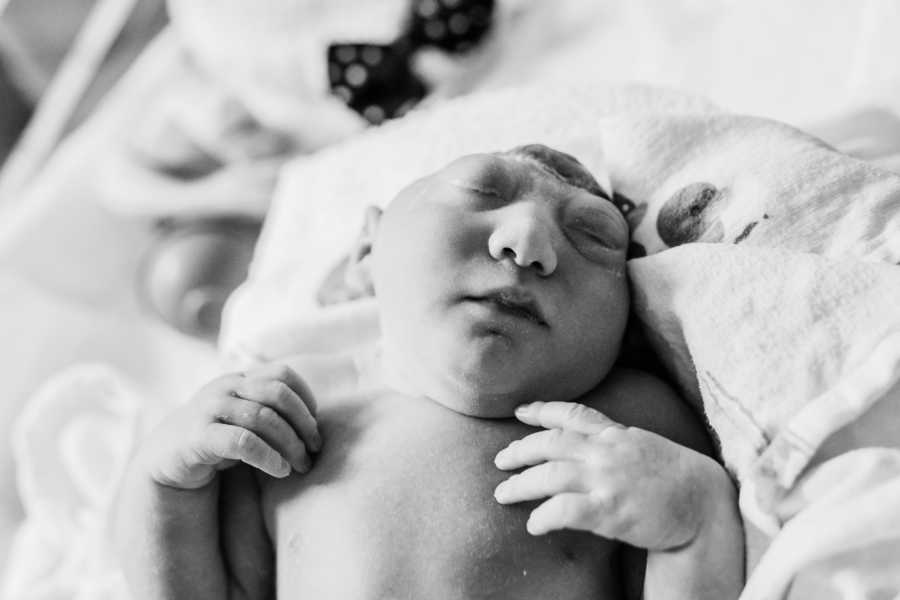 Here we are, nearly 6 moths later, and there's not a day that passes that I don't think about Camille and wonder what our lives would be like with her here with us. I wonder how she and Cameron would play. He's starting to laugh, and babble and I imagine how adorable they would be together. I wonder how it will affect him later in life, will he know he's missing her? He is a really snuggly baby; he always wants to be touching someone and I can't help but wonder if that's because he misses his twin. Matt painted Camille's heartbeat in Cameron's room, and we talk to her every night in there. He loves to look at the painting and even reaches for it now. He'll always be a twin and I'll always be a twin momma."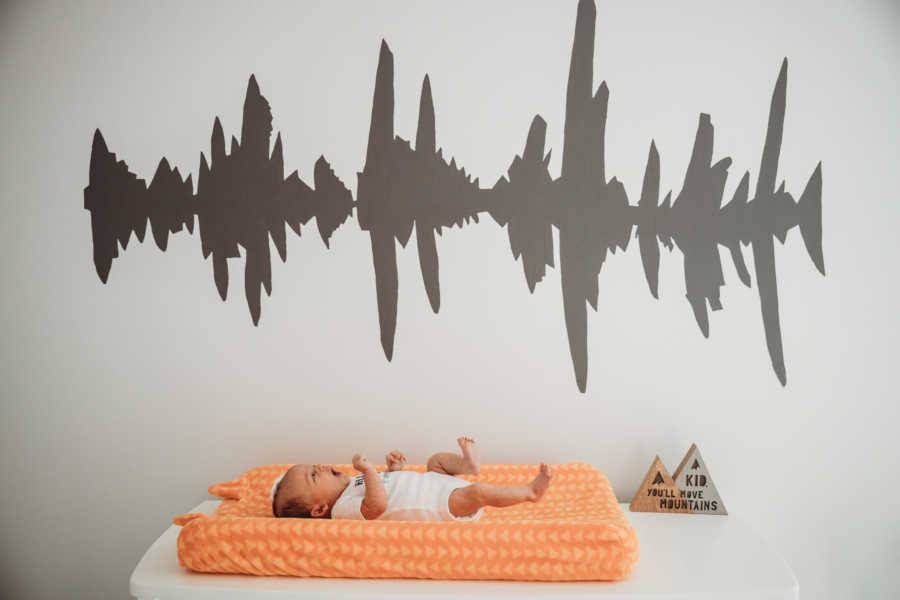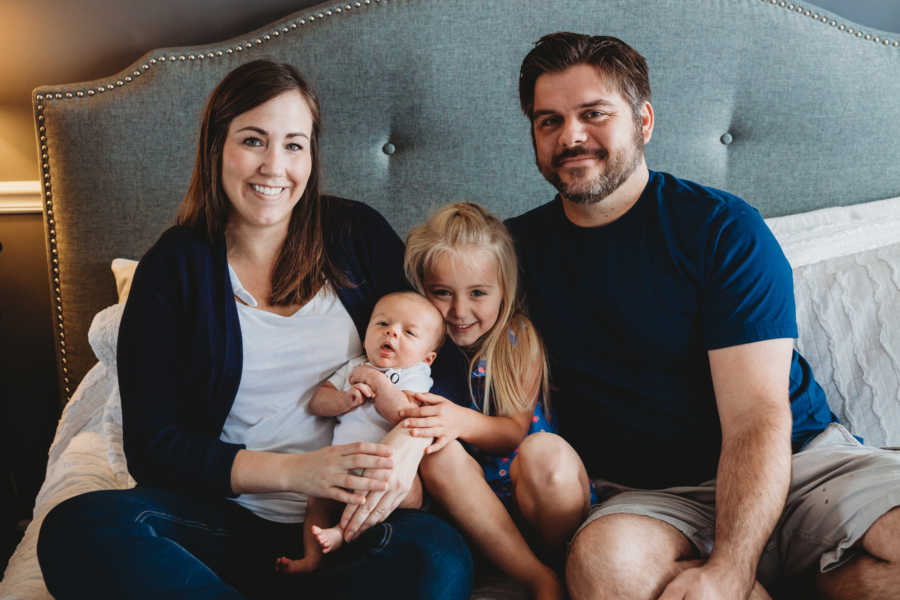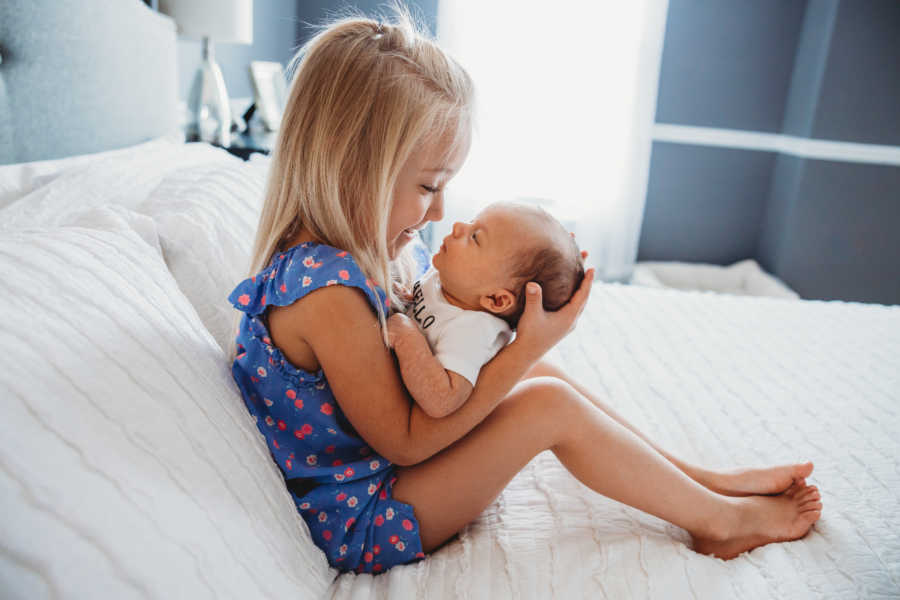 This story was submitted to Love What Matters by Jessica Koenig of St. Louis, Missouri. Do you have a similar experience? We'd like to hear your important journey. Submit your own story here. Be sure to subscribe to our free email newsletter for our best stories, and YouTube for our best videos.
Read more powerful stories like this:
'My husband was fuming. I was BORN to be her mom. She is here to prove everyone wrong.': Daughter diagnosed with 'extremely rare condition' Lissencephaly, family 'cheering for her every step of the way'
'She will save many lives. There are going to be two kids who make it a lot longer because of her.': Parents urge organ donation after infant loss
Please SHARE this story on Facebook to encourage others to cherish every moment and love what matters most.