Disclaimer: This story includes descriptions of medical trauma that may be triggering to some.
Dreams of Motherhood
"My entire life, I knew I wanted to be a mom. As a little girl, I played with dolls; rocked them, fed them, dressed them. Never once did I play pretend while envisioning a special needs child.
I can't say I even experienced being around other children with disabilities in my school-age or high school years. I only knew disability in theory. I was ignorant and naive. I didn't think it was common to have a disability since I didn't see it. I didn't think it was possible for it to enter my life.
I met my husband, Josh, as a senior in high school and married him a year and a half later. I was 19, and he was 21. We were babies ourselves, but we had unstoppable, magnetic love, and even though we were young, we just knew we wanted a family together.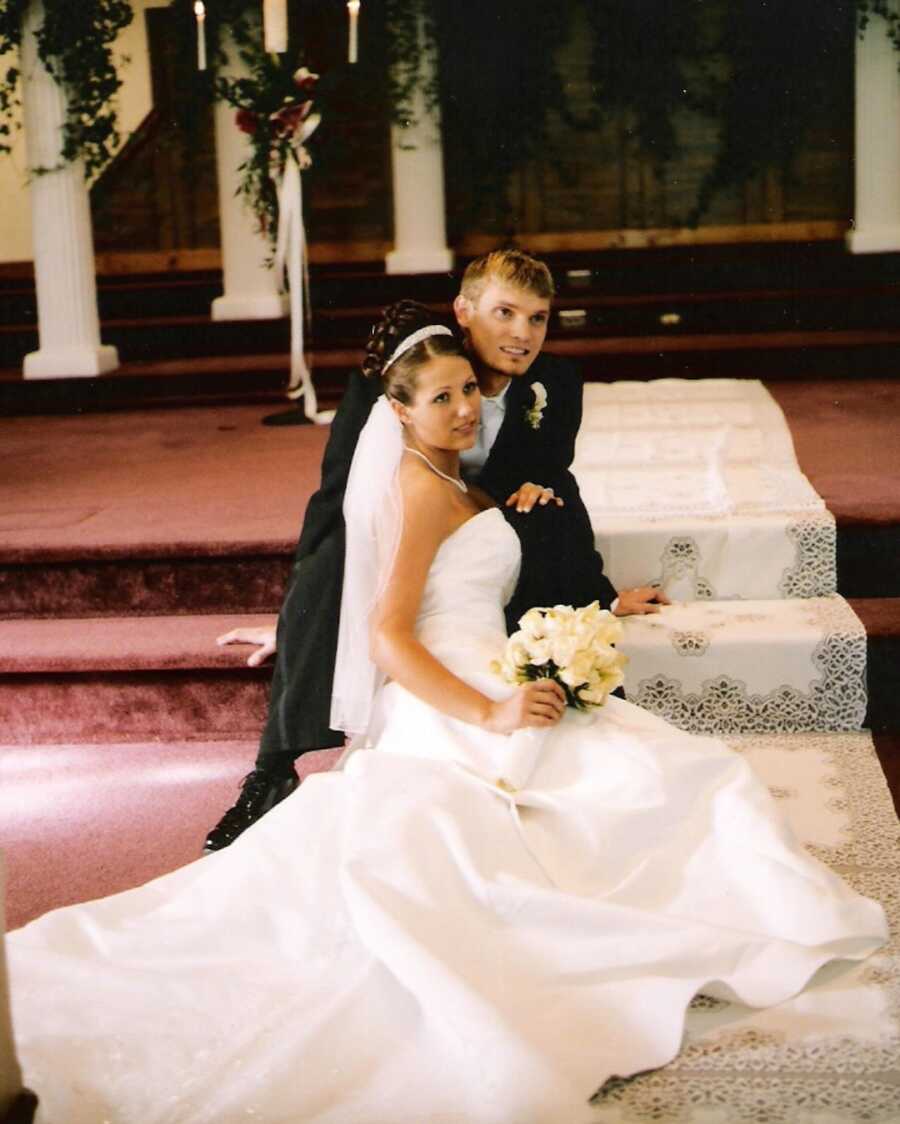 Two years later, when I was 21, we were pregnant and expecting our baby girl. I don't know I've ever been so excited in my entire life. This was it, all the dreams from childhood coming to reality. Perfect husband, perfect starter home, perfect job, perfect baby must be the next reality.
With an extremely healthy pregnancy coming to an end, my husband and I stayed up later than normal as we talked through what delivery may be like and how excited we were to bring our daughter, Kaylee, home to our beautifully decorated nursery. We went to bed on the night before my 38th week of gestation not knowing the following day would change our lives forever.
A Disastrous Emergency
Usually, Josh would have been at work when this story reached the climax, but he decided to head into the office an hour later than normal because of our late night.
The first of many miracles. Just before he left for work, I remember standing up from bed and saying it was difficult to breathe. That statement was the last thing I remember on July 28, 2006.
The remainder of the day is a story I've been told from several perspectives many times. So I'll share some with you now in hopes you'll see the tremendous fragility of life and the incredible miracles God performed that day.
Josh says as I yelled I couldn't breathe, I collapsed to the floor.
I was seizing. As a terrified husband and soon-to-be father, he called 911, and I was rushed to the nearest hospital which was not necessarily equipped to handle what they were about to be presented with.
I'll save you many details, and say just 56 minutes after I collapsed, Kaylee Elora Hildebrandt was born.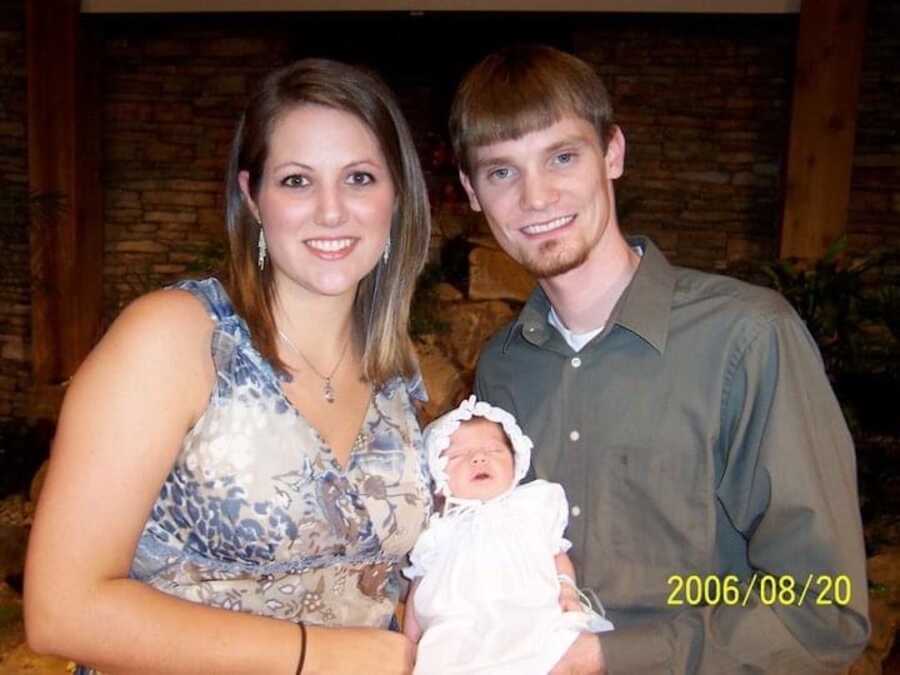 She was not born healthy. She was not born in a serene, beautiful progression of birth with family eager in the waiting room. She was born into a disastrous emergency. Her mother was dying, and she was dying.
I had a very normal pregnancy, but after Kaylee's birth we learned what had transpired was a catalyst of incredibly dangerous medical events. It began with an unknown placental abruption. When the placenta abrupted, my blood pressure spiked which caused an eclamptic seizure. The detachment of the placenta caused severe hemorrhaging which Kaylee ingested in utero. As she struggled in the womb while essentially drowning, the umbilical cord wrapped tighter and tighter around her neck.
She was born very quickly and that was a miracle. She was delivered by a family practice doctor not experienced in any such extremes. She was resuscitated while I continued to severely hemorrhage. I was life-flighted to a trauma center where I would receive nine blood transfusions. Kaylee was transported by a neonatal critical care bus to follow me where we would spend our next week in the NICU.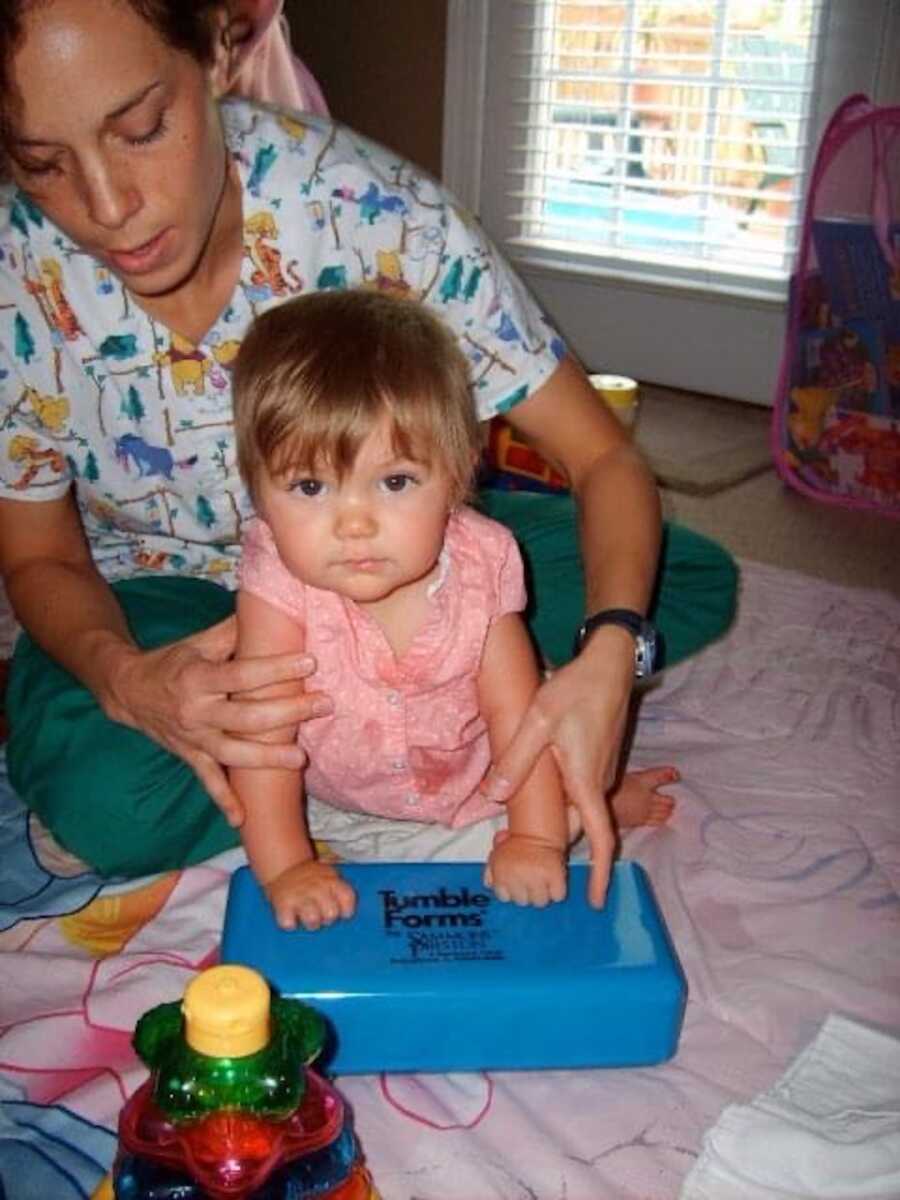 We've been told by physicians with a placental abruption the mother and child rarely ever survive. We were told in the case of eclampsia, the mother and child rarely ever survive. We were told with the amount of blood I lost I shouldn't have survived. Yet not only did mom survive, so did baby.
We are absolutely living miracles.
God performed unexplainable miracles that day while family wept and cried out for God to intervene. And He did.
The Diagnosis
After a week in the NICU where I was fighting to recover enough to see my newborn and where two young parents were learning how to handle a fragile baby girl, we were sent home. Not a word was mentioned about any ongoing impact for Kaylee. We knew we would have to work on her eating because she had been so weak but assumed that would be corrected soon and we would continue on with her birth story being a story in the past. We had no idea what would come in this life.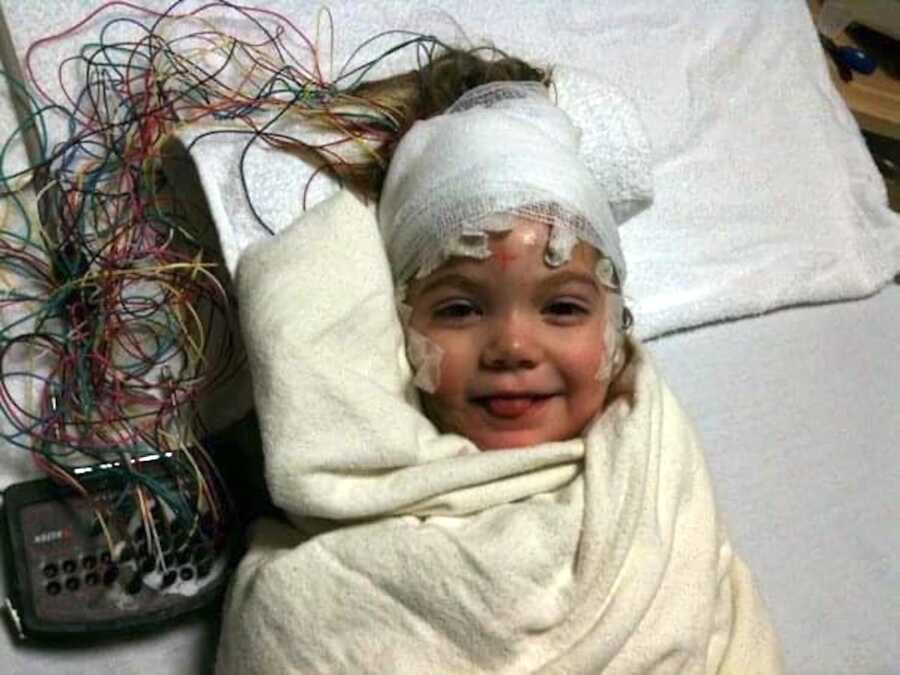 The first few months of Kaylee's life, we did struggle with feeding.
She did struggle to gain weight.
She missed milestones I thought were concerning.
I was reassured she would be fine and bounce back.
At three months old, I was not convinced.
I requested an MRI and neurology consult after I spent time processing possibilities and Google searches. I was denied the referral and told I was being an overly dramatic first-time mom. While it was insulting, of course, I couldn't shake my concerns so I found a neurologist who would see us without a referral. Josh and I had researched and felt like we knew what was coming, but the truth is, you're just never quite prepared to hear those words.
At seven months old, after being on a waitlist, she was finally seen by neurology. Kaylee was diagnosed with cerebral palsy. That neurologist's words will forever be in my mind. Her condition would be moderately severe. That's what we were told when she was still an infant. When she was only seven months old, a neurologist who spent five minutes with her could tell what her entire life would look like. We were told about seizures and wheelchairs and lack of speech all within a few minutes.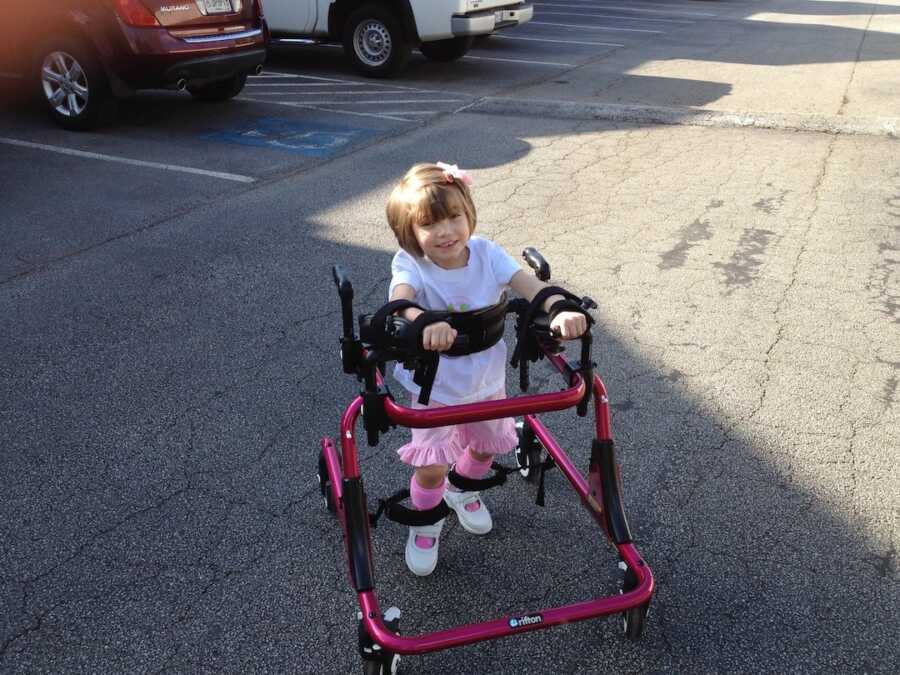 Before my baby had ever said her first word or knew how to clap her hands, we were being told she may not be able to say words or clap her hands at all. Before it was even a milestone we were looking for, we were being told she would likely never walk. An MRI 2 months later would confirm her brain damage.
I went home from that doctor appointment and immediately grabbed the 'What to Expect When Expecting' book from my room. I had a whole basket of baby items that would never be used and this book had landed among them.
I flipped to the concordance and search for cerebral palsy.
It was there! Somehow that was what made me feel better. It was common enough for them to include in a book. I found the page listed and found only one paragraph. The final sentence in the paragraph was, 'there is no cure.'
I had been so brave and so strong. I had not cried. I had known I would battle this and we would overcome it. I was going to be the very best cerebral palsy mom there ever was—I was going to be the exception. I was going to fix her. And then that sentence is what broke me.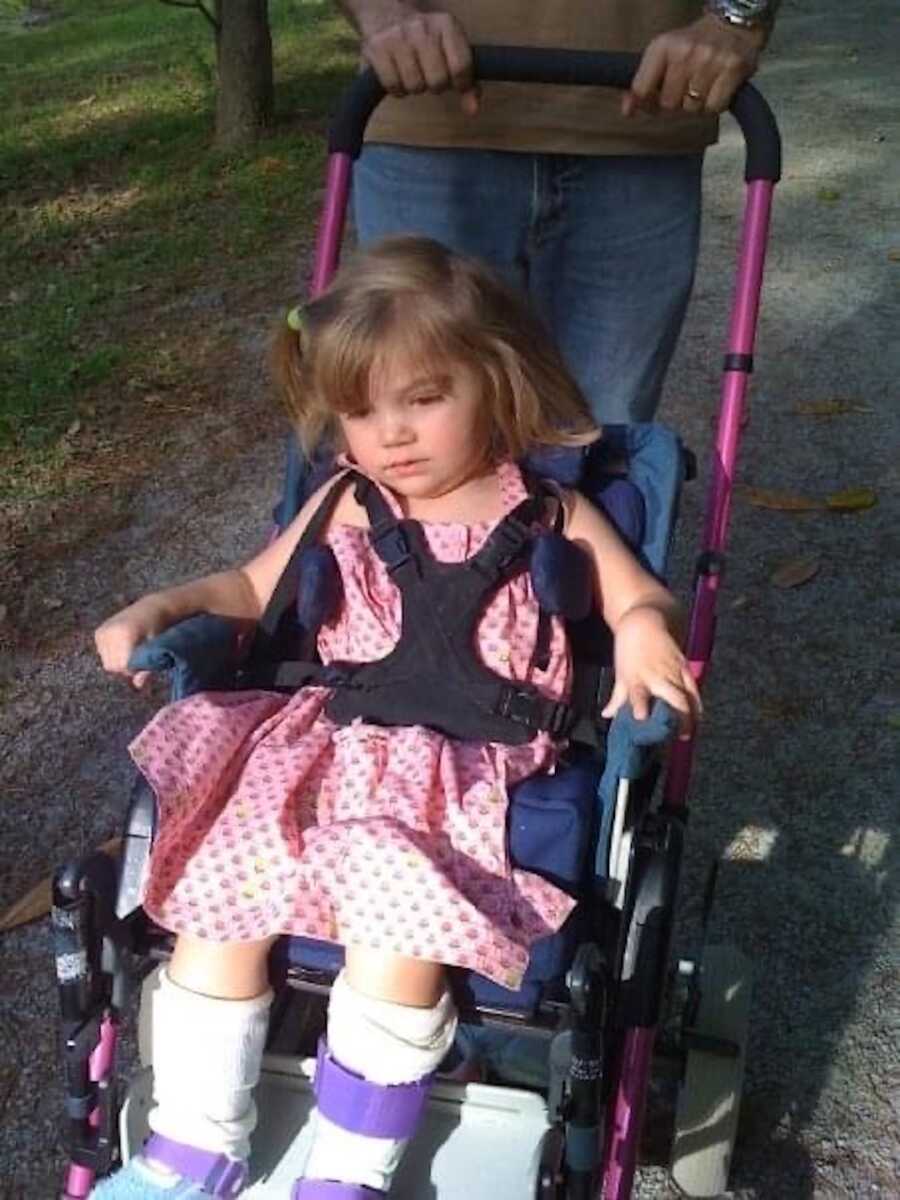 'No cure.'
That was it. No advice, no recommendations or insight.
Just a definition ending with no cure.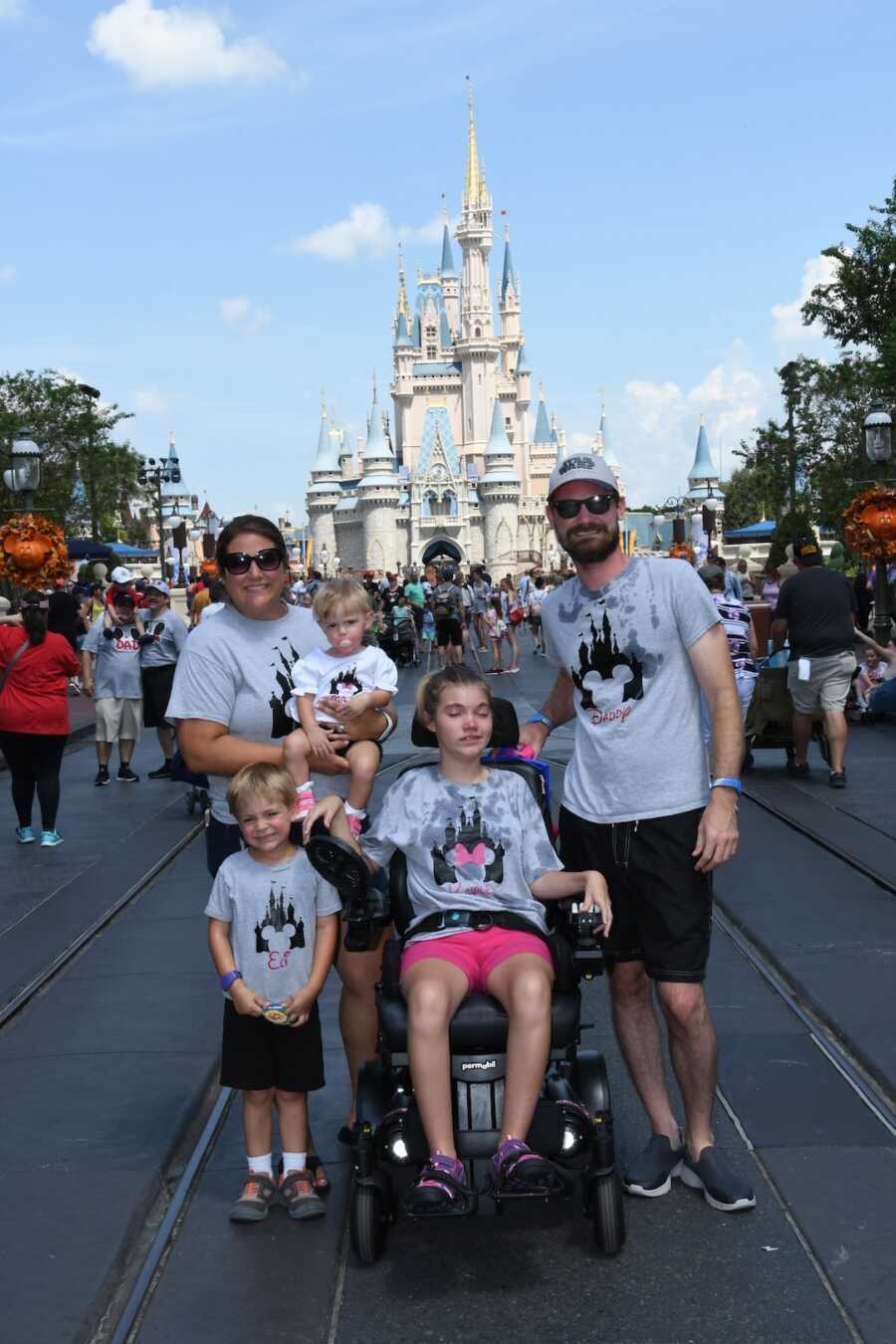 Growing With Kaylee
People often say, 'I couldn't do what you do' and I couldn't do those things until the day I had to do those things. You see, I'd never heard of cerebral palsy until I found myself googling it. I thought physical therapy is what you did when you injured your shoulder playing sports, not the way to stretch muscles and encourage neuropathways to form. I had no clue what a communication device was or what ATNR reflex meant. I didn't realize all the variations of treatments and equipment and specialists involved in medically complex care…. And this was only the beginning.
Year after year, Kaylee grew and so did her needs.
We went through insurance battles and surgeries and medication and IEP meetings at school. We weren't at the soccer field or the dance recitals or the play dates like I thought we would be, but Kaylee was the happiest little girl you'd ever seen. We spared no expense and gave her the world.
We saw our life reshaping. Our priorities shifted, our relationships looked different, our aspirations faded, and we dove in head first to parenting in a disability realm. We tried unique therapy methods, worked the home programs, sought out as many treatment options as possible until she reached an age where her size was stable and her condition was consistent. A new baseline for us.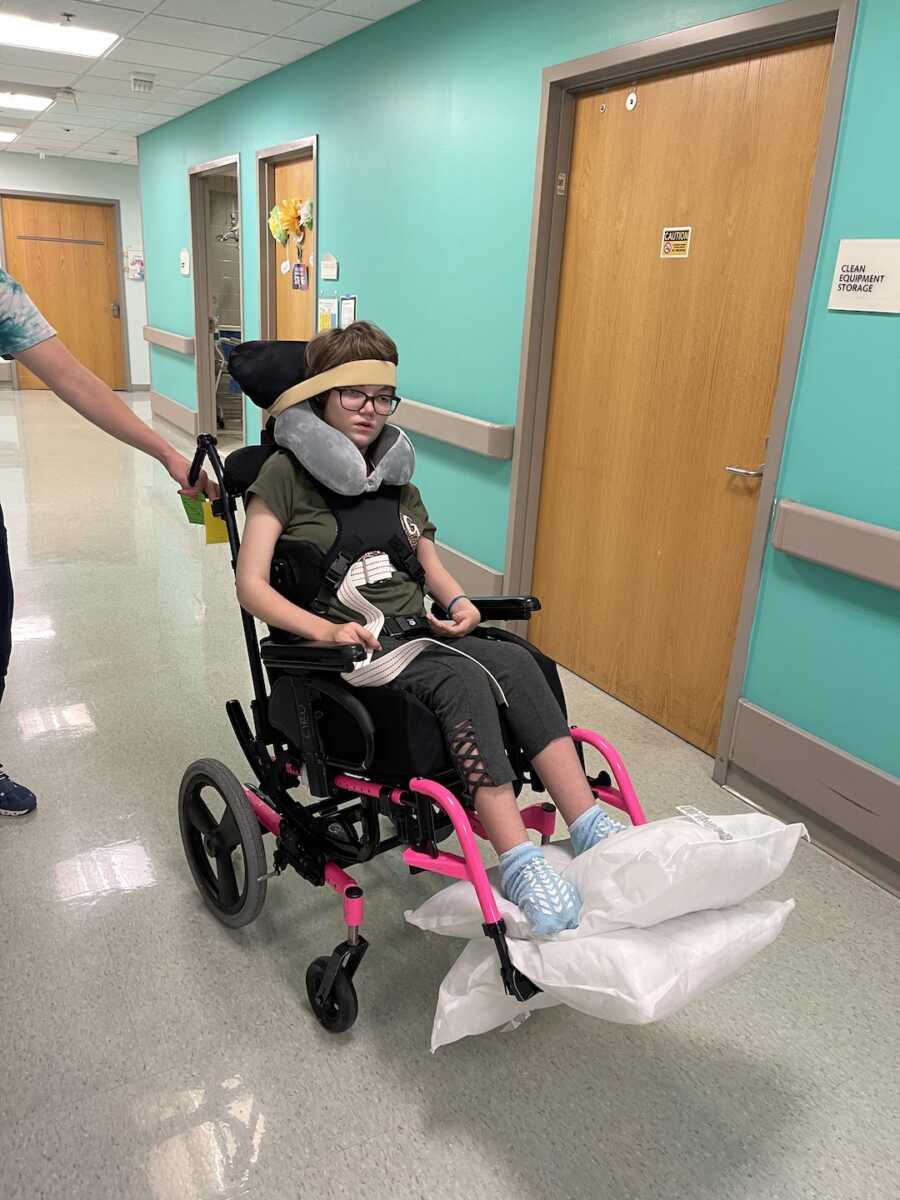 When Kaylee reached her teen years, quality of life became our greatest focus. We no longer forced the therapy camps and scoured the internet. We found peace in our present season. It doesn't necessarily get easier, but it does become familiar and you become stronger.
Kaylee is now almost 16 years old. She has a younger brother and sister. (The emotional and mental journey to having more children is a whole other story perhaps for another time.) She is starting high school, and loves music and her church. She is witty, hardworking, and empathetic. Some things haven't changed, like how we still give her the world, or honestly, just iced coffee will do. We've always treated her as valuable so she sees herself confidently.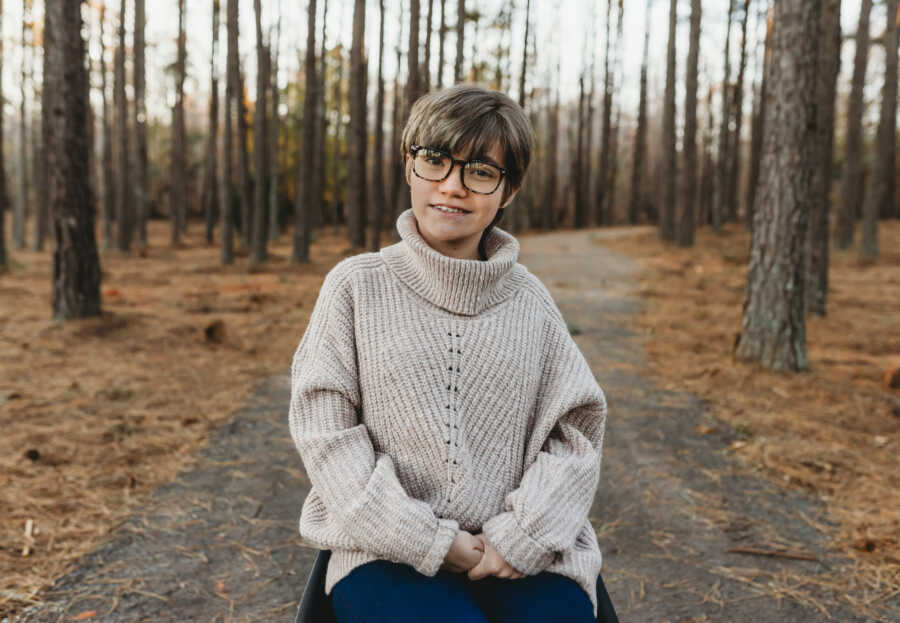 She has aspirations and fulfills them. Kaylee wanted to be an artist even though her lack of fine motor skills restricted her abilities. So her dad and grandmother adapted painting for her and ultimately she had an Art Showcase to auction off her work to the community. She said she wanted to write a book about her life and so her grandmother helped her do that: one typed letter at a time and 4 years later, she published a book that is so powerful; A Unique Walk.
She said she wanted to raise awareness for cerebral palsy, so she designed a T-shirt. I contacted a local boutique and those are now available for purchase as well. She is a creative entrepreneur to say the least! What she decides to do, happens. Her family makes sure she succeeds in what she puts her mind to and her spirit attracts people who rally around to support every venture she takes. She has dreams for her life but her cerebral palsy, though very hard for her, is not a limitation she allows to dictate her impact.
So the neurologist we met 15 years ago got some things right, but there's a lot she left out. She does need assistance with self-care, feeding, speech, mobility—essentially all areas of life, but her life is consistently pointing others to Jesus and it is the most profound ability she can have. She has told us she would not change her life if she could—she is happy and it helps people see Jesus is her joy even in the hardest of situations.
She says she wants everyone to SEE people with disabilities.
I want that too.
I want children to be familiar with disabilities when they see them.
I want children to be exposed to differences in abilities and appearances. I want the new parent who receives a diagnosis for their child to have already known and loved other people with disabilities.
I want there to be access and inclusion, accessibility and accommodations for my daughter and for all children with special needs.
I want families impacted by disability to know there are others battling, surviving, learning,  advocating, grieving, playing, rejoicing, and thriving—through all the bad and all the good.
I am a disability mom.
I see you.
I am you."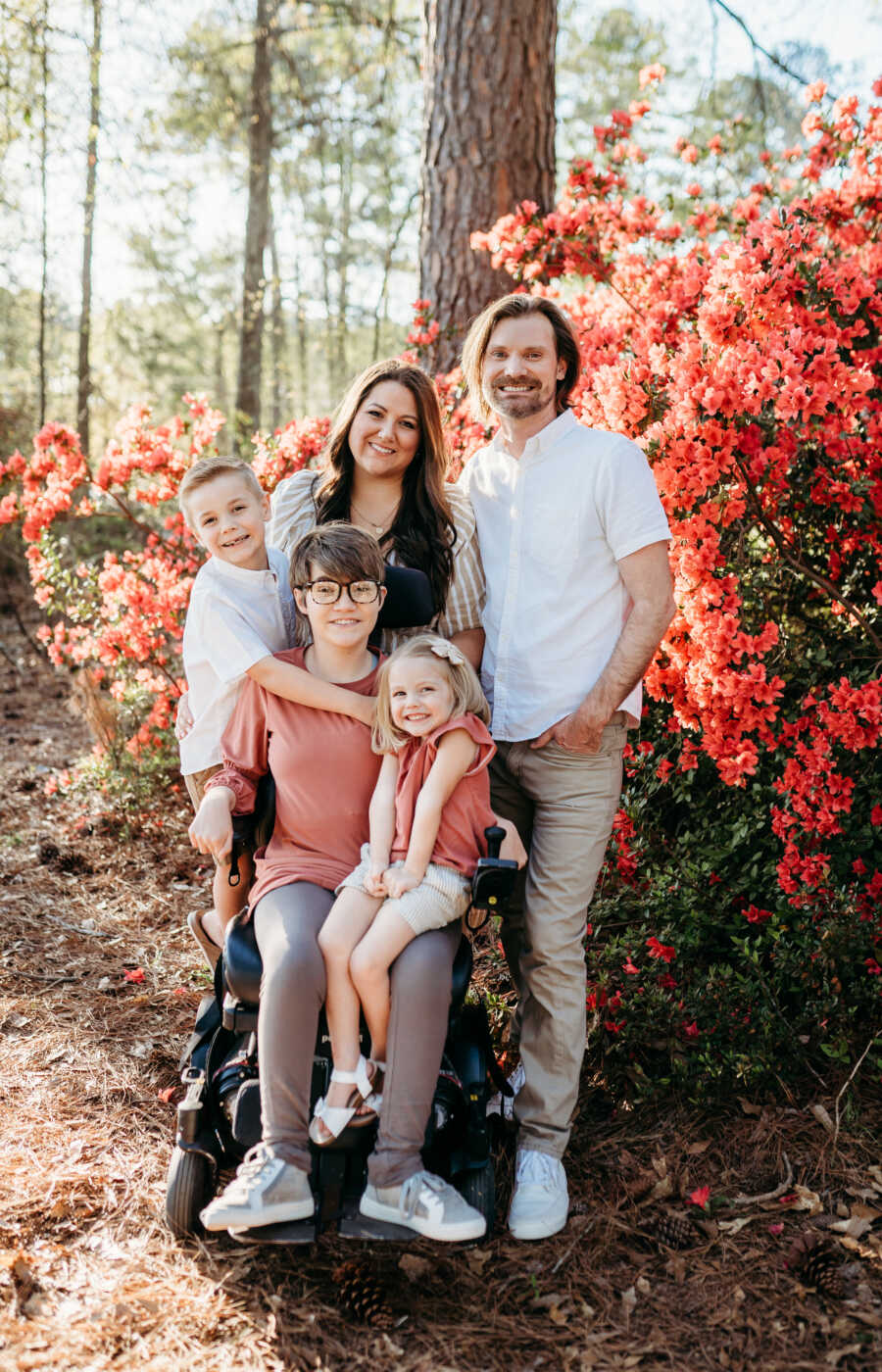 This story was submitted to Love What Matters by Bethany Hildebrandt of Villa Rica, Ga. You can follow her journey on Instagram, and their website. Submit your own story here, and be sure to subscribe to our free email newsletter for our best stories, and YouTube for our best videos.
Read more stories like this:
'There's a high chance your daughter has it.' I was scared. Will she be accepted by her peers if she needs a walker?': Mom helps daughter with cerebral palsy start inclusive YouTube channel
'I came out to my dad, and he DIDN'T take it well. 'I will TAKE AWAY your independence.': Gay adoptee with cerebral palsy urges, 'live your life on your own terms'
Boy Bullied For Cerebral Palsy Becomes Certified Personal Trainer With Mission To 'Help Others Surpass Roadblocks'
'NO ONE would babysit him. 'I'm not able to care for a child like that.': Mom to son with cerebral palsy urges special needs parents 'your sacrifice doesn't go unnoticed'
Do you know someone who could benefit from this story? SHARE this story on Facebook to let others know a community of support is available.